Reviewed & Rated – Top 9 Buying Guide
In a
Hurry? Editors choice: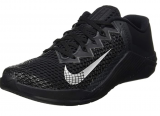 Test Winner: Nike Metcon 6

The best shoes for HIIT training offer up something a little different when compared to your standard
running sneakers
.
HIIT training demands quick and snappy movements, which means that you need to swap those bulky stability trainers with something that can adapt to quick lateral movements and provides a firm foundation for weight lifting. Speed is the ultimate goal, which is why we picked lightweight frames that match your movements.
We wanted to ensure that we selected designs that still offer a good deal of support to prevent injury and are light enough to keep those intervals moving along at a snappy pace.
In this guide, we have selected some of the best shoes for HIIT workouts that will not only make you stronger but will also make you faster!
Standout Picks
Criteria Used for Evaluation
Support
Stability and support features are the most important aspect to consider because the intense movements and shifts in direction can result in a rolled, sprained, or even broken ankle or any number of other injuries to your legs, hips, and back.
If you roll an ankle or otherwise lose your balance and fall, you may instinctively throw your hands out to catch yourself, which could result in broken wrists! As such, it's best to avoid falls altogether by investing in a good pair of supportive shoes for your workout.
Supportive Outsoles - Look for shoes that offer supportive outsoles which are designed to flex with your foot's movements. There are a number of such supportive outsole technologies from shoe manufacturers that are designed specifically for HIIT and CrossFit activities to allow for your foot to move as necessary in a workout without making you fall.
Arch and Heel Support - You need arch and heel support because these supportive features will reduce your risk of a fall or injury from the intense activity. You especially need these support features if you do not have normal pronation, as your over or under pronation makes your feet roll more than they are supposed to.
Supportive Uppers - Flexibility is of great importance, but a plain mesh upper would not provide enough support for high-intensity interval training activities, because meshes are light, flexible, and aren't designed to offer support. The best shoes have supportive overlays of some form to overlay mesh uppers if they have mesh uppers at all.
Traction
The second most important feature to look at in a shoe is traction.
As you will be participating in those sharp, quick movements, you need a shoe that won't slip under you when you lunge or jump. Slipping and falling during such intense activity could result in injury, so you need to find a shoe with good traction and grip.
Tread and Groove Pattern
Outsoles that provide the best traction for HIIT do so because they have an efficient tread pattern which allows the shoes to grip the ground well to prevent injury from a fall. The depth and frequency of the grooves in the tread pattern vary from model to model and from manufacturer to manufacturer, but as a rule of thumb, the more grooves, the better the grip, as long as the grooves aren't too thin and close together.
Shock Absorption
Cushioning is low on this list of features to look for because too much of it will hinder the shoe's ability to flex and bend with your foot as you go through those intense movements.
Cushioning is important for choosing the right HIIT workout shoes, though, for shock-absorption and to prevent painful rubbing, so you will still need to consider it when you are shopping for your new pair of shoes.
Padding - Effective, lightweight padding can make an otherwise firm and supportive shoe comfortable to wear when it would otherwise be an uncomfortable environment for your feet. Look for shoes that offer light padding on the interior of the shoe, as well as on the tongue and collar. Be careful to find a shoe that promotes breathability through the padding, though, or you'll have a new problem on your hands.
Insoles - The insoles of your shoe need to be cushioned enough to absorb the shock from the hard impacts that result from intense activities, but thin and lightweight enough to not hinder the shoe's ability to flex with your foot.
Midsoles - Midsole units can compensate for extra thin insoles by providing an extra interior layer of cushioning and support at the same time. Shoes that don't have a midsole or have a midsole that does not meet your support and cushioning needs are not good.
Outsoles - The outsole cushions your feet more than you may think. The outsole is your foot's first line of defense against painful bumps and environmental hazards. The shoes which are best have a rubber or synthetic outsoles and do not have crepe or leather outsoles. The outsole should be flexible and supportive, but it should also be cushioned enough to provide shock absorption to counter the hard impacts characterized by HIIT workouts.
Breathability
In an intense workout or athletic activity, you need a shoe that provides the right amount of temperature management to keep your feet cool and dry, but this is especially true of high-intensity interval workouts.
Wearing best HIIT training shoes that lack breathability features is a surefire way to turn your shoes into a sweat-drenched swamp of a sauna, which could result in foul odors and painful blisters.
Mesh Upper - The most common way that shoe manufacturers provide temperature management and breathability is by using a mesh upper in the shoe's design. Mesh uppers allow more airflow in and out of the shoe, which in turn cools and dries your feet. Mesh uppers have the added benefit of being flexible and stretchy, as well, which are also features needed in a good shoe.
Weight
When doing HIIT activities, you need a lightweight shoe that provides the support, stability, and traction that you need in the amounts that you need.
Minimalist shoes are not usually best for this type of workout, so you need to be sure and pick a good shoe that isn't too heavy but also offers the above-mentioned features. A neutrally cushioned shoe works best, as well, as a shoe with a lot of cushioning can limit your flexibility and be a hindrance to your workout.
The lighter your shoe is, the less foot fatigue you will feel at the end of your workout, but be sure not to sacrifice important safety and comfort features to get a lighter shoe; your feet are too important to risk injuring, as they are generally our primary mode of transportation.
Top 9 Shoes for HIIT Workouts
Subscribe to our Newsletter