8 Best Aerobic Shoes Reviewed & Rated
In a
Hurry? Editors choice: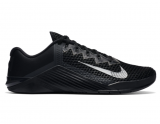 Test Winner: Nike Metcon 6

Having become popular in the 80s, aerobics is a high-intensity type of exercise that is highly customizable, and is available for anyone, anywhere.

It began as a simple rhythmic callisthenic and evolved to cover and draw from dance, stepping, the use of free weights, kickboxing, and forms of martial arts.

Being rhythmical, an excellent way to get the heart rate up, and a varied form of exercise, it is completely understandable why it has such a huge following, decades after it was first practiced.
Standout Picks
Criteria Used for Evaluation
Breathability
A good aerobic workout will leave you sweating and breathing hard.
Good aerobics shoes will allow air to circulate near your feet to regulate their temperature. This is especially important if you have sweaty feet or if you suffer from athlete's foot or other skin condition.
Breathability in shoes is achieved in a number of ways. Shoe manufacturers can use:
Portholes – add small holes at the sides that allow air in and that work really well in leather or synthetic leather upper.
Mesh or Canvas – which provide great breathability as well, although, canvas does tend to be a little too stiff for aerobics.
Cut Ventilation – added ventilation in the sole that is really great for wet conditions like water aerobics.
The best ventilation in an aerobics shoe is provided by mesh uppers. This allows air all around the foot while still providing for a shoe that hugs the top of your foot, keeping it in a good, stable position.
Comfort
Whether you are participating in lower or modified impact aerobics or high-impact, high-energy kickboxing aerobics classes, your feet need to stay comfortable throughout.
The amount of cushioning you need and where will depend on the shape of your foot and your preference.
For those with high arches, padding around the tongue and top of the foot will be important. Some people will prefer to have a little thicker padding around the ankle. Most importantly for aerobics though are:
Cushioned, fitted insole
The bottoms of your feet take a pounding during aerobics. A passed, fitted insole will help to soften those blows and keep your feet from becoming sore and exhausted.
EVA or other cushioned midsole
No one thinks about the midsole until they go home to soak their feet in an Epsom bath. EVA is a material that is firm but cushioned to absorb the impact of your weight as you walk, jump, kick or, yes I am going to say it, do burpees.
Gel materials also work well. If the shoes have memory foam, the foam should be thicker rather than thin. The all-over shock absorption and cushion are important for the ongoing comfort of your feet.
Extra heel cushioning
Your heels are designed to take some impact. They evolved with a little shock absorption of their own but they can always use a little help, especially while doing aerobics. Extra cushioning in the heel will prevent fatigue.
Fit
A good aerobics shoe will close properly with traditional laces or with velcro straps, to ensure a proper, firm but not tight fit.
It will also be constructed of quality materials that won't cause sore spots or irritation while working out. Overall, look for these extra comfort features when you are considering a shoe for aerobics.
When considering fit, the shoe should not be loose. You want the perfect snug but not tight hug. Your feet should not lose circulation especially while working out. Because feet swell with exercise, they should be adjustable. If you want a little extra support in the ankle, choose a high top that is well-fitting and adjustable.
If you have high arches, look for a shoe with extra arch support so it fits the bottom of your footwell, or choose to wear a custom insole or orthotic.
Flexibility
Aerobics exercise requires a lot of flexibility to move safely and smoothly through the various exercises at a pace that benefits your body.
When it comes to flexibility, the perfect aerobics shoe has:
A pliable sole. Rubber is an excellent choice.
A flexible, not too stiff upper.
More support if you have flatter feet.
Greater flexibility if you have high arches.
What to avoid
A rubber that is too thick. It should be able to fold in on itself or have cut grooves that allow it to fold.
Soles that are too thin or too flexible, you will not have enough stability (kind of like trying to run a marathon in a pair of flip-flops)
Rigid soles (like chemically hardened rubbers) that will not flex.
The ability to move in the shoe also means the ability to pivot. Pivoting is an important part of most aerobics routines these days. A good aerobics shoe will have traction in the right places to keep you safe on your feet while pivoting.
Versatility
Most shoe manufacturers don't make anything they call an aerobics shoe.
This is because they know that aerobics is a varied exercise that may be best suited to a cross-trainer, a running shoe, a trail runner, a water shoe, or a cross-fit type shoe. What you need will be based entirely on the type of aerobics you want to participate in.
High-impact aerobics
Look for a shoe that has extra shock absorption and excellent traction, like cross-training shoes and trail running shoes.
Low-impact aerobics
For low-impact, modified aerobics, look for good traction and lots of cushion and support in the insole. You also, as much as possible, want to have a shoe that is lightweight.
Dance aerobics
For dance aerobics, look for a shoe that has extra flexibility, is lightweight, and shock absorbing.
The bonus of looking for an athletic shoe that will suit the type of aerobics that you want to do is that you will have a shoe that you can also wear to participate in other sports and activities.
Top 8 Aerobic Shoes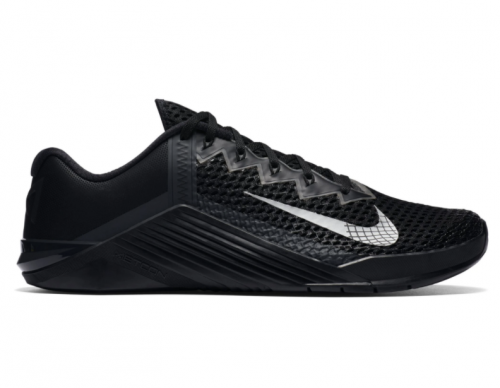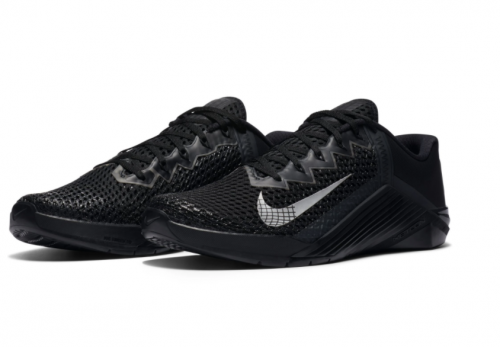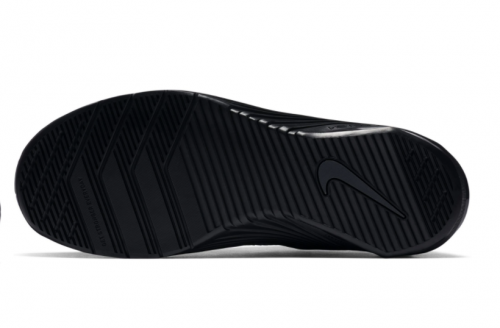 Made for various types of indoor exercise, the Nike Metcon 6 is the latest edition of Nike's highest-rated cross-training shoe.
It's made to be flexible but supportive in the upper, soft to the touch and breathable, stable and grippy in the outsole, and most importantly, durable so that you can wear them for quite some time to come.
Like a large number of Nike's running shoes, the Metcon is also made from a textured mesh that has increased durability to traditional mesh materials.
But, in order to add a greater level of support, Flywire cables wrap up from the bottom of the shoe, around the midfoot, all the way to the top, enabling you to move in any way possible without having to worry about stability.
What makes aerobics such an effective form of exercise is the variety of movement types it can incorporate. From jumping, stepping, lateral movement, and even dance-inspired moves, it will push you to your limits.
This pair of cross-training shoes are so versatile, you will be able to use it for all of your workouts.
It's made with a 0 mm drop, putting your body in a completely neutral position that won't push you towards your toes.
The best part of the F-Lite 235 v3 is the outsole made with a sticky rubber compound that will grip all indoor gym surfaces, no matter the way or direction in which you're moving.
3 mm traction lugs allow for excellent surface grip, and the Meta-flex technology allows your foot to move in an unconstricted way, giving excellent flexibility in all directions.
The F-Lite 235 v3 is made with a breathable upper that allows a good level of moisture management but wraps the foot with welded overlays for a more secure training session.
You'll appreciate the fact that these shoes are quite durable, so you'll be able to use them for more than just a few months.
3

. ASICS GEL-Quantum 180 TR
An absolute favorite among gym buffs, the GEL-Quantum by ASICS is a model that was made for both running and cross-training.
It focuses on providing the user with premium shock absorption and in-shoe comfortability. This stable pair of best cardio shoes come in a few color options, has a 10mm foot drop, and weighs around average for this type of sneaker.
The upper of the GEL-Quantum 180 TR is made with a combination of mesh and synthetic upper, coupled with synthetic underlays that provide the foot with all-direction support.
Breathability is high in this model, and comfort is heightened through a padded mesh tongue and a padded collar that protects the Achilles area.
The sole is made of GEL cushions in the forefoot and rearfoot sections, encased by a lightweight Solyte frame that all work together to cushion each landing when you run or jump.
The Trusstic System prevents sole twisting, which means that you can even use these for lifting, and the ASICS High Abrasion Rubber does a great job on any surface, giving you a great amount of durability.
4

. Under Armour Micro G Assert 9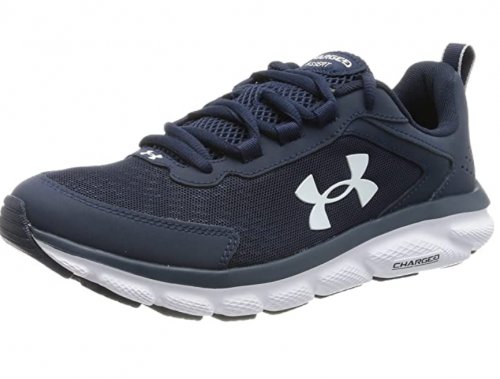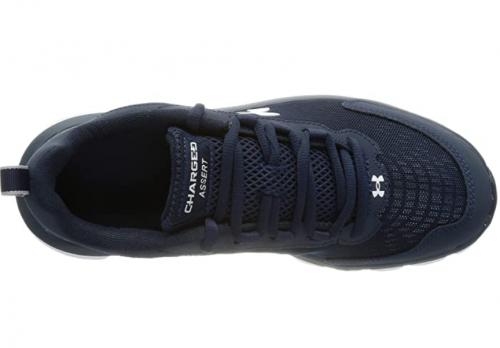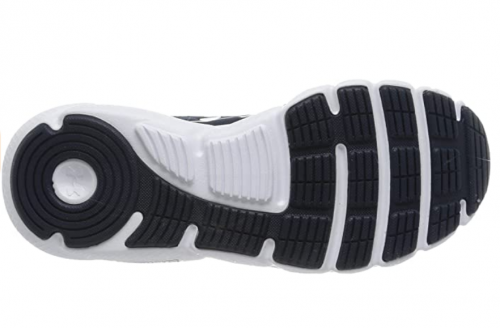 Your feet will breathe while landing those moves in these Under Armour shoes.
They are made of light foam and mesh in the upper, giving a good amount of breathability, while leather overlays provide stability to your midfoot.
The sock liner is constructed with EVA, and the Micro G Foam down the length of the shoe takes care of shock absorption and energy return.
Traction points at the high impact zone make the shoe stable and light, and the solid rubber outsole is non-marking, making it a good choice for gym floors.
The EVA sock liner in this shoe will give you a custom, comfortable fit along with providing your feet with some security and stability. A good athletic shoe hugs the foot and this will do that in spades.
There is leather on the upper for midfoot stability, however, the Under Armour Micro G Assert 9 is mainly with mesh that is both extremely adaptable and great for allowing plentiful airflow.
This will ensure that your foot is comfortable and cool, and with the lower amount of moisture inside the shoe, you are less likely to develop any blisters or hot spots.

5

. Reebok Crossfit Nano 8.0 Flexweave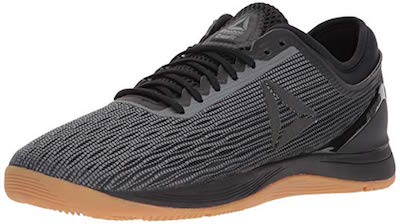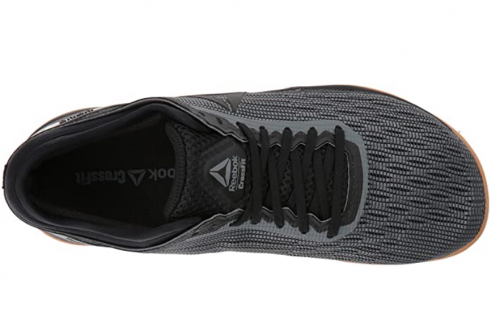 Developed for Crossfit classes that include a huge variety of movement types, the 8th edition of the Crossfit Nano is a stellar pair of footwear.
It's a lightweight, low drop shoe with enough cushioning and tech to support you through the most challenging workouts, and it is available in 15 different color options, allowing you to choose the style that will look best with your workout clothes.
The biggest update in this model is the newly developed Flexweave material used for the upper, which now includes flexible fibers that give stretch and improve fit, all while providing the stability that's needed for gym workouts and short runs.
It's highly breathable, so you won't have to worry about odors, and the classic lacing system and internal heel counter do a good job of providing lock-in.
On the bottom of the shoe, you get a high abrasion rubber outsole that wraps up around the arch to give added durability during rope climbs, and a ToeTection section at the front reinforces the toe box.

6

. Adidas Alphabounce Instinct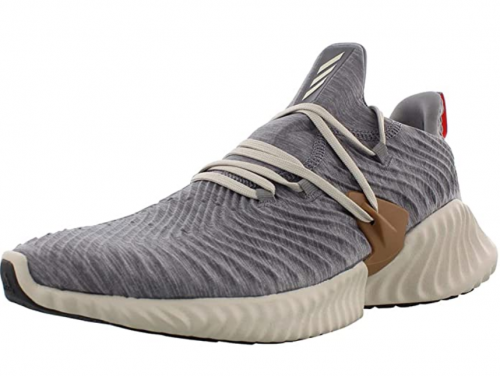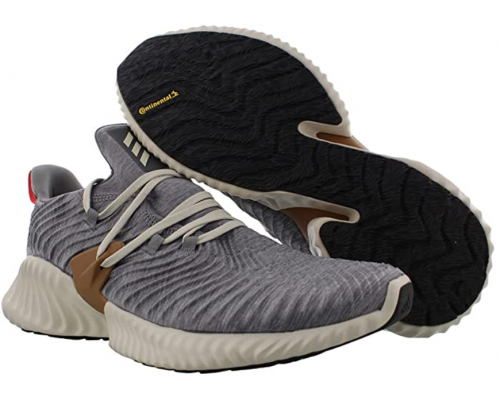 Made for runners who need a versatile pair of footwear, the Alphabounce Instinct is a great investment.
This model will do just as well in an aerobics class as it will on the treadmill, and even looks great thanks to the futuristic design and simple color options based on whites, blacks, blues, and grays.
The upper of the Instinct features a seamless Forged mesh upper which is breathable and molds to the foot, all while providing targeted support for linear and lateral movement.
Sock-Like construction offers a snug fit, while the lacing system reaches all the way to the side of the arch, securing the shoe and wrapping your foot from the midsole up.
The midsole is made with bounce technology, often found in basketball shoes, and it's a great material to have in your training footwear.
It's both shock absorbing and responsive and gives you a bouncy feeling underfoot. The entire sole is flexible, with a Continental rubber outsole that works just as well as wet as it does on dry surfaces.

The Ryka Hydro Sport is a hybrid shoe designed for both aerobics and water sports.
The unique constellation of features it offers, which includes materials that are water-resistant, removable footbeds, and webbing ideal for workouts that are done in and around water make this a shoe you should definitely consider.
There's no specific way an aerobic workout has to be designed to provide the most benefit, but if yours involves water these are the shoes for you.
The functionality of the RYKA Hydro Sport shoes is reflected in its removable, perforated nitracel footbed, as well as the drainage ports in the soles, ensuring that these sneakers dry out quicker than normal.
They have a thick outsole made of a "sticky" rubber that maximizes traction on wet surfaces, and it's made even easier for use thanks to the easy slip on and off the design.
These shoes are made from a synthetic and mesh fabric upper that is quick-drying and water-resistant. The material is also chlorine resistant and forms a comfortable spongy wall around your foot.
The RYKA Hydro Sport, cross trainers that are specifically designed for water aerobics and sports, have features that will enhance your aerobic experience and leave you feeling fresh and accomplished when you're done.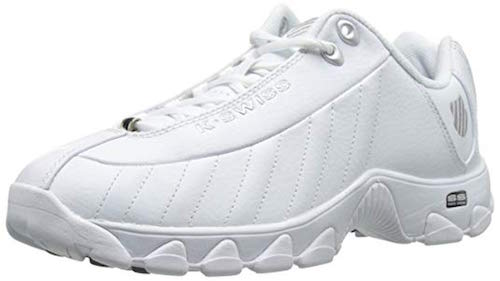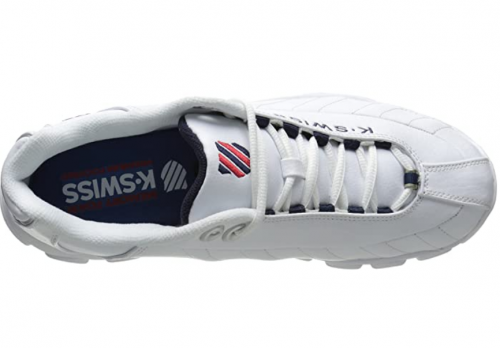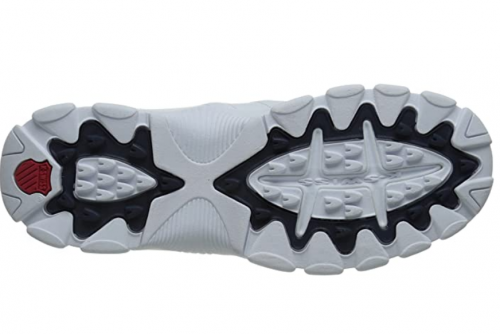 The ST329 was originally designed as tennis shoes, developed by K-Swiss as their signature pair of athletic footwear.
Thanks to its quality make, leather upper, and super shock-absorbing cushioning, it's a durable pair of shoes that will work not only for tennis but aerobics or just regular lifestyle use as well.
The K-Swiss ST329 CMF is made from high-quality leather on the upper and a thick rubber sole that has maximum shock absorption.
It also boasts a deep multi-dimensional tread, perfect for tennis but also for aerobics where quick footwork and rapidly changing movements require non-slip designs to prevent injury.
The area around the heel cup is reinforced with dual foam to ensure the most energy return. Their sleek, streamlined look also helps them go from the gym to the street without a second thought.
These shoes have been specifically designed for comfort, and though your aerobic exercise may only last an hour, these shoes could be worn for many more.
Orthotic inserts aren't needed when these shoes have custom made memory foam footbeds, allowing you the ease of movement, freedom from joint pain, and the feeling of walking on air.
K-Swiss may have had their origins in tennis, but these elite sneakers can be used for a variety of athletic purposes.

Subscribe to our Newsletter