Best Under Armour Running Shoes Reviewed & Rated
In a Hurry? Editors choice: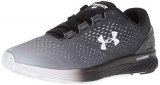 Test Winner: Charged Bandit 4

When looking for the perfect running shoe, there are many variables to consider. One of the most important aspects is the running surfaces you may face, another is understanding the support you need, and you need to set a goal. Are you hoping to get a better time in your next marathon, going to try out trail running, want to start out your running career, or simply need a good shoe to go to the gym? Under Armour has been making great strides in the running shoe world, and has great shoes for all of your running goals. If you want to more about top-performing Under Armour running shoes on the market read our reviews and ratings of each product.
Standout Picks
Criteria Used for Evaluation
Advanced Features
One of the things that make Under Armour such a reliable and top quality brand is its constant in-depth research and innovative technology used in their running shoes. This brand puts themselves in the shoes of the runner to better understand each individual's needs and provide shoes with the proper solutions.
The designs are specially crafted and well thought for each different type of running. Under Armour always aims to create a lightweight feel in their running shoes while still using strong, durable materials. Their many styles in shoes are designed to form around the foot in whichever way best suits the runner. With so many forms, fits and shapes, you truly have a lot to choose from.
Under Armour uses modern, advanced technologies to create fashion-forward, functional running shoes. Technology like their 3D printing allows this brand to create the perfect fit, stitching, and use of materials. When you face a problem while running, it's Under Armour you'll want to turn to for the solution. Being properly structured, strong, and comfortable, these designs for running shoes are literally some of the best money can buy.
Going even further into innovative designs, Under Armour provides a wide variety of features in their running shoes from shock absorption to protective welding. Every small detail counts when creating these running shoes, that's what makes them so reliable. EVA multilayered Midsoles, high abrasion rubber soles, and midfoot straps are just a few more examples of extremely functional features you can expect to find in Under Armour running shoes.
Each of their shoes is created differently to enhance the special features needed for each run. You won't find the same features in all their shoes which is why their advanced technological designs are so unique. All in all, Under Armour, is a brand that truly works hard to only bring the most relevant features in footwear forward.
Support
The structure of your running shoes is an important factor in keeping your foot secure and protected from any injuries. Running shoes that don't properly support your feet can cause a variety of health concerns from blisters and calluses. These are things no one wants to worry about while on a peaceful run, which is why Under Armour has done all the thinking and prepared the proper solutions for you.
The type of running you're doing changes the features and support you need from your shoes. Under Armour designs their shoes to provide you the proper support needed for the places your planning to go.
Runners like prefer running in remote areas in wildlife, up hills, or on dirt paths need a secure fit that supports the heels and ankles without being too constricting. Of course, Under Armour has created this is a few different designs. For those of you who would rather run where it's convenient like on concrete or on a track, you'll want to have a running shoe that absorbs the pressure of the hard surfaces and provides your feet with comfortable cushioning. Under Armour has this too!
Under Armour also uses smaller features in their shoes like TPU enhanced heels, reinforced upper and outsoles, and flexible padded ankle collars. Providing extra strength support in areas that receive more pressure than others, the supportive structure in all Under Armour running shoes is made to last.
No matter what running shoe you choose to wear, you can all expect them to be made with the same quality the provides the secure fit you need. When looking to enhance your performance and protect your hard-working feet from any injuries, Under Armour is a brand that you can trust and rely on to do the job correctly.
Structure determines foot security and injury protection.
Different types of runs require different types of structures.
Soft surface running requires support in the heels and ankles.
Hard surface running requires cushioning and pressure/shock absorption.
TPU enhanced heels, reinforced uppers/outsoles, and flexible padded ankle collars provide extra support in the structure.
Outsole
The types of running you do and the area in which you choose to run are all very important key factors in choosing the proper running shoes. Joggers, sprinters, and long distance runners are all different from each other just as running on concrete is much different from running on dirt trails.
When looking for reliable running shoes, one of the first things you should consider is where you run, what type of running you're planning on doing, and how long you're actually going to be running for. Longer distance runners are going to want to seek out some extra comfort along with their secure, durable fit.
Under Armour understands the differences in running and aims to create shoes that come equipped with specific purposes to aid in their use. For example, those of you who enjoy running on trails and dirt paths created by nature are going to need shoes that come equipped with grip and proper traction on the outsoles to prevent you from slipping. While traction is a key feature for off-road running, it's really not ideal for running on flat, man-made surfaces.
If you are someone who takes mornings jogs in your neighborhood or likes to run on tracks or at the gym, Under Armour has a supportive running shoe for that too. Flat surfaces require different features like shock-absorbing, durable soles, and a proper rebound in each step. Under Armour uses its innovative designs to provide a firm yet plush, comfortable feel in these types of running shoes.
No matter where you choose to run or how hard to work to push yourself, Under Armour running shoes will be there every step of the way to provide you with only the most important features you need. From running up a hill to taking a jog through the park, every shoe is designed for the specific task of helping you run as best as you can.
The type of run determines the type of shoe.
Consider where you're running, what type of running, and how long you're running.
Soft surface running requires grip and traction.
Hard surface running requires responsive rebound, shock absorption, and durable soles.
Comfort
While structure and durability are needed to make a strong, supportive shoe, breathability and comfortable cushioning are needed just as much to keep your feet in good health. Comfort can be found in Under Armour running shoes in a variety of areas, all contributing to making the shoe a top-quality choice for all types of runners.
On the inside of the shoes, Under Armour inserts Charged Cushioning and/or Micro G lining. Both of these features can only be found from this brand and nowhere else. These special enhancements ease pressure from the foot and replace the stress with a soft, form-fitting feel.
Charged Cushioning is better than regular shoe cushions because it is created especially to aid in a variety of areas rather than just being squishy. This type of padding is designed to absorb shock and ease pressure away from the foot while providing a firm and form fit. You'll most likely find this feature in the midsole of Under Armour running shoes, but sometimes they also use it with their insoles as well.
Micro G lining is similar to the Charged Cushioning but instead of being used as a midsole it's typically only used as a sockliner or insole. This feature is softer than the firm Charged Cushioning and allows the foot to settle into place comfortably. Some of their sock liners are also removable which is a great option for easy cleaning.
As far as breathability goes, you can find this feature in their 3D printing and mesh uppers. The 3D printing allows Under Armour to create designs that are strong, lightweight and still have room to breathe. Mesh uppers are a great choice in running footwear because the material is flexible and stretches to the shape of your foot. Mesh also lightweight and comfortable while also providing proper air circulation needed to keep your feet cool and dry.
Overall, Under Armour commits to only using materials and features that provide proper functions and comfort. Their shoe designs are created to form to your foot and provide the perfect individual feel you need to perform successfully during a run.
Breathability and comfort are important for good foot health.
Charged cushioning and Micro G lining ease foot stress and pressure.
Charged cushioning absorbs shock and provides a firm fit.
Micro G lining is softer and helps to settle the foot in place.
3D printing and mesh provide breathability.
3D printing are special designs for strength and breathability in addition to being lightweight.
Mesh is flexible and stretches, is lightweight, and gives great circulation.
Durability
When choosing a good running shoe you'll want to look out for features that make the shoe more durable and protected, to extend the life of the shoe. While finding an attractive style and a comfortable fit is important to the appeal, strong, reliable materials are what you really need to have in a good quality running shoe.
Luckily with this brand, they work hard to only use the strongest, most innovative materials known to man. Their team is always working hard on research to source and provide the best materials, so if something new and better becomes available, you can expect to find Under Armour creating a shoe with it.
An example of their durable materials would be their constant choice to use Dyneema fibers in the creation of their shoes. For those of you who don't know what Dyneema is, in short terms it can be described as the world's stronger fiber. This material is as strong as metal without being nearly as heavy; in fact, it's actually considered a lightweight material. Under Armour weaves this fiber into the uppers of some of their running shoes because it can protect your feet, take extra damage, and still provide you with a breathable, flexible fit.
Another aspect of durability is Under Armour's rubber outsoles. While any regular shoe with a rubber sole may not provide support or will end up wearing down and falling apart, Under Armour's soles will do just the opposite. They use their innovative technologies and protective welding to help increase the strength of the soles and allow them to be more abrasion-resistant. No matter what type of surface you run on, you can expect these soles to always protect your feet and provide you with comfort and security.
Under Armour knows what kinds of materials are needed for the challenges of any run which is why they've created their own signature materials for complete comfort and success. Their patented technology like Micro G lining and SpeedForm designs are why the brand is a top-quality choice in running shoes from the occasional jogger to the serious long-distance runner.
Durability is paramount for long lasting shoes.
Dyneema is a super strong but lightweight material that protects your feet.
The rubber outsoles use protective welding to increase outsole strength and be abrasion-resistant.
Top 10 Under Armour Running Shoes Reviews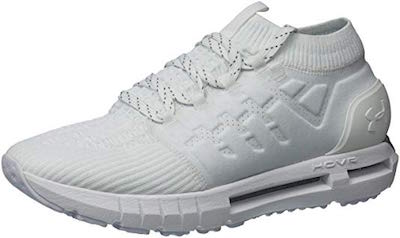 A mid-rise running sneaker made for neutral pronators and road running conditions, the HOVR Phantom is the latest model by the brand, and comes in two editions - the Connected, which is equipped with a microchip inside the sole, tracking all the aspects of your performance and showing them on your mobile phone, as well as the slightly cheaper option that does not have this smart addition. Both the midsole and the upper feature premium materials to give you the best possible tools to get further.
The midsole of the Phantom is made with HOVR foam that's wrapped in Energy Web, giving a responsive and cushioning midsole that's protected from packing and flattening, and remains durable even after miles and miles.
A material that's woven, breathable, lightweight, and quick-drying, the Microthread upper ensures the perfect fit for almost any foot shape. Medial and lateral support is ensured by 3D printed panels, while a sock-like bootie ensures added ankle stability as well as protection from pebbles and debris.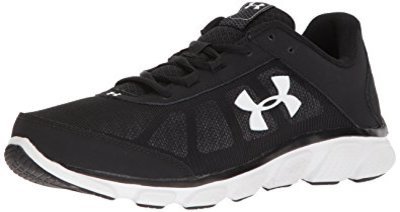 Ultimate comfort for an ultimate run. The upper is constructed with mesh for 100% breathability and a lightweight. The overlays are leather for durability and stability helping to keep your midfoot locked in. Every step you take responds with the comfort with the EVA sockliner and the Micro G foam midsole. The rubber outsole supports foot zones of high impact without the extra weight.
Sometimes a running shoe's material is used for style instead of function. You can get both with the Assert 7. Durable leather is used in the overlays to help withstand wear and tear while giving a better stabilizing, locked-in fit.
A lot of running shoes only offer one supportive feature. Not only do you receive support in the midsole and outsole, but you also get an extra layer with the EVA sockliner. The liner is very soft and offers a sock-like feel without extra materials for a lightweight in-step feel.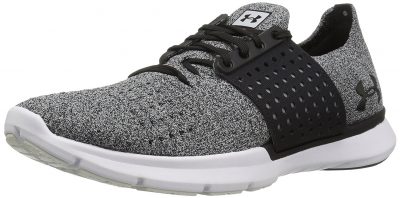 Combine premium materials and innovative, elite technologies and you'll find yourself with a highly reliable running shoe; just like this one! The Threadborne knit upper provides lightweight breathability while the flexible foot straps secure the foot into place for increased safety and support. Molded Charged Cushioning can be found all around this running shoe, from the comfortable sock liner to the durable compression midsole. All around this shoe provides all the proper features needed for a comfortable, successful run.
The mid-foot straps located on the outside of the shoes work hard to create a flexible and form fit. The TPU enhanced heel and anatomically designed outsole also help to provide the proper structure and increased stability. Coexisting with Charged Cushioning, the inside of the shoes will also provide plush comfort and a flexible yet secure fit.
The Charged Cushioning really takes control of this shoe. Found in the sock liner that helps form to the shape of your foot and compressed into the midsole to provide cushion and rebound, these running shoes will provide you with complete comfort on or off the track.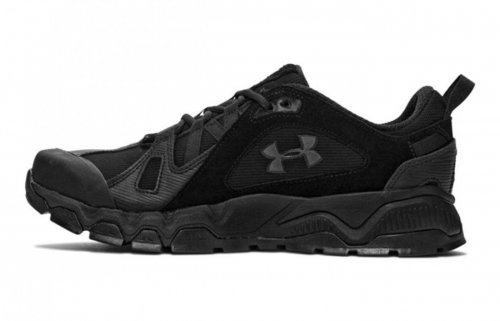 With all the amazing features, it's no wonder why this running shoe is another one of Under Armour's best sellers. The Chetco 2.0 mesh upper and synthetic overlays work together to create a supportive yet comfortable cradle for your foot. The removable Ortholite sock liner provides a cushion against the bottom of your feet and also makes cleaning convenient. From the padded mesh tongue to the high abrasion carbon outsole, and lightweight EVA midsole, this running shoe is an all-around great choice for any type of runner.
Under Armour created these shoes with types of innovative fabrics. The mesh uppers are strong and durable while allowing for a lightweight form fit. The synthetic overlays provide heavy-duty strength and protection against the outer part of the shoe and give you a supportive, tight fit around your foot.
The midsole comes equipped with a lightweight EVA to give you the perfect cushioning. This kind of padding creates a soft, foamy feel that forms to your foot while it also works to absorb any pressure and friction from your movements. A great choice for creating ease during your run. With the addition of the Anti-microbial Ortholite sock liner and the TPU toe cap for added protection, these running shoes are top of the line.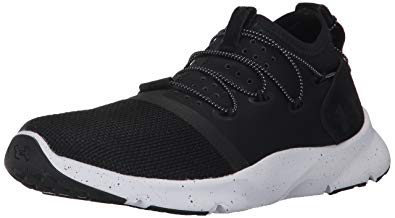 Lightweight and minimalist the Drift 2 gives you everyday style that's ready for any race. Fashionable design with a fresh look, there are built-in perforations in the toe box and tongue with a lacing system that is wide and adjustable for a fit that is locked down. Also, a sock-like fit wraps closely around the foot for a better grip and guidance. You'll win every finish line quickly and easily.
Are you tired of unnecessary distractions and irritations from other running shoes? The Drift 2 comes with an innovative technology called the stretch fit ankle collar, which reduces any fit problems. The collar locks the foot into place and features perforations to help increase ventilation and keep you cool.
The suede heel overlay helps to add structure to the mostly mesh upper and brings support with the drawcord lacing system. The EVA sock liner and midsole helps to comfort without adding to this lightweight shoe and weighing you down.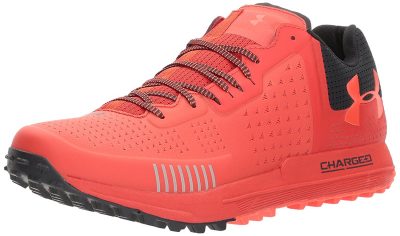 This shoe is perfect for those of you outdoor lovers and trail runners. The high traction rubber sole provides support and grip needed to keep your balance and stay protected. The durable upper and reinforced materials provide increased durability in critical areas, keeping your shoe fully intact for longer periods of time. Featuring a molded foam collar, mesh heel, Charged Cushioning, and full-length EVA Midsoles, you really can't go wrong with this running shoe.
Running on natural surfaces like grass, dirt, or rocks can create stress against the foot and damage shoes that aren't tough enough. That's why Under Armour created these shoes with high traction on durable rubber soles that are made to be long-lasting and supportive.
While running may be tiring, these shoes will make your feet feel like they're walking on clouds. The Charged Cushioning inside the shoe provides a soft, supportive feel perfect for long-distance runs. The molded foam collar and protected heels form to the shape of the foot, protect, and provide comfort.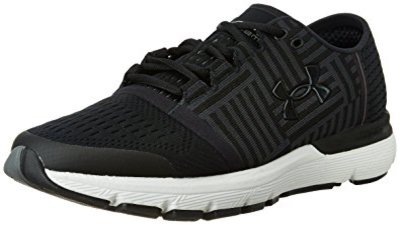 A greater evolution in the Gemini series, the neutral and lightweight Gemini 3 will give you cushioning and flexibility you crave. Constructed with Speedform, you'll have a precision fit and built-in sock liner that gives you greater comfort and support. The threadbone midfoot gives structure and the engineered mesh enhances ventilation.
The superbly cushioned midsole responds to your every step. As you run, the midsole absorbs your step energy and uses it to propel your next move.
So many running shoes have a thick and bulky heel cup that can hinder your performance. With the Gemini 3, you have a heel cup that is seamless to give you a better performance fit without minimizing stability.

8

. SpeedForm Slingride TRI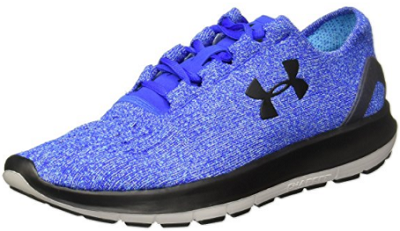 With over 22 color combinations, it might be difficult to pick a favorite. With a runner's dream construction, this shoe is ideal for all distances and will provide great comfort on hard running surfaces.
Sometimes it seems the long-distance runs get all of the love when it comes to discussing shoes. This particular shoe will be a great option for sprints, stair runs, and cross-training. Under Armour has introduced seamless asymmetric zonal compression that will allow you to get from heel to toe very quickly.
Between the woven and durable fabric, dual-layered midsole, and padded tongue, you will find this shoe to be incredibly comfortable for all of your running needs.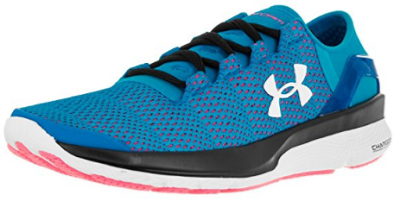 A clean design with a few options for color combinations and a tasteful placement of the Under Armour logo make this shoe a great option. The construction of this shoe is recommended for casual running on the treadmill, all distance running, and road running. It is highly recommended you break in this shoe with a few short mileage runs before taking them over 3 miles.
The fabric and design of the shoe will allow for breathability. This provides a benefit for those who feel their feet get hot during running, and it will help with smells. This fabric also allows the shoe to be lightweight, important for long distance running.
The extra cushion in the midsole will provide great support to all arch types. You may find you need a little extra support if you have particular needs, but the factory construction will allow for most arch types to feel very comfortable.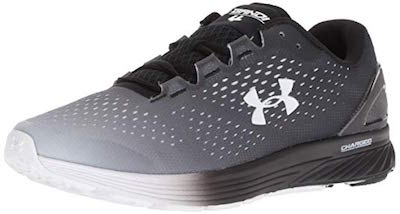 The latest edition of the Charged Bandit line is one of UA's most loved runners, mainly thanks to the great combination of comfort and cushioning it provides. This road runner is made for neutral pronators, and has a slightly lower drop than most running shoes at 8mm. The upper is now more snugly fitting, ensuring better security while running, while durability has also been improved with the addition of a highly abrasion resistant compound in key areas.
The compression-molded midsole used in the Charged Bandit 4 aims at providing a responsive running experience that absorbs as much shock as possible, without sacrificing flexibility and weight. An EVA sockliner is added on top of the midsole to increase comfort but is removable so that anyone in need of customized support can insert their own orthotics.
A two-toned mesh upper is used in the Charged Bandit 4, with plenty of openings to ensure proper airflow even during the most taxing workouts. However, to provide you with the required stability, printed synthetic overlays have been added that'll hug the midfoot and prevent movement inside the shoe.

Subscribe to our Newsletter