Best Running Shoes for the Treadmill – 2021's List!
last updated:
Jan 08, 2021
If the treadmill is your favorite spot to rack up the miles, you should consider investing in a pair of running shoes for the treadmill. This style of running is similar to running on sidewalks or other hard surfaces with a few key differences. For the belt, runners need a design that is able to provide excellent energy feedback, and it needs to have a good deal of flex while still being supportive. We made sure to select designs that are lightweight and easy and boast grippy rubber soles to keep you in tune with the moving ground beneath your feet.
In this guide, we have provided a list of the best running shoes for the treadmill that will take your running game to the next level!
This is the best product on our list that is currently in stock: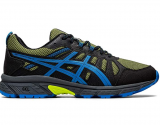 ASICS GEL-Venture 7
Why is it better?
Great for heel-strikers
Rearfoot GEL cushioning system
Wide toe box
In a
Hurry? Editors choice: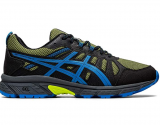 Test Winner: ASICS GEL-Venture 7

5
Researched Sources
11,300
Reviews Considered
6
Hours Researching
10
Products Evaluated
Comfort
Fit
Flexibility
Outsole
Weight
By Default
10 Best Treadmill Running Shoes





PWRRUN midsole
Flexible FORMFIT upper
Offers in many colors
Runs small
Limited durability
The reason we selected the Kinvara 11 for the top of our list is that it is designed to really move while still keeping your feet cushioned. This design provides just enough flexibility to keep control when the ground shifts under your feet, and it comes in at a fairly affordable price point that makes it worth checking out.
What users love most about the Kinvara 11 it boasts Saucony's proprietary PWRRUN cushioning in the midsole. This cushioning provides excellent support through all stages of your gait cycle, and it is lightweight and responsive which makes it perfect for conquering miles on a moving belt!
We also love that this design utilizes a FORMFIT upper that really contours to the shape of your foot for excellent movement. A few synthetic overlays offer a bit of support, and the flexible knit upper is breathable and incredibly flexible.
If you are in the market for a great pair of trainers that will offer excellent energy feedback when running on hard surfaces and provides modest stability, the Kinvara 11 is a great choice. It weighs in at just shy of 8 ounces, making it one of the lightest designs making our list.
2

. Adidas Adizero Adios 5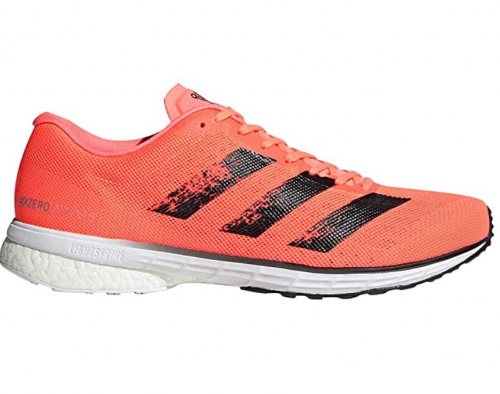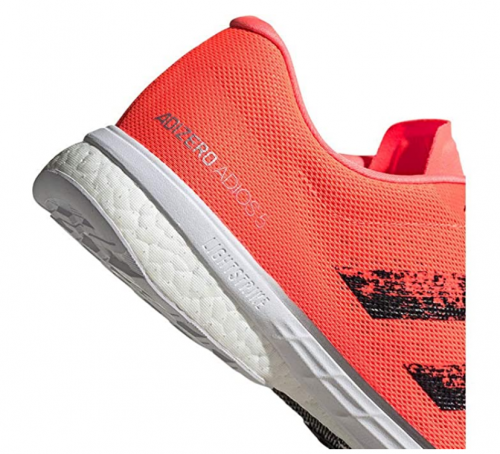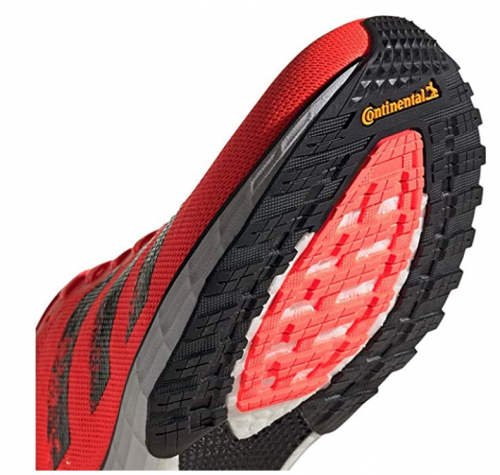 Breathable upper
LightStrike midsole
Available in bright colors
Long break-in period
A little shallow for some
What makes the Adizero Adios 5 from Adidas a great option for indoor running is that it is made from super lightweight and responsive materials with a grippy rubber outsole that offers excellent movements. It boasts a minimal mesh upper that allows your feet to really breathe, and it comes equipped with Adidas' newest addition in responsive midsole technology.
Of course, the first thing we wanted to discuss is the addition of the LightStrike materials found in the midsole. Adidas rolled out this material a few years ago but primarily used it in basketball shoes. Lightstrike foam lightweight and responsive and primarily used for those that need a lot of support for lateral movements. For runners, it translates to a super responsive midsole that won't weigh you down.
We also love the design of the upper. It isn't bogged down with padded hell collars and tongue, or even stiff synthetic overlays. It contours to the shape of your foot for great movement and the sleek lacing system provides runners with excellent lockdown, which is something you need most when training indoors on a moving belt!
This is a great option for runners that need something that is super lightweight while still offering excellent energy feedback through all stages of their gait. It utilizes Adidas' LightStrike tech in the midsole, and a super breathable upper that feels like you aren't wearing anything at all.





Great for heel-strikers
Rearfoot GEL cushioning system
Wide toe box
If you find that you overpronate, or your feet are screaming by the time you turn off the machine, you may need something that provides you with a little extra stability. The Gel-Venture 7 from ASICS is a great choice for those that need a little boost when running long distance. This design provides users excellent support from the rubber outsole all the way to the structured upper. The best part? It comes in at a super affordable price point that won't break the bank.
One of the things that makes this design a great stability trainer is the Rearfoot GEL cushioning system. The structure of the midsole offers excellent cushioning and energy feedback for all runners, but especially heel-strikers or those carrying a little extra weight. The durable AHAR rubber outsole promises to hold up quite well over hundreds of miles of training.
What's also great about the Gel-Venture 7 is the construction of the upper. It is composed of a blend of mesh panels and synthetic overlays the cradle your foot in place (which is why it is great for overpronators), while the mesh panels lift hot air up and away from your feet. The padded collar and tongue offer an extra level of stability and comfort as well.
If you need a great stability trainer, you can't go wrong with the Gen-Venture 7 from ASICS. It may be a little bit heavier than some of the other trainers we have looked at, but it is great for those that need a little bit of extra support. Plus, it comes in a wide variety of styles and color options.





Versatile
Light and breathable upper
RevLite midsole
Affordable
Limited durability
Minimal heel support
The 890v7 from New Balance is a perfect blend of stability and flexibility. New Balance trainers often get a reputation for running a little hot and heavy, and this sleek design works to keep things light and easy. The midsole is still packed with super supportive features, but the upper is composed of super lightweight and breathable materials.
What makes this design a little different, when compared to other options in the New Balance lineup, is the construction of the upper. Instead of utilizing hot synthetic overlays, it is composed primarily of a soft knit upper. This upper provides excellent movement and flexibility and lifts hot air away from your foot to keep it cool and dry.
While the upper is a little minimalistic, the midsole is still packed with features that offer excellent energy feedback and stability. This trainer is equipped with New Balance's RevLite, which adds an extra spring in your step as well as stabilizes your gait cycle. It is able to achieve this boosted level of stability with super-lightweight materials that won't weigh you down.
The 890v7 from New balance perfectly marries a minimalistic trainer with a stability trainer. It is the perfect option for those that need something when running long distances, and easily transitions off of the treadmill for weight lifting or CrossFit. We love it because it is a supportive and versatile shoe.





BioMoGo DNA midsole
Breathable upper
Great lockdown
Slightly expensive
Limited durability
The Brooks Launch series has had some serious ups and downs. Previous iterations have been the best of the best, but also disliked by some users. Luckily, the Brooks Launch 8 has perfected this model with its 8th iteration. This design is lightweight, springy, and comfortable to wear even for long distances when training at the gym.
What runners love most about the Brooks 8 is that it boasts a lightweight and breathable upper. It contours to the shape of your foot and offers great flexibility. The upper is incredibly breathable, and runners found that it virtually has no areas of hot spots or annoying rubbing and chafing.
Inside, it packs a supportive midsole that provides an extra spring in your step that you can really feel. It utilizes Brooks' super lightweight BioMoGo DNA foam materials that put an extra spring in your step, and it won't break down even after hundreds of miles. The design of the midfoot transition zone makes for quick transitions, which is super beneficial when running on a treadmill.
Forget what you may have heard about the performance of the Brooks Launch! The Brooks Launch 8 is generally loved by all types and styles of runners. It boasts an incredibly comfortable and breathable upper that contours to the shape of your foot, and the stability of the BioMoGo DNA provides runners with a smooth and easy ride without weighing them down.





GoGa pillars sole
Lightweight
Memory foam heel cup
Mesh upper design
GoGa mat footbed
Resalyte midsole
Superior impact absorption
Not everyone who hits the treadmill is a runner, and for those of you who like to use it for walking then this design by Skechers is going to be perfect. The Go Walk 5 is an extremely lightweight, mesh made sneaker that easily slips on and off. Although the insole doesn't use memory foam, the sneaker does feature a memory foam heel cup which gives you a much more comfortable and supportive step.
The GoPillars, located on the outsole, combined with the GoImpulse make this responsive design surprisingly flexible. Each step you take will be easy and natural, allowing you to walk for hours without noticing any discomfort.
As we mentioned, these indoor running shoes don't use a memory foam insole and instead rely on its unique GoGa Mat to give you that extra cushioning. Memory foam can flatten easily over time, so the GoGa mat uses more of a yoga mat textured foam that is firm and will hold up for long. You will still get all of the support and cushion, the only difference being that it will be springy and plush after multiple uses. To keep your foot even more comfortable, the Resalyte midsole is amazingly good at absorbing shock.
Given that these are only for walking and not running, you're already saving yourself a good bit of money there as they don't need to be as supportive or durable as outdoor footwear. For the gym walker who wants superior comfort, this design has amazing value and a price that won't break the bank.





Supportive foam sole
Simple look
Superior performance
Versatile wear
Durable
With exceptional quality and innovation, the Nike Tanjun is exactly what we expect from this powerhouse company. A breathable upper and no-nonsense design is what gives this design its name, Tanjun, which means 'simplicity'.
The Tanjun is almost all foam, giving it no weight. Heavy footwear can turn an awesome run into an awful trudge. Not only does Nike give us a foam midsole as well as an outsole, but they also give us a lightweight textile upper. It's important to note the textile upper gives superior breathability on top of being lightweight, making it feel as if you aren't wearing footwear at all.
Simple and comfortable, the option to wear these for a jog or down the street for a cup of coffee will help you get the best bang for your buck. Nike gives us a design for most situations in life; this one just so happens to cover multiple needs.
Nike has proven through years of success that quality footwear doesn't have to cost an arm and a leg. If you need great value for a versatile lightweight design then look no further, the Tanjun has you covered. Simple is not a word we often get to use in life but may be able to use more often after trying out these sneakers.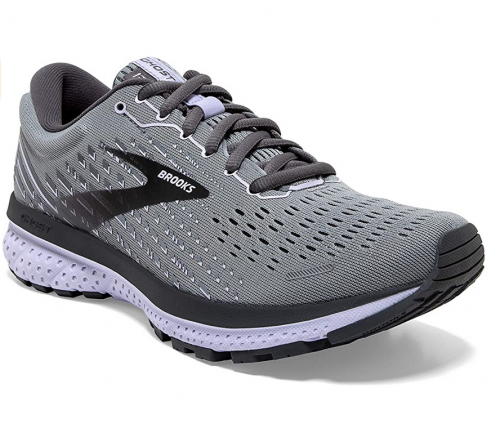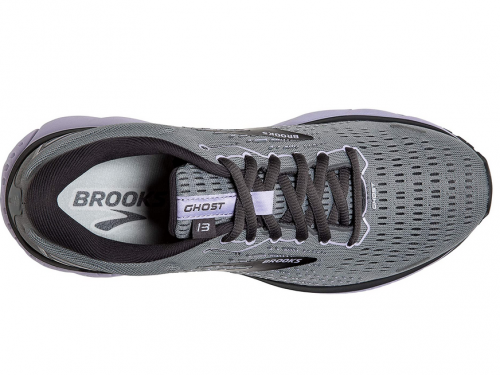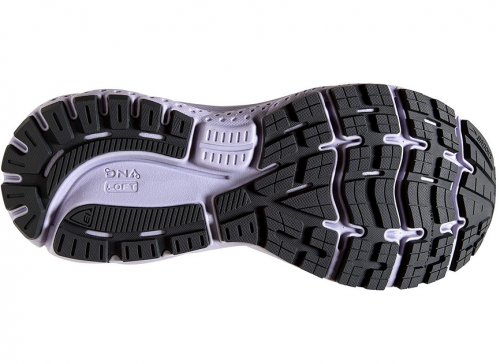 Very durable
Quick break-in period
Lightweight upper
What we love most about the Brooks Ghost 13 is that it is lightweight and easy, and works just as well on the treadmill as it does off. It uses a blend of materials that help to keep you supported and in tune with the ground under your feel without a lot of extra bulk. If you are looking for a neutral trainer to take to the gym, the Ghost 13 is an excellent choice.
One of the things that makes this shoe ideal for the machines is that it boasts a midsole that provides a smooth transition. When the ground is shifting under your feet, this is a much-needed feature to keep your stride steady and even.
We also love that this design boasts a lightweight and breathable upper that provides modest cushioning along the heel and on the top of the foot. This design makes for a quick break-in period and prevents rubbing and chafing during those first runs together.
If you are on the market for a great design that is versatile, supportive, and lightweight, this is an excellent choice. It may cost a little bit more than many of the other designs that we have seen on this list, but the added durability and support make it worth every penny!





Supportive midsole
DYNAMOTION FIT upper
Blended U4ic and U4icX foam
Not ideal for long distances
Stiffer than expected
For those looking for a great stability trainer that doesn't weigh you down too much, this style from Mizuno is a great option. What makes it ideal for treadmills is the secure rubber grip on the outsole and the modest flexibility in the upper. You can be in tune with the shifting ground under your feet while still being supported. The only downside to this trainer is that it doesn't come in a tone of color choices.
The very first thing that we noticed about the Wave Shadow V3 is that it utilizes a blend of U4ic and U4icX foam that provides excellent energy feedback and support. Some runners feel that this foam cushioning is a tad on the stiff side, but it makes it a great choice for heavy-strikers or for those that overpronate. The stiffer nature makes this trainer ideal for times where you want to really pick up the pace.
One of the things that runners love most about this trainer is that it boasts a super lightweight and breathable upper. This upper offers modest cushioning in the heel and tongue, which won't rub your heels raw on long runs. It also utilizes Mizuno's DYNAMOTION FIT technology that contours to the shape of your foot for an easy fit.
If you are in the market for a good blend of stability and movement, you can't go wrong with the Mizuno Wave Shadow v3. We love that it is packed with supportive features that lend support through all stages of your gait cycle, and boasts an easy and comfortable upper that is made to move.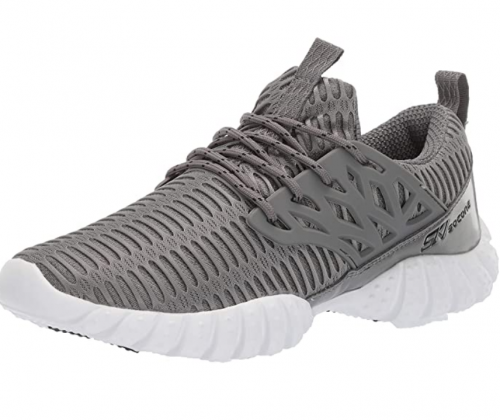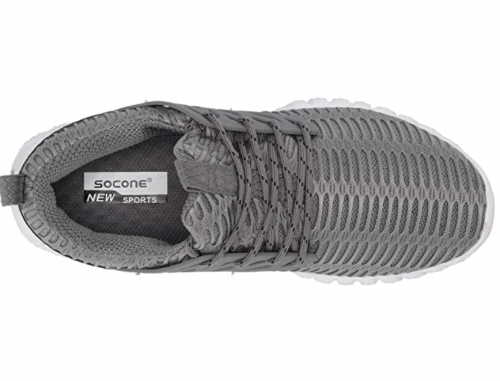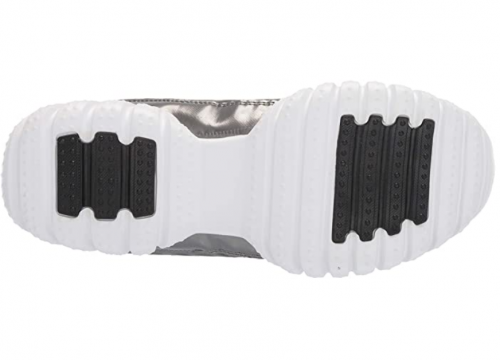 Durable rubber sole
Double mesh upper
Breathable and lightweight
Five claw lacing system
Cushioned insole
Shock absorbing midsole
Sizing runs smaller
Lacking arch support
One of the things that make ALEADER footwear so great is that they are extremely inexpensive, especially when compared with similar styles by other brands. You aren't getting a luxury name attached to this design, but you are going to be getting a comfortable and supportive sneaker that will serve you well while you get moving on that treadmill.
This mesh option has a very breathable upper design, which allows for enough air flow to keep your feet cool. To ensure that the mesh is durable, it is double layered, allowing it to keep its shape over time and give your foot adequate protection and support. The mesh is also soft, working as an additional liner to prevent any chaffing or blistering from occurring while you work out.
Having footwear that you only use for indoor training is one thing, but having a design versatile enough that you can take it outdoors gives you more value for your money. These feature an amazing outsole that will grip nearly any surface regardless of how wet or dry it is.
The truth is that these aren't as long lasting as some of the others we have seen. However, with that said, you are getting a high level of performance out of the Mesh Sport, and it will last a while if you keep it solely for indoor use.
Criteria Used for Evaluation


Comfort
Cushioning to look for:
EVA Foam
Fresh Foam
Blown Rubber
Lunalar Foam
Cushioning to watch out for:
Carbon Rubber
Polyurethane*
Dual Density EVA*
Use of Posts
*Polyurethane and Dual Density EVA are excellent for cushioning. The reason you need to watch out for these two is the fact that they can add a lot of weight to the shoe. Long runs need light shoes and this can really dampen your pace.
Thick Foam outsoles are becoming all the rage. The future looks a little odd but gives an extreme amount of cushion with very little weight. The super thick foam outsoles feel like a dream on your feet and don't weigh you down. You may find a lack of flexibility in this cushion system which has some staying away. If you suffer from plantar fasciitis this type of shoe may be just what you have been looking for!


Fit
Sometimes, finding that perfect-fitting pair of shoes is like finding a needle in a haystack; it's almost impossible. Fortunately, we've scoured the internet to find the top 10 treadmill running shoes that actually fit the way they're supposed to.
To come up with a score for the fit of a shoe, we evaluated several factors like the type of shoe, the purpose of the product, the construction and the materials used. We then combined that information with thousands of customer testimonials and reviews from across global online marketplaces in order to choose only the best fitting shoes for our list.
By scoring high on this criterion, the product demonstrates a high trueness-to-size and you can bet that a size 11 pair of runners will fit your size 11 feet.


Flexibility
Running on a treadmill is very different from walking on one. One of the key components of the best trainers for treadmills is flexibility. The toe and heel of the shoe should offer substantial movement while the arch stays a bit stiffer offering support.
There should also be some twist to the shoe. This allows your foot to maneuver with you while running.
Treat flat feet and high arches accordingly, hence the know your feet statement. If you have high arches make sure you are giving the support level needed for the type of impact you go through while running on a treadmill.
It all really comes back to the fact that you want a well-fitting shoe that moves with you. Find flexibility and a fit that is made for your particular foot. Our guide covers a variety of styles and fits to give an option to most feet out there.


Outsole
The outsole, or more simply, the sole of the shoe, makes direct contact with the ground and therefore supports the entire foot and body when in motion. Needless to say, a poorly-constructed outsole will lead to discomfort, slipping and foot or another bodily injury. For this reason, many manufacturers use materials that are water-, weather-, heat-, and impact-resistant.
Depending on the type of footwear, one will often see outsoles made from natural or synthetic materials such as PVC, EVA, rubber, and leather. Each of these has its advantages, depending on the shoe's purpose; however, as a general rule, they each are resistant to the aforementioned factors. They are also flexible enough to support a proper foot cycle when in motion, but they are not so flexible that they feel like a pair of socks.
A sole made of the materials above tends to score higher on this criterion as they are not only comfortable but also support other features. Be aware of the weight trade-off for certain materials, however. See the "Comfort" criterion for more information on cushioning and weight.


Weight
Runners know when training for a marathon or sometimes even just your daily 5k can be greatly impacted by the weight of your shoes. Keeping it light will keep you moving. Finding a running shoe to wear while on your treadmill requires a closer look at the weight of the shoe.
The problem with wearing ultra-lightweight running shoes is the lack of cushion. Think about your feet and the problems you have encountered in the past. If you have ever suffered from shin splints you know what too little cushioning can feel like.
Expert Interviews & Opinions
Most Important Criteria
(According to our experts opinion)
Experts Opinion
Editors Opinion
Users Opinion
By Default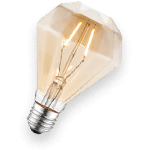 Keeping Yourself Focused
Let's face it, running on the treadmill can sometimes be a bit tedious, especially if you're logging some longer mileage.
To keep yourself focused and motivated, crank on some of your favorite tunes, try a few interval sets, or give yourself a walk break when you hit certain mile goals.
Incline Workouts
One of the great things about treadmills is their ability to give you an option for inclines, instead of trying to find hills outside for workouts.
Hill repeats are a great way to increase muscle strength, endurance, and torch calories. Ramp up the incline every quarter mile for one full mile, then start over at the starting incline for a great workout!
Frequently Asked Questions
q:

Can I wear my walking footwear to run indoors?

a:

The answer to this question depends on a couple of things. If the shoes you are walking in are built for walking you should avoid wearing them for running. A walking shoe has different support areas as well as different structure, cushion, and support.

Running shoes for a treadmill are built with a structure like those of road running shoes. They give you great flexibility in the toe and heel. In addition to flexibility, the heel usually offers a heel cup with added cushion and support for heel striking that is common with runners. They also have a slightly rigid midsole for added support.
q:

How is running indoors different then on the street?

a:

There are a variety of reasons for which running on your treadmill is different than heading outside for a run. First and probably the most obvious reason is that there are no weather issues inside your house or the local gym. Combating rain, ice, and snow can shut a run down quickly or worse lead to injury from falling.

Next, the pavement is unforgiving and let's face it, our trusty treadmill not only adds spring to our step, but it also helps us run faster. Most people see their best times on a treadmill because it supports the way your body needs to move to increase speed.
q:

I'm bored with my treadmill, HELP!

a:

When you find yourself getting tired of the same old routine, find a way to spice it up. Some tricks that have helped us and our workout buddies in the past are:

Make a New Playlist – Keeping the music fresh keeps you fresh.

Save your favorite recorded show – Only allow yourself to watch during your exercise time.

Video Chat a Long Distance Workout Buddy – While hard to talk, a great motivation is having someone run with you. Plus, it helps keep you close!

Switch the Routine – Run in the evening instead of the morning or better yet, change your course setting. Give yourself a new thing to strive for.

Completed them all? Start from the beginning but do track one and two or any other two that you enjoy running. Just remember to keep it changing.
q:

Why do I feel unbalanced when I run on the treadmill?

a:

The problem here for most runners is not being able to keep a steady focused pace. It is also important to note that a treadmill allows a runner to go faster than they normally would on the street. This can not only be dangerous if the runner missteps, it can also cause that wobbly feeling.

So where do you start? Start slow, you may find that you want to speed up quickly because of how good your muscles feel but this will lead to an unsteady pace. Starting slow will let your body adjust to the different type of running surface. Next, you want to maintain a steady focal point.

Finally, stick with it. New routines can take time for not only your mind but your body to adjust to. What feels awkward and unsteady today, will feel completely different after a few weeks of consistent treadmill running.
q:

How do I care for my new shoes?

a:

Our best advice would be to consult with the manufacturer directly. Often, reputable brands will have care guides for each of their products available online for anyone to download. Depending on the material and construction of the shoe, there will be different directions for cleaning.
Subscribe to our Newsletter