Best Running Shoes for the Treadmill – 2021's List!
In a
Hurry? Editors choice: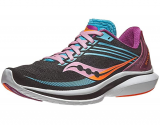 Test Winner: Saucony Kinvara 12

If the treadmill is your favorite spot to rack up the miles, you should consider investing in a pair of running shoes for the treadmill. This style of running is similar to running on sidewalks or other hard surfaces with a few key differences. For the belt, runners need a design that is able to provide excellent energy feedback, and it needs to have a good deal of flex while still being supportive. We made sure to select designs that are lightweight and easy and boast grippy rubber soles to keep you in tune with the moving ground beneath your feet.

In this guide, we have provided a list of the best running shoes for the treadmill that will take your running game to the next level!
Standout Picks
Criteria Used for Evaluation
Comfort
Cushioning to look for:
EVA Foam
Fresh Foam
Blown Rubber
Lunalar Foam
Cushioning to watch out for:
Carbon Rubber
Polyurethane*
Dual Density EVA*
Use of Posts
*Polyurethane and Dual Density EVA are excellent for cushioning. The reason you need to watch out for these two is the fact that they can add a lot of weight to the shoe. Long runs need light shoes and this can really dampen your pace.
Thick Foam outsoles are becoming all the rage. The future looks a little odd but gives an extreme amount of cushion with very little weight. The super thick foam outsoles feel like a dream on your feet and don't weigh you down.
You may find a lack of flexibility in this cushion system which has some staying away. If you suffer from plantar fasciitis this type of shoe may be just what you have been looking for!
Fit
Sometimes, finding that perfect-fitting pair of shoes is like finding a needle in a haystack; it's almost impossible. Fortunately, we've scoured the internet to find the top 10 treadmill running shoes that actually fit the way they're supposed to.
To come up with a score for the fit of a shoe, we evaluated several factors like the type of shoe, the purpose of the product, the construction and the materials used. We then combined that information with thousands of customer testimonials and reviews from across global online marketplaces in order to choose only the best fitting shoes for our list.
By scoring high on this criterion, the product demonstrates a high trueness-to-size and you can bet that a size 11 pair of runners will fit your size 11 feet.
Flexibility
Running on a treadmill is very different from walking on one. One of the key components of the best trainers for treadmills is flexibility. The toe and heel of the shoe should offer substantial movement while the arch stays a bit stiffer offering support.
There should also be some twist to the shoe. This allows your foot to maneuver with you while running.
Treat flat feet and high arches accordingly, hence the know your feet statement. If you have high arches make sure you are giving the support level needed for the type of impact you go through while running on a treadmill.
It all really comes back to the fact that you want a well-fitting shoe that moves with you. Find flexibility and a fit that is made for your particular foot. Our guide covers a variety of styles and fits to give an option to most feet out there.
Outsole
The outsole, or more simply, the sole of the shoe, makes direct contact with the ground and therefore supports the entire foot and body when in motion. Needless to say, a poorly-constructed outsole will lead to discomfort, slipping and foot or another bodily injury. For this reason, many manufacturers use materials that are water-, weather-, heat-, and impact-resistant.
Depending on the type of footwear, one will often see outsoles made from natural or synthetic materials such as PVC, EVA, rubber, and leather. Each of these has its advantages, depending on the shoe's purpose; however, as a general rule, they each are resistant to the aforementioned factors. They are also flexible enough to support a proper foot cycle when in motion, but they are not so flexible that they feel like a pair of socks.
A sole made of the materials above tends to score higher on this criterion as they are not only comfortable but also support other features. Be aware of the weight trade-off for certain materials, however. See the "Comfort" criterion for more information on cushioning and weight.
Weight
Runners know when training for a marathon or sometimes even just your daily 5k can be greatly impacted by the weight of your shoes. Keeping it light will keep you moving. Finding a running shoe to wear while on your treadmill requires a closer look at the weight of the shoe.
The problem with wearing ultra-lightweight running shoes is the lack of cushion. Think about your feet and the problems you have encountered in the past. If you have ever suffered from shin splints you know what too little cushioning can feel like.
10 Best Treadmill Running Shoes
Subscribe to our Newsletter