Best Running Shoes for the Treadmill Reviewed & Rated
last updated
Nov 01, 2019
One of the absolute musts when it comes to shoes for the treadmill is that you want something that is going to be lightweight. This is a rule that is generally applied when it comes to running shoes, as you don't want something weighing your feet down as you try and speed forward. Having heavy shoes is going to be a much more burdensome workout, so taking the time to look for shoes that are made of lighter materials is well worth the effort.
This is the best product on our list that is currently in stock: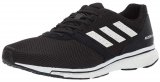 Adidas Adizero Adios 4
Why is it better?
Boost Technology
Breathable Mesh Upper
Continental Rubber Outsole
Locked-Down Fit
Sleek, Modern Silhouette
In a
Hurry? Editors choice: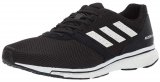 Test Winner: Adidas Adizero Adios 4

5
Researched Sources
11,300
Reviews Considered
6
Hours Researching
10
Products Evaluated
Comfort
Fit
Flexibility
Outsole
Weight
By Default
Criteria Used for Evaluation


Comfort
We will talk a bit about cushioning in the Weight section; however, the importance of correct cushioning for the running shoes you are wearing on a treadmill can mean the difference of meeting your daily exercise goals or skipping them all together. There are several types of cushioning in athletic shoes. Like most things, some are great for runners and others, not so much.
Cushioning to look for:
EVA Foam
Fresh Foam
Blown Rubber
Lunalar Foam
Cushioning to watch out for:
Carbon Rubber
Polyurethane*
Dual Density EVA*
Use of Posts
*Polyurethane and Dual Density EVA are excellent for cushioning. The reason you need to watch for them is the fact that they can add a lot of weight to the shoe. Long runs need light shoes and this can really dampen your pace.
Thick Foam outsoles are becoming all the rage. We are emerging from a world of minimalist running shoes. The future looks a little odd but gives an extreme amount of cushion with very little weight. The super thick foam outsoles feel like a dream on your feet and don't weigh you down. You may find a lack of flexibility in this cushion system which has some staying away. If you suffer from plantar fasciitis this type of shoe may be just what you have been looking for!


Fit
Sometimes, finding that perfect-fitting pair of shoes is like finding a needle in a haystack; it's almost impossible. Fortunately, we've scoured the internet to find the top 10 treadmill running shoes that actually fit the way they're supposed to.
To come up with a score for fit, or trueness-to-size, of a shoe, we evaluated several factors, like the type of shoe, the purpose of the product, the construction and the materials used. We then combined that information with thousands of customer testimonials and reviews from across global online marketplaces in order to choose only the best fitting shoes for our list.
By scoring high on this criterion, the product demonstrates a high trueness-to-size and you can bet that a size 11 pair of runners will fit your size 11 feet.


Flexibility
Knowing your routine and knowing your feet are a big part of choosing the right shoes. Running on a treadmill is very different from walking on one. One of the key components of a great running shoe is flexibility. The toe and heel of the shoe should offer substantial movement while the arch stays a bit stiffer offering support.
There should also be some twist to the shoe. When holding the heel and the toe you want some give. This allows your foot to maneuver with you while running. It is a difficult rope to cross, finding the correct give with enough support to give you an amazing experience for your feet on your treadmill.
Treat flat feet and high arches accordingly, hence the know your feet statement. If you have high arches make sure you are giving the support level needed for the type of impact you go through while running on a treadmill. The correct support will keep you from bearing the pain of shin splints. On the other hand, if you have flat feet, a shoe with a built-up arch may cause you all kinds of future pain and trouble.
It all really comes back to the fact that you want a well fitting shoe that moves with you. Find flexibility and a fit that is made for your particular foot. Our guide covers a variety of styles and fits to give an option to most feet out there.


Outsole
The outsole, or more simply, the sole of the shoe, makes direct contact with the ground and therefore supports the entire foot and body when in motion. Needless to say, a poorly-constructed outsole will lead to discomfort, slipping and foot or other bodily injury. For this reason, many manufacturers use materials that are water-, weather-, heat-, and impact-resistant.
Depending on the type of footwear, one will often see outsoles made from natural or synthetic materials, such as PVC, EVA, rubber and leather. Each of these has their advantages, depending on the shoe's purpose; however, as a general rule, they each are resistant to the aforementioned factors. They are also flexible enough to support a proper foot cycle when in motion, but they are not so flexible that they feel like a pair of socks.
A sole made of the materials above tend to score higher on this criterion, as they are not only comfortable, but also support other features, such as arch support. Be aware of the weight trade-off for certain materials, however. See the "Comfort" criterion for more information on cushioning and weight.


Weight
Runners know when training for a marathon or sometimes even just your daily 5k can be greatly impacted by the weight of your shoes. Keeping it light will keep you moving. Finding a running shoe to wear while on your treadmill requires a deep look at the weight of the shoe. You certainly don't want to see mile times lengthen or worse not be able to meet yesterday's distance because you feel like you're dragging your feet in heavy shoes.
The problem with wearing ultra-lightweight running shoes is the lack of cushion. Making sure to do your research will prove fruitful in this type of situation. Think about your feet and problems you have encountered in the past. If you have ever suffered due to shin splints you know what too little cushioning can feel like. We have offered a wide variety when it comes to cushioning but that also means a wide variety when it comes to the weight of the shoe.
It may not seem like running shoes for a treadmill could have too much cushioning however they certainly can. As I said earlier, weight matters. The more cushion the more weight and the more drag you are going to feel as you head into the day's course. Your entire body will notice the difference if you are used to a very lightweight shoe. There may be added soreness to your muscles or joints. Again, you may also see mile time decreasing or not reach the distance you were hoping for. Keep it light and find yourself moving toward distances never seen before.
Expert Interviews & Opinions
Most Important Criteria
(According to our experts opinion)
Experts Opinion
Editors Opinion
Users Opinion
By Default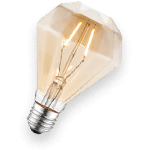 Keeping Yourself Focused
Let's face it, running on the treadmill can sometimes be a bit tedious, especially if you're logging some longer mileage.
To keep yourself focused and motivated, crank on some of your favorite tunes, try a few interval sets, or give yourself a walk break when you hit certain mile goals.
Incline Workouts
One of the great things about treadmills is their ability to give you an option for inclines, instead of trying to find hills outside for workouts.
Hill repeats are a great way to increase muscle strength, endurance, and torch calories. Ramp up the incline every quarter mile for one full mile, then start over at the starting incline for a great workout!
Other Factors to Consider


Bottom Line
Not only should your shoe be lightweight, but it should also be breathable. Stinky, sweaty feet and shoes aren't pleasant for anyone, and the more moisture you build up inside them, the more likely they are to deteriorate and break down. You don't want to be spending money on shoes that fall apart within months, all because they got too hot and sweaty and the material couldn't wick it away.
Keeping all of these factors in mind, plus more, we have taken a look at some of the best shoes currently on the market for those who love to walk or run on the treadmill. We've included a range of brands, some very well known and others that are a bit more unknown, in order to really showcase everything the shoe market has to offer.
All you have to do now is narrow down your choices, decide which features are most important to you, click buy and enjoy. Now go hit that treadmill!
Frequently Asked Questions
q:

Can I wear my walking footwear to run indoors?

a:

The answer to this question depends on a couple of things. If the shoes you are walking in are built for walking you should avoid wearing them for running. A walking shoe has different support areas as well as different structure, cushion, and support.

Running shoes for a treadmill are built with a structure like those of road running shoes. They give you great flexibility in the toe and heel. In addition to flexibility, the heel usually offers a heel cup with added cushion and support for heel striking that is common with runners. They also have a slightly rigid midsole for added support.

In conclusion, if your walking shoes meet the criteria for a good pair of running shoes for a treadmill, then go for it. If they fall short, do yourself and your body a favor, pick out a great pair of running shoes that will keep you going for miles.
q:

How is running indoors different then on the street?

a:

There are a variety of reasons that running on your treadmill is different than heading outside for a run. First and probably the most obvious reason is that there is not weather problems inside your house or the local gym. Combating rain, ice, and snow can shut a run down quickly or worse lead to injury from falling.

Next, we must consider the lack of give in road running. Pavement is unforgiving and let's face it, our trusty treadmill not only adds spring to our step, it also helps us run faster. Most people see their best times on a treadmill because it supports the way your body needs to move to increase speed.
q:

I'm bored with my treadmill, HELP!

a:

We have all been here, whether running on the treadmill or our weekly spin class, burnout! When you find yourself getting sick of the same old routine, find a way to spice it up. Some tricks that have helped me and my workout buddies in the past are:

Make a New Playlist – Keeping the music fresh keeps you fresh.

Save your favorite recorded show – Only allow yourself to watch during your exercise time.

Video Chat a Long Distance Workout Buddy – While hard to talk, a great motivation is having someone run with you. Plus, it helps keep you close!

Switch the Routine – Run in the evening instead of the morning or better yet, change your course setting. Give yourself a new thing to strive for.

Completed them all? Start from the beginning but do track one and two or any other two that you enjoy running. Just remember to keep it changing.
q:

Why do I feel unbalanced when I run on the treadmill?

a:

The problem here for most runners is not being able to keep a steady focused pace. It is also important to note that a treadmill allows a runner to go faster than they normally would on the street. This can not only be dangerous if the runner missteps it can also cause that wobbly feeling

So where do you start? Start slow, you may find that you want to speed up quickly because of how good your muscles feel but this will lead to an unsteady pace. Starting slow will let your body adjust to the different type of running surface.

Next, you want to maintain a steady focal point. For me, I adjusted my treadmill so it looks out the back window, at a giant apple tree, I'm always running for the tree. Stay away from the T.V., I know it's easy to focus on, however, moving pictures can be distracting and lead to unsteadiness while running.

Finally, stick with it. New routines can take time for not only your mind but your body to adjust to. What feels awkward and unsteady today, will feel completely different after a few weeks of consistent treadmill running.

If you are still having a hard time after this, take a look at your shoes. The best running shoes for a treadmill are not necessarily your best road running or gym shoes. Always remember what is on your feet needs to be thought out and made for the task you are going to ask of them.
q:

How do I care for my new shoes?

a:

Our best advice would be to consult with the manufacturer directly. Often, reputable brands will have care guides to each of their products available online for anyone to download. Depending on the material and construction of the shoe, there will be different directions for cleaning and maintaining, so it is always best to consult with the manufacturer before taking action.