Best Basketball Sneakers Reviewed & Rated
In a Hurry? Editors choice: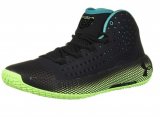 Test Winner: Under Armour HOVR Havoc 2

Best basketball shoes are a desirable style of athletic footwear that reflect the principles of team spirit, hard work, and technological advancement. One of the originals, the iconic Chuck Taylor created by Marquis Converse paved the way for designs which both players and fans coveted, wanting a sneaker that allowed for their skills to shine through. Soon, competitor companies entered this industry with their own versions of performance-oriented footwear, and today you will find that most major sports brands have their own line of basketball designs.

In this list, we take a look at the top ten best basketball sneakers available for purchase, and evaluate the important aspects and values of each of these models in order to help you choose the pair that will serve you the best – whether you want to rock them on the court, or display them as part of your b-ball collection.
Standout Picks
Criteria Used for Evaluation
Drop
How good a pair of best basketball shoes is will greatly depend on the soles. Not only will a pair of high-quality sneakers help to improve your performance with more effective speed, but they can also help prevent injuries. A design without a good pair of soles can lead to slipping and falling or can result in ankle sprains that can have a significant impact on your game and career as a professional basketball player.

Keep your eye out for good basketball shoes that have rubber soles that provide traction to prevent those dangerous slips and enhance your best moves. You should also pay attention to designs that have multi-directional traction patterns, as these are specifically created to give you an amazing grip of the surface underfoot, enabling you to make those quick cuts that'll shake defenders off of you.

The Outsole:
A decent outsole must include two things; a steady, firm grip and smooth traction. These two are very easy to confuse, and they're commonly referred to like the same feature – which is wrong. In simple words, the grip is what allows you to hold yourself onto the surface, while traction is what determines the quality of the movement in relation to the surface.
Despite being two separate things, grip and traction must work together to deliver optimal performance. An outsole that lacks either of them isn't any good as a basketball shoe, as they're both key parts of the sport.
The best designs must come with a grip that allows users to stop immediately, regardless of the speed they have and the direction they're coming from. If you're approaching the hoop fast and you want to go for a shot, it's critical that the outsole grips the surface in a manner that prevents your sneakers from moving in any direction once you've stopped.
A cheap outsole will be defeated by your momentum, ultimately resulting in slippage or lateral swinging. In order to get a clean shot, any lateral impulse should be neutralized; you only want to move in a vertical dimension when going for the shot to obtain the most accuracy. Some basketball shoes will grip efficiently to the floor when taking a shot or going for a cross-over but will fail to grip when performing quick and continuous movements. Variations of rubber, such as vulcanized rubber, have a slightly stickier surface and help control fast and forceful motions.
The Midsole:
Midsoles are the component responsible for most of the shock absorption process. This is why, in most cases, they're the thickest and heaviest part of the footwear. Basketball is a sport that involves a great amount of impact – running and jumping create a lot of shocks. If this shock isn't regulated, your joints, muscles, and bones will be severely affected; not only during the match but in the long run as well.
If you've ever had extremely sore heels the day after a match, chances are you were using basketball shoes that lacked a sufficiently absorbing midsole. From the moment of impact, the shock moves up from the surface. The first obstacle it will encounter is the sole, which is why the sole absorbs most of it. However, shock doesn't stop there, and it is crucial that the insoles of your sneakers have cushioning as well, so as to neutralize as much of the force as possible, saving your heels.
For many years, the default material for shock absorption was rubber, but new compounds are being created more and more by incorporating synthetic materials and options. These compounds are denser, meaning that they naturally contain more mass. By having more mass, these materials absorb shock more efficiently. Do note, however, that mass alone doesn't guarantee shock absorption.
The Cushioning:
Any basketball shoes that are meant for an impact sport should come with enough cushioning. This sport involves both consistent impact and a lot of aerobic activity, which is why it's paramount that our feet are adequately protected by the sneaker. Cushioning plays an important role in this, and although it doesn't deal with impact directly, it makes sure that the residual energy that isn't absorbed by the soles doesn't do too much harm to your joints and muscles.
But, performance cushioning isn't only limited to protecting feet from residual impact energy. Basketball involves a large variety of very different movements that generate compression of the foot against the materials of the design. Cushioning materials found in your pair of sneakers also prevent your feet from taking damage against the materials of the sneaker.
The exteriors of sneakers are made to be tough and durable, and this often means that they are too rough on the feet unless covered with a layer of protective cushioning.
The cushioning can prevent damage caused on the feet and will increase the level of comfort you feel when playing. If you find yourself wearing a pair of sneakers that lack in the cushioning department, you will find that you experience greater levels of fatigue as your muscles, bones, and joints will be more exposed to impact and vibration.
At the same time, cushioning isn't something that should be overdone. Made of soft, comfy materials, it will most likely lack the structure and support you need for a sport like this. You don't want to miss out on cushioning, but having two pillows in your sneakers will affect the stability and firmness of each motion.
Comfort
Any type of footwear made for performance needs to feel comfortable enough on your feet so as not to distract you from the task at hand. This includes a proper fit, as well as features designed to keep you feeling pleasant no matter the wear time. These features can be found both on the inside and the outside of a design, so make sure to carefully look at your preferred model before purchasing. Here are some aspects that you should consider:

Interior: Look for add-ons such as a sock liner or a soft interior fabric to maximize the level of comfort you feel when you put on your sneakers. It is important that you also consider the width and length of the design, as both of these will be a huge deciding factor. A basketball shoe that is too loose will allow your foot to slip around; one that is too tight will cause friction and irritation and can affect circulation.
Midsole Components: If you really want the sole of your foot to feet good, then it is necessary to check out what the midsole is made of and how thick and bouncy it is. If your basketball shoe lacks bounce then you will have a stiff feeling that hinders your mobility. Too much bounce and you lack that close to the ground feel that gives you maximum control.
Overall Weight: The heavier the design the more it will slow you down, and this is true for every added ounce of weight. Depending on your size, opting for a lighter sneaker can make a significant difference, and if you're smaller in weight and stature then you want to look at low tops that are made with thinner materials. The bigger you are, the more you can go up in weight, but be conscious of how the design feels on your foot because as each minute on the clock ticks by that sneaker will feel heavier.
Supportive Materials: Nothing takes away from your level of comfort quite like an on-court injury, so help prevent that by opting for a design that gives you support where you need it most. If you have had prior ankle injuries, look for a basketball shoe that gives you a tighter fit up top and supports you. Materials such as mesh may reduce weight and add breathability, but an all-mesh choice won't do much in terms of support.
Breathability: Basketball is a tough sport, which means that your feet will get hot and sweaty real fast. In order to minimize the risk of skin irritation and blisters, opt for sneakers that are breathable and allow for good airflow. Mesh or synthetic materials are great options, and they will often have the advantage of moisture-wicking properties. Do note, however, that these materials lack structure and support. The best footwear will have breathable panels in areas where heat concentrates most, such as the sides of the sneaker, the top of the foot and the toe box.
Fit
Needless to say, an optimal fit is required in order to play the ball comfortably. The ideal fit is one that compresses your feet slightly to provide support, leaving just the slightest gap of space between your foot and the sneaker that allows you to put it on. Another key element in determining the fit of your basketball shoes are the laces which need to be strong and dependable, making it possible for you to get the most support out your footwear.

In order to obtain the optimal fit, there are a few key areas you should take note of:

Toe Box: Make sure there is about a thumb's width of space between where your toes end and where the sneaker ends. Any less, and your toes will be cramped and uncomfortable; basketball shoes should feel snug against the sides of your foot, but it should never compress your foot to the point where it's in any way uncomfortable. Like a great hug, your foot should feel comforted, supported, and encased without any area being pinched. If you find synthetic footwear to be too tight on your foot, but good in length, try opting for a leather design instead. Leather will stretch and break-in, giving you the correct length and allowing for some extra room to accommodate the width of your foot.
Weight: If your footwear feels at all heavy when you try it on, it is going to be way too heavy to play in. The longer you wear these sneakers the heavier they feel, and that's true for even the lightest of models. Make sure you're picking a pair of a basketball shoe that is the right weight for your size and is easy and light to walk around in.
Heel Support: The fit on your heel should be the snuggest part of the sneaker, and ideally, you want to feel like your heel is locked in place. This will help reduce injury to your feet, ankles, hips, and even back. Of course, you don't want it overly tight, but the heel should not be moving around or lifting when you walk.
Closure: The closures are what allow each user to compress the fit of the design, and these can be laces, velcro straps, or traditional straps. When tying your basketball shoes, notice how the laces pull the materials together around your feet. An efficient closure system is one that distributes the tension equally throughout the upper. If like most basketball players, you find yourself wearing mid or high tops, it is crucial that the entire closure system is firm, from the top all the way down to the tongue.
Flexibility
When we're talking about flexibility, there is an important distinction to make: flexibility of a design is not a single element, but rather a quality that must be present in each element of a sneaker separately.

When shopping for performance footwear, you must make sure that the frame, the upper, and the sole are flexible enough to practice sports in. Flexibility is the very base of most motions you can possibly make with your feet, and if your footwear lacks it, you are opening yourself up to stress and tension, especially in the instep of the foot.

Look for footwear that offers flexibility in the soles, which will allow your feet to move naturally when running and jumping. If you have a chance to try out the sneakers before you purchase them, make sure to perform a flexibility test. Take both ends of design - the heel and the toe area - and bend them upwards until they touch each other if they can. This will allow you to gauge whether or not design has the amount of flexibility that you are looking for.

Of course, flexibility is a feature that, like many others, should be present but not in excess. The flexibility of a material is inversely proportional to its support; meaning that as material gets more flexible it starts to lose its structure and fails to hold the foot in place. So make sure that your option is flexible, but not flimsy, and that you still feel secure and safe while you play.
Support
When we're talking about support, we have to types to cover: ankle support, and arch support.
Ankle Support
As a basketball player, you probably know this better than any other athlete: ankles are very susceptible to injury when playing an intense game. One wrong move with no protection can put you at risk of a sprain that could severely limit you during the game, or potentially keep you from playing for a while. A great footwear choice will work to protect you from such injuries through features such as a high top, a well-molded collar or even a sock bootie.

At the same time, you don't want the ankle support to restrain your movements. Support should only act as a feature that prevents your feet and ankles from assuming unnatural positions that may be hazardous, or simply uncomfortable. Too much ankle support will prevent you from rotating freely and will considerably hinder your dribbling ability.

Sneakers come in low, mid and high top options, and the one you choose will affect how much support you will be getting in the ankle area. The higher the design, the better the ankle support, as you will have more material wrapped around the upper part of your ankle, which can generally be tightened or fastened to give you the right fit. The position you play will also make a big difference when it comes to which style you should choose, as each offers its own unique set of characteristics.

For positions that need more support, because they need quicker pivoting for blocking, etc, a higher topped sneaker is going to really allow you to move with more security and stability. When you need to be quick on the court, a low top will be lighter and give you more speed, and will also be a great option if you want more height on your jump.
Arch Support
Normally, performance footwear has a standard level of arch support which generally suits people who have no arch issues. Users that suffer from arch conditions such as flat feet or high arches, experience a considerably larger amount of stress on the arch – especially when performing sports. In these cases, it's up to the user to solve this.

The best choice, regardless of what your feet anatomy is, is to purchase customized insoles. In general, this is something all people with arch conditions must do, as they are unlikely to find a pair of sneakers that suit their specific condition. Even if the generic arch design fits your anatomy, the best way to go is with an insole that perfectly supports the exact shape of your feet, including the arch.

The foot arch is affected by flexion and aerobic performance; if on top of that you add stress generated by the lack of arch support, you'll have a hard time. This is even more important in practices as active and forceful as basketball.
10 Top Rated Basketball Shoes Reviewed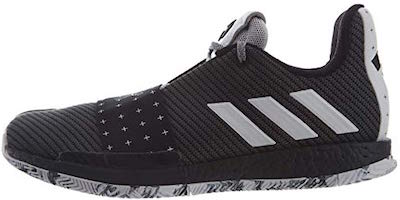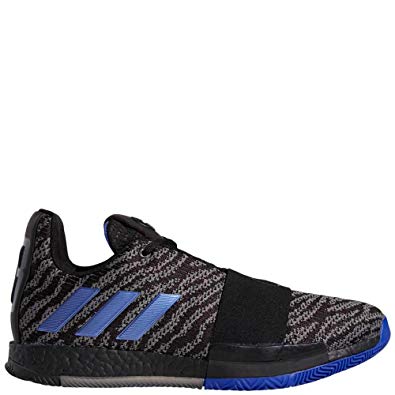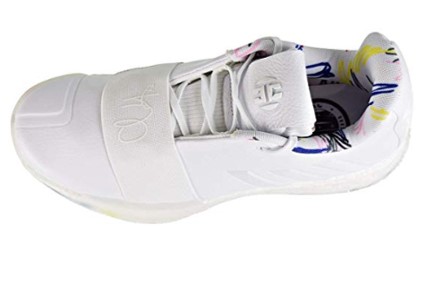 With the previous iteration of these basketball shoes being one of the highest-ranking models in previous years, it comes as no surprise that the Harden Vol. 3 was one of 2018's highest-rated models. The upper has been entirely redesigned, getting rid of the midfoot cage, and bringing you a shoe which is made from a quality knit that feels strong and supportive (like leather), but is more breathable. An elastic strap is placed over the metatarsal area for decorative purposes, and the shoe comes in several fun colorways.
The third version of the Harden stands out because of the cushioning system it utilizes. Featuring Boost and a low heel-to-toe offset, this is a balanced pair of basketball sneakers that'll allow excellent court feel, while still providing plenty of protection and a good amount of bounceback. The outsole has a herringbone traction pattern that's tightly packed, and that will pick up dust (so wiping will be necessary), but it'll do well on clean courts.
In terms of fit, this is one of the best models this year, with a locked-down feel, a supportive internal heel counter, and a flat base. The price is average as well, and this is a great choice for those who want great performance but aren't ready to spend $200 on a basketball sneaker. The downside of the shoe is the durability of the outsole on outdoor courts, so if you are looking for something to serve that purpose, you may want to go with the previous version.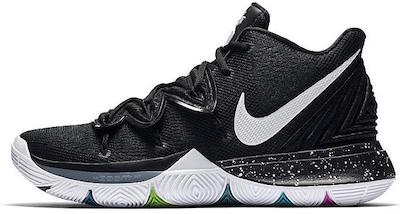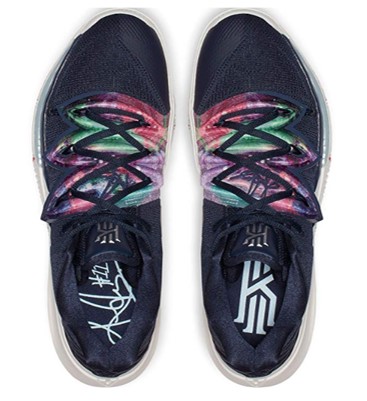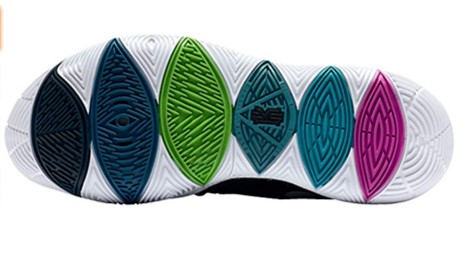 The fifth edition of Nike's collaboration with Kyrie Irving brings you a shoe that's sure to satisfy, with a brand new cushioning system, fun, eye-catching colorways, and one of the best fits currently available. It's a model that'll provide the right type of traction and stability for quick, multidirectional movement, and is a great choice for all positions. The upper is made with breathability in mind, using engineered mesh, and a Flytrap midfoot cage that locks you in and allows you to find the perfect fit by tightening or loosening the laces.
Two of the biggest differences from the previous model are found in the midsole and outsole. In terms of cushioning, the midsole now features Zoom Air Turbo in the forefoot which cushions and returns energy more quickly, without allowing you to sink in too much. The rest of the midsole is made up of Phylon foam which absorbs shock from the impact but could be a bit too stiff for some players.
The outsole has done away with herringbone, and features an intricate, multi-directional pattern that will work for movement in all directions, and won't be made ineffective even with dusty courts. It won't last long for outdoor play, but it will keep you on your feet, so if you're ready to buy new basketball sneakers every couple of months, then you can use the Kyrie 5 on concrete as well. Another thing that's been updated since the last model is the price, which is now slightly higher, but you'll still find that this shoe ranks average compared to most Nike and Adidas flagship models.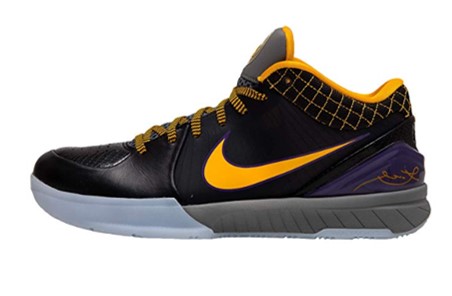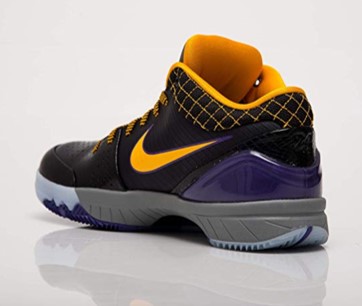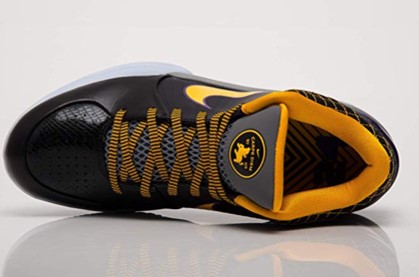 Released just this year, this basketball shoe is the fourth version of the original released in 2009, but with plenty of updated technology. Loved for its low cut styling, this particular model sports synthetic uppers that have a glossier finish to them, giving them a menacing look for your competition. We love the scale-like design of the forefoot on the upper, and if you're a fan of the originals, there's little that's changed in the newest model, save for a few small things that give them a slightly plusher feel.
The Nike Kobe 4 keeps the same phylon midsole as the original, but it's a bit thicker from the original which gives it a softer on-foot feel and cushioning. Flywire thread lines the panels of the upper, which helps to give them added durability and support while cutting down on bulkier materials and weight which could give similar results. Heel counter and carbon shank in the midfoot help add support for quick or lateral maneuvers.
The classic Nike technology of Zoom Air lies in the heel adding additional cushioning, and the sole of the shoe is made with rubber for great traction. It's a softer rubber than its predecessor versions but will grip outside courts without issue. Inside courts may need a bit of sole scuffing or break-in before they really start to grip the floor. Overall, if you're a fan of the original, you'll love the Nike Kobe 4 Protro with its more aggressive look and colors.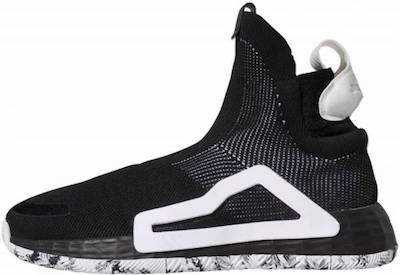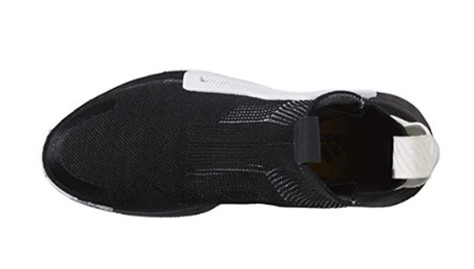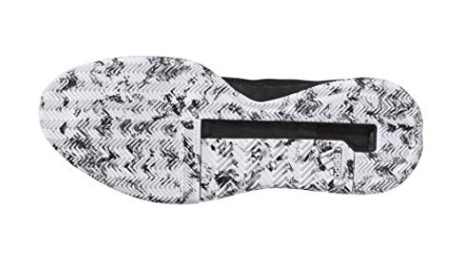 Futuristic basketball shoes with a laceless design, the N3XT L3V3L sneakers are definitely something new in the industry. The upper is made with the brand's Primeknit textile upper that's sock-like. Where more traditional models would have a tongue, the N3XT L3V3L features a stretch panel that allows you to slide your foot in and out, and which holds you in place throughout your movements. In the back, you get a high shaft, a suede pull tab, and an internal heel pad that'll keep you slip-free. Do note, however, that putting these on will take a bit of effort, but you shouldn't expect any less stability than with traditional models.
The midsole of the N3XT L3V3L basketball sneakers features a newly developed foam called Lightstrike which is great at absorbing shock but without the weight of the Boost which is often used in Adidas basketball kicks. A greater heel to toe offset ensures stability and response in the forefoot, but a good amount of impact protection in the back. The outsole on this model features a herringbone pattern that's been proven to be effective time and time again. It'll grip clean courts excellently, but won't do well with dust, and is definitely not to be used outside on concrete.
This model is ideal for smaller, quicker players who are looking for a lightweight shoe that'll provide excellent response, good traction, and a great fit. The problem with these may be the fact that the knit will stretch with time, and that they will definitely show signs of wear. Couple that with the steep price, and you get a model that'll work best for those looking to try out something new.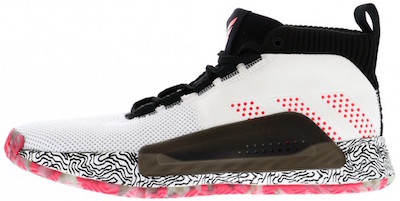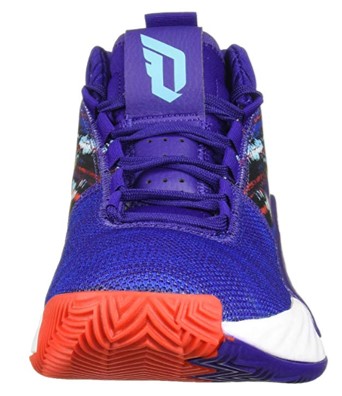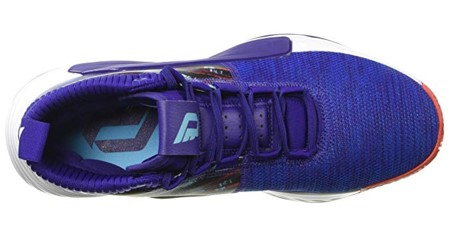 This is one of the top all-round basketball shoes out there, and the best thing about it is that it comes at an affordable price that's considerably lower than most models listed here, but still gives you some of the best traction available, along with great cushioning and an impeccable fit. The upper combines mesh and textile, with enough breathability in the forefoot area and a locked-in midfoot. The inside of the shoe is generously padded which means a locked-in feel, but those who prefer a snug fit should go ½ size down.
The impact protection system used in the Dame 5 is the brand's Bounce cushioning which is slightly firmer than Boost, meaning that it's quicker in providing the response, while still protecting the entire length of your foot. It's also flexible enough to give you seamless transitions, which a lot of players will appreciate. When it comes to the outsole, you'll get a herringbone pattern (a standard in the latest batch of Adidas basketball models) which does great on clean courts, and the rubber is hard enough to serve you a couple of months on concrete as well.
One of our favorite things about the Dame 5 is definitely the colorways which range from simple whites with a few colorful accents, to out-there combinations of eye-catching colors that are sure to set you apart on the court (or the streets if you plan on wearing as your everyday basketball sneakers). Another thing to keep in mind that these can be snagged for less than $100, which is really difficult to find if you're looking for top-performing ball sneakers.

6

. Under Armour HOVR Havoc 2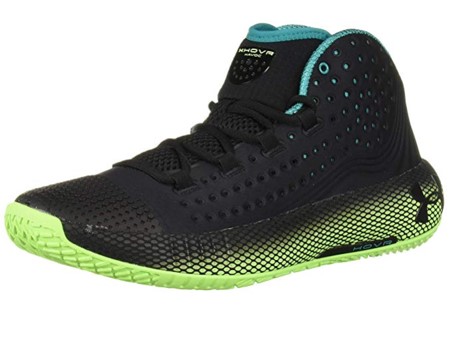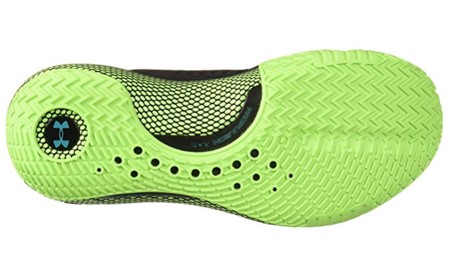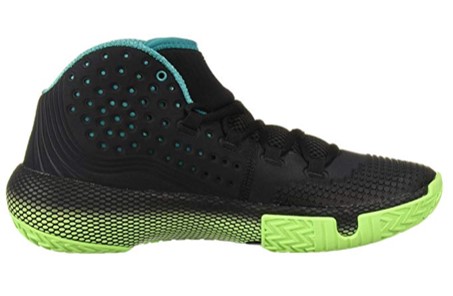 This high top styled basketball shoe from Under Armour, with a molded upper that allows for maximal breathability and a lighter weight feel. It's a bit firmer in support and cushion than other UA models that are made for running, but compared to stiffer styles of basketball shoes, it will likely feel a little softer once compared. Packed full of UA technology, it's likely to work great for those who love lateral movements on the court, with a sticky sole to give the tightest grip.
The outsole of the Havoc 2 has two different tread patterns for both linear and lateral traction, however, it will likely require some break-in due to the sole's thickness. Once broken-in, it provides serious grip for both indoor and outdoor court players. UA's HOVR technology helps to provide the ultimate ride in the cushion, helping to absorb shock, and reduce foot fatigue, giving you more energy to play aggressive and at your best.
Support is found with the TPU shank in the midfoot of the Havoc 2, again giving you the ability for lateral moves. In terms of the fit of this basketball shoe, minimal heel slippage is due to the half bootie lining along with a webbed lace-up system, locking you into the sneaker. The only downside we found was that the tongue length is a little short, and laces could rub a little on the ankle. Overall though, The UA HOVR Havoc 2 is well worth a look for some of this year's top models.

7

. Adidas T-Mac Millenium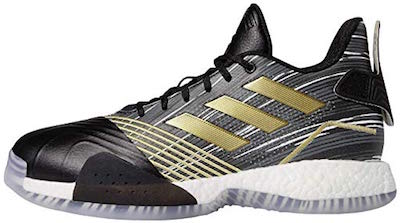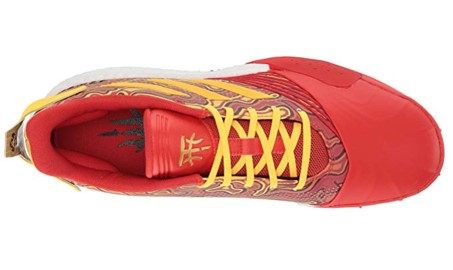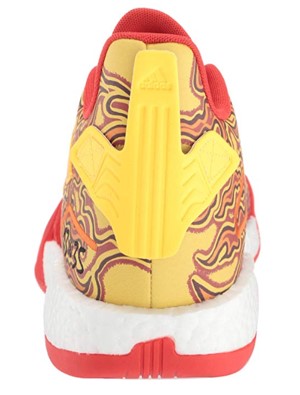 In 2002, Adidas developed a winner style inspired by Tracy McGrady, a shoe that was so hot, everyone was wearing it. With a fun design and excellent performance, it has definitely earned its place in sneaker history, but this year, the brand decided to update the original and bring something that would work for a new generation of players who have become used to the latest tech giving them a head start on the court.
One of the definite best things about the Millenium edition has to be the outsole, which features a sectioned herringbone pattern that'll stick to even poorly maintained court, pushing dust out. However, don't wear it outside on concrete, as you'll quickly find yourself in need of a new pair (something that seems to be a bit of a theme for Adidas). The biggest update definitely comes in the form of Boost cushioning which is thicker in the heel area for greater impact protection, and thinner in the forefoot to ensure you still get a responsive pair of kicks.
The upper is made of really high-quality synthetic leather that's extremely durable but will take about a month to be fully broken in. The fit is great for those with wider feet (or those who prefer a bit more wiggle room), but the classic tongue construction does allow for these of being tightly laced for a locked-in feel. If, however, you prefer a snugger fit, go ½ size down. The price is surprisingly low for a model of this caliber, and (although still expensive) can be a good choice for those in search of a winner shoe on a tighter budget. You might even find it on sale. The colorways are fun as well, all of the flashy and eye-catching, so you may decide to wear these as your everyday sneaker as well.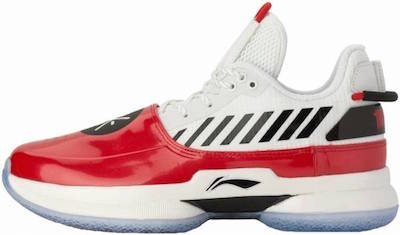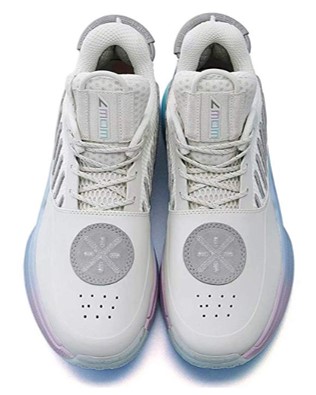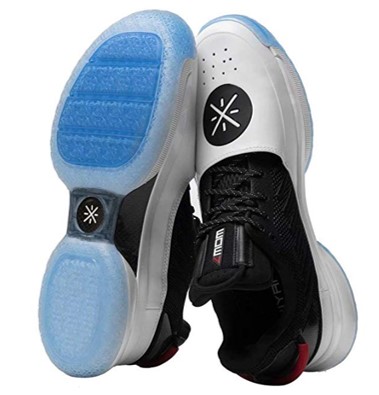 Developed by China's premier sporting goods company, in collaboration with Dwyane Wade, the latest Way of Wade shoe is a good choice for those who want something other than Adidas and Nike (or can't find ANTA's amazing models). It's a pair of sneakers with a great design that's not just supportive, but also made with premium materials - high-grade leather, carbon fiber and composite nylon net all work together to give you one of the best constructed, most durable basketball sneakers currently available for purchase.
The fit of the WoW7 is close to perfect, running true to size and being comfortable even for wide-footed players. Perforations in the toe area ensure breathability, while an elastic shoelace cover hides your laces and secures them from coming undone. You'll love the padded inner, including the foam insole.
The downside of the WoW7 is the traction which is probably the weakest of all the models listed here, and it won't really perform well on the hardwood. If, however, you're looking for something to wear outdoor, then this might just be the best shoe for you. The cushioning offers excellent impact protection but is slightly firmer than what most users prefer.

9

. Adidas Crazylight Boost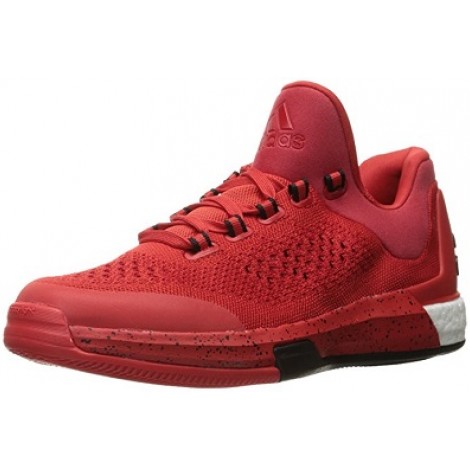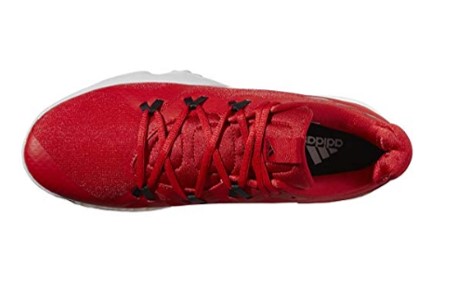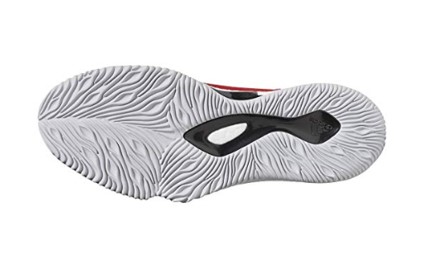 Beautiful low top sneakers, the Adidas Crazy Boost basketball shoes do not slack when it comes to performance and comfort despite going against their high top competitors. Made for indoor hardwood, these are stacked with advanced features - the light agileness, molded heel, Jacquard synthetic, and Continental rubber all work together to make this sneaker a nice fit for anyone wanting to impress on the court.
The Crazylight Boost has BOOST energy-returning properties, just like any other Adidas flagship basketball design. Not only does it return energy, but ultimately it prolongs court performance. A Continental rubber outsole provides excellent floor grip, both in wet and dry conditions.

Despite being a low top design, the Crazylight Boost still provides excellent lateral stability thanks to the carefully constructed upper. Made out of breathable mesh that's both lightweight and flexible, these sneakers have TPU overlays which work to hug the foot, providing it with lateral stability that helps prevent sprains and rolled ankles.

The Adidas Crazylight Boost is a great choice for players who want to focus on speed and mobility, seeing that it's a low top with plenty of energy return provided by the BOOST cushioning. Ranking below average on this list when it comes to price, it is also a good choice for the more dedicated enthusiasts who are looking for a high-quality option.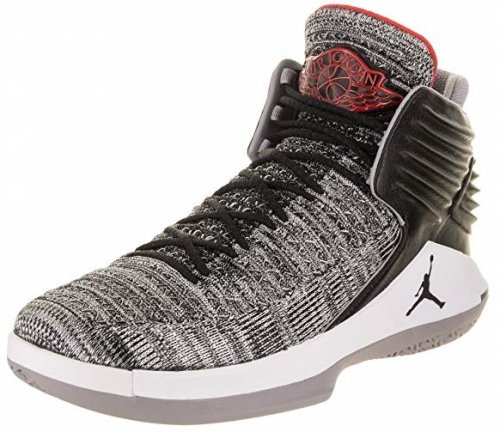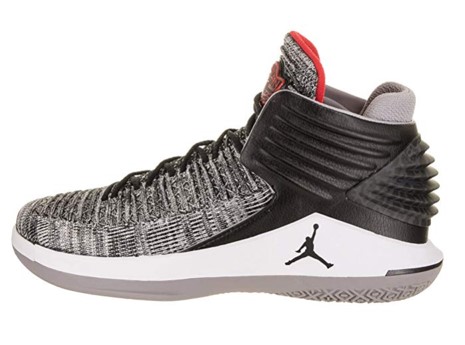 The Air Jordan 32 design is inspired by the Air Jordan 2, an iconic first-ever luxury basketball sneaker that was Italian made. The silhouette of the 32 is thus a little retro, a little nostalgic, but make no mistake that this design is outfitted with all the latest technologies and premium materials that only Nike can offer.
These high-powered basketball sneakers come with an upper made from a combination of leather and flexible Flyknit. It has an integrated lace-up system and an exaggerated collar that looks snazzy. However, this collar is not only a fashion moment but also provides amazing lateral support.

The Air Jordan 32 is outfitted with the Nike FlightSpeed technology, which spreads your weight evenly through the sneaker. It possesses advanced compression and delivers amazing energy returns, adding lift to your every jump shot. The high collar of the design ensures additional support for the ankle.

The Air Jordan 32 is that luxury b-ball design that everyone wishes they could have. It's stylish, available in several different colorways, but it also greatly improves your performance with its high-quality materials and innovative systems. You won't go wrong with the Air Jordan 32 as one of the best Jordan shoes!

Subscribe to our Newsletter