Best Jordan Shoes for Basketball Reviewed & Rated
In a Hurry? Editors choice: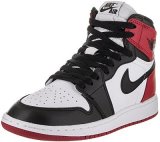 Test Winner: 1 Retro Hi

Rarely has pop culture been so influenced by a sports figure as it has with Michael Jordan, an iconic emissary of basketball, so prolific and extraordinary with his talent for the game that he practically defined it for two decades. Released in 1985 as symbols of speed, agility, and superior performance, the Jordan sneakers instantly captured the hearts of fans and
fashion lovers
alike. Over the next 30+ years, a staggering variety of Jordans would be released, each with different looks, features, and functions. As Michael became synonymous with the sport, so too did his footwear, and if there was any way to "be like Mike," it was to own a pair of Air Jordans.
Standout Picks
Criteria Used for Evaluation
Fit
As with any design, the fit should be given the strongest weight on the scale when choosing footwear. Try and run a marathon in poorly fitted footwear, it's bound to be disastrous!
As with running designs, basketball and court footwear also needs to fit every point of your foot. From toes to heel, laces to sole, the fit needs to be absolutely fabulous.
Starting at the front, the toe box is the part that wraps around the top, bottom and sides of your toes. This is a key area when fitting your footwear as it will specify if your toes tap the end of the shoe or if your little toe will rub, causing a blister or even worse, losing a toenail.
Oddly enough, the toe box is an area that changes in depth, height or width in many brands. The brand of this guide is no exception. The toe box here stays consistent within a line of the shoe but can be quite a different fit from sport to sport within the Jordan family.
Width is key as well. Securing your lateral movement is a must for any athlete or weekend warrior. Limiting that left-right movement prevents both motion related sores (chafing, blisters) as well as muscular injuries that can be career ending or just plain painful! Ensure you have a comfortable fit that feels like your midfoot is being held gently in the hands of the strongest confidant you know!
It should also bear mentioning that the design should not bother your Achilles too. Fashion may dictate otherwise, but when it comes to athletic shoes, this is very important to your comfort and performance.
The Different Kinds of Fit
Toe Box: In the front, there is a section called the toe box that covers the toe area of your feet. In various brands, some toe boxes run narrow, while others run wide and the same is true here. When testing out your Jordans for fit, determine the feel your toes have in the toe box area. The toes should be snugly fit but comfortable without tightness or unnecessary width that can cause slippage.
Width: The design width will determine just how much control you have in your lateral movements. You do not want your ankles to roll due to the incorrect width, and if the feeling of it being too wide or too narrow can make any sports activity or a daily walking experience miserable. A correct width will also help to prevent any unnecessary chafing and blisters of the feet.
Style
Style makes the world go 'round.
Let's face it, fashion, jewelry, and even footwear are driven by what is popular, trendy and fashionable to the populous. Sneakers have been part of the style scene for years, and this brand, in particular, was in on the ground floor for this revolutionary step, mixing athletics and fashion.
When the namesake of any company is a huge sporting legend, you are bound to get some crossover from industry to industry. Micheal's appearance on the court, in the movies and even on the red carpet was a match made in heaven with Nike since 1984.
Since then, footwear from this brand has stayed true to the athletic side with a progressive style evolution that keeps pace with the ever-changing looks on the court. They have also lead the field in diversity as they have created several lines that would be considered "crossovers" in the footwear industry. Style "crossovers" allow these designs to be seen on and off the court. They have made appearances at clubs, workplaces, and even at the Oscars and Grammy's!
Thus we felt the need to rank the items on our list according to their style. We took into account what is fashionable today and all the current trends - however, that does not mean that if a product is ranked low in style it is somehow inferior to the others. Style, as most things fashion, is highly subjective. If you happen to like a particular design, don't hesitate to get it! What matters the most is that you are happy with it and that you feel good wearing it.
Versatility
Evaluating these sneakers encompasses many things, and their purpose is a good start. Known mostly as a basketball sport-specific design, they have branched out over the recent years to cover both the casual basketball style and footwear that is meant for other sports.
If your pleasure is a true professional basketball design, there is an option for you. In order to best capitalize on this need, you would concentrate on the basketball line of footwear, where there is just the right mix of leather and support. These designs never skimp on the technical side of things, given the multitudes of people who buy these to compete at the highest level.
However, if you are heading out to the club and are wanting your kicks to match the rest of the outfit, the casual lines have endless options available to the discerning buyer. From styles to blended color patterns, you will have the design that goes with whichever trend you are following or setting!
Bottom line is, that these types of sneakers are no longer just for sports. If you are an avid basketball player, then, by all means, treat your self with a pair of these and revel in your improved performance on the court! However, you don't have to be able to play ball - at all - to enjoy the comfort and the undeniable trendiness of these sneakers. They have definitely become a fashion statement, and you shouldn't hesitate to show them off in all casual - and perhaps even semi-formal! - occasions.
Versatility is key, and this is why we ranked our designs according to how well they perform both on and off the court.
Comfort
Whether you are going for that triple shot, or you are just hanging out with friends, it is important that you are comfortable in your footwear. We already touched upon the value of Fit in our first section, but here we will talk more about what makes a good sneaker comfortable, and what you should be looking for.
First and foremost, there is cushioning. Cushioning can both impact performance and comfort in any design. One of the positive features of this brand is the air technology equipped in most of their designs, thanks to Nike. The air technology will keep air flowing through the insoles, which gives better support, responsiveness, and bounce, lessening any impact or shock. Also, Jordan outsoles are usually constructed with durable rubber which gives an extra boost in cushioning.
Your movement will definitely feel different in an AIR and a non-AIR design. Just be sure that you find those AIR options with full soled AIR.
After the cushioning, the structure that surrounds the rear of the foot is paramount to a high performing design. The heel cup has the tendency to be ignored, but it's very important in proper footwear fitting. The structure of the heel cup determines if your foot will stay in place and keep the shoe securely on your feet.
An ill-fitting heel cup can cause unnecessary problems such as heel blisters and slippage. Also, most Jordans come with a mid to high top providing ankle stabilization, and that can help optimize heel support and foot security.
If the heel area does not "secure" your foot into the base, you will blister on many different locations on your foot. It should also lock in your travel in the design.
When you're testing out an option's comfort, make sure that you don't feel even a twinge of pain on the first try. Anything that seems even remotely off may turn into a real nightmare in the long run, not to mention during a high-stakes game. And no one really wants that.
Value
An important thing to consider when it comes to these sneakers is the price tag, which is considerably higher than of most other footwear available. With prices that are three to four times more than what you'd pay from perfectly reputable manufacturers, you may wonder what the deal is.
Well, plain and simple, these designs are an institution. They are made of high-quality materials, they fit well, and offer plenty of support and traction when it matters. It's also the brand name reputation. If you've decided to invest in a model by this brand, you're probably aware of the fact that designer footwear is often much more expensive.
However, for your convenience, we ranked the items in our list according to their price points - and how much you get for it, to make it a bit easier to shop on the budget. Good luck!
Our Favorites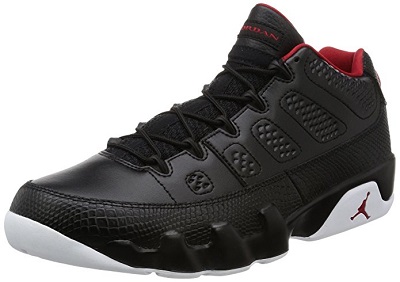 Though these designs come in a variety of retro styles, the 12 Retro combines some of the best qualities of the Retro 9 and the Retro 11, while providing new features of its own to set it apart. Like the retro options on this list, it is comfortable, functional, and presents a classic look that transitions well between activities on the court and in the street.
The 12 Retro is based on Tinker Hatfield's famous 1996 design — the first to bring Zoom Air cushioning to the signature line. Air max units located from the heel to forefoot provide added cushion for each step so that explosive movements are possible with added padding. These are somewhat sporty and stylish. Built on the same platform as most other competitive based footwear, the Retro 12 gives you more of a casual fashion look than an NBA style court sneaker. However, that doesn't mean that you have to let go of dunking! Simply that the Retro 12 is more of a lifestyle choice at this point.

The price point on this design is right in the brand's wheelhouse. You will get a lot of value for your buck given the versatility we mentioned earlier. Keep in mind that just because they look chill, does not mean they cannot be laced up and used in your next game.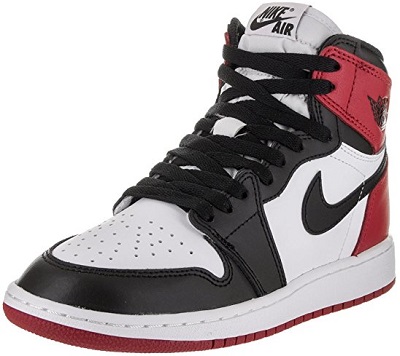 The first high top in the mix that mixes up the construction of the Air Jordan 1, adding synthetic to the usual leather design. It has the look and feel of the 1 Retro, but with a high top shaft. It also boasts the same Wings on the lateral side. The 1 Retro Hi has a few features to improve its durability and enhance performance.
A high top shaft acts as a brace for high powered activities, giving security to the ankle as more physical demand is placed below the knee. The 1 Retro High OGs have a combination full-grain leather and nubuck upper for increased durability, meaning your ankle is more padded and protected.

As always, the Air unit rubber cupsole in the heel means lightweight cushioning, but it's the deep flex grooves in the rubber outsole and the established pivot point that allow the most flexibility and traction on the court. The 1 Retro High takes into account the amount of flexibility needed for the wearer that wants a design with superior performance.

These were made for the wear and tear of the court. They're comfortable, durable, and flexible, which are all the paramount features of a great sneaker. The high top offers great ankle protection, while the Air unit cupsole provides a great lightweight cushion. They also come in a variety of colorways to delight every fan.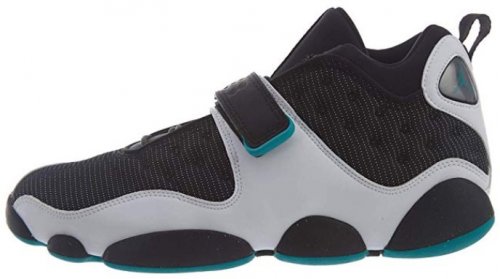 With a mysterious name associated with cunning and feline agility, the Black Cat is definitely a stand-out on our list. Similarly to the 6 Rings, it is a design that is a little bit futuristic, a little bit out there in terms of shape and silhouette. It features Zoom Air cushioning, as well as a midfoot strap for a great lockdown feel. You may not be able to play professionally in these, but they will definitely make you one stylish cat on the stands!
The Black Cat is either made from synthetics or textile, depending on the color combination you go for. The strap across the instep is there to keep your foot firmly locked down inside the design and to prevent any unwanted sliding. When it comes to comfort, the Black Cat blows every other option out of the water with its Nike Zoom Air cushioning in the back, which delivers a bouncy, smooth ride like no other. Thanks to the foam midsole and the rubber outsole, this sneaker is one well-rounded option.

The Black Cat has an intriguing name and an equally intriguing design. You are surely going to love the cushiness of its Zoom Air units, and its unusual appearance will lend itself to a quirky, yet inevitably fashionable style.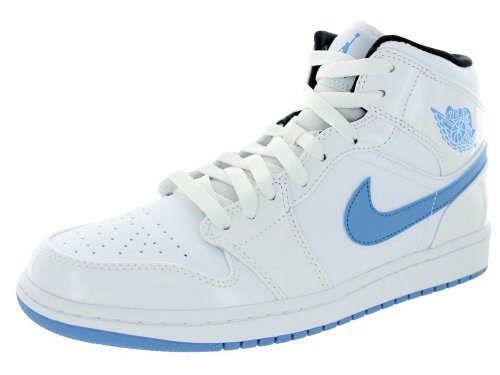 The 1 Mid is truly a classic with a modern feel to it, but one that remains the flagship design for this brand. It has the ubiquitous Nike swoosh on the lateral side and comes in an old-school blue and white combo.
The 1 Mid has a strong attitude and a strong build as many of the historic designs from this brand are. The base of the design is leather and it has synthetic accents top to bottom. The soles have deep flex grooves that give you the grip you need. The comfort of this option is world renowned. The leather is supple from the first day you put it on your feet, and with its creasing and flexing in all the right places, it will become a second skin for your foot. The perforations on the toe box enhance breathability.

Due to their name alone, footwear from this brand has always commanded a high price point. It's no different with the 1 Retro Mid. The breakdown of high-quality materials, a high level of functionality, outstanding comfort, and color options make them a worthwhile investment. They have been the envy of everyone since 1985 and show no sign of quitting.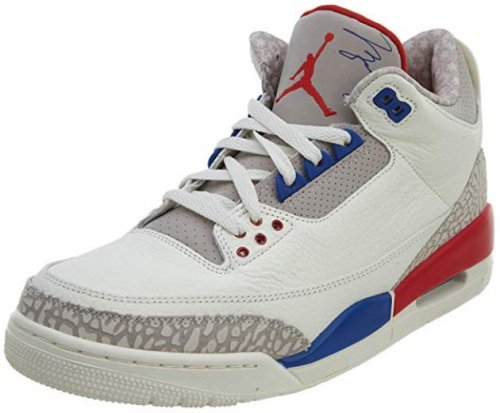 Originally released in 1994, the 3 Retro is no longer a high-performance basketball option, but rather a lifestyle design that you can wear to all of your casual events. It is made from lightweight, durable leather, and comes with all the comfort features we know and love from this brand. You can wear it with jeans or shorts and look undeniably cool in both!
The 3 Retro is made of a combination of leather for durability, fabric for light weight, and synthetic for support. There is a visible Air-Sole unit in the back and also one in the front which deliver responsive, bouncy cushioning that will keep you energized every step of the way. The rubber outsole has a circular pattern to it which provides grip on different surfaces, ensuring that you are always stable on your feet.

Some versions of this design come with a velcro Swoosh sign that you can easily put on and take off however many times you'd like.

The 3 Retro has maybe been bested in terms of game technology and performance, however, the fact remains that it is still an icon in the world of basketball. You will be proud of wearing the Jumpman logo on the front of these laid-back, incredibly comfortable kicks.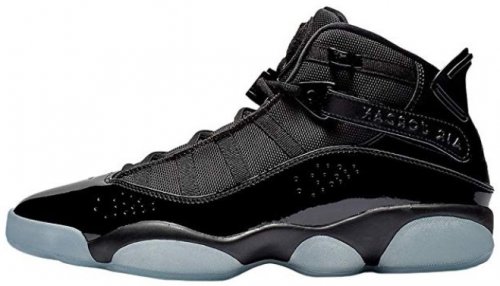 Step into the world of sci-fi with the Jordan 6 Rings! If you're all about that space glam, about large details in the sole and a shiny, polished upper, then this option is certainly the one for you. While featuring many qualities of a court sneaker, the 6 Rings is actually more for fashion rather than function. However, that doesn't mean it's not as comfortable as you would expect a design from this brand to be.
The 6 Rings is made from genuine leather, synthetic leather or textile, depending on which color you choose. It has a sleek, almost alien-esque silhouette that breaks down the barriers of modern fashion design. In terms of comfort, we can't miss the encapsulated Air units in the front and the back, complete with a foam midsole which provides you with the ultimate ride. There is a shank plate for superior stability, and the rubber outsole prevents slipping or skidding of any kind.

The 6 Rings is definitely a unique design. It is one that you won't see every day, and one which will definitely garner you a world of compliments, should you choose to wear it out with your friends and family. Experiment with your style and try out the unconventionality that is the 6 Rings!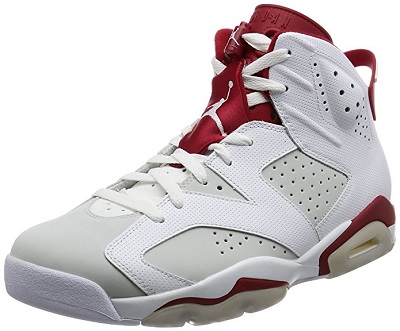 While these designs get plenty of streetwear and fashion recognition, they are first and foremost a basketball sneaker. The 6 Retroes were the shoes Michael was wearing when he took them to his first championship victory, making them an important model in the path to glory that would see him garner five more championship rings. They were designed by Tinker Hatfield to model a sports car's clean lines and aerodynamic body, which is exactly the impression they leave with their fresh leather and rubber construction, perforated exterior, and swooping lines.
The high top design of the 6 Retro provides extra stability and comfort for the ankle, vitally important to the support of pivoting and other sudden motions. The perforated holes along the exterior allow for the release and intake of cool air, while a reinforced toe cap requested by Michael himself prevents injury.

The greatest contribution these sneakers have made to the world of basketball shoes is their sheer variety. There is a design for every sort of wearer, and every style of personality. The 6 Retro can be easily slipped off and on via two holes in the tongue and a modified heel. They evoke a classic retro vibe while having a look that will never go out of style.

For true fans that know their Chicago Bulls trivia, the 6 Retro is an important addition to the lineup. It's about half as expensive as some of the fancier options, with the benefit of the added toe cap reinforcement, modified tongue, and heel for easy slip-on access, and the classic exterior that evokes sports car imagery and appeal. No collection should be without it, and for some wearers, it could be the most important model in it.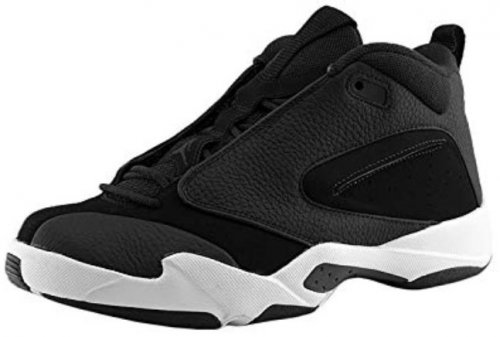 As the brand itself declares, the Jumpman Quick 23 is sleek for the streets. This design has a look that has been inspired by the hoops, but that is very much meant to be worn around the town and off the court. It provides you with that oversized, athletic aesthetic that you like to sport when you're hanging out with your friends, or even when you're just strolling along downtown. The Quick 23 doesn't lack in the comfort department either, with all of the famous Nike features built right in.
The Jumpman Quick 23 has an upper constructed out of leather, synthetic and textile. These three materials combined provide security, support, comfort, and durability, and we are in awe at its advanced build. These will effortlessly keep up with you no matter how long you spend on your feet, thanks to the Air-Sole units in the forefoot and the heel which improve the comfort levels and provide you with all the cushioning you need.

Some may find these a bit too bulky, but if the silhouette of the Jumpman Quick 23 fits your frame, and you find yourself drawn to it for its easily-recognizable design, don't let that stop you! Treat yourself today with a pair of brand new sneakers, and you won't regret it!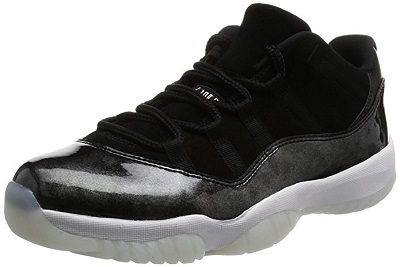 For the wearer who wants a slightly less conspicuous option that sits low on the ankle and has a streamlined, unassuming but still statement-making design, the 11 Retro Low fits like a glove. It comes in an assortment of very simple colorways and emphasizes a clean, uncluttered look with simple lace-up closures. It's a sneaker that doesn't look like it's made for any one sport and would look appropriate on the court, in the street, and in the stands.
One of the standout features of the 11 Retro Low is the addition of patent leather on its upper. It telegraphs a look that is understated but cool, not flashy, but not lacking in bravado. They look just as good with jeans as they do with basketball shorts, and the all-black option with the patent leather makes them even dressy enough to wear out on the town.

An Air Max unit along the footbed provides extra cushion and padding for the wearer, making these as comfortable as they are stylish. The collar and tongue have extra padding as well, which can be important in a low sneaker. Oftentimes, without sufficient padding around the ankle, the collar can chafe the skin.

For an accessible design that is sporty but understated, the 11 Retros embody all that is appealing about the brand without being too flashy. The added component of the patent leather upper makes them look polished, and elevate a sneaker that is already loaded with great features, like an Air Max unit, and extra padding. These will become your new everyday favorite.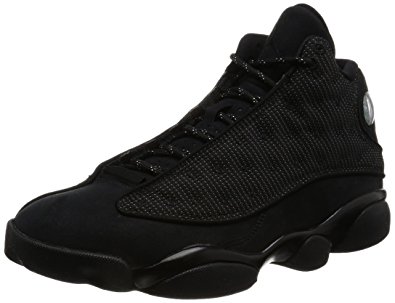 Based on how quick Michael's reflexes really are, Tinker Hatfield created this model with the player's greatness in mind. He went on to have some of his best years in this design. The Retro 13 was built with court inspired cushioning and, of course, classic design and detail.
The full grain leather construction with accents of supple suede give this design a classy but hard pressing look to it. The responsive heel matches the comfort of the forefoot Air Zoom to provide a well-rounded option.

Michael himself won his 10th scoring title consecutively in this model. Not just built for champions, the Retro 13 gives you the performance level you demand of a design of this type. It is appreciated by fans that extra time has been taken to make it both attractive and functional.

The leather quality of the 13 Retro adds a touch to make it a great design that appeals to the masses. Add the baroque brown model and its appeal doubles.

Subscribe to our Newsletter