Best Men's Dress Sneakers for Business Casual Reviewed & Rated
In a Hurry? Editors choice: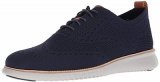 Test Winner: Cole Haan 2.0 Zerogrand

Wouldn't it be neat if we could simply wear sneakers all the time? We already wear them on our days off, at the gym, in the park, on a hike, and depending on the material the shoe is made of – we can also wear them in any type of weather, come rain or shine.
However, there are certain settings where the sneaker is not considered appropriate. At least not in its sporty, laid-back version that most of us own. Some workplaces, for example, have strict
dress codes
, where business casual, or perhaps even full-on business outfits are required. This means button-up shirts, suits and ties, and dress shoes, which can often be hard and constricting, not nearly as comfortable as sneakers. However, there are solutions like dress sneakers that can be worn. If you need such footwear, scroll down for top 10 reviews.
Standout Picks
Criteria Used for Evaluation
Comfort
I like to make it a point to talk about comfort, as it's one of the most important things to consider when buying shoes. An uncomfortable shoe isn't going to be of much value to you, even if it looks great or costs a lot. We suggest looking at how the shoe fits in terms of width and variations, as well as consider what sort of support and/or cushioning they have.
Materials
The design of the shoe, its visual appeal, and level of craftsmanship, the basic construction of it – all of that means nothing if the materials are of poor quality. What the shoe is made of determines its comfort levels, how well it wears over time, and whether or not the shoe is a good investment in the long run.
Fortunately, all of the options on this list are made out of only the finest materials. Here we will talk about their types, their properties, and which material works best for which occasions.
Upper
The upper of the shoe is the part which covers your foot, the one that is attached to the sole. Uppers can include the vamp, the heel counter, the tongue, and the lining. They can be made out of a wide variety of materials, so let's take a look at what we have in this guide.
Leather:
Leather is a material created by tanning animal rawhides, mostly cattle hide. From ancient times leather has been used as a material for producing an array of different goods in all corners of the industry. Its main characteristics are that it is flexible and yet durable.
When it comes to footwear, natural leather has special characteristics which other types of materials don't. First and foremost, leather is breathable. It allows for proper air flow through the shoe, and it keeps your feet dry and sweat-free, even in warm weather.
Additionally, leather adjusts its shape over time. It molds to the outline of your foot as you wear it, doubling down on that comfort factor.
If treated or waxed, leather also becomes water resistant. You can safely wear your leather shoes outside come rain or snow, and be certain that no moisture will filter through and soak your feet.
The quality and durability of leather shoes are unparalleled. Sure, they might be more expensive than footwear made out of synthetic materials, but they will certainly last you years. Leather should be taken care of, however, so it is a good idea to arm yourself with some special products and to read up on how to clean and treat your leather shoes so that they preserve their shape for as long as possible.
Suede:
Suede is a type of leather, but it gets its own bullet point because it comes with its own set of advantages and disadvantages. Suede is leather with a napped finish and is made out of the underside of the animal skin. Interestingly enough, its name comes from the French phrase 'gants de Suede', which translates to 'gloves from Sweden'.
The benefits of suede are that it is soft and flexible, that it lasts for a long time, and its brushed face has a velvety, luxurious feeling which is associated with wealth and high class.
On the other hand, suede absorbs water quickly, meaning that it is not water resistant and can't be worn in rainy or snowy weather. It can become dirty very quickly and it is not the easiest to clean. As leather, it is also an expensive material.
There are numerous types of suede footwear is made from, but we will mention the three most common ones:
Sheepskin: Sheepskin suede is the most lightweight type of suede available. It is not water-resistant, but it does help with keeping out the cold during chilly days.
Pigskin: Unlike sheepskin, pigskin suede is tougher and firmer to the touch. This also makes it more durable than other suede types.
Cowhide: While cowhide suede is not nearly as popular as the other two types, it is the most durable out of all.
Textile:
Textile uppers share some of the advantages with leather: they are lightweight (astoundingly so), and breathable, although somewhat less durable than leather shoes. Textiles, in general, can be made out of natural fibers, such as cotton and linen. Linen especially is popular for summer shoes, since it has cooling properties and the ability to keep your feet comfortable in high temperatures.
But textiles can also contain chemical fibers, those which can't be found in nature. The most prominent among them is viscose. The main feature of synthetic textiles is their colorfastness – meaning that their color is resistant to fading. Viscose also has great heat-transmitting properties, keeping your feet warm in cold weather.
Wool:
Recently, the trend of shoes with wool uppers has been on the rise. Footwear companies, especially those just starting out, are looking for new materials with which to reinvent the standard sneaker silhouette and up the design game, and in their quest they have landed on wool.
Surprisingly, wool is an excellent material for a shoe upper. It is green – renewable – lightweight, and relatively tough. What's more, wool has moisture-wicking properties, it is incredibly breathable and also antimicrobial. In wool sneakers, you will never have to worry about bad odors, rash or itchiness or developing a fungi infection such as athlete's foot.
Outsole
In our list, we have encountered really only a couple of materials used in outsole construction in all of the designs.
Dress shoes – those intended for formal events – usually have leather outsoles, for comfort, durability and that elegant clicking sound as you walk. However, we have to remember that we are not talking about standard dress shoes, but dress sneakers. This type of footwear comes with rubber or rubber-like outsoles to ensure your utmost comfort, stability, and safety in bad weather and on various terrain types.
PU Sole:
PU stands for polyurethane, a synthetic material which found its place in an assortment of industries. Properties which make PU one of the best materials for shoe soles are its abrasion resistance and water resistance. PU soles are used in creating hard wearing shoes and safety shoes for dangerous jobs, such as on construction sites. However, they are also common in athletic and hiking shoes, as well as fashion and business footwear.
PU soles are flexible, very comfortable and light. Aside from being water and abrasion resistant, they also offer slip resistance, preventing you from hurting yourself no matter what surface you walk on, and are excellent shock absorbers.
Rubber:
Rubber soles bring the period of breaking in your shoe to a minimum. They are comfortable from the get-go and don't feel stiff even if in reality rubber is quite a sturdy material.
In fact, rubber is practically indestructible. Similarly to PU, rubber is also water and slip resistant, so you can count on rubber soles lasting you for a long, long time.
However, if a rubber sole cracks, it is all over for that shoe. It rarely happens, mostly as the result of leaving wet shoes on a heater to dry (always make sure to air dry them after cleaning), but when it does, nothing can help except replacing the entire sole.
Style
Dress sneakers are called as such for one major reason; style. Unlike casual shoes, they are acceptable in some professional situations at work, and unlike traditional dress shoes they can go well with any outfit without looking "overdressed." We've tried to include a variety of styles on our list, so take another look at them and see which style would best fit your needs.
Versatility
Dress sneakers are prized for their unique versatility. Their clean lines and sophisticated designs allow them to blend in perfect at the office, while easily transitioning into more casual situations, like meeting with friends for coffee.
The most versatile dress sneakers will often come in simple or neutral colors such as black, brown, and grey. These colors easily blend into both professional and casual environments and often feature simple designs and patterns.
Of course, one of the biggest factors in versatility has nothing to do with appearances. A particular dress sneaker can look great, but it doesn't mean much if they're too uncomfortable to stand to wear. This is especially true with dress sneakers; a good pair should be able to carry you from day to night without fatigue or pain. Consider things like the overall fit, and the support and cushioning that the shoe can provide.
Top 10 Picks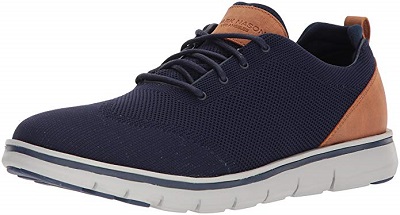 The Mark Nason Bradmoor is a play on an oxford design with a knitted upper and texture detailing. It has an overlay of smooth leather in the heel counter as well as on the tongue. There is a pull-tab in the back for an easy way into the shoe, and a lace-up closure for a customized fit. The lining of the Mark Nason Bardmoor is made out of soft fabric, the insole is memory foam for much needed cushioning, and the outsole is made out of rubber, which ensures good traction.
Memory Foam Insole
The insole of the Mark Nason Bardmoor is made out of memory foam - it has great shock-absorbing properties, and it molds to the shape of your foot for superior comfort. However, this insole is also Air Cooled, meaning that you won't have to worry about sweaty feet in this shoe.
Heel Overlay
While the leather overlay in the back of the Mark Nason Bradmoor is an elegant touch, it is not there only for decoration. This additional layer of material has the purpose of bringing more stability to your heel as you walk, making you feel safe and secure in your steps.
Cost and Value
The Mark Nason Bradmoor is a perfectly affordable shoe. It fits all the criteria for a solid, practical dress sneaker - it is refined in appearance, comfortable to walk around in, and it wears well over time. You get all that for a very reasonable price, which is why we feel like this design is a great choice!

2

. Hugo Boss Stillnes Tenn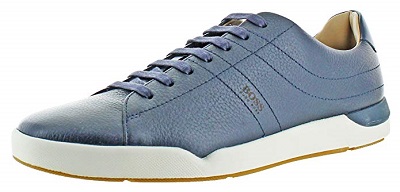 Express your suave, urban street style with the Hugo Boss Stillnes Tenn. These mens dress sneakers have their place both in the office and on a casual stroll through the city, as they go well with laid-back and dressier outfits. It has a calfskin leather upper with a smooth toe and clean stitch lines, a molded removable footbed and a flexible midsole. The outsole of the Stillnes Tenn is made out of a combination of EVA and rubber materials. If you're looking for something uncomplicated and versatile, then this is the right option for you.
Removable Insole
The insole of the Hugo Boss Stillnes Tenn is removable for easy washing, but it is also carefully molded to fit the contours of your foot. Your arch will feel supported and you will enjoy the extra cushioning as you walk.
EVA Outsole
EVA is a material mostly reserved for sports shoes, for people who engage in high-impact activities. While you're not expected to run track in the Hugo Boss Stillnes Tenn, it is nice to know that you will be supported and comfortable no matter what you do.
Cost and Value
It is undeniable that the Hugo Boss Stillnes Tenn is one of the most expensive shoes on our list. We understand that given the label the sneaker carries, as well as the high-quality materials it is made of. However, it doesn't come with any innovative technologies as some other shoes on this list, and we have to wonder if it's really worth the money.

3

. Kenneth Cole Shiny Crown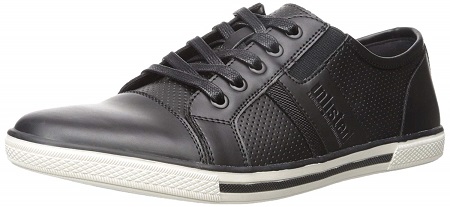 One of the most important things to consider with dress sneakers is their versatility. After all, the concept of dress sneakers is to simplify your wardrobe and allow your shoes to easily go from professional to casual wear. Kenneth Cole designed these Shiny Crown sneakers as part of the Unlisted series with a clean design and two sophisticated color options.
Clean Style
Like most of the shoes on this list, these feature a clean and sophisticated design that's designed to complement an outfit rather than take the focus away from it. The Cognac color option features contrasting laces and a black stripe along the side, while the black color option is all black with the exception of the outsole. This simple design allows them to easily blend into anything in your wardrobe.
True To Size
When we refer to a shoe as "true to size," we're talking about slight variations in size. For example, let's say you wear a size 8 in most shoes. If a shoe is particularly large, you may want to wear a 7.5 or even a 7. If a shoe is particularly small, you may need an 8.5 or a 9. These sneakers run to true to size, eliminating the potential for discomfort or guesswork. If you normally wear a size 8, order a size 8.
Cost and Value
While prices range depending on size and color options, these are overall mid-range in terms of price. These are a good option for someone who is willing to spend a little more for a high-quality product but still wants to be reasonable.

4

. Polo Ralph Lauren Vaughn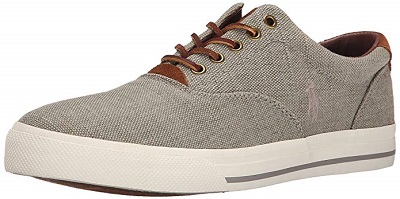 Polo Ralph Lauren is a brand famous for its preppy designs. It has a classic aesthetic, a blend of Ivy League casual wear and English sophistication - and that is exactly what the Vaughn sneaker is. Its upper is constructed out of wool and viscose, and it features leather laces for a touch of old-time chic. There is the well-known Ralph Lauren polo player logo embroidered in the side, as well as suede detailing on the heel to round out the dashing look. Feel like a true gentleman in the Vaughn shoe, while still enjoying all the benefits of a comfortable sneaker.
Viscose and Wool
The upper of the Polo Ralph Lauren Vaughn is made out of 70% viscose and 30% wool. Both materials have the unique ability to retain heat and ensuring that your feet are nice and toasty even in cold weather.
Padded Collar
The extra cushioning in the collar of the shoe is welcome when you're expected to spend the entire day wearing it. The Polo Ralph Lauren Vaughn is specially designed not to cut into your skin or rub your ankle the wrong way.
Cost and Value
We were taken aback at the shockingly low price of the Polo Ralph Lauren Vaughn. This sneaker is made out of high-quality materials, has that classic retro casual look, and comes from quite a famous brand. However, its quality is somewhat questionable, and maybe, in this case, you get exactly what you pay for.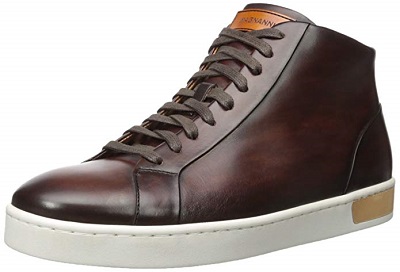 Meet the Rolls Royce of dress sneakers, the Magnanni Caden. When it comes to quality level, craftsmanship, and design, it doesn't get much better - or posher - than this shoe. It comes from a family-owned brand with a family-owned factory in Spain, which prides itself on its timelessly sophisticated designs and finishing touches done by hand. The Magnanni Caden is a mid-top sneaker made out of finest leather, using a special method called the Bologna Construction technique. It has a rubber sole and a lace-up closure for an adjusted fit.
Bologna Construction
The Bologna Construction is a specific technique for making shoes which involves stitching the leather upper directly to the sole. This method guarantees that the shoe is slim and flexible, as well as comfortable for the wearer.
Leather Upper
Magnanni utilizes only the highest-grade materials, and the leather used for the Caden is no exception. The upper of this shoe will change shape over time, and take on the form of your foot, making it irreplaceable in its comfort.
Cost and Value
There is no other way to say it - the Magnanni Caden is outrageously, mind-numbingly expensive. This shoe comes from a high-end manufacturer which supplies shoes for the rich and famous, and its price reflects that. However, if you don't mind the cost, you will be getting a dress sneaker of exceptional quality and unparalleled design.

6

. Cole Haan 2.0 Zerogrand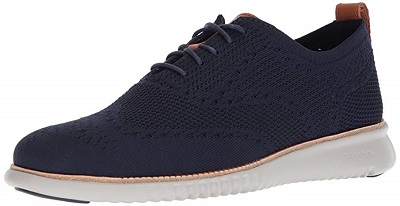 From a company with a 90-year long history of making shoes comes their most popular, most unique design - the one, the only, the Cole Haan 2.0 Zerogrand Stitchlite. This jersey knit oxford is ridiculously comfortable with its soft upper and Cole Haan patented Grand.OS comfort technology. It has a rubber outsole, a leather detail at the back, and it is the epitome of sporty elegance. You can wear this gorgeous shoe to work, to a semi-formal event, and feel as light and as unconstricted as though you are wearing your favorite pair of Chucks.
Grand.OS Technology
Cole Haan's Grand.OS Technology is based on three core principles: the lightness of the shoe, its ability to move with the foot of the wearer, and the energy-return soles which reduce fatigue and provide under foot comfort. It doesn't get any better than this!
Stitchlite Upper
The upper of the Cole Haan 2.0 oxford is made out of Stitchlite, another Cole Haan invention. This is a stretch knit material which allows for maximum comfort and also superior breathability as it gently hugs your foot. The forefoot area is tightly knitted to provide you with ultimate lateral stability.
Cost and Value
It's little surprise that the Cole Haan 2.0 Zerogrand Stitchlite is one of the more expensive shoes on our list. However, we are in awe of its casual oxford design and all the technologies that come with it, which have been conceived solely for the comfort of the customer in mind. Loosening your purse strings for this shoe will definitely be worth it.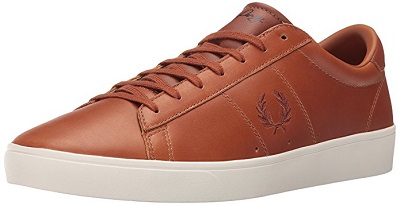 While Fred Perry, the company, was founded by Fred Perry, the three-time Wimbledon and Davis Cup winner, in the 1940s as a sportswear brand, since then it has expanded and become synonymous with fashion-forward apparel and footwear, both on and off the court. The Spencer sneaker bears that clean, streamlined look and Fred Perry's famous wreath logo in the side of its waxed leather upper. It has a chunky rubber sole, an elegant lace-up system, and an ortholite footbed for added comfort.
Waxed Leather
Leather by itself is not water resistant. However, when it is treated or waxed, it becomes one of the best materials to wear in unfavorable weather. Your feet will definitely love their comfortable, dry ride.
Perforated Upper
You might have noticed little holes in the upper of the Fred Perry Spencer. These are not there as aesthetic details, but to promote proper air flow in and out of the shoe. This design ensures maximum breathability and that your feet will remain cool and sweat-free no matter how long you wear them for.
Cost and Value
When compared to other designs in this guide, the Fred Perry Spencer is leaning towards the high range when it comes to price. However, it is a high-quality shoe which you can wear in any type of weather, which is flexible, breathable and comfortable all at once, and which will make an excellently refined addition to your wardrobe. No reason not to get it!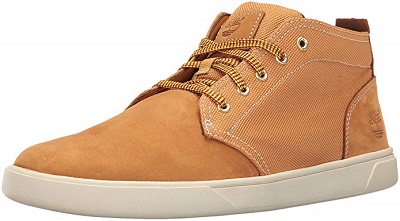 Combine your street style with casual elegance with the Timberland Groveton. This chukka-inspired sneaker is the perfect combination of technology, ecology, and trend. Its upper is made out of polyurethane coated suede with Cordura nylon, while its laces, mesh linings and footbed covers are constructed out of 100% recycled plastic bottles. The outsole of the Groveton features the Timberland L7 Lug Technology, and its rubber outsole is made out of 34% recycled rubber. Be a trendsetter in this high-top sneaker which will bring a touch of cool urban to all of your outfits.
L7 Lug Technology
The L7 Lug outsole is designed for the purpose of braving the harshest of winters. Its lugs provide resistance against abrasion, excellent traction on a wide variety of surfaces, and drainage so that no water or liquid finds its way into your shoe.
Cordura Fabric
The Cordura nylon is honestly amazing. It is twice as durable as standard nylon and is resistant to a plethora of things, such as abrasion, wear and tear, scuffing and even punctures. In the Timberland Groveton, you will be not only fashionable but safe as well!
Cost and Value
Not only is the Timberland Groveton a shoe we wish we were wearing right now - because of its effortlessly cool style and latest green technologies - but it also comes at an affordable mid-range price. Seriously, you won't regret a single penny invested in these high-tops.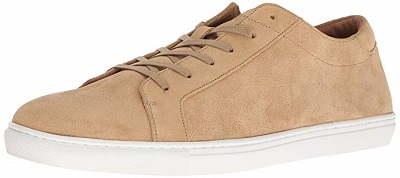 The Kenneth Cole Kam is a design suitable for all but the most formal of occasions. This sneaker comes in a variety of colors, and we were especially taken by this camel suede version - the ultimate expression of style, elegance, and comfort. The Kenneth Cole Kam comes with the Kenneth Cole signature 37.5 Technology, as well as the silver gel pod technology for added comfort. It has a low-top design with a lace-up closure in the front, a textile lining, cushioned insole and a rubber outsole which ensures that you don't slip on whichever surface you find yourself on.
37.5 Technology
The main goal of Kenneth Cole's 37.5 Technology is to keep your foot warm when it's cold outside - by retaining infrared energy - and to keep your foot cool when it's warm outside - by wicking moisture vapor away before your feet start sweating. The added bonus of this system is that it also prevents any bad odors within the shoe.
Silver Gel Pod Technology
Kenneth Cole doesn't stop at cushioned insoles. No, this world-famous footwear brand goes a step further and adds special gel pods containing silver particles for shock-absorption, giving an entirely new meaning to the word 'comfort'.
Cost and Value
The Kenneth Cole Kam is a shoe which belongs in the high range, cost-wise. We are not surprised, given the brand name behind it and all the latest technologies it has. If you don't mind spending a little bit more on your dress sneaker, this design will certainly not disappoint.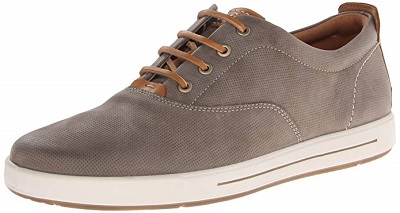 Ecco is a footwear company which puts together a Danish design with high-quality materials and original technology. Their shoes are stylish, comfortable and, above all, reliable. A great example of this is the Ecco Eisner. This classy sneaker is made out of soft, rich leather with pinpoint perforations, a textile lining, and rawhide laces. It has a removable 0.15 inches thick textile covered poliyou insole, and a direct-injected, two-component TPU outsole. This shoe shows excellent flexibility and durability, as well as an effortless style.
Poliyou Insole
The removable poliyou insole in the Ecco Eisner is an Ecco product. It is an insole with four layers which provides amazing ventilation, keeps your feet dry by absorbing moisture, and can easily be taken out of the shoe and washed by hand.
Outsole
All of the adjectives before the word 'outsole' in the description of the Ecco Eisner basically mean that this outsole is resistant to wear and tear, very durable, while at the same time not sacrificing its flexibility.
Cost and Value
The Ecco Eisner is not cheap, but it is not too expensive either. Perhaps it lacks the polished finish that most other designs in this guide have, but it is a shoe which won't let you down. You will be comfortable, sweat-free, and certain that your sneaker won't fall apart any time soon.

Subscribe to our Newsletter