Best Frye Boots Reviewed & Rated
last updated:
Nov 03, 2019
People love boots, especially when they are durable, comfortable, and stylish. That's where this shoemaking company comes in. John A. Frye opened the first company in Marlboro, MA in 1863; yet it wasn't until 1888 that the brand's first boot came out. It was made with fine quality leather and precise stitching, which came to be known as the brand's trademarks. In 1923, they started using the Goodyear welt, and this construction method allows the foot to breathe but is also one of the sturdiest ones available.
This is the best product on our list that is currently in stock: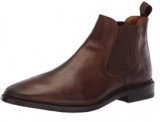 Paul Chelsea
Why is it better?
Goodyear-Welt Constructed
Breathable
Pointed Toe
Leather Upper
In a
Hurry? Editors choice: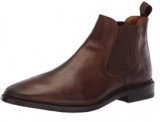 Test Winner: Paul Chelsea

15
Researched Sources
15,000
Reviews Considered
100
Hours Researching
20
Products Evaluated
Materials
Upper
Outsole
Heel
Durability
By Default
10 Best Frye Boots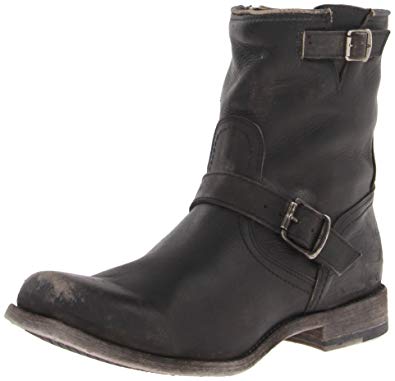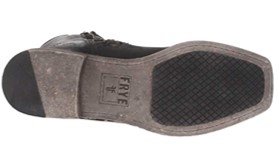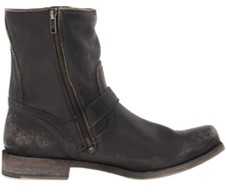 Sewn On Soles
Fairly True To Size
True To Color
May Be Difficult To Pull On And Off
The Smith Engineer Boot is an ankle high boot made in the classic style of the horse riding boot. It's made of leather, has tonal welt stitching, and has a low stacked heel. The high-quality leather boot has a high oil content, so watch for blooming, which can look like white powder. To get rid of blooming, all you have to do is wipe it off with a clean, damp cloth.
The midsole of the Smith Engineer is foam for your comfort and the insole is made of leather. Both are to keep your feet nice and cushioned during your walks.
The stacked heel is actually quite important if you're going to use these boots for riding as this is where your boot will grip the stirrup. Can't have you falling off your horse, now can we? The Smith Engineer can be one of the cheapest boots on this list or it can be one of the most expensive, depending on where you get it. Since this is an actual riding boot, make sure you're buying authentic, whatever the case may be.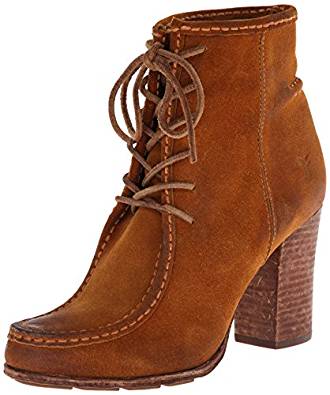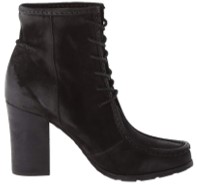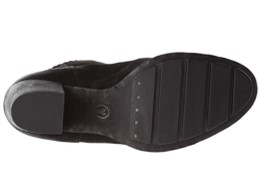 Comfortable To Walk In
Casual Style For Every Day Wear
Fit As Wxpected
Who doesn't love the look of a cute moccasin? That's what inspired the Parker Moc Short Boot. They're a great boot you can walk around in all day. They're made of leather, with a chunky stacked heel, and slim leather laces to really make that look pop. The circumference is adjustable for the wearer.
The adjustable circumference of the Parker Moc Short makes it easier to get your foot in through the door, as it were. No matter the unique shape and size of your foot, you can find a snug and secure fit in the Parker Moc Short.
The Parker Moc comes in multiple colors to match with all of your outfits. Because this boot is more on the casual side, you'll want to wear it with everything you own. With a range of colors spanning the spectrum, the Parker Moc is a versatile option for someone looking for a stylish boot.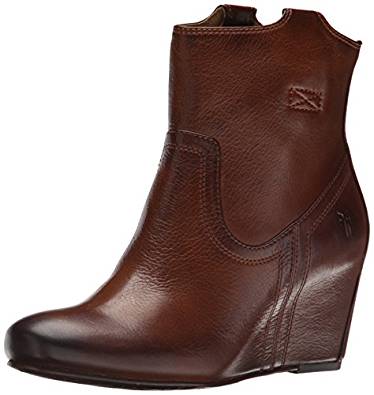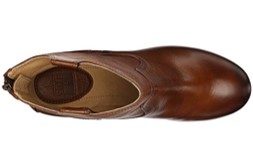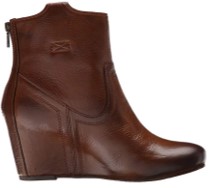 Not As Heavy As Some Others
Comfortable To Walk In
Fits True To Size
The Carson Wedge Bootie is a more sophisticated boot than the Parker Moc Short. It will go well with everyday wear as well as professional wear. It has a leather upper as well as a beautiful hand done finish. The lining on the inside is smooth leather. The bootie also includes a leather footbed for extra comfort.
The Carson Wedge has a back zip closure for easy on and off. This eliminates any hassle with shoelaces and makes putting on your boots completely uncomplicated.
If you've ever read an article on shoes, you know how important keeping your feet comfortable is. Having a leather footbed in your Carson Wedge Booties is nice because it gives you that extra padding that you may not get in other boots.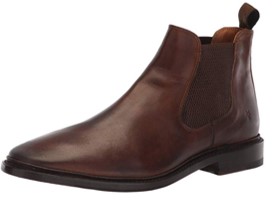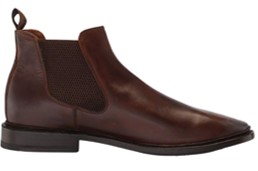 Goodyear-Welt Constructed
Breathable
Pointed Toe
Leather Upper
This pair of Chelsea style boots from FRYE keeps the classic design present in the limelight, with a pointed toe for a bit of character. Leather uppers give it a polished rich appeal, and make it durable for wearing as a daily go-to pair of footwear. Crafted with Goodyear-Welt Construction, the Paul is designed to keep the shoe's integrity, and won't come apart from use easily. The Paul easily pulls on with use of the heel tab, making them great for on-the-go business style.
Available in basic dark colors of brown or black, it's best suited for work attire when paired with suits or slacks, but could be paired with jeans to dress up a casual outfit as well. With classic lines for a sleek design appeal, it brings a more pointed to the classic Chelsea. Inside you'll find a leather lining that gives the Paul a softer on-foot feel, making them comfortable for longer days in the office. With a bit of a raise from the stacked heel, you'll be walking with confidence to the next investor meeting!
The base of the Paul has a rubber sole, helping to add better traction, especially to the forefoot of the shoe where needed most when walking. Crafted with a Goodyear-Welt Construction, they are built to last and the shoe's integrity won't give way due to daily use over time. Side panels add a bit of breathability to this pair of Chelsea boots, so they are perfect for a year-round business style pair of shoes.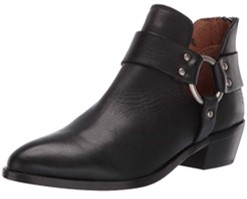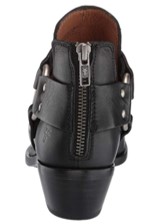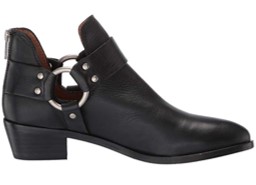 Open Sides
O-ring Hardware
Pointed Toe
Leather Uppers
This shorter ankle boot from FRYE has some unique style elements woven into the design, giving it a western flair with a boost. Large O-ring hardware connects the uppers and sole together in a harness, giving it an appealing look. Instep and outstep of the uppers are cut out, so it adds an element of breathability to this design. A more pointed toe gives it a polished look, while the zip up back helps allow for easy on and off access. It's one pair not to be missed if you're a fan of the brand!
Uppers are crafted from leather, and are available in several basic color options, as well as a few brighter neutral tones. The unique side cut out design of the Ray make it quite breathable, so it makes for a perfect warm weather boot. A modest ankle height allows them to be worn with pants, shorts, skirts or dresses alike, and the three-way harness pulls together the look with a western/biker style flair. Its unique design sets it apart from other ankle boot styles, and is perfect for those who like a little something different!
At the base of the Ray is a leather and rubber sole, where the forefoot is reinforced with rubber for greater traction on slippery wet surfaces. A pointed toe polishes up the look of the boot from normal rounded or square toes, while a short block heel adds a bit of lift. A lightly padded footbed provides additional comfort, allowing you to wear this pair all day without foot aches or pain.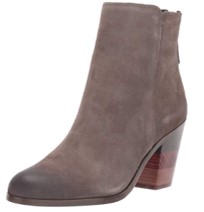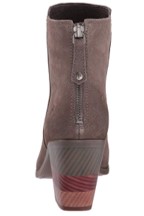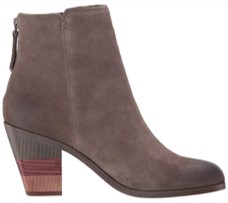 Heel Zip
Modest Heel Height
Suede or Leather Upper
Multicolor Heel Option
This adorable yet simple FRYE boot has a few unique characteristics, but keeps a clean, sleek design silhouette to it. The Cameron Bootie is crafted from leather or suede to form the uppers, and is available in several color options from browns to grey and black. With a modest heel height under 3 inches, and a chunkier heel style, it's quite suitable for walking or standing for extended timeframes during the day or evening. This pair can be worn as a casual style of footwear, or pair with structured A-line dresses or skirts for a sleek business dress.
One of the options we really enjoy about the Cameron Bootie, is that with some color options, the heel also has three different colors! Check out the elephant grey or off white if you're in search of something unique in the heel of your new pair. Other color options keep solid heel color throughout to compliment the uppers. Heel raises about 2.75 inches, allowing for a stable platform along with confident boost in height. The boot has a shaft opening of just under 10 inches, so it's ideal for those with a bit larger of a calf too.
The Cameron Bootie has a leather sole, with a treaded pattern at the forefoot for better grip on slippery tiled floors or wet surfaces. A heel zip makes this pair easy to get in and out of after a long day in the office, so you won't need to fuss with lacing. A slightly almond shaped toe gives it a little bit more style and flair for office attire. This is one pair that will make a great fall or spring boot for both work or casual settings!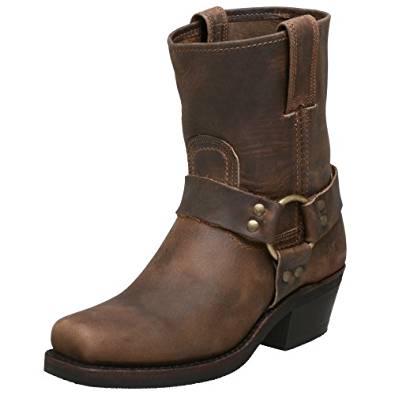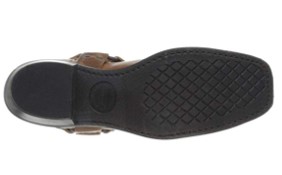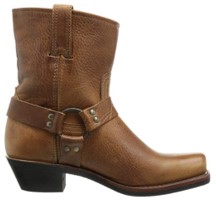 Made In The USA
Substantial Arch In Boot
Classic Style
Heavier Than Some Others
May Need A Half Size Down
The Harness 8R Boot is a rugged boot to get the job done. It's outlined with features like the memory foam insoles, durable materials, and construction including Goodyear Welting, and lifted heel. This boot has all of the work and play in it with the studded leather strap at the ankle.
The Harness 8R has cushioned shock-absorbing memory insoles, making each step on the ground a little easier and lighter on your body. This will work to save the joints in your body a lot of stress.
The Harness 8R has an oil resistant sole, which means that the sole is specially designed to keep from easily slipping on oil. This is particularly great if you use this boot for work around oil, such as a mechanic's shop.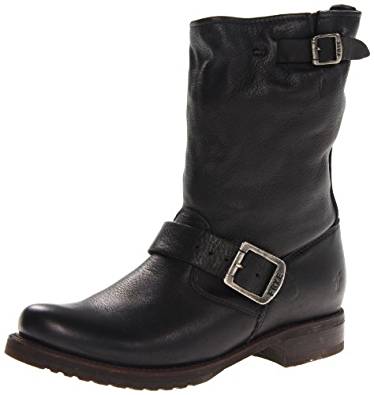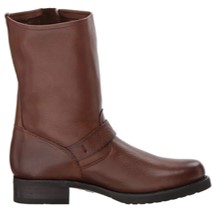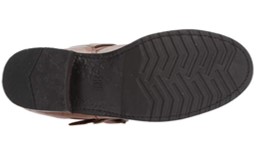 Moderate Arch Support
Subtle But Firm Cushioning
Easy Break In
May Need A Half Size Smaller
The Veronica Short Boot is a classic engineer boot with antiqued logo buckles. It has two buckles, one at the opening, one at the ankle. The boot is made of 100% leather with leather and rubber sole, featuring a stacked leather 1-inch heel. The Veronica Short also comes with a cushioned foam insole.
The cushioned foam insole is meant to hold your foot comfortably inside. It helps relieve the shock to your feet when walking as well.
Both of the buckles on the Veronica Short are adjustable to fit your foot. You can move them to the exact right measurement they need to be on to fit your exact comfort level.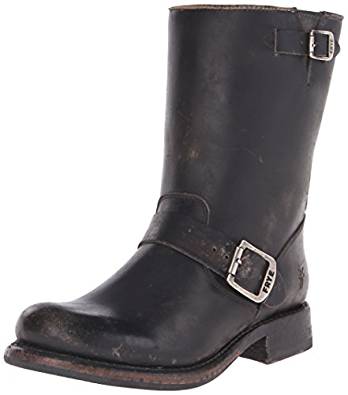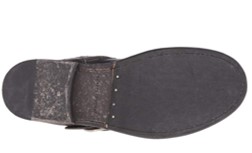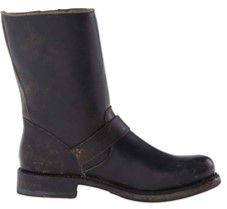 Rounded Toe
Wider Opening For Wider Calves
Not As Heavy As Some Others
May Be Difficult To Put On And Take Off
The Jenna Engineer Boot is another engineer boot on this list but more distressed than the Veronica Short. Other than that, the two are very similar. There are two adjustable buckles and the shaft is only half an inch shorter than the one of the Veronica Short. The shaft circumference and heel heights are the same.
Like the buckles on the Veronica Short, the buckles on the Jenna Engineer are adjustable for maximum comfort. They let you decide on how loose or tight the fit needs to be in order for you to feel most at ease in your boots.
Now you don't have to worry about scuffing up your boots; they come that way! The distressed look of your boots will make it easier to put dings and scratches on them without the guilt.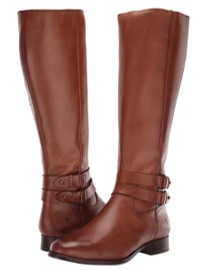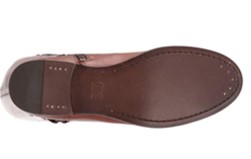 Tall Boot Shaft
Large Boot Opening
Dual Buckle Straps
Leather Uppers
May Require Leather Protectant
This tall length boot from FRYE is perfect for fall and winter climates, helping to keep you warmer outside in the wind or ice. Leather uppers make for a durable barrier against the chill, but also look appealing and luxurious. Pairing these with skinny jeans or leggings is easy for a classic look, or use them with a shorter dress or skirt for something a bit more polished. With a dual strap harness at the base of this pair, it's stylish, practical, and suited for formal or business attires.
This tall boot raises 15 ½ inches in height to the top of the shaft, and opens with a circumference of 13 ½ inches. It has a slight heel raise to give you a confident stride, while a rounded toe helps promote proper foot splay, and gives a bit more room than other toe styles. Uppers are leather, adding to the durability of the boot, and dual harness straps with buckle closures add some fashion flair to the Carly Strap boot. A side zip closure allows for an easy access in and out of the boot, without having to lace up to finish off the look.
At the base of the Carly Strap is a synthetic sole, but lacks a pattern tread and may be a little slippery on tiled floors. Inside is a leather footbed which is lightly cushioned for added comfort, and a leather lining. The chunkier heel raises just under and inch in height, so you'll feel stable walking around town in this boot. Ideal for fall or winter, it makes for a versatile pair of FRYEs to add to your collection of footwear!
Criteria Used for Evaluation

Materials
You should always know what type of material your boot is made of. This will let you know how long it will hold and how to take care of it. All the boots on this list are made of leather. Generally, real leather is stronger than synthetic leather, making it more durable. The most durable natural leathers are full grain and top grain. Suede is also real leather, but it is softer and needs more care than the other two.
With real leather, you want to take care of your boots. Clean them regularly, condition, and oil them. This treatment will prevent the leather from cracking and deteriorating and extend the life of your boots.
You will also want to consider other factors related to the material construction of your boot. Will it stand up to rain and water? Are you living in a cold or warm climate? Do you need a boot that breathes because you have a unique foot condition or are sensitive to moisture? Consider all of these factors when deciding on your perfect pair of boots!

Upper
Insoles are another thing to consider when buying boots. The insole is the part of the shoe that supports your foot on the inside. Insoles provide cushioning as well. They can be made of foam, which is common. Foam naturally absorbs shock and is dependable and rigid. Memory foam insoles mold to the foot, retaining the shape, which makes them particularly comfortable.
The issue with foam is that it doesn't have a long lifespan. Leather is another insole cushion. Leather is tough and long lasting and it can provide strong arch support. Finally, gel can be an insole cushion. It's flexible and soft. The Veronica Short has a foam insole that will leave your foot feeling comfortable. The Paige Tall Riding Boot has an insole made of leather, which will last a long time.
Also remember that while a softer insole might be more comfortable, but that comes at the expense of stability and durability. We tried to balance these weights when evaluating our products, but each reader and wearer is different, so be aware of this trade-off.

Outsole
The type of sole you have depends a lot on the style of shoe you choose. There are pros and cons to rubber and leather alike. For instance, although leather is more elegant, and if done properly, more durable, it may not be quite as comfortable as the softer rubber is to walk on. When walking on pavement, especially if you're used to a softer rubber sole, walking on a leather sole may be hard at first.
However, if done correctly, a leather sole can be quite soft. It also offers elegance which the rubber sole just does not. A properly made leather sole also will be waterproof. The Jackie Gore Stitching Boot has a leather sole for that classic look that you want at formal events.
Depending on the type of footwear, one will often see outsoles made from natural or synthetic materials, such as PVC, EVA, rubber, and leather. Each of these has their advantages, depending on the shoe's purpose; however, as a general rule, they each are resistant to the aforementioned factors. They are also flexible enough to support a proper foot cycle when in motion, but they are not so flexible that they feel like a pair of socks.
Heel
The heel height of a boot is extremely important. You want to be sure you're picking a boot with a heel height that's comfortable for you. If you're the type of person that is comfortable in 3" then, by all means, get that Parker Moc Short Boot that you're eyeing.
On the other hand, if you tend to spend most of your time low to the ground, then don't struggle to walk on a heel that isn't going to be comfortable for you, no matter how cute the boot is. There are plenty of choices on this list with heels that are 1" or shorter. And they're super cute to boot.
Don't forget to remember that the higher the heel, the more pressure is placed on certain muscles in your ankle when you walk. A higher heel means more discomfort, so be aware of this trade-off if you are going to wear your boots for extended periods of time!
Durability
To assess each of the products on our list for durability, we not only read through thousands of customer reviews on our recommended products, but we also looked for some of the hallmarks of quality construction. From brand name reputation to their initial smell out of the box, there are a few ways of identifying a well-built, made-to-last product.
The Details
A zipper that doesn't zip? Poor threading technique? A smelly, chemical residue on the shoe when you open the box? All these details were looked for an evaluated when assigning a score for durability.
Materials
Certain materials last longer than others, even if that comes at the expense of a higher score in the "comfort" criterion. Materials that are synthetic, thicker, and firmer tend to score higher on durability.
Product Purpose
A shoe made for running and high-impact sports will not likely last as long as a good pair of general activity shoes, and that's okay. Being aware of the shoe's purpose is critical for you as a reader and for us as a reviewer. Although shoes that will last longer score higher on this criterion, you might also see high scores to shoes with a more limited durability, if that product was specifically designed for certain purposes that involve high-impact and high-stress motions. We take into account the type of shoes you are trying to purchase when assigning scores to shoes in this criterion.
Expert Interviews & Opinions
Most Important Criteria
(According to our experts opinion)
Experts Opinion
Editors Opinion
Users Opinion
By Default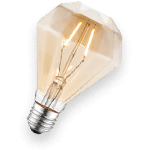 Leather Care Tips
For any kind of leather shoe or boot, taking time to care for the material can greatly extend it's lifespan, and keep them looking great.
Use of leather conditioner on harder leathers will help keep them soft and supple, while leathers like suede can benefit from a shoe protectant spray to prevent water or other liquid stains.
Styling Your Frye Boots
Boots are one of the most versatile styles of footwear for cooler months, with leather helping to insulate and keep your feet warm.
Pair knee high boots with leggings or skinny jeans, dresses or skirts as well. Adding a fun sock to peek out at the top can add some flair and fun to your outfit as well.
For ankle boots, these again, can be paired with just about any kind of apparel. With more structured skirts and dresses, it adds to the element giving structure to your feet. Pair embellished ankle boots that have studs or fringe for something a bit more edgy and fun.
Other Factors to Consider

Bottom Line
By the 1940s, Frye was making cowboy boots. Some were worn by US General Patton during World War II. Half Wellingtons, or "Jet Boots," came along in the 1950s and were worn by the navy and army long after the war. In the 1960s the brand custom-made boots for people such as Jackie Kennedy and President Nixon. The harness boot also came along in the 1960s. The 1970s brought about the campus boot and the 1990s the engineer boot.
Now that you know what the top ten are, you can think about all of the qualities that you want in your next boot. Of course, you want the boot to be stylish, comfortable, and durable. But the brand already has you covered on all of those things. Thing deeper. There is a range of styles represented on this list from riding boots, to engineer boots, to booties, to harness boots. You have to decide which style is the one for you. You have to decide if you like long boots or short boots.
What flatters your calves the most? You have to determine if you prefer to slip your boots on or if you need zippers or shoelaces. On the one hand, slipping your boots on and off can be quite convenient. On the other, some boots are harder to slip on and off than others. But then you have to decide if zippers or laces are more your style. Then there's arch support to consider. How much of it do you need? Will the boots you like provide that or do you need to buy inserts? You have to consider how tall you want your heel to be. Once everything is in order, you can go ahead and pick your boots.
Frequently Asked Questions
q:

Is heel slippage normal?

a:

With new boots, a small amount, yes. It will slowly decrease as you continue to wear them.
q:

My foot is between sizes, what do I do?

a:

Order a half a size up. You can also put an insert in the the half size up is just a little too big. Alternatively, you can wear thicker socks that will give your more cushioning and fill up excess space.
q:

How do I know I got authentic boots?

a:

Always order from the company directly, a reputable store, or a reputable website. First, check the packaging that it is a white box with the brand on it and the words "Benchcrafted since 1863." Check the quality of the boot. If it is not up to standard (finest leather, stitching, and hardware), send it back. A true boot by this brand will also have FRYE stamped on the outsoles. Some use a Neoprene Safetech Oil Resistant stamp. Always know the styles and ensure all of the details are up to par.
q:

Why pick this brand?

a:

Their boots are made with quality leather and stitching to last. They've been a proud label since their inception and have been making the finest boots ever since. Their products are designed to be stylish, comfortable out of the box, and durable for years to come.
q:

Does the brand do any volunteer work?

a:

They have a partnership with Feeding America and have donated over 2 million meals through its many programs.
Subscribe to our Newsletter