Best Chelsea Style Boots Reviewed & Rated
In a Hurry? Editors choice: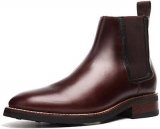 Test Winner: Thursday Boot Company Duke

An excellent choice for fall and winter wear, Chelsea boots are a great addition to anyone's closet, seeing that they can easily be dressed up or down. Appropriate for work<, casual wear, and even with a suit, they come in a wide variety of designs and styles, from simple and elegant, to rugged, even to those with broguing and colorful details, allowing you to show off your personal style. With a huge number of models available on the market, it may be difficult to find the best one for you. That's why we compiled this list of the ten best Chelsea boots available for purchase, with options for every budget, style and color preference.
Standout Picks
Criteria Used for Evaluation
Features
To make our list, the footwear we looked at had to have the traditional characteristics of this style. Here are things to look for when shopping for men's and women's ankle boots:
Flexible sides:  The slip-on flexibility and fit is usually accomplished with elasticized goring on the ankles and only occasionally with an inner zipper. The goring must be firm enough to allow the foot to slip inside, with a little help from the pull tab, without easily wearing out. Goring that sags or does not bounce back will leave you uncomfortable and unsteady, as well as ruin your look. If a zipper is used, it must leave the top flexible and open.
Wide mouth: These types of ankle boots typically have a wider mouth than other styles. This can sometimes lead people to believe that they do not fit properly but this is not the case. The top is meant to be wide as part of the style. All of the models in our list have the traditional wide mouth.
Traction sole: They are meant to be durable and workable and therefore have rubber or synthetic soles that provide good traction and durability. The sole should be shock-absorbing but it is not a requirement that they are layered or feature a thick cushioning midsole.
Protective upper: They are traditionally made of high-quality leather in the upper, but if you're shopping for work footwear, make sure they also include protective features such as a safety toe, slip-resistant outsole and a steel shank in the sole.
Pull tabs: If your pair does not have a zipper, it will require either a low cut or pull tabs to help you get it on easily.
Durability
These shoes are meant to be durable top and bottom. In most cases, not all, you are investing quite a bit of your hard-earned money into the pair you have chosen and you deserve to have it last. What makes it durable?
Outsole: The outsole is what comes into direct contact with the ground - concrete, pavement, dirt, cobble, gravel - a lot of abrasive surfaces that can wear down a cheap out-sole fast. A good outsole is meant to stand up to the abrasion. It may be made of rubber, a hardened form of rubber, synthetic rubber or leather to make it tough but of all of these tough materials, hardened forms of rubber have the most resistance to wear. When we're talking about synthetic rubbers, these can be hit or miss - too brittle and they'll break apart, too soft and they'll wear out like butter on a hot day. Read reviews to determine how well the out-sole lasts.
Midsole: Midsoles are not built into every model or if they are, they are usually thin. Thin is okay as long as the midsole lasts. It should provide cushion and shock absorption without being too rigid or collapsible.
Insole: The insoles often do not last as long as the outer parts. That's okay but they should be removable so you can replace them with shoe inserts when they wear out - extending the comfort and the use.
Upper: A durable upper is water and stain resistant (not necessarily waterproof). It should be constructed in a way that seals it well to the sole. Goodyear welting is the best but proper cementing can also make an upper very durable. The material - whether rubber, synthetic or leather - should be thick enough to last a very long time but not so thick as to be overly rigid. If it is synthetic, it should not peel easily. Again reviews are a great place to discover information about the quality of the upper. Look for indications that the upper is durable and will not wear out easily.
Comfort
If you've read a number of our criteria sections, you will have seen that we talk about comfort quite a lot. There are a few reasons for this:
A comfortable shoe is virtually pain-free and shoes should never cause you pain
A comfortable shoe is worn more frequently, giving you the best use for your money
A comfortable shoe is also likely a very supportive shoe that will help prevent injury or aggravate already existing injuries and conditions
A comfortable shoe is also a shoe that likely will not cause minor but painful injuries like blisters, scrapes, and abrasions, and
When you purchase a shoe online, you do not want to be surprised to discover that you've purchased a shoe so uncomfortable you will never wear it again.
Here are some brief tips about the comfort of a good pair:
Goring - the goring should not abrade your ankle or rub against it a way that will cause blisters.
Back - the back should not cut into your ankle.
Mouth - the mouth is wide, this is the style, but your foot should still sit securely and comfortably into the heel without sliding out.
Weight - they are going to be heavier than most athletic shoes or dress shoes but they should not be so heavy as to cause you fatigue. Check the weight in the specifications.
Fit - ensure you read size charts and reviews to determine the correct size and width for your needs. A poor fit will be uncomfortable.
Insoles - look for padded insoles and footbeds that will cushion the feet.
Flexibility - It should be flexible enough to move with your feet. For high arches, there should be more flexibility and for flat feet, less flexibility.
Toe Box - make sure will be enough room in the toe box for your toes to lie next to one another and not be compressed together.
Heel - there should be great shock absorption in the heel area to take the load off your heel and ankle
Color
Color is what holds your entire outfit together and unifies the whole look. On top of that, you give off a different impression on others based on the tones you wear. It's been proven color is a powerful tool for communication that can influence mood and actions? Did you know, for example, that red provokes warmth and even hostility while blue induces a feeling of calmness and sadness?
Scroll through our list and you'll find that the majority of their footwear and clothing are neutral-colored. It is, after all, a store for men, who often dress more subtly than women. Plus, there are numerous benefits to neutral-colored shoes, including their versatility and formal look.
When picking out a pair, there are some things to consider. It is advised for men to match the color to that of their socks and belt. This helps to unify your overall appearance. In addition, wear shoes darker than the pants in semi-formal or formal occasions - note that the recent white sneaker trend has turned the tables when it comes to casual streetwear. If you're opting for a pair that's not white, grey, or black, make sure the color matches or compliments the rest of your attire to avoid clashing.
Value
When deciphering what makes a brand valuable it's so much more than something as minor as good marketing. The culture and history of a company have a trickle-down effect. The best brands add value not only by choosing quality materials but by creating a culture of excellence. Employees are the meat and potatoes of any company and when they are at their best products will be innovative and stylish. The construction of an item, like; hand-stitching, genuine leather, wool interior, and other quality materials will in-part determine what really constitutes an item that is considered valuable. Classic designs that any brand is known for has stood the test of time. Signature designs can be counted on for quality and consistency. Companies that boast a classic line that maintains its quality over time and is actively creating innovative outerwear is constantly growing for a reason. It's not always easy to find a line that gifts provocative cutting-edge styles while maintaining the quality of pioneer designs. Correct pricing is important a name doesn't always mean a superior item. Things like a balanced stride, slip-resistance, comfort cushioning and an interior that warms or wicks depending on its purpose, are all apart of thoughtful appropriate design and add value.
Top 10 Comfortable Chelsea Boots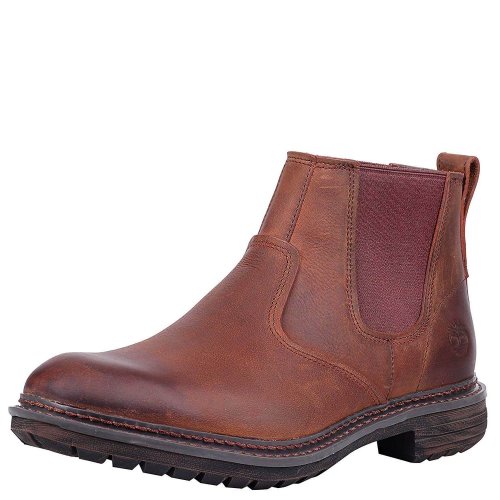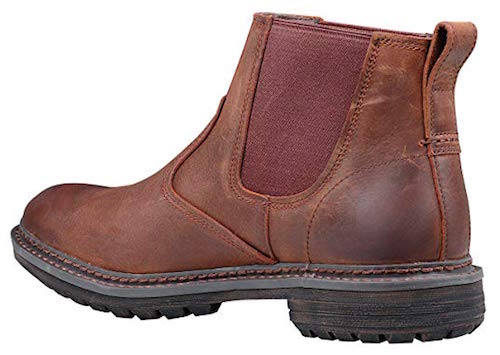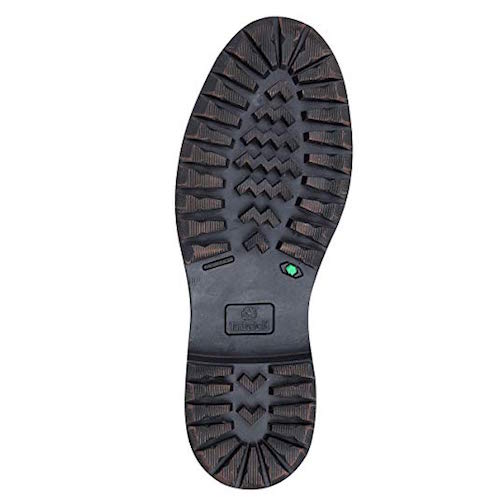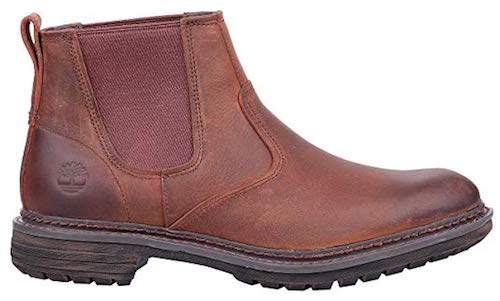 Timberland - the name says comfortable, functional footwear and this model lives up to the reputation of their maker. This oiled leather pair looks rugged and solid and ready to hit the road on a Harley. It's comfortable inside too so don't let that rugged look fool you into thinking this is a rough pair. It's a fantastic addition to your wardrobe.
These Timberlands feature an anti-fatigue removable insole for comfort. The side goring is concealed behind strips of oiled leather for a unique look but also for additional protection for your ankles whether you are working hard or playing hard when wearing them.
They are in the mid-range in price for the shoes on this list. For the investment though you are getting Timberland comfort and functionality combined with a rugged, oiled leather look and extra protection for your ankles. Worth the extra money.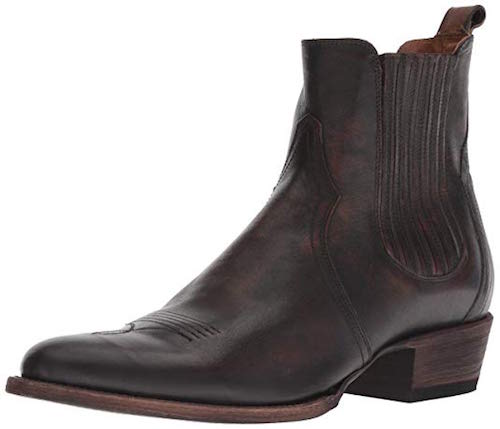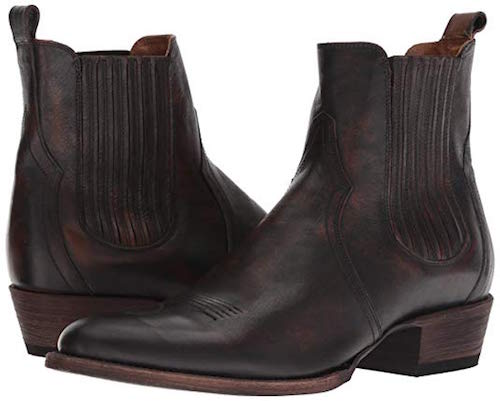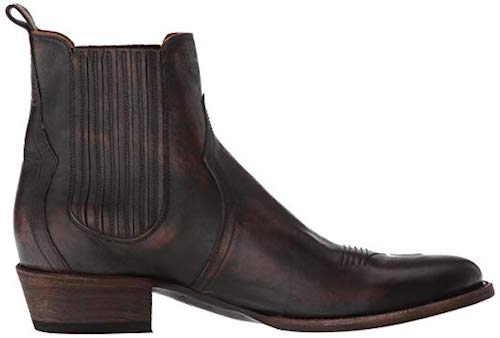 If you want a pair of footwear that will make you look and feel like a real cowboy, then the Grady sure is a good choice. Made by Frye, this quality item is sure to last a lifetime, and you can rest assured that it will get better looking and offer a higher level of comfort the more you wear it. It is available in several color options including black and brown which are easy to pair and can be dressed up or down depending on the occasion.
The upper of the Grady is made with full-grain leather which is either brushed or smoothed, depending on the color option you decide to go with. Easy to take care of, this material will provide breathability, all the while allowing you to break your boots in to fit you like a glove. On and off is relatively easy thanks to the elastic finger goring on the sides, while the 11-inch shaft provides a good amount of ankle stability.
Both the lining and the outsole of this model are made with leather, so you can expect a cushioned, soft feeling underfoot. It will require a break-in period, but you'll find that these boots will become your go-to everyday option. The construction uses a Goodyear welt which means these can be resoled and repaired as needed, but do keep in mind that they won't be suitable for wear in rain or snow.
The price of this item depends on the color option you decide to go with. You'll find that most models go for a price that's considerably higher than average, being one of the most expensive items listed. Nonetheless, if you're after something that will be more than just an accessory, and that you'll feel pride in owning and wearing, the Fry Grady is a great investment.

3

. Thursday Boot Company Duke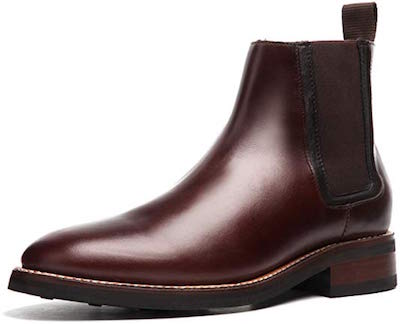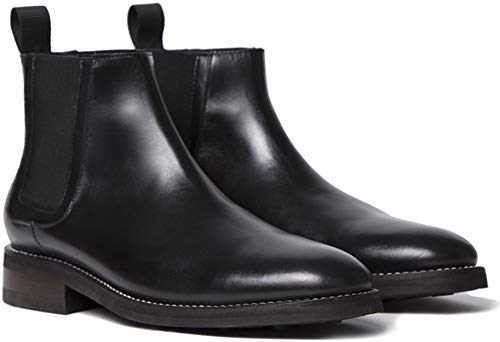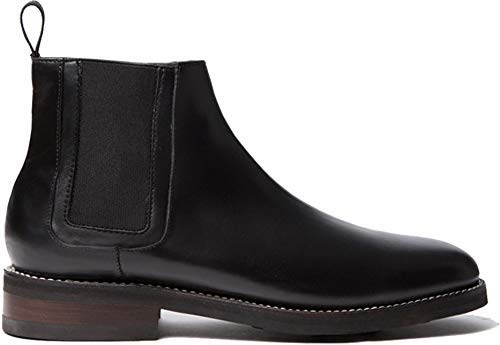 It's hard to go wrong with a product made by the Thursday Boot Company, and the Duke is no different. Made for those who prefer elegant style, high quality materials and some of the best quality control in the industry, it'll definitely be the pair of shoes you reach for every morning when you're headed to work. You can choose between suede or leather for the upper, and get either a black, brown or tan color that'll be easy to match with a variety of outfits from jeans to suits.
The upper of this boot is made either with quality leather or with water-ready suede that will stand up to unexpected showers. However, it's the Goodyear Welt construction that ensures a waterproof and durable pair of footwear. The outsoles are made with studded rubber for a good amount of grip even on wet surfaces, so you can rest assured that this is a great all-round model for all types of weather conditions.
The Duke features a full glove leather interior that'll be soft to the touch while providing a good amount of breathability in case you've worked up a sweat. The footbed is made with natural cork that adapts to your arch, providing you with great arch support, while a Poron insole ensures excellent shock absorption and antimicrobial properties.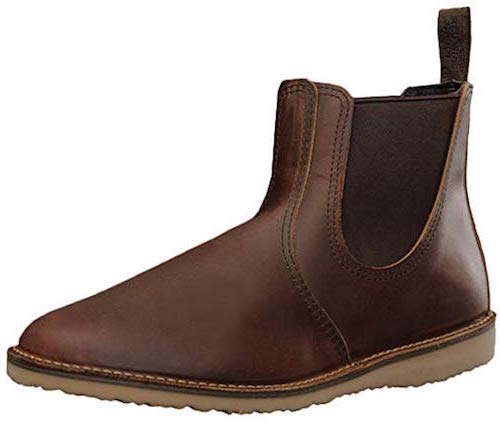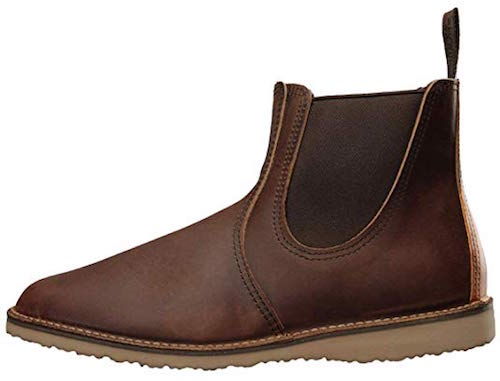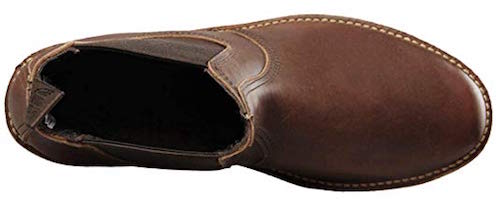 This pair of 6-inch boots by Red Wing is the perfect choice for casual, comfort-oriented wear. Part of the brand's Heritage line, this model uses high-quality materials and is made in the USA for the highest possible level of quality control. It is available in four color options including black, copper, olive and brown, and will look ideal with a pair of jeans.
The upper of the Weekender comes in a couple of leather options, both of which provide different benefits and looks. The oil-tanned leather uses minimal finishing and offers a natural look and feel. Being durable, it also offers the benefit of being water, stain and perspiration resistant. The roughout leather styles, on the other hand, provide a rugged look that is softer and easier to break in. These will, however, need a higher level of protection, seeing that they're less resistant to moisture.
The construction of the Weekender uses a stitchdown last which offers exceptional flexibility and out of the box comfort. The Hill sole offers a good amount of traction that will last for plenty of time, while the cork midsole and leather insole provide wearers with a great level of support and cushioning.
Like all Red Wing styles, the Weekender is fully repairable and even resolable, which allows you to wear the same pair of boots for years to come. Additionally, you'll find that these products provide maximum wearability, not only because of how good they feel on your feet, but because of their versatility as well. Do keep in mind that this type of quality comes at a price higher than average.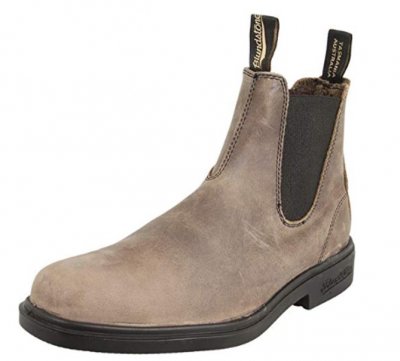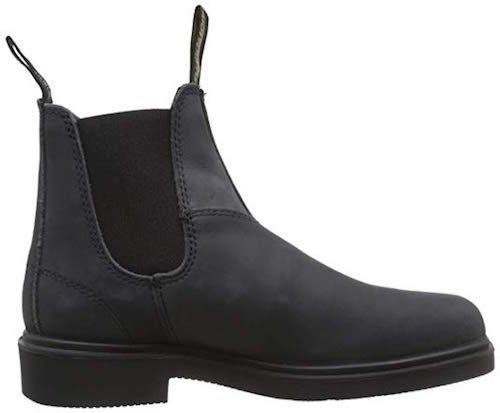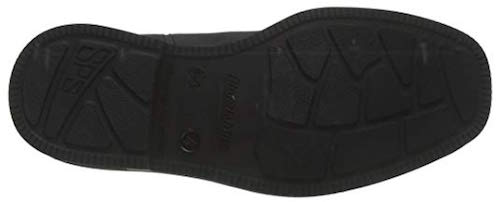 Classic Australian Blunnies. These shoes look great and are appropriate for kicking around or working. They feature a steel shank for stability, extra shock-absorption in the heel and a premium leather upper. The footbed and PU midsole make it very comfortable for long hours on your feet.
The footbed in this model is anatomically shaped and removable. You can wear your own custom insole or orthotic if you wish. The Blunnies Dress features a steel shank in the midsole for stability and Blundstone's Prono XRD shock protection in the heel strike zone for extra shock-absorption, reducing soreness and fatigue in the heel and ankle.
These shoes are very much an investment, but you will be getting one of the most popular models for the money. The reason they are so popular has nothing to do with the name and everything to do with their quality, comfort, and wearability. Work all day in them without aches or pains and still have the energy to walk around doing your errands at night.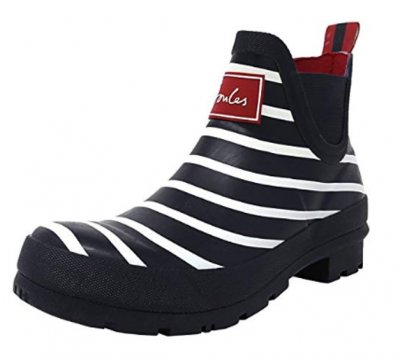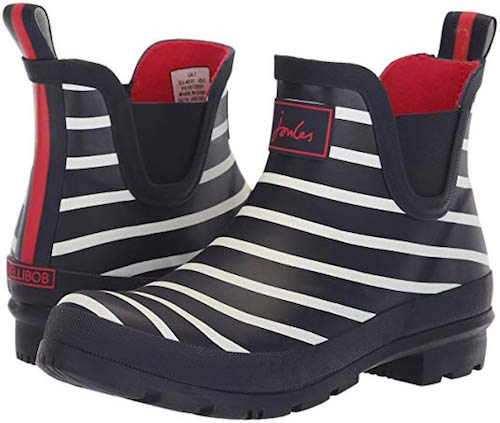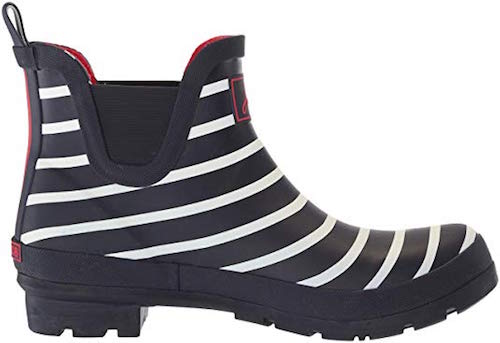 A colorful, fun rainboot in the well-known style. These are a cute rainboot for working in the garden or just keeping your feet dry while walking around town. They come in a variety of printed rubber toppers from solid black, to geese to floral designs to allow you to express your individuality and sense of fun in your rainboot. Comfy padded footbed too!
These are a very durable pair with a rubber upper and rubber. Apart from being cute, they are also waterproof and abrasion-resistant, so they will last you a very long time. Who can be dull and grey like rainy, overcast weather when you're wearing boots with bright floral prints, vivid stripes or airy, flying geese? You can't is the answer here! They are fun and all expressive sunshine.
These boots are a great value at the low end of the price range. For the cost, you could get the chihuahuas and the floral print to mix up the fun. They are a great rainboot with the wide-mouthed style and comfortable padding too - not just for working in the garden!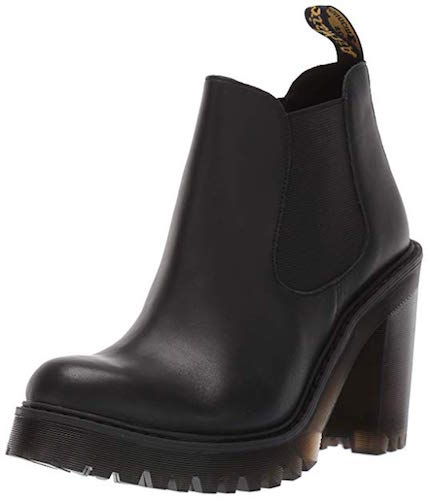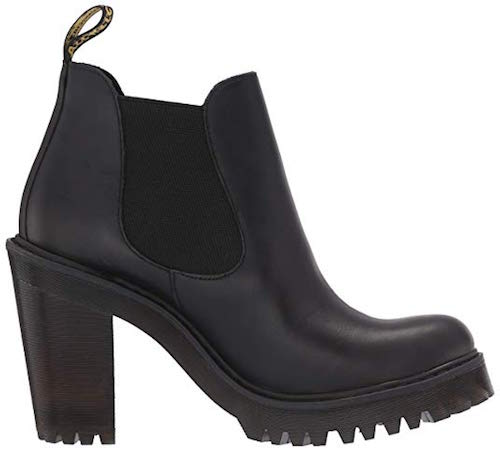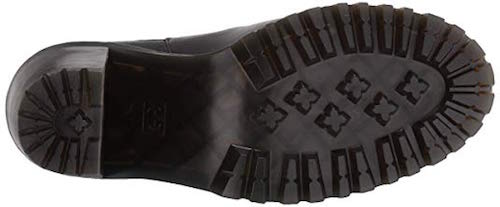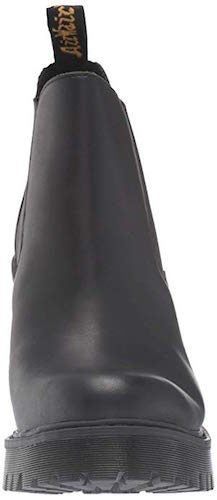 These pull-on heeled boots by Dr. Martens are the ideal choice for anyone looking for a good combination of quality and style. They offer a feminine look with a touch of rebellion, and can be combined with a number of outfit combinations. Not only are they versatile, but they'll also offer a good amount of protection from the pain associated with walking, can be worn in wet weather conditions, and are relatively simple to maintain.
The upper of the Hurston is made with genuine leather treated with Analine to achieve a natural look and high durability. It is moisture-resistant, making these heels perfect for fall, and the fit is made better through the addition of elastic panels, as well as a Doc Marten heel pull tab.
The outsole of this model is built on the same principle that's used in making traditional Dr. Martens boots. It utilizes an air-cushioned AirWair sole that does a great job at absorbing shock and providing a comfortable surface to walk on. The 1-inch platform and 3.5-inch heel aren't too tall for everyday wear, while the pattern on the bottom of the boots offers a good amount of traction that'll work on varied indoor and outdoor surfaces.
As for cost association, the Dr. Martens Hurston ranks around average compared to the other models listed and is an excellent choice for those who want a good balance between price and quality.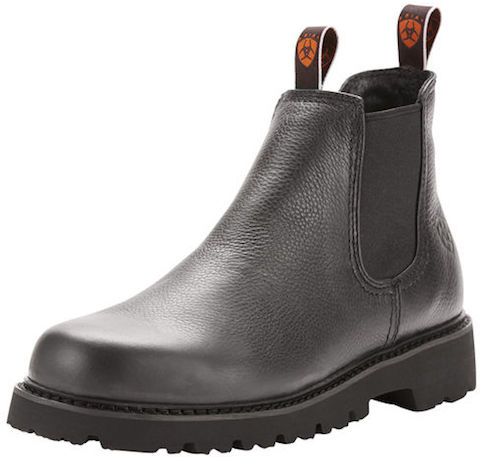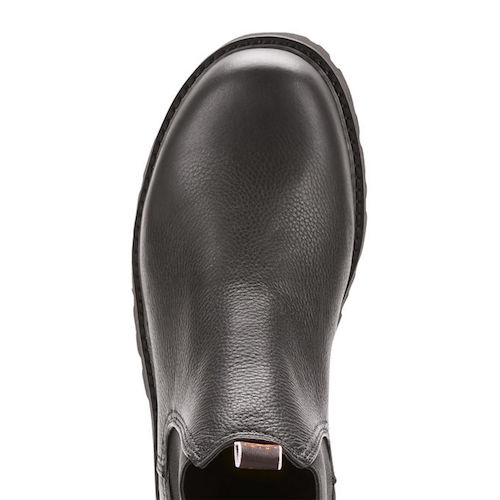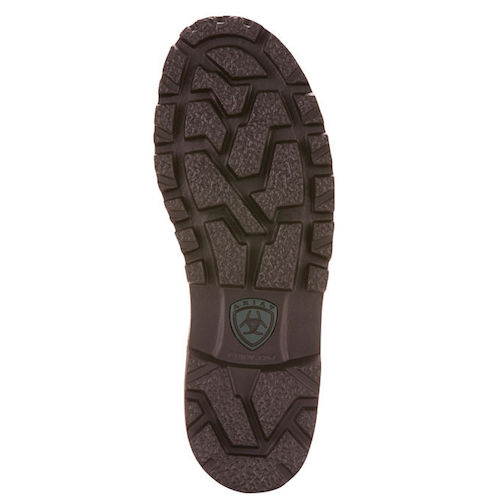 These casual pull-on boots by Ariat are an excellent choice for those who lead an active lifestyle, but still, wish to invest in footwear that will look sleek when paired with jeans or trousers. The Spot Hog features a 5-inch shaft, comes in three color options and two choices of material. Our favorite has to be the peanut colored smooth leather upper, but the lighter and darker versions can be just as versatile and stylish.
The most important feature of the Ariat Spot Hog has to be the EVA foam midsole which is a type of shock-absorbing material often used in running sneakers and athletic footwear. EVA is very lightweight and is a cushioning compound that adjusts to the foot and can help ease joint and muscle pain associated with long hours of standing and walking.
The entire sole unit uses Everlon technology to increase durability, giving both the midsole and outsole the properties of blown rubber. While this ensures a lower degree of flattening and wear, it also provides a higher level of energy return which is important for those walking long distances. The bottom of this boot features a chunky traction pattern that is adequate for most weather conditions, however, keep in mind that it won't perform too well on ide or surfaces where it can become clogged.
The cost association of the Ariat Spot Hog is average, allowing users on a budget to still receive a high-quality product made with real leather and some great comfort technology.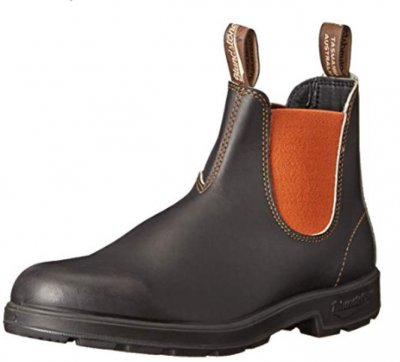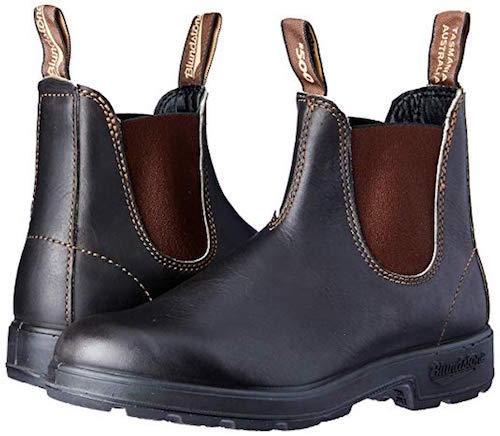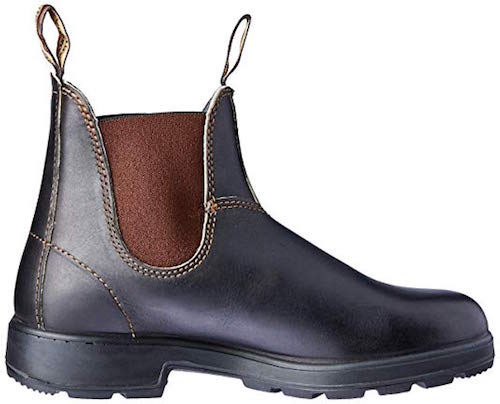 The Original Blundstone that started it all, this is one tough, comfortable boot. You can take it anywhere and work all day in comfort. It's made of a premium, thick leather for protection and durability. They also feature a toe spring, reinforced stitching and a soft leather and textile lining. They are rugged and will take you anywhere you want to go.
The outsole on these Blundstones is made from thermoplastic polyurethane which provides good traction and much longer wear than other outsoles. It is also oil, acid and fat resistant, making them great in a kitchen. They should last you years.
The leather upper is thick, protective and medium-quality. It is weather-resistant and rugged, ready to take on almost anything. Blundstones are an investment, at the higher end of the price range for shoes on our list. However, like the Dress Blunnie, these are worth every penny for the quality, comfort, and durability you are getting. These are a little tougher than the Dress and should last longer before having to be replaced.

10

. Skechers Blaine Orsen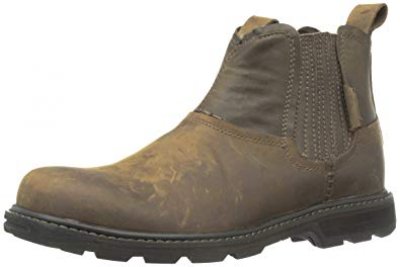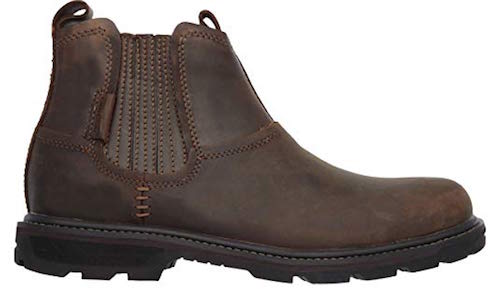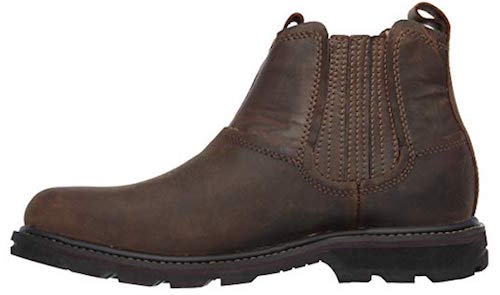 The Skechers Blaine Orsen is a sturdy pair with a bit more rugged styling. Quality leather creates the uppers with decorative stitching that's also functional to hold the panels together. Rounded toe gives ample room for comfort, and a pattern lug sole provides traction on all sorts of surfaces. Suitable for work or play, it's a great all-around look that can complement most any ensemble you pull together.
Uppers of the Blaine Orsen have been constructed form quality leather, durable yet pleasing to the touch, and ready for whatever wear and tear you throw at them. Panels are carefully stitched together, and elastic side gores are hidden from view by a panel of stitched leather. Heel and tongue pull tabs make it easy access to pull onto the foot.
Slightly more rugged in its appeal, the Blaine Orsen can be worn for both casual settings, business attire, or when paired correctly, for some formal events. Its rich oiled leather gives it a smooth finished look, while rugged sole allows for traction in any kind of weather or on uneven surfaces. Rounded toe gives room for walking over long periods of time, without getting sore feet.

Subscribe to our Newsletter