Top Boot Brands For Working Men & Women Reviewed
In a Hurry? Editors choice: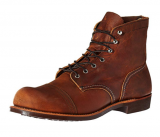 Test Winner: Red Wing Iron Ranger

When it comes to the best boots only a few brands know how to really deliver! Whether you're hunting for workwear or just a pair to wear while you're out on the town, only certain brands can get it right! We've spent hours studying the different labels in search of the ten best available today. In our search, we've narrowed down the top ten, as well as, delved deeper into their latest looks and reviewed each brand's best pair currently on the shelves.

Keep reading to see our ten product choices and a detailed review of each, followed by a closer peek at the top ten brands themselves. You'll also find answers to some of the most frequently asked questions on the topic and a few expert style tips too!
Standout Picks
Criteria Used for Evaluation
Brand
Red Wing: Red Wing has been a dedicated manufacturer of quality work and fashion footwear for over one hundred years. Their purpose-built footwear has been an industry leader in innovative designs and is still a top-producer that wearers turn to for the highest quality pairs.
The name came from Red Wing, Minnesota, where shoe merchant Charles Beckman first had a dream of crafting specifically designed shoes to meet the needs of workers. Tough jobs like mining, logging, and farming required a design that was durable enough to withstand the harsh conditions that these workers faced day in and day out, which is exactly what Charles set out to design.

In 1905, Red Wing Shoes was officially founded and a whole new kind of quality craftsmanship was born. Since then, Red Wing Shoes has continued to grow globally and has become one of the most notoriously trusted brands of today.
Doc Martens: Dr. Martens is a brand that appeals to people from all walks of life. Their individuality in style has helped propel this free-spirited label from a modest work-wear designer to a modern day legend thanks to their basic yet somehow rebellious designs that wearers just can't seem to get enough of!

Known for the sheer comfort and durability of their pairs, Dr. Martens can often be found mentioned in articles and news feeds pertaining to the most comforting footwear choices. They have also grown to become somewhat of an emblem for the punk and goth subcultures who have adopted Dr. Martens' simple silhouettes as their own.
Timberland: Timberland is a brand that has transcended the barriers between work and casual with their designs. Having started as a line of rugged work-inspired boots, Timberlands smooth and relatively plain pairs soon became known as streetwear-approved and quickly climbed in popularity.

Their designs are built tough to withstand whatever wear and tear you put them through and are ensure your total protection while you're on the job. This brand also offers many unique and globally responsible practices such as; using 100% organic cotton, including 100% recycled, organic, or renewable materials, and using 100% PVC-free materials. Timberland also promotes a greener planet by planting trees. Between 2001 to 2015 they have planted 8.7 million trees and have set their goal at 10 million by 2020.
UGG: Founded in Southern California in 1978, UGG was the dream that Brian Smith head for a lifestyle brand that utilized his favorite material, sheepskin. He started selling his sheepskin boots which immediately took all and by the mid-80s the other brand has become a symbol for the casual subculture that was gaining momentum. Soon these relaxed pairs had gained world notoriety and become a leader in the world of fashion footwear.
Merrell: What started, over three decades ago, with a single pair of custom made cowboy boots has grown to be one of the biggest brands in footwear. Back in 1981, Randy Merrell, Clark Matism and John Schweizer started designing an affordable and performance-geared line of shoes and boots.

The technologies they incorporate in every pair are strides above their competitors which is what's helped Merrell rise to the top. Specializing in hiking boots, this line holds true to their core values: comfort, durability, design, and versatility. Anyone shopping for an athletic and outdoor-inspired pair will love Merrell's designs.
Harley: Harley Davidson is a brand that globally unites riders with their powerful designs. They manufacture and retail custom motorcycles and apparel, along with providing riding experiences and special events around the world.

Harley Davidson has a bold strategy which highlights key objective goals they intend to reach by 2027. These include becoming increasingly environmentally sensitive by lessening the impact that their products make on the planet!

Since 1903, Harley Davidson has been producing the highest quality gear and equipment for riders from around the world. Their designs have reached an incredible stature in the world of bikers and motocross riders from far and wide which has helped to make H-D a household
name.
KEEN: KEEN has made a commitment to its customers that they will adhere to a set of core values in order to ensure that the highest quality standards are always met. These values are; quality, integrity, health, caring, and pioneering. Keen promises to create quality products all the time and to build trust with

KEEN is a positive brand for the community thanks to their core nonprofit partners that give back in more ways than one. They also work to help with environmental education to promote a greener future for us all.
Cole Haan: Back in 1928, Cole and Eddie Haan founded a line of men's and women's apparel that would change the fashion world for good. Today this line creates shoes, bags, and accessories for people who are looking for a unique spin on the styles of today. Anyone who enjoys dressing sharp turns to Cole Haan for both professional and casual attire and their boots have gained world notoriety for their well-made and super stylish designs.
Caterpillar: In 1925, two men, Benjamin Holt, and C. L. Best joined two great manufacturing companies forming Caterpillar tractor Co. together these two men created equipment that was so powerful it completely reshaped construction farming and mining working conditions.
Style
When it comes time to buy a new pair there are tons of great styles to choose from. So long as you're not shopping for a work boot, then the design should always be aforethought! Now, knowing what's hot and what's not can be tough with the constant shift in trends, but certain looks have maintained a steadily popular outlook for the last several seasons and have shown no signs of cooling off! Let's take a look at this year's most in-demand looks for both men and women.
Ladies: What woman doesn't love a great looking pair of ankle boots or a stellar thigh-high?! When it comes to ladies fashion it's a continuous guessing game of what looks are 'in' and which ones are so last season. The following are some tried and true styles that just can't seem to lose their appeal and are always a sure-fire hit.
Combat Boots
Knee-High
Thigh-High
Gentlemen: When it comes to looks for lads, there's an entirely different set of rules in play! Men's designs are often on-trend for longer because let's face it, men don't like too much change too often. Here's a list of some of the most popular
Chelsea
Rugged
Taller
Military
Dress
Hiking
Materials
When it comes to materials there are some that stand out from the rest and offer a whole lot of features and benefits. Let's have a look at some of the best fabrics used and just what makes them so special.
Synthetics: Man-made materials are often used to make footwear and can really be quite enjoyable so long as you opt for the right ones. You should keep a few aspects in mind though before making your selection like weather protection, waterproofing, breathability, and moisture control. The following are some of the best synthetic options that money can buy.
Gore-Tex
Thinsulate
Vibram
Cordura
Leather: Leathers are an excellent choice of material because they offer so many benefits and features. Typically, leather is a flexible and long-lasting material that is very comforting to wear. It's a great option for those of us who need a little extra airflow and moisture control because leather draws excess perspiration away from the skin which helps to eliminate odor-causing bacteria.
There are several different grades ranging from top-grain all the way down to bonded leather. Top-grain is the highest grade and is made from densely packed fibers that have a soft fine texture. It's super strong and allows for the most airflow inside of the shoe and around the skin. Nubuck is another popular choice that is a mid-grade option. It's still top-grain leather, only it's been sanded down to make a very soft suede-like fabric. Nubuck is commonly used because it's cheaper than higher grades but still produces a high-quality finish that wearers love.
The lowest grades are patent and bonded leathers which are made using scraps of hides. These scraps are bonded together to form a larger surface and are often made from the unwanted scraps left behind from other productions.
Comfort
When it comes to boots, you're going to want a comfortable pair to wear! There are certain design features that can help to make them feel all the better while they're on your feet which we're going to dig a little deeper into.
Firstly, you want to make sure that there is ample room in both the forefoot and heel areas. If your feet are cramped it can lead to all sorts of aches and pains that can really make you miserable! It's also important that the toes not press against the material of the boot in an uncomfortable way that is going to be a source of friction because friction will lead to blisters that can take weeks to fully heal.
You want to make sure that there is a solid outsole that provides traction on most surfaces, while also checking that it's appropriate for any workplace hazards you might be exposed to like oil. Safety is a big issue and for any workwear, it's essential that your boot be well made so that it will properly protect you will hold up against the tough wear and tear of the job.
Value
Prices vary considerably from one pair to another and certain brands will charge more or less simply because their label is attached. The true value of any pair comes from the quality of craftsmanship and materials used in its production. Items made from high-quality leathers or other top-grade synthetics are going to end up costing more but in the end, they'll last for much longer than cheaper options so the price difference evens out anyway.
You'll be much more comfortable wearing a well-made boot because they're less likely to have design flaws that can cause issues like blisters or arch pain. It's important that the ones you choose have a well-cushioned footbed toed and supportive midsole to protect the delicate underside of the foot while also supporting the arch.
Overall it will be a much wiser investment choosing a well-made option rather than just opting for the cheapest pair of shoes under 100 you see.
Top 10 Boots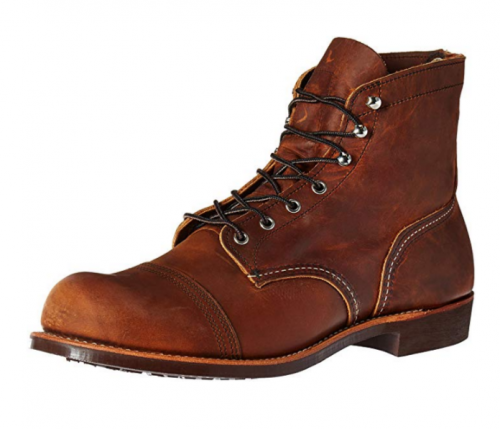 Red Wing's Iron Ranger is a rugged pair that's made to withstand tough wear and tear with ease. The Ranger is well suited to individuals who work hard for a living as it offers the perfect combination of comfort and protection. Red Wing promises the Iron Ranger will stand up to tough working and weather conditions thanks to its thick leather upper and Goodyear welt construction which makes this the ideal choice for manual labor.
This option features a six-inch shaft that helps to protect your feet and ankles from any potential hazards while you're on the job. It's made from top-grade leather that's extra thick for additional comfort and security, while its oil-resistant outsole ensures your safety is of first priority. The Ranger's Goodyear welt construction and triple-stitching make for a long-lasting structure that won't let you down when the going gets tough so you can focus on the task at hand.
Overall, the Iron Ranger is a high-quality choice that will satisfy the needs of individuals who work hard for a living. Its Vibram 430 Mini-Lug sole provides superior traction on practically any terrain which helps to prevent injuries from accidental slips or falls. This option maintains the highest standards with every aspect of its construction and delivers a solid structure that will ease your workday. While the Ranger is a higher-priced boot, it's certainly a worthwhile investment in your safety and it provides a healthier environment for your feet while you toil away.
The Iron Ranger is the perfect product to showcase Red Wing's quality craftsmanship that's geared towards those of us who work in difficult and labor-intensive positions. This pair honors the very best of Red Wing's technologies and sheds a light on their dedication to fostering a healthier work environment.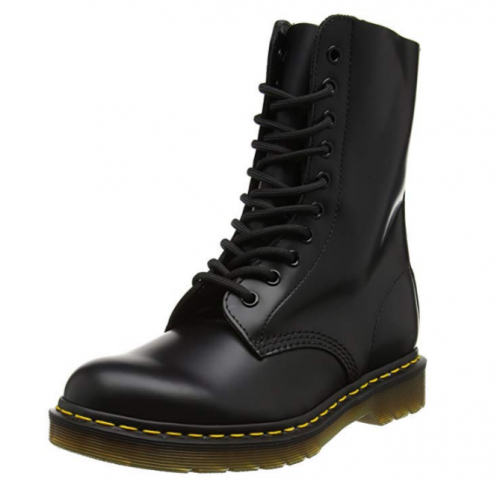 Doc Martens' 1490 oozes with attitude and was made for the young, bold, and beautiful. Despite its mainstream allure, this pair sways towards the alternative punkish look which helps to make this a must-have for the rebel at heart. 1490 manages to offer up not only a stylish and somewhat naughty design but also delivers a solid array of features that make this pair versatile enough to wear while you're at work or play.
This Doc Martens' boasts their signature 10-eye design that wearers have come to know and love. Its grooved edges and rear pull-loop only add to the unique tone the 1490 sets and blend amazingly well with its yellow contrast stitching. Made to provide the ultimate in comfort, these boots feature Dr. Marten's signature air-cushioned sole that protects your feet with every step. 1490 promises to deliver a solid performance while you're on the job thanks to its iconic sole that's resistant to oil, fat, slips, and abrasions. Despite being a higher priced pair than some, these are well worth the investment!
Dr. Martens is a brand rich in history, with styles dating back to 1901. Founded by the Griggs family in England's Northamptonshire, they quickly became renowned for their comfortable and long-lasting work boots. 1490 really translates their original concept, which was a simplistic yet individualized look that bordered on the verge of rebellious, into a modernized take on that same classic silhouette.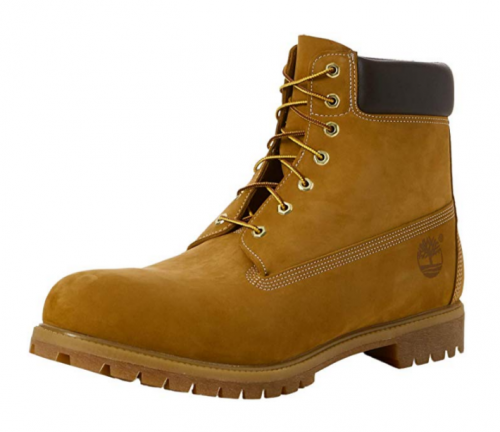 Timberland's 6" Premium has been the brand's trademark design for over 40-years and is still their best-selling pair today. This option was made for workers who labor in the toughest of conditions, though it has since transcended into a symbol of the urban streetwear fashion style that's taken the world by storm. These are the ideal choice for anyone who's wanting to propel their look to new heights and for those who just need a solid pair of footwear to carry them through the day or night.
Timberland promises that the 6" Premium will keep you dry, warm, and comfortable no matter how many hours you wear them. Primaloft ECO insulation creates compelling insulation that is resistant to compression which means long-lasting warmth. Made from waterproof leather and seam-sealed for added protection, these work boots will keep your feet bone dry no matter how wet and wild the weather may be, which is why wearers can't get enough!
Overall, the Premium is a solid choice of footwear both for appearance and performance. It's designed with anti-fatigue technology built right in that supports and cradles the feet for superior shock absorption and arch supper. Timberland is a brand that is notorious for their quality designs that started out as a workers boot but blurred the lines into fashion superstardom. The 6" is their very first concept and has remained their most popular after 40 years.

4

. Caterpillar Second Shift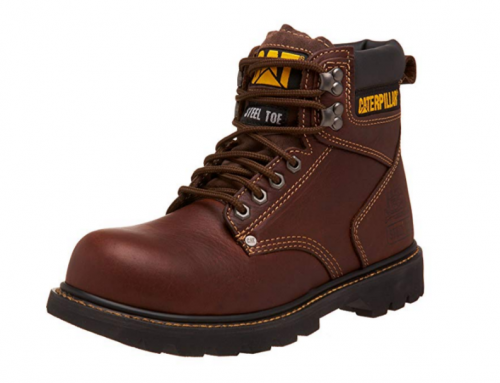 Caterpillar's Second Shift is the ideal choice for workers looking to feel fully protected while they're on the job. This pair promises total safety thanks to its steel toe construction and oil-resistant outsole that prevents any accidental slips or falls. Anyone shopping for a stable and supportive boot will benefit from the Second Shift's steel shank and removable sockliner that helps to cradle the delicate underside of the foot.
The Second Shift is jam-packed with benefits that far superseded the competition! It offers hex-shaped grommets that come complete with speed lacing closures for effortless on-off wear. A nubuck leather upper unit allows for adequate airflow which helps to prevent a build of sweat and odor-causing bacteria so you can feel cool and fresh for hours on end.
Overall, this pair of boot is a fabulous choice for anyone who works on rugged terrain as it delivers the kind of solid construction and safety protection required for the job. Caterpillar is a trusted brand in workwear and the Second Shift only adds to this brands spotless reputation! If you're shopping on a budget, this option is a great choice that comes at an extremely affordable price while still offering an incredible array of features and benefits.

5

. Harley Davidson Faded Glory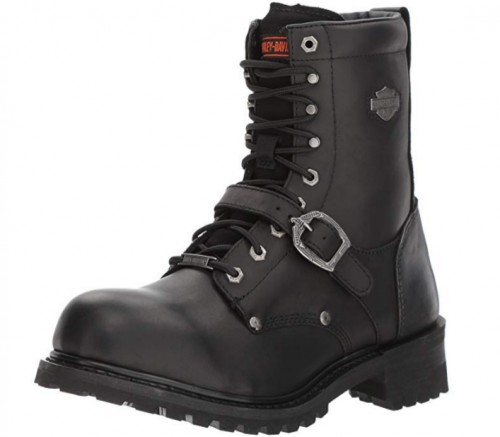 Harley Davidson is the most infamous of any boot and is synonymous with the biker way of life. Riders who live for the open road can rest assured in a pair of Harley's that drive as smoothly as the bike beneath you because this brand delivers exceptional quality and a pristine finish! The Faded Glory is a prime example of the style and quality that this brand delivers and is one of the most popular designs to ever hail from the Harley Davidson Line.
Harley Davidson is the most infamous of any boot and is synonymous with the biker way of life. Riders who live for the open road can rest assured in a pair of Harley's that drive as smoothly as the bike beneath you because this brand delivers exceptional quality and a pristine finish! The Faded Glory is a prime example of the style and quality that this brand delivers and is one of the most popular designs to ever hail from the Harley Davidson Line.
The Faded Glory is perfect for anyone who lives for the open road and is a favorite among the most diehard of bikers. This pair is made tough to withstand whatever wear and tear you put it through! The Glory is made from premium materials and delivers the kind of solid performance needed to tough it out in any kind of weather conditions. Its Goodyear welt construction makes for a durable build while its rubber sole is resistant to slips, abrasion, and even oil! The Glory comes complete with a metal shank that adds extra support and a full-grain leather upper unit that's made for life on the road.
Overall, the Faded Glory is a solid boot that lives up to its claims! A five-inch shaft and 1 ½-inch heel help to make this one a mean-looking choice that looks just about right along side a chopper of any size.

6

. Merrell Tremblant Ezra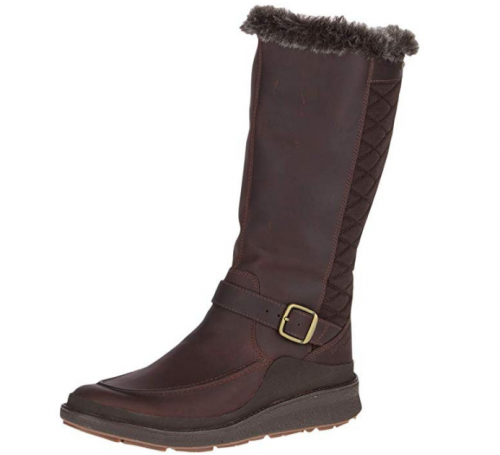 Merrell was founded in 1981 and has since grown to become one of the most renowned designers of high-performance boots and hiking shoes. Having reported their yearly sales of clothing and footwear at nearly $500 million, this brand knows how to produce quality pairs that the consumers love. One of their hottest new designs, the Tremblant Ezra is a bold testament to the kind of creations that are born from Merrell and the sheer quality that each pair offers.
The Ezra promises the perfect combination of style and protection! It's equipped with the most advanced traction system from the Vibram line, called Arctic Grip, that prevents any accidental slips or falls. M Select WARM 200 gram Thinsulate will keep you warm in freezing conditions and is ideal for wearing during snowy winter weather.
Overall, this pair delivers on its claims! Its decorative buckle closure adds to the overall polished appearance while making for an adjustable fit that's custom to your tastes and its inside zip makes for effortless on-off wear. Anyone who is looking for some extra support will enjoy the Ezra's supportive Kinetic Fit removable insole that provides the kind of structure needed to protect the delicate arch area and its EVA midsole that offers the best kind of cushioning for all-day wear.

7

. Keen Utility Pittsburgh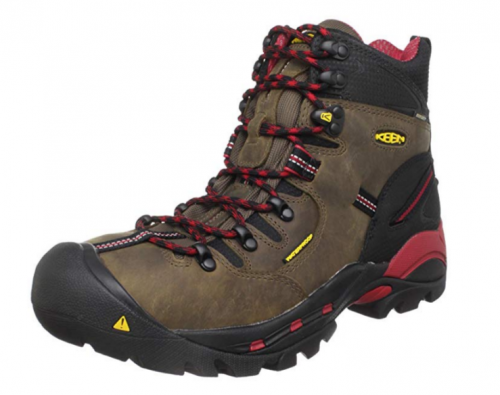 KEEN is a trusted brand that is noted for their versatile and work-ready designs. This label produces the highest-quality pairs and offers a range of styles for every occasion. Their boots are favorite among both on and off-trail hikers, as well as, workers who trust in KEEN to ensure their safety while laboring in the harshest environments. Anyone searching for a solid and comforting choice should consider opting for a pair from KEEN. One of their most recent and highly popular pairs, the Pittsburgh 6", is a waterproof work boot that's made to handle the toughest of environments and is the perfect pair to showcase KEEN's quality craftsmanship.
The Pittsburgh is made for workers who need a rough pair that can handle whatever comes their way. Its steel toe construction and added stability plates make for a safe and comforting choice that delivers a smooth and stable ride. Its reflective webbing detail will help to make you more visible in dark conditions, while the locking metal hooks and eyelet lacing guarantee this pair won't slip or slide on your feet.
Overall, this pair of KEEN's offers a solid structure and protective build that is the ideal choice of footwear for busy workers on the move. Complete with a waterproof membrane that's breathable and lightweight while ensuring total waterproof protection, this pair comes through with its claims! Considering the plethora of features and benefits the Pittsburgh provides, its relatively affordable and is costs less than many of the other options that made this list.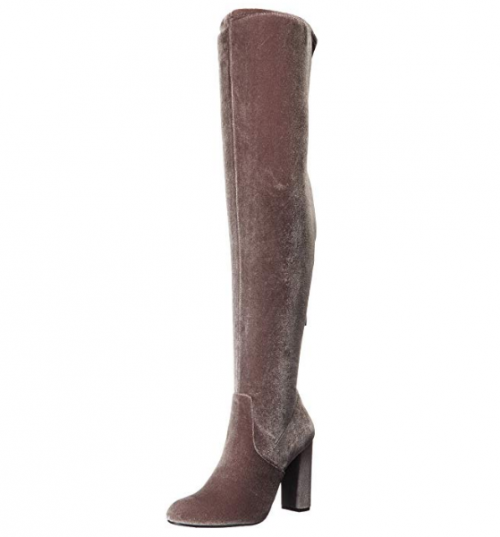 Steve Madden's Emotions is a gorgeous over-the-knee pair that was meant for the stylish at heart. This pair embodies everything we love about this label is its silky structure and smooth finish. Anyone shopping for a sensual choice will love the way this option brings any outfit to life and the sheer sexuality that it exudes.
Steve Madden promises to deliver a strut-worthy statement boot with the Emotion. After careful planning and the use of the most supple and luxurious materials available, this thigh-high comes to an alluring close that women just can't get enough of. Its microsuede upper and smooth synthetic lining make this an irresistible choice of footwear, while it's versatile design lets you match them effortlessly with practically any outfit.
Overall, the Emotions is a delicate and feminine option that delivers on its claims. A chunky 4.25-inch heel allows for easy walking, while its towering 24.5-inch shaft makes for a sexy look that's always on trend.

9

. UGG Mini Fluff Quilted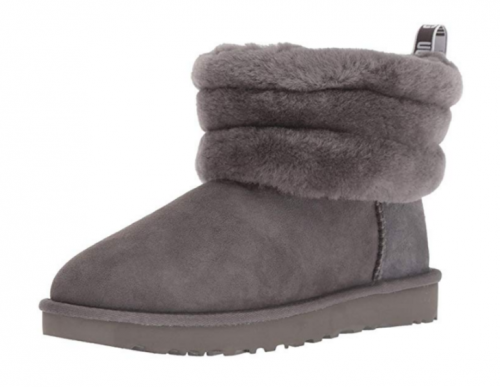 UGG's Mini Fluff Quilted is a great choice for casual all-day wear. Its streetwear style and plush foot feel help to make this boot an ideal pair for fashion-conscious wearer's and trendsetters who live to look their best. The Mini Fluff is such a cute and versatile pair that looks amazing with nearly any style of outfit from casual athletics to girlie dresses and more, these Uggs will deliver an incredible finish.
This pair promises an easy-wearing style that will look perfect with nearly any style of clothing. It's made to offer the ultimate in comfort thanks to its unique design features and high-quality materials that help to set the Mini Fluff miles above the rest. Suede and sheepskin help this pair feel as soft as can be and nylon binding ensures that they'll last for ages to come.
Overall, the Mini Fluff is a solid choice of streetwear that delivers on its promise of comfort and style. Sheepskin lining keeps your feet nice and toasty while its Treadlite by UGG outsole keeps you steady on your feet no matter the weather. UGG is a brand that's climbed to the top of the ranks when it comes to fashionable footwear and the Mini Fluff is a prime example of just how great their designs can truly be.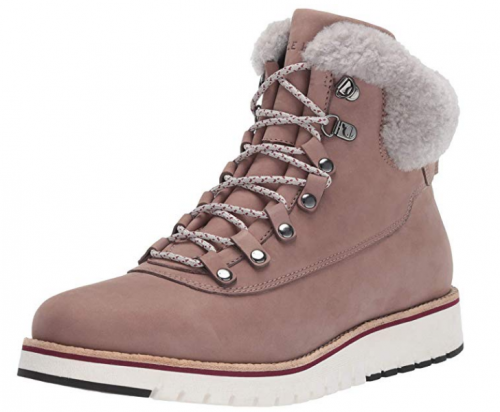 Cole Haan's ZEROGRAND was made for the adventurer at heart thanks to its advanced technical features and comforting fabrics that help to make this stand above the rest. This trendy and versatile hiker is a suitable choice for both the great outdoors and the paved streets of the city and looks incredibly stylish!
This brand promises to deliver the highest quality designs that feature high-grade materials and superior features, which the ZEROGRAND Explore delivers beautifully on. This boot was made for the outdoors and offers superior benefits that are just too good to ignore! A leather upper unit ensures your feet will stay warm and dry while sheep shearling lines the inside for the most comforting foot feel. A waterproof structure and ankle-high design help to make this pair a stylish and versatile choice that's ready to take on any occasion with ease.
Overall, the ZEROGRAND holds true to the Cole Haan promise by delivering a solid and stylish ride. This boot will keep you hiking in total comfort and is trendy enough to wear for city walking too! Anyone looking for an affordable pair that is perfect for almost any weather conditions will love this Cole Haan.

Subscribe to our Newsletter