Best Shoes Under 100 Dollars Reviewed for Overall Value
In a Hurry? Editors choice: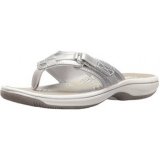 Test Winner: Clarks Breeze Sea

Shoe shopping
, or being on the hunt for the next best trend, can be intimidating when you see so many
brand names
and are not sure which ones are, truly, worth the money. It can, also, be very frustrating when a lot of money is being spent on a single item and it doesn't perform the way you were hoping for or expecting. Whether you are heading out for a long walk, are headed to the beach, or going to work, this list will help you find the options for best shoes under 100 dollars.
Standout Picks
Criteria Used for Evaluation
Top Shoes Under 100 Dollars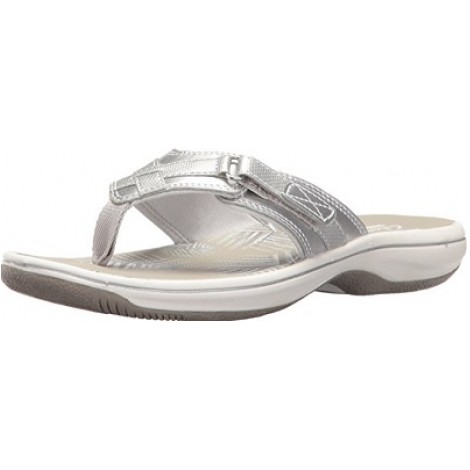 The Clarks Breeze Sea shoes under 100 combine style with functionality, giving you a relaxed summer sandal you are going to fall in love with. Made with an EVA foam midsole and footbed, a TPR outsole, a synthetic upper, and textile lining, these shoes under 100$ bring comfort to a completely new level, giving you an adjustable, lightweight casual option. Add to that the fact that they're available in a vast array of colors, giving you the opportunity to match these to any outfit, you are likely to find yourself reaching for the Breeze Sea for everyday wear, including for walking and beachwear.
Made with cushioning EVA foam, the footbed and midsole of the Breeze Sea have an all-day comfort design, especially when considering leisure casual walking. You will find that the Breeze Sea will support your feet, including the arch area, and will provide a good amount of energy return, contributing to a lower level of fatigue, even after hours on your feet. The strap closure adds both visual appeal and functionality, as it allows you to create a better fit. The hook and loop closure will accommodate all types of feet, both narrow and wide, which makes this sandal that much better. Plus, it is a stylish feature that'll make these stand out.

The cost associated with this pair of 100 dollar shoes is mid-range when compared to other items on this list. This makes them a great buy; and not only for their cost-efficiency but, also, for their sheer ability to keep you comfortable.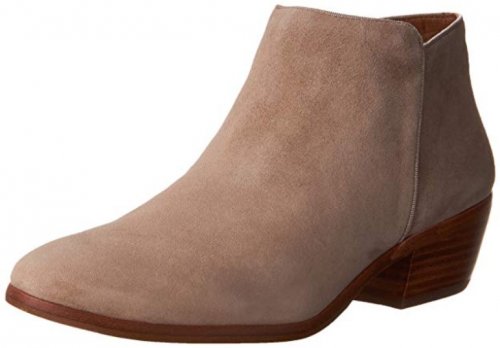 The Sam Edelman Petty is a design which was dubbed a 'cult favorite' among fashionistas all over the world. The reason for this is that the Petty is cute, comfortable, stylish and amazingly versatile. This lovely autumn bootie is perfect for casual days out with your friends, for a more serious outfit for the workplace, and even for a fun date night out with your significant other! There is nothing that the Petty can't do, and for such a low price, you won't be able to resist adding it to your closet.
The Petty shoes under 100$ are made from genuine suede, for that plush, luxurious finish. It comes in several different colors, out of which we have selected this versatile 'putty' shade in our picture. The heel is 1.75 inches high and stacked, making it wonderfully comfortable for all-day wear. The round toe front of the bootie gives plenty of space for your toes, and there is a zipper in the side that allows you to easily slip in and out of the design.

The Sam Edelman Petty is a go-to choice for when you need to look put-together and chic, but when you want to be comfortable at the same time. Unfortunately, the bootie shouldn't be worn in inclement weather, but it is perfect for early fall days!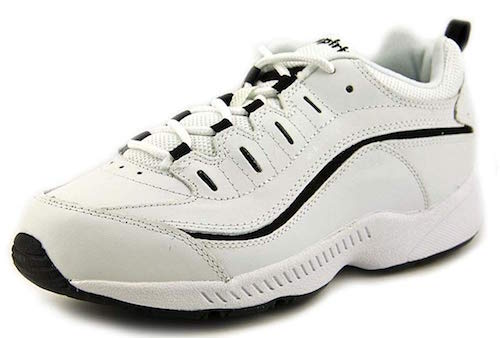 A good pair of leather walking trainers could set you back quite a large amount of money, but that's not the case with the Easy Spirit Romy. This is one of the most popular options among those who spend hours on their feet - be it for walking, standing, work or travel. Made with a genuine leather upper, plenty of cushioning and support, these will work even for light running activity. Even though they're only available in a limited number of colors, they're one of the best pairs of sneakers you can get for under $100.
In order to provide the highest level of comfort, the Romy features plenty of padding, most notably in the collar - this prevents the shoe from rubbing your ankle, thus helping you avoid chafing, blisters, or even Achilles pain. Getting the right fit with any pair of footwear can be quite a task, especially if your feet are more narrow or wide than the average person's. The Easy Spirit Romy is available in four widths - narrow, medium, wide and extra wide, so you can get the version that will suit you best. This will also minimize the break-in time, as you won't have to wait for the upper to mold to your foot.

With a cost that's average compared to other items on this list, the Easy Spirit Romy is one of the best shoes under 100 for those in need of a good quality athletic design. With plenty of cushioning, genuine leather upper, and a good outsole that'll hold up well, these hold their own against models with price tags twice as high.

4

. Sloggers Rain and Garden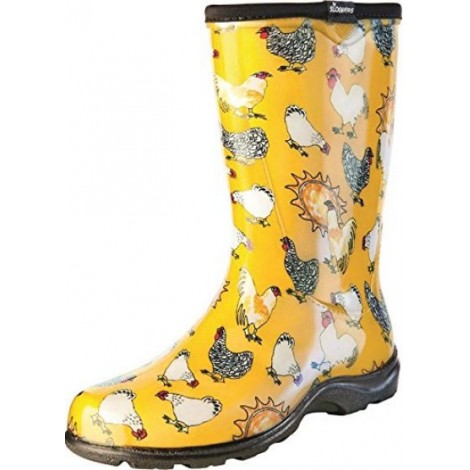 Sure, a pair of expensive rain boots to wear twice a year in public (because they were too expensive to wear during practical times) would be nice. However, we all have those rain boots we are embarrassed about because they are less than stylish, but still, they keep our feet dry in the rain or snow. These Sloggers Rain Boots, thankfully, give good water protection without sacrificing style - they are sure to catch everyone's eye with their fun upper, and are bound to get you a number of compliments from friends, family or even coworkers.
If you are not familiar with Sloggers, their boots are of high-quality design and made in the U.S.A. And these are no exception. Walk in all climates with ease, due to the signature 'deep lug' outsole tread. The boots also have a slightly wider opening, so, you can easily tuck your pants into them. To prevent chaffing, they have a soft trim around the top.

Sloggers have solid colors, but also farm animal prints that are not only perfect for farmers but for anyone who loves animals. Wear them in your garden, to the pumpkin patch, tree farm, or simply on a leisurely stroll in the rain. These shoes under 100$ keep your feet dry and warm, regardless of wet weather. They are very easy to clean; you shouldn't be afraid to get them muddy and wear them often.

For the quality of construction, this boot is of great value, some of the best shoes under 100. If you will be wearing these for practical or stylistic reasons, you will find them to be of great value, in terms of both cost efficiency and practicality.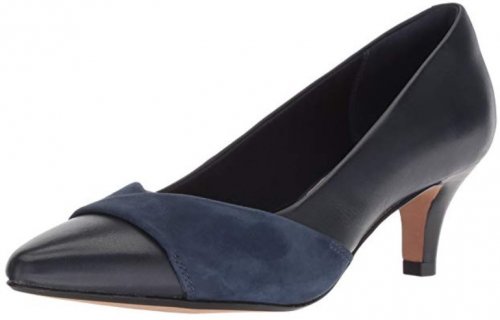 If you were worried that you'd only find sporty, casual options in this guide - fear not! The Clarks Linvale Lena is here to deliver that elegant, sophisticated aesthetic that you need to look your best at the office, at a fancy dinner date or anywhere in between! These kitten heels have a pointed toe silhouette for added poise and go well with a range of outfits, from a white t-shirt and boyfriend jeans to a smart pantsuit in which you're going to conquer the business world.
The upper of the Linvale Lena 100 dollar shoes is made from genuine leather for breathability, comfort, and a healthy foot climate. It has a 2.2-inch heel for all-day comfort, and it comes with an Ortholite footbed! This footbed has amazing cushioning, shock-absorbing and moisture-wicking properties, meaning that you will be as comfortable in these as though you are wearing your favorite sneakers.

The rubber outsole on the Linvale Lena makes sure that you don't slip or skid wherever you go. This is a design that is worth every penny, not least because of its effortlessly graceful appearance. It will quickly become a staple in your wardrobe, and you will love incorporating it into your everyday style!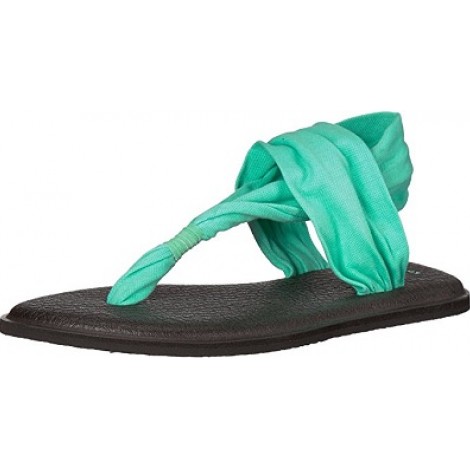 If you've ever stood on a yoga mat, you know how squishy and comfy they are. If only all shoes under 100$ could be that comfortable as well! Luckily, with the Yoga Sling 2 by Sanuk, you can get the same comfort level from a casual pair of sandals made for everyday use. You can wear these before and after a workout, or choose to wear them for casual outings - they will keep your feet cushioned and protected thanks to their numerous functionality-oriented features.
The Yoga Sling 2 $100 shoes upper helps to secure your foot across the top and at the rear of the ankle. Add to this the wrapped toe post, and not only do you gain added comfort but you also gain a better fit. When comfort is a desirable attribute, you can't get much better than the feel of a yoga mat underfoot. Implementing the same materials in the creation of their footwear, Sanuk sandals give you a high level of cushioning, with an unparalleled feel against your skin.

These are a perfect choice for a casual day living in the righteous notion of leisure activity. Furthermore, with all of the colors available, you can match a pair to almost any outfit of your choosing.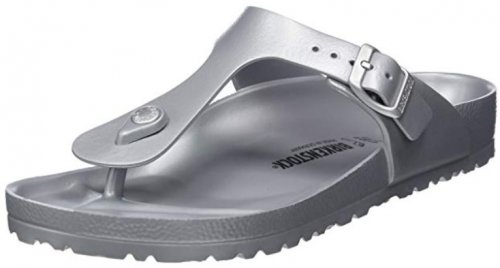 After over two centuries of producing footwear of a certain type of construction and materials, Birkenstock introduced the Gizeh EVA, a design modeled on the famous cork sandal, but made entirely from EVA foam. It instantly became a bestseller, and thus it graces our list today. You will not be able to get enough of the Gizeh EVA's light weight, flexibility or shock-absorbing qualities. It's everything you expect out of a Birkenstock - for a fraction of a price!
The Gizeh EVA is made from one-piece EVA material which is famous for being ultra light and incredibly flexible. Not only that, but this particular EVA is high in quality and odor controlling, and it has been tested for harmful substances. The beauty of the Gizeh EVA is that you can take this sandal into the water or wear it in wet conditions without worrying that you'll somehow damage it. It is skin-friendly, easy to wash, and it will make your summer vacation so much easier!

While the Gizeh EVA 100 shoes don't come with the classic Birkenstock footbed that molds to the shape of your foot, or the Birko-Flor straps, it is still a solid representation of the brand. It is comfortable, easy to wear, and it comes in so many bright and vibrant colors that you are bound to find an option you love!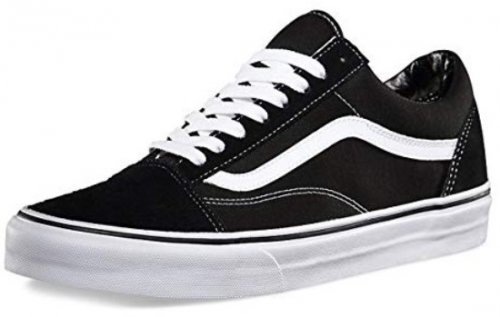 Vans designs have become a synonym for laid-back street looks, for cool skaters and youths that are a little outside the norm, perhaps even a little rebellious. While it first started out as a skater shoe, you absolutely do not have to be proficient - or even a beginner - at skateboarding to enjoy all the comfort and the fashion appeal of the Old Skool icon.
The Old Skool shoes under 100$ have an upper made from a combination of canvas for breathability and suede for comfort and support. It is a low-top design with a classic Vans side stripe that we've come to associate with the brand. The tongue and lining of the sneaker are padded for extra comfort. On the bottom. there is the signature Vans waffle outsole which serves to provide a better board feel for skaters. For those of us who don't skate, it simply means that this sneaker comes with an insane level of traction on any type of surface.

If you're looking to freshen up your wardrobe with one of the best shoes under 100, to introduce something youthful and cool at the same time, there is hardly a better choice than the Vans Old Skool. These sneakers are reliable, urban chic, and they are comfortable enough to wear all day, every day. What an awesome design!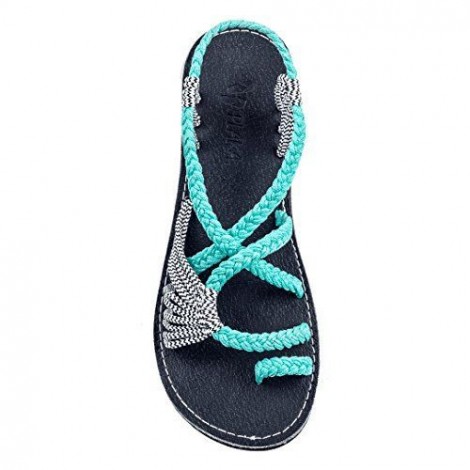 The Plaka Palm Leaf is gorgeous, adding just the right amount of casual to an elegant, aesthetically appealing design. With a stretch rope upper, it gives both a comfortable, as well as a secure fit. It's a water-resistant pair of footwear, made with a rubber outsole, and available in many color variations. No matter which of the intricate upper designs you go with, you'll find that these sandals under $100 are a dream to put on and to match well with almost any outfit.
The stretch-to-fit rope on the Palm Leaf is hand-woven; thereby giving you a unique pair of sandals that had been manufactured with love and care. With being hand-made also comes a higher level of quality control, meaning that any manufacturing flaws are minimized. With over 20 color options available, you will find a pair of these sandals that will perfectly suit your style. And given their comfort, you might even be tempted to purchase a couple of pairs. You can wear these with absolutely anything, from casual jeans to something a little more elegant - you're sure to look good no matter what!

The Plaka Palm Leaf is a great choice for summer that is both budget-friendly and aesthetically pleasing to the eye. Furthermore, they are comfortable, provide a decent fit, have handmade quality, and are water-resistant. As such, these are a great purchase for adding to your footwear collection.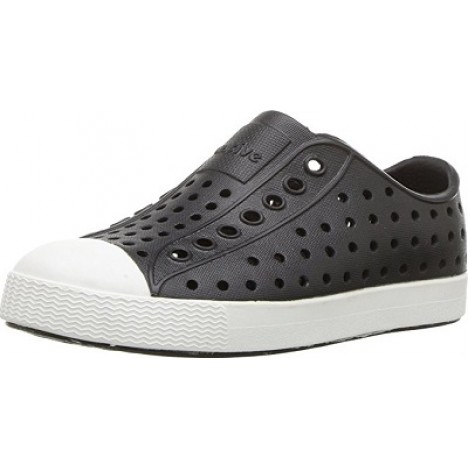 If you are in need of a pair of sneakers that you can wear in the summer months, then the Native Jefferson shoes under 100 dollars are an excellent choice. In addition, it is waterproof and has perforations throughout the upper; thereby, allowing a breathable environment and promoting healthier feet. These urban sneaker-like water shoes are adorable and come with a wide variety of color options.
The Jeffersons are ready for the poolside, beachside, or a day out in a gentle, warm rain. With perforated uppers, they promote breathability; which, in turn, helps to prevent sweat. Furthermore, you don't have to worry about sloshing after they get wet, as they are made to handle it. The rubber on the Native Jefferson helps you get a firm grip of the surface underfoot, ensuring your security. You can breathe a sigh of relief when you take these to the pool, or on a rainy summer day, as you'll be certain that you are safe and sure-footed.

The Native Jefferson is midrange in cost association when compared to other items on this list. They do promote better overall foot health and are waterproof. As such, they are a good buy and worth the purchase price.

Subscribe to our Newsletter