Best Suede Boots For Fun In The Fall Reviewed
In a Hurry? Editors choice: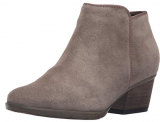 Test Winner: Blondo Villa

Suede shoes have been introduced in the 1920s and were first accompanied by a sporty suit. Ever since then, their popularity steadily grew and exploded when the song "Blue Suede Shoes" was released. Both genders adore this versatile material since it has the capability of transforming any kind of shoe into a luxury detail or a calm accent. We all love suede because it's so soft and fuzzy, and has that gentle shine capable of anchoring our style as glamorous.

Suede boots keep us warm and fancy and offer us the possibility to look great even when the weather turns cold. Whether you enjoy ankle booties or boots over the knees, or anything in between, you will be able to find a variety that is made out of suede. It seems like suede will never go out of style, so you never have to worry about being a fashion fluke! Read on an marvel at how amazing suede really is!
Standout Picks
Criteria Used for Evaluation
Top 10 Picks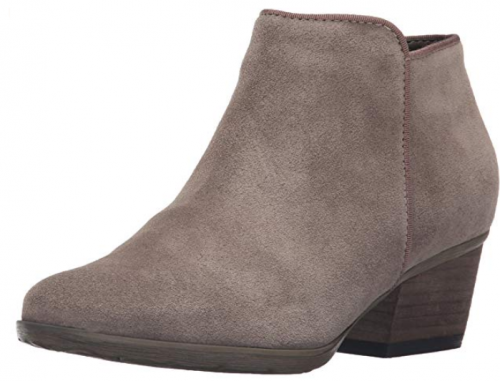 The Villa is a classic staple of casual footwear - ankle length, neutral colors and the lack of details make them the perfect footwear to tone down your outfit and give you a trendy vibe. Their suede upper lacks any detail, besides the zipper easing your way in, and the thick stitch running along the sides, strengthening the construction. The stitch protrudes slightly along the edges, and it follows that line all around the opening, keeping the boots from scrunching down and losing their shape.
What's great about this pair is that the manufacturers took care to waterproof them before you actually buy them, so in case you don't already have a protective spray you don't need to worry - AquaProtect guards the upper from the harm water, salt, and other compounds can cause. Usually, you would need to apply a coating with spray, and These coatings get worn down after a few months, meaning you'd have to do that a lot!
This sealant saves both time and money. The removable activated carbon foam insole gives you incomparable comfort and extra insulation. A gel pad is present at the heels, negating any pressure the short stacked heel might make!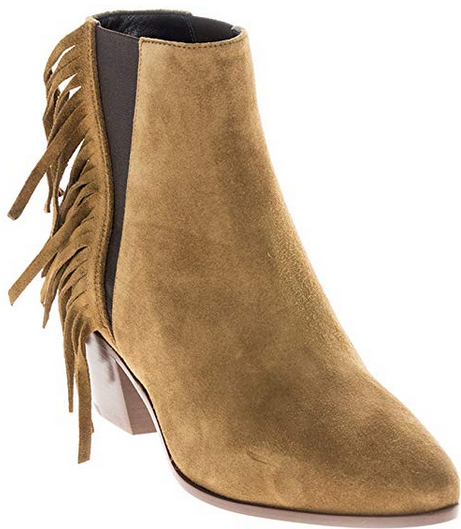 These frilly ankle booties will jumpstart your cowboy heart as soon as you squeeze your feet in! This goatskin Chelsea boot will sneak its way into both your casual and business attire and who's to blame you? When you sneak just one glance at that wavy fringe it's easy to justify falling in love with them. The toes are slightly pointed, so you will get all the looks they offer but none of the squeezing. Their earthy tan color hints to the Western culture, even more, completing the look.,
Compared to regular Chelsea boots, these have an elastic panel that stretches all the way down to the outsoles in an arrow-like pattern, so you will have enough stretch there to put them on with ease. No need for zippers here! The two-inch stacked heel gives you arch support and gives a dash of elegance to your stride. A lightly padded footbed works with the suede upper in harmony to create a super cozy environment for your feet, and absorbs the shock as you walk, removing the pressure from the balls of your feet. The linings are leather, and they will allow enough air to circulate in and out, making you a dry and warm bundle of joy!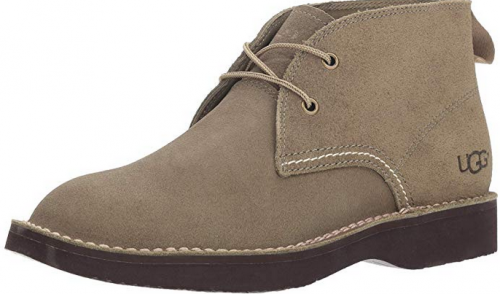 This refined, sophisticated take on the chukka boot is just what every gentleman needs to spruce up their ensemble. The upper is suede, but there is much more going on there than just that! This is military grade suede, reinforced with a ballistic nylon upper! So, not only will they last a much longer period than regular suede boots, they will resist the weather like champs, offering you the chance to wear them whenever and as long as you can. A pull tab sits on the heel counter, and it stretches all the way to the outsoles, keeping the shoe together.
The leather lined insole wicks away moisture, keeps you safe from sweating, and is soft enough to count as a pillow. It has an enerG Comfort System, an innovation by UGG that shows you just how serious about the comfort they are. With the built-in arch support, you will be able to stand for days or walk for miles, whichever you prefer. The outsoles are special as well - Treadlite is the name of this smashing innovation, and it was specifically designed for comfort, traction, and cushion, giving coziness a new meaning!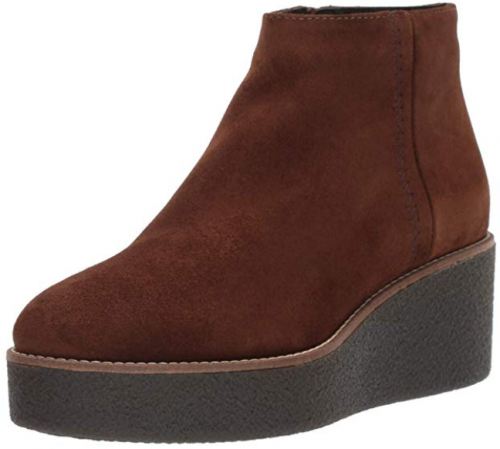 Feeling bold? Then give the Vina a try! These striking booties come all the way from Italy and will surely find a way to sneak into your dresser. The suede upper sports a chestnut hue, a warm variety of the brown colors we're used to. They have an upper free from any detail, besides a handy zipper, and decorative stitching that runs along the sides and gives them a slight western mood.
These balmy booties are weather resistant, so there is no need to worry about the elements before you go outside - the suede will always look as good as the day you bought them! The chunky black rubber wedges flirt with your punk side and give unparalleled stability and support. The rubber is crepe, a sturdy variety of rubber that is known for how comfy it is! The ridges on the outsoles give enough grip and traction, so there will be no chance you will fall over and hurt yourself!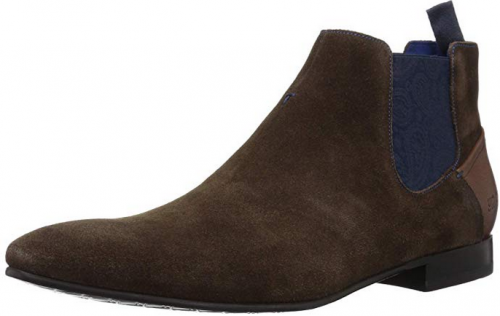 These handsome Chelsea boots show Ted Bakers attention to detail and his clear focus on quality. Their upper is suede, but the heel counter stands out, being made from actual leather, polished to give off a mellow shine. The strip of bright blue meets the edge of the counter and makes it easy for your heels to stay locked in place. The elastic gore panels stretch with ease as your feet make their way in, but that's not all they do!
If you pay close attention, you will notice a sea of details swivelling around the panels, giving way to a secret world of fashion. This paisley print is what makes this Chelsea pair stand out from the crowd - but only to the minds capable of seeing their true worth. The footbed is lightly padded, and it features a shining golden honeycomb pattern that is in line with the seen on the outsoles, making Bakers attention to detail apparent.

6

. Kaitlyn Pan Thigh Highs



No list about boots would be truly complete without at least one pair of thigh highs, wouldn't it? These spectacular sexy boots flirt with the world, and keep you warm! What makes these boots different though, is their microsuede upper. Although not technically suede, microsuede is still a good option for uppers, and it's guilt free! We felt obligated to include something for our animal-loving readers, and if you don't feel like wearing something that was once a goat on your feet, but still love the way suede looks, then these boots are just right for you. Microsuede is manmade and has almost the same qualities as suede does, the only problem is that it doesn't breathe that well, so be mindful about that.
The material the shaft is made out of matters as well since you will be putting almost the whole length of your legs into the boots! Microsuede is plastered on the outside, while spandex lurks inside. We all know just how stretchy spandex is, so these boots will stretch out as much as they can to accommodate your legs. The insoles and the linings are lambskin, so this boot is not 100% guilt-free, but that means that you will have enough airflow to let your feet breathe! A little lace sits around the boot opening, giving you the chance to secure the top and prevent it from slouching down. A 3.5-inch heel props you up and gives you grace, making sure your legs steal the show no matter where you are!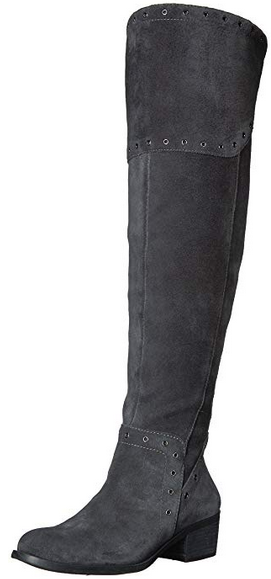 These over the knee boots will keep you warm and looking your best! The upper is, you guessed it, suede, colored in gray-streaked shades, blending in with the autumn atmosphere. An elastic gore spans the length of the boots, and they flare out around the knees, ensuring you have enough room to walk properly and bend your knees. The stretchy panel also helps you pull them on easily - there is a zipper present, but it doesn't span the length of the boots, so if you were graced with high arches, you'd probably struggle to push your feet in.
The grommet details are what give this pair its personality - an urban, yet down-to-earth boot there to help you look great every day. The lining is microsuede, which will keep you safe from water and will also make the break-in period be a little bit easier on your feet. A padded footbed cushions your delicate feet, and makes it easy to walk with confidence while you are set on the 1.5-inch stacked heel!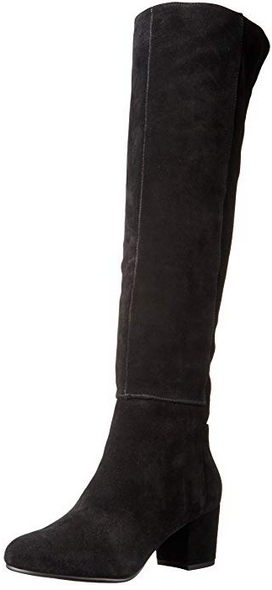 The Hansil boot might seem like an ordinary knee-high boot, but there is a secret hidden there left for you to discover. Their supple upper comes in two mild, smooth colors, black and taupe, ready to be combined with anything you might have lurking somewhere in your closet. Their long sleek silhouette will complement your legs and elongate them, slimming you down.
The lack of details might seem surprising, but once you turn them around you will notice slithering laces crisscrossing all the way up to your knees. They will transform your demeanor from mellow to frisky in no time, and will also help you secure your legs in. If you've got strong calf muscles, there is no need to worry! Just loosen the laces up and you will find it easy to wrap them around your legs. The chunky two-inch heels will give stability, balance and an urban style!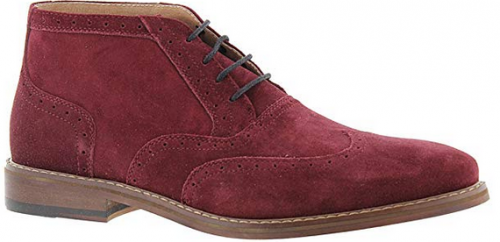 Do you feel like you need a change in your style? Rediscover your fashion sense with the refurbished Arley chukka boots! Their suede upper features striking details, showing their face in the shape of a wingtip design, flowing steadily from the tip to the sides. Small brogue details run along the sharp lines of the boots and dance steadily along the stitching. No matter how you look at it, there is nothing ordinary about this remarkable pair.
The lace-up construction is softened by the blind eyelets, giving the pair a slim silhouette and a smart design. The lining is leather, caressing your feet and making them moisture-free. The insole is memory foam, known for its ability to keep its shape for a long time, no matter how much you use it. a means you will have the same level of comfort after years of wearing them! This foam is also light, so there will be no extra weight to drag you down. The short stacked heel complements the upper and brings out its hidden colors, complementing it to a tee!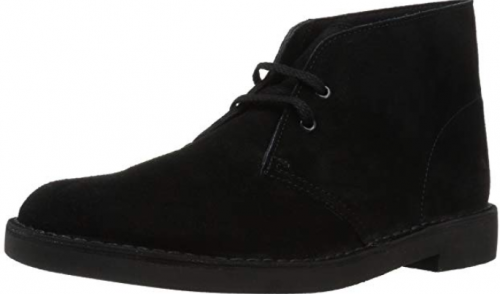 Do you wish that pair you really liked came in more than two colors? Well, wish no more! The Bushcare comes in a huge range of super versatile colors, ready to make you dapper! The velvety suede upper gives them a deluxe look, while it also keeps you comfy and polished. The chukka boot style has always been a staple of casual footwear, but business attire as well, since they have the ability to work themselves in whatever occasion you might be headed to.
Since they are 100% leather, that means that the linings and the insoles are leather as well. This means that you will have enough air and zero moisture while wearing them! They will also be super flexible and will help your feet adjust to their new setting with ease. A crepe outsole, hailed as the most comfortable, keeps you away from the ground and gives enough grip and traction to keep you going.

Subscribe to our Newsletter