Best Shoe Protection Sprays Reviewed & Rated
last updated:
Dec 24, 2020
Although the purpose of your footwear is to protect your feet from underfoot surfaces, bad weather conditions, or simply from injury, it is important to take good care of your shoes as well. You'll find that well-cared-for footwear will last longer while performing better in a number of ways. Shoe protection sprays are an easy way to ensure your favorite Oxfords or boots aren't damaged by water, snow, oil, and other types of staining.
The list below looks at the best shoe protection sprays available for purchase at the moment. These include products that will waterproof your footwear, as well as those which will make cleaning it easier. Before shopping, it is highly advised to check the materials a spray can be used on, as well as to read up on the exact protective effect it will have on your footwear.
In a Hurry? The test winner after 8 hrs of research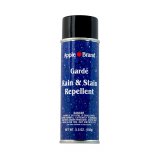 Apple Brand Garde Rain & Stain
Why is it better?
Invisible
One Step Application
Easy Spray Can
Water Resistant
Works Against Oil
In a
Hurry? Editors choice: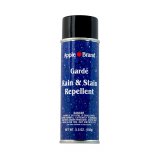 Test Winner: Apple Brand Garde Rain & Stain

9
Researched Sources
1190
Reviews Considered
8
Hours Researching
13
Products Evaluated
Water Resistance
Protection
Ease of Use
Value
Potency
By Default
Top 10 Shoe Protection Sprays
1

. Apple Brand Garde Rain & Stain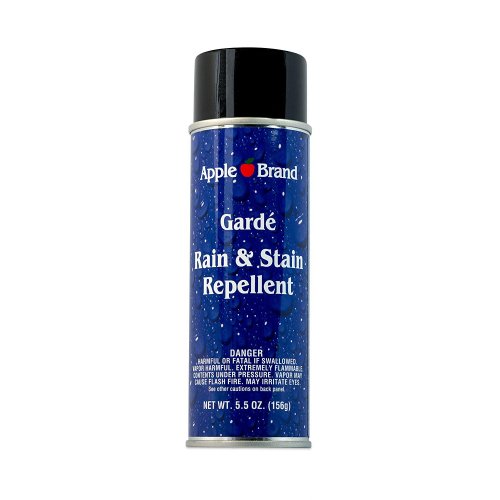 Invisible
One Step Application
Easy Spray Can
Water Resistant
Works Against Oil
Aerosol
Has a Tendency to Leak
The Apple Brand Garde Rain & Stain is an amazing shoe protectant that can be used on several different materials. This shoe protectant is designed to help maintain the life of the shoe, allow it to breathe, and help block water and stains. Known to also prevent stains from oil, the Garde Rain & Stain does it all. This shoe protectant spray is a one-time application and lasts several months.
The Apple Brand Garde Rain & Stain provides your shoe with a healthy environment. All around breathable and lightweight, this shoe protectant will allow your shoes to remain in their natural state and protect against destruction.
Say goodbye to light-colored films on your shoes after using a basic shoe protector spray. The Meltonian Water & Stain Protector is a one-step, smooth application, that goes on invisible, each and every time.
2

. TriNova Protector Spray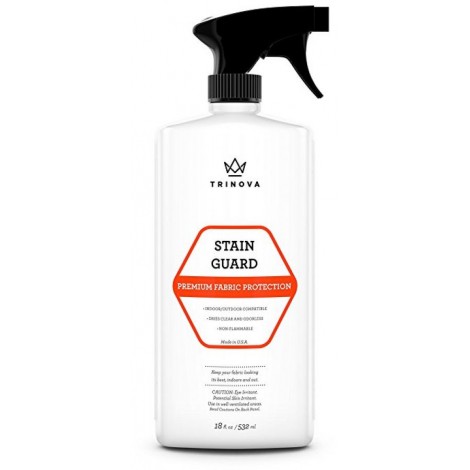 Easy One Time Application
Clean & Clear
Odorless
Stain Resistant
Non-Flammable
Not Waterproof
Needs Reapplication Every 30 Days
The TriNova Protector Spray is a safe and easy shoe protectant that covers the entire shoe with a clean and secure barrier, preventing stains. Odorless, this is one of the safer shoe protectants and comes in a spray bottle versus an aerosol can. Use this shoe protectant to keep your shoes well preserved and ready for everyday use. With the help of the TriNova Protector Spray, you will be sure to keep colors that pop, for the life of your shoe.
The TriNova Shoe Protector Spray goes on your shoe clean and clear, preventing any stains that lower-end shoe protectant sprays may cause. The TriNova Protector Spray does not leave any sticky or dusty residues behind, leaving your shoes fresh and clean.
With an easy hand pump spray bottle, the TriNova Protector Spray is a great way to keep shoes protected. Being one of the lowest maintenance sprays, the TriNova Protector Spray is just one spray and go, no long hours, waiting to dry!
3

. Sof Sole Water Proofer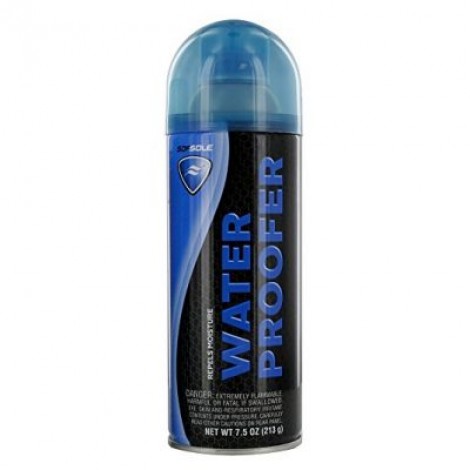 Fluoropolymer Compound
Maintains Natural State
Breathable
Easy Spray Can
Versatile for More Than Shoes
Smells Strong at Application
Unsuitable for Suede
The Sof Sole Water Proofer Moisture Repellant and a shoe protector spray is a versatile repellent that is safe for use on more than just shoes. Repelling water and stains, this shoe protectant comes in an easy to use spray can and goes on clean and invisible. After application, you will notice a scent free, breathable atmosphere for your shoes that will not become wet or stained.
The Sof Sole Water Proofer Moisture Repellant uses a specialized ingredient that is designed to allow a natural and breathable atmosphere for your shoes. The fluoropolymer goes on clear and dries invisibly for long-lasting protection.
The easy spray nozzle on the Sof Sole Water Proofer Moisture Repellant makes using this shoe protectant a one-step application. Just spray on and watch the magic happen.
4

. Anuschka Leather Protector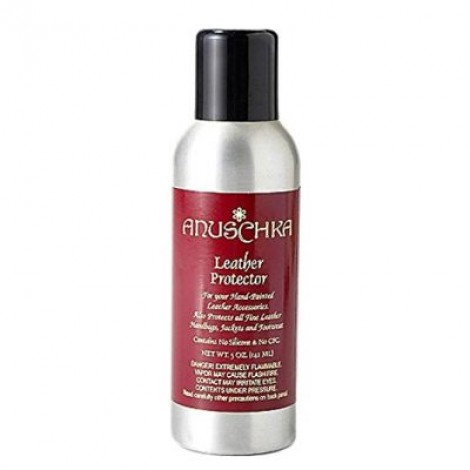 Invisible
Non-Toxic
Preserves Color
Maintains Natural State
Water Barrier
Can Cap May Leak
Unsuitable for Vinyl & Patent Leather
The best-rated item on this list is the Anuschka Leather Protector, a shoe protector spray designed to keep the coloration of your leather shoes intact, while still protecting your footwear from water and stains. It will nourish the leather upper of your shoes while keeping them breathable so that the proper airflow is intact. It's an invisible product and is made with non-toxic ingredients that won't leave an odor after you've sprayed it on.
Leather is a material that is durable and tough, and if you take proper care of it, it will look great for years. To help you achieve that beautiful like-new look, the Anuschka Leather Protector is made so that the natural state of your favorite leather items is maintained.
One of the best things about leather is that it looks great, whether it's left in its natural color, or colored to have a more fashionable look. This protection spray takes note of that and is completely invisible. Not being a silicone product, this spray will not leave the usual hazy layer on your leather shoes. Instead, it will allow for the full beauty of your footwear to shine through.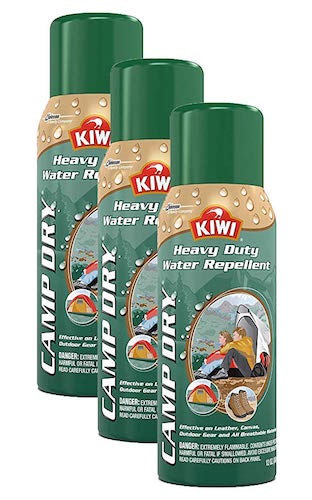 Silicone-based Water Protection
Highly Effective
Packs of 2 or 4
Affordable Price
Made for Camping Gear
Film Residue
Stains White Shoes
The Camp Dry by Kiwi is a product that's in high demand by all nature enthusiasts, seeing that it's made by a reputable company with plenty of experience in keeping footwear, garments, and gear from harm. It is a water repellent product made to be used in bad weather, and it does a good job of keeping your boots or tents dry. You will also find that you can use the Kiwi Camp Dry on your backpacks or clothes, making it a great product to have around the house.
The contents of this spray are silicone-based, which is why they are so effective. Hundreds of customers have reviewed the item stating that it kept them and their gear completely dry in downpours, but do keep in mind that its effectiveness will depend on the materials used for your gear. It's also important to note that silicone-based sprays leave a film residue on shoes, so you may not want to use this on sensitive suedes or your favorite formal loafers.
The Kiwi Camp Dry comes in an aerosol packaging of 10.5oz, and can be purchased in packs of one, two or four. This allows you not only to get enough of the product to protect all your footwear but to save some money on shipping and packaging as well. You'll find that a single can is enough to spray a large 7-person tent about twice, so if you only intend to use this for your footwear, it should last you quite some time.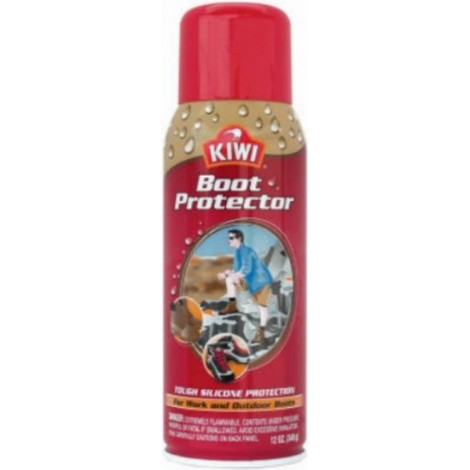 Silicone Material
Bonding
Odorless
Water Resistant
6 Month Protection
Odor When Sprayed
Unsuitable for Synthetic Leather
The Kiwi Boot Protector is a product that your household will definitely benefit from. With unique ingredients in its formula, the Kiwi Boot Protector will prevent any moisture or stains from damaging your shoes. It's easy to apply and enables you to wear your shoes without having to worry about tiresome maintenance routines.
The Kiwi Boot Protector comes from an aerosol spray can that you spray on your shoes. When this shoe protectant first sprays, there is a slight odor but as soon as the Kiwi Boot Protector forms and bonds to your footwear, it leaves a safe, odorless barrier behind.
The Kiwi Boot Protector has a main ingredient that is designed to form and bond to the shoe, leaving a protective barrier against water and stains. The silicone formula is unique and maintains constant protection for up to 6 months!
7

. Solemates All Weather Protector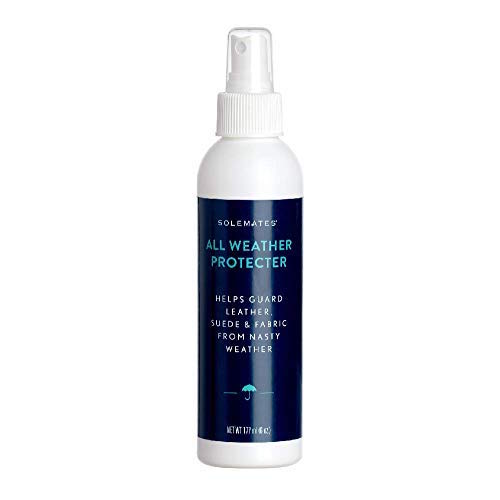 6oz Package
Organic Ingredients
Water-based Formula
Protects Against Rain and Snow
All Types of Leather and Canvas
Slightly Small Package
Not Water Resistant
This product by Solemates was developed as a natural way to protect all your leather and fabric items. It's a spray you can easily use on all types of leather, including suede and nubuck, and can even be utilized to protect fabrics such as that used on winter footwear. Easy to use and available in a handy 6oz package, the Solemates All Weather Protector is a great way to keep your footwear looking new, without using harsh chemicals.
The composition of this Solemates spray is water-based, which means that it shouldn't damage sensitive materials like silicone or oil could. The main ingredient used is organic carnauba wax that doesn't have a harsh smell, and won't alter the appearance of your footwear, belts or leather items. It also doesn't expose your skin to dangerous toxins, so you can easily use this protector on any item.
The Solemates All Weather Protector is made in the USA which warrants strict quality standards. It's best used as an all-year-round weather protector, but keep in mind that it will not make your footwear waterproof. Rather, it will protect it from moisture damage and stains, as well as from discoloration that happens when it's snowing. As for cost association, the Protector ranks average compared to other sprays listed, although the bottle holds somewhat less liquid than other sprays.
8

. Crep Protect Universal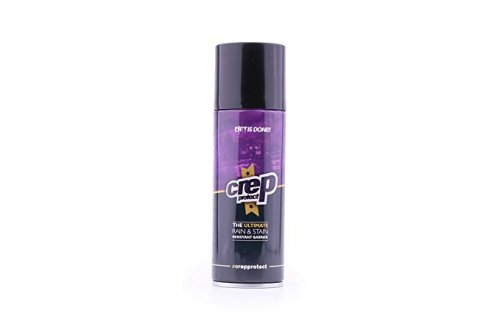 Stain & Water Resistant
Odor Treatment
Versatile
Invisible Appearance
Not a single product but an entire kit for keeping your favorite footwear protected and looking new, this shoe protectant spray by Crep is made for a variety of products from handbags to heels to wallets, to car interiors. With multiple purposes, it offers excellent value.
This spray will help repel water and will prevent from accidental spills from affecting your boots. It won't affect the appearance of the material you use it on. You can rest assured that you won't see a color change or find any sticky or tacky residues.
Like we said above, you can use this spray on many products, not just shoes! You can use it to protect your purse, heels, flats, boots, wallet, belts, furniture, and even car interior. It works by forming an invisible layer over your material to keep your product free of water, salt stains, oils, grease, sweat, or many or product that could come into contact with your shoes.
9

. Ugg Australia Stain & Water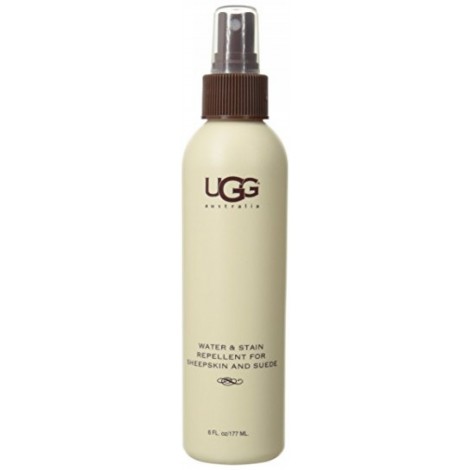 Water-Resistant
Stain Repellent
Non-Toxic
Biodegradable
Easy Pump
Limited to Suede & Sheepskin Products
Expensive
This non-toxic, biodegradable, shoe protectant is made specifically for sheepskin boots or suede. The one-step application makes protecting a piece of cake, as you can just spray it on, without having to use any brushes or different washing techniques. In order to ensure your footwear is well protected, make sure to let the spray dry in a cool ventilated area for 24h.
The UGG Australia Stain & Water Repellent is a non-toxic and biodegradable shoe protector spray that is safe to use in enclosed spaces. Have no fear of toxic inhalants with the UGG Australia Stain & Water Repellent.
The UGG Australia Stain & Water Repellent is bound to repel environmental hazards and moisture. The UGG Australia Stain & Water Repellent keeps water out of the shoe and keeps up the durability of each material that it protects.
10

. Tarrago Hightech Nano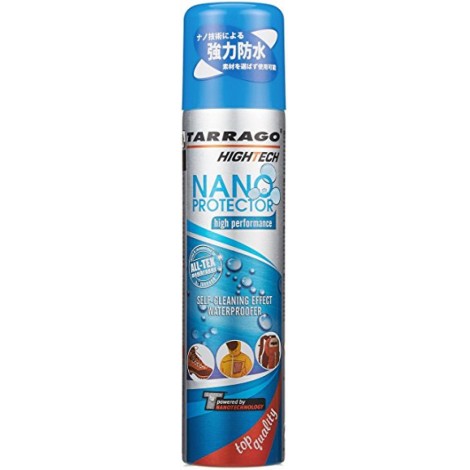 Water & Stain Resistant
Shoes Are Easier to Clean
Safe for Leather, Suede, Nubuck, & Textile Materials
Made of Fluorocarbon Polymers
Based on Nanotechnology
May Cause Discoloration
Foul Odor During Application
Tarrago's Hightech Nano Shoe Protector Spray uses water and stain-resistant technologies that are based on nanotechnology. This shoe protectant spray is safe for use on shoes with uppers made of leather, suede, nubuck, textile materials, and combinations of all of the above! It works by coating individual fibers instead of just the shoe as a whole. This makes the spray more efficient.
Tarrago's Hightech Nano Protector Spray is strong water and stain-resistant spray. It's designed to reduce the amount of water that gets into your shoes and prevent stain formation. Since this spray prevents staining, it also makes it easier to clean your shoes if you get them dirty from any walking, running, athletics, or work you do.
The cost association of this product is around average compared to similar products, so if it possesses all the features you're after, it's definitely a good investment. The 6oz bottle should be enough for plenty of use, provided you will only be applying it to footwear.
Criteria Used for Evaluation

Water Resistance
When purchasing a shoe protection spray, you need to consider the benefits you need it to provide. Do you want to protect your shoes from water, or is it stains that you're worried about? What is the climate like? Depending on how much rain you get where you live, you will need to consider whether you need your shoes to be waterproof, water resistant or water repellent. These are three very different categories, and should not be confused. It is also important that you are aware of the limitations of your footwear. A pair of leather flats cannot be expected to keep you dry in knee-deep snow, so your footwear choice should be made according to the weather as well.
There are three levels of protection that sprays may offer:
Proofing – complete protection from water or other liquids. A waterproof pair of shoes will not allow any water inside the shoe, keeping your feet dry even in extreme conditions. This is a level of protection that is most often achieved through the shoe's construction, and shoe protector sprays should not be expected to provide this level of protection. Instead, they can be used to strengthen it. You will have difficulty finding a product that will provide complete waterproofing, and even if you purchase footwear with Gore-Tex or other water eliminating tech, you might need to add a layer of spray protection.
Resistance – items which have this level of protection will resist liquids up to certain amounts. The best shoe protectant sprays will achieve this effect which will not let moisture collect and seep into the material, keeping your footwear well-protected in non-extreme conditions such as rain and snow. A crucial thing to consider with water resistance sprays is the amount to which they will reduce breathability. Some may completely clog the microscopic openings on the material of your footwear, which may result in excessive foot sweating that cannot be eliminated due to the blockage.
Repelling – this is the most basic level of protection, where a spray will protect against low levels of exposure. With repellents, you are most likely to see water beading on your shoes, so that you can wipe or shake it off without it soaking into the material. Most shoe protector sprays ensure this level of liquid protection, and it's a great option for textile sneakers that you want to keep looking new. It's also a great choice for protecting summer and spring footwear.

Protection
There is a number of elements you will want to protect your footwear from. Whether it's your favorite pair of everyday shoes, a fancy pair of loafers you wear on special occasions, or your trusted work or hiking boots, prevention can go a long way. One of the most obvious reasons for this is the fact that life can be quite unpredictable, and you never know if you're going to be caught in rain, if you're going to accidentally spill your coffee, or if you'll step in a puddle.
There are several factors that shoe sprays featured on this list take into consideration:
Water – this is one of the most widespread culprits of damage in shoes. Whether it's from a light drizzle when you're out in your fancy shoes, a huge downpour, melting snow or your everyday working environment, water can easily ruin shoes. From discoloring them to affecting their shape and flexibility, to even drying out leather, it's to be avoided. Even more, moist areas are the perfect breeding ground for harmful bacteria which can compromise your foot health.
Salt – one of the worst things that can happen to your leather shoes is to be stained with salt. This will not only lead to stains but will also dry out the material, causing cracking and overall shortening your footwear's lifespan. Shoe protection sprays which work against salt are not common, so if you live somewhere with lots of snow, make sure to choose a product which will eliminate any salt damage to your footwear.
Stain – If you just want your shoes to look new for a longer period, you may want to consider a stain-resistant spray. These will help prevent dirt from getting into your shoes, and will generally make cleaning easier.
Oil – although closely related to stain protection, oil damage on shoes can get much worse than an accidental spill. Usually, people who work in environments around oil and oil-based liquids will appreciate this additional level of protection which is meant not only to keep their shoes looking clean but more importantly, to keep these oily substances from getting in contact with the foot, which can be a health hazard in some situations.

Ease of Use
One of the more important factors when choosing a shoe protector spray is the way it is used and applied. Some protector sprays are fairly easy to put on, while others require more skill, patience and time. No matter what spray you get, one of the first things you need to ensure is that your shoes are properly cleaned. This will enable the particles in the spray to bind with the shoe material, making it more efficient.
Before application, remove any laces from your shoes, and wash them. Make sure you wash the shoes properly (suede and leather are not to be submerged in water) and allow your footwear to thoroughly dry. Note that this may take up to a few days, but it is best to leave the drying process to happen naturally, so as not to compromise the build of your shoes.
Once your shoes are dry, test the spray on a small, less visible part of the shoe to ensure that there's no damage to the material, color or flexibility of your footwear. If everything looks good after 24h, then you can safely apply the substance to the rest of your shoes.
According to the instructions on the spray bottle, apply the spray in an even coat. Let it dry for the prescribed amount of time (this can vary from 10 minutes to 36 hours), then repeat the process as instructed. Some sprays will need to be applied in two or three coats, while others are effective enough with just one.
An important factor to consider when choosing a spray is how long the protection lasts. Some protector sprays offer just a few days of protection, while others will keep your shoes safe for weeks or months. To get the best protection possible, don't forget to re-apply the spray regularly.

Safety Hazards
In addition to how effective a certain spray is in protecting your footwear from weather or signs of use, you should also consider how it can affect you, seeing that you'll be using these chemicals, and they may even come into contact with your skin. Here are the most important aspects to consider:
Environmental impact: While this doesn't affect the effectiveness of the shoe protector spray and it doesn't confer any unique benefits on your shoes when the spray has been applied, it is an important aspect if you're concerned about the environment. You don't necessarily have to choose between environmental-friendliness and effectiveness anymore, as technology has progressed to the point where shoe protectant spray manufacturers can create effective and environmentally friendly sprays. You can spray biodegradable shoe sprays on your shoes with no guilt over your impact on the environment!
Materials: Before you go to town with your favorite pair of shoes and a can of protection spray, it is crucial to see whether said spray is appropriate for use on the material your shoes are made of. This will save you from a lot of regrets, as it will ensure you don't ruin your footwear.
Side Effects: Some sprays, especially those based on silicone will leave behind a residue or a translucent glaze, which gives the appearance of spots and uncleanliness. Look for a protection spray which dries clear. Be sure to confirm that it does, in fact, become a clear coating by researching the reviews and product information on the product. Otherwise, you may wind up with a pair of dark-colored leather shoes with a sticky, white residue that makes it look like you walked in salt after a hard snow.
Safety Hazards: If you have pets, you don't want to use a protection product that is toxic, especially if they are going to be around or near the shoes you are protecting while the spray dries or while the spray is being applied. Similarly, you do not want to use a spray that is toxic inside your house without a lot of ventilation. It could make you and your pets ill. As securing your pets away from the shoes and spray and then opening all the windows in your house can be inconvenient, you should look for shoe protection sprays which are non-toxic.
Odor: Most shoe protection sprays will have some odor which is a product of the chemicals they're made of. Make sure you check the manufacturer information, and that you use the spray outside. While some sprays will dry to be odorless, they still may have a strong smell while wet, which means that you should avoid spraying them inside.

Value
When purchasing products such as sprays, you will need to consider how often they need to be applied to be effective. Additionally, certain brands may require a heavier coat to provide your favorite shoes with protection, while some may need more than just one. Overall, this can easily add up, bringing the price of protecting your shoes significantly up, making it cheaper just to purchase a new style than to re-apply the spray every few weeks or even days.
When choosing the products for this list, we tried to pick only the ones that had a longer time of effectiveness, which should help bring down the overall cost. Additionally, we looked at the size of the can, as well as whether the item in question was available in a value package with two or more cans.
Last but not least, the number of materials the spray can be used on was also consider, ensuring that you could apply it to more than just one pair of footwear. Of course, some specific materials such as suede or mesh require special attention, and investing in a product made for those specifically is a good idea if you want to keep them looking new, but overall, one or two types of products should be enough for most people.
Expert Interviews & Opinions
Most Important Criteria
(According to our experts opinion)
Experts Opinion
Editors Opinion
Users Opinion
By Default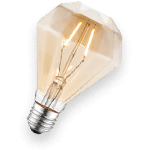 Weather Resistance Explained
There is a big difference between something being waterproof versus water resistant. many of our products listed will help your footwear resist damage from water or rain, but it will not make your footwear waterproof. Waterproof footwear is constructed with materials and treatments that make the footwear impervious to water creeping inside the shoe. Water resistant materials however, repel water to an extent.
These products are used to help protect your footwear from rain and water staining and ruining your shoes, but using them to prevent your shoes from being soaked in a downpour probably is a bit of a lofty expectation.
If you find yourself in need of a waterproof pair of footwear, you can check out some of our other guides!
Products That Protect
Products listed here are meant to help you protect your footwear, and give them a longer lifespan over time of wear and tear. Our daily use can seriously damage our shoes, just from walking around, picking up dirt, debris, and environmental elements. Using a protective spray can help minimize this damage when used incrementally.
Other Factors to Consider
Product Purity
Most shoe protection sprays will have some odor which is a product of the chemicals they're made of. Make sure you check the manufacturer information, and that you use the spray outside. While some sprays will dry to be odorless, they still may have a strong smell while wet, which means that you should avoid spraying them inside.
Color
Not all materials will react to chemicals in the same ways, which means that there is a fair amount of risk that a shoe protection spray will contribute to some discoloration. Make sure you read the product description to check for this risk. It is also a good idea to check the spray in a small amount on a less visible part of your shoe to ensure there's not change in color.
Breathability
Most shoes are breathable, allowing for proper airflow that ensures your feet are not left sitting in wet conditions throughout the day. It is also an important factor in preventing odor and bacteria overgrowth, as well as temperature control. Some sprays will affect the breathability of your shoes, which means that you need to ensure the spray you choose does not compromise this aspect of your footwear.
Flexibility
What makes a pair of shoes comfortable is how well they adapt to your foot and how they enable you to move. Certain sprays may reduce this ability of your shoes, which may make them uncomfortable. Silicone-based sprays are especially prone to reduce the flexibility of your shoes and may dry them out, so you may want to avoid them if this is an aspect that's important to you.
Bottom Line
In order to keep your shoes looking new and remaining odor free, it is necessary to take good care of them. Some of the most damaging factors for shoes include water, salt and stains, all of which you are bound to come across even if you're really careful how and where you wear your footwear. Nonetheless, shoe protection sprays are a great way of ensuring that your favorite pair of suede, leather or canvas shoes avoid all unnecessary damage. Plus, being in the form of a spray, they are fairly easy to apply. The top ten shoe protection sprays on this list have different advantages and disadvantages, and are intended to be used on various types of footwear and materials. Once you've decided what it is you want the best shoe spray for you to do, you will easily choose one of these products, and will definitely be happy with your purchase.
Frequently Asked Questions
q:

Will a shoe protectant spray discolor my shoes?

a:

A shoe spray might discolor your shoes. Always test the spray on a discreet area of your shoe before spraying the entire shoe with the spray. If testing the shoe protection spray discolors part of your shoes in a discreet area, naturally you should look into a different protector spray. Don't risk ruining your shoes to save a few dollars!
q:

Are my shoes washing machine and dryer safe after using a shoe protector spray?

a:

It depends on the type of protection spray and the type of shoe that you are protecting. Generally speaking, it is not wise to toss any shoe that has leather or suede into the washing machine or dryer, but some very effective waterproofing sprays may make it possible to put them in the washing machine without damage. It is not recommended that you put your shoes in the dryer at all unless it is absolutely necessary and then you should tie them in pillowcases.
q:

How often do I need to re-apply the spray?

a:

Generally you only need to apply the shoe spray once every few months, but always confirm how regularly it needs to be reapplied by checking the manufacturer's recommendations and instructions. Some shoe protection sprays need to be reapplied more often than others.
q:

Are shoe protector sprays environmentally-friendly?

a:

Some shoe sprays are environmentally-friendly while others are not. To be certain, check the manufacturer's information on the spray. If you want an environmentally-friendly spray to protect your shoes, look for sprays which are biodegradable or aerosol-free.
q:

Are shoe sprays toxic?

a:

Some shoe protection sprays are. Always use your shoe protector spray outdoors or in a well-ventilated area to prevent potential discomfort and illness. This also reduces the likelihood of unpleasant odors stinking up your house for a few days.
q:

Is a waterproofing spray the same thing as a water-resistant spray?

a:

No. Waterproofing means almost no water will get into your shoe. Water-resistance sprays will reduce the amount of water that gets into your shoes by repelling small amounts of water. Water-resistance is like rainproofing in that it protects the shoes from some water exposure, but not all.
q:

Is weatherproofing the same as waterproofing?

a:

No. Weatherproofing is more like rainproofing, but sometimes protector sprays which are weatherproof also have stain preventive properties built-in.
q:

Can I use my shoe protection product on other surfaces?

a:

Sometimes you can use your protection spray on other surfaces, as long as the spray is compatible with the materials. Some shoe sprays are also good for upholstery and wet-weather clothing while others are great for leather and suede surfaces, such as leather sofas and handbags.
Subscribe to our Newsletter