9 Best Jungle Boots – 2021 Guide
Designed before World War II, jungle or hot weather boots were issued to U.S. Military soldiers serving in Panama.

These boots have at their core the idea that a waterproof design cannot be achieved in wet, swampy environments, which means that breathability, the speed of drainage and drying need to be prioritized.

The boots have rubber soles, either Vibram or Panama style and, usually, canvas uppers with ventilation holes in the instep which allow for water drainage and good air circulation.
Standout Picks
Criteria Used for Evaluation
Effectiveness
A good fit is always a priority, but knowing what you need your shoes to do is just as important.
If you're reading this article, chances are you know what you want – a pair of durable hot weather boots that you will be able to use in hot, humid and wet environments, and that are designed in a way to maximize breathability, mud shedding and speed of drying while also offering protection from insects as well as from underfoot obstacles.
Finding the best pair of hot and wet weather boots is made even more difficult by the fact that they are extremely hard to come by, are produced only by a small number of companies, and due to their scarcity, their prices run quite high. That said, there are a few things that you should keep in mind while searching for the perfect pair.
First and foremost, you want a high-quality pair of footwear that will stand the test of harsh conditions. As you will be using them in difficult, muddy and wet terrain, you cannot have a pair of shoes that will fail you mid-mission.
Secondly, you want your boots to have the right features – you know that your boots and feet will get wet, and this cannot be prevented, so you need to look at the best way to keep water out of your shoes, and having them dry as quickly as possible.
Materials
The materials used to make this type of boots are pretty straightforward and universal no matter which maker or price range you opt for.
The materials which are used in these boots are important because knowing them can make your experience of wearing this footwear much more pleasant.
Though the rubber soles are simple enough and do not need you to do anything except clean out excess mud, the inner and upper will greatly appreciate the good care.
Breathability
Most models will have minimal insoles, so as to remove any excess material that could be holding water.
Many will have Poron lining, which is an open-cell material that will let water in. A better option is Saran insoles which have ventilating properties and are able to keep moisture away from the feet. These insoles allow air to circulate in the boot, speeding up the drying process, but in cold environments, they will insulate the feet from the frozen ground, thus preventing frostbite and trench foot.
Once you have finished walking in your boots for the day, it is crucial to dry them out as well as possible, without exposing them to any more heat than that provided by the sun. This will mean taking the insoles out so that they can dry as well.
Outsole
Your hot weather boots need to have rubber soles made out of the highest quality to ensure they don't wear out easily.
Out of the two most common types of sole used on jungle boots, you can go two ways: Vibram or Panama.
Vibram soles are used in many men's tactical boots as they will perform well on most types of terrains, including rock, sand and other hard terrains. These are an excellent choice if you know you will mostly be walking on this type of ground, or if you are looking for a pair of hot weather boots to wear outside of the jungle – be it work or casual use.
Panama soles, on the other hand, were developed in 1944 by U.S. Army Sergeant Raymond Dobie who created a shoe sole with deep grooves that proved to perform well under muddy conditions. The deeper grooves on these soles allowed for much more grip than typical Vibram soles which tended to clog up and become rather slippery. Secondly, a big advantage of the Panama soles is that they can easily be cleared of mud or clay when needed.
Value
If there is a pair of shoes where price and value are so directly connected, it has to be combat boots.
If you can, opt for the highest quality boot available. If, however, you are on a budget, make sure to choose the best pair that is within your price range. As many factories are choosing to produce their footwear in China, you can expect these boots to be made out of lower quality leather, to have eyelets that are attached less securely, and to encounter a higher percentage of sole malfunction.
Models made in the USA are excellent choices, provided you can afford them, and they will prove to be a reliable pair of swamp-appropriate footwear for a long time, if you take good care of them (do not be too lazy to polish your shoes – this will not only make them last, but they will be more comfortable for wear).
Another important thing to note is that if you are purchasing boots for duty use, you need to make sure they meet the AR 670-1 regulation.
9 Best Jungle Boots
1

. Salomon Forces Quest 4D 2
Perfect for hot weather use, this is a solid choice by Salomon, who specialize in producing high-performance footwear for extreme conditions. This boot is made of nubuck leather and an anti-debris mesh. It's a breathable and dry boot that also has a number of comfort features to ensure you can use this hard worker all day easily. A stable heel design ensures that you keep your feet securely on the ground beneath you.
The EVA molded footbed in this boot is made with a closed-cell OrthoLite, which both cradles and cushions your foot. Walk all day, hike all day, hump that rucksack up the ridge… whatever you happen to be doing, you'll be comfortable.
The midsole in the Forces Quest boot features a molded shank for stability and an injected EVA material for both cushion and shock absorption. The outsole features a gripping pattern and stable heel to keep you in place in most terrains.
These are the priciest boots in our lineup but well worth the value you get in exchange for performance. You will have dry, cool and comfortable feet that are free of debris thanks to the mesh and nubuck construction. They are non-marking and grippy while also being true to the jungle boot design.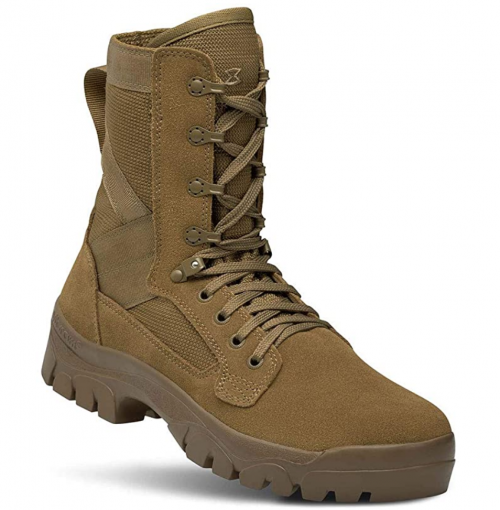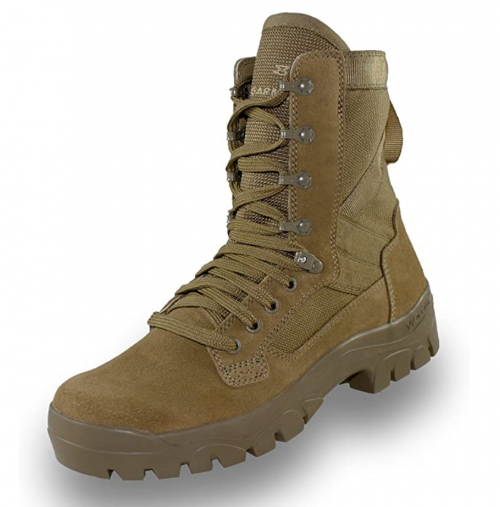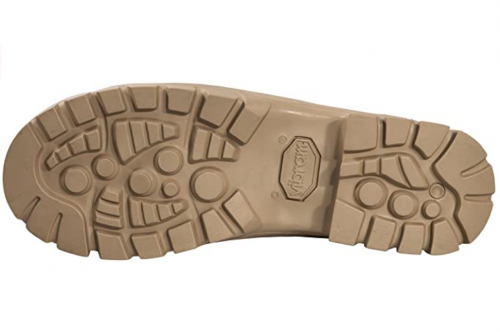 This tactical boot was made not just for one type of use, but for multiple environments, including muddy and wet terrain, deserts, steep slopes as well as for use on rocky surfaces. It's made with quick-drying materials that protect the foot and allow water to be eliminated from the shoe more quickly (thanks to the vents on the instep.
The outsole on the Bifida is made out of Vibram, a vulcanized rubber compound that sticks to multiple surfaces in any type of conditions, wet or dry. It possesses quite good shock absorbing properties, which is important if you're going to be on your feet for a long time and is a durable option that won't flatten after a couple of uses.
Made with a combination of 1.8 mm suede leather and 600 denier nylon, the T8 Bifida will perform just as you need it to, even once it's wet. It's a flexible pair of boots made for tactical use that won't hold you back in any way: the PU footbed is breathable, while the ventilation holes help eliminate any water that may have gotten in your shoes.
As you'd expect from a brand such as Garmont, the T8 Bifida is priced in the higher ranges of our list. As it's a pair of reliable tactical boots made for hot and wet weather, it's aimed at users who need a very specific, high-quality product most individuals wouldn't need to invest in.
If it fits your budget, and you like the idea of a Vibram outsole and suede reinforcements on the upper, then this is the option for you.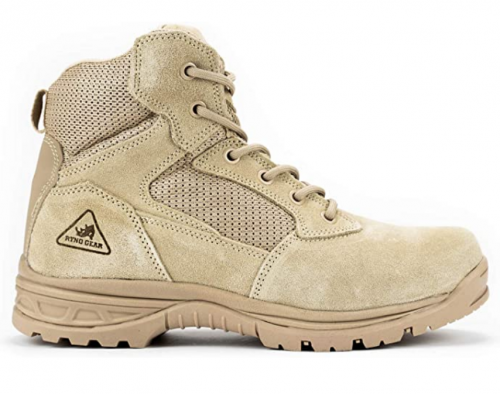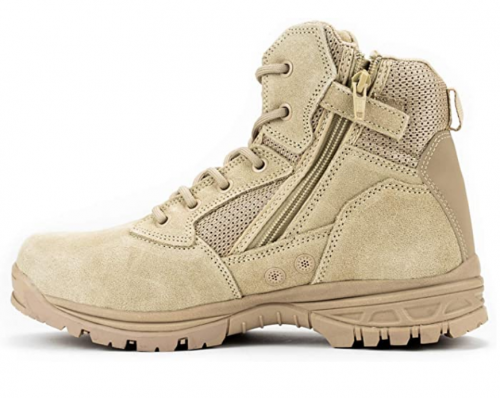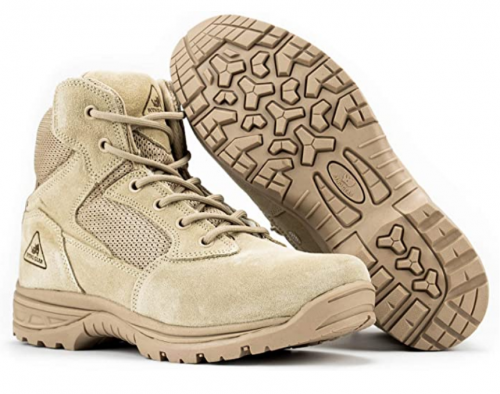 This is an extremely durable model that is breathable – important for a hot weather pair of footwear you'll be walking for quite a lot of time in. It has a tactical/military style and is cut lower than you'd expect from this type of product. Cool, suede and textile, this boot will satisfy you no matter how hot and muggy the weather gets.
The lining inside this boot is made of a breathable mesh. It is also water-resistant, so it will keep the water out of your boot and wick moisture away from your feet, leaving you cool, dry, and comfortable.
The CoolMax features a leather and ballistic nylon upper which will be both comfortable and durable, in addition to allowing for a faster drying pair of footwear. The removable shock absorbing insole is also a great addition, but it can be replaced with your own custom orthotics if you prefer a customized level of support and cushioning.
These boots are priced in the lower end of the range, which represents excellent value for the performance. They will last a long time, which increases the value you get for your hard-earned dollar.

This is a very modern, technological take on the original hot and wet weather boot. It is extremely comfortable and resistant to any weather you throw at it and features some high technical innovations as you'd expect from 5.11. It's a strong boot for work, and the laces will ensure a great fit. It features a covert pocket where you can store your valuables.
This is a great boot for shock absorption, using 5.11's own technology to ensure your boots and not your feet, take a beating. In addition to the shock absorption, the boots feature all the cushioning you need for comfort all day.
The full-grain leather and nylon construction of the boot makes it very tough, but it's also breathable for cool, dry, comfortable feet. If that weren't enough, it features a moisture wicking lining and antibacterial treatment to keep moisture away and to keep your favorite pair of footwear from holding onto odors.
These boots are priced in the mid-range, but that investment is a real value. You get a durable boot, lots of cushion and lots of support. A secret pocket, a great YKK zipper and antibacterial treatment to prevent unpleasant odor from filling the shoe and your space.
Made to feel and perform like a sneaker, but with the durability and protection of a boot, the Danner Tachyon is a stellar choice if you're after something lightweight that will allow you to traverse swampy terrain without having to spend hours in wet footwear afterward. At just 26 oz per pair, the Tachyon has no competition in terms of comfort and wearability and can be worn for a variety of purposes, from professional, to casual, to athletic wear.
With the upper being made out of lightweight synthetics that dry quickly, Danner added some extra durability in the toe area which is abrasion resistant and won't show any scuffs. Paired with the speed lace system, the regular side vents for water elimination, and the classic black color, you get a boot that's ready for hot, rainy weather.
Made out of 100% abrasion-resistant rubber with a pentagonal traction pattern, the outsole on these will stick to the ground in any conditions. Furthermore, you will reap the benefits of an open cell PU footbed that allows good air circulation, and an EVA midsole that absorbs shock, reducing fatigue and discomfort.
6

. Salomon Forces Jungle Ultra
You're probably familiar with Salomon, one of the leading manufacturers of running and hiking equipment for extreme conditions developed this boot intended for use in operations in wet and warm environments. The Forces Jungle Ultra features all the water eliminating features you would want from your footwear, including drainage holes, moisture wicking materials, as well as components that don't become heavy once wet.
While you are most likely to be concerned with how your shoes will handle water, it's also important to note that if you're planning on doing lots of walking, you're going to need plenty of stability and support.
In the Forces Jungle Ultra, this is provided by an Advanced Chassis system placed between the midsole and outsole, that controls motion, ensures proper alignment, and allows for better energy transfer to avoid fatigue.
The upper of this shoe is made with a combination of materials that have all been chosen to best perform in wet conditions. Nubuck leather is used for the most parts, ensuring protection from outside elements, while a fast drying textile is added to minimize water retention.
7

. Oakley Light Assault 2
If you are looking for a lightweight pair of boots that you can wear in Swampy environments, you might want to consider these. They are made out of a single layer of flesh-out suede leather and nylon with removable inserts, which means that they will dry fast.
They feature a Vibram sole which may not be our first choice for treading through the mud but will serve you well in all types of environments, from sand to rock.
These boots are extremely lightweight compared to all others on this list. They weigh little, are made out of well-thought-out materials which will do wonders to improve your hiking experience, but will also allow them to dry faster when they get wet.
The fact that these jungle shoes are made out of suede and nylon, means that they are soft enough not to require much breaking in. You can wear them from the box, and they provide ample room for the toes, with enough eyelets to customize the fit as you need it to be.
This model of rapid drying footwear by 5.11 was made for wet environments where you can't ensure waterproofing, but still, want to avoid walking around with wet feet for long hours. Utilizing a combination of innovative materials, the Speed 3.0 will keep air circulating, allowing moisture to escape more easily, and you to remain comfortable, even if the weather conditions are less than perfect.
For those who need these shoes for work and training, you will be glad to hear that the Speed 3.0 features a fence-climbing toe and forefoot lugs, which work together to improve the amount of traction you will be getting in this part of the shoe. This means that you'll be ready for any mission wearing this pair of boots.
With an insole and sockliner made by OrthoLite, you will be getting the same cushioning and feel you are used to in some of your favorite athletic sneakers. With excellent moisture wicking properties, OrthoLite products allow you to stay more ventilated, whether you've stepped in the water, or just have sweaty feet from hard exercise.
9

. Fox Outdoor Products Vietnam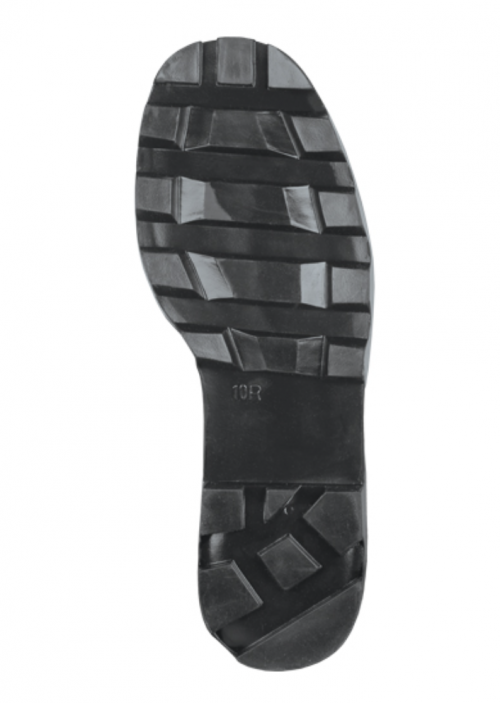 If you are looking for the most affordable pair of hot weather boots on this list, these are the ones to go with. Featuring Panama soles vulcanized to the leather upper, a reinforcing steel shank, and nylon webbing trim on the sides and collar of the shoe, these boots could be your go-to footwear for a hot and wet trek.
These jungle shoes feature an insole that is made out of leather. They are comfortable and require less breaking in than many boots in the same category. The cotton canvas shaft and tongue provide a soft, customizable fit that you are bound to enjoy.
If you need these boots in other than black, you can opt for the Olive Drab color which is a welcome refreshment from the standard uniform jungle boots. Also, they can be bought in wide or regular fit, so you're bound to find the pair that fits you perfectly.
These boots are the cheapest item on this list. Although they are not nearly as durable as some of the other models out there, they are an excellent investment if you don't want to break the bank, but still need some of the features they offer.

Subscribe to our Newsletter