Best Combat Boots Reviewed & Rated
In a Hurry? Editors choice: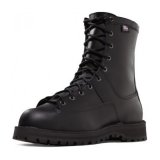 Test Winner: Danner Recon

Combat boots have grown in popularity as everyday wear in the past years. It's not uncommon to see them worn in labor-intensive work environments, and even as fashion, believe it or not. These were initially created for soldiers and military personnel but have become quite the trend in general because of their versatility. In addition to combining the functional aspects of many types of footwear, they are also a style option for those who like their rugged look. Their ability to provide stability, traction, protection, ankle support, comfort, and durability simultaneously has made them a go-to choice for many.

The list below features the ten best combat boots currently available for purchase. Additionally, the Criteria for Evaluation section gives you useful information you will need in order to make an investment you'll be happy within the long run.
Standout Picks
Criteria Used for Evaluation
Effectiveness
Initially, combat boots were made for military personnel who required specific features in terms of durability, support and protection. Many manufacturers have made their own version since the 1950s, but it wasn't until recently that this style became popular among civilians as well. Since the 50s, however, there have been numerous technological advancements, which means that you can now find a pair of these shoes that are not just rugged and protective, but that'll also feel lightweight and cushioning even after hours of wear.
If you're a fan of activities such as hunting, hiking, outdoor work, or anything similar, you'll greatly benefit from a good pair of these shoes. You'll look masculine and stylish, while being the proud owner of a pair of shoes that'll easily last for years.
When coming up with the best list for you, we did a detailed research and analysis so that only the best of the best made our top ten list. When picking these models there are some very important factors that we looked at. These factors helped us in judging the different options that are available in the market.
There are several places and scenarios in which one can wear these, and each scenario calls for a different type of footwear.
Worn for Leisure: Over the years this type of footwear has been adored by many fashionable civilians. Rugged and masculine, but polished, this is a type of shoe that can be combined with a variety of outfits, ranging from casual to more dressed up.
Worn with Uniforms: Those who serve, including those working for the military, police, firefighters, and others, need combat boots to wear with their uniforms. Most of the models listed here will follow the strict guidelines and will coordinate with the specific regulations required at these places of work.
Use
Though they might look stylish, make sure you get the correct pair that will be able to give maximum functionality and comfort. Remember, you cannot wear these to every event you are going to or to any activity you are engaging in. Below are the different types of that you will find when shopping:
Designed for the Military: Since World War II, there has been great demand for high-quality protective footwear that would not only be comfortable, weatherproof and durable, but that would also serve the specific needs of different types of soldiers. Those in tactical applications needed features different from those involved in assault situations or parachuters. Combat footwear were thus made in numerous styles, from tankers to jumpers.
Standard Issue types: Similar to regular combat options, these will provide ample ankle and foot stability, especially when the wearer is walking on very rough terrain (a common scenario during combat or training or both). They are normally black in color, hardened leather is used to make them and are not to be waterproof. Their design is very simple and has a rounded toe that is plain. The patent leather that is black in color makes them have a sheen that is glossy hence no need for polishing. With patent leather, they are most of the times kept aside for use during ceremonial events like funerals, parades or graduations.
Jump Boots: Made in the 1940s for U.S. Army service members who were airborne troopers and needed a shoe built for their specific needs. These are designed with very tall shanks that reach up to the calf, the ankles are reinforced so as to prevent any form of injury, and there are between 11 and 13 eyelets. The rubber soles have a unique heel design, and this type of shoe was originally known as a "Corcoran" after the first manufacturing company who made this specific type of footwear.
Tanker Boots: Similar to jump models, these were designed with a specific activity in mind. Fastened with a wide leather strap, these were suitable for use in tanks were laces would easily be caught in any of the vehicles many moving parts. These are always made with all leather to ensure extra protection from harmful chemicals, however, they lack ankle support, which is why they're hard to walk in, especially on rough terrain.
Jungle: Just as the name suggests these are best for the jungle. They have their upper section made of canvas, which is used to ensure that the feet dry quickly after getting wet in tropical climates or in terrain that is wet. Featuring vents in the instep, these will quickly eliminate water, and ensure proper breathability to prevent infections and odor.
Tactical: When looking at modern combat footwear you will notice that they are getting more specialized depending on the manufacturer. When talking about the tactical boost then means one is referring to a broad category. The tactful combats are designed to specifically suit the following common purposes like military combat, firefighting, seafaring jobs and police work. Some of these have been designed in a way that they offer extra grip, hence offering maximum slip resistance to the wearer. Tactical boots that are made of steel are installed with reinforced plates located around the toe section, offering maximum protection to the toes from any heavy or sharp objects.
Weather Resistance
Designed for the Extreme Weather Conditions: Boots designed for military servicemen fighting in all types of conditions need to be able to offer the maximum protection from the harsh weather conditions. Some of the examples that are designed for the harsh climatic conditions are desert, jungle, and cold weather.
For Hot Weather: Footwear made for hot weather use are designed to be worn in very hot climatic conditions, and share most similarities with jungle styles. Using materials that allow a good amount of ventilation and breathability, these will let moisture from the foot evaporate, preventing odor, fungi and bacterial infections that would otherwise appear with sweaty feet.
For Wet and Cold Weather: For those who find themselves in cold climates with lots of rain or snow, they need a shoe that'll protect them both in terms of moisture and temperature. Footwear for these conditions are often made with Gore-Tex, a unique material that has waterproof abilities and has many tiny pores. It can also be combined with insulation that can ensure that the necessary warmth is provided. When the temperature is below 20 degrees, then one should look for choices that have been specifically designed for extremely cold weather. They are a little different from the normal cold weather ones, they have a rubber layer that is doubled, and have the thick felt or wool that enhances insulation.
Features
Designed to be used during combat and training, combat boots need to serve a specific purpose in addition to satisfying guidelines regarding appearance. The functional features included in a model thus become crucial when choosing a pair to use professionally (or even just as a fashion statement). Considering that military personnel needs to face tough conditions in this type of footwear, there are a lot of considerations to be made to ensure their safety, but also their comfort.
Shock Absorption: The first thing you should consider before making a purchase is the level and type of shock absorption that is provided by your chosen model. While you won't want to go overboard, some protection from impact is highly recommended as it can prevent muscle fatigue and foot pain after long hours of walking and standing. For the best results, look for models with a shock absorbing midsole (such as those made with EVA), or a cushioned insole, for example those made by OrthoLite.
Support: Crucial for anyone who spends their time walking and standing, support ensures that the tendons and bones in the foot are properly aligned, preventing overuse and alignment issues. This is especially true for those with flat feet, so if that's the case with you, try to invest in a pair that either has an anatomical footbed, or can be used with custom orthotics.
Gore-Tex: While certain types of combat boots don't need to be waterproof, such as jungle and desert models, others can benefit from a waterproofing system. One of the best ones is Gore-Tex which prevents moisture from rain and snow from getting inside the shoe, but allows for your feet to breathe and moisture to evaporate.
Toe Protection: Some models will include a steel or composite toe section that is supposed to keep you safe from heavy objects falling. If, however, you're after something lightweight, we recommend going with the composite version, or avoiding the safety toe altogether. Nonetheless, don't forget to check your uniform requirements before purchasing.
Insulation: In case you plan on wearing your newly purchased pair in cold weather, some insulation is going to be necessary. Nowadays, you can choose from different types, and all have different benefits. Most commonly used is a technology called Thinsulate that helps retain warmth, without creating bulk or weight. It comes in a vast array of thicknesses, from 200g to 1000g and 1200g for arctic conditions.
Traction/Outsole: Before investing, make sure you check the outsole, as it will greatly influence how your footwear performs on different surfaces. If you're going to be wearing your boots in urban environments, go with denser rubber compounds that have low profile lugs. If, however, you'll be required to navigate dusty and muddy terrain, go with deeper lugs that will allow you to grip the ground better, without becoming too clogged.
Fit
Just like any other shoes, you must make sure that what you buy offers you a good snug fit. The fit is crucial whether your boots are to be worn for a long period of time or a couple of hours, for extreme weather conditions or just normal weather. Having a perfect size will not only guarantee you comfortability but it will also give the needed protection and support that your feet need. In order to make sure you get the best fit for your combat shoes, it's crucial to follow the below steps.
Get the correct socks: if you want to have a good fit, it's important that you have the correct type of socks. When going for a fitting, make sure you have the socks that you will be wearing. Make sure the socks are snug fitting and ought to rise up just over the feet's calf.
Check your shoe size: many of the manufacturers start from size 9 up to size 14. Men with feet larger or smaller than this range might have some difficulty finding the correct size.
Top 10 Combat Boots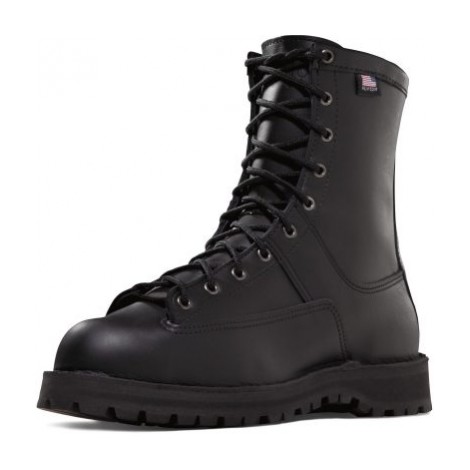 This is a very sleek and tough looking style that has the construction and thought behind it that makes for great combat boots. The full grain leather upper is sturdy and durable, while easily polished to give it that professional shine. To ensure this shoe is waterproof, Danner has used a Gore-Tex layer, which is one of the ideal materials. Gore-tex is able to be 100% waterproof while remaining breathable enough to allow for heat and sweat to still escape. The Kletterlift Outsole helps make this pair of footwear comfortable to wear, offering shock absorption, stability, and superb traction on any type of terrain or weather condition.
In order to make this shoes more lightweight, Danner has included 200g of Thinsulate insulation. This amount will keep your feet warm in both rain and snow, while also reducing the overall weight of the footwear. Fully waterproof and warm, these will work well in the winter; especially given that they have great traction.
One of the best things about these boots is that they are recraftable, meaning if you have any breakdown or wear through, you can send them in to have them repaired and fixed up. This is due to the fact that their handmade stitching process allows for easy removal and repair of damaged parts, giving you a long lasting boot overall. This is genuine combat footwear, and the construction and features are all properly made in order to produce a product that is durable and long-lasting. With that in mind, the price of this item is reflective of these features, and this is the kind of shoe that will last you a lifetime.

2

. Thorogood GEN-FLEX2 Series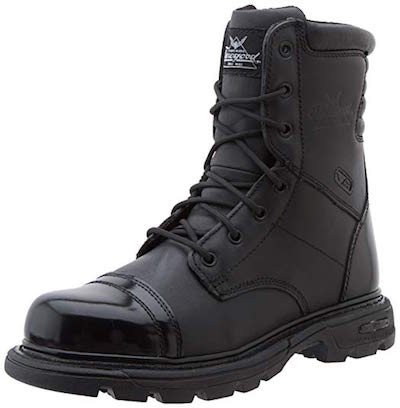 Thorogood is a manufacturer that makes work, hiking and protective footwear for those who require the highest level of quality and comfort. The GEN-FLEX2 Series is an 8" tactical boot that's not only durable, but also flexible and lightweight, allowing you full range of motion so you can wear it knowing you'll be able to give your best. A full grain leather upper molds to the foot throughout the break in process, while the high shine toe and heel give this footwear a polished look.
The outsole on the GEN-FLEX2 is made with dual density rubber and multi-directional lugs that give you exquisite grip even on wet and oily surfaces. This means you'll have a steady footing wherever you go, while the Goodyear storm welt construction ensures durability and reliability.
What differentiates the GEN-FLEX 2 from similar models is the fact that it features three different closure systems for absolute security. The traditional lace closure allows a good amount of customization, so you can set up the perfect fit, while the side zipper ensures easy on and off, even when you're in a rush. The velcro strap will ensure the zipper is held down, and that your boots make as little noise as possible when walking. The price of the Thorogood GEN-FLEX2 Series is average compared to the other items on this list, and this is an affordable price if you compare it to the quality you will be getting with these shoes. Furthermore, it's important to mention that this is a pair with a removable PU footbed which is cushioning, but also allows you to use your own orthotics for customized support and shock absorption.

3

. Original S.W.A.T. Classic 9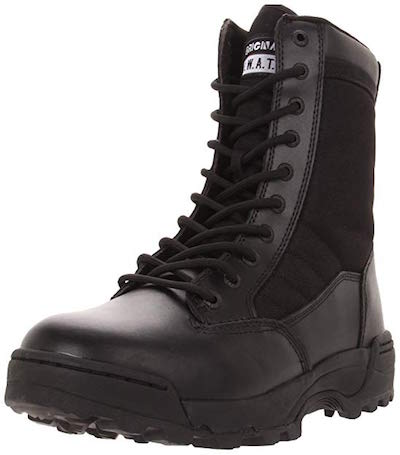 A go-to shoe for military and law improvement personnel, the Original S.W.A.T. Classic combines the durability of combat footwear with the comfort features of an athletic sneaker for the best possible all-day wear. The 9" shaft provides both protection and ankle stability, while the upper combines full grain leather and 1000 denier nylon for both durability and flexibility. A huge advantage of this model is its light weight, which won't cause fatigue, even after hours on your feet.
The collar on the Classic is padded with foam to prevent ankle rubbing and blisters which are common with similar footwear. The inside of the boot is treated with antimicrobial protection that prevents odors, and the lining wicks away moisture, so that the health of your feet is put first.
These boots feature a custom made phylon midsole, similar to those you would find in certain running shoes. It absorbs shock and prevents it from traveling to your joints and muscles. Additional comfort features include a removable EVA foam insole, a steel shank for support, a gusseted tongue that'll keep debris out, as well as a thermoplastic heel counter and toe box that'll mold perfectly to your feet for a superior fit. With a price that falls slightly under the $100 mark, the Original S.W.A.T. Classic 9" is an excellent choice both for professionals, as well as for those looking for a badass boot that'll work for years. It's important to mention that this is a pair of shoes that are slip and oil resistant as well and that it performs exceptionally on ASTM F2913-11 test standards, giving you great bang for your buck.

4

. Adidas Performance GSG-9.2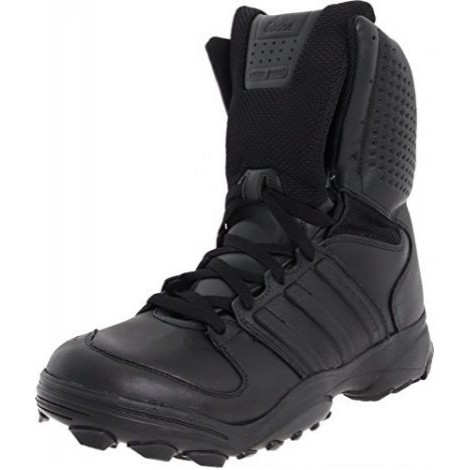 While Adidas may not be the first brand that jumps to mind when you are thinking of combat boots, the Performance GSG-9.2 is certainly a shoe worth having on this list. Oil, gasoline, and static resistant, this is a tough pair of shoes that is built to endure harsh conditions and terrains. Featuring Traxion lugs for superior support and grip, this footwear offers amazing support and protection.
They don't just look like military footwear, they are SWAT team and special force footwear that can really stand up to the job. Added features like the Rope Assault Protection help showcase how realistic and high performing these are. The arch features an insert that is highly abrasion resistant, allowing you to be safer and more effective during fast roping.
Like all Adidas footwear, they come equipped with some unique technologies like Climaproof, adiTuff, and adiPrene. Climaproof allows the shoe to be water resistant while remaining breathable, and the adiTuff material ensures it is abrasion resistant while also helping it to be more supportive and protective. The adiPrene heel insert is where the footwear's comfort comes in to play, absorbing shock and cushioning your heel. Given that these boots are professional and up to many codes and standards, the price tag on them is extremely reasonable. While not nearly the cheapest option on our list, this is well worth the money if you need a combat style for work or military training.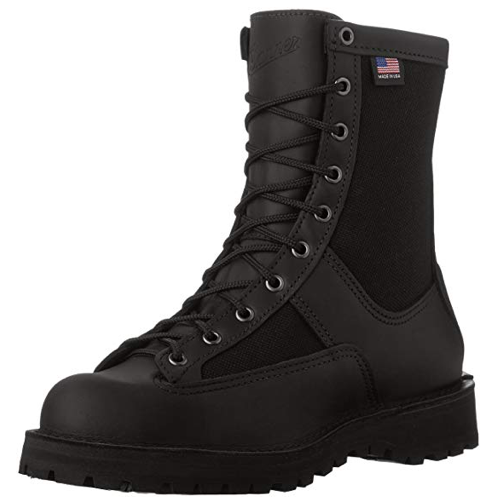 This pair of combat boots by Danner is made in the USA, and is a stable, supportive option for those who need a sturdy shoe to rely on. The 8 inch model can be purchased in several versions - a regular uninsulated edition, a composite toe one, as well as two insulated editions, one with 200g and the other with 400g of Thinsulate. It's not just an excellent investment for professionals, but also those who want a durable pair of footwear they can rely on daily.
The upper of the Acadia combines two materials - full grain leather and 1000 denier nylon that work together to make for an extremely resilient model. Gore-Tex lining ensures a waterproof design that can be worn during wet weather, while still allowing for sweat and moisture to evaporate from the inside of the shoe.
The Vibram Kletterlift outsole was developed for comfort. The heel is superbly shock absorbing, making the Acadia suitable for long hours of wear. The rubber compound is resistant to oil and slips, and the low lugs make it ideal for urban environments and wear on concrete floors. The stitchdown construction means that this pair is recraftable, so you don't have to purchase a new pair once the sole has worn out. At a price that is between $300 and $400, you should consider this model an investment, but if you're after something that will last, then definitely go for it.

6

. The 5.11 12007 A.T.A.C.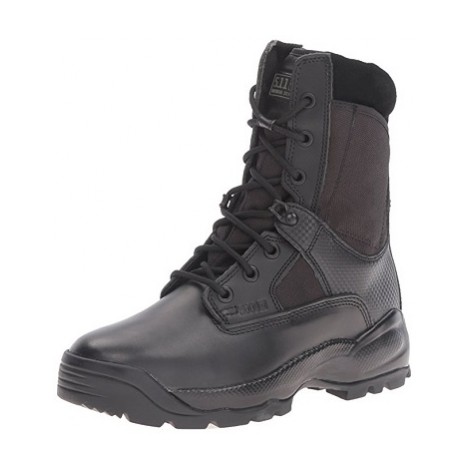 The 5.11 - 12007 A.T.A.C. 8" is considered to be the most versatile combat boot for women. The shoe is designed to deliver comfort and high-performance simultaneously. The upper part of the shoe is constructed with a nylon mesh that aims to provide breathability. The full-grain toe is specifically designed to offer strong toe support and a unique polished appearance.
The midsole is made with injection-molded Phylon (found in running footwear) that provides excellent cushioning. The cushioned insole which is removable also provides excellent foot support and shock absorption. The inner part of the shoe is lined with a moisture-wicking lining that is meant to cool the foot even in hot weather.
The outsole features a unique Shock Mitigation System and an oil- and slip-resistant material that offers excellent grip, traction and stability. The upper part of the shoe is secured with YKK Zipper hardware that is connected to the outer sole and ensures that the wearer has an exact fit. This model carries a heftier price tag. This is quite expensive as compared to other combat footwear that is in the same category. However, this is the only pair of its kind to use injected-molded Pylon that provides both enhanced cushioning and foot support, so the purchase would be worth it.

7

. Magnum Elite Spider 8.0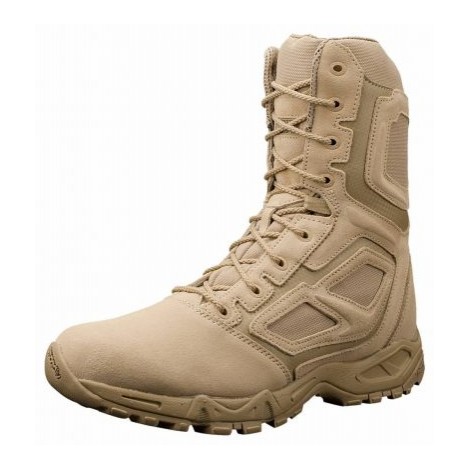 This desert boot is ideal for individuals in hot climates who want a sturdy and durable option which is also breathable and well ventilated. Desert weather is scorching during the days, and having your feet overheat will make you more fatigued and uncomfortable than necessary. The airy nature doesn't take away from its durability, however, as it also features composite hardware that helps retain its shape and offers you protection. With a full lace-up design, these can be tightened to your perfect fit.
It's important to take in to account the opinions of military personnel to really get a feel for how effective these truly are. While going over countless reviews, these were consistently noted as being lightweight, comfortable, and great for all training activities. While there was mention that they do scuff over time, overall reviews were extremely positive and many found these held up well in wet, muddy, or other rough terrains and conditions.
The way these stay so lightweight and breathable has a lot to do with the mesh inlays that can be found on the sides. While still being waterproof and debris-proof, these inlays allow for ample airflow to reduce the sweat and heat that your feet produce over the day. Magnum is a very well known and beloved brand, especially by military staff, so it's understandable their footwear tends to be more expensive. With that said, these are actually not expensive at all, and they are amazing value for the cost.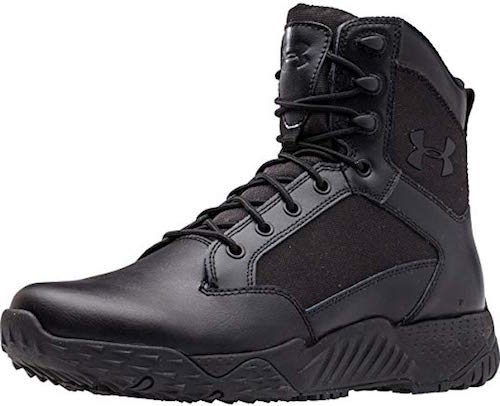 A pair that combines the performance features of tactical footwear with the athletic functionality of Under Armour sneakers, the Stellar is a great choice for those in search of something more lightweight, that includes plenty of comfort-oriented tech. This 8 inch model uses a combination of materials, provides a polishable toe for professional use, and is an overall good choice for those on a budget.
The upper of the Stellar combines leather with 900 denier nylon in order to keep weight down to a minimum, but also to provide a more flexible fit in areas such as the ankle. The collar and tongue feature generous padding to ensure you can pull the laces as tight as you need to, while the back of the heel includes a pull tab for easier on and off. The thick laces are easy to use, and allow wearers to find the perfect fit with little adjustment.
The inside of the Stellar uses an Ortholite footbed which has two big advantages over other types. The first one is the fact that it adds an additional level of shock absorption to the sole. The second is that it is treated with antimicrobial treatment to prevent bad odors inside the boot. The rubber outsole has low profile lugs, the midsole is made with lightweight EVA foam, and a TPU shank ensures stability and protection. To top it all off, the price of the Stellar ranks low, giving users on a budget a good value for money.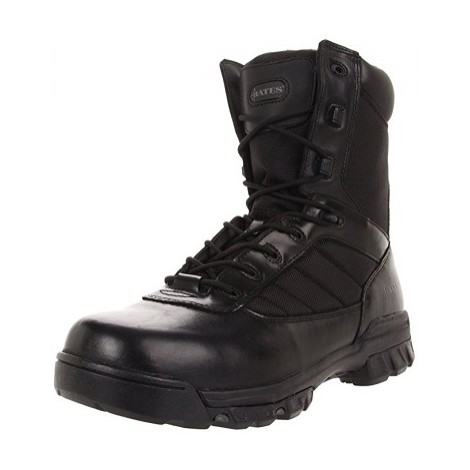 The Bates-Ultra Lite is the ultimate shoe for someone looking for a high-performance, tactical boot. This shoe provides the exceptional inclusion of comfort, quality, and performance. The shoe provides excellent cushioning and foot protection through the incorporation of Removable EVA Footbed with Shock Absorbing Pads. The Enforcer Series 8" is made of Black Leather/Nylon. This provides a choice for the wearer to either choose the leather or Nylon option depending on the usage. The shoe is designed with a side Zipper that is created with Velcro.
The top of this Bates footwear features a padded collar that will both support and protect the ankle, preventing painful hot spots and blisters. The top of the shoe is designed with Non-Metallic Eyelets that are used with Speed Laces Mesh. This directly contributes to the durability and sustainability of the shoe.
The outer sole is designed with Oil and Slip-resistant Ultra-Lites™ Rubber that makes it 30% Lighter Than the Original Enforcer Series 2261. The Ultra-Lite technology offers unique traction and grip and can be used on any terrain. However, do note that this shoe is only available in one color - black. This shoe is priced in the higher range. It is quite expensive in comparison to the shoe at the top of our list. However, the price difference is mitigated by numerous additional and advanced features that make the ride more comfortable and worth it.

10

. Smith & Wesson Breach 2.0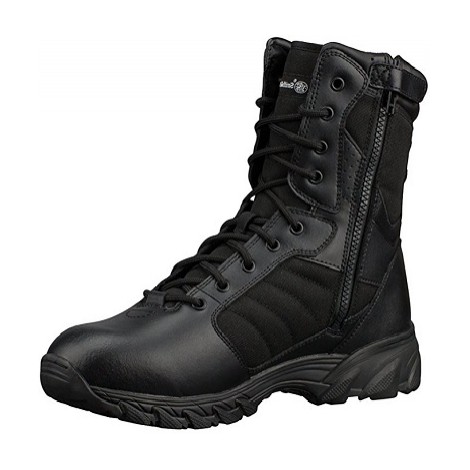 The Smith & Wesson Breach 2.0 tactical boot is designed to last even the toughest terrain. The midsole is designed with EVA material that offers cradled support and lightweight comfort. The shoe is incorporated with a steel shank that provides superior support. The entire shoe is constructed with Board-lasted construction that provides torsional rigidity which effectively lessens fatigue when used over long periods. The outer sole is designed with slip-resistant, non-marking rubber that provides excellent grip and traction on wet and slippery terrains. Has a moderately sized shank and is extremely well priced. The shoe is available in black only and offers two option in regard to the shank height. If you are always on your feet for long periods or have to walk long distances then this is the shoe for you.
The upper part of the shoe is designed using a combination of leather and fabric. This unique feature provides exceptional durability and breathability. The upper part is integrated with a Foam-padded PU Collar and tongue that offers easy wipe-off cleaning and sturdy foot support.
The model is designed with a YKK® side zipper you will find great durability, an excellent fit, and a closure you don't' need to worry about. This zipper provides foot protection by ensuring that no external debris can enter the shoe while in use. The tongue is gusseted to keep the dirt and water particles away. This pair is more affordable than several others. It is fairly priced considering that it offers numerous features that can only be found in highly priced item. Considering the affordability and durability, the value for this shoe cannot be overemphasized.

Subscribe to our Newsletter