Most Comfortable Steel Toe Boots Reviewed & Rated
In a Hurry? Editors choice: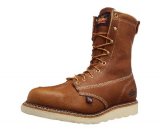 Test Winner: Thorogood American Heritage

Many men and women work in industries that can be dangerous. Construction, farming, and other manual labor tasks tend to be hard on the body. While most of these industries require
safety equipment
, it is often not thought of that your feet need protecting too. This is where
steel toe boots
come in. Steel toe boots are exactly what they sound like –
boots with steel in the toe part
to protect the most delicate part of your foot. These boots are also often built with a protective midsole plate. This plate protects the underside of your foot so that if you step on something, it doesn't puncture the shoe and therefore your foot, from underneath.
Standout Picks
Criteria Used for Evaluation
Protection
Many jobs across the globe require you to wear boots with steel toes. Some common misconceptions are that wearing steel toe boots and having something fall on them will sheer your toes off. This is absolutely not true and has been proven over and over again. Other's believe a regular pair of work boots will keep you just as safe, however, when put to the test no regular work boot stood up to what a steel toe boot can do.
While it may seem obvious, boots are protective footwear that has a steel cap in the toe of the shoe, it protects your toes from a variety of different circumstances. There are a wide variety of situations that you may find yourself in that a pair of boots could save your toes from the damage or worse. Some of the things the steel toe protects you from are:
Crushing Due to Heavy Falling Items
Protection from an Object Rolling Over the Toe
Punctures
Fractures
Blades, Such as Chainsaws
Hot Metal Flakes That May Burn Through Other Shoes
Electrical Protection
Anti-Static
Heat Resistance
Compression Resistance
Some steel toe boots also offer a steel plate on the bottom of the boot that offers protection from puncturing. Depending on your type of work, your employer may have a very specific variety that you need to purchase. Our guide has offered options that cover many different areas of steel toe boots that will keep your feet protected and feeling great.
A very convenient chart has been made to make it easy for all of us to understand what we are buying when buying a steel toe boot. It provides different colors and shapes to look for to make sure you are buying what you need to meet your employer's conditions or that you are buying the best boot for your desired activity.
Durability
Steel Toe Boots need to be able to endure heavy pressure in harsh environments. As soon as the elements of a steel toe boot starts deteriorating, performance and safety become heavily affected. As you can imagine, durability and performance are parameters that go hand-in-hand.
The durability of all kinds of shoes is mostly related to the material they're built with; as well as, the manufacturing quality. These boots are pretty much the same. Quality determines your performance and potential risk of injury.
Each element degrades individually, but it's equally important to understand the boot degrades as a whole. This means every element should be in a similar state as the rest of them. If one element degrades much faster than the rest of the boot, it will lose its quality and the potential usage the rest of the elements may still have. For instance, if the upper build rips apart while the outsole rubber is in good shape, the shoe becomes unusable and a healthy outsole goes to the trash.
Generally, the piece that degrades the fastest is the sole. This is no surprise, as it's the part of the shoe that handles the most tension. The more strenuous work you do, the more your sole will suffer.
One of the most important concepts of durability is proper usage and care. It's also important to know when your shoe has reached its time. Steel Toe boots are, definitely, not the kind of footwear you want to push over its durability. We're no longer talking about comfort or efficiency but rather safety. Worn-out boots can put you in many of the unfortunate situations we've mentioned here, such as losing balance while carrying a heavy load.
Comfort
Cushioning can be found in four regions of the shoe: the upper, insole, midsole, and outsole regions of the shoe. While insoles are commonly associated with cushioning and comfort, midsoles are less well-known and outsoles are generally not associated with cushioning.
Insole – Insoles are the location where most cushioning is expected to be found. Insole cushioning can come as foam footbeds, heel pads, cushioned forefoot regions, and others. Generally, most shoes use foam insoles and insole pieces, but sometimes manufacturers use gel compounds and components.
Midsole – Midsole foams and gel cushions are the real secrets behind a comfortable, well-cushioned shoe. This is the area of the shoe that has the most effective cushioning components. To increase the longevity of the midsole foam and gel units, manufacturers wedge the midsole between the insole and outsole. The insole is exposed to your foot more and can wear down more quickly. The outsole, naturally, is on the outside and is the part that always hits the ground and wears down more quickly. As such, the midsole is where manufacturers put their best cushioning technologies.
Outsole – The outsole, as previously stated, is not commonly associated with cushioning. The outsole is the first line of defense between your foot and the outside world. It protects your foot from rocks, abrasive surfaces, thorns, and many other such threats to your feet, but it also protects your foot from shock! Rubber and synthetic materials are the most commonly used materials in the outsoles of the best-cushioned shoes. They easily absorb and disperse shock!
Padded Upper – Padding in the upper can absorb shock from bumps and scrapes, acting as a protective barrier between the top of your foot and the outside world. Padding in the upper can come as padded linings, padded tongues, and padded collars. Shoes without this small layer of protection between your foot and the firm outside of a leather shoe, for example, would be abrasive and could cut into your Achilles tendons or your feet!
Features
Steel Toe boots offer safety that other boots just can't match. These boots include incredible features that make for comfortable wear and superior protection.
Safety Toe Guards
Metatarsal Guards
Electrical Hazard
Electro Static Discharge
Slip-Resistance
Value
Ultimately, the cost-effectiveness of a boot, or its overall value, depends mainly on cushioning, support, and protection, but also relies on their durability, convenience, ease of use, maintenance, and their actual price.
Durability
You want and need a shoe that won't fall apart right away. A boot that wears down too quickly cannot protect your feet from injury and cannot properly absorb shock. Every region of the boot needs to be durable from the upper to the outsole. Fortunately, manufacturers have come up with ways to increase the longevity and durability of their shoes by creating high abrasion compounds and interlocking units in the outsole.
Maintenance
A time-consuming maintenance routine is inconvenient and can really devalue any product. We live fast, busy lives, and we often barely have time for everyday activities, let alone have the time to treat and re-treat and clean, polish, and dry shoes every time you wear them somewhere. So, look for boots that are easier to maintain and clean. Boots that are easier to maintain and clean are also less expensive over time, as they don't require a lot of materials to maintain them.
Cost
The actual price of boot matters, too. The best-cushioned and most protective boots don't have to cost a lot of money! Most of them can be found for a very reasonable price, so always shop around if it looks like the boot you have decided on is going to cost you an unreasonable amount. Someone, somewhere, will probably be selling it for less!
10 Best Steel Toe Boots
1

. Thorogood American Heritage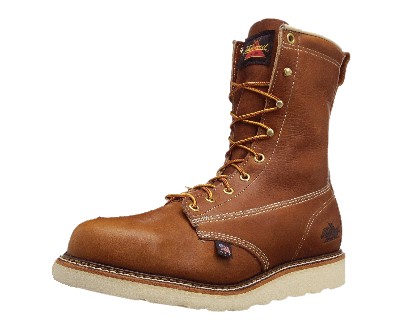 Stylish to the max, Thorogood American Heritage steel toe boots will work no matter the situation. Thorogood is trusted by millions of people because of the advanced technology, comfortable wear, and versatility offered in them. Some of the features we love about these are the shock absorbing footbed, the Pron insole, and the MaxWear Wedge. These features add to the comfort, durability, and overall awesomeness of this protective footwear.
The MaxWear Wedge slip-resistant outsoles will ensure your feet stay planted underneath you. Working in muddy, wet, or snowy conditions can lead to embarrassing falls and possibly serious injuries. It is important to note these outsoles are also oil resistant. If you work or play in slippery conditions, the Thorogood American heritage steel toe boots will give you the stability you have been searching for.
'
With the ultimate comfort that the dual density shock absorbing liner on top of the Poron 4000 comfort cushion insole, we aren't sure why you would want to remove them. If you find they are wearing they can be replaced. Before this point, you will see that the ability to keep shock and pressure off your feet will make your joints and muscles feel better and allow you to go that extra mile. The Poron 4000 insole is superior when it comes to comfort and flexibility. This footwear will feel like a dream on your feet, which is something we have all been looking for.

2

. Wolverine W02421 Raider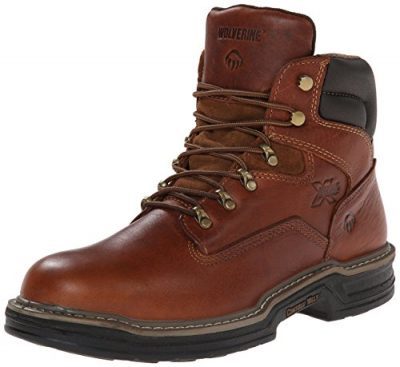 Since 1883, Wolverine has been making boots for the working man. This iconic brand has been working to make durable and comfortable shoes for over a century and has come up with some interesting methods of doing so. Using their own patented technologies, they're a leader in innovation. This particular model comes with ContorWelt and Multishox construction.
The Wolverine W02421 Raider is a comfortable shoe to stand in all day. It is meant for those who need to be on their feet all day and want the feel of a running shoe. This boot comes with the patented technologies of Wolverine. It bends and flexes with you for the most comfortable fit. In addition, it's very supportive and feels energetic on your feet.
Much like the CAT boot, these are not the most expensive ones on the list. Their ContorWelt and Multishox construction technologies make them unique. Wolverines are meant for those who want a good boot for a mid-range price.

3

. Caterpillar Second Shift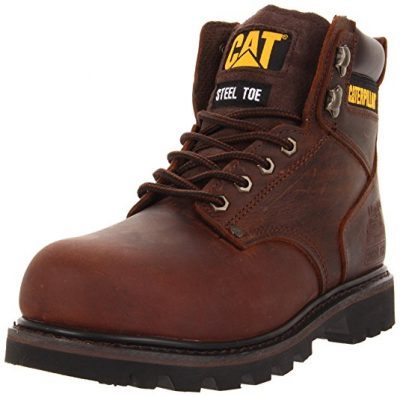 CAT is a boot that is well suited for a "second shift." These steel toe boots boast a Climasphere lining as well as ASTM approved steel toes. Slip-resistant soles are also on the menu with this footwear. CAT makes boots that are rough and durable, making them perfect for overtime. They aren't afraid to make a splash and are comfortable as well.
Climasphere lining helps to keep your feet cool by regulating the temperature inside of the boot. It also helps to control the moisture level in the boot, which prevents blisters. With slip-resistant soles, you can be sure you're not going to go falling off any ladders. You can breathe easy – and grip easier – with the CAT Second Shift.
This footwear is worth the price due to their long-lasting durability. They're made with high-quality material, and their Climasphere feature adds to their uniqueness. They're not even the most expensive footwear on the list.

4

. Dr. Martens Icon Industrial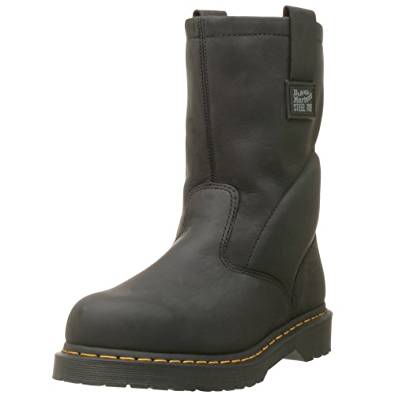 Dr. Martens Icon Industrial Strength work boots come from another well-recognized brand. Made of water-resistant leather, they are sure to keep your feet dry. In addition to being water resistant, it's heat resistant. It's also a traditional PVC work foot apparel with a cleated sole and has a wooden shank for mid-foot rigidity. It's slip resistant too.
This footwear places protection at the ankle to ensure additional impact resistance. This means that in addition to your toes being protected, so are your ankles. This is an important feature to have for anyone working in a field like farming where your ankles may be at risk.
Unlike many of the others on this list, the Dr. Martens Icon Industrial Strength is electrical hazard resistant. This is important for anyone who may work around electricity. This is one of the mid-priced footwear on the list, though can be found for a less expensive price, which is surprising given all of the features.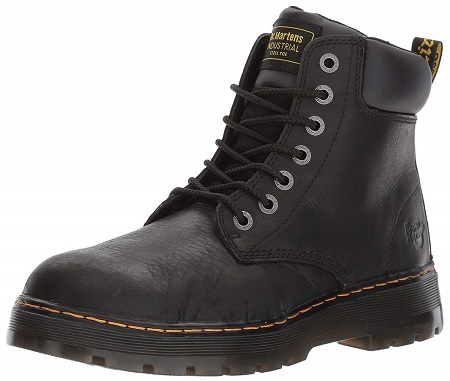 Dr. Marten's is more commonly known as a fashion brand, though they do also offer designs best suited for workwear. The Winch boot works double duty in that it has a steel toe for durability and protection, while also sporting a rather stylish and modern design. The upper is made with oil-tanned leather and comes in two color options, while sizes range from a US 7-14, some of which also come in wide options.
EVA is most commonly used for the midsole of a shoe, though in the case of the Winch it is used in the insole. This is the part of the shoe making direct contact with the bottom of your foot and is what provides most of the shoe's overall cushioning and comfort. EVA is a lightweight foam polymer that is able to respond efficiently to shock and return energy back to you, keeping your feet well-supported without pain or fatigue. This insole is also removable to accommodate for a custom orthotic if necessary.
While leather is one of the most durable shoe materials out there, it is lacking in the breathability department. If the air in your shoes has no way to escape, it'll heat up as a result of the energy you generate as you go about your day. This can make them uncomfortable and cause odor. That's why the interior of the Winch is made of mesh, as this helps to make up for the lack of breathability that comes with leather.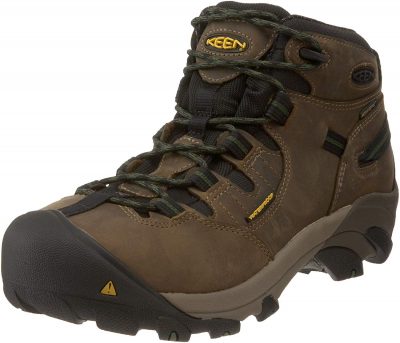 KEEN is well known for their versatile styles of hiking boots, and they've taken that same comfortable design to a work boot with the Utility Detroit. It encompasses all the comfort hiking features of KEEN's renowned footwear and combined that with the steel toe safety, weather resistant Nubuck leather, and a larger toe box to support proper toe splay. Add in a slip-resistant outsole, and reflective webbing, and you have foot apparel ready for whatever day or night conditions you encounter on the worksite.
With its wider toe box, the Utility Detroit helps promote toe splay whereas some other steel toe boot designs are restrictive due to the toe protection in the footwear. A Torsional Stability Shank lies within the midfoot for support and helps stabilize you throughout wear. Waterproof membrane, dry-lex lining, and waterproof Nubuck leather help keep it going throughout any sort of weather to get the job done.
A removable EVA footbed allows you to insert custom orthotics if needed so that you can tailor comfort to your needs. CleanSport NXT helps protect against odor buildup, and reflective webbings allow ample visibility in low light scenarios. The rugged lugs of the outsole are also oil and slip resistant, and won't mark up any surfaces where you don't want scuff marks appearing from work.

7

. KEEN Utility Pittsburgh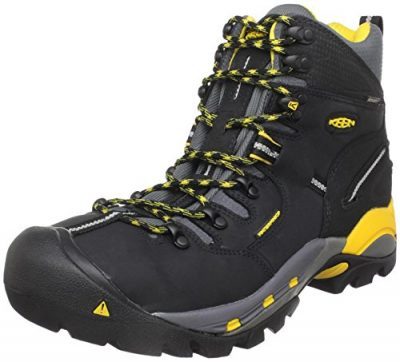 Pittsburgh is a tough city of steel and so are these KEEN Utility work boots. They come ready for anything you throw at them – literally. These come with a long list of features, such as weatherproof and waterproof lining, slip resistant outer sole, and waterproof breathable membrane. The steel toes are ASTM rated. This is a boot to get the job done.
With weatherproof and waterproof inside and outside lining, these KEEN Utility Pittsburgh footwear come ready for the weather and your feet. They keep your feet dry no matter what.
The outer sole is slip resistant so that you don't go falling. You can be sure you'll keep your grip anywhere you work with these shoes. You don't have to worry about sliding around. Keen Utility Pittsburgh is a bit pricier than the others on this list but for all of the extra features they offer, they ought to be. If you want more for your money, these are the ones to buy.

8

. Caterpillar Diagnostic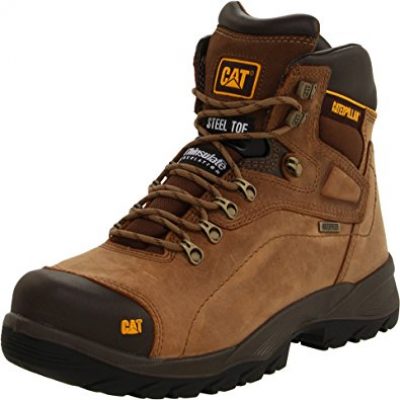 Caterpillar made the Diagnostic Waterproof steel toe boot to handle tough extreme work conditions, backing up the boot with comfort for all-day work requirements, and all with a safety focus. As part of their Ergo-Collection, it's been designed specifically to enhance the feel, flexibility, and comfort, by making more anatomical adjustments in the footbed. The Diagnostic is a 6-inch lace up closure protective footwear, all with a reinforced steel toe.
If you've ever worn steel-toed boots from 10 years ago, you'll remember the days when walking in them hurt, simply due to the lack of flexible or anatomically made material and construction. The Diagnostic helps to support the natural movement of the gait cycle and helps to hug your foot in an anatomically correct contour fashion. ERGO fit helps stability, comfort, flexibility, and reduce overall foot fatigue.
Waterproof design helps keep you dry even in the messiest of weather conditions on the worksite, and with 200 grams of thermal insulation, you'll stay toasty as well. A removable EVA has perforations and gel technology to further keep you dry and cushioned for all-day wear. A rugged sole and slip resistant rubber provide traction and sure-footed steps.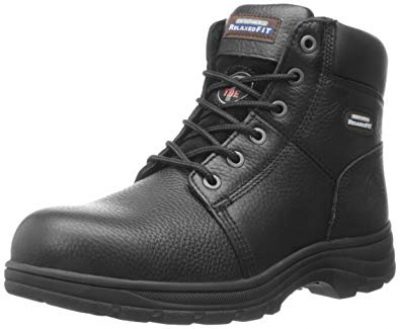 And here you thought Skechers just made cozy sneakers and sandals right? The Workshire within Skechers for Work line of footwear brings an ankle length boot with steel toe reinforcement to the market from this footwear giant. Full grain leather available in some color options will have you picking the perfect pair for your worksite needs. And with Skechers Relaxed Fit, it's sure to be comfortable footwear for all-day wear on a budget.
Pull-on tab at the heel help you get in and out of this full-grain leather boot easily, and with its padded tongue and collar with soft liner, you may find you spend more time in them than out! Relaxed Fit allows for more room, and less constriction, cutting down on rubbing, irritations, and uncomfortable foot fatigue during long periods of wear. A removable memory foam insole helps provide cushion, while the midsole provides ample shock absorbance.
The Workshire has been ASTM F2413-2011 I/75 C/75 approved, and EH safe tested ASTM F2413-05. With its steel toe protection and an electrical hazard safety approval, you'll be able to wear this in construction sites without issue. Traction is found in the nitrile rubber lugs that comprise the outsole, which is also oil resistant.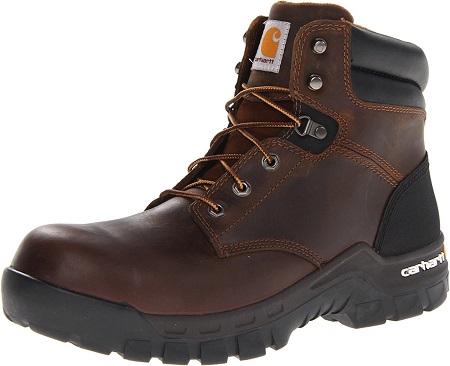 Carhartt is one of the most well-known brands when it comes to high-quality gear. The CMF6366 boots feature a composite toe rather than steel, so we are cheating a little bit with this product. However, composites such as the ones used in these boots offer similar durability to a steel toe without the clunkiness and extra weight that can sometimes accompany them.
While style isn't a major point focus when it comes to steel toe boots, it is something that should still be at least considered. After all, you're going to feel better about a pair of shoes if you enjoy how they look on your feet. Full-grain is one of the highest quality leather types available, while the oil-tanning process gives them a rich and deep color. Leather also boasts natural water resistance, allowing you to tackle rain and puddles with ease.
The ideal boot should balance comfort and durability. Comfort is what allows you to be on your feet for extended periods without the risk of pain or fatigue. The EVA midsole in these boots works to properly support your feet and absorb shock, while the lightweight Ortholite insole gives you exceptional cushioning without having a major impact on the overall weight of the shoe. Ortholite also has a low long-term compression rate, furthering the overall durability of the boots.

Subscribe to our Newsletter