Best Shoes for Rain Reviewed & Rated
In a Hurry? Editors choice: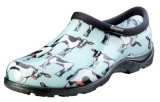 Test Winner: Sloggers Rain and Garden

If you're like me and happen to live in a city that never stops
raining
, you know the headache that comes along every time you need to get dressed and leave your house. It begins with the never-ending layer of clothes, making you look drab and bulky, and is always finished off with an unflattering pair of boots that are then uncomfortable throughout the day. As much as my rain boots have saved me from soggy feet time and time again, there is nothing worse than an entire day of work, stuck in wellingtons, and feeling the restrictive and sweaty rubber around your legs all day. While you can always opt to bring a pair of shoes with you to swap in to, who really wants to carry around extra shoes every day that it rains?
Standout Picks
Criteria Used for Evaluation
Durability
Durability is an important facet of any shoe, especially those that will be used outside and in inclement weather conditions. Water-resistance won't mean anything if the shoe breaks down quickly. Let's take a Look at some things to consider when determining the durability of a shoe.
Outsole: This is the part of the shoe that is making direct contact with the ground. As such, it's also one of the first parts of a shoe to show signs of wear and damage. WhIle scuffs and discoloration are often normal wear and tear and are expected after a while, If regular use wears a hole in the outsole or it starts to separate from the rest of the shoe, that's a sign that durability will be very limited. And when it comes to shoes for rain, a hole in the outsole is a very bad thing. It's best to look at customer reviews of shoes, as they will give you an idea of the real-world experiences other people have had with them. Reviews can often provide more insight than a page with product info and specs.
Upper: Along with the outsole, the upper of a shoe is where the water resistance will be. Certain materials such as leather and rubber are naturally resistant to water, while other products may use Gore-Tex or a waterproof treatment on the shoe to accomplish this. Similar to how a damaged phone screen will void its water resistance rating, any damage to the upper will likely leave your feet soggy and sad.
Insole: Just like how the outsole is the part of the shoe that is making direct contact with the ground, the insole is what makes direct contact with your foot. The insole is responsible for comfort and breathability, and support and shock absorption. While it is normal for an insole to need replacing after a while due to regular wear and tear, this should take months or even a year.
Style
Rain shoes have come a long way from the squeaky and brightly colored galoshes we're so used to seeing. Now it's possible to find boots, sneakers, and even dress shoes that will stand up to the rain. Let's look at each of these styles in a little more detail, shall we?
Boots: WhIle the squeaky galoshes can sometimes be seen as cliche, They are popular for a reason; they work. Sporting a higher cut than sneakers and dress shoes, boots will keep water from getting in from the top of the shoe as well. These are often most used as work boots, though the right boots paired with the right jeans will help pull together an outfit.
Sneakers: Our list features a number of sneakers, from brands such as Adidas and Converse. In fact, boots make up the minority of the products on our list! From leather shoes to rubber Chuck Taylors, water-resistant sneakers have become very popular. They offer a comfortable and familiar fit, along with the versatile style we've come to expect from sneakers.
Dress Shoes: Dress shoes aren't exactly known for being rain-friendly. Which makes sense, as dress shoes aren't something typically worn outside in poor weather. But you'll see on our list that we've included some more formal styles, for those occasions when you need to wear dress shoes in less than ideal weather.
Versatility
Another factor that was highly taken into consideration was how versatile a shoe really was. It's great to have shoes on hand that you can wear on rainy days, but if they are just limited to keeping your feet dry then you may as well just opt for a traditional rubber boot.
If you are looking for shoes instead of boots then that possibly means you want something that you can wear for different occasions, and that has the versatility to be worn in rain as well as in nicer weather. Every shoe we selected was thought about in these terms, and we made sure to select shoes that could be worn in a casual environment, at the office, to parties, and even to music festivals.
There are so many different types of footwear, and the aim with this list was to showcase rain friendly options for as many styles as we could. From rubber pumps to waterproof Converse, this list focused on highlighting how wide-ranging shoes for rain could be.
Not every option is going to suit every person, so the more styles we can show the more likely you will be able to find what's right for you. When possible, we tried to mention the types of occasions each shoe would be suited for, as well as examples of situations that would call for that style or design.
Varying color options, patterns, and styles means that you can enjoy dry feet while still looking cool and stylish, never having to sacrifice fashion due to bad weather.
Value
You may have noticed as you read through the list that every shoe contained a small write up on why it is good for the rain. Yes, we offered up a wide variety of footwear, but the style isn't the exact reason you came on to read this list. Every shoe on here needed to answer the question "why is this good for the rain?", and we did our best to really give you that answer.
The simple answer is because it keeps your foot dry, and that could have been written for every single shoe. But by that standard there are thousands of shoes that could have made this list, so what made these ten truly stand out.
From traction to versatility, comfort, and style – every shoe on this list went beyond just keeping you dry to offer up a shoe that you are going to want to have in your closet. If you live in a rainy climate, you are going to wear these shoes a lot, and you are going to want the shoe to be durable enough that you don't have to replace it constantly. For those who live in less rain-soaked cities, you are going to want a shoe that isn't just pulled out on rainy days, because that's not worth the money if you're only wearing it a few weeks out of the year.
Fashion and appearance was a major influencing factor, and choosing shoes that looked good was almost as important as picking them based on their ability to keep water out. Everyone wants to look good when they go outside into the world, and so the idea is to have a shoe that makes you feel good in all senses of the term.
Water Resistance
While not ever shoe featured on this list was fully waterproof, the focus was on making sure that every shoe would be able to hold up in rainy weather. Whether that be waterproof, water resistant, or water repellant, every shoe has some type of feature that will help keep your feet nice and dry when it starts to rain.
The majority on the list ended up being waterproof, as that is the most effective option and is more versatile for situations that need a shoe that you can wear in heavy rain. A light drizzle won't affect the majority of shoes, so if you're on here reading about shoes for rain, you probably want something that can take more than just a couple drops of water.
Materials like rubber and leather are seen again and again on this list, and that's because they are two of the best for keeping your feet dry. Other materials exist, such as neoprene, but not a lot of shoes are made from that material so for a more common, everyday approach we tended to stick more with rubber and leather.
Not all leather is going to be the best for rain, however, and so we did make sure to only select shoes that were going to be durable enough and not end up ruined over time. Suede is one of the least popular choices in rainy weather, as the material tends to get damaged easily when it comes in contact with water. Suede is technically a form of leather, so this is important to look at and consider before you purchase a pair of shoes that you know are going to get wet. Not all leather is waterproof or water resistant, so do keep that in mind and make sure to read carefully before you buy.
Rubber is the most common upper material that people opt for when choosing rain gear, as it is completely waterproof and is extremely effective at lasting a long time. Even though this is such a common material, we tried not to make this list one-sided, and so you will notice that not every shoe features a rubber element. Rubber may be great at keeping water out, but it's also really good at keeping heat and moisture in. It is not a breathable material, and by the end of the day, you may find your feet overly hot and sweaty. With that in mind, we focused on low cut, more breathable options in order to offer up the best of both worlds.
10 Best Shoes for Rain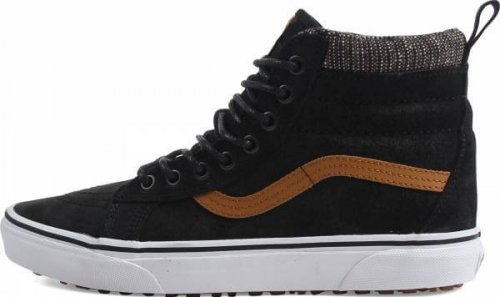 If you're looking for a pair of footwear that is not only stylish super comfortable. The Sk8-Hi MTE by Vans provides you with this look and pairs it with a rubber upper that is designed so as to keep your feet dry, even in more serious rainfall. Reaching up to just above your ankles, these boots are a great choice if you're looking for something lightweight that still offers more protection than a pair of flats or heels, especially over the top of your foot which often goes unprotected with this type of footwear.
In addition to being made out of rubber, with a durable suede upper, the Sk8 Hi MTE also provides you with a snug fit over the tops of your feet, preventing any rain from falling into the boots. This makes these shoes suitable to wear not only with long pants but also with skirts or dresses. After you've made your way through the wet city streets, you can just wipe these down, and they'll look as good as new.
While rubber is excellent for protecting you against water, it is not the best material to have in contact with your skin. That's why these boots have a soft faux fur lining that increases their level of comfort. It allows for a better experience when putting these boots on, and it adds a little bit of breathability to a pair of shoes that is not really known for letting hot air and moisture escape.

2

. Sloggers Rain and Garden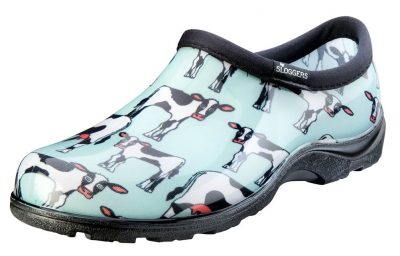 Clog style shoes are popular for many reasons, and one of the big ones is how comfortable they are. Often extremely roomy, these are the shoes you want to throw on right as you're heading out the door. From checking the mail, running to the grocery store, or taking the dog out for a walk, clogs are quick, easy, and a perfect go-to shoe. This clog style Rain and Garden shoe from Sloggers is a huge hit with nearly everyone who buys a pair, and the fun patterns make them great for a variety of occasions. When the rain starts coming down, these will keep your feet nice and dry as they have a fully waterproof upper.
Made of 100% recycled materials, the upper is fully rainproof and will ensure your feet stay dry regardless of the weather. Easy to slip on, many people find these to be their first choice as they are heading out the door, and this makes them a bit different from other rain shoes and boots. No laces, no zippers, and no knee-high design, you won't have to struggle to get these on or off when you're in a hurry. The roomy interior allows for you to pair them with a thick pair of cozy socks, or opt to go barefoot if that is more your style. The funky designs and patterns will add a splash of color to a gloomy, rainy day, making for a fun pair of shoes you will love.
Every pair of Sloggers shoes and boots feature their personal All Day Comfort insoles, which really do live up to their name. Soft and padded, these insoles will give your foot that extra support it needs so that you have zero foot fatigue by the end of the day. Extremely light, most wearers say that these shoes make you feel like you're not wearing anything at all, and the soles of your feet are surrounded in a plush cushioning that is superb. With the roomy inside, this is the kind of shoe you will reach for time and time again.

3

. Adidas Ultraboost All Terrain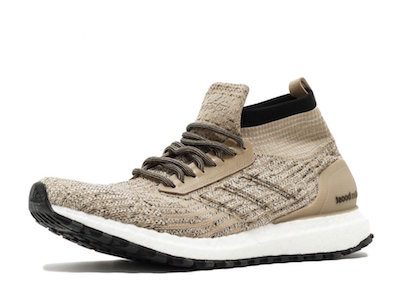 If you are an avid runner, or just like to wear comfortable and cushioned shoes on an everyday basis, then the Adidas Ultraboost All Terrain is a great choice for when it starts to rain. These sneakers offer some of the best features you can get out of running shoes, and to top it all off, are weatherproof for those cold and wet days. One of the best thing about these is the fact that they provide excellent energy return, taking the power from each of your foot strikes, and propelling you forward, ensuring you can run longer and faster, no matter the weather.
These shoes feature a water-resistant Primeknit upper that wraps around your foot giving you a snug and secure fit. Not only does it adapt to your foot shape, but it has an important advantage over regularly knit materials seeing that it won't easily let water inside the shoe. The high collar adds additional ankle stability and keeps these shoes warm even when it's chilly. Additionally, this is great for keeping debris and water out of the shoe. The Continental rubber outsole is great for all weather conditions and provides a secure grip even on wet surfaces.
One of the best things you can get out of a pair of Adidas running shoes is a BOOST midsole that is made to provide you with some of the best cushioning available in the market. Made with excellent energy-returning properties, it absorbs shock and returns it to you so you can utilize it for maximizing your run performance. Additionally, it does not flatten as easily as traditional EVA foam and has a long-lasting quality you are sure to appreciate for quite some time to come.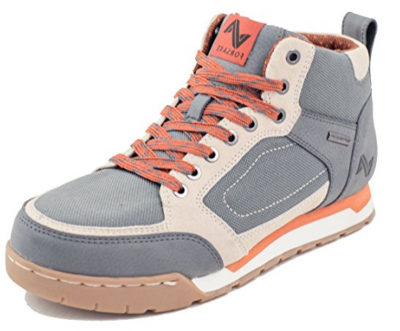 This hybrid of a sneaker, boot, and hiking shoe is going to be popular for a lot of reasons, and it's a great choice in rainproof footwear. Attractive and sleek, you would never know that this is technically a hiking boot, and the sneaker like appearance makes it versatile, and great for a variety of different occasions. With interchangeable laces, contrast paneling, and a fully waterproof upper, this shoe can be worn for rainy days about town or even while trekking through the forest or up to a mountain. The EVA midsole provides a comfortable fit and feels while giving the sneaker, it's athletic yet sharp appearance. With a mix of different materials, this is a shoe that is durable and sure to last you a long time regardless of the adventures you take it on.
The upper of this shoe is constructed using a variety of fabrics, from leather to suede, and even ballistic nylon, giving it the best chance of staying completely waterproof in the rain. As this is designed for hiking in, the shoe is extremely durable, and features a multi designed lug tread which enhances your grip and stability on wet, slippery surfaces, Unlike traditional rain boots, you are still getting the sleek, casual look of a sneaker, while ensuring that your feet are dry and comfortable. With its moisture-wicking lining and antimicrobial interior, you will also have cool, odor-free feet after hours of use.
Forsake uses their unique HydroGuard method to seal all seams on this boot, making for a piece of footwear that will stand up to any weather condition or terrain. More durable and padded than a regular sneaker, you can wear this in the rain, sleet, slush, and snow all without any repercussions. The padded and plush interior stays dry no matter what, and your foot will be comfortable and secure wherever you wear these Clyde shoes.

5

. The North Face ThermoBall Traction Mule IV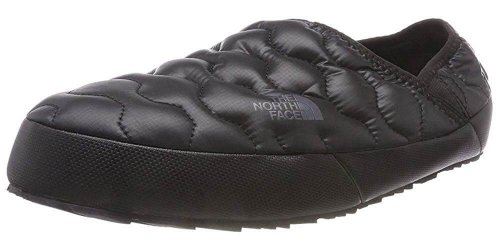 Flats are hardly the kind of shoes you think to put on when rain hits, let alone fluffy textile slippers. This type of shoes is often extremely delicate, easily falling apart for seemingly no reason at all; throw rain into that mix, and your flats are ruined before you're even halfway out the door. These slippers from The North Face are amazing for anyone who wants a flat they can take in the rain, as they are made from 100% recycled P.E.T. ripstop upper that is waterproof.
Flats and rain have never gone well together, but we all know that flats are the easiest, most comfortable type of footwear there is. These fluffy ripstop slippers are going to let you walk through rainy streets and they will do their best at keeping the rain from soaking your feet. The inside is made with lightweight ThermoBall powered PrimaLoft insulation that helps retain warmth when wet.
The downside to flats is that they generally offer zero arch support or support in general. The most basic of footwear, they are so simple to throw on, but over time your foot really does notice that lack of cushioning and support. The ThermoBall Mules have added in some extra arch support in the form of a gentle massage bed, designed to give you that cushion while also using small nodes to press into your arch. Those with very high arches may not notice too much of a difference, but for average arches, this is a serious step up from other flats on the market.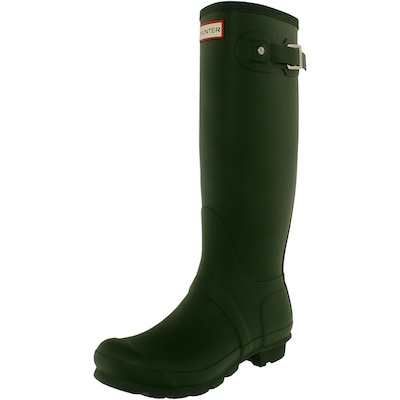 Although most of this list focuses on rain-friendly footwear that is not the regular rubber boot, it's still important to give recognition to the most widespread footwear you will encounter when it rains. The Original Tall Rain Boot by Hunter is a classic choice that you will definitely appreciate when the weather decides to show its ugly side. Handcrafted out of 28 parts, these boots are available in a huge variety of colors and finishes, allowing you to choose the look that suits you the most. From matte black to glossy millennial pink, or even silver, Hunter boots offer a huge variety of stylish and cute options.
The fact that these boots cover your legs up to your knees with a high-quality rubber material makes them a great choice for wearing when it's pouring rain. Not only will these boots allow you to stay dry, but they will also protect your clothes, ensuring that you don't have to suffer from wet pants legs after a walk in the rain. Furthermore, they're made with 28 parts but offer 100% water protection, so you can rest assured no water is going to get into your boots, no matter how deep of a puddle you happen to step in.
The best thing about Hunter boots is the minimal effort it takes to keep them looking new. Made entirely out of rubber, these will be easy to clean up after a wet and muddy walk, and you can just hose them off, or wipe them down with a wet cloth. Rubber is easy to keep looking new, and the only thing you'll have to do to keep these boots looking out-of-the-box new is to treat them with Hunter's Rubber Boot Buffer Spray or a dab of olive oil on a paper towel. Being made out of natural rubber, you may find that these boots develop a white powdery film over time, but that's to be expected with natural materials, and it's easy to treat using one of the presented options.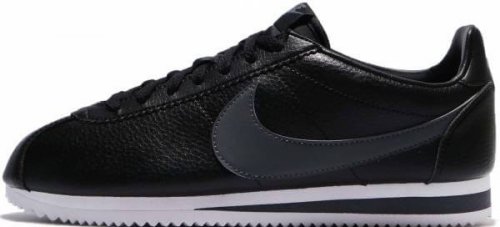 Fashionable sneakers are all the rage right now, and that is because they are extremely stylish, pair well with almost anything, and are perfect for any casual or formal event. The one downside to sneakers, however, is that they tend to not be the best for rain, as the material is usually thin which can be ruined if exposed to water frequently and will get your feet soaked easily. If you need a pair of sneakers that are going to be your go-to pair of rainy day shoes, then look no further than the AP Nike Classic Cortez.
The thick rubber outsole is going to allow you to walk through puddles and rainy streets with ease, keeping your foot nicely above the water and ultimately dry. The upper material has been properly treated with Scotchgard, a great product that ensures that no water will be seeping into these chukka boots any time soon. Fully water resistant, rain should be no match for this boot, and you will enjoy a nice, dry foot all day long. With its great shock absorption and plush interior, comfort and dryness are to be expected.
Rainy weather doesn't have to spell the end of fashion, and with these boots, you can still look your best even when the weather is drab. The no-sew design gives this boot a very sleek and almost futuristic look, with it's clean looking upper and slim profile.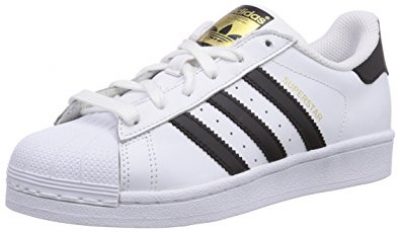 An absolute iconic classic, the Adidas Originals Superstar is a shoe that is instantly recognizable and looks great with just about anything. What some may not ever consider, however, is that this sneaker is more than just a fashion statement, and it actually is suitable for rainy day wear. Just because a shoe may not look like a rain boot, doesn't mean it won't hold up in the rain, and because of the leather upper, this sneaker will take you where you need to go - rain or shine. This show has been around since the '70s and there's plenty of reasons why it has remained popular for so many decades. Simple, understated, soft, and comfortable this is a shoe that so many people love. The next time it rains, forego the rubber boots and heavy shoes and instead opt for the great classic that is the Adidas Original Superstar.
The rubber sole on these shoes is very thick and durable, resisting wear and tear over time. The soles of your feet will stay dry as the rubber refuses to let any water in, and the rest of your feet can stay dry thanks to the leather upper. Rain doesn't change our preferences, and while some people may not mind the heaviness that comes along with rain boots, others generally prefer to just throw their usual sneakers on and go. With the Adidas Original Superstar, you can keep your classic style going, and enjoy the rain without the consequences of soggy, wet feet.
As previously mentioned, these shoes are iconic classics, and they have held their status for well over 40 years. Simple and understated, this is a shoe that looks great with jeans, can be worn in the summer, stands up to rain, and can be worn for nearly any casual, and sometimes less casual, occasion. Extremely comfortable, wearers love this shoe because it keeps their feet feeling good throughout the day, and you don't end up with fatigue or soreness after hours on your feet.

9

. Converse CT All Star Hi Rubber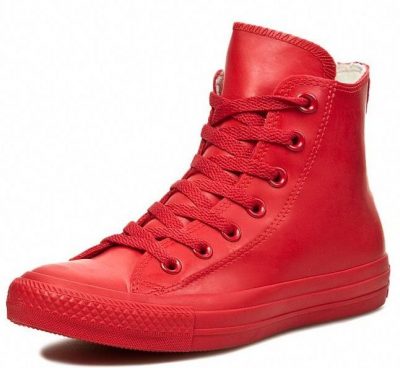 If you're an avid Converse wearer, then you've probably already had the unfortunate experience of wearing them outside when the weather was less than pleasant. For all the great things Converse offers, being rainproof is certainly not one of them, and that canvas upper gets soaked pretty quickly. But all of you Chuck Taylor lovers can now rejoice, as Converse has finally released a high top that has a rubber upper; goodbye rain boots and hello rain shoes! Offered in a variety of colors, these are going to be great for music festivals, running errands, dates, and even part of a casual outfit in the office. With wax-coated laces and a gusseted tongue, these are one of the best pairs of great looking kicks that are going to stand up well on any rainy day.
With a rubber upper, you are getting the exact same concept that is employed with wellingtons, but the benefit is you don't have the same uncomfortable, knee-high fit. Most reviewers have found that these fit almost exactly the same as regular converse, and offer the same look and comfort level that you've come to know and love. Rainwear doesn't always have to be so different from your regular shoes, and for those who love wearing Converse to outdoor concerts, this is an option that will keep your feet dry and the mud from staining your shoes.
One of the worst things about rubber rain boots is that your feet almost always end up overly hot and sweaty. The rubber material of boot tends to stick to your legs, preventing any moisture or heat from escaping. The Converse Rubber High Tops have made sure that you won't overheat throughout the day, but offering up an ankle that isn't too snug against your leg. While this may allow some water in if your pants don't cover the opening, it also means that your foot will stay significantly cooler while you wear these shoes.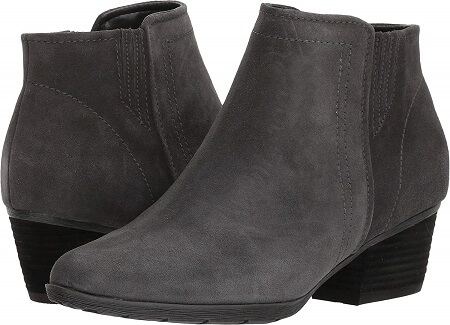 Gone are the days of squeaky galoshes being the go-to for rain shoe. These Blondo booties are water-resistant and fashionable, while the block is comfortable enough for all-day wear. These shoes are available in Six color options and a wide range of sizes.
While these booties look like the last thing you'd expect when you think of water-resistant shoes, these are definitely made to stand up to the rain. The upper is made of either leather or suede depending on your color choice, And the seams are fully sealed using a technology called AquaProtect. A medial zipper closure also works to keep water out of the side of the shoe.
Zipper closures have become popular in booties and other shoes as of late. They are less likely to come undone or break than traditional laces and are easier than a buckle type closure. These booties feature a medial zipper on the side, allowing it to be discreet and not detract from the overall style. With prices ranging from $150 to $200 depending on your size and color choices, there's no denying that these shoes are expensive. These booties offer the water resistance you need, with a classic style and color offerings that will go with anything, from professional to casual wear.

Subscribe to our Newsletter