Best Selling Shoes Reviewed for Quality & Value
In a Hurry? Editors choice: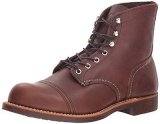 Test Winner: Red Wing Iron Ranger

For many, shoes are the icing on the cake when putting together an outfit. Just like clothing and makeup, footwear can accentuate, define, and give you killer confidence. There is no such thing as too many shoes. There is different footwear for different occasions, events, weather, and seasons. These are the best of the best. Ranging from athletic sneakers to cozy slippers, you're sure to find a
pair to fall in love with
.
Standout Picks
Criteria Used for Evaluation
Features
Temperature management is a common comfort feature found. These features help keep your feet warm, or they help keep them cool in warm weather; depending on the type of weather the shoe is designed for. Most on this list have cooling features, but a few have warming features, such as warm linings, as well.
Perforations
To provide ample support, many manufacturers opt to use leather or rigid synthetic materials in their shoes. However, leather and other firm materials can be hot and stuffy, which can result in the development of odors from foot sweat. These manufacturers opt to use perforations which are strategically placed to improve airflow and ventilation.
Mesh Uppers
To provide ample flexibility and effective temperature management, many come with meshes incorporated into their uppers. Mesh uppers allow more airflow than other upper materials, which keeps your feet cool and dry.
Moisture-Wicking
Moisture-wicking materials used in footwear to help cool and dry your feet, by increasing airflow and pushing moisture away from the foot. Some on this list use this feature; as well as, breathable meshes.
Water Resistance
Water resistance keeps your feet dry and comfortable in any season, as long as you don't wholly submerge your feet in the water. This, also, keeps your feet warmer in the winter, as cold water won't seep into the shoes as easily to cool your feet.
Warm Linings
Some linings are cotton while others are faux fur. Either way, they come with warm linings to keep your feet warm and comfortable.
Odor Development Prevention
Temperature-regulating features, also, prevent the development of odors, which means many on this list, also, have odor-development resistance; so, scents born from sweaty feet won't stick as easily to your shoes.
Flexibility
All of those on this list have some degree of flexibility. Think of a pencil. A pencil is rigid, as it's made of wood. If you put enough pressure on the pencil (trying to bend it), it will eventually snap in half. Now, imagine a bone. Bones aren't meant to bend; joints allow us to bend our legs, arms, and fingers. Imagine putting immense pressure on a bone. It will eventually snap, too, won't it? Placing your feet in inflexible, rigid prisons will increase your risk for injury, as they won't be able to bend and flex naturally.
Flexible Outsoles
This footwear has flexible outsoles. Rubber and synthetic outsoles can be firm but they can, also, provide some flexibility; depending on the composition and modifications that are made to them by the shoe manufacturer. Outsoles often have flex grooves or cuts in the outsole that allow the sole to bend more freely.
Flexible Uppers
They come with uppers that are flexible, too. These uppers are often made with meshes and softer fabrics to allow the upper to stretch and flex with your foot's natural movements.
Flexible Closures
Most on this list are either slip-on or lace-up shoes. They come with elastic closures, which are popular because the opening of the footwear can be stretched and opened wider to allow the foot to slide in quickly and, then, the footwear can be closed around the foot to provide a comfortable, secure fit.
Protection
Safety is a significant factor to consider when you are buying. But even if you aren't a shoe expert, you likely look for footwear which provides many of these safety features. You know what works and what doesn't work for your feet from years of experience with shoes – we all wear them, after all! One of the first things you think about is how the shoe feels when you put it on and which sounds like a comfort feature. But many safety features, also, increase how comfortable it is for your foot!
Not all feet are built the same, just like no two people are the same. As such, everyone has different needs. Some people need more cushioning to offset their naturally heavy footstrikes. Others require stabilization features to reduce overpronation and protect their feet from injuries and falls.
Safety features are important to consider when you are buying for a specific purpose, such as taking a beach vacation, running a marathon, or walking around the office all day. There are hazards in each of these situations and, fortunately, there are shoes designed for each of these situations.
First and foremost, footwear is a protective barrier between your feet and the outside world. As such, the top shoes provide many of the safety features listed here.
Cushioning
Cushioning is a safety feature. Yes, cushioning provides comfort, but that's not all it does. Cushioning adds an extra layer of protection between your feet and the outside world. Cushioning, also, includes shock absorption, which reduces the impact of walking, running or dancing on your feet.
Force is generated from each impact between your foot and the ground. Newton's Third Law of Motion states that each action will have an equal and opposite reaction. When you walk or run, you are pressing down on the ground. As the ground doesn't sink with every step you take (unless you're in sand or something similar) the ground is pressing back up against your foot. The force generated by your foot pressing down on the ground has to go somewhere. So, when the ground below you doesn't shift, you can propel yourself forward. However, there is a by-product of each footstrike: shock. Shock travels from your foot up to your ankles, shins, and all the way up to your back! Also, known as load-rate, over time, this can become painful and cause real damage to your ankles, legs, and spine.
Cushioning strategically placed in areas of the footwear in the right amount can prevent serious injury, which is why many of the shoes featured have ample cushioning in them.
Padding
Some of the footwear on this list have padding on the tongue, collar, and in the walls of the upper, in order to create a sort of soft packaging to protect your feet from painful bumps. Think of it like this: when you order something fragile online, it is shipped in Styrofoam or bubble wrap. The same concept applies to your feet inside your shoes.
Support
Many people need stability shoes or footwear which provides motion control to prevent over or underpronation. Some footwear sacrifices cushioning for support features, but many come with ample cushioning and support. Support and stability features encourage normal pronation and promote natural foot motion. Support and stability features reduce the wearer's risk of rolling a foot or ankle.
Overlays
Many athletic shoes on this list come with leather or synthetic overlays. These overlays serve a purpose other than making you look cool. Overlays are used to provide support and are made of mesh or fabric uppers, which provide little support on their own.
Air Pockets
Overlays aren't the only way to provide support in the upper. Thin air pockets are sometimes added to the walls of the upper to provide light cushioning. Air pockets are, usually, used in the sole of the shoe. Air pockets provide responsive cushioning in the area they are placed in, such as the heel or under the arch.
Outsole Material & Technologies
Most come with rubber or synthetic outsoles, which as we discussed earlier, provide great shock-absorption qualities. Rubber or synthetic outsoles, also, offer support, as they are firmer than a fabric or suede bottom. These outsoles are often enhanced with stabilization and support technologies placed in different areas of the outsole.
Value
The price of a shoe can sometimes be a deal breaker. That's part of the reason why footwear manufacturers invest time and energy into creating cost-effective technologies to incorporate into their shoes to make them durable, long-lived, versatile, and inexpensive.
Durability & Longevity
Footwear, usually, lasts more than a few months, because shoes that are going to fall apart after a few months of use aren't worth the investment of more than a few dollars. Leather and synthetic overlays can be used to make the shoes more durable without sacrificing flexibility. Firm leather or synthetic uppers provide durability and support.
Versatility
Great footwear can be used for more than one activity. Walking and running shoes, for example, can be used in some casual sports. Stylish athletic footwear could be used in informal work environments. Sandals can be used in casual and semi-formal settings. The more situations you can use the shoe in, the more value it offers for the price.
Maintenance
Good footwear is easy to maintain and clean. They don't require a lot of expensive shoe treatments or time-consuming upkeep. Shoes that need a lot of effort, time and money to maintain, don't sell as well as shoes which are easier and cost less to keep.
Removable inserts
As mentioned earlier, removable inserts in footwear make it customizable, but that's not the only bonus to removable inserts. Removable inserts increase the longevity of the shoe, which is why some come with removable inserts.
Cost
A hefty price tag can be a deal-breaker for people on a budget. That's why many can be found in the low-to-middle price range. They're affordable, and if they are priced a little higher than others, then they offer many features to make the footwear worth the extra investment.
Top Selling Shoes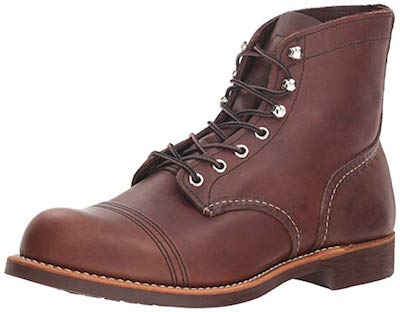 One of the original work boots, the Red Wing Iron Ranger has taken the fashion world by storm, and has become synonymous with high quality, comfortable, durable fall and winter footwear made to stand out making it one of the best selling shoes of all time. This 6" boot is made with premium Amber Harness oil tanned leather that's water, stain and perspiration resistant, and will develop a beautiful patina with wear, without you having to spend hours on keeping it looking good.
In terms of construction, the Iron Ranger top seller shoes use a traditional Goodyear Welt that ensures both water resistance as well as easy repairs, which means you won't have to purchase new boots every season - you can easily just resole the ones you have, keeping that broken in feel in the upper that you'll definitely fall in love with. The upper should fit tightly, but with enough room to wiggle your toes, and will require some breaking in, but you can expect it to mold exactly to the shape of your foot.
The midsole of the Iron Ranger uses cork which is supportive, cushioning, and breathable, and it provides wearers with a customized fit that lasts considerably longer than synthetics such as EVA foam. A Vibram lugged outsole prevents you from slipping on most surfaces, even wet ones, and it won't give in to abrasion, so you can comfortably wear these to work, even if you have to stand on concrete all day. The price of a pair of Red Wings is very high, which may make them too expensive for most, but if you're after an investment pair of footwear, this model should definitely be high up on your list!

2

. Easy Spirit Traveltime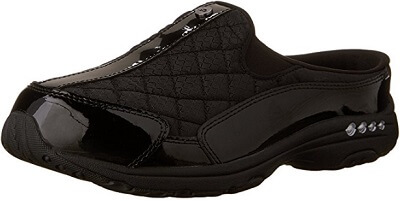 These mules are great for wearing casually or professionally. Due to many color combinations, they've been one of the best selling shoes. You can match them to just about any type of wardrobe choice. The herringbone traction is good for multi-surface types and the design is visually appealing, as well. Moreover, this pair of top selling shoes is made to last.
The insole is made to give you the best in cushioning while, also, allowing you that feeling that you are, indeed, wearing a nice pair of mules. You can feel confident while striding into town with these.
Feel great while sporting these gorgeous top seller shoes. Furthermore, this is a design deserving of multiple wardrobe types. As a result, you can mix and match to your heart's content. Riding in at a cost-efficient price, this pair is worth your time and money. They are made with high-quality materials and have a decent amount of technologies to make them comfortable, as well.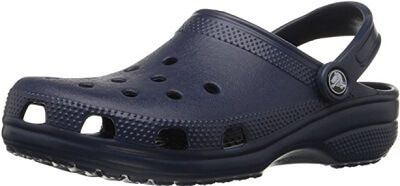 Crocs are a staple in comfortable footwear. They are great for multiple reasons. They're waterproof, ventilated, extremely comfortable, long wearing, and affordable. They, also, feature a removable backstrap and synthetic soles made for comfort and ease. They are designed to be a slip-on shoe. It's really not a wonder they made the list.
The Crocs Classic Clogs design includes small holes throughout the top and sides of the shoe to make it breathable. The ventilation system works to keep feet cool in warmer weather. This feature, also, helps to drain water from the footwear when walking through water and puddles, making sure water doesn't pool in your shoe, which is uncomfortable.
These are waterproof in every way, shape, and form. This makes them ideal for walks on the beach; as well as, actually using them as water shoes. This, also, makes them super easy to clean anything off of; whether it be mud, paint, dirt, chalk, or practically any other substance under the sun. Crocs are, also, ultra-lightweight, making them perfect for water-related activities.
Crocs are at the high end of the price range, so you will be paying a bit more but will still be getting your money's worth. They, literally, last ages, and are so easy to maintain. The value of the footwear is far beyond what you will likely pay.



Not only is this budget-friendly when compared to others on this list, but they are super comfortable, as well. Made with a canvas upper, these can be worn leisurely or professionally; depending on your style of choice and wardrobe matching. They have an elastic gore for an easy and snug fit. Moreover, it is tough to beat a slip-on, as this applies to both comfort and style.
Can you say, "Comfort, and Oh yeah?" Well, this is one of those pairs that will do that to you. Easily slip your feet into these after a hard day's work, or just for a nice stroll around the mall. Feel comfortable while your feet fit snug against the footbed. Moreover, made of suede, these will be sturdy, as well; that is, they will last you for many miles ahead.
This is another pair which is easy on the wallet. Furthermore, made to make you feel good, this slip-on footwear will do you justice. They are, definitely, worth the purchase price.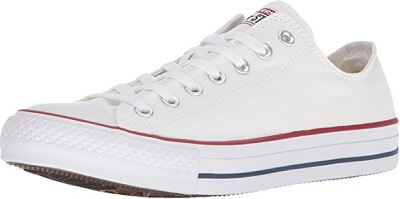 I don't believe I speak alone when I say, "Converse is by far one of the most comfortable, durable, and wearable shoes of this day and age." They are simply one of the best selling shoes of all time. They feature an easily washable, lightweight canvas material, and a rubber sole designed for grip and traction. The footwear comes in a variety of colors and patterns to fit your personal likings. They are both durable and affordable, and quite frankly, a gift for the price point.
Converse Chuck Taylor All Star Low's claim to fame was their upper canvas material and how light they are. They make the footwear feel less confining and more breathable. The canvas is, also, very easily washable, with little maintenance. They are fine to be tossed in the wash on a spin cycle. Hand washing is not necessary, although would likely keep them in better shape in the long-run.
Another benefit of Converse Chuck Taylor All Star Low's to add to the list is the rubber sole. It, definitely, aids in extending the life of the shoe, as it is a very durable material that offers excellent grip and traction in all types of terrain and weather. The only downside is the white rubber soles get dirty quickly.
Not only has Converse blessed us with this all-around ideal shoe, they're not requesting an arm and leg for it. This is one of the cheaper on the list, although the quality is right up alongside the more expensive ones. They are definitely worth the investment and they will always be top selling shoes.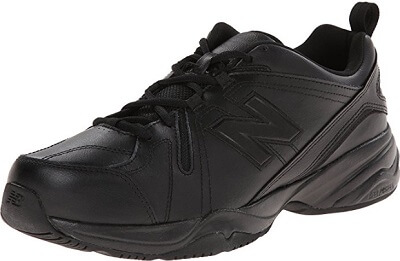 The New Balance training shoe offers stability, comfort, and durability and they are one of the best selling shos in 2019. These leather sneakers feature a lace-up closure, breathable lining, a pull tab at the heel for easy slip on and convenience, a rubber non-marking sole, an EVA footbed, IMEVA midsole, and ABZORB cushioning.
The EVA Footbed is contoured in the arch and heel, giving it excellent support. EVA (Ethyl Vinyl Acetate) foam insoles are known for their density and support system. This helps to support the foot, heel, calf, and back which is a major benefit.
New Balances ABZORB cushioning works to eliminate heel, ankle, and back pain by dispersing forces at the point of impact; thereby, reducing shock being transferred through the shoe and into the leg. The cushioning is made up of Dupont Engage Isoprene rubber and foam materials.
These sneakers are relatively inexpensive for the amount of wear you'll get from them. Used mainly as a walking shoe, they will last as long as you allow them to and are well worth the money.

7

. Cole Haan Pinch Tassel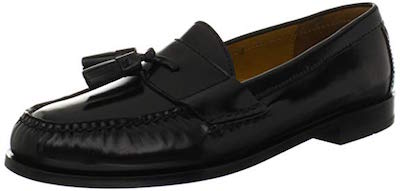 For those looking for a pair of formal loafers that will also look good with jeans or a summer suit, the Cole Haan Pinch Tassel are best selling shoes for you. A classic pair of shoes made with quality materials, this model will separate you in a crow, and in a good way. Available in several widths, it will even work for those with narrow or wide feet who may have trouble finding a comfortable pair of slip ons elsewhere. The Pinch Tassel comes in three color options, black, burgundy and saddle tan, and all are made with premium materials.
These top seller shoes are entirely constructed with leather. The upper is hand-sewn from premium brushed leather that is soft and supple, and that will allow a good amount of air flow, regardless of whether you decide to wear socks. The insole features perforations in the arch for better breathability and moisture management.
The outsole on the Pinch Tassel uses leather, and has a low stacked heel for good stability and a bit of elevation. It's important to note that this makes the model unsuitable for wet weather wear, so you should refrain to wearing it in sunny and dry conditions. As for the price, you'll easily find it selling for about average, which makes this model a great investment, especially those who like a more dressed up look.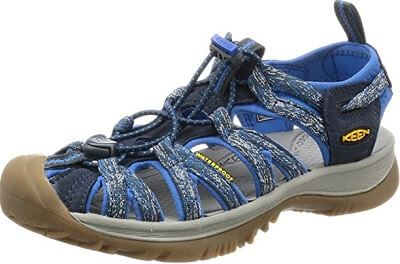 We love the bungee lace capture system in these sandals. Providing a better and secure fit, the elastic stretches to your personal preference. The hydrophobic mesh lining, basically, means that these water shoes are ready to dry quickly. Also, a metatomical footbed supports your arches and cradles the foot rather well. In addition, these have a nice selection of colors available.
Elastic ties allow you to better secure your foot; as well as, provide you with the custom personalization you deserve. Walk confidently in this pair of water shoes.
Not many footwear are machine washable, but these are. This means they are easy enough to clean, you can go about your business while the washer takes care of the rest.
Again, this is a pair which is budget-friendly after comparing to the other footwear on this list. Moreover, these are a great investment for those planning on spending their day around the water.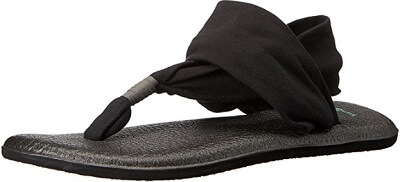 Sanuk's Yoga Sling 2 flip-flop combines comfort with convenience in an aesthetically pleasing package. This flip-flop's fabric straps are stretchy and soft, so they are gentle on your skin. This shoe's synthetic sole offers some traction, but where it really excels is in its cushioning! Sanuk used their Happy U rubber sponge outsole to reduce the forcefulness of each step.
To provide you with a cushioned, comfortable step, Sanuk developed a footbed modeled after yoga mats and used it in their Yoga Sling 2 flip-flop. It is soft and responsive.
For your convenience, Sanuk's Yoga Sling 2 is easy to clean. No wonder its one of the top selling shoes on the market. The fabric upper and synthetic outsole is made with materials that are safe to wash in the washing machine. This Sanuk flip-flop can be found in the low price range. Its wide variety of lovely colors schemes combined with its comfort and convenience features make it a great buy!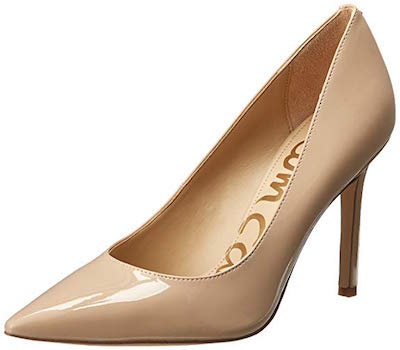 A simple pair of pumps is an irreplaceable pair of footwear in anyone's closet. When the design of the shoe is well made, you can easily opt for any color or print, knowing that you'll be investing in footwear you'll gladly wear on both casual, semi-formal and even formal occasions. If you go with neutral colors such as nude or black (especially in leather or suede), you'll even be able to wear these to work. The Sam Edelman Hazel is one of those classic pointed toe pumps that are affordable and great looking, while offering all the features you need for a purchase you'll be satisfied with.
You can choose between a number of materials for the upper, from leather, suede, textile and even synthetic. If you want something flashy, you may even opt to go with a metallic, snake or velvet finish. No matter which of these you opt for, you'll benefit from a lightly padded insole that'll cushion the ball of your foot in order to prevent pain in this area.
The outsole on the Hazel is made with synthetic to ensure good traction on all types of outdoor and indoor surfaces, and the 3.75 inch heel looks amazing, elongating the line of your leg and drawing attention to the feminine shape of your calves. Do keep in mind, however, that a heel this high should not be worn for prolonged periods of time, so this particular model may not be the best choice for everyday wear at the office. In terms of price, this model ranges from average to very affordable, depending on the color scheme you decide to go with, so it will easily fit anyone's budget.

Subscribe to our Newsletter