Best Slouch Boots Reviewed & Rated
In a Hurry? Editors choice: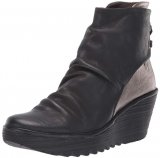 Test Winner: FLY London Yama

If you are new to this fashion corner, slouch boots are essentially a relaxed-style boot. Typically, these are made from suede or leather, making them optimal for fashion, walking around, and shopping. They complement any type of outfit and any figure, regardless of where you're headed, which is why they are a fall staple.

To better help get you into the swing with the fashion tide, we are here to share with you the very best of slouch boots. We have weeded through the market and highlighted products that will surpass any expectations. Curious to see what the number one product is? Let's begin!
Standout Picks
Criteria Used for Evaluation
Style
Consider the key style characteristics, such as the color, the cut, and the heel shape and height.
One of the most important aspects of any footwear is style. After all, no amount of comfort or features will matter if you don't like how the shoes look on your feet. While style is wholly subjective, it can be influenced by many things.
Color Options: Most boots will come in at least one or two color options, typically brown and black. These are more basic colors that will pair well with anything.
But what if you want something a little different? Maybe you prefer brighter colors or patterns that stand out. That's the beauty of shopping online; you can find almost any color! Be mindful that different displays will handle colors differently, so be careful that the color might turn out slightly different than expected when the design arrives at your door.
Cut: Slouch boots come in a wide variety of cuts, from over the knee boots to calf-length styles. Each cut is best suited for different purposes. A higher cut pairs well with leggings or a shorter dress, while lower cuts will look great with jeans and dress pants.
The kind of cut you go with depends on where you plan on wearing the footwear, and the amount of support and comfort you need. Higher cuts offer more support around the ankle, while lower cuts will allow for more flexibility.
Heel/Wedge: Heels are wonderful things, aren't they? They come in all sorts of heights and thicknesses and styles and go well with anything. So do wedges, come to think of it. This is why you'll find a wide variety of styles on our list, from block heels to wedges, even to the unique styling on the FLY London Yama.
Wedges offer the most stability, as do block heels. Any sort of heel will hold your foot in an unnatural position, so let your comfort be your guide. It's not a good idea to get a heel type that you're going to spend the entire day being uncomfortable with.
As you can see, there are a lot of things that go into the style of a boot. When in doubt, look at user reviews, especially those with pictures. This will help give you an idea of how the boots will look in person so that you're less likely to be disappointed when they arrive at your doorstep.
Durability
The quality of the outsole and the materials included in the construction determine the durability of a design.
Our goal in this buying guide was to make sure that, no matter what product you picked out, it would join you for many adventures! To assess the durability of a design, we looked at two different things.
One, we looked at the outsole of the shoe and how the manufacturer assured consumers that their product could withstand the test of time. The outsole of a boot that is made from rubber is perfect because of several factors: it is durable and helps the design last longer, and it is also slip and skid-resistant, preventing you from losing your balance on any type of flooring.
Secondly, we took into account the quality of the materials that go into a boot. For the highest level of durability, you want genuine leather materials, such as full-grain leather or suede. These last quite a while, especially if they are layered more thickly. With proper care, leather boots will keep you company for years to come!
Synthetic leathers and other materials such as canvas or textiles are not as durable. However, they are also animal-friendly and less expensive than genuine leathers, so you might have to weigh your pros and cons when deciding on the right type of material for yourself.
Keep in mind whether or not the design you're eyeing is weather-resistant. It wouldn't be smart to take out a non-waterproof boot into wet weather, as this will most likely ruin it in record time. Choose the type of boot based on the season you'll be wearing it in.
Comfort
A cushioned, possibly contoured footbed, a thick, low heel, and comfort technologies all increase the comfort levels of a boot.
The next criterion that helped in the evaluation process was comfort. We all know boots may not be the most comfortable walking shoes. They are designed to keep your feet safe, warm or fashionable, depending on the style and need.
With that being said, we understand what it's like to get blisters from your boots – or that it's unbearable to walk after an hour or so. Here are some important features to consider when deciding whether or not a particular design will be comfortable to wear long-term.
Footbed: The footbed of a design comes in direct contact with your foot sole. It needs to be cushioned so that you are comfortable as you walk, but it also needs to be firm enough to provide you with support throughout the day. A contoured or a molded footbed is an added bonus, as these footbeds provide you with arch support as well. Arch support prevents foot fatigue and reduces the risk of foot-related ailments developing later on.
Heel: For maximum comfort, go for lower heels, say under four inches in height. Anything higher than that will become painful in a couple of hours' time. In terms of the heel shape, thick heels, such as wedges and chunky heels, are an excellent choice if you want to be steady on your feet for as long as you need to.
Technologies: Finally, some brands offer special comfort technologies in their designs. These are systems specifically focused on providing you with the best experience possible. However, it is important to note that not every technology suits every person. Try on the design before you commit to it, and make sure that no part of it is causing you any pain or discomfort on the first wear.
Versatility
A versatile option is neutral in color, can be worn all day long, and doesn't have too many accents on it.
Here is the thing with boots that is so unique. They can either be worn and used in a wide spectrum of activities, or they are limited to just a very few. Now, we know that slouch boots are a fashion trend, but we did not want you only getting a boot that you can wear to dinner and then have to take it off.
We carefully studied every single design to make sure that it has great usability and can match with numerous outfits and activities. In fact, on our list, you will notice there are a few different types of slouch boots – matching for different needs.
So what exactly does make a boot versatile?
For starters, it's all about the color. Neutral options such as black, brown, tan and gray go well with anything and are bound to find a place in your wardrobe. Whether you like colorful outfits or more subdued ones, neutral colors will be a great choice to wear.
Secondly, consider the wearability, or the comfort of the design. We talked more in-depth about this in our Criteria section, but it stands to reason that you won't be able to wear a boot for long if you're not comfortable in it. So choose something your feet feel good in and that you won't mind wearing from the office to a dinner date to a casual walk through the city all without changing your footwear.
Finally, the style or the design itself is important. Versatility means a design that can easily blend in, so stay away from bling. Sparkles, crystals, outrageous decorations may draw the eye, but chances are that you won't be able to wear these boots in most situations. Simplicity is key.
Value
Our guide features designs that are worth their price.
The last concept that we evaluated was the idea of the overall design and appeal. Since slouch boots are a fad and trend, we wanted to make sure that, whatever product we shared with you was stylish, fashionable, and impressionable.
We looked at hundreds of different boots and what you see today is what we considered the best looking ones. Now, we know this can be slightly opinion-based; we also did consult with previous customers in their reviews to make sure that other people felt the same way.
This is probably one criterion that we always get excited to share with our readers. The reason being, it's a valuable criterion that can be applied when purchasing just about any type of product. What's so cool about value is that you learn a lot about a market and can often secure the absolute best possible deal.
When it came to slouch boots, we started by looking at the entire market and what their costs were. Once we figured out what the average costs were, we then took it a step further and used that average cost when assessing a product. We could tell whether a brand was charging more or charging the market rate.
From there, we took the value into consideration. If the value was under the average cost – the product was not worth it. Only when the value superseded the costs or matched the price tag was a product considered for our list.
Our Favorites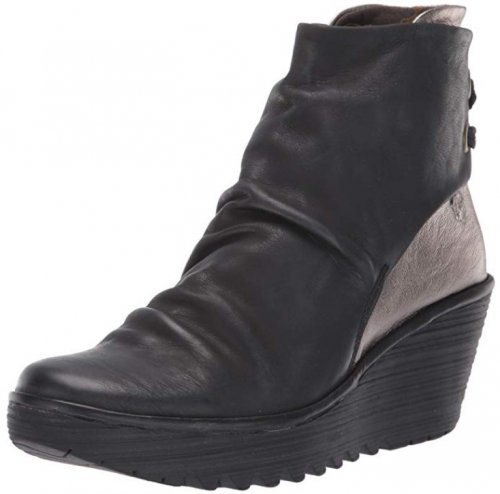 If there is any product that we are excited to share with you today, it is the FLY London Yama ankle boots. To be honest, out of the many different products on today's list, this one offers unique features and benefits. Just look at the design alone – it's different and stunning!
When it comes to options, you will definitely appreciate the variety that this brand offers. With over 15 different color choices, you can pick a version of Yama to match a specific need or your personality! The best part is that, if you are looking for two different colors, you might just be able to get both!
It's critical to assess a design based on the materials the manufacturer used to make it. We know that this boot is high-quality simply based on the type of leather that FLY London uses. If you wish to invest in this model, you can rest assured that you are getting one durable and comfortable boot.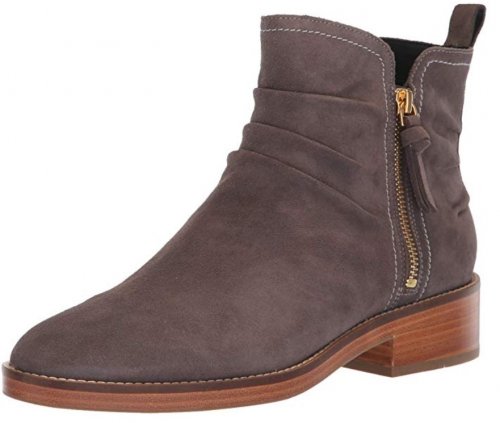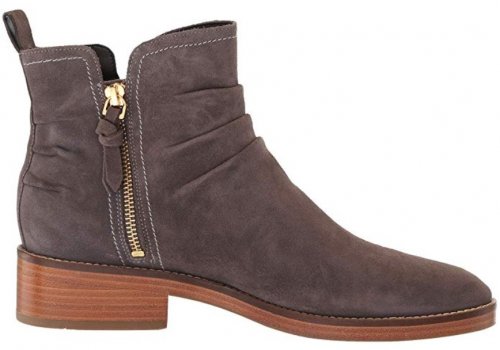 We all need that staple fall suede bootie in our wardrobe; one that goes well with any look, that is cute and chic and that basically never goes out of style. The Cole Haan Harrington can be just that bootie for you. This simple zipper bootie is made from genuine suede, and you know that it's crafted to perfection because Cole Haan settles for nothing less when it comes to their footwear. The Harrington is a dry fall must-have, and really nothing else will match that brand new camel coat you just bought.
This essential bootie is made of rich suede that is plush and luxurious to the touch. It has a slouchy appearance and ruchy detail in the front. There is not one but two zipper closures on both sides to make it amazingly easy for you to slip these on. The almond toe is comfortable and won't squish your toes, and the footbed is lightly padded for comfort. The outsole of the Harrington is made from rubber and the heel is blocky and stacked for maximum stability.
The Harrington bootie is truly a breath of fresh air. When you're planning your fall outfit combinations, deciding what goes well with your jeans and what you can wear with your favorite winter skirt, the answer to those could be so easy - the Cole Haan Harrington! There is truly nothing that this comfy, adorable little bootie can't do.

3

. Rockport Cobb Hill Alexandra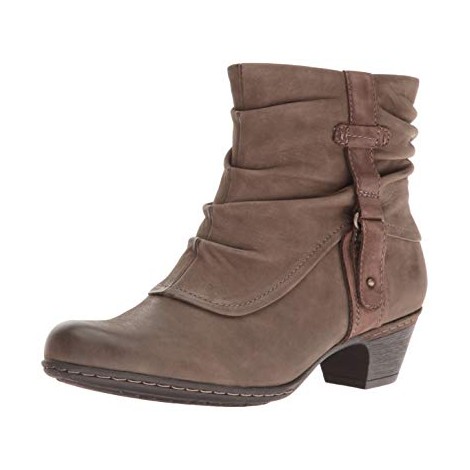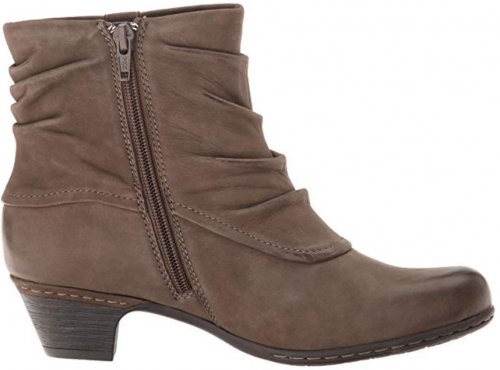 When it comes to the slouchy boot industry, there aren't many options that can really compete with the Rockport Cobb Hill Alexandra boot. This specific item has risen to the top of the ranks thanks to its stylish design, quality materials, and comfortable footbed. Let's explore some of these features.
We can all agree that wearing boots is not always the most comfortable experience, especially when the heel measurements are taller. In efforts to provide comfort, Rockport included EVA foam and technology in the footbed of the Alexandra. This way, you can walk all day without any problems.
When it comes to boots, the style and design play an incredibly important role. When a consumer first takes a look at this boot, they are captured by its simple and contemporary design which is both stylish and fashionable. Great for everyday wear, holidays, and special events – the Alexandra can complement any outfit.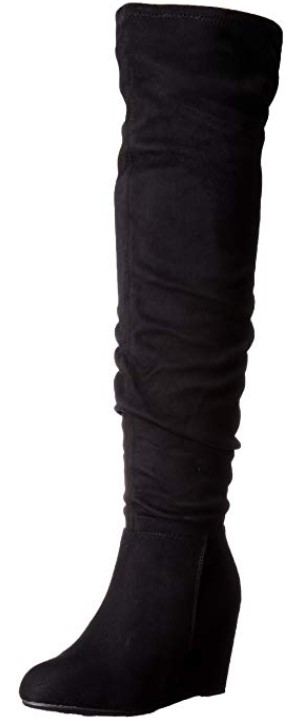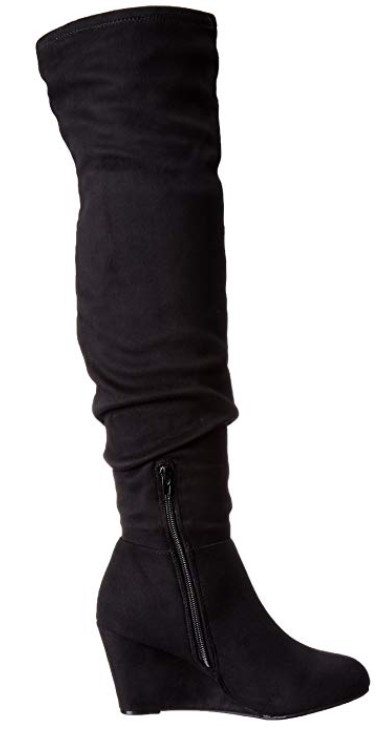 The Chinese Laundry Uma wedge boot is quickly becoming a very popular option among those looking for slouchy boots. The reason why so many people are flocking to this specific design is it's stellar and fashionable silhouette alongside its cheaper price tag. Depending on your needs, this might just be for you.
If there is one material that everyone loves, it's suede. It's soft, comfortable, and quite durable if taken care of properly. This specific boot is made from a blend of textile and suede materials to promote one of the most durable designs on today's list. The best part is that you can pick from black, gray or tan design.
What sells these boots is that the fashion statement is not expensive to pull off. Whether you are looking for a pair for a local event or perhaps everyday wear, Chinese Laundry has the option for you. Made from unique suede and textile materials, you will appreciate the softness and durability that these boots offer for an affordable price tag.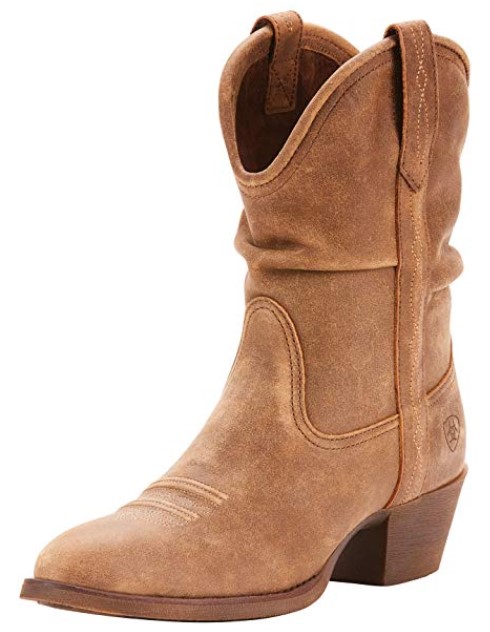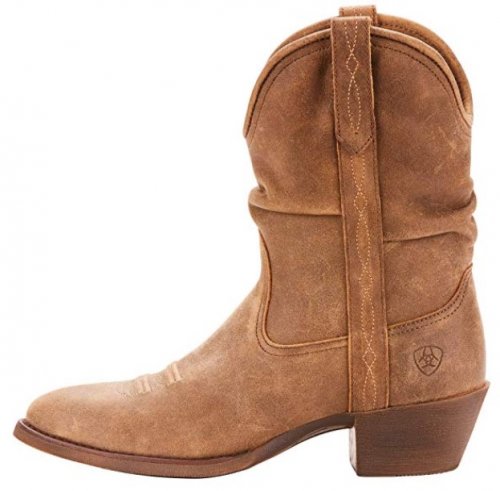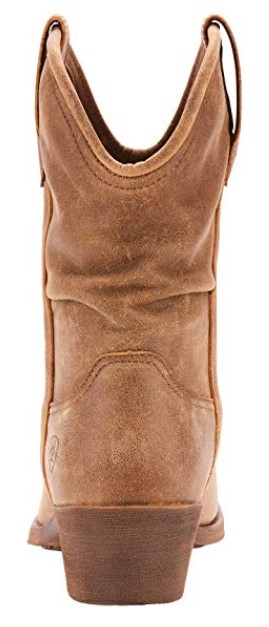 Ariat is famous for its western-style boots and footwear and is one of the most valued brands for riders all over the world. In keeping with that, the Reina is a cowboy bootie, made from full-grain leather and with a pull-on design. It features a low, thick heel and a pointy toe, and is outfitted with technologies for comfort (Ariat's 4LR footbed) and durability (Duratread). You won't find such quality leather, outstanding craftsmanship or superior styling just anywhere.
The Reina is made from full-grain leather, as we already mentioned, and it has two straps in the sides to make it easier for you to pull it on. Its footbed is a 4LR one, meaning it offers energy rebound and has a stabilizing shank that supports you all throughout. The Duratread outsole on the Reina is oil- and slip-resistant and it is also resistant to wear and tear. This increased durability isn't at the expense of flexibility, as you will find that this bootie effortlessly moves along with your foot.
The Reina is also incredibly comfortable on the inside thanks to its fabric lining that is gentle on the skin.
With this cute western bootie, you will be the most stylish person in any setting. It is easy to wear and even easier to love, and if a cowboy style is what you're looking for, then it really doesn't get any better than the Ariat Reina.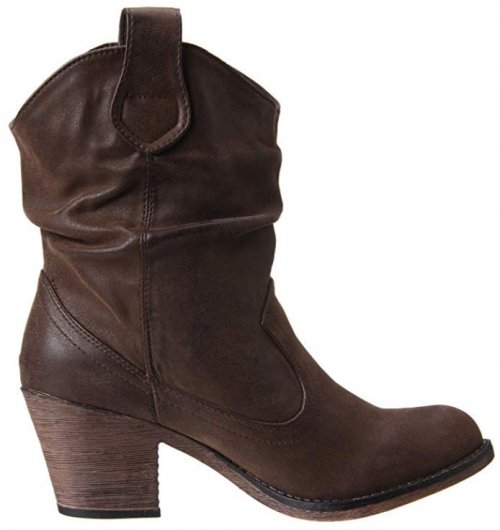 The Rocket Dog Sherriff boot is easily one of the most captivating designs on today's list. Not only are they stylish and fashionable, but they also have unique features that many other brands in this guide do not include. With that, let's check out some of them!
The first thing you might think about when you see these is: cowboys and cowgirls. The unique western design is one of the main reasons why so many consumers are purchasing these booties. Their biggest selling point are the pull-on straps, which are found on the top of the boot on each side. These are designed to help you slide into the boot and take it off without any issues.
Aside from the unique western-style bootstraps, these are designed in such a great way. For one, they are made with a rubber sole and synthetic materials in efforts to provide you with the balance between durability, comfortability, and affordability. Partner this with two different colors and dozens of reviews and you have one considerable boot!

7

. Jessica Simpson Layzer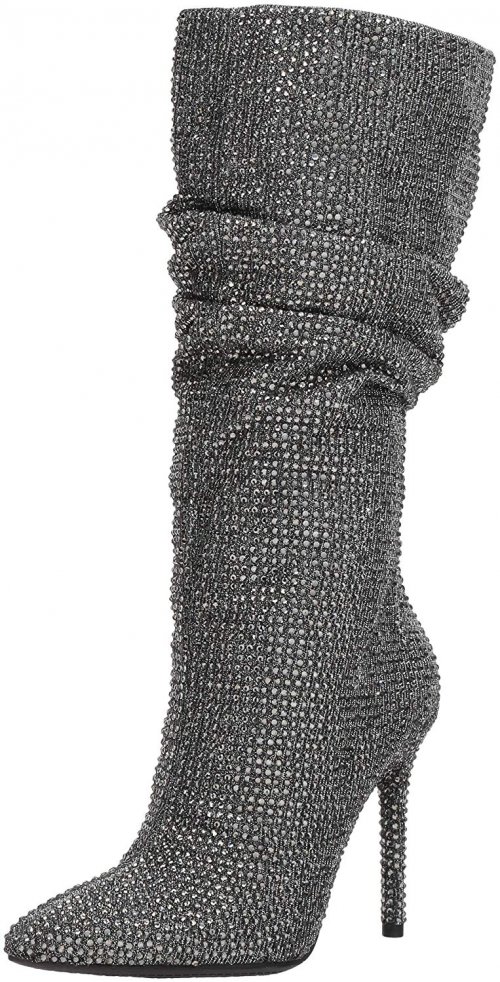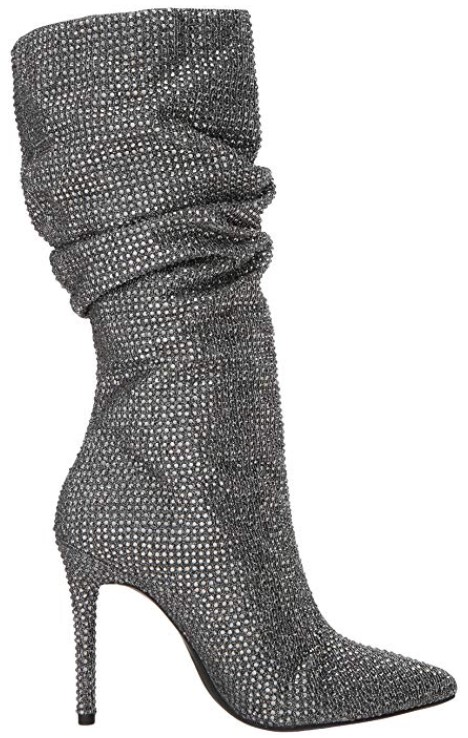 If you have never heard of Jessica Simpson shoes until now, prepare yourself. These are probably not only the nicest pair of boots that we will share with you today, but they are also one of the most expensive. If you are seriously considering investing in quality, this is the slouchy boot for you.
Let's be honest – if you are investing in a boot like this, you can anticipate some of the absolute best quality imaginable. From a stylish design, textile materials, stunning details and precision to a comfortable sole – it does not get any better than Jessica Simpson or the Layzer. Quality is the focal point of the boot itself.
Again, alongside quality, you can anticipate that the brand carefully crafted this product with your comfort at the center of their attention. This can be seen from the easy pull-on features, the unique pointed toe, and the sole design. With a mixture of high-quality leather and rubber, you can wear these in style and be proud of what you are wearing, knowing you will be comfortable the entire time.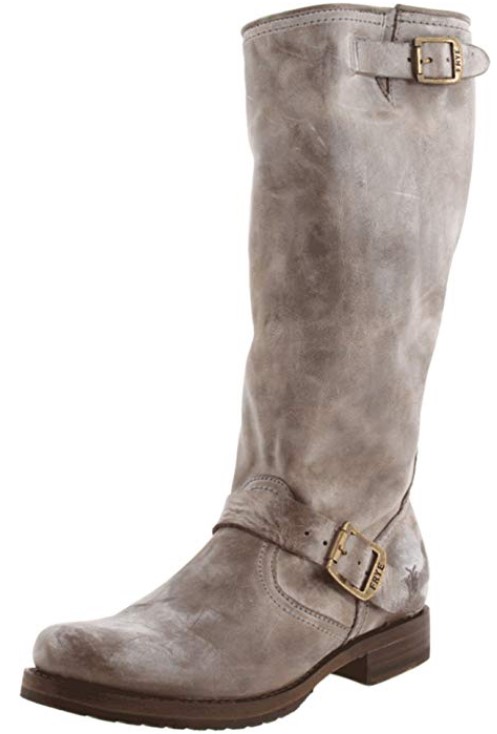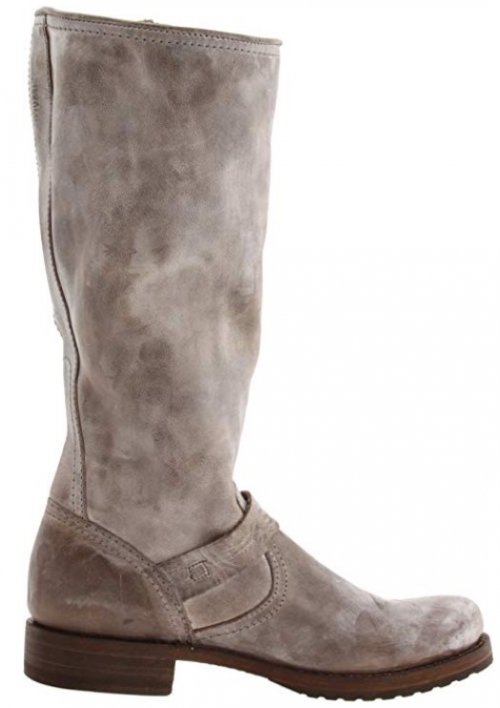 Frye is a brand that is all about detail-oriented craftsmanship and materials of the highest quality. Their Veronica slouch boot is a relaxed, casual design that we're looking for, but one which still has some structure to it and is able to stay up during wear. It comes in dozens of different color choices, out of which we have singled out this burnished stone leather for a bit of brightness among the usually dark autumn hues. The Veronica goes amazingly well with pants and skirts and dresses!
This option is completely made from genuine leather, soft and vintage for a comfortable experience. The outsole has rubber lugs in it that help you wear the Veronica on all sorts of surfaces - including wet ones - without fear of slipping or losing your balance. The design is pull-on, with decorative straps and antique metal hardware for a more authentic look. The Veronica is crafted using the Goodyear welt technique, meaning it will easily last you years.
With such durability, it is no wonder that this is one of the most popular options from our guide. The Veronica is all sorts of cool and trendy, and it is easy to pair with any casual look you're going for. Frye is a brand that guarantees quality and longevity, and thus we see no reason why you shouldn't invest in these marvelous engineer-style boots!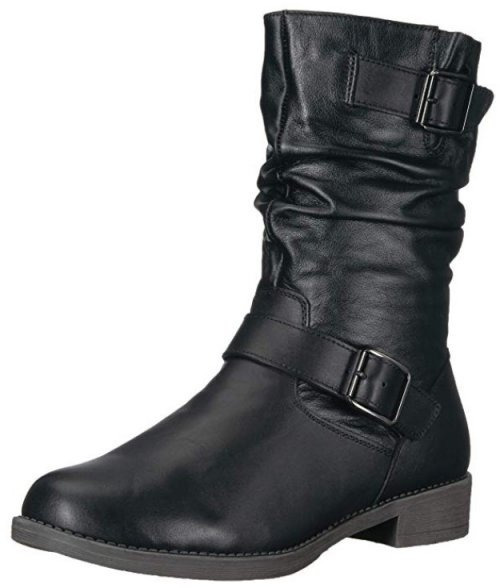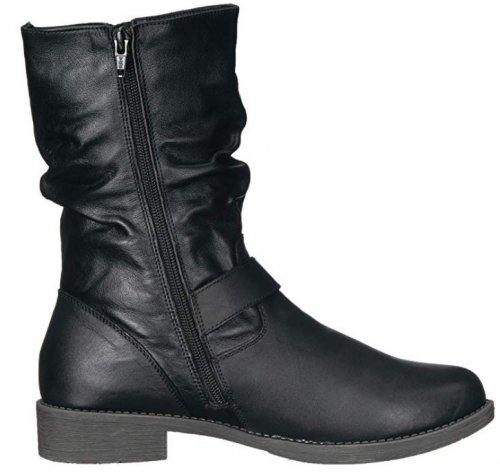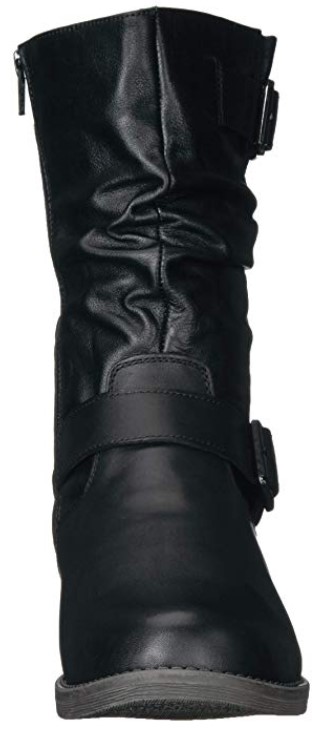 Propet is dedicated to making the best walking footwear the world has ever seen. Their shoes are carefully designed to meet the demands of sensitive or ailing feet, and the Tatum Slouch is thus a perfect option if you happen to have any problems, such as plantar fasciitis, bunions or pain of any kind. At the same time, the Tatum Slouch is urban and cool in appearance, and will easily fit in your wardrobe.
This boot is made from full-grain leather for that expensive appearance. It reaches up to mid-calf and has a full-length zipper in the inner side to make it quick and easy to get in and out of it. The insole is latex-cushioned for shock-absorption and comfort, while the lining is made from Nylex, a material that has moisture-wicking properties and that will reduce the chance of sweating. The footbed of the Tatum is removable so that you can easily insert your own orthotics if you have them.
Everything from the smooth upper to the durable TPR outsole on the Tatum Slouch is built for comfort and style. While the boot doesn't stand out too much in terms of appearance, it is definitely an option to consider if you have your own insoles you need to wear. With this high-quality design, autumn and winter will never be the same.

10

. Christian Siriano Ripley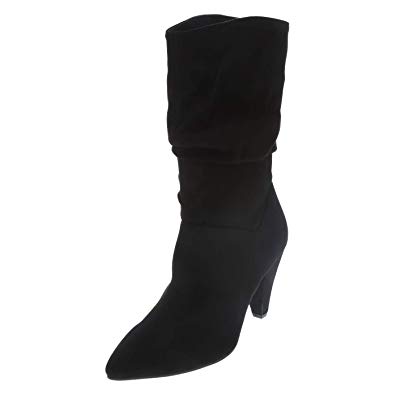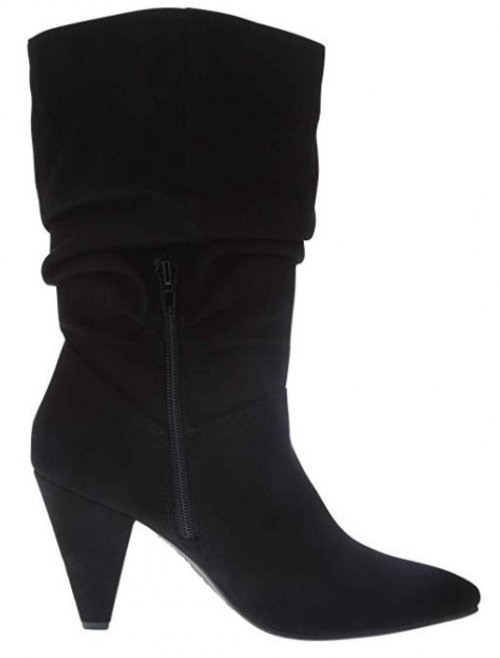 Christian Siriano has become a frontrunner in the fashion industry. The simple design of the Ripley boots makes them great for any occasion, from formal events to the office to a day out with friends.
When choosing the right pair of boots, it's important to look at the size range that they come in. It's no fun seeing a super cute pair of boots, only to find that they are not available in your desired size. The Christian Siriano Ripley comes in sizes ranging from 5.5 to 10, including half sizes. Some users report these running a little narrow however, so if this is a concern - or you want to wear thick socks - it's best to order a half size up.
The Ripley boots have a simple yet stylish design. The faux suede upper has a soft feel while the short side zipper makes it easy to slip on. The padded insole makes these a comfortable wear for long term.

Subscribe to our Newsletter