Best Jessica Simpson Shoes Reviewed & Rated
In a Hurry? Editors choice: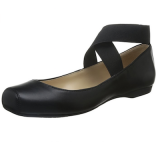 Test Winner: Mandalaye

You may know Jessica Simpson from her cover of "These Boots Are Made for Walkin'", but did you know she is also a fashion designer for handbags, sunglasses, accessories, jewelry, and of course, shoes. Her line was first launched in 2006 as a shoe collaboration with
Nine West
, but in the success that followed this launch, Simpson expanded into what it is today. There are countless designs of shoes from which we may choose. Their styles range from
ballet flats
to wedges to
bootie slippers
. In fact, there are so many great-looking options that you may not know where to start looking. That's where we come in…
Standout Picks
Criteria Used for Evaluation
Midsole
Scrolling through the lists of flats and boots by Jessica Simpson, you'll notice that there's something in common with nearly all of their designs – and we don't mean their great look. Most shoes by Jessica Simpson that aren't high heels will have a memory foam insole, which can be a huge advantage.
First of all, you may be familiar with foam in athletic shoes. They are put in the shoe to increase cushioning and provide better shock absorption for walking, running, and jumping. This is crucial for playing sports, as in the long term it protects the joints and prevents foot fatigue.
Memory foam, in particular, provides maximum comfort and support because it is viscoelastic. The material consists mainly of polyurethane, a type of polymer, along with other chemicals intended to increase its density and viscosity (or resistance to deformation). When met with body heat, high-density memory foam will soften and mold to the shape of the body after a while, then return to its original shape when it loses contact with the body. Though first developed in 1966 for aircraft cushions, the material is now commonly used in mattresses and, of course, shoes.
When used in flats and boots, they provide a similar effect as in athletic shoes. Though you won't be walking, running, or jumping as much, you still need proper cushioning to protect the joints. The memory foam will soften and mold itself to the contours of your foot with every step you take. This enables them to provide maximum comfort specifically to your foot shape.
Size
Sometimes, you might find a pair of shoes that look great but don't fit you very well because they don't come in your size. You might choose to purchase them anyway for their appearance and think that it's no big deal. However, it's been proven that wearing ill-fitting shoes can have serious consequences.
In the short term, a shoe of the wrong size might just mean discomfort. If they're too small, your toes will feel squished, and you might get blisters from friction. In the long term, they can cause serious problems. Born spurs, for instance, can be influenced by standing for long periods of time and by wearing ill-fitting shoes. Narrow shoes can also cause bunions and hammertoes because they have too little room for the foot and toe to move around. When it comes to high heels, you would also be more prone to ankle sprains. In these cases, the joints, bones, and your balance will all suffer simply because of shoe size. All these are serious consequences that make choosing the right sized pair worthwhile.
In addition to these scary symptoms, there are many other factors that make choosing a slightly larger size a good idea. If the shoes you're purchasing are boots, you'll need some space for socks. If they are shoes with adjustable straps or laces, you'll be able to adjust their fit, so too larger would be better to deal with than too small. In addition, the feet tend to swell a bit in the afternoon, especially if you spent the majority of that day walking or standing. For heels especially, you'll need a pair with enough room so that they won't start cutting into the feet as the day goes on.
Fit
Now, it may seem easy to just pick a suitable shoe size. After all, you just have to try them on, walk around, and determine whether or not they're comfortable, right? But sometimes, sizing problems won't show any effects until after you've been wearing the shoes for a while. In fact, studies have shown that three-quarters of people wear shoes of the wrong length and width. This can be a huge problem especially for the elderly, who are at a higher risk for falls, and for those with diabetes who are prone to diabetic foot ulcers which can be caused by pressure and friction in the shoe.
All this can be prevented when you know how to find your perfect fit. Rather than just taking a guess, or just trying on every shoe at the store to see which ones are more comfortable, use a surefire way to get the right pair.
Find Your Perfect Fit
There are sizing charts that can be found online for specific brands, including Jessica Simpsons. These charts basically state the measurements of each shoe size when it comes to shoes of that particular brand.
To find out what will best fit you, simply measure your own foot with a tape measure. Make sure that you flatten your foot when measuring by shifting your weight forward, and measure from the longest toe all the way down to the end of the heel. Then, compared the measurement with those on the sizing chart and see what shoe size best matches your foot. If your measurement falls between two sizes, it's advised to pick the larger size to ensure you get enough room to stay comfortable. It would also be a good idea to measure both feet, as many people have different-sized feet, and choose the larger size.
Durability
A quality product is one that will follow you through the years and work the same way it did on the first day you bought the product. In regard to boots, we assessed durability in a few key ways, analyzing the materials, details, construction methods and brands to deliver to you a simple opinion: will this set of boots do the job and do it again and again? Take a look at each area we evaluated:
The Materials
Which type of materials were the product made from? Are they synthetic or natural? How do they smell out of the box? All of these are critical questions we asked when evaluating the materials of the product. A pair of boots made from fabrics that don't retain heat? They didn't make our list!
The Details
Extra buckles, complimentary cases, and reinforced fabrics are all good indicators of a manufacturer that is setting you up for long term success with their product. Attention to detail separates high-quality producers from the cheap ones.
The Brand Name
A reputable brand is a signal of quality and trust. Often, high performers continue to perform and out-endure the competition. While there are always exceptions to the rule, we gave higher marks to manufacturers with solid reputations.
The Construction
You can tell a lot about a pair of boots or shoes by how the zippers behave. Do they pull swiftly and softly, like cutting butter? Or do they jam and snap? What about the sew? If there was threading after a few wears, we considered that a warning sign of a lack of proper construction and durability.
Style
While style is often a matter of personal taste, we've checked thousands of online reviews to see what people are saying about each of the products on our list. Some things, such as sleek design, seamless construction and overall weight and shape of the shoe, were common likes or dislikes among buyers of each product.
To evaluate style, we considered everything from the design, color, shape, weight, lines and overall construction of the shoe in question. While no one wants to wear an uncomfortable shoe, they also don't want a comfortable shoe to be ugly on the eyes.
We've selected all of those on our top 10 to be not only stylish but also comfortable, true-to-size, supportive and durable.
10 Best Jessica Simpson Shoes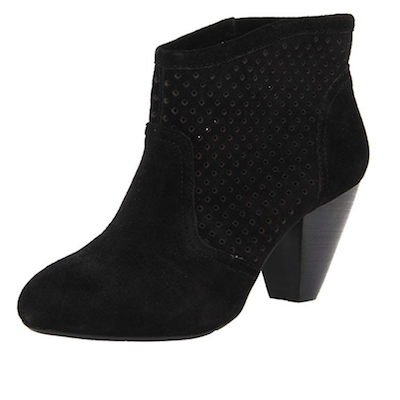 Looking for something for autumn or winter? With their low heel and high-quality material, the Orsona boot has the perfect balance between cozy and stylish. They are adorable when paired with some jeans and a warm coat when running errands on a cold day, and give you that look of casual elegance. The 3-inch block heel renders them easy to walk in while giving them a more modest appearance. However, unlike most Jessica Simpson shoes that have a snug fit, the opening of the boots are fairly wide. Though it renders them suitable for those with wide ankles, they may be uncomfortable for others.
These boots are made of suede and leather, which gives it an expensive look and a rich color. As a finishing touch to your look, they can make your outfit appear more luxurious.
The midsole is made of memory foam and will mold itself to the shape of your foot, providing maximum comfort. The tapered block heel provides good stability, while the mid panel is perforated and breathable. Compared to the rest of the shoes on our list, these are on the pricier side. However, considering the fact that they are made of genuine suede and leather, their price is justified.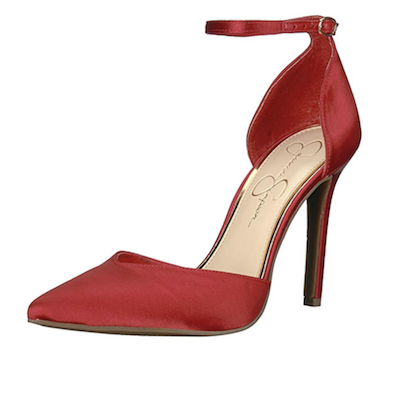 Work hard, play hard - and do both in these gorgeous dress pumps. The Cirrus dress pumps have a simple look that can complete both your outfit for a Friday night and for an all-day conference. The heel measures around 4 inches, and though they are not the best for walking, they are high enough to give you that elegance without sacrificing too much of your comfort. The ankle strap adds a nice touch to their appearance while also ensuring a better fit.
Though the strap around the ankle adds to the look of the shoe, it's also there for practicality. The adjustable buckle means you can ensure a better fit around the ankle, which will lessen the foot fatigue that occurs when the fit is too roomy.
Like our previous choice, the heels are 4 inches. This is the perfect height for all-day events like weddings, where both looking good and having minimal discomfort are equally important. The simplicity of their design means they are versatile. No matter what your outfit may be, chances are the Cirrus dress pumps will make the perfect finishing touch, and because of this, they are a worthy investment.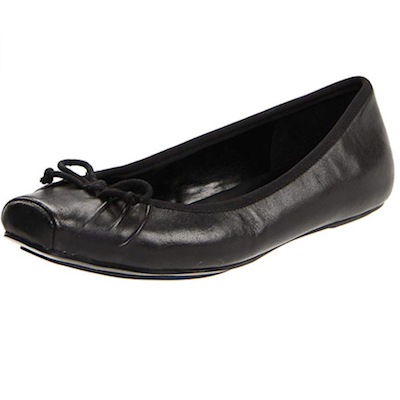 The Leve flats boast an adorable design that is simple and versatile. Unlike the previously mentioned ballet flats, these do not have a criss-cross design at the ankle, but rather has a more plain and modest look. This can be a huge advantage because it renders them more suitable for formal occasions. That's not to say they can't be dressed down as well, such as with skinny jeans or a summer dress. The one-eighth inch heel and flexible synthetic sole also render them comfortable, and perfect for everyday wear.
The flat toe of the shoe is topped with an adorable butterfly knot. The pleated detail of the shoe renders them less dull and gives them a more unique look.
Like all good ballet shoes, they are flexible thanks to their rubber sole. This means they are comfortable to walk and stand in. Though a bit pricey for a pair of flats, their simple look means they can be paired with nearly everything. So long as the weather complies, you'd be able to wear them for all types of occasions, meaning you can make the best out of your purchase.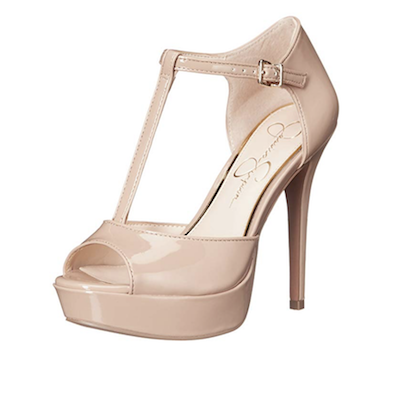 Looking for something to spice up your look on a Friday night out? The Bansi platform pumps are sure to make an average outfit look amazing and fierce. The 1-inch platform and 4.75-inch heel help to make you look taller and to lengthen the legs. And though they may appear uncomfortable, some reviewers claim they are very easy to walk in, and should not be a problem for a half-day event such as a party. Also, they come in four different colors - nude, lipstick, black, and gold - so that you can pick what will best suit your look.
This model includes everything from the adjustable ankle buckle, to the open-toe, to the t-strap. Put together, they offer a unique look that makes for a great finishing touch to any average outfit.
The shoe is made from synthetic materials. However, the upper is made of durable leather so that you don't have to worry about the t-strap breaking. Because they are not very practical for everyday wear, a pair of these might not seem like a good investment. However, they have received amazing reviewers from customers so you know that, if you do purchase them, you definitely won't regret it.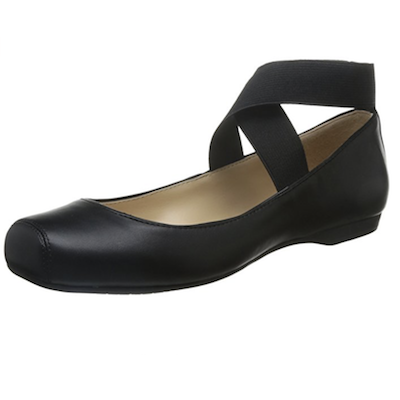 To start off our list, we have a pair of adorable ballet flats that can be worn for casual everyday wear in the warmer seasons. Featuring a crisscross design at the ankle, they have a dance-inspired look and are very elegant. The quarter-inch heel ensures that you can walk and stand without having to worry about discomfort, and the memory foam midsole cushions your every step. With a skirt, a dress, or a pair of jeans, they are sure to be the perfect finishing touch.
Not only do these flats come in different colors their materials also vary. Options include suede, satin, leather, and velvet, all of which give the color a slightly different look. Just keep in mind that some reviewers have claimed that the leather material is not as supple or flexible as expected.
Like all ballet flats, maximum comfort is provided with this pair. Because of their elastic straps and squared toe box, they are especially suitable for women with wide feet.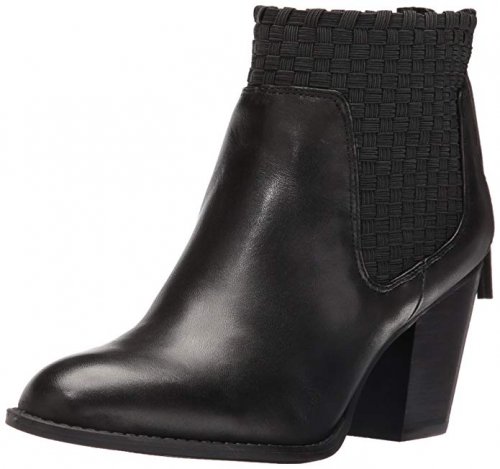 Chic and sophisticated, this pair of ankle booties are like no other you've seen before. They feature a beautiful details that can match perfectly with dresses or pants. Different colors are also offered; they even come in "Bright Multi," which features a purple outline with blue, yellow, and red flowers. More toned-down colors include black, Azul, and gold. Overall, the elegant look of these shoes is sure to render them the perfect finishing touch for any outfit.
Despite their tall heel and open toe, they can be dressed up and worn to more professional occasions as well as casual occasions. The floral design and mesh that covers the foot give them a more modest look.
With a lightly padded footbed, your foot will be cushioned with every step. Though this does not render them ideal for hiking for long periods of time, it provides more comfort when standing and walking. As the most sophisticated- and expensive-looking shoes on our list, they do cost much more as well. You might want to save up before getting them, but with their elegance and versatility, you already know they'll be worth the money.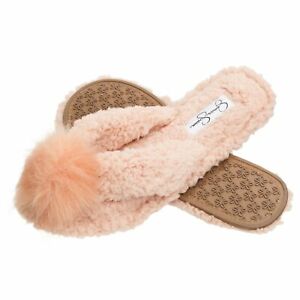 Our next choice is a pair of adorable plush slippers. Simple, cute, and comfortable, you can wear them around the house, or even out and about. While they are definitely slippers, they have a hard outsole that makes them wearable outside without ruining the amazing plush material that feels great on your feet.
With no zippers, laces, or any kind of straps, these flats are the ultimate choice for convenience. Just slip them on and you're good to go. Not to mention the amazing plush faux fur that feels great against your tired feet.
The additional memory foam insole allows you to wear these all day long whether you're outside or in just relaxing. They are also washable so you can rest assured they will last you a long time.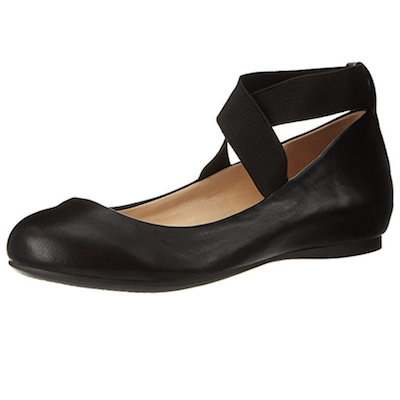 Though both the name and the shoe are oddly similar to our first pick, these ballet flats are a completely different model - though they're none the less amazing. Like our first pick, they feature a crisscross elastic design around the ankle. However, the heels are half an inch, slightly taller than our other pair, and they are all made from synthetic or fabric. The only downside is that the shoes show a bit of toe cleavage and run a size down.
This model comes in many different colors and patterns so that you can pick what will match best with your outfits. Some options include vanilla cream, cashmere mauve, navy, and leopard print.
The shoes are made of synthetic or fabric, meaning they are all vegan and cruelty-free. This way, you can be stylish and comfortable with no sacrifice. These flats are the cheapest out of all the shoes on our list - but don't assume that means lower quality. With the comfort and the simple elegance they offer, they are an amazing bargain.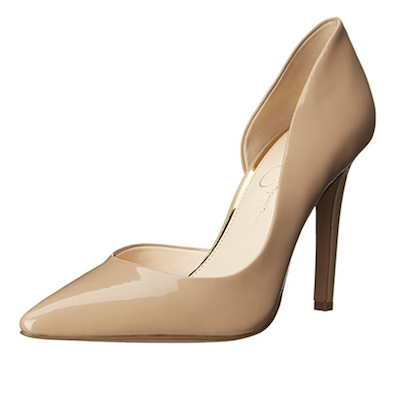 Classic, minimalist, and elegant, the Claudette dress pump is sure to impress. They feature a pointed toe, a closed heel, and a clean overall look that renders them super easy to pair with an outfit. They can also be dressed both up and down depending on the occasion, and there are many colors and styles to choose from. With a heel measuring approximately 4 inches, you also get that leg-lengthening effect without too much discomfort. However, keep in mind that some reviewers have claimed that the shoes are sized small and have a narrow fit because of the pointed toe.
Featuring a memory midsole, the shoe will mold to the shape of your foot. This will provide maximum comfort and structural support, ensuring that you strut with confidence. Not only do they come in many different colors like nude, yellow, white, and black, there are various patterns and styles to choose from as well. This way, if you are satisfied with your first pair, you can get many of different styles that all provide the same high quality and comfort.
Sitting around the middle of our price range, these shoes are definitely a worthy investment. Their versatility renders them suitable for all kinds of occasions both casual and formal, so you can make the best out of just one pair.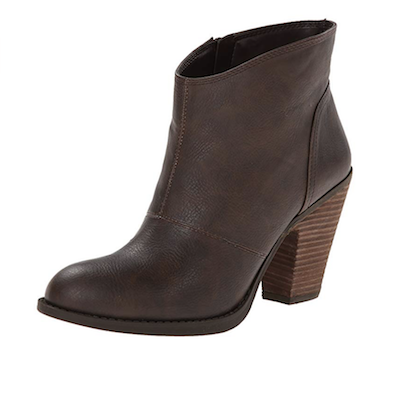 You simply can't complete a fall or winter look without a good pair of boots. Ankle boots are especially trendy, especially the Maxi ankle booties that are our next pick. Featuring a clean design and a stacked heel, they give off a vibe of casual elegance. Their memory insole molds to the shape of the foot to provide support, while their rubber sole renders them durable. The only thing to keep in mind before purchasing is that some customers have claimed that the opening of the boot is loose, which may be ideal for those with wider ankles but can be less fortunate for others.
If you dislike boots because of how time-consuming it is to do the laces, you'll be glad to hear that these boots have a zipper closure. Not only does this render them more convenient, but also gives the boot a more modern look. Their 3.5-inch heel ensures that you keep your balance without losing your style. They also have a stacked heel, which provides more stability than thinner heels.
Compared to the other shoes on our list, these can be considered pricey. But keep in mind that high quality naturally comes with a higher price - you can't always have your cake and eat it too, unfortunately.

Subscribe to our Newsletter