Best Nine West Shoes Reviewed
In a Hurry? Editors choice: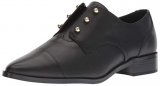 Test Winner: Wearable

High quality footwear is hard to find – whether it's heels, sandals or flats that you need, finding something that is both stylish and durable can be quite the task. Luckily, Nine West is a brand which makes excellent
quality footwear
that is not only
affordable
, but that follows the latest styles and is available in a huge variety of
colors and prints
.
Check out the best Nine West shoes available!
The following list looks at the ten best Nine West shoes available for purchase, reviewing each model for quality,
comfort and style
.
Standout Picks
Criteria Used for Evaluation
Comfort
Before making a purchase for a new pair of footwear, it is extremely important that you take into consideration its fit, comfort levels, and construction quality. While you may be tempted to purchase something that is cheap and looks cute, it's extremely important that it's also well-made, ensuring that you are safe and that you don't develop any foot conditions as a consequence of wearing said shoes.
High heels, especially, require the manufacturer to take certain precautions in the manufacturing process. Not only is it important that the upper and sole are properly glued or sewn together, that the inner doesn't have any exposed or bulky seams, or that the materials used are both durable and soft to the touch, but even more, it's crucial that the heel is centered and well crafted. If this is not the case, you risk injuring yourself, and even developing serious issues that may take months or years to heal.
Furthermore, any footwear that you plan on wearing needs to have several comfort features that will ensure that it's not causing any health problems, such as joint or tendon inflammation or pain. When shopping for heels, make sure that the toe box is large enough so that the front of your foot is not feeling any pressure, and that your arch is properly supported and able to naturally absorb the shock that is generated as you walk.
All Nine West footwear comes with certain comfort features, which makes it a good choice of footwear brand. The slightly padded footbeds in their heels can eliminate issues such as heel, arch or metatarsal pain, while some models even boast toe box shapes which will work for those who suffer from bunions. Furthermore, the lining in this brand's products is made to be a combination of soft and durable, which means that it won't fray too easily, avoiding the possibility of rubbing or chafing that can lead to blisters and hot spots.
Value
A cost-effective shoe is one that carries a set of features that can be transferred over to various different occasions. This shoe would be inexpensive to the point that it simply wouldn't make sense to buy several types of heels to wear to different events. The features that make up a cost-effective shoe is one that has; a level of versatility is durable to an extent and is obviously inexpensive.
Affordability
Most shoes on this list come at prices that are below average when compared to other brands that provide similar quality levels. Even more, seeing that Nine West often updates their colorways, you'll easily find certain styles on discounts, enabling you to have a great product for a small amount of money.
Durability
No matter how cheap a pair of footwear is, if it starts showing signs of wear after just a few hours, or even worse, it begins to deteriorate in that time span, then it's a bad investment. You need footwear that will stand the test of wear and time, and which won't look too beat up after just a few wears.
Versatility
A versatile pair of shoes will be cost-effective in the way that it will allow you to use one pair of footwear in differing settings, eliminating the need to purchase more styles. Classic high heeled pumps are such type of footwear, seeing that they will easily go from work to formal to casual wear with just a few outfit adjustments.
Style
Fashion comes and goes, but style is forever. Nine West is a brand that is very aware of this, and you'll see that all of their footwear options combine timeless features with the latest trends, often incorporated in terms of color or print. No matter which of their footwear options you choose, you can rest assured they won't be completely inappropriate in a few month's time, giving you a better investment that'll pay off in time.
While style is often a matter of personal taste, we've checked thousands of online reviews to see what people are saying about each of the products on our list. Some things, such as sleek design, seamless construction and overall weight and shape of the shoe, were common likes or dislikes among buyers of each product.
To evaluate style, we considered everything from the design, color, shape, weight, lines and overall construction of the shoe in question. While no one wants to wear uncomfortable shoes, they also don't want a comfortable shoe to be ugly on the eyes. We've selected all of those on our top 10 to be not only stylish but also comfortable, true-to-size, supportive and durable.
Durability
To assess each of the products on our list for durability, we not only read through thousands of customer reviews on our recommended products, but we also looked for some of the hallmarks of quality construction. From brand name reputation to their initial smell out of the box, there are a few ways of identifying a well-built, made-to-last product.
The Details
A zipper that doesn't zip or snaps? Poor threading technique? A smelly, chemical residue on the shoe when you open the box? All these details were looked for and evaluated when assigning a score for durability.
Materials
Certain materials last longer than others, even if that comes at the expense of a higher score in the "comfort" criterion. Materials that are synthetic, thicker and firmer tend to score higher on durability.
Product Purpose
A shoe made for running and high-impact sports will not likely last as long as a good pair of general activity shoes and that's okay. Being aware of the shoe's purpose is critical for you as a reader and for us as a reviewer. Although shoes that will last longer score higher on this criterion, you might also see high scores to shoes with more limited durability, if that product was specifically designed for certain purposes that involve high-impact and high-stress motions. We take into account the type of shoes you are trying to purchase when assigning scores to shoes in this criterion.
Upper
The insole is the proverbial foundation of the entire shoe. The sock liner lays on top of the insole, which is then fused to the midsole, and finally the outsole. A firm insole will give good structure to a shoe and increase its stability and durability, but it will also increase the weight of the overall product and be less comfortable.
A softer insole might be more comfortable, but that comes at the expense of stability and durability. We tried to balance these weights when evaluating our products, but each reader and wearer are different, so be aware of this trade-off.
The final word on insoles is that the higher the score the product receives, the firmer it will be; however, it might also mean the insole experiences one of the trade-offs discussed earlier.
Our Favorites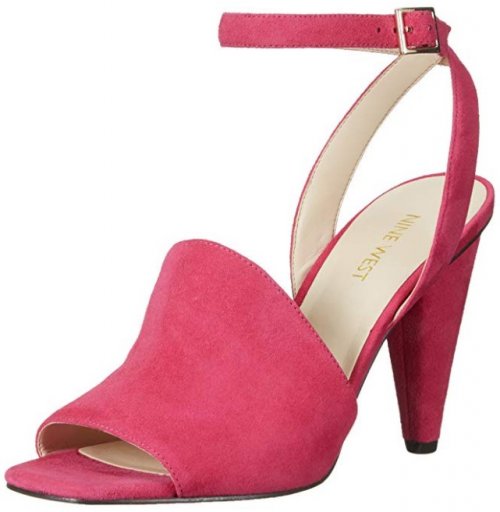 Is it a mule? Is it a sandal? Is it a heel? The Quilty is all three of those wrapped in one! This eclectic summer design has a peep-toe front, a wide strap around the front of the foot, and a thinner ankle strap in the back. It is the perfect casual option, when you're going on a shopping trip with your friends, or when you're having a barbeque get-together in your backyard and you want to look cute and comfortable at the same time.
The Quilty is made from leather, which molds to the shape of your foot over time and provides you with a personalized type of comfort. The ankle strap is adjustable thanks to the buckle closure so that you can tighten it or loosen it as much as you like. The heel on the Quilty is about 3.75 inches high, but it is cone-shaped, meaning that it provides more stability and more comfort than regular stiletto heels do.

While maybe not suitable for the most formal of events, the Quilty is definitely a good option for your everyday looks. It is perfect to pair with a sundress and some cool shades, and everyone will envy you on your laid-back, yet still chic style!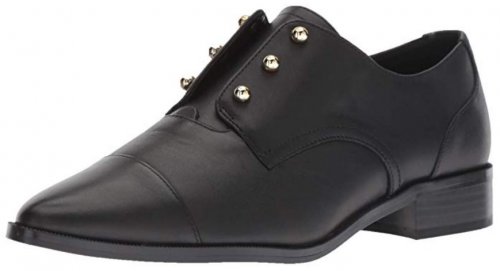 For all those oxford enthusiasts out there comes the Wearable cap-toe design! This sleek, polished option is a play on the typical oxford silhouette, with a sleeker, more streamlined silhouette, as well as no laces involved. The Wearable is an answer to the trend that is taking over the world, of comfortable footwear that looks equally as good with dresses as it does with pants, and it is perfect for every day.
The Wearable is made from genuine leather which you can choose in a matte or a polished finish. It doesn't have any laces, as we mentioned, but it does come with metal studs where the laces would be, for a bit of metallic pop. There is a piece of elastic on the inside that provides a snug fit so that your foot doesn't slip out of the oxford, and the heel is a standard 1-inch height.

The Wearable is exactly that - amazingly wearable. It will quickly become a staple in your wardrobe, because of its versatile color, design, and comfort that you can wear literally anywhere and never get tired of. What a great deal!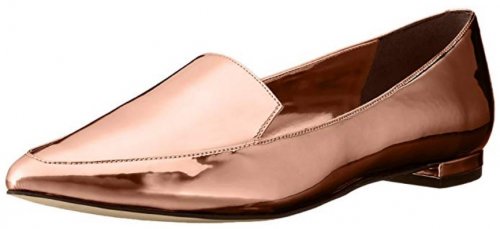 Now here is something a little different. In our list full of playful, sexy heels there is a place for a more androgynous, menswear-inspired silhouette such as the Abay. This is a smoking flat, one that men typically combined with tuxedos, but that in this modern, exciting age anyone can pair with anything they like. The Abay leaves everyone speechless with its metallic gleam, and we are sure that you will love every second of wearing it.
This smoking flat is made from genuine or faux leather, depending on your choice of color. It has a smooth, simple upper without any adornments, easy to match with any type of outfit, be it pants or skirts. The Abay has a synthetic outsole and a micro heel of 0.25 inches in the back. The toe shape is pointy, visually lengthening and delivering an elegant finish to the design.

Abay is an option that can be worn on any occasion. It has its place in the office, on a casual shopping trip, on a fancy dinner date, and even in a formal event, such as a wedding reception, when you want to be comfortable and impeccably dressed at the same time. There is nothing the Abay can't pull off!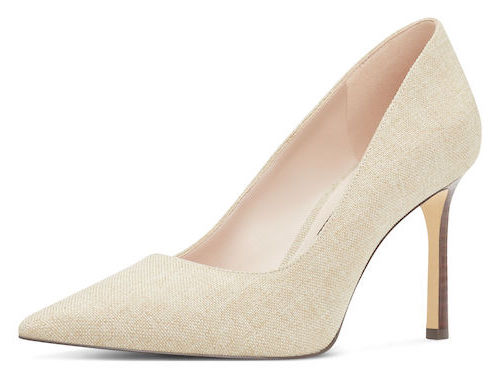 This perfect pump for nine to five comes in a variety of upper materials, from leather to synthetic to canvas, ensuring that you can get the option you need and that it is wearable regardless of weather conditions. Available in a few color options, the cream linen stands out especially, seeing that it's a comfortable and breathable style that'll look amazing with a summer dress, skirt, dress pants or even a pair of jeans.
With a heel that's ½ inch shorter than that found on most other models on this list, the Emmala is a welcome change when it comes to all-day wear. This height is still high, with a lengthening effect, but is more wearable, and won't cause too much discomfort even during 8-hour wear. When walking in high heeled footwear, the ball of the foot has to absorb all of the impacts that happens. Considering that it's a small surface and that it has no natural shock absorption system, the padded insole that's found in the Emmala actually helps with the cushioning, eliminating soreness and fatigue that come with this type of footwear.

The Emmala is a pair of pumps that cost slightly below average when compared to other Nine West footwear, which makes it a great choice for anyone looking for heels that won't break the bank but will look professional and stylish nonetheless. Their value is even bigger if you go with one of the genuine leather uppers that are definitely worth the investment.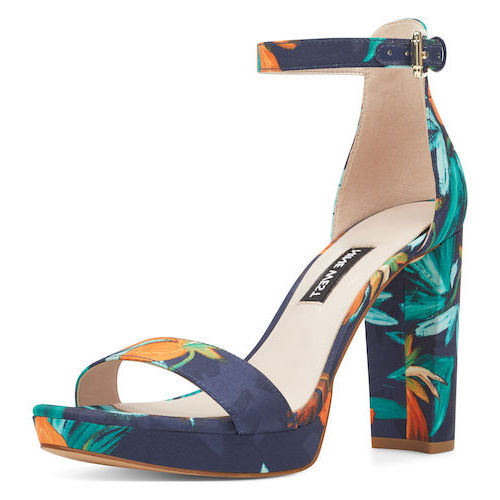 If you're after a pair of open-toed sandals with a sky-high heel and a platform to match, then the Dempsey is your best option. This stylish pair of summer shoes is the perfect choice both for fancy occasions as well as for fun and stylish everyday wear. Available in 10 beautiful color options - including print canvas, multi leather, plaid, nude patent and suede, you can choose the style that'll complement your favorite wardrobe staples the best.
The platform that is found on the Dempsey is an excellent comfort addition, seeing that it lowers the drop between the heel and toe, but still retains the height you wish to have. Depending on the color option you choose, it will be wrapped either in the same material as the rest of the upper or in a contrasting one, drawing attention to your new favorite sandals. While Nine West footwear is made with high-quality materials, most feature a synthetic upper for the sake of ease of maintenance. The Dempsey, however, is made with natural leather, suede or nubuck, which ensures exceptional comfort, especially during the summer months.

Due to the fact that it's made with natural materials, the Dempsey is quite pricey. It's a great pair of sandals that will definitely prove to be a good investment, both for every day as well as for special occasion wear, and the numerous color options mean that it will match almost any personal preference.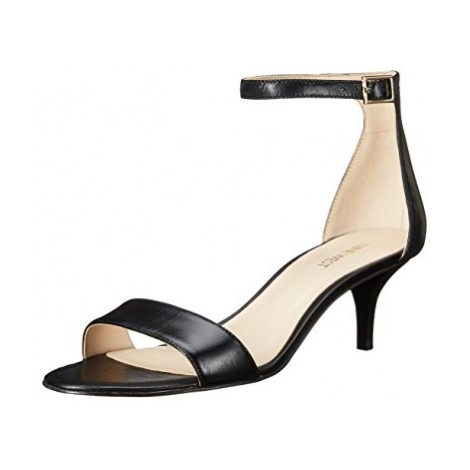 Anyone who likes an open sandal that allows for breathability, climate control, and overall comfort, but also wishes to get a pair of footwear that's stylish and even formal, will benefit from investing in the Leisa. This minimalistic pair of heels looks just as good on fancy occasions as it does for casual wear, and the multitude of styles it comes in ensures that you can get a pair that will match any of your favorite outfits.
The Leisa provides the wearer with a laced, fully-exposed foot. The footbed of the sandal is lightly padded so that, when walked in, neither the heel nor the forefoot feels excess discomfort. The toes don't have to deal with cramping or discomfort due to the fact that the foot is fully exposed. The sandal also features a strap on the heel which is adjustable and allows for a customized, secure fit. Leisa is available in several options when it comes to the upper. You can choose from either natural leather, synthetic materials, patterns, suede and much more. Being a design that is very unlikely ever to go out of style, it's color and material options are updated on a yearly basis, so you can choose the ones you prefer.

The Leisa goes for a price that is quite reasonable and will fit most budgets. Thanks to the versatility of options, it's a great choice for anyone's closet. Furthermore, the heel is not too high, making it great for everyday wear, while the lightly padded footbed brings additional comfort; it absorbs some shock from walking, preventing metatarsal and knee pain.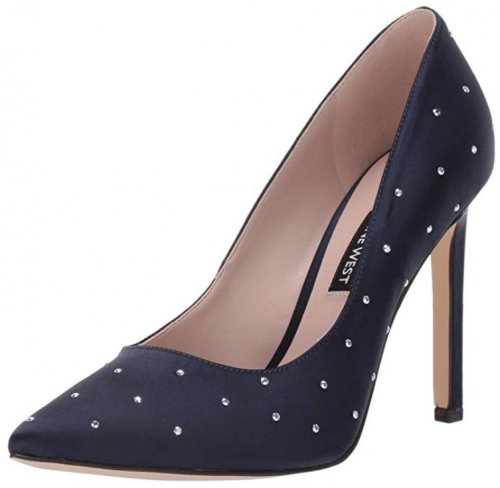 Aptly named after a fierce marine predator, the Tigershark pump is not for the faint of heart. This sexy, ferocious pointy-toe design comes in satin, and it has that light sheen that we all know and love from the material. It is decorated with metallic studs all over the upper, which add an edge and bring interest to this classic silhouette.
The Tigershark is entirely man-made, from the upper to the outsole. Thanks to its pointy toe front it has a lengthening purpose, meaning that it visually elongates your legs and slims down the figure. The heel of the Tigershark is about four inches high and stiletto in shape, making it a bit difficult to walk in, especially if you are a beginner at wearing heels. However, with a little bit of practice, there is no reason you shouldn't feel confident in these mean pumps!

The Tigershark is an option that is perfect for special occasions, for events where you want to stun and impress and look as sharp as ever. It goes well with a pantsuit, a pencil skirt, and even an evening gown, and you will feel like you are ready to conquer the world in these badass heels!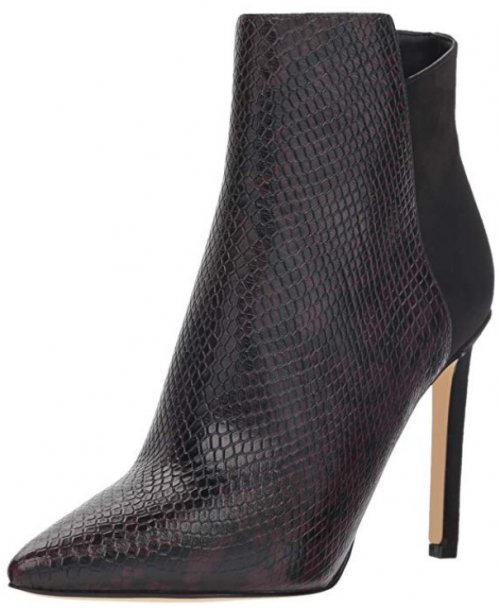 With the Tomorrow bootie, we are moving away from summer and from standard pumps and sandals and venturing into autumn. This is an ankle bootie that doesn't skimp on style, as it is every bit as fierce and as attractive as all the other items on our list. The Tomorrow has a pointy toe for sharp elegance, an asymmetrical topline for interest, and a snakeskin pattern to let everyone know who's the boss.
This is a genuine leather bootie, meaning that it provides a healthy foot climate inside and that your feet will be wrapped in gentle comfort. It has a full zipper in the inner side which helps you slip in and out of the design in a blink of an eye. The heel of the Tomorrow is a four inches high stiletto, making it not the most ideal choice for inclement weather.

Indeed, the Tomorrow isn't meant to make you insulated or protected from the cold and the weather; rather, it is a fall option that delivers style in moderate temperatures, when it's not warm outside, and when the snow hasn't really set in yet. It is best paired with a thick camel coat and a flowy dress underneath, and don't forget a hint of jewelry for a complete luxury look!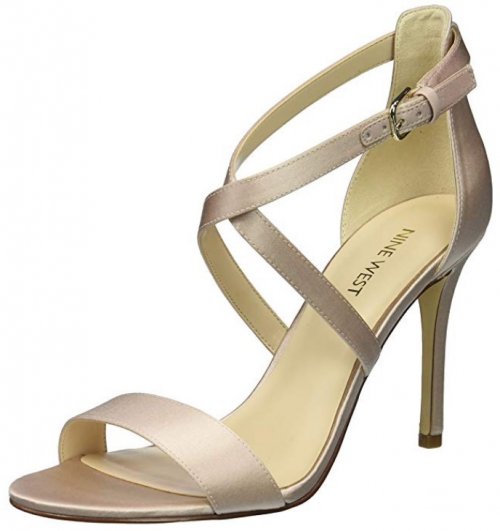 Bearing an original name comes to a design that is not often seen. The Mydebut heel is an open-toe silhouette that boasts elegant straps crisscrossing around your foot and following its lines with grace. It is a delicate sandal that comes in multiple color options, from this light nude to navy, even to gold metallic and a fun heart-filled print! The Mydebut is great for classic formal events, but also for party time and a night spent dancing at the club. Be sexy and flirty in this lovely heel!
The Mydebut is made from textiles, and we are grateful for the buckle at the ankle. With this simple closure, you can adjust the fit of the sandal to your liking, so that the straps are not too tight, but not too loose either. These straps serve to keep your foot in place and save it from sliding forward inside the design. No one likes their toes hanging over the edge of the shoe! The heel of the Mydebut is 3.75 inches high and stiletto, as most Nine West heels are, and the outsole is made from synthetic materials as well.

The Mydebut is a gorgeous warm weather option that you can wear on all of your special occasions. It is not too high, though not too low either, and it keeps your feet breathing and your toes wiggling even in hot summer temperatures. There is hardly anything that can beat the elegance and the luxury of the Mydebut heel!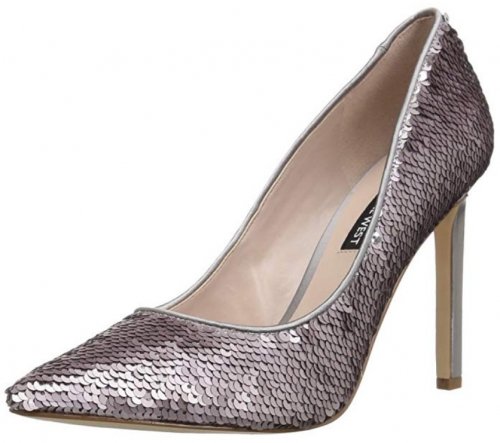 The Tatiana is that standard pointy toe pump silhouette that we are all familiar with, but that we all need in our wardrobe, sooner or later. It has an elegant shape, clean lines, and a simple design, and it fits well with all of our dressier outfit combinations. Try it with boyfriend jeans and a simple white t-shirt for a relaxed chic look when you're going around town, or with a sassy mini dress for a fun night out. Tatiana can do it all!
This pump is made from synthetic materials, and it comes in several different color options. For our picture, we chose one that is adorned with metallic sequins all over, for a pop of glimmer. What the brand wishes you to know is that no pair of Tatiana pumps are exactly alike, and thus each pair that you receive is unique! The heel on this option is stiletto, about four inches high, making it a less favorable option for everyday wear.

However, the Tatiana has been featured on Good Morning America, in the OK! and Us Weekly magazines, as well as on Footwear News, and it's not stopping anytime soon. Hop on the current trend and dazzle everyone around you with your flirty new Tatiana pumps!

Subscribe to our Newsletter