Best Discount Running Shoes Reviewed For Quality
In a
Hurry? Editors choice: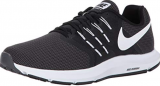 Test Winner: Nike Swift

Running is
a thrilling activity
- it gets our blood flowing, it helps us stay fit, and we get to enjoy the outdoors and the fresh air. However, just like any sport, you need to have the proper equipment, and you should start with your feet first. Ill-fitting footwear or one that doesn't do much to help you run smoothly can impact your health, and lower the quality of your run, even making it obsolete. Good running shoes can be very pricey, and not a lot of people have enough resources to spend on just one appropriate pair! And thus, we look for sales and discounts to help us spend less money on
a valuable pair
.
Standout Picks
Criteria Used for Evaluation
Comfort
The comfort of the shoes made for running should obviously be one of the most important factors you should look out for. An ill-fitting running sneaker will probably put you off and will not help you run better, thus diminishing any progress you may have made when you started to run. It will cause pain, blisters, and even some more serious problems, like bunions or plantar fasciitis. So, always check the interior of the shoe first before you buy it and if you shop online check out the reviews!
The insoles are the best way to improve the comfort of footwear. Many shoe brands in our guide include special types of pads and cushions, all meant to make running smoother and more enjoyable. Molded sock liners are one way to improve overall comfort. These sock liners resemble the shape of your feet, and they fit like a glove, ensuring you never feel the seams or bumps rubbing you the wrong way. Asics has special Gel Pads and dual density foams that make all of that horrible impact force scatter evenly, relieving all the pressure from your joints and muscles. They also have a sublime bounce back and are also very light so you won't even feel them dragging you down.
Midsoles also affect the comfort of running footwear. EVA midsoles are the most common type, but they don't appear that much here. Those shoes need midsoles that are a bit more heavy-duty, like dual density foam midsoles, or special innovations many brands have. Dual-density foam midsoles are super light and breathable, so you will always be cool and refreshed. They also allow your feet to bend properly, and don't let their weight hold you down. Brooks has BioMoGo midsoles, specially engineered to help you have the smoothest ride. They do what regular EVA midsoles do, but they are so much better at that job, and they make running seem like a walk in the park!
Materials
Usually, running sneakers have mesh uppers, combined with textile or upper. The materials a running sneaker is made out of can impact many things, like comfort and their efficiency. Imagine having leather shoes - sure, leather may be comfy and hardy, but it's also very heavy and requires a lot of time to be broken in, so you wouldn't be doing yourself a favor! Textile would fall apart too fast, and rubber wouldn't allow your flustered feet to breathe, leaving you moist and sticky.
Mesh uppers do really provide the best kind of environment for running. Mesh is a barrier, made out strands that are connected to each other. It has an appearance similar to a web or a net, tightly woven and never letting go. Mesh is super soft and stretchy, and it allows your feet to fully stretch out and bend, enhancing the natural motion our feet make. This material is well-known for the way it helps our feet to breathe. But, some materials are still faulty, as they don't allow our feet to breathe normally.
Always look for shoes that do not have any overlays. This is key, do not dismiss this! The overlays will inhibit the airflow and will do nothing to help you run better in the long run. The overlays might look cool and they might hold the shoe together a bit better, but there are many other ways to strengthen the construction. Mesh is also very light, helping you achieve a brisk pace without much effort. All in all, if your running shoes do not have a mesh component, avoid them like the plague!
Breathability
As we already mentioned, those shoes should have proper airflow. This airflow will make sure your feet stay properly cool, dry and fresh. But, why are all of these things even important in the first place? Let's start with the most obvious thing - the smell. No one likes taking their shoes off only to discover pungent odors filling up the room! You can easily avoid this by getting moisture wicking socks and shoes that breathe. The air will dry your feet and sock faster, and bacteria that produce these bad smells won't have the chance to flourish, leaving you fresh and smelling great.
Speaking of bacteria, not only do they smell bad, but they also like to enter our wounds and create infections. But, how would one even get wounds inside the shoe? If you have wet feet, your socks will rub your skin more, and this traction will cut open your delicate skin and create blisters! When these bad boys pop open, bacteria can enter and wreak havoc! You may wonder now though, how did our feet get wet in the first place?
Well, as you run, you will perspire, and no one does this better than feet! Feet also produce a lot of heat, and that heat will make them sweat more, creating a vicious cycle if the hot air and moisture can't escape. Porous materials let the warm air and humidity out and invite the cool, refreshing air in, which keeps you dry and happy. If you worry about puddles, streams, or the rain, find shoes that have proper airflow and water protection!
When it comes to running shoes, the mesh does the best job at breathing. Leather does it well too, but it's too heavy to be implemented into running footwear. Medial eyelets, special perforations, and midsoles are also some of the ways to increase the breathability of one shoe. Always make sure your running footwear has proper airflow, otherwise, you could set yourself up for a world of discomfort!
Durability
Durable running shoes are very important. Since running shoes are very expensive, it would be bad if they fell apart within months of use. But, these shoes go through a lot of strenuous activities, all seemingly set out to shorten their lifespan. As you run, the heels and toes of your footwear will take a lot of damage, and this damage can tear a hole in the much faster than you expect. Soles can come off, and flop around as you walk. Holes can sprout on the upper as well, especially where the big and little toe end, as they create a lot of friction when you run and walk.
So, a lot of companies came up with a lot of different ways to improve the durability of their sneakers. One way to do this is to add overlays to the construction. But, while this may make them last longer, they will be heavier and will not breathe so well, so this is not such a good option. Reinforced outsoles, however, are a great innovation! Usually, the heels and toes get reinforced, so as to keep the shoe safe from tear and wear damage. The seams also play a role here. Reinforced stitching makes the footwear invincible, and if the seams are triple, expect them to last a very long time!
Flexibility
It's very important to allow your feet to bend properly as you run. Feet that are trapped inside shoes spell disaster for you, both in the short and in the long run. There will be a lot of pressure and strain on your joints and muscles. This will, in turn, affect your gait, and bad gait means a bad run, one that is not enjoyable and not so beneficial! Your toes have to stretch properly, and your big toe has to be straight, because this also lessens the burden from your tendons, and will keep your joints in the proper position. You are running to improve your health after all, and you shouldn't neglect your feet and joints in order to do so!
Flexible footwear is one that has the proper midsoles and outsoles. Foam midsoles bend the way your feet do and help them roll naturally. They are also light and cushy, so there's plenty of goodness to go around. Hard, rubber outsole can't really bend that well and make a poor choice for running attire. Special rubber, blown out rubber or rubber that has special features will help you flex and bend properly though, and will enhance the way you run, making it a breeze!
Top 10 Picks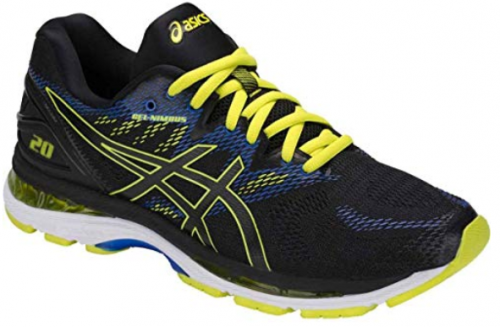 The Gel-Nimbus 20 does not joke around with running, as it comes packed with plenty of innovations to help you have the best possible run in your life. The Fluidfit upper combines stretch mesh that spans in multiple directions, with stretch reinforcements, all working together to create a foolproof fit. The independently placed eyelets relieve the tension laces might create, enhancing the comfort of the upper. The Guidance Trusstic system technology integrates the Asics Guidance Line construction for an efficient gait, as it helps your feet remain integrated and stable.
The Ortholite sock liners are a game-changer, as they have supreme rebound properties while wicking away moisture and breathing like a true set of lungs. The lasting is also Ortholite, and it has a plush underfoot which enhances all of these qualities even more! The Flytefoam Midsole Technology provides out-of-this-world bounce back and responsiveness no matter how much you run.
It's packed with organic super fibers that help reduce compressions, as it keeps its shape for a long time. The added 3mm on the midsoles helps relieve the pressure from the Achilles tendons, so you never experience pain. The rearfoot and forefoot have special gel pads, that allow the feet to transition naturally through the gait cycle without interruption. The rubber outsole keeps you going even in the most humid environments!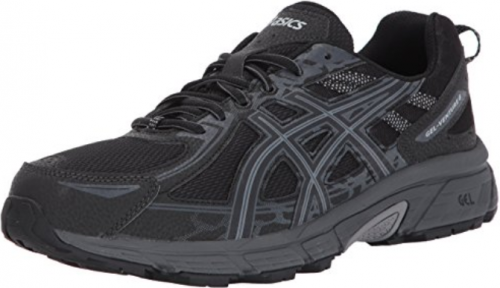 Explore all the wonders of the wild, tread on unfamiliar terrain and breathe in the fresh air with the Gel-Venture strapped to your feet. The redesigned mesh upper will breathe and allow hot air to escape leaving you cool and refreshed. The glossy logo will shine as you run, reflecting the rays of the sun, as it acts as a bold detail. A handy pull-tab makes it easy to slide your feet in, shortening the time you need to put them on. The sleek laces will keep you secured, and the cushioned tongue will bring many different dimensions of comfort.
A removable sock liner resides inside, making your runs so much easier. It caresses your skin gently, and can always be removed and replaced with orthotics for an even better fit. The Rearfoot Gel Technology Cushioning System is a really long name for a really good innovation. This innovation attenuates shock when your feet hit the ground, and allow a more natural transition to your midstance. This will help your feet roll from toe to heel naturally, and will lessen the strain your joints and muscles feel while you run, especially if you run uphill or downhill!
The outsoles are trail specific. This means that they were specially engineered for anyone who loves jogging in nature as it helps them run without problems. The reversed lugs give enough traction for any type of terrain, both uphill and downhill. The AHAR outsole (an acronym for ASICS high abrasion rubber) is placed only on critical locations, like the heels, for invincibility and a long life!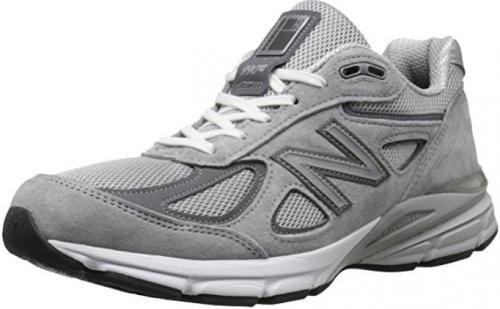 The 990v4 brings back the classic style and supreme craftsmanship of the classic 990 back to life! This iconic style got a breath of fresh air in the form of various flashy uppers, ranging from the blackest of blacks to the brightest of pinks. The recognizable N logo sits on the sides, embedding itself into the pigskin and into our hearts! No New Balance shoe is complete without their letter, something any fan of these brilliant running sneakers should know.
Every seam and every thread was woven by American workers, in New England factories, so you will be running with patriotic spirits. The pigskin upper promises durability and comfort, while also breathing and making you fresh. Speaking about air, the mesh parts are not just trendy details - they also let air flow in and out of the shoe, letting you regulate your temperature and leaving you dry and smelling fresh.
Upon sliding your feet into them, you will, without a doubt, notice the soft, warm collar hugging your ankles. The dual density foam doesn't rub your ankles the wrong way and keeps you safe from blisters. It also stabilizes your joints and doesn't let your ankles roll. A 12 mm drop allows your feet to align themselves just the way our anatomy meant, alleviating pain and aches. When you look at the insoles, you might think that that won't be enough to support your running desires - they are, after all, lightly cushioned.
But if you look closely, or feel closely, you will notice the way the midsole was made. Their EVA midsole is unique because it has a PU ring. This combination provides excellent support and makes sure the sneakers don't fall apart mid-run, or ever, really! The outsole is blown rubber, and has many helpful patterns which provide grip and traction, keeping you safe from slippery surfaces!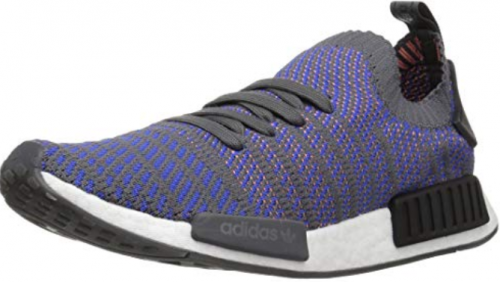 The progressive NMD R1 will make any run look and feel like a fashion show. The Primeknit upper is what makes them so unique! Their minimalist knit wraps around your feet, stretching like a regular sock to fit perfectly. It also has adaptive support, so it will give you just what you need at that moment. It's also super light and cushy, so you might even mistake them for actual socks! The collar resembles elastic collars of socks as well, and it has the same purpose - it keeps your feet in place, and it doesn't irritate your skin or create blisters. Parallel lines cross the zig-zagging lively pattern, leaving an impression no matter where you go.
A signature heel pull tab makes it easy to put them on and makes it easy for curious bystanders to recognize the creator. The midsole is what makes them so specific. It's a Boost midsole, which is their most responsive cushioning to date! When you combine this with their molded EVA plugs, you get a sneaker made to be worn all the time, every day, no matter what kind of activity you may be doing. The outsoles are super-light, and they adapt to any terrain you put them on, so you will never have to worry about falling down and injuring yourself!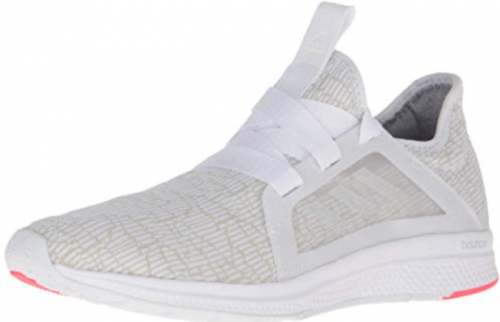 Nothing about this sneaker is ordinary! Their slim lines and trendy design keeps you looking good while you improve your health and sweat waterfalls. Their upper is dense mesh, shining luxuriously and keeping you cool and refreshed. Supportive sidewall overlays keep your feet upright and stable, and they don't let you tire down easily, allowing you to push it to the limit! As we said, nothing about them is ordinary, and that includes their laces. They are wide, thin, and strap you in, stubbornly holding on. If these fancy laces are not your jam, however, you can always change them for regular laces, as they are included with the pair. The heel counter is raised and doesn't let your feet slide out, or your socks fall down!
Nothing feels comfier and better on our feet than socks, and this is what the Edge Lux wants to achieve - their sock-like construction adheres to your feet and provides the optimal fit. The midsole has a 10 mm drop, so your feet can move freely and confidently. The midsole also negates the impact force and gives enough support. Bounce cushioning enhances comfort and provides you with the full range of motion. It also gives light arch support, important for pain-free running. A white grippy outsole boldly shines as you walk, while their undersides remain rubber-colored with black speckles scattered all around. It will not let you fall down or lose your balance, no matter how hard you try!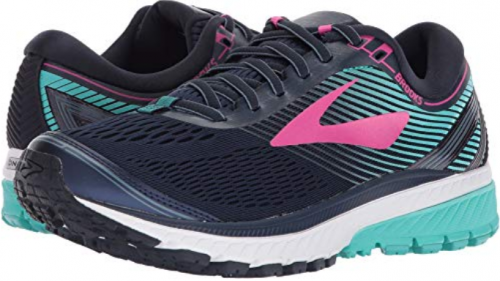 Enjoy a smooth, satisfactory ride in these plush, trendy sneakers. The newly engineered mesh upper almost blends with your skin, as it will breathe like the real deal. This will keep you refreshed and drier than a desert. Strategically placed stretch and structure help the sneaker contort and adapt to the shape of your feet as you stand or run, so you won't even feel them wrapped around your feet.
The flashy colors will help everyone notice you, even in the dark, so there are no dangers of unsuspecting vehicles not seeing you. The colorful outsole brings the whole sneaker to life and adds some pizazz to your regular run. If there are any anglophiles out there, they will be happy to know that a British upper version exists, so you can show your feelings to the whole world.
Their support is neutral, so they will work better for people with normal arches, but that doesn't mean that you can't give them a ride if your arches are high! The soft cushions inside combined with BioMoGo midsoles dynamically adapt to your gait and the way you run, dispersing all that impact force and shooing all the pain away! A plush transition zone allows for a smoother ride, so your feet can enjoy all the motion they want.
3D Print Overlays help with the fit, so no matter how much times you wear them, you will always have that same, initial snug fit you first fell in love with. The Segmented Crash Pad will save even the clumsiest people, keeping you upright no matter how hard you try to fall! These even boast an award, being the "International Editors Choice" for Runner's World!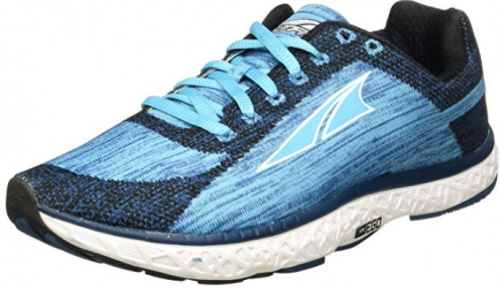 The Escalante shows that a running sneaker can be a good companion for coffee shops and laidback evenings as well! Their knit upper provides you with a sock-like fit, with an aesthetic finish. Their sleek silhouette and colorful knit details easily transform them into a fashionable running accessory. And if you look closely, you will see that even the eyelets are knit, matching the upper completely. The threads come in both neutral and vibrant hues, allowing you to choose a more versatile option or a fashion statement.
The midsole is what makes it a running sneaker. The Altra Ego midsole is dual-nature - it has a soft feel, but it absorbs shock and bounces better than the competition. The foam is also light, and breathable, cooling you down and taking away that extra weight which can tire your feet down. The plush cushioning helps dissipate the shock force and allows for a smoother, less bumpy ride. The toe box is roomy, so you can stretch out your toes as much as you can. This creates a lot of stability and balance, meaning you won't fall over and hurt yourself.
Their Fit4Her Technology is their way of customizing the inside of the shoe to match your unique physique, ensuring a perfect fit every time. A zero drop platform places your heels and forefoots at the same distance from the ground, aligning your feet naturally and makes the landing that much easier. The outsoles have an interesting design which resembles a footprint. Besides looking funky, it also maps the bones and tendons of the foot, helping it bend and move.

8

. Nike In-season Trainer 7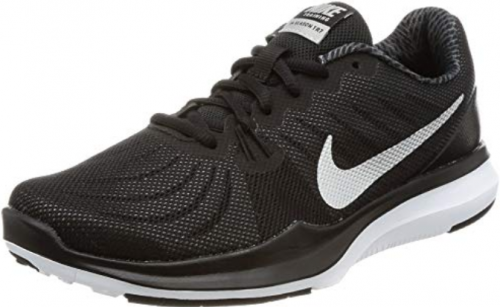 Endure even the toughest of runs with the super-light Trainer 7 pushing you towards your goal. This Trainer is ideal for heavy cardio lovers because your feet will be the only part of your body not experiencing strain! The upper combines mesh and textile for a perfect material blend. The single-layer mesh, with its small perforations and light construction, will cool you down, expel moisture and keep your feet relaxed. The textile will flex easily, and since it takes color on so well, it will bring some excitement to your running life.
The midsole is dual-density foam. This foam works very hard to make it feel like you are running on pillows! It's light, so you won't even notice the weight. It's cushy, meaning you won't notice the rugged terrain either, and the different density abolishes impact forces and painful joints. The sock liner cushions your underfoot, improving their padding even more! It's also very soft, so it will always feel like you are in a world of comfort. The forefoot has flex grooves. These fanciful grooves encourage a more natural range of motion; your feet will roll from fingers to heels without any kind of restraint, as the sneaker flexes with every step you take. The outsole is rubber, chunky and white. Besides looking cool, it also provides plenty of traction and grip, thanks to the strategically placed rubber pods!



The chunky Gemini might look like a skating shoe, but looks can be deceiving, as they will be your ultimate running partner! The upper is mesh, with a trendy ombre-like fade, pointing out their urban lines. Engineered mesh used on the tongue and toe box makes the fit snug and allows sweat and heat to escape without trouble, keeping you safe from bad smells and wet feet. The extra large perforations really do their job well, as they are located on trouble areas that do get hot the fastest. An extra eyelet allows for a different lacing style, squeezing your feet tightly and securing them in.
This neutral shoe is a midway point for runners who need equal amounts of cushioning and flexibility. The never-seen-before UA SpeedForm construction takes shape after your individual foot. This eliminates the possibility of bumps and ridges distracting you from enjoying running and doesn't let blisters or red skin form. A threadborne midfoot panel enhances their structure and makes them pop, grabbing the attention of any curious eye.
A seamless internal heel counter supports your ankles and joints and is light enough for you to never notice it before wearing the shoe. The sock liner is embedded, adding a cozy feel and a compact fit. Their midsoles feature Charged Cushioning, Under Armour's way of letting you know your sneakers will last for a long time while providing the same amount of cushioning as long as they live. A Micro G heel unit stabilizes you and helps keep you protected from injury. The responsive blown rubber outsole has a high-abrasion patch under the heel that absorbs ground contact and keeps you going.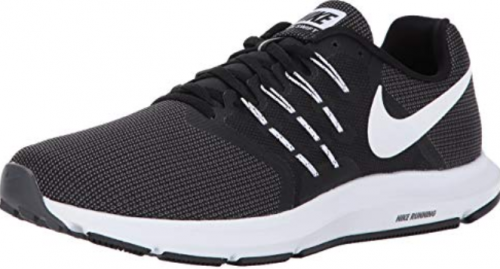 The Swift will leave you wanting for more, as you will experience a whole new dimension of running. Their mesh upper is tightly woven but has targeted areas where the perforations widen, allowing strategic ventilation and support. Those areas are in the quarter panel, and they also provide durability, without sacrificing any of the breathability mesh always brings to the table. The laces might look like regular laces, but if you take a closer look, you might notice something very specific about them. Flywire cables! These cables integrate with the laces we are accustomed to, and create a very adjustable fit, and adaptive support!
The insoles are cushy and soft and ensure your feet enjoy their touch. Waffle Pistons enhance the cushioning, so you don't feel the unforgiving terrain underneath your feet. They also respond quickly, so you never feel the pain and aches associated with impact forces as you walk or jog. The Phylon midsole offers resilient cushioning, one that will never back down. This midsole also weighs less than a feather, meaning your feet won't get tired and angry as soon as you start to run. Their rubber outsoles provide you with traction and a great grip, so there's no need to be afraid of a little drizzle!

Subscribe to our Newsletter