Best Affordable Shoes For Fashionable & Frugal Folks Reviewed
last updated
Feb 08, 2019
A lot of brands, even the popular ones, and designer houses have realized that they are hurting a significant amount of people by not lowering their costs, and have decided that it's better to build trusting relationships with their customers instead of filling their pockets with money. If you don't know where to start looking, let us be your seeing-eye dog. This list was compiled after thorough research, and we do believe that we have gathered some of the best affordable shoes you can find today! Read on and see which pair was made just for you, or maybe even, choose a few at once.
In a Hurry? The test winner after 6 hrs of research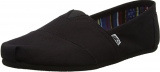 TOMS Canvas Slip-on
Why is it better?
Navy Blue Upper
Elastic Gore
Suede Insole
Latex Arch Upper
One-piece Mixed Rubber Outsole
In a
Hurry? Editors choice: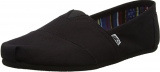 Test Winner: TOMS Canvas Slip-on

9
Researched Sources
20441
Reviews Considered
6
Hours Researching
10
Products Evaluated
Materials
Comfort
Style
Durability
Versatility
By Default
In Depth Review Top 10
TOMS Canvas Slip-on
Sam Edelman Felicia
Dr. Scholls Harlow
Converse Chuck Taylor
Asics Gel-Contend
Vans Core Classics
Steve Madden Donddi
Nike Downshifter
Naturalizer Danya
Adidas Duramo
Table of contents
Criteria Used for Evaluation
Other Factors to Consider
Frequently Asked Questions
Sources
Top 10 Picks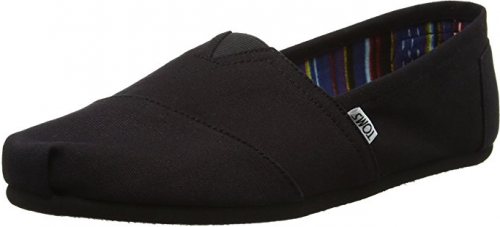 Navy Blue Upper
Elastic Gore
Suede Insole
Latex Arch Upper
One-piece Mixed Rubber Outsole
Falls Apart Quickly
Not True To Fit
Their founder, Blake Mycoskie, one day in 2006 saw the troubles children without shoes go through. So, they introduced a policy where one pair bought equals one pair for a child in need. Today, they have given over 60 million pairs and take pride in their humanitarian work. They offer styles for men, women and children alike.
Read more
The slip-on is their classic silhouette, the iconic casual shoe. The upper is made out of textile, with a navy blue hue, making them very versatile. An elastic gore sits near the opening of the slip-on, making it even easier to slide your feet inside. The insole is suede, known for its soft touch and luxurious look. Besides looking fancy, it also cushions your feet, making your life easier. A latex arch insert acts as arch support, aiding people with flat feet and keeping the pain away. The liner completely contradicts the calm outside - many vibrant colors decorate it, acting as a nice surprise when you slip out of them. The outsole is just one piece, made out of mixed rubber, giving you enough grip and traction.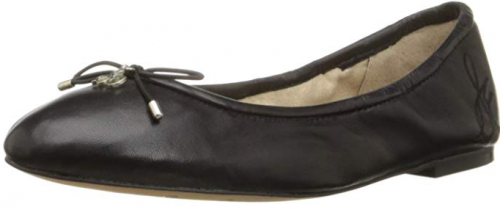 Leather/Calf Hair Upper
Slender Silhouette
Binding Around Opening
Bow With Metallic Tips
Dainty Heel
This British entrepreneur went through hell and back, multiple times over, and rose strongly out of all the troubles he had to go through, bringing his stylish, affordable and comfortable shoes with him! They are parented by Caleres, Inc. and have continued to spread their wings all around the globe, bringing timeless American fashion to the whole world.
Read more
The Felicia is a casual ballet flat, meant to make every day you have just a little bit more chic. The upper is completely made out of leather, ensuring you get a durable, hardy flat. The leopard print is specific, because its upper is calf fur, bringing its luxury to a new level. Their slender silhouette slims your feet down and makes them look dainty and cute. The binding around the opening prevents it from collapsing and makes the fit great. A cute bow with metallic tips sits on top of your toes, awakening the frisky side we all have hidden inside. The little heel provides us with arch support, and makes it easier to walk around!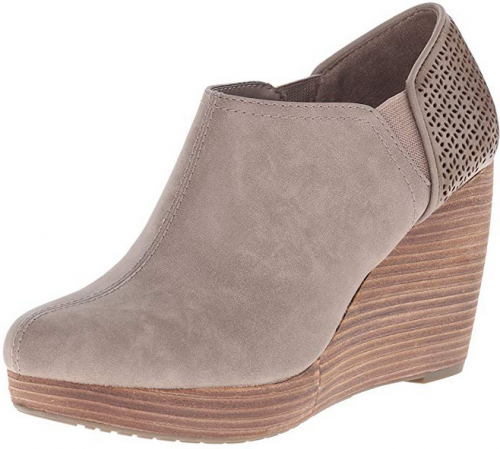 Faux Suede Upper
Laser Cut Details
Elastic Goring
High Wedge
Round Toes
Soles Break Apart
Thin Bottoms
Founded by Dr. William Scholl, who has always been fascinated by the mechanics of our feet and the shoes that go on them. In 1904, while he was still being schooled, he invented his first arch support. In order to sell it, he founded the company and has later joined forces with his brother to spread the company overseas. The combination of his experience with shoes and his medical background gave birth to many innovations we can see today in their footwear. If you seek a shoe that will bring you no pain whatsoever, your journey has ended - Dr. Scholls are the best at what they do!
Read more
The Harlow is the tiniest, cutest ankle bootie that will spruce up anything you wear. The very first thing you will notice about them is their wedge. It's 3.5 inches high, giving you more than enough height. But since it's a wedge, it won't be as troublesome as regular heels, because they are much more balanced and provide a lot of arch support. There is no zipper, but an elastic gore resides where a zipper could be, making it easy to slip into them. The upper is synthetic, made to look like opulent suede. The laser cut details on the heel make them look urban and trendy. The round toes make your feet look dainty, and match any outfit you can come up with to the tee!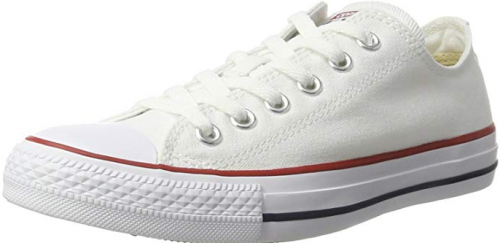 Iconic Style
Punctured Outsole
Gusseted Tongue
Molded Sock Liner
Impact Cushioning
Converse, started by a man of the same last name, was open in 1908, in Massachusetts. But it was only in 1915 when they started producing their well-known pair today. The, in 1923, the legend Chuck Taylor, approached them, and the rest was history. Their high tops are one of the most iconic shoes today and have graced the feet of almost everyone on the planet.
Read more
The all-star casual sneaker is a surefire way to instantly improve any casual (and elegant) outfit you may be wearing at that moment! The upper is made out of canvas, which comes in many different hues, and with various recognizable patterns. Their rubber sole is their giveaway, the white color flashing in the sun, with the colorful lines breaking the monotony. Their punctured bottom provides enough grip and slip-resistance that you could walk upside down. The sock liner is an excellent addition, as it is molded and very lightweight. It also ensures you get cushioning that protects you from the impact when you hit your feet to the ground. The gusseted tongue makes it cozy and snug and the lace-up only improves the fit.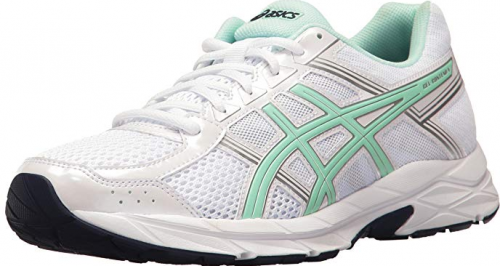 100% Mesh Upper
Padded Tongue
Rearfoot Gel Cushioning
ComforDry Sockliner
Perforations Near Toes
Asics is a brand well known to many sports enthusiasts everywhere. They have their roots in Kobe, Japan. It was founded in 1949, by Kihachiro Onitsuka. His first sneakers were made specifically for basketball, but soon after that their range widened. They became known for their Mexico 66 sneaker, which featured the recognizable crossed stripes that later became the logo. Asics is actually an acronym, for a Latin phrase meaning in a healthy body, a healthy soul. Be sure you will be feeling your absolute best when you wear them!
Read more
The Gel-Contend has a simple design, but all the right technologies to make running super enjoyable. The upper is 100% mesh, breathing with every step you make. The cushioned tongue and heel make it easy to secure yourself and also soften the blow on your arches. The rearfoot gel cushioning system, from which the sneaker got its name for, absorbs all the impact force and allows for a smooth run, not a bumpy ride! A soft Latin graces the inside, but it can be removed and you can insert whatever you like. Their sock liner is a ComforDry - besides providing cushioning, it also wicks moisture away, making it impossible to sweat and create bad odors and grounds for infection!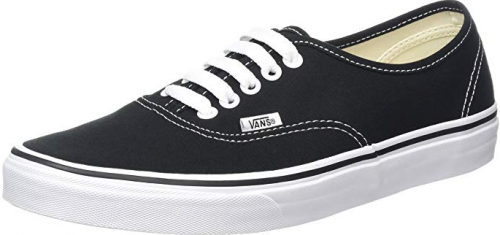 Casual Wear
Iconic Waffle Pattern
Sturdy Canvas Upper
Simple Low-top
Chunky White Outsoles
Vans is a company started in 1966, by one eager family. A bit later after that, they are proclaimed as the skater shoe and were one of the ways you could recognize a true skater without his skate. By the 1970s, they already spread like wildfire, and the brand was born. Today, they grace the feet of many rebellious teenagers, quirky adults, and hip elders!
Read more
The Core Classic is the ideal casual shoe, the style of skaters and the casualty of a regular runner sneaker. The upper is completely canvas, colored in various shades. The stitches give it sturdiness, so they will outlast regular canvas sneakers. Five white eyelets decorate the upper, with white laces going through them, securing your feet inside. The chunky white rubber sole defines the outsole, and the waffle pattern makes them instantly recognizable.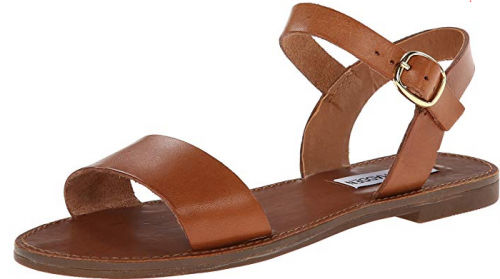 Faux Leather Upper
Wide Toe Strap
Ankle Buckle Closure
Classic Little Sandal
Flimsy Buckle
Soles Come Apart
The company was founded by a man of the same name, in the 1990s. At first, they sold shoes out of a truck, but with his years of shoe designing experience, tough gut and determination, he became one of the best, if not the best, American designers. Their mission is bringing fashion while still having that quirky independence that first appeared since its inception. They offer many different accessories, ranging from jewelry to hosiery!
Read more
The Donddi is a casual, flat sandal complementing every summer outfit you have hiding inside your closet. The upper is faux leather, the comes in three neutral hues, making them a great versatile pair. The wide toe strap makes sure your feet don't slip down and covers your toes just a little bit, but still giving them the chance to bask in the sunlight. The ankle has a buckle closure, making them adjustable - they will fit perfectly even when you swell up later in the day from walking around. A short heel with a rubber bottom offers some arch support and adds traction so you stay balanced.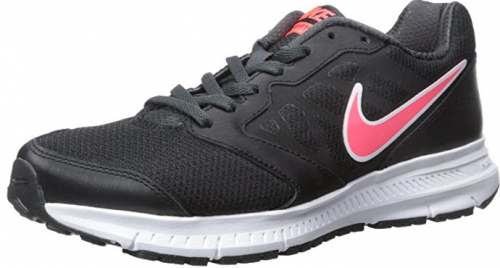 Leather And Mesh
Resilient Cushioning
Non-slip Outsoles
Eye-Catching Logo
Runs Large
Poor Arch Support
There is hardly anyone on this world that hasn't heard of this gargantuan brand. Originally called Blue Ribbon Sports, it was founded by an athlete, Phil Knight, and his coach. They were first a distributor for a Japanese shoe company and made most of their profits that way. In 1971, the Swoosh was born (their logo), and the brand was immortalized. Today, there is no way to go outdoors and see no one wearing a pair, that is how popular they are, and they seem to only rise in popularity!
Read more
The Nike Downshifter is everything a running sneaker should be! The upper is a combination of mesh and leather. The mesh allows the feet to breathe, drying them up and making it possible to regulate our temperature. The leather bits reinforce the toes, keeping you safe from injury, and they decorate the vamp as well. The Swoosh is always present on the sides, glowing and catching attention. The resilient cushioning ensures you have an enjoyable run, and the non-slip outsoles make sure you don't fall over!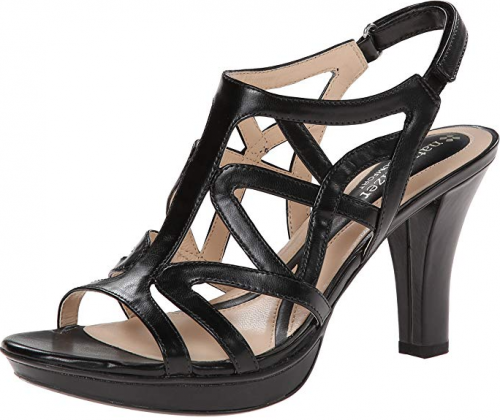 Faux Leather
Strappy Vamp Design
Heel Sling Strap
N5 Contour
Open Toes
In 1927, Caleres, Inc. opened up a store because they realized women did not have an option for buying both fashionable and comfortable shoes. And Naturalizer then became one of the first brands that women could look for if they craved cozy, trendy pairs. They always keep up with the current trends, but their comfort always remains the same - one of the very best.
Read more
The Danya dress sandal draws attention to itself without even trying, which is just what will happen to you when you decide to wear them! The upper is faux leather, giving you all the good that leather has to give, but without harming animals. The strappy vamp design adds flirty tones to the sandal showing off your skin just enough to tickle the mind.
A sling strap with velcro makes it easier to put them on, and later to secure your feet in, preventing them from slipping out. The N5 contour helps immensely with comfort because it was made to match the anatomy of your feet, providing relief on the points that suffer the most pressure, and support what needs to be supported. The three and a half inch heels (combined with the platform) add grace to your gait and make you elegant. The outsoles are rubber and non-slip, adding even more balance and stability to the sandal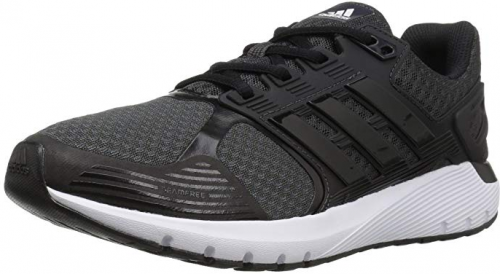 Mesh And Rubber
Midfoot TPU Cage
Ortholite Footbed
Cloudfoam Midsole
Adiwear Outsoles
Their story started in a small town, in Bavaria. It was founded by Adi Dassler, and first operated from the washroom his mother used. Since then, he has been on a mission to provide athletes with the ideal shoe, and that proven to be true when he invented the football pitch, helping their football team win a trophy. After that, the logo was created, and the rest is history. Today, Adidas shares the pedestal with Nike, and is one of the most popular shoe brands out there!
Read more
The Duramo running shoe is a modernized running sneaker pushing you to be your best. The upper is a combination of mesh and rubber, giving you breathability while the construction is strengthened, and your soft feet protected. The mesh also makes them very flexible, bending while you run and allowing your feet to roll naturally. A midfoot TPU cage supports your arches, and an Ortholite footbed wicks moisture away and keeps you cushioned. A cloudfoam midsole is a lightweight solution for step-in comfort and extreme comfort. The Adiwear outsole is chunky, stands out, and offers the ultimate slip protection and durability!
Criteria Used for Evaluation


Materials
The materials used to create a pair can mean all the difference in the world. Depending on what you are going to use the shoes for, the kind of material used to bring them to life can aid you tremendously or completely bring you down. When it comes to affordable shoes, the materials might be of a lower quality, but that doesn't bring their overall value down. It just means the creators were thinking economically!

Textile, especially canvas, is very commonly used to create sneakers and other kinds of footwear made for warmer weather. It's a man-made material, with cotton threads woven tightly, but with enough room for air to flow into, and out as well. This means that it will not hold heat that well, and it's not so good for the cold. Textile is super light and very elastic, so it will feel like you are walking on air whenever you have textile footwear. It also takes on color very well, and a lot of shoemakers use this to their advantage - the create the same pair in various different hues and with plenty of different patterns, creating many choices. But, textile lacks durability - it will tear off and sprout holes, so be prepared for that.

How can we talk about materials without mentioning leather, right? Okay so, as you may already know, leather is a natural material that comes from animals - precisely, leather is their skin. But, you don't get the leather without it being processed first. After the leather is cut, sewn together, checked for irregularities etc, it gets its chance to be a shoe. The leather is very hardy, so you'll get a pair that will last you for a long while. It also helps keep water away, and if you treat it with special sprays, be sure no water is getting in!

It is hard to break it in, but once you do, you will be rewarded with a world of comfort. Leather doesn't get colored easily, so don't expect a lot of variety. Depending on what animal the leather comes from, the price and properties will change as well. Crocodile and other reptile leather is very durable and exotic but comes with a hefty price tag. Calf-skin is the most popular choice, and some shoemakers on our list used dyed calf fur. Calf fur, or pony hair, is just cowhide. Usually, the underside of leather is used when creating products, but in this instance, the upper is used. The fur is cut very short, bleached, and then colored. It is pricier than regular leather, but it also looks very posh so it's worth it!

If you feel upset about the origins of leather, then you should be happy to know that we included a pair made out of faux leather too! This is a synthetic material made to look like the real deal. It has all the great properties real leather does but without the guilt. It can be prone to cracking, peeling and breaking, so you should always have that in mind!

Mesh is a synthetic material often used when making footwear meant for a variety of outdoor activities. It is elastic, and it stretches easily no matter what you do to it. Its main purpose is to keep your feet secured in, creating a great fit. Due to the large holes present on it, it allows all the air inside, ensuring you get properly dried and ventilated, and makes it easy to regulate our temperature!

Rubber is natural, and it comes from tree sap. It's great for rain boots and everything else created to keep water away, but it's also used to make most outsoles today. It has great non-slip properties, and many skate shoe companies use it and enhance it, giving their sneakers the proper grip and board feel. If you wear heels, be sure that rubber has your back - it will make sure you are standing no matter how steep the pair is!


Comfort
How relieved do you feel when you discover that your new pair is as comfortable as a cloud? It means that you won't have to worry about aches, blisters, pain, and other issues, and it also makes it so much easier to just keep pushing no matter what life throws at you! If you wear an uncomfortable pair, it will be all that you can think about, and you won't be able to focus on anything!

Ortholite footbeds are super common today and are used by many popular brands like Converse and Asics. What makes the footbed so special is the low compression rate, how light it is and how much cushioning it provides. It breathes with every step you take, and stubbornly keep the same shape as when you first bought it. You can also remove it whenever you like, making it easy to wash them or replace them when they get worn down.

Molded sock liners are also one way to improve comfort, and luckily for us, many brands in our list feature one. Converse uses a lightweight liner, that absorbs the impact created while you walk. This relieves all the pressure from your joints and muscles, and makes it impossible for the pain to show its face!

A gusseted tongue, besides cushioning your arches, also serves one more purpose, improving the comfort even more. It helps our feet stay where they are meant to be, inside our footwear! This way you won't feel that much friction while you walk, and no blisters will form, keeping you safe from wounds and infection.

An elastic gore is a piece of stretchy material inserted to the sides, and it binds two pieces of the upper together. It enhances the fit so much, and it makes it easy to put on or to take off your pair. It also helps if you have high arches, and often come upon shoes that are just too tight. The gore will stretch out that part and will make it easier for your arches to adjust. The gore also makes it easier to break in a new pair, and it moves together with your foot, widening and shortening as you make every step.

Gel cushioning system is a technology unique to Asics. This is a special cushion residing around the heel, filled with a special kind of gel. It helps runners hold on and cross that finish line, but it can also help people that just like to walk around. This cool gel absorbs all the pressure from walking or running and evens it out, making it non-existent. In turn, that lessens the amount of pain you will feel at the end of the day and will help your feet rest and feel happy!

A comfordry sock liner is also used in many Asics pairs. Besides being soft, it also helps with keeping you dry, as the name suggests. It's made out of a material that wicks moisture away, which in turn keeps you water-free and happy. This also helps prevent bacteria that produce bad odors and makes you smell fresh and clean. No bacteria also means no infection, so all in all, this is a great innovation from Asics!

The cloudfoam midsole resides in some of the pairs mentioned here. The midsole is the part of the shoe that is sandwiched between the insole and the outsole and provides the most stability and comfort. The cloudfoam insole makes it feel like you are walking on air. It's very light, so it won't feel like you are shackled, and it absorbs pressure, keeping you pain-free. It has plenty of bounce and rebound, and it makes it easy to run around or just walk from point A to point B.


Style
Some of us can pretend that the style of our shoes is not important, but we'd all be lying to ourselves. The style is important, and it is one of the main aspects e look for when we search for our next pair. Shoes come in many styles that have been around for ages or have been created only recently. It can also affect the versatility of the shoe, and the occasion you can wear them too.

Sneakers are the best comfort shoes. Because they are usually made for runners, they will have points that are designed just to increase comfort, which will surely make them one of the most favorite pairs you will own. They come in many different shapes and sizes, made out of any material imaginable. They've become an integral part of our routine, helping us stay on our feet. Some have reimagined sneakers completely, and have added fashionable details or heels and wedges to them, making them appropriate for fancier occasions! The heel defeats the casual purpose of them though, but if you like the sneaker style and want to wear it all the time, then those are for you!

Slip-on canvas shoes are simple, casual pairs that can be matched with almost anything in your closet. They are light and super comfy, made to be worn when the weather gets warmer. They are not so durable though, and won't keep the cold out.

Sandals are the best choice for occasion shoes. They have been around since forever, and their style was similar to what we see today,m at least when it comes to flat sandals. They usually have straps, with or without buckles, and open sides and toes. They can feature a heel or a wedge, but they can also be flat. They can be a casual shoe, or even an evening shoe, depending on the number of details they sport. This type of footwear is the best for summer wear!

Booties are short boots that were just made for autumn. They only cover your ankles, and can keep you warm, but not too warm. They can also be either casual or formal or can be made out of many different materials. They are very versatile, and will help you look chic when the rainy seasons roll in!


Durability
The value of the shoe is also determined by how long it will last. It feels like throwing money into the drain, because who wants to spend even one dime on something that will break apart in a day? So, we look for pairs with a looong lifespan, and hope for the best!

The lifespan of one pair is determined by the material it's made out of. Leather has the hardiest properties and lasts the longest, but it's not good for warmer occasions, and it can be quite heavy sometimes. Textile, on the other hand, is super breezy, feels like a feather, and bends just like your feet do. But it falls apart very hast, and tears with just a slight force. So, ultimately, no one wins here, and you get to decide what fits you better.

The construction of the shoe also plays a role here. If one pair was simply glued together, without a care in the world, it would fall apart so fast that you won't even notice it. If, however, there are strengthening stitches and even welts, the pair might just outlive you! So, as we have said, the choice is yours!


Versatility
A versatile pair that is cheap, are we in heaven? This is the dream, and it might seem unachievable, but trust us it's not so hard. Many pairs we mentioned are very versatile, and you will be able to wear them for many occasions. Their color and their style decide this. If they have vivid hues scattered all over their upper, or if they have various patterns everywhere, you won't have many choices. But if they have a neutral, earthy tone, you'll have an endless amount of options.

The style affects this too. If you have towering stilettos with feather details, we doubt you will be able to wear these to two different occasions. But if you have a classic sneaker, you will have endless choices and will be rewarded with a very versatile pair!
Expert Interviews & Opinions
Most Important Criteria
(According to our experts opinion)
Experts Opinion
Editors Opinion
Users Opinion
By Default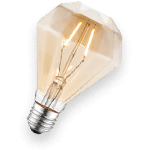 Save Every Penny
When money is tight, and even when it isn't, you should always keep a small stash somewhere. Try getting a piggy bank to put your coins into. It seems small, but it really does add up quick.
Are You A Fanatic Of Frugality?
If you're looking to stay on a budget there are several ways you can do so! Cutting cost when it comes to footwear is a big one. Designer names are no longer seen as the "highest quality" styles anymore... and with good reason. There are so many lower-end brands that are just as good!
Other Factors to Consider


Value
The value of affordable shoes also plays a minor role here. Is it worth it to pay the lowest price, only to suffer from consequences later? We are here to tell you that sometimes, marvels can be discovered. A very valuable pair with a small price! And our list here proves it - many pairs have to give much more than you paid for!


Bottom Line
Affordable, good shoes are a reality today. They might not have been before, but today many brands have finally realized that they need to provide equal chances for everyone out there. So, the valuable, yet affordable shoe was created! You can find whatever you like today, even designer items, for an affordable price, and we should be happy we're living in such times!
Frequently Asked Questions
q:

Where can I buy affordable shoes?

a:

You can either head to your nearest outlet store, or to the nearest computer and search online! Yes, it's that simple. Affordable footwear is very available today, and you should have plenty to choose from!
q:

Are affordable shoes poorly made?

a:

If you check how they were made closely, and see if they match what they describe they are doing, and also notice a low price, you will then realize that not all of them were born the same. So, they might be rarer, but the most valuable shoe surely is somewhere out there!
q:

Can I find affordable shoes in many different sizes?

a:

We are sure that you will find a pair that fits you like that famous slipper Cinderella lost. Many different styles are out there, with various different purposes, and made just for you. So, without doubt, you'll have your new pair in no time!
q:

Are there affordable designer shoes?

a:

Even the designers realized that people need more. So, the cheap designer shoe was made! Slightly different materials may be used, but the effort is the same, and the result as spectacular. So, the before posh footwear is now a common item, made to grace everyone's dressers! All in all, you will find a new pair with ease!