Best Clarks Shoes & Sandals Reviewed
In a Hurry? Editors choice:

Test Winner: Breeze Sea

Imagine this: it's 1825 and two brothers are huddled together with scraps of sheepskin, and lo and behold a company is born. It has been one of the most popular shoe brands among men and women alike thanks to their quality craftsmanship and contemporary technologies. As time goes on they are constantly upgrading and innovating their brand to keep up with the ever-changing world of fashion.

It has always been important for the company to make the best shoes, in regard to comfort and style. Whether you're in need of some everyday shoes or something a little more on the "fancy" side, you'll find the most popular and loved pairs as you read on. You'll fall in love with the creativity of this iconic brand that wants nothing more than to provide the shoes you've always dreamed of.
Standout Picks
Criteria Used for Evaluation
Features
OrthoLite
In the summer when temperatures become absolutely sweltering just the thought of having to wear your work shoes can make you cringe. That's why you're always on the lookout for shoes that won't hold in the heat and cause an uncomfortable work day and the stale sweat smell when you get home. The company developed a technology called OrthoLite that provides a breathable shoe, for example, the Cotrell Step slip-on loafers have an Ortholite sole and footbed that wicks away the moisture your feet have collected. Meaning you can be comfortable all day at work and not be scared to take off your shoes when you get home.
CushionPlus
You read that right, some of their shoes are equipped with their innovative cushioning system to give the best support and comfort you need to get through the day. It's no fun to have to stop and take off your shoes because ouch, you hurt and blisters are forming. Whether you're out shopping, walking down the boardwalk, or meeting up with your friends if you're wearing a pair that has this dual-density cushion system you can bet that you'll be comfortable all day long.
Cloudsteppers
Absolutely hate wearing shoes? You can get a pair that feels like you aren't even wearing them! The brand refers to this line as their "Cloudsteppers" line, where they took their cushioning tech and advanced it. Making a more comfortable, lightweight shoe that gives the illusion you're not wearing a pair of clunky shoes. Take the Arla Shayleigh platforms for example; you can see the sole is made of a luxuriously comfortable foam-like material, meaning it feels like walking on a cloud with each step (hence the name)!
Bendables
Ever had that pair of shoes that are so stiff and become warped from wear because instead of gently bending as you walk they practically fold in half and develop that ugly as sin crease line? Well with the Bendables collection that's a thing of that past, thanks to the ultra-flexible leather and other high-quality materials the company has been known for. What could make it even better? That their soles are flexible too! Example; the Lexi Myrtle sandals. These sandals have an EVA outsole lined with actual fabric to give an all-around shock-absorbing experience, and since the entire outsole is made from EVA it is nowhere near as stiff and unforgiving as shoes with a hard, solid rubber outsole.
Durability
To assess each of the products on our list for durability, we not only read through thousands of customer reviews on our recommended products, but we also looked for some of the hallmarks of quality construction. There are a few ways of identifying a well-built, made-to-last product.
The Details
A zipper that doesn't zip or snaps? Poor threading technique? A smelly, chemical residue on the shoe when you open the box? All these details were looked for an evaluated when assigning a score for durability.
Materials
Certain materials last longer than others, even if that comes at the expense of a higher score in the "comfort" criterion. Materials that are synthetic, thicker and firmer tend to score higher on durability.
Product Purpose
A shoe made for running and high-impact sports will not likely last as long as a good pair of general activity shoes and that's okay. Being aware of the shoe's purpose is critical for you as a reader and for us as a reviewer. Although shoes that will last longer score higher on this criterion, you might also see high scores to shoes with more limited durability, if that product was specifically designed for certain purposes that involve high-impact and high-stress motions. We take into account the type of shoes you are trying to purchase when assigning scores to shoes in this criterion.
Comfort
Imagine walking all-day without pain and fatigue. Picking up kids, buying groceries maybe even getting a mid-day power walk in all being done without feet becoming tired. The body will feel energized when fitted with proper footwear. The use of this plush material in shoes is a more recent revelation. This material has been used in pillows and mattresses because it provides superior comfort due to weight distribution and plush feel. This translates well for a comforting experience that is weightless and supportive. The most well-cushioned and contoured attire will be alleviating. It's so important that the cushioning holds its structure and doesn't go flat when wearing for hours.
Materials
The material from which the sock is made can determine its elasticity and breathability. Different materials are suitable for socks of different purposes – for instance, merino wool is often used in thick winter ones, and cotton makes up most of our everyday ones. When it comes to those intended for sports, synthetic and cotton can both be found.
Synthetic: Synthetic materials are fibers that are entirely man-made. Some types include spandex, nylon, polyester, and acrylic. Often, socks will be made from a combination of many different types for maximum benefit. The pros of this material are that it is super thin and lightweight, even after getting wet. As a result, they won't add additional bulk or weight to the feet.
They are also breathable and moisture-wicking, allowing the feet to stay fresh and dry by wicking away perspiration to the surface of the fabric, where it can evaporate. Not only does this prevent smell, but it also reduces the growth of bacteria that cause these smells and prevents blisters from forming on the foot. The con is that they do not provide warmth. When wet, their insulation is reduced, and they cannot provide adequate protection against the cold. However, this would not often be a problem – you're wearing them on the court, after all, not out hiking in the middle of the winter!
Cotton: Cotton can sometimes be found alongside synthetic materials. 100% cotton materials are not good for physical activity because they don't offer the necessary features to ensure comfort, but when it is used with synthetics, its benefits can shine through. Cotton is a natural fiber – and is one of the most widely produced of their kind, too. It comes from cotton plants and is used in a variety of different products like clothing, curtains, and bedsheets. Most everyday socks are made of the material. The benefit of this material is that it has a soft feel and is elastic. They feel comfortable on the feet and provide adequate warmth for everyday life during spring and autumn. It is also fairly inexpensive. When combined with other fibers, the socks are made stretchy and comfortable.
The downside, however, is that it absorbs moisture rather than wicks it away. When doing sports and perspiring, materials with a high cotton content will hold in the moisture and dry very slowly. The result? The perfect conditions for blisters to form, not to mention the discomfort of having sweaty feet throughout the game. In short, we recommend you look for a pair with mostly synthetics and not as much cotton. This way, you can benefit from both types of fibers and get the best of both worlds without much of the downsides.
Outsole
The outsole of a shoe can be one of their most crucial aspects, especially when it comes to shoes. The outsole simply refers to the very outer part of the sole which comes into contact with the ground beneath. The underfoot sensation, the stride efficiency, and how the shock impact of each step is handled all comes down to the outsole. This is important for all pairs, including those for indoor sports, for streetwear, and for a Friday night out.
Having an insufficient grip on smooth or slippery surfaces will result in slipping and falling. This doesn't just cause embarrassment – if it's a serious fall, it could result in broken bones and even more severe consequences. Preventing the problem before it can be very simple. To ensure that your footwear has a good grip, the pattern on the outsole is very important. Thicker, deeper grooves (or "lugs") on the outsole result in an optimal grip. Good quality hiking and mountaineering boots will have very deep lug patterns. Also keeping the cleaning process in mind – smaller and more widely spaced lugs are desirable because it is much easier to clean mud off of them. However, if you know that you'll be walking on wet terrain, there are slightly different requirements.
Though certain patterns are suitable for smooth surfaces, they may not be of much use on wet ones. For example, basketball shoes have enclosed tread patterns that don't allow the liquid to flow out from beneath the foot once trapped. As a result, the water is trapped in between, making you prone to slipping. What you'll want is an interlocked tread pattern that channels the liquid away and allows for more contact with the ground.
Our Top 10 Picks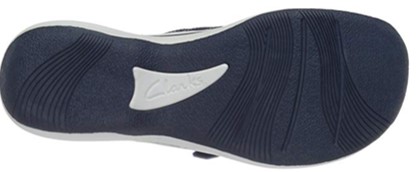 Flip-flops are a signature summer staple because you can just slip them on and go without socks and your feet are exposed to the air. You can get them in an assortment of colors and designs, but if you're just looking for a sporty design then go ahead and give the Breeze Sea's a try. They're a regular thong sandal with a floral-print feature on the footbed to give a little flair.
Normally when you're out shopping for your latest pair of summer footwear it's kind of a "one size fits all" situation when it comes to the upper straps. The company made its Breeze Sea flip-flops not only curved and comfortable but also adjustable! No more irritated, red sores where your sandal straps sit. You can loosen or tighten as you like for maximum comfort.
Ha-ha yes, very funny the word "thong". Once you're done giggling you'll notice how the strap that goes in between your toes is made of fabric instead of plastic. This is way more comfortable not only because the fabric doesn't cut into your skin like hard plastic does, but also because sweat won't get caught between the thong and your toes. Now you can enjoy your fun in the sun all day, every day and not regret wearing flip-flops while doing it!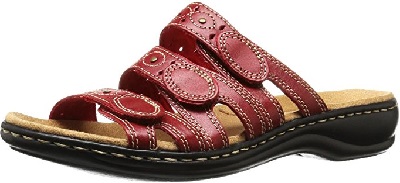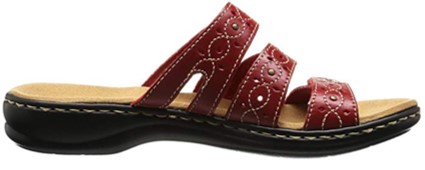 Sliding your feet over supple leather is one of the best feelings in the world, so soft and luxurious. Imagine that feeling every time you slip on your sandals along with the cool air flowing through the straps. The perfect summertime footwear for anyone that enjoys simplicity rather than the current trend of flashy, bedazzlement and Aztec-based designs.
One of the first things that will catch your eye on these sandals is the contrast between the color of the stitching and the main design color. The subtlety in the swirling accentuates the minimal studs added to make the design even more appealing. Simply beautiful, with radiant elegance to keep you feeling high class from the moment you put them on until the last wear.
So many shoes out there claim to be made of leather when in actuality they are structured out of a mixture of leather and pleather (shudder). Take a breath, because that is not the case with these sandals that are made from the finest full-grain leather. This magnificent material has been manipulated (so many m's) into three hook-and-loop closures, similar to Birkenstocks, but prettier.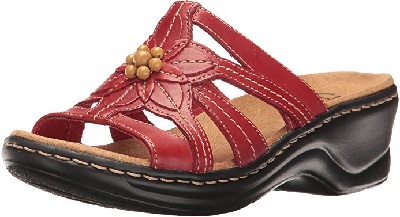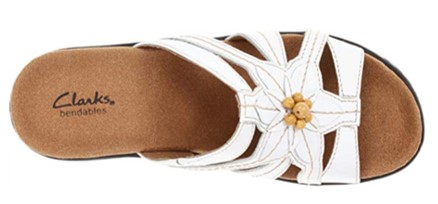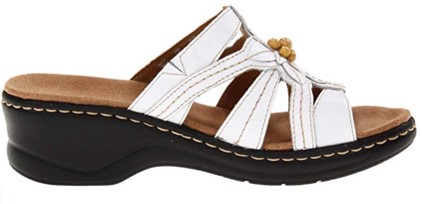 On the market for a pair of sandals that are between "flashy" and "boring" but having some difficulties? Look no further. The brand designed these slip-ons with people exactly like you in mind, where comfort is more important than spending tons of your money on bling. Great for those with a medium to high arch thanks to the curved sole design, you'll find it difficult to locate another pair like these.
Slight heels have been popular among all types of people for hundreds of years for several reasons. These Lexi shoes have a two-inch heel that gives the same stability and comfort like a pair of wedge heels without the excessive height. You can be assured that you won't be stuck in the house wondering if your shoes go with your outfit or if you look ridiculous. Tastefully done construction means you'll always look great.
What's one of the most annoying aspects of several types of sandals and flip-flops? The seams and linings that feel like they're made of plastic and dig into your feet from all directions. Soft fabric has replaced the stiff material to give a great fit, avoiding any unnecessary poking. Fabric also bends and moves much easier than its "competitors" so that your shoes move as one with your feet.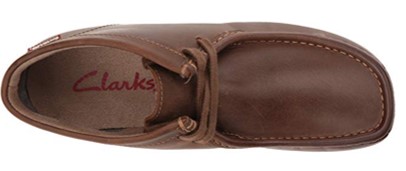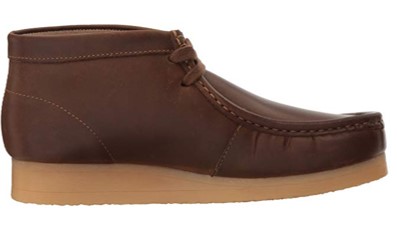 Great for casual wear or dressing up, this pair of chukkas is an ideal solution for those who enjoy leather. These have a 4-inch shaft height and a 0.5-inch platform height. In addition, the rolled moc toe adds to the visual appeal of these; as well as, the two pairs of eyelets. Furthermore, a crepe sole aids in bringing you a nice amount of comfort.
This pair is really comfortable and you will enjoy having them on your feet. Made with leather and a crepe sole, both the upper and platform height work hand-in-hand to maintain all-day wearability.
These come in a variety of color choices. Additionally, made with high-quality materials, they will last for a long time. Also, the chukka design allows you to dress up or down with this pair.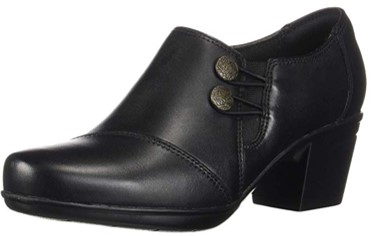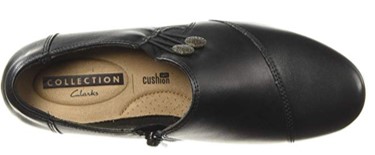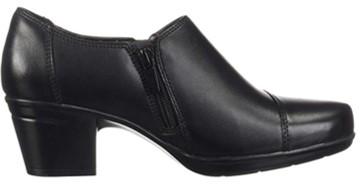 This particular pair of Clarks is a versatile option for just about any season. It keeps Clarks technology for comfort that we've all come to love, while the design provides an appropriate shoe for work, walking, and daily use, without skimping on a simplistic sophisticated style. Ortholite footbed will have you walking and stepping in plush cushion so feet will feel comfortable all day long. With its modest heel height of just over 2 inches, it gives a confident boost while keeping a stable feel. It's one pair that could likely become a go-to daily pair for both business and lifestyle scenarios.
Uppers on the Emslie are crafted from a durable 100% leather material, keeping them going for the long haul even if worn daily. We'd recommend you invest in a leather protectant spray to help protect them from liquids or wet weather though. A lightly padded collar helps prevent blistering, and with the softer leather as uppers, it requires little break in time. With a dual button accent along the outside of the shoe, the Emslie adds some simple yet sophisticated styling to your ensemble.
The sole is comprised of a more cushioned rubber, keeping steps light and padded. It has a wave pattern traction at the forefoot to help maintain grip, while stability is found with the chunkier 2 inch heel. Inside you'll find their Cushion soft system with Ortholite footbed, which provides superior comfort during longer periods of wear. An inside zip makes the Emslie and easy-on, easy-off fit, and it's rounder toe helps provide additional toe space. Perforated linings allow some breathability as well, making this perhaps one of the most versatile, and comfortable pairs you'll ever own.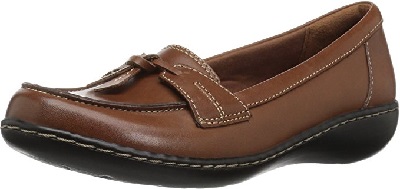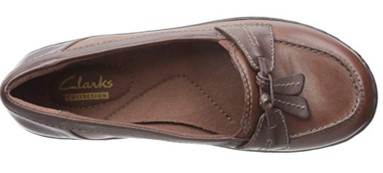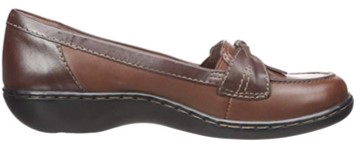 It's Friday night and you're out on the town with the group and although you promised yourself you weren't going to dance or get crazy, always bring a pair of comfortable flats. Just in case you have one too many (or just one too fast) and find yourself ready to join in on the party and fun. With the Ashland Bubble shoes you don't have to give up your cute outfit with ugly, comfy shoes because now your comfy shoes are absolutely fabulous.
The reason that flats are so popular and loved by practically everyone is that you can just slide them on. No laces to tie, no annoying high sidewall to force over your heel, just the simple ease of wriggling your toes into the toe box. Easy to take put on and easy to take off to make your life simpler. Overall, far more superior to all those complicated shoes in your closet.
Ah, Gore-Tex. It is one of the most used and loved materials in the footwear industry thanks to its durability and breathability. The Ashland Bubble shoes have a version of GTX (Gore-Tex) that not only protects from moisture but stretches with your shoes as you walk. Flexible materials typically don't last as long as rigid ones but thanks to this brand you can have the best of both worlds.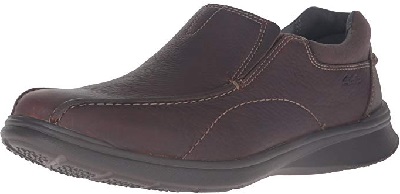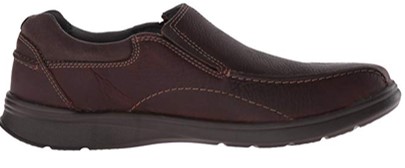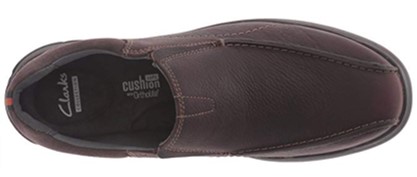 You can't help but love a good pair of loafers, they're like "loafing around" shoes that you can get away with wearing in a formal or business setting. Easily slip these on and go about your day, you'll forget that you're wearing something other than tennis shoes (or slippers). Completely breathable and lightweight thanks to its specially treated real leather while still retaining its fashionable qualities. They make us think of the "What are those" vine where the guy took a closer look and said "Oh actually those are really nice" and proceeded to ask where his friend got them from.
Tile, laminate and wood floors all have one common enemy; shoe residue. There will always be those people that drag their feet in some way and leave a long line of rubber tracked across the floor. This is why only tennis shoes are allowed in gymnasiums because it ruins the floor and can trip up other people because it'll grip their shoes. Hence why the company made their Cotrell loafers with a non-marking outsole to prevent the shame and to keep your soles looking brand new.
Remember when the TempurPedic beds first came out and everyone just had to have one? Why? Because memory foam contours to the shape of your body and provides the highest level of comfort that can ever be achieved. Part of the reason so many shoes hurt and create sore feet after they've been taken off it because the footbeds are solid. This is no problem since these high-quality loafers have a memory foam, Ortholite tech-enhanced insole to cater to all customers whether you have a high arch or flat foot.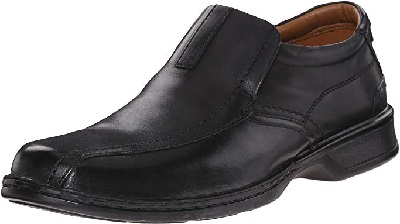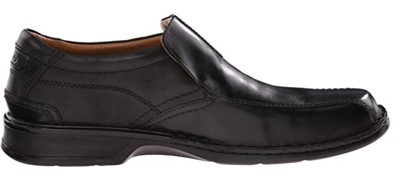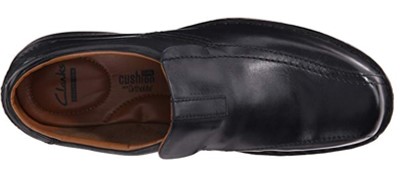 This pair has a business, professional appeal. Furthermore, they will work well with many wardrobe choices, especially those involving slacks. With the leather upper, you are certain to have a fair amount of longevity and durability, as well. The non-marking outsole ensures those tiled office floors remain intact. Just remember, these may need breaking in before an all-day excursion.
The lining is made of textile and the upper is leather. Additionally, the sole is non-marking and is perfect for office use. The comfort footbed means you won't have to worry over aching feet at the end of the day, as well.
The leather upper is a natural, breathable material. As such, you will be promoting better overall foot health with these. Also, the textile lining adds to the breathability factor; allowing you to remain cool under pressure, as it were.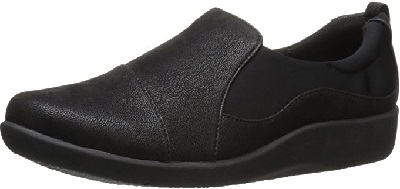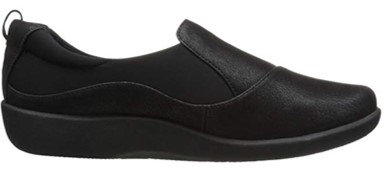 These are ready for those who stand on their feet all day. Made with an EVA, shock-absorbent outsole and Ortholite footbed, you are certain to feel comfortable as the hours pass by. Better yet, load-rate is reduced; thereby, reducing overall fatigue levels. The insole is removable, which means you can replace it with a custom orthotic, as well.
These are really comfortable, especially for those who must be on their feet all day. Made with a shock-absorbent EVA outsole and an Ortholite footbed, this pair is ready to handle the heavy loads of the day.
This pair is built great and the construction is superb; that is, if you are going to be on your feet all day, these will fit the bill and perform equally well.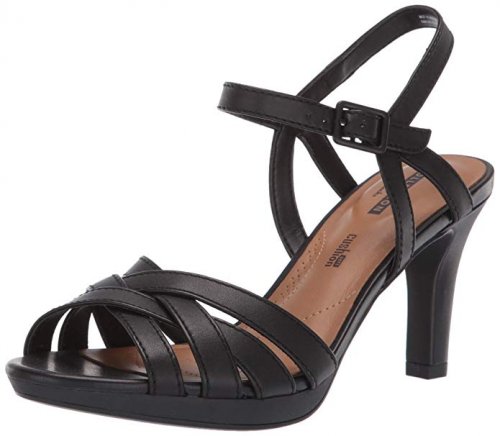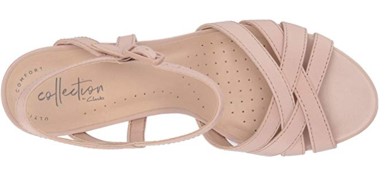 The latest offering from Clarks, the Adriel Wavy combines the style of a heel with the comfort of a sandal. A leather upper with an ankle strap is combined with an easy-to-use buckle closure system for a secure fit. A great choice for Spring and Summer, the open design will let you show off your new pedicure.
Backed by OrthoLite, the footbed wicks away moisture and wetness and will prevent the buildup of nasty bacteria and fungus that can cause unsightly orthopedic conditions. A cushioned midsole will keep you comfortable with each step you take that day.
Finally, the rubber outsole is paramount to keeping you upright, no matter what surface you are walking on. Rain or shine, know that the Adriel Wavy is there to get you from point A to point B in style and comfort.

Subscribe to our Newsletter