Best Spring Shoes Reviewed & Rated
In a Hurry? Editors choice:

Test Winner: Clarks Breeze Sea

Springtime shoes are made for celebration and the prospect of the upcoming warm months that just make our souls and
soles happy
. You will most definitely see less material, less bulk, and fun prints and patterns adorn spring shoes. Shoes will transition into being lightweight and more breathable. That is a must for warmer weather shoes. After a long season of cabin fever, paired with all of the fun
outdoor activities
you will be partaking in, be sure to look for shoes that will fit many of the needs you will require. There is nothing that sours a vacation or a fun outing than the wrong shoes. At the end of the day, you don't want blisters,
shooting pains
or even feet that got too hot or cold during the day.
Standout Picks
Criteria Used for Evaluation
Materials
The material of a shoe is going to affect so many aspects of the shoes you are considering. There are dozens of materials and blends that can be used to make one shoe. When choosing what sort of shoe material you need it is important to know the pros and cons of each material. From there, base it off of what you see matching your needs the closest. Here are a few of the most common options that are to be used as materials for springtime shoes.
Leather- While most people consider leather not a good choice for a warmer weather shoe, there is only a slight truth to that. Oddly enough, leather is very breathable. However, not as much as other materials. For a springtime shoe, you might be perfectly fine wearing a leather-based option as it has not reached its peak temperatures yet. Also, leather is good at wicking moisture away from the skin. Therefore, on warmer days the leather shoe might actually keep your feet drier than another type of material. Lastly, leather is very easy to clean. It can be scrub with a rag and soapy water and just about comes right back to original condition. On the other hand, unless leather has been properly broken in, it starts out as pretty rigid. It sometimes needs leather conditioners to get it in the prime shape to be thoroughly enjoyed. Cow leather is the most common type to be used. The leather is a popular choice as it is stretchable and durable. Also, it can be dyed to many colors with ease.
Mesh- Typically, the mesh is a go-to material for athletic shoes, water shoes, etc. The lightweight and durable material is easy to care for. Mesh is widely acclaimed for its breathability component. Therefore, when searching for a spring shoe, it is advisable to go with a mesh composition. Mesh is also very comfortable against the skin. Furthermore, if it gets wet in those pesky spring pop-up showers, it will dry relatively fast. That is great because wet shoes set up a breeding ground for bacteria and other fungi. Technology today also allows shoemakers to treat the mesh with antimicrobial properties before they are sold. Lastly, the mesh is easy to dye to many colors and compose to many shapes and adornments. The downside of the mesh is the structure of it. If you are looking for a more rigid type of shoe, you will hardly find one made of mesh. Mesh is made to be bendable and flexible. It is supposed to move with your foot. Another negative factor regarding mesh, especially if a very loosely woven mesh, it has the tendency to pick and fray easier. Think of it like a knitted blanket. The loose rings are easy to catch on things such as branches when walking around.
Canvas- A very popular material that is widely used is canvas. This type of material is always touted for its lightweight feeling as well as its durability. Canvas shoes are ideal for long distances when walking since they are not heavy. Your feet won't feel the fatigue from wearing them. Also, the canvas results in shoes being very flexible. If you need your springtime shoe to bend and move with you on the go, canvas shoes make a great option that really feels like an extension fo your body instead of a separate thing. Conversely, canvas even though lightweight, could take more time to dry than some other types of shoes in the category. Depending on the thickness and weave of your canvas, you might be walking around in soggy shoes longer than you care to.
Foam- Generally speaking the foam is used in the soles of the shoe most often. However, there are still two types of foam that can comprise a shoe. There is closed cell foam and open cell foam. Open cell foam is available in different weights, thicknesses, and colors. You will typically see open cell foams used in the collars and tongues of shoes. Interestingly, thin sheets of Polyurethane, or PU, are used to make the backs of fabrics is a lot of styles of shoes. This helps the stitches to "stick" in a shoe and prevents wrinkling and creases. In opposition, there is closed cell foam. It is very dense. Most recognizably known will be EVA foam, usually used in the soles of shoes. The thickness of the EVA also has to do with whether most shoes are waterproof. Using 2mm of foam sheets will waterproof the fabric. Latex and neoprene are the next runners-up in closed cell foams. A trick to remembering this is "closed cell" means closed off. "Open cell" has more room in between the fibers of the material.
Style
Spring is in the air and designers from around the world flocked to New York City to show off the trends and styles we should look forward to when the flowers start to bloom. From wild neon colors to animal print, flats to slingbacks, plastic to lace, there was something for everyone. When it comes to shoes, designers like Caroline Herrera debuted seaform green wedges, while H&M went with a daring pair of snake-skin pumps. Whatever your preference, our list has you covered for Spring 2019 trends to watch out for.
We ranked each of the products on our list for style by assessing whether or not they will help you get noticed (in a good way!) when you're walking down the street, in the mall or even at college. Some of the styles we awarded high marks to were:
Animal Prints
As stated, animal prints were the rage of NYC FW for 2019. On our list, we have an awesome pair of Cole Haan Tali Bow Flats that can help you unleash your inner animal. Just be aware that some of the options on our list use genuine animal product, if that is a concern for you.
White Sneakers
Sneakers, specifically white sneakers, were highlighted in the list of spring shoe trends to watch out for. On our list, we have the Converse All Star, a classic look that never fades. White signifies purity, lightness and perfection, and the white canvas CT All Star will get your spring started on that foot.
Green
Green was one of the colors of Fashion Week. Everything from lush, spring green to seafoam made its way down the runway. As a fan of green, we highly recommend to you the Sam Edelman Hazel pump. Stunning in and of itself, regardless of the trend, but the Spring Green color, specifically, will help you lead the trend curve.
Although any of the spring shoes on our list will look good, watching for the things we mentioned above will have you leading the pack when it comes to beating the trend!
Support
One often overlooked but a highly important thing to consider when searching for any new shoe is the arch support that it offers. Most people don't know the number of things in or with the body the arch of the foot can affect if not properly taken care of. Did you know that with every mile walked, our arches endure 200,000 to 300,000 pounds of stress? It is no wonder with all of that blunt force our arches sometimes hurt us more than they should. For example, two common major complaints are plantar fasciitis and metatarsalgia. Big words. However, they can cause major issues for people and they solely revolve around the arch. One of the ways to help prevent these conditions from occurring or to help symptoms if you already have them is picking shoes that properly support the arch. Some symptoms of improper arch support are pains in the arches, tingling, pain in other areas of the foot that radiate from the arches, among other signs. It is also very important to know the type of arch you have so that you can properly support your individual arch. There are many ways to determine your arch shape, most of which involve at-home, simple tests that don't cost a thing. You simply use household items you already have on hand.
Once your arch type is determined it will be easier to get a shoe that you need for correct care. There are three types of arches.
Average arch- This is what the American Podiatric Medical Association deems as a typical arch. You will see a nice curvature from the ball of the foot to the back of the foot. When examining it from the side it does not seem overly high at the arch.
Low arch- Sometimes this is also more commonly known as "flatfooted". If you stand in front of a mirror and look at your feet, you will have trouble seeing any space from the floor to the top of your arch. Also, you can wet your feet and stand on a paper bag or similar. If there is a wide and solid print as opposed to a cut in at the arch, you can assume you are on the flatfoot side. Furthermore, people with low arches tend to overpronate. This means that the foot rotates too far inwards with each step.
High arch- People that have higher arches tend to have a foot that rolls outwards; known as underpronation. This can cause issues with your stance and stride. The side of your foot is taking the impact as opposed to the entire foot. A higher arch will also need insoles that can reach the arch. Higher arches have a more likely chance of collapsing if not supported properly.
If you feel that your typical arch supports and insoles that come with the shoes you are buying do not support your foot in the way you need personally, you can see a specialist and have inserts made specifically for your foot. This is the best remedy to help get rid of the pains you have. They will not fit into all shoes, however. Make sure the shoe you are buying can accept an arch support without being seen and without causing your foot to improperly fit into the shoe once the insert is in.
Durability
No one likes to spend their hard-earned money on a new pair of shoes only to have them tear up or fall apart after just a few uses. The shoes we picked are highly reviewed for durability. We also stress that you take care of your shoes per the manufacturer's instructions. A few general care tips are to never wash shoes in the washing machine as it lessens their lifespan, pretreat with stain repellents when safe on the fabric and appropriate, and finally, use a waterproof spray if and when appropriate. This will help your feet as well as the shoes!
Value
Really, value and durability go hand in hand. You don't want to get an affordable shoe and have to sacrifice the durability of the shoe. Conversely, you don't want to sacrifice the durability just to get something affordable. It pays to plan in advance sometimes. If you need to, make a budget and set aside money for weeks or months in order to purchase the shoes you need without having to worry about the cost.
However, if that is not an option as you need the shoes right now, you can rest assured the shoes on our list are highly rated for durability across the board. You will have to determine what is an appropriate amount for your budget personally. We do take into high accord the price range of shoes when making our list. We strive to bring shoes that can easily fit into almost any budget.
10 Best Spring Shoes



Nice and cool in both feel and aesthetic appeal is what you are getting with these. They are really comfortable with the EVA footbed and the fabric thong. Also, these utilize a hook-and-loop buckle closure system for a better fit. They are made with many available color choices and can be matched to your heart's content to even more wardrobe choices!
The footbed is EVA and is easy to clean. Moreover, it provides excellent cushioning for a flip-flop design. In other words, you can wear these for hours and still feel great!
These have a sporty and casual appeal to them. This means they will work well in many settings and will go equally well with a lot of wardrobe selections. This pair is cost-efficient, in terms of the bank account. They are well-constructed and have a great feel to them, as well. At the end of the day, this is a must-have pair to add to your footwear collection.

This great sandal is manufactured by Teva. Teva has been a longstanding company that has been built on strong shoes that are great for many occasions. Their shoes are synonymous with comfort and durability, all while still remaining very stylish. The sandals are very comfortable and highly rated for versatility. They can go on your feet for hikes, walks, beach excursions, and more.
This shoe has numerous adjustable straps. That makes it a perfect shoe for a wide variety of feet. It is also helpful on those days when your feet seem to swell you can loosen the sandal. Also, when you need more security in wet conditions, such as rain, you can tighten the sandal to make sure your foot doesn't slip out.
There is no worse feeling than wondering if your shoes are going to keep you upright on a slick surface. No one wants to risk a fall and resulting injury because their shoe did not keep them from slipping. These traction outsoles have water-channeling lugs that help move the water from in under your foot, therefore keeping a stronger grip on the surface.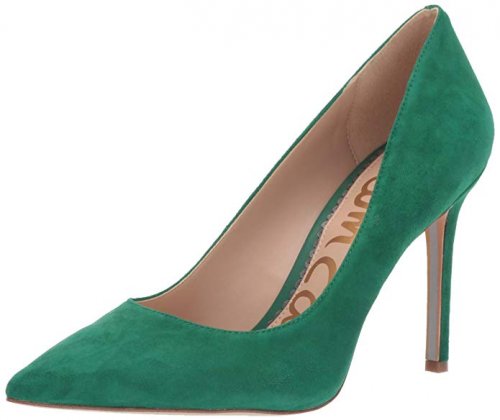 If you are looking for the latest spring shoe trends, look no further than the Sam Edelman Hazel pump. When the lights hit NYC Fashion Week 2019, green was all the rage, especially green pumps. Sam Edelman has democratized FW 2019, so everyone can look like they belong on the runway.
Featuring a 100% suede upper, the 4" heel Hazel pump is one of Edelman's finest pieces of work. One glance at the sleek design and spring green hue of the Hazel and you are sure to click "buy."
A synthetic, durable sole provides excellent traction, even despite the 4" heel. 4mm of soft cushion in the insole keeps you comfortable all day or all night long. Wear these pumps to a wedding, a client lunch or even to your kid's private school, the possibilities are endless with the Hazel pump.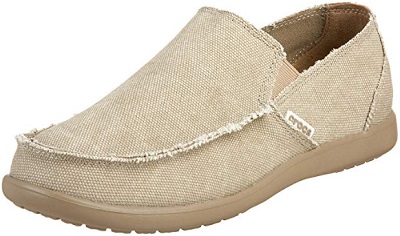 When Crocs brand first debuted their shoes most people would not even try them on because they were not aesthetically pleasing to the eye, in some opinions. However, once news got around about how comfortable and supportive the shoes really were, the shoes spread like wildfire. Crocs decided to capitalize on the other shoe avenues in the world and began to develop their other styles with the same trustworthy features everyone has grown to love.
Perhaps the industry leader in many categories, Crocs uses a material that is not only comfortable, but it also has numerous other benefits. It is comfortable, ground-gripping, and odor-resistant among other things. The material is unmistakable and quite remarkable. They use it in this design nicely even though the shoe has a canvas upper.
Crocs are known for being able to withstand rainstorms and more. This shoe has a closed upper which provides the perfect footwear for spring days and nights. This loafer can handle if you get caught in a rainstorm as the material is ultralight and dries quickly. As well, the rubber footbed and sole will dry within minutes because they won't absorb any water.

5

. Converse Chuck Taylor All Star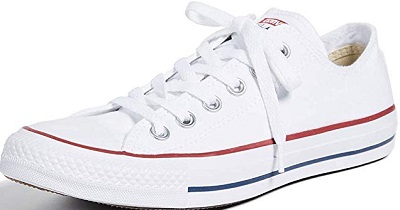 These are classics and will always be in style; or at least, they have proven this over the years. With a classic style, you can dress casual and relax on those springtime mornings or look equally good heading out for a day of shopping. This is a lace-up style with a rubber outsole. Cushioning is gained through the Ortholite insole and the medial eyelets provide air circulation. And with the canvas upper, you can help but to feel good in these!
There are many colors to choose from with this footwear. This means you can mix and match to specific outfits or cater to your individual personality. Made with a canvas upper, rubber outsole, Ortholite insole, and have decent airflow through the medial eyelets, these are nicely built. Moreover, they will last a long time under normal wear.
These are a bit pricey but they are well worth the money. They have a great build and are made with high-quality materials. Their construction is proven over the years and you cannot go wrong with this purchase.

It is a nice cool morning and the sun is rising. You feel an airy breeze on your feet and you smile. This footwear is more than capable of bringing you a fresh perspective on each new day. Made with a polyester upper for easy cleaning and a rubber outsole with nice traction, these are both stylish and practical.
Some sandals you are stuck with a partial fitting system. With these, however, you can gain a snug fit via the easy, quick-draw elastic cord lacing. This pair is great at giving you comfort and absorbing shock while you walk. In essence, you will have less pain in your ankles, knees, and joints while wearing these.
Comparable to most on this list, this pair is midrange, in terms of cost association. They are built well, perform even better, and are a perfect solution for days without socks.
There are not many more names ubiquitously known for springtime shoes than Birkenstock. They are a company that has been handed down for generations after coming to life in the late 1770's! However, they quickly rose to popularity in the 1960s. Since then, they have just continued to soar because consumers love the shoes and the brand. The quality and craftsmanship are just about unmatched. Their shoes come highly recommended by podiatrists for top foot support.
While it may seem uncomfortable at first, cork is actually one of the best footbeds to use in shoes. Cork is naturally antimicrobial, therefore reducing the spread of the fungus. Also, cork is very durable and long-lasting. Finally, cork does not retain odors. Spring or open shoes are a huge turn-off for some people that have smelly feet. Cork helps assuage their fears of going open for warm weather.
The sole of the sandal conforms to your natural foot pattern and shape. This is the highest level of support you can receive from a shoe. It anatomically supports your exact foot shape, therefore making it one of the highest recommended shoes by podiatrists for anyone but especially those that are afflicted with foot pains.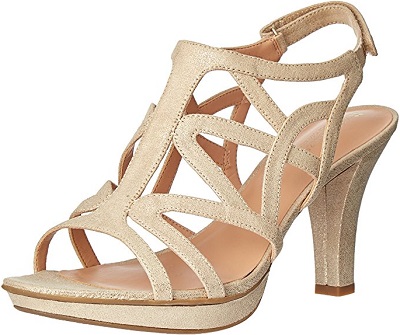 Naturalizer brand has supremely been associated with comfort and quality shoes. They have found a way to make high heels just a little bit more comfortable for those that choose to wear them. Let's face it, heels are uncomfortable even though they look good. Some women have no choice but to wear heels for their jobs or because just won't wear anything else. Design features in these heels from Naturalizer make the footbed and straps more bearable. Plus, they keep it simple with a nice-height heel.
This high heel won't flop around on your foot as some others have the tendency to do. Naturalizer added an adjustable strap to the back heel portion so you can easily loosen or tighten the shoe based on your foot length. That makes this shoe versatile when your foot has the inclination to slip forward.
The heel is a nice 3.25-inches however that is offset with a 1-inch platform under the toe. This will give everyone the opportunity to wear a heel that looks taller than it really is. Giving that illusion of height without the pain and stress that is associated with high heels makes this a shoe for even a novice heel wearer.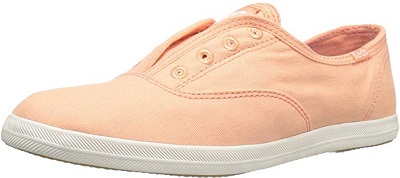 You can't have a top springtime shoe list without including Keds. They have been a top producer of shoes since 1918 and their reputation supersedes them. Their shoes are easily known for comfort, style, and durability. This particular shoe is so cool, they even named it the Chillax. Awesome styling and the traditional sole that Keds use, it is no wonder they are highly favored for shoes. They make the perfect complement to warmer weather as they are lightweight and breathable, which is perfect for those days when you want to really go barefoot but can't.
You might wonder how these shoes stay on without laces or if they will just fly off your feet. Rest assured there is interwoven elastic throughout the shoe that helps the shoes to stay secure and helps you to set trends when wearing these.
The insoles of these shoes provide a very reactive response. Your foot will feel immensely cushioned. Then upon step takeoff, you will notice it does not bog your foot down. Added bonus, the insoles are removable should you want to add in your own specialized or orthotic inserts in these shoes.

10

. Cole Haan Tali Bow Flat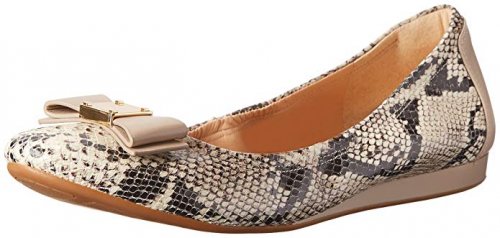 Animal print was all the rage when top designers from across the globe debuted their spring 2019 lineups. Everyone from Caroline Herrera to Dolce & Gabbana had some sort of animal print in their shows and sure enough, companies like Cole Haan have brought those designs to the masses. The Tali Bow Flat in Natural Roccia Snake Print is one of our top recommendations for spring 2019.
Made with a genuine dyed calf leather upper and snake print, the Tali Bow Flat features a stylish, yet comfortable, flat you can wear almost anywhere. A classy bow adorns the front of the flat for added taste and style.
The Tali Bow features a fully padded sock liner and PU midsole for ultimate comfort. Partnered with Cole Haan's Grand.OS technology, you cannot beat the comfort level offered by these flats. Add a synthetic rubber sole with excellent grip and you are ready to strut your stuff!

Subscribe to our Newsletter