Best Linen & Cotton Shoes For Airy, Fun Fashion Reviewed
In a Hurry? Editors choice: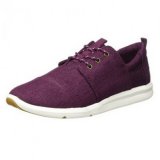 Test Winner: TOMS Del Rey Sneakers

Cotton and linen have different beginnings yet both have made their way into footgear that has come to define itself as superior in warmer climates. Both materials have been used in
vegan attire
for high-quality conscious shoewear. There has been an unyielding rise in veganism and these materials have become a staple as part of a lifestyle choice for those serious about their love of the environment. A shoe that is satisfying to wear all day without
concern for achy feet
developing and overheating is a valuable asset to any wardrobe. Traveling, long days of walking or running errands requires footwear that has the staying power. Cotton and linen have been staples for good reason.
Standout Picks
Criteria Used for Evaluation
Support
Many of this loungewear offers exceptional softness but for those who need support, it is in varying levels. Those who desire more structured footwear, there are elements such as EVA foam, arch support, and extra padding. A contoured footbed will help support feet and protect feet that feel pain constantly. This extra support also helps to keep the foot aligned for structure and biomechanically accurate walking. The importance of proper alignment in the foot can be easily overlooked but is very important to protect ankles, knees and alleviate foot pain. These are a few aspects that will be important to consider if footwear that is supportive is of personal importance.
EVA Midsole: This is great for support and added cushioning. It is a material that is more flexible than other midsoles while being very durable as well. The flexibility helps to keep walking natural and align the feet properly.
Memory Foam Cushioning: Memory foam is now widely used in footwear to surround feet with a plush comfort that molds to the foot. It increases arch support, the padding distributes weight evenly and helps with added shock absorption.
TPR Shank: This is embedded in the midsole helps to add stability for those who need it
Rubber Outsole: A rubber outsole is highly efficient for shock absorbancy. When it's thick enough it can add some much needed, helpful support.
Keeping in mind what makes feet the most comfortable along with any individual foot issues will ensure the right structure and padding for a truly serene experience.
Breathability
These may seem like opposing traits but they, in fact, are not. Depending on the knitting and structure of cotton it can be crafted to absorb sweat and increase airflow while still keeping feet very warm. A knitted upper can help increase airflow while keeping feet cool. A footbed lined with this material can absorb sweat effortlessly. Well structured spun cotton or knitting not only allows air to flow around the foot for a warm yet not stuffy feeling, but this also is very sturdy. This material can stand up well to washing, also, resisting wear and tear over time. Spun cotton tends to be more delicate, however, and may need to be air dried and washed in cold water on the delicate setting.
Cotton does allow for some airflow but linen is superior in its cooling abilities. The sweat absorbs easily and linen will dry quickly. Linen material happens to be very structured and cooling. Cotton may be warmer but the sweat wicking and quick drying capabilities of this fabric are unmatched. Cotton being structured it actually tends to not sit on the skin the way other fabrics will. This creates a natural shade for feet and helps keep them cool without a clinginess other materials may have. Linen is perfect for warmer environments to allow a breezy feel.
Comfort
Regardless of the size you're wearing one of the key aspects when it comes to footwear is its comfort. Comfort determines how much time you can spend wearing a design, how much distance you can cover, how long you can stand for, walk for, work, dance, exercise for. While the appearance, the quality and the durability of design are also important, nothing can beat comfort when it comes to actual wearability.
Achieving that perfect level of comfort is not an easy feat. It requires trial and error, testing, innovation, and a careful combination of traditional construction methods and the latest technologies. Different brands deliver comfort in different ways - through special systems, through the materials, the footbeds, the overall construction of the shoe and many more.
Fortunately, we can sort all of those into a few categories, to make it easier for us to describe each one. So, let's begin:
Technologies: Where there are world-renowned footwear brands, there is also an abundance of carefully planned and conceptualized comfort systems that cater to every customer's need. Or most customers' needs.ach of these technologies includes a set of features to help with a particular problem you may be having while walking. This problem can be that you require a bit more cushioning, or arch support, or would like a moisture-wicking experience, or perhaps even motion control the New Balance Rollbar technology can provide.
If you're keen on having a shoe with any of these advanced features, take a bit of time to study them, and carefully consider if they would work for you. Remember that, even though systems like these are useful to have, and may even make a big difference in the way you approach footwear, they don't necessarily agree with everyone. Each person is different, and each pair of feet is different, and it is quite alright if you discover that these fancy hi-tech options don't work for you.
Footbeds: What you can look at, instead of - or together with - a comfort technology, is what the footbed of the design is like. Extra padding in this area helps with absorbing impact from your steps; instead of that impact traveling up to your joints and causing damage in the long term, it gets distributed throughout the footbed and minimizes the pressure put on your ankles, knees, hips and even lower back.
A step further are footbeds which have contours to them. These molds in the footbed correspond to the shape of your foot sole - or should, at least - and gently support it as you walk, providing you with stability and comfort like no other.
Molded footbeds can also have arch support in them, which is probably the ultimate comfort experience. This reduces tiredness in your feet at the end of the day and also helps you avoid medical conditions such as flatfoot and overpronation.
Materials: While we will expand more on how materials affect the overall design, here we will briefly discuss why they matter for comfort.
Materials are the ones which surround the foot, essentially, and because of that they should be soft and malleable, but still firm enough to provide security within the design. They should have the ability to take on the shape of your foot, like genuine leather and suede do, for example, for that sock-like fit. They should also be lightweight, and not cause any chafing or blisters, such as cotton, or mesh materials.
If, by any chance, the design you're trying on feels stiff, unyielding and is even digging into your skin somewhere - there is a chance that these issues will resolve themselves with a little breaking in. But there is also a chance that they will get worse the longer you wear the shoe for. Choose wisely when you're shopping, and opt for materials which you know are reliable, and which will provide you with enough support as you go about your days.
Durability
It is expected that no design lasts forever, but that doesn't mean we can't enjoy a shoe we like for as long as possible. Many factors determine a design's durability, some of which are: material type, construction methods, frequency of use, way of use etc. If you expect to engage in some high-impact sports in your new footwear, and on a regular basis - they certainly won't last for a very long time.
Value
The price of a shoe can sometimes be a deal breaker. That's part of the reason why footwear manufacturers invest time and energy into creating cost-effective technologies to incorporate into their shoes to make them durable, long-lived, versatile, and inexpensive.
Durability & Longevity
Footwear, usually, lasts more than a few months, because shoes that are going to fall apart after a few months of use aren't worth the investment of more than a few dollars. Leather and synthetic overlays can be used to make the shoes more durable without sacrificing flexibility. Firm leather or synthetic uppers provide durability and support.
Versatility
Great footwear can be used for more than one activity. Walking and running shoes, for example, can be used in some casual sports. Stylish athletic footwear could be used in informal work environments. Sandals can be used in casual and semi-formal settings. The more situations you can use the shoe in, the more value it offers for the price.
Maintenance
Good footwear is easy to maintain and clean. They don't require a lot of expensive shoe treatments or time-consuming upkeep. Shoes that need a lot of effort, time and money to maintain, don't sell as well as shoes which are easier and cost less to keep.
Removable inserts
As mentioned earlier, removable inserts in footwear make it customizable, but that's not the only bonus to removable inserts. Removable inserts increase the longevity of the shoe, which is why some come with removable inserts.
Cost
A hefty price tag can be a deal-breaker for people on a budget. That's why many can be found in the low-to-middle price range. They're affordable, and if they are priced a little higher than others, then they offer many features to make the footwear worth the extra investment.
10 Best Cotton Shoes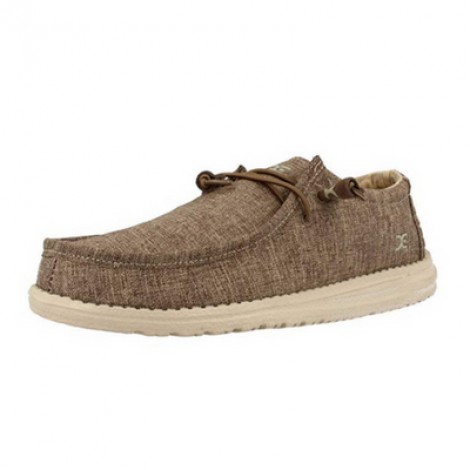 These go perfectly with relaxed vacation attire. The uppers allow airflow for a wonderfully cooling experience that dries quickly on hot days. These are well-structured to look clean and classy. The lugged outsole is wonderful for increased traction in a variety of environments. These also are lined with a soft fabric and memory foam insole.
Lugged Outsole
The lugged outsole on this shoe is rather impressive. In environments that can be unpredictable an outsole with this amount of traction is a necessity. The rubber bottom of this shoe is also surprisingly lightweight. This is a great feature that helps feet stay as relaxed as possible during busy days of long walking. This is also an exceptionally flexible material. This is important to help keep feet relaxed and in a natural walking position.
Breathable
The uppers on these shoes are made with canvas and linen materials. These materials not only offer durability but they allow airflow as well. These fabrics also will be quick drying and sturdy to not only protect feet but allow air into the shoe and hot air out of the shoe. a is smartly made footwear that allows a fresh feel without feeling oppressed. These are also very light to minimize foot fatigue.
Cost and Value
This is a mid-range priced item. This is fair for a range of pricing because this shoe is well constructed, lightweight, and offers comfort. The lining inside this shoe stretches to offer extra comfort for a luxurious experience. The memory foam insole offers plushness to ease tired feet. The rugged, lightweight, and easy flex outsole gives extra protection against slipping and creates ease of movement.

2

. AUGA Breathable Linen Classic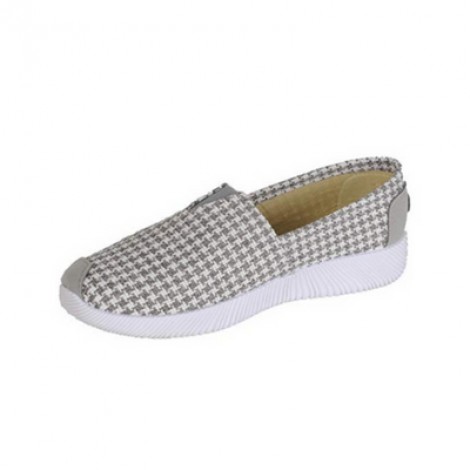 These are very cute casual wear. The elastic V neck goring is in a unique position in the front of the shoe. This also allows the shoe to be slipped on and off with ease. The linen upper is natural and extremely breathable. The interior lining is made of a soft natural cloth to gift a bare foot while being protected. The rubber sole was designed to be slip resistant to offer protection in a variety of environments.
Roomy Fit
These are well fitting foot-gear. They aren't loose and fit well around the opening of the shoe. They will not fall off feet but are roomy enough to feel alleviating. They are well fitting and wide in the front of the foot by the ball of the feet. If feet tend to swell these will give enough to keep feet feeling good regardless of the water retention. The goring allows for ease when slipping on for a quick wear and go appeal.
No Rubbing
This footwear offers a firm fit and is constructed just right to minimize rubbing against the ankle. The opening allows for ease when slipping on and is form-fitting to keep feet from slipping out unnaturally. The uppers are woven from cooling textile that allows airflow to cool hot feet. The toe and heel area is fitted with extra material to protect against wear and tear. These have cushioning on the inside for added relief.
Cost and Value
These are well constructed for long-term use. They are easy to walk in and offer extra room in the toe area. They are very fairly priced, and this makes it easy for almost anyone to afford this shoewear. The uppers are cooling, and although these don't offer extra arch support, they do offer exceptional padding in the insoles.

3

. Rocket Dog Canyon Cloud 9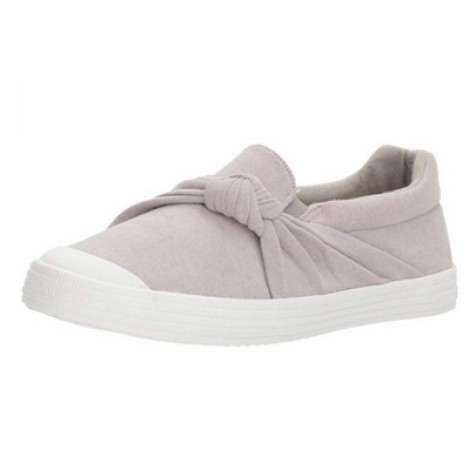 This brand was started in 1997 and named after one of its founder's dog. This brand strives to create easy wearing items that are inexpensive but not cheaply made. These shoes are easy to wear and comfortable for warmer days. The knot detailing is adorable and adds a touch of uniqueness to this attire. The cotton upper absorbs sweat and keeps feet cool and cozy. These can easily be worn into cooler seasons and quickly become a favorite for regular use.
Controls Internal Temperature
Cotton material has the ability to let air into footwear while also warming the feet on cooler days. Cotton easily absorbs sweat for feet that stay dry in any weather. These were designed to be easy to wear for regular use. The interior is lined with fabric to increase a serene feeling for feet. The soft material also protects ankles from unnecessary rubbing and the formation of blisters.
Durable Outsole
The rubber outsole is great for leisure walking. The rubber is formed to come up higher in the front of the toe box and protect feet. These are easy to slide into, and the bottom offers some traction on the outsole for extra stability. The bottoms are created as a platform to protect feet from the elements.
Cost and Value
These are an easy shoe that is affordable for everyone. This company is California based and created to be style conscious but not fashion obsessed. These shoes show the fun side of the wearer. Designed for those who aren't fashion-obsessed with the latest trends but want to set their own trends and wear what they like. These offer comfort, uniqueness, and absorbs sweat easily while allowing airflow.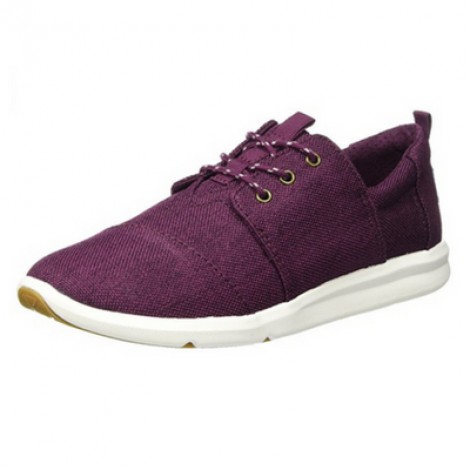 The exterior on this material is an interesting blend of fibers. They are mixing, cotton, hemp and a small number of leather fibers. These have a comfortable and flexible EVA midsole for flexibility and stability. The upper is breathable and soft. The insole was designed for comfort and is removable for easy cleaning and to make room for orthotics if they are needed.
Specialized Textile Exterior
An interesting feature for this lightweight casual shoe is the mix of fibers used for the upper. These are created from 65% hemp 35% cotton and 20% leather or cowhide. Hemp is sturdy and resistant to damage which allows it to hold up to wear and tear long term. Cotton allows for extra strength, sweat absorption, and a soft feel. Cowhide simply put is leather and leather stretches is mold to the foot and provide comfort.
Casual Construction
This was created as a casual sneaker. They are comfortable and appealing for a night out to the movies or a trip to the mall with friends. They are lightweight and fitted with an EVA outsole for flexibility and natural heel to toe flexion. These also have a cushioned removable insole for extra plushness and easy cleaning.
Cost and Value
The cost of these sneakers is a little pricey but for the quality materials used they are very fairly priced. The colors are vibrant the uppers are meticulously weaved together and chosen based on durability, breathability, and softness. The outsole provides good traction and support. These also have a small pull tab in the back to make wearing easy.

5

. TOMS Avalon' Fashion Sneaker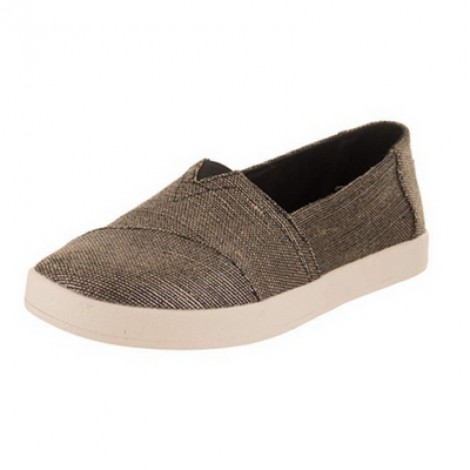 These sneakers are something you can feel good about. TOMS has a policy that every pair of shoes that is purchased they will donate a pair of shoes to someone in need. The fabric materials used are made from 100% cotton. They are easy to slip on and pair well with a variety of outfits. The insoles are removable for ease. Making this sneaker friendly for those who need specialized insoles.
Vegan
These sneakers have been created with a consciousness for earth-friendly attire. When you buy a pair of shoes, a pair is donated to someone in need. That being said this particular shoe is vegan. These are constructed from 100% cotton with a well-cushioned interior. They also have a thicker bottom for extra stability.
Slip-On
Footwear that is easy to slip into without slipping-off is great for ease of use. These keep foot cool with 100% cotton fabrics which protect feet as well. The shaft measures almost 2 inches coming to the back of the heel. The fit is a little inconsistent but as long as the foot is measured a snug fit should alleviate any rubbing that may occur on the Achilles area of the ankle.
Cost and Value
This design does come with a slightly higher price tag. It is not higher than any other sneaker, and for a vegan attire, this is very fairly priced. The fabric is of high quality and is very breathable. These also feature thicker bottoms for a very sturdy shoe. These are also lightweight, and the removable insoles are easy to clean. The actual shoe can be machine washed as well but has to be cleaned on gentle and air dried.

6

. TOMS Seasonal Classics Slip on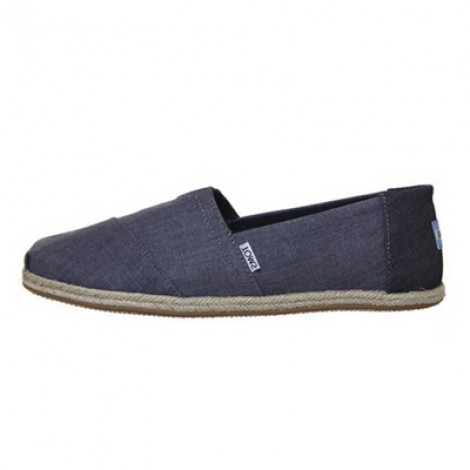 This slip-on footwear has an elegant casual look. The outsole is different from most being padded rubber. They still are durable and can be worn anywhere easily. These are created to be very supple and cushion feet. Toms donates shoes for every pair you purchase so you can rest assured you are getting a quality product that also has a heart.
Soft and Supple
These shoes are great for traveling and day walking. The interior is padded the material is soft and breathes. The outsole is even padded for extra comfortability for all day walking. The elastic vamp on the upper makes it easy to slip on and go. The design is elegant and beautiful for all-day wear.
Cushioned Outsole
These shoes are created for a comfortable, long-lasting shoe. The outsole being cushioned is a feature that is not common in shoewear. These can be worn indoor outdoor. This feature shows how dedicated this company is to provide a superior experience for their customers. These will give some traction but are designed for superior suppleness and a cozy appeal without overheating feet.
Cost and Value
The cost of these varies widely. It is easy to find a pair that is affordable for those who want to purchase a pair for superior comfort. They are wonderful for casual wear but may not offer a great amount of support. Those who need a little more structure in their footbed should buy insoles to help support feet.

7

. Sanuk Chiba Linen Slip-on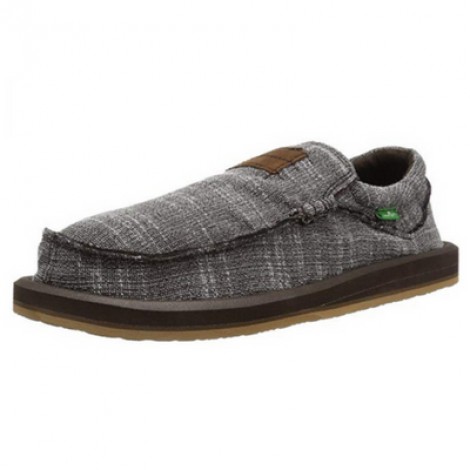 This is a very functional foot attire that offers support and comfort. The EVA footbed is molded to support and align the feet. The footbed is also treated with antimicrobial agents to help keep feet fresh and relaxed. Thin material in the uppers allow air-flow and feel soft on the skin. This offers a snug, supportive fit, and supple feel.
Supple Interior
The interior is made from soft cotton for easy wearing without socks. The frayed edge is soft, and the upper works well to cool your feet. The footbed is not only molded to be supportive but lined with soft material. The footbed is treated with an antimicrobial agent to keep feet fresh even without socks.
Sturdy Outsole
The outsole offers some flexibility but is created to be very structured and supportive. They are created from Happy U Sponge rubber outsole. This helps with shock absorption and is molded for comfort and support. The outsole is thick enough to help create an environment that supports joints and keeps the foot in a neutral position.
Cost and Value
This shoe cost is fair for the functionality it provides. These are vegan and creates from all cotton uppers and lined with a soft interior. This shoe can be worn with or without socks because the footbed is treated with antimicrobial agents to keep feet fresh. The outsole is very sturdy and supportive which is important for joint health.

8

. OTZ Shoes 300GMS Linen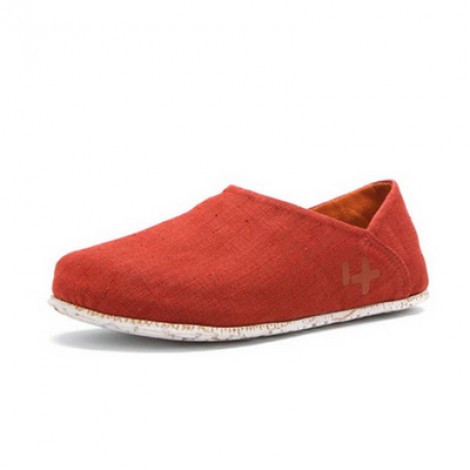 These shoes are comfortable for high-quality footwear that works with the natural biomechanics of the feet. The upper is directly stitched into the outsole which creates an appealing look and is long-lasting. The cork footbed is antimicrobial to keep feet fresh. The footbed molds to feet to align posture and work with the natural walking motion.
Antimicrobial
Cork is a natural material that has antimicrobial properties. This keeps offensive odors at bay, is quick drying and airy. The upper being made of linen allows air to circulate around the feet and cool the feet. This fabric is quick drying and absorbs and wicks sweat.
Coarse Upper
The upper is made of coarse Italian linen. They are coarse to allow extra airflow but still soft to the touch. This material wicks away sweat easily and dries quickly. Linen being structured doesn't cling to feet but rather offers some room for a cooling effect. Easy to slip into and offers comfort for long walking distances.
Cost and Value
The price range for these depends on what you would like to purchase. They can be inexpensive depending on what you would like. They offer comfort, traction, and cooling for warmer days. The stitching is attached to the outsole ensuring a shoe that is durable without wearing out easily. Sizing can run a little small, so it's best to order a size up.

9

. A&A VEGAN Floral Black Slip-on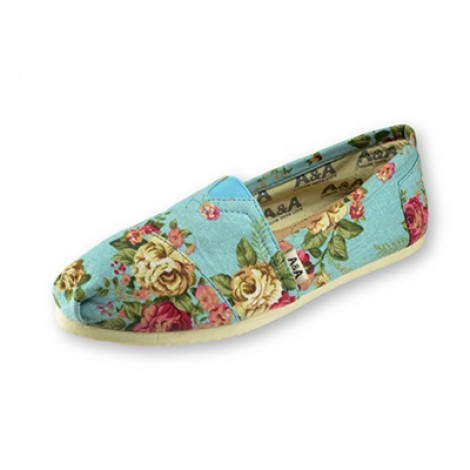 Living a more conscious lifestyle has been becoming more and more popular in recent times. Veganism isn't only about the food you eat it's about the way you live your life. These shoes are animal-friendly and safe for those who are into conscious living. They are easy to put on and adorable floral patterns that are on-trend. The footbed is cushioned and contoured for stability and comfort. The fabric exterior and interior allow air to flow around the foot for comfort.
Arch Support
Many slip-on shoes offer comfort but do not offer support. That makes these shoes a great option for those who need a little more structure under the arches. The insole is a cushioned suede and has latex removable inserts for a little extra support. The EVA midsole contours the shoe and offers extra stability and cushioning.
Vegan
No animals were harmed in the making of this shoe. The interior is fabric and suede for a cooling silky feel. The outsole is made from 20% recycled rubber and formed into one piece and molded for comfort and stability. The upper is actually created from organic cotton allowing for a cooling effect.
Cost and Value
These are very inexpensive for those who are dedicated to a vegan lifestyle. The materials are very high quality and offer a good amount of support for a casual slip-on. The romantic floral patterns are really beautiful and can go with almost anything as a stand out piece. The lining and uppers being cotton allow for airflow and sweat-wicking.

10

. AvaCostume Casual Mary Jane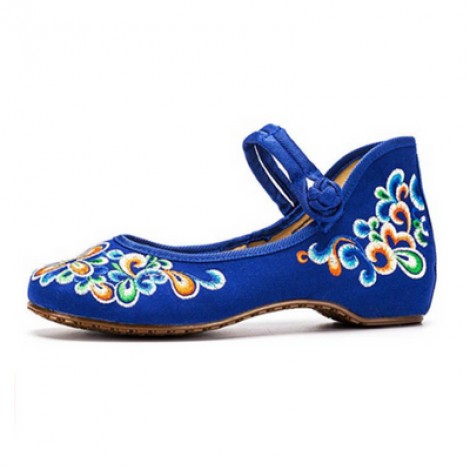 These can be worn with colorful costume-wear or as a unique embroidered mary jane stand out piece. The cotton that is integrated into the design helps to keep feet cool. These are well structured and hold up well. The stitching for the embroidery is colorful and durable to be lasting. The rubber sole is non-skidding with extra traction for protection in various environments.
Cultural Wear
These shoes feature well made cultural wear for those who want to add something vibrant to their wardrobe. These go well with khakis, skirts, and shorts for long-term wear. This company specializes in cultural wear, special occasions and costuming. This makes it a staple for those who want something different to add to their closet.
Traction
Although these feature a small heel the outsole features a superior amount of traction. These are beautiful and well made for long-term wear. Traction on shoes is important to help against falling and slipping on various surfaces. The rubber sole is anti-skid for easy wear on many surfaces as well as being non-marking.
Cost and Value
These are very cost effective and well-made. They don't have a lot of arch support but are well structured and don't break down easily. The sizing is a little small so it's best to measure feet for maximum comfort. These shoes also are narrow but they are supportive and fit well. The cotton uppers make the feet feel cool even on hot days.

Subscribe to our Newsletter