Best Flamingo Shoes Reviewed For A Pop Of Pink
In a Hurry? Editors choice: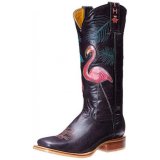 Test Winner: Tin Haul Flamingo

What is it about these charming birds that make people flock to clothing and accessories that use flamingos in their design? The lanky bird has been seen on clothing items for years. Designers were quick to catch on to consumers love for happy clothing or clothing designs that transformed their moods. Consumers are more likely to purchase items that create a joyful feeling when they see it than something that is drab and boring. Thus, the Flamingo shoes and apparel became a staple, much like a pineapple or hibiscus plants have been in the past waves of fashion.

If you're in search of something to liven up your footwear collection, consider a pair of fun flamingo shoes from below to put a smile on your face, and fashion on your feet!
Standout Picks
Criteria Used for Evaluation
Style
If you've decided to go with a pair of shoes that feature some funky pink flamingos, you're definitely going to be noticed. Flamingo shoes are a trend that has become huge during the past few months, and is now present everywhere - from clothing, to accessories, to stationery, inflatable beach floats, and even shoes. It seems that everyone wants a piece of the easygoing, fun-loving style that's associated with these tropical birds.
You can get almost any type of footwear with a pink bird on it, but depending on your personal style as well as the type of use you want to get out of your shoes, you'll want to choose the design carefully. Although some may be happy to go with large, bold embellishments on their flamingo shoes, others will opt for something more subtle, allowing for a greater number of occasions where such styles are appropriate. Though a subtle print may be a fun way to spice up an otherwise conventional outfit, a huge bird featured on gold slides is far from appropriate office wear.
When purchasing flamingo shoes, one of the most important factors you need to consider is the type of use you want to get out of it. Are you after something casual, formal or athletic? Do you have specific needs such as water resistance, cushioning, protective features or even color? Finally, do you have any personal preferences in terms of fit and comfort that would influence your choice? Or do you just want a pair of shoes that'll allow you to show off your love of flamingos?
The best way to ensure a purchase you'll be satisfied with for a long period of time is to consider all these factors before clicking that Buy button. While the Kate Spade Darie, for example, maybe a beautiful pair of wedges, they're definitely not going to make you happy if you have nowhere to wear them. Simpler, more affordable flamingo shoes such as Crocs or the Yellowbox flip flops are easier to justify, especially as they can be used in a wide variety of casual situations where a bold print won't take away from your overall look.
Comfort
No matter what type of footwear you're looking at buying, you'll need to choose a style that provides adequate comfort in order for you to actually be able to wear said flamingo shoes. Not only does this relate to size and width, but the shape and features of the shoe as well. Those with wide feet should not try to force their feet into narrow shoes, and those who have any type of foot health issues such as flat feet, inflamed tendons, joint issues or just sensitive feet will need to consider these factors before investing hundreds of dollars in a pair of novelty footwear.
When shopping for your flamingo shoes, be they for casual, formal, or house wear, you should always pay attention to the way in which the shoe is made: are there any straps, buckles or other portions of the model that could cut into your foot and cause discomfort? How much arch support is present? Is there any support or cushioning features? How tall is the heel?
Generally, most people will do well to chose a style that's got a rounded toe with enough room for the forefoot to sit comfortably, a secure heel that doesn't allow the foot to slide around in the shoe, some level of arch support to take pressure off the tendons on the bottom of your feet, as well as some cushioning features that'll absorb shock and allow you to walk and stand for long periods of time.
If you're able, always wear footwear that's appropriate for a certain occasion - if you're going for a run, stay away from hard soles or sandals. Headed to work? Maybe you should rethink those 4.5-inch heels. If it's summer, don't force your feet into bulky winter boots or you'll feel bad after less than an hour. No matter how much you'd like to wear your favorite pair of flamingo shoes, your comfort and even your health can depend on whether that exact pair of footwear is going to be appropriate in a certain situation.
Materials
Sadly, the market is filled with products that are subpar in terms of quality, which, in a large number of cases, relates to the type of materials used during construction. While the design of a certain pair may look simply breathtaking, subpar materials can make it a horrible investment. If you've ever worn hard leather shoes, you know what we're talking about - no matter how stylish they are, the pain is simply not worth it.
When shopping for your flamingo shoes, you're going to want to opt for models that are made with the highest available materials. Not only will this ensure your comfort, but will also affect the way in which your shoes will age, with quality equaling durability.
Some of the most popular materials for novelty shoes such as the ones mentioned above include:
Leather - a traditional material that's protective, breathable, durable, easy to clean and can provide a premium look depending on the treatment and embellishments. If you're looking at a pair of flamingo shoes that are made of leather, you are very likely to be satisfied with your purchase, seeing that once they're broken in, leather shoes almost always feel like they were made for your feet specifically.
Textile - because it's such an easy material to apply prints to, a lot of novelty shoes will feature a textile upper which is a great choice for summer casual wear. Not only will these types of shoes allow your foot to breathe, but they should also be lightweight and flexible, making it easier to move around in.
Synthetic Materials - depending on the type of synthetic, as well as the part of the shoe it's located in, this can be a great or a horrible feature. In terms of the outsole of your flamingo shoe, synthetic rubber can do a great job at providing you with necessary features such as traction and stability. In the lining of your footwear, however, it can lock in moisture, paving the way for health issues and odors.
Durability
Flamingo shoes may be in style now, but it's possible that the trend will fade in a few months, and that manufacturers will move on to other prints. If you're looking at this type of footwear because you're wanting in on the current action, and not because you are such a huge fan of these birds, then this may not be an actual problem. However, if you've always dreamed of owning a pair of flamingo shoes, you'll want to invest your hard-earned money in a pair that'll last you a lifetime.
That's why, when shopping for footwear, you need to opt for a style that's not just pretty and comfortable, but can also stand the test of time, and even everyday wear. Largely, this will depend on the quality of the materials used, as they're often what determines the durability of your shoe, but you should also consider the construction.
The first thing you need to look at is how the flamingo shoe is put together. Is it glued or sewn? How's the stitching? Are there any areas where you see potential problems, such as a poorly glued sole or a heel that's wobbly from the start? Taking a few minutes to carefully inspect a pair of shoes before putting them on and wearing them outside of the house can save you a lot of trouble later.
Secondly, you should also consider whether a pair of shoes were made with a specific purpose in mind. If you've bought a pair of leather heels with a leather outsole, your best bet would probably be to avoid wearing them in rain and snow, as these weather conditions will increase the speed at which the material deteriorates, leaving you with shoes you've paid a lot for, that is left unusable after just a few wears.
Last but not least, online customer reviews are a great way to determine the longevity of a certain style of flamingo shoes. Is there a common problem everyone seems to be mentioning? If the answer is yes, you can expect it to happen to you as well. In these cases, if you're really set on a certain model, your best bet is to check out how the manufacturer reacts to quality issues - do they offer refunds, replacements or free repairs? If yes, then you can go ahead and order your shoes. If not, maybe you should go with a different model.
Overall Fit
Overall fit is an important component in the comfort and support of a shoe. A well-fitting shoe is going to properly support your feet, making them more comfortable to wear for long periods of time. However, there is more to the fit of a shoe than its number size. While the number size does give us a good idea of the fit, things such as width need to be considered as well.
Just as feet can come in various lengths, they can also come in various widths. While some flamingo shoes will offer multiple width options for some or all sizes in their range, the style of a shoe can impact the width in a manner that the number size doesn't tell you. Styles with pointed toes will almost always run narrow, while styles such as slippers may run wider.
Tp 10 Flamingo Shoes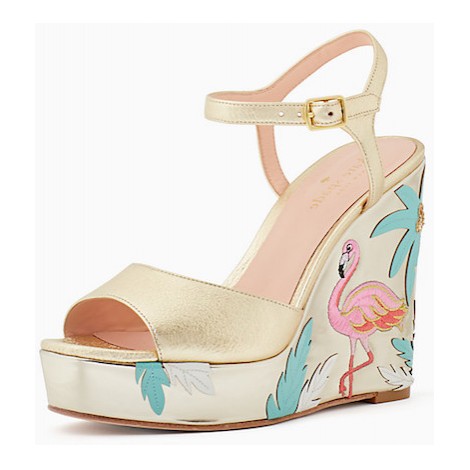 The perfect combination of elegance and fun, the Kate Spade Darie is a beautiful, high-quality wedge sandal you'll love showing off on fun outings and special occasions. Made with the best materials available to ensure your comfort, as well as its durability, this flamingo shoe is a style that'll give you plenty of elevation through the 4.25" heel, but lots of stability as well thanks to the flat outsole.
The upper of the Darie is made with 100% cow leather that's durable and easy to care for, while the lining is sheep leather that's more soft and comfortable when in touch with your foot. Being a genuine leather product, this flamingo shoe will breathe well, and will even mold to your foot, giving you that perfect fit.
Though high heels look great, they can often be dangerous to walk in, as they open up room for nasty ankle sprains. The Darie features an adjustable buckle around the ankle that'll secure the back portion of the flamingo shoe to your foot, making it less likely to lose your balance.
You can expect to pay top dollar for a pair of designer heels, especially ones made with a full leather upper and lining, and featuring embroidered designs. Surprisingly lightweight, comfy and stable, these flamingo shoes will be a real refreshment to your summer wardrobe, and you're sure to wear them with pride!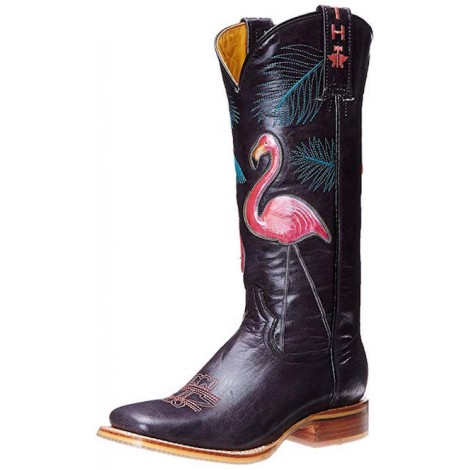 While you may not exactly be expecting to see a pair of cowboy boots embellished with a pink tropical bird, this pair of flamingo shoes by Tim Haul is the perfect novelty shoe you'll love showing off. Not only is it made with excellent materials and with great attention to detail, but this shoe is also protective and stable by nature, making it the perfect way to brighten up those crisp autumn nights.
With an upper made with genuine leather, these flamingo shoes will require some breaking in, but after the initial period, they'll fit your foot perfectly. The lining is also made of leather, allowing the foot to breathe and preventing moisture accumulation that would lead to odor problems.
The synthetic outsole on these flamingo shoes is not just easy to walk in, but the stacked heel gives the perfect amount of stability when walking. The toe is square-shaped for a natural fit in the front of the foot, bringing the comfort level of this boot to an even higher level.
Leather cowboy boots, especially those made with high-quality materials are always expensive. Add in a funky design and a double welt, and you've got a style that'll cost quite a bit. However, this type of footwear is always a good investment, and if you're passionate about flamingos, then these flamingo shoes are definitely a must-have item.

3

. OshKosh Flamingo Loafers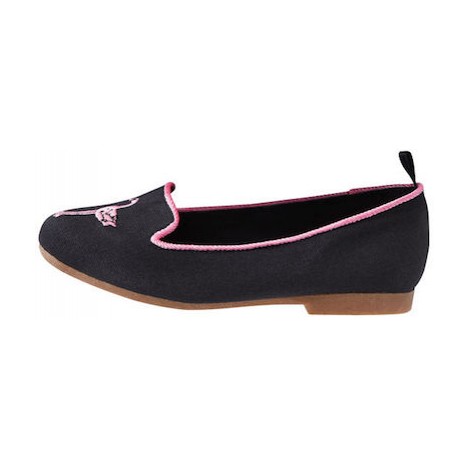 Looking for something simple but fun for your little one? This loafer style flamingo shoe by OshKosh is a great choice for both casual and slightly dressed up occasions. Comfortable and lightweight, this is a flamingo shoe that will win anyone over with the bright pink embroidery on the upper that sets it apart from available loafer styles currently on the market.
The upper of this flamingo shoe is made with a manmade textile that's incredibly easy to clean - all you have to do is to wipe it down, and it'll look as good as new. This is especially handy for those whose kids are a tad messy.
The rubber sole on this style provides excellent traction on most surfaces, and is durable enough to take a beating on the playground as well. The slight heel provides slight elevation for an elegant look, but is low enough so as not to disturb your kid's balance.
Extremely affordable, this is the cheapest option on this flamingo shoe list, and is an easy investment for anyone. If your kid is going through a flamingo phase, or just likes bright pink designs, then this will definitely be a hit, especially as it's just as comfy as it's beautiful.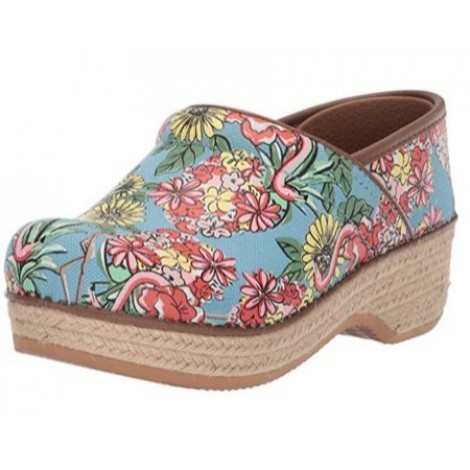 If you're unfamiliar with Dansko brand footwear, they are in the business of making comfortable clogs for working professionals like nurses and doctors. Durable for wear, with several structural technologies to make them supportive and appropriate for all-day standing or walking. The Jute Pro comes in a couple of different styles of upper, and our favorite here is their flamingo shoe! This fun, whimsical design adds pops of color to your footwear for work.
The uppers of this flamingo shoe are a light fabric canvas, giving the shoe more breathability and lighter weight. This adorable print features our favorite bird hiding amongst pink flower bouquets mixed with yellow daisies, against a light blue background. It's the kind of print that can pair with hospital or kitchen wear, and add a bit of fun to your day!
The Jute Pro from Dansko not only is a flamingo shoe, but it's also a supportive one at that! Jute outsole lines the base of the clog, with a PU material composing the inner frame, and a TPU heel counter which helps promotes proper gait. The toe box of this flamingo shoe is roomy and wide, great for those whose feet may swell after standing or walking extended periods of time. All in all, it's a solid flamingo shoe option for busy hard working professionals!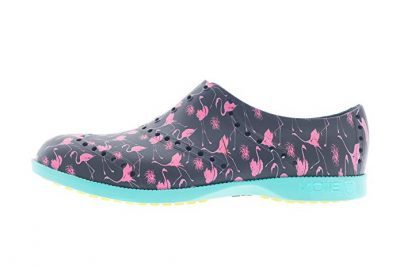 While these may not resemble what you expect from typical golf shoes, they have many characteristics that might make them your favorite pair to sport around for more than just golf. This flamingo shoe is very lightweight and extremely breathable. If you are a sufferer of hot feet, these may be a great option for you. Furthermore, they are easy to clean and can withstand many weather elements including sunshine and rain.
Footwear that has anti-microbial properties are a lifesaver. This will prevent the germs from breeding inside the shoe. That is going to add to the lifespan of the product and it will hopefully keep your foot from contracting the germs.
Hextra-grip has to do with the traction on the bottom of the sole. It will help keep you upright during your swing and if you are just out running errands. The hextra-grip technology is solely used on Biion shoes, including these flamingo shoes.
You might get a sticker shock when you see the price for these flamingo shoes, but don't stress too much about it. They are a great choice for the category. Not just for golf days but you can wear these all around and for no particular reason. They are easy to clean and lightweight so you can wear them and not have to worry about what the weather for the day holds. You can also wear them all year so that will give you plenty of wear time.




A simple summer sandal is all you need sometimes. These flip flops by Yellowbox are a traditional style that brings a bit of refreshment in terms of design, while providing you with a softly cushioned feel you'll love wearing all day long. Some users even recommend wearing these for support and back pain, which is not something you would expect to get from such a fun flamingo shoe design.
The upper of the Flamengo is made with PU, a synthetic material that's soft but sturdy, with a great level of durability. The flamingo shoe print comes in two colors, black and blue, so you can choose the one that'll complement your outfits best. Or, considering the affordable price, you may decide to get both.
With the entire sole of the Flamengo being made with EVA foam, you can expect a softly cushioned flamingo shoe that'll provide excellent arch support, molding to the exact shape of your foot. The great part about EVA is that it doesn't flatten too easily, so you can expect these shoes to last you a couple of seasons.
Ranking low on this flamingo shoe list in terms of price, the Yellowbox Flamengo is an excellent investment even for those who are not huge fans of the flamingo print, but would still like to share in the fun. Comfortable, cushioned and supportive, it's a good choice of footwear for anyone.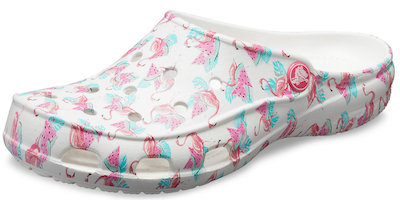 Designed specifically for women, the Crocs Freesail is an update of their classic clog that removes the ankle strap, and creates a narrower, more streamlined toe box for a bit more feminine look. All the prints, including the flamingo shoe, on the Freesail are fun and summer-ready, while all of the most important features of Crocs clogs are retained, including their comfort, traction, support and amazing price point.
As you may be aware, Crocs are constructed from a specially designed Croslite material that's incredibly cushioning, slip-resistant, easy to clean and has antimicrobial properties so it won't develop odors. A huge plus is that it's also water-friendly, and is even buoyant, making it a great flamingo shoe for beach activities.
Those who've ever worn Crocs know that they're really comfortable, especially when it comes to the footbed. First and foremost, the arch support on these shoes hugs your foot perfectly, giving it that much-needed support. Secondly, the entire footbed is covered in small massaging points that improve circulation throughout the day.
With a price that's quite low, the Crocs Freesail is a great option of fun, summer-ready casual flamingo shoes. You'll love wearing these to the pool, beach, park, around the house and garden, or even for running errands. Not only is it a comfortable style, but it's also quite protective in terms of slip resistance, which can be a huge plus on slippery surfaces!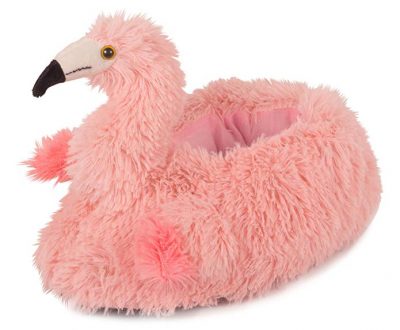 Just looking at these will remind you of why flamingos are so cute and look great when worn on clothing items. These are super soft and extremely fluffy. Once you slide your foot into these flamingo shoes you will immediately fall in love with how soft and cushiony they are. These are stuffed all around so your foot feels completely engulfed in softness. Also, they are lined so it makes sliding your foot in and out easy; add that to the wide-opening collar for ultimate accessibility.
Some slippers have nothing but a flimsy sole between your foot and the ground. These flamingo shoes, on the other hand, have a nice and thickly padded footbed. It will cushion and cradle your foot making it as soft as a pillow under your foot since it is also shock absorbing.
These soles have the rubber dots all over the bottom sole to help you keep your traction. However, we still advise you to use caution when walking as these are not the same as what other hard-soled options offer.
While these may be just slippers and you might think you won't get much use from them, this is simply not true. Many medical journals and doctors advise to only wear slippers inside and around your house to prevent the spread of germs from your outside shoes. Wearing these flamingo shoes around your house every day can boost the health of your home while helping to preserve your floors and carpets.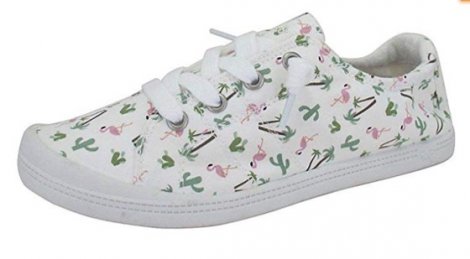 Gaining in popularity, flamingo shoe can be found in several great styles and models, and Jellypop's Dallas dons a great flamingo print upon a comfortable sneaker. Simple and casual, this pair can be worn with shorts, pants, or for a fun summer party with dresses. The easy lace-up style allows you to find a good fit and tie how you see suitable. With this flamingo shoe, you can strut your love of this beautiful bird in a more casual way.
The print on the Dallas is one of several different colors and patterns that the model is available in. Pink flamingos dance across lines of cacti and palm trees to a white/ivory background on this flamingo shoe. Uppers are an easy breathable canvas, which allows you to clean this pair of flamingo shoes up quite easily by simply tossing them into the wash on the gentle cycle. A padded collar helps against rubbing and irritations for more comfortable wear.
The base of this flamingo shoe has a rubber sole, great for traction on varied surface types. We wouldn't take this pair hiking though, as it's more of a fashion shoe. A lightly padded insole helps bring about some additional cushioned support. Overall, Jellypop did it right by printing a flamingo shoe that's casual and comfortable, which reminds us of vacation time and summers in the tropics.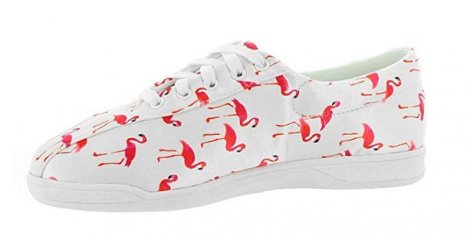 Many of us are familiar with Easy Spirit footwear, and their casual, simplistic design that makes them instant classics in your footwear collection. The AP1 flamingo shoe is no exception to that! This low profile sneaker flaunts our favorite bird in a simple pattern against a white background, giving it an almost polka dot appearance to onlookers from afar. It's a great take on a flamingo shoe that keeps things simple with a bit of fun.
This flamingo shoe has flamingo print throughout the uppers, with images of our favorite bird standing, walking, and grooming. Made from lightweight canvas, this is another on our list of flamingo shoe that can easily be cleaned up by a quick spin in the washing machine on the gentle cycle. Lace-up vamp allows for a snug secure fit and provides a bit of adjustability. The padded tongue also provides a bit more comfort during wear.
The base of this flamingo shoe is a rubber sole with Easy Spirit logo printed along the bottom. The AP1 also has a removable insole should you choose to go for custom orthotic insoles or inserts. This is one flamingo shoe that keeps it's casual easy-going style seen to the world, and makes us want to kick back with a strawberry daiquiri!

Subscribe to our Newsletter