Best Skechers Sandals Reviewed For Comfy Summer Style
In a Hurry? Editors choice: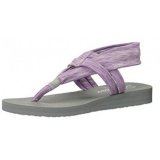 Test Winner: Meditation-Studio Kicks

Are you searching for the
perfect pair of summer footwear
? If so, then Skechers sandals are just the thing you're looking for! These shoes offer the ideal mix of style and comfort with specialized features to benefit every need. Whether you're looking for a strappy number to wear for evenings out on the town or a
sporty pair
to boost your performance while you're on the move, there's a design to suit your style.
The best thing about these pairs is that they're totally trendy and offer modern looks to match their unbeatable foot feel. We understand that choosing the ideal looks can be a challenging task which is why we've we've created a comprehensive guide to ten of the best options available.
Standout Picks
Criteria Used for Evaluation
Comfort
Width: The great thing about this line of summer footwear is that they're available in different widths to accommodate every foot shape. There are three choices of widths available: medium, wide, and extra wide. The extra-wide widths are perfect for individuals who have any abnormalities of the foot like bunions or bone spurs because they alleviate the pressure from the area that a normal width would cause. These types of conditions require the least amount of pressure possible to prevent a worsening of symptoms. The medium-width pairs are ideal for a standard foot shape and fit most wearers nicely, while the wide-width is perfect for those who just need a bit of extra room to wiggle.
Category: This footwear comes in one of three categories: casual, performance, and sandals. Their line of casuals consists of laid-back flip-flops or thong styles. These pairs are perfect for a day at the beach or for a casual summertime stroll without an emphasis on physical activity. If you're headed out for a day of outdoor sporting or even just for a beautiful nature hike you may want to consider opting for a performance pair. These options are made with specific features that were designed to help maximize your overall performance without weighing you down while reducing the risk of activity-related injuries.
Their sandals line consists of all sorts of styles ranging from slip-on flip-flops to strappy numbers. These were designed for everyday wear and offer the traditional silhouette we've come to expect from footwear that's made for the warmer weather. These designs are ideal for everyday wearers who are looking for a comforting and equally as stylish pair to wear while cruising the shoreline or just for casual strolls along the fashion strip.
Features
Goga Mat: Goga Mat insole technology makes it feel like you're walking on a plush yoga mat all day long. No matter if you're planning on walking for miles on end, this comforting material will keep your feet feeling their best and will prevent any aches, pains, or foot fatigue.
Memory Foam: Their memory foam technology provides a super-soft insole that contours to the shape of your foot for an instantly comforting feel. This technology has become an integral aspect of these pairs and is a favorite among wearers from all walks of life. Beyond the regular memory foam innovation, they have expanded on their design and now include both a gel-infused memory foam, as well as, an air-cooled memory foam. The gel-infused provides an incredible balance between comfort and support, while the air-cooled offers even more breathability for maximum airflow which prevents a buildup of sweat and odor-causing bacteria.
Lightweight: This line of footwear is made with the use of ultra-lightweight materials to minimize the overall weight of every pair. You won't have to worry about being weighed down by your footwear this summer thanks to their super-light and airy designs that allow for total airflow around the foot keeping you cool and dry all day long.
Relaxed Fit: Their relaxed fit options are made without the overuse of straps and closures. They're the easiest-wearing summer footwear that you can literally slip-on and go! If you're searching for a pair that won't restrict your feet and allow for a natural, next-to-nothing feel then their relaxed fit pairs are an excellent choice to consider.
Vegan: For all you environmentalists out there you'll fall in love with their 100% vegan pairs! They're made to be environmentally sustainable and no animals are harmed in their production. Talk about the perfect shoe! These pairs don't skimp on quality and provide the same kind of comfort we've come to expect from this line.
Brand
You might not be aware of just how many brands are actually under the Skechers name. There are eight brands in total: Bobs, Cali, D'Lites, Modern Comfort, Relaxed Fit, Skechers Performance, Sport, and USA Casuals. Each one offers styles uniquely their own which we've highlighted in further detail below;
Bobs: These products are a mixture of sport and casual. They offer a comfortable wear that's perfect for beachgoers and for casual occasions. The Bobs line offers slip-on, as well as, strappy looks that are as comfy as they are stylish
Cali: The Cali line is modeled after the California way of life and features chic looks that are perfect for girlie outings. Women love this line for its gorgeous looks that are as enjoyable to wear as they are to look at.
D'Lites: The D'Lites line offers pairs that have a more sporty feel without the full benefits of the performance styles. They have an athletic midsole and a Yoga Foam footbed that keeps your feet walking comfortably.
Modern Comfort: The Modern Comfort line offers a range of sandals that are similar in design to the Birkenstock, as well as, the Teva brands. These are geared towards a comforting wear that is versatile enough to carry you wherever you may roam. These sandals are great for light hiking or nature walks and there are styles that are perfect for everyday activities like shopping.
Relaxed Fit: This brand has super-comfy styles available that are similar to the Modern Comfort options. You'll find great aspects with these pairs like soft suede lining and easy slip-on designs. There is a focus on the slip-on style, though there are some strappy pairs available too.
Performance: This is a brand that's geared towards active lifestyles and is made with special features that benefit your overall performance. There are several thong and flip-flop styles that offer extra comforting footbeds along with options that are designed for water sports and are made with water-resistant materials.
Sport: These pairs are similar to the Performance brand except these are made with a strappy structure that's designed to stay firmly in place while you engage in demanding activities. These are ideal for anyone who is hiking or playing sports and needs a shoe that isn't going to slip or slide around.
USA Casuals: This brand takes a more upbeat and fun approach to their designs. You'll see options with a more colorful structure, as well as, styles that are classically chic. These pairs are made for everyday life in the USA and are appropriate for any occasion with the exception of sporting activities.
Style
Closures: The kind of closure system each shoe includes was a factor taken into consideration. There are various sorts of closures and types of footwear available including slip-on, hook and loop, zippers, and buckles. Each variation has its ups and downs which is why you need to take the time to consider the one that will best suit your needs. Hook and Loop designs are the most convenient and provide an excellent kind of customization with little effort. Slip-on shoes are super easy to wear though they have a tendency to slide off of your feet while you walk. Zippers are rarely seen on sandals though they're occasionally used for decorative features, while buckles are also a very convenient option that allows the wearer total control over how the shoe fits.
Heel: The type of heel, as well as, the height are important aspects to consider. If a heel is too high it will make walking more difficult because of the unnatural way it arches the foot. Whereas a lower height allows for a natural range of motion that is more liken to the way we normally stride. Wedge heels are the best kind for walking because they provide a solid platform to step down on as opposed to the thin structure of some. Wide wedges make walking effortless.
Material: Materials are a factor to consider when you're choosing a pair of footwear because it plays a major part in the overall satisfaction you get from wearing a pair. One of the best materials is rubber because it's water-resistant and offers excellent grip on any surface. A leather material is an ideal choice for the upper unit that allows for air circulation around your skin and prevents a build-up of sweat and odor-causing bacteria. Though, for summer footwear, light fabrics are also ideal because they keep you cool and dry.
Value
Overall, Skechers footwear is affordable, and offers a great combination of cost and quality. Most of their styles (not just sandals but work and athletic models as well) are made with plentiful technical innovations aimed at providing you with the necessary support and cushioning, while still looking stylish.
You'll find that a number of the models above has features that would cost a $100 or more if they were by any other brand, while doing the same things just as successfully.
Not, however, that this is not a brand to go to if you're after premium materials, designs or durability. Their footwear will last you up to two years on average, while some models may see deterioration before that point. This is especially important to keep in mind when it comes to anything that's made with foam - generally, the material will flatten and will stop absorbing shock as well as it did when you first bought it.
Another thing that offers value to the Skechers brand is how available it is. Not only can you purchase it anywhere in the world, but they actually have a great online presence as well, and they cater to a huge variety of preferences. Their lines come with dozens of models, so you can choose by functionality or design, and still get everything you wanted out of the shoe.
Top 10 Women's and Men's Skechers Sandals
1

. Meditation-Studio Kicks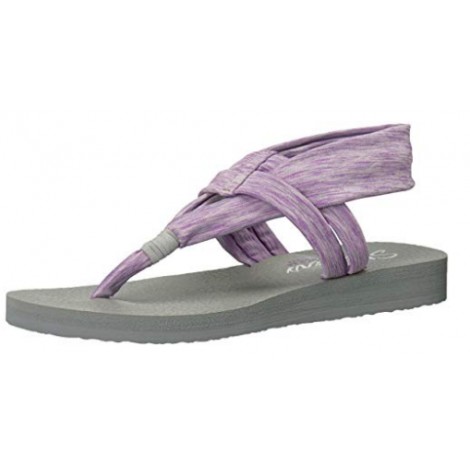 The Meditation-Studio Kicks offer the perfect structure for a zen experience! Its lightweight and super flexible midsole let you engage in whatever activity you so choose, while their interwoven stretchy straps provide customized comfort with every stride. If you're looking for a cute pair of summer footwear that offers an enjoyable foot feel then these are the perfect pair for you.
Yoga Foam
This pair is designed with an ultra-comfy yoga foam footbed that's made from plush yoga mat material. This makes for an incredibly supportive yet supple cushioning that perfectly protects the delicate underside of the foot for all-over comfort. This material is lightweight and feels good against bare skin while also allowing for proper airflow to prevent a buildup of sweat and odor-causing bacteria.
Internal Stretch Bands
Complete with internal stretch bands, this is one flexible pair of Footwear! These bands provide elasticity which helps to keep them firmly in place, while at the same time, allowing for a complete range of motion. This pair feels natural on your feet and lets you move the way you were intended to.
Cost and Value
The Meditation-Studio is an incredibly well-priced pair of footwear! They're designed to keep you comfy all day long and offer a super-stylish design that will surely turn heads as you walk past. Whether you're headed out for a day at the beach or for a stroll down the fashion strip this pair has everything that you could need and more.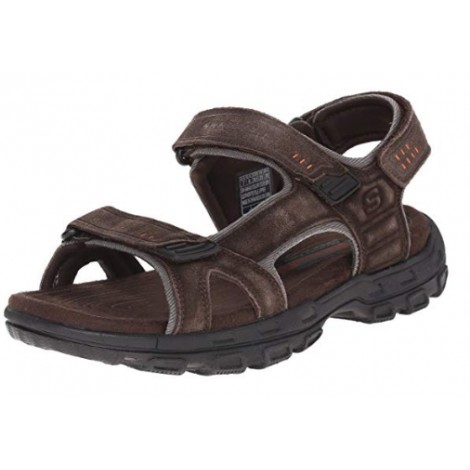 The Louden was made for life outdoors and features a soft yet durable synthetic upper unit. This pair is from the Relaxed Fit brand and offers an adjustable and sporty design. A Memory Foam 360 build enhances comfort for an enjoyable wear while a trendy structure keeps you looking your best.
Relaxed Fit
These pairs are made with an extra roomy structure that can accommodate wider feet with ease. Their shock-absorbing midsole provides additional support right where you need it most and a movable rubber outsole offers a slip-free walking experience. Men everywhere are raving about the Louden's perfect foot feel that makes hiking seem like an effortless feat.
Adjustable Straps
This summer shoe offers a customizable fit thanks to its adjustable straps at the toe, instep, and heel. This makes for total control over the entire foot and lets you make the most of these well-made shoes. If you struggle with finding a pair that fits your entire foot comfortably then these are an ideal option to be considered.
Cost and Value
While they do cost a bit more than other options on the list, the Louden is a worthwhile investment. Anyone searching for an option to promote a healthier environment for their feet will love the way this pair feels! Their supportive structure and cushioned footbed provide the ultimate in enjoyability that will keep you coming back for more.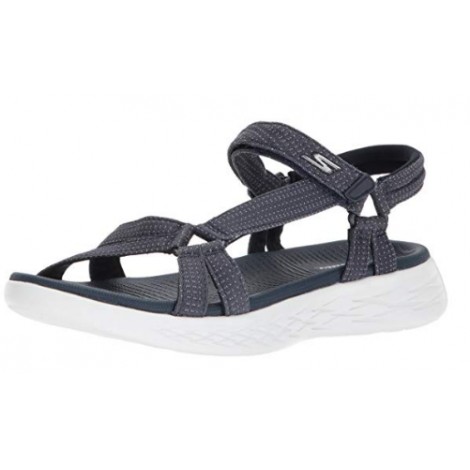 The On-The-Go-600 is an ideal choice for those who like to keep on the move and offer a strappy stay-put structure. This cute and minimalist option is available in four colors: black, charcoal, natural, and navy, which means you can match them with almost anything in your closet.
Secure Fitting
This pair has adjustable straps that make for a secure fit that you can customize for the perfect feel. Their low ¾-inch platform makes these an easy wear and allows for natural strides. You'll love the secure feeling that these shoes offer so you can stop worrying about your footwear sliding off.
Goga Mat Technologies
This pair features their signature Goga Mat technology that provides a high rebound insole. This unique material makes it feel like you're literally walking on a high-quality yoga mat. This makes for an extremely enjoyable walking experience and takes the painful pressure out of every step.
Cost and Value
While you might have to pay a bit more for this pair, the On-The-Go-600 is a great choice of footwear! They offer an extremely comforting feel and relieve the pressure from every step. Forget about achy feet thanks to their Goga Mat insole that feel like you're walking on a plush yoga mat.




If you are looking for something incredibly comfy, or even a recovery sandal you can wear after working on your feet for hours (or training hard at the gym), then the Tantric Salman is a great option that's one of the most affordable items on this list. With a simple, no-fuss design, this is the perfect casual summer flip flop.
Memory Foam
While plenty of Skechers products use memory foam in the footbed, not all are lined with it. The Tantric Salman wraps your feet in this soft, cushioned material, making it the perfect choice for those with sensitivity issues (or just a preference for comfort).
Toe Post
The worst thing about flip flops has got to be those rubber toe posts that cut into your feet and give you hell after the first few hours of wear. This model substitutes rubber with soft fabric for all-day comfort.
Cost and Value
One of the cheapest models on this list, the Tantric Salman is a pair that anyone will benefit from. Whether you're after something to wear around the house, to run errands, for casual summer outings or for travel, this flip flop will be a great match.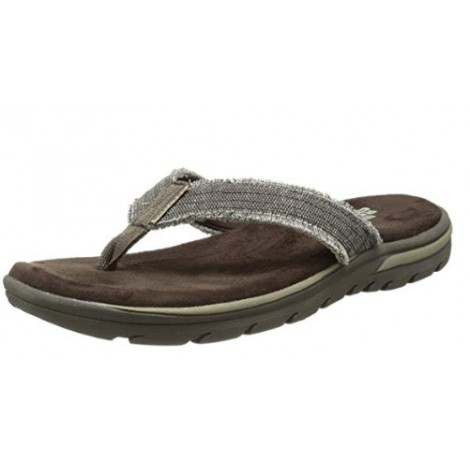 The Bosnia is a beach-ready pair from the Relaxed Fit brand. It offers a casual and comforting structure that's complete with a Memory Foam 360 cushioned design which keeps you walking comfortably for hours on end. Their soft woven canvas fabric and soft fabric toe post ensure there's no rubbing, while a full-length memory foam footbed contours to the shape of your foot and hugs every curve. The Bosnia is super stylish and offers men a casual yet ever-trendy design that is perfect for long days at the beach or to wear for any casual occasion you can think of.
Memory Foam 360
The Bosnia features a Memory Foam 360 cushioned footbed and padded strap lining. Padded straps ensure that no rubbing transpires which prevents blisters and other friction-related irritation, while the padded footbed gently cushions the delicate underside of the foot for total comfort and an enjoyable wear. Memory foam contours to the shape of your foot and retain an imprint of its structure to provide the perfect customized fit.
Rubber Outsole
The Bosnia's' flexible rubber outsole is designed to provide steady traction on any surface. Whether you're walking along the shoreline or cruising the city streets you won't have to worry about accidental slips thanks to their grippy platform that keeps you stable on your feet no matter the conditions.
Cost and Value
The Bosnia offers men an affordable option of summer footwear that looks as good as it feels. They provide a sturdy and masculine structure that's in-style and offers superior comfort for everyday wearability. For men who struggle with wearing summer footwear, the Bosnia is an excellent option that will make you enjoy this kind of shoe.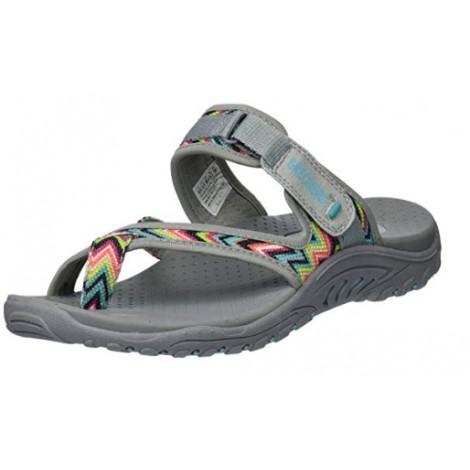 The Reggae-Zig Swag has a super-cool style and is available in seven colors including multi navy, gray, black, and natural, to name a few. Their zig-zag patterned straps add a Rastafarian feel while their flexible feel makes for easy movements. This pair is perfect for water-related activities.thanks to their rubber outsole that provides a solid grip on wet and slippery surfaces and is water-resistant.
Security
An adjustable hook and loop closure system keeps you in control and lets you customize the way this pair fits. Their non-slip outsole offers grippy traction on most surfaces and their water-resistant material is perfect for days spent frolicking in the surf.
Design
This pair features a unique zig-zag pattern that adds a Rastafarian undertone to these summer shoes. If you're looking for a cool pair to hit the beach in style then these are a great choice! They're as comfy as they are trendy and you'll feel at ease while wearing them.
Cost and Value
These shoes are reasonably priced and offer considerable value for their cost. Anyone who wants to look cool while cruising the beach will enjoy these thanks to their unique vibe. Best of all is the satisfying feeling you'll experience with every step.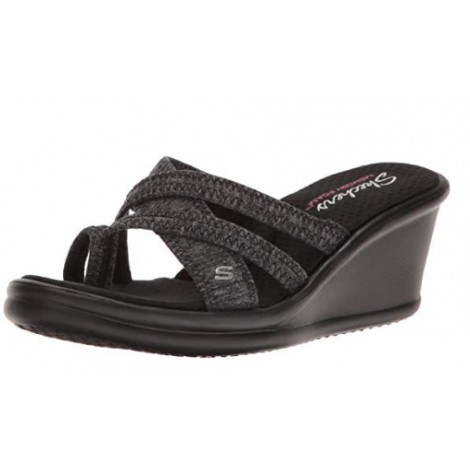 The Young At Heart is made from quality nubuck leather and is available in six colors: black jersey, black, black gem, black sparkle, silver sparkle, and grey jersey. This makes it super easy to match them with your favorite outfits for no-fuss wearability. A synthetic outsole provides solid non-slip traction on every surface, while their wedge platform allows for a natural stride.
Memory Foam Footbed
This pair is made with a memory foam footbed that contours to the shape of your foot for a perfect fit every time. This material retains an imprint of your foot's structure to provide the most comforting fit possible by hugging every curve. Memory foam is one of the most enjoyable materials to walk on and enhances your overall experience.
Structure
The Young At Heart is a strappy pair that boasts a cute wrap around toe-ring for a stay-put fit. Their 2.5-inch heel and ¾-inch platform allow for a hassle-free stride and reduce the grip required to keep them in place. Their nubuck material is breathable and allows for adequate airflow preventing excess sweating that can lead to odors.
Cost and Value
This pair is very affordable and offers a delightful appearance that's matched with all-over comfort. Walk with ease thanks to the Young At Hearts' memory foam footbed and strappy stay-put design that makes walking a breeze.

8

. Reggae Slim Forget Me Knot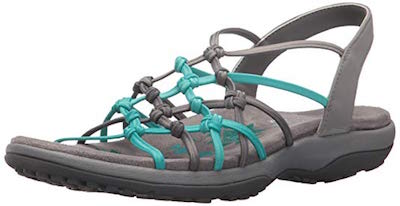 If you're after something truly unique that combines the best of two worlds - a stylish look along with a supportive and comfortable sole, the Reggae Slim Forget Me Knot may be the perfect choice. This strappy model comes in six color options, from monochrome black to flashy turquoise, allowing you to show off your personal sense of style.
Stretchy Upper
The intricately knotted upper is made from a stretchy fabric and numerous openings, giving you a breathable summer shoe that'll completely adjust to your foot shape and size. It's also supportive and offers a secure fit, without having to worry about buckles or velcro.
Memory Foam
The footbed of this sandal is fully covered in memory foam, making it an excellent choice for long days of walking, traveling, or even work. You'll love slipping these on, as the shock absorption and support will bounce back to the original time after time, giving you a durable product.
Cost and Value
Skechers is an affordable brand that you can safely invest in, without having to worry about the quality of the product you'll be getting. This particular model is a great choice for almost anyone as if has all the features you'll need for healthy feet. The great look is just an added bonus.

9

. Trailway Slop Flip-Flop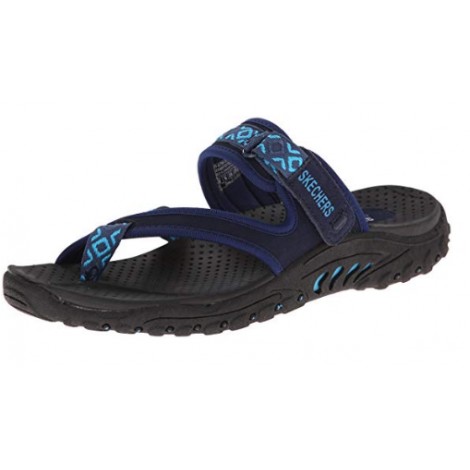 The Trailway is made from leather and textile materials that are both lightweight and breathable which helps to prevent undue strain and eliminates a buildup of odor-causing bacteria. Their rubber outsole provides sturdy grip on any surface, even wet slippery ones, while their low platform makes for easy striding. This pair offers a comfortable footbed that prevents aches and pains at the end of the day.
Instep Strap
A great feature this pair has to offer is their instep strap with an adjustable side hook-and-loop closure. This keeps them firmly in place and prevents them from sliding off your feet. Hook-and-loop closure systems are one of the most customizable and offer the wearer complete control over the fit.
Design
This stylish and versatile pair is ready for both on and off-trail adventures. Whether you're out for a casual stroll or headed for a mountainous hike these are ready to carry your feet wherever you may roam. Their sturdy rubber outsole offers solid traction on any terrain and is water-resistant for a comfortable feel no matter the weather. If you enjoy the outdoor way of life than this is an ideal option to consider.
Cost and Value
Another prime example of a reasonable price for a quality pair of footwear, the Trailway Slop is an accessible option for anyone who's interested. This summer footwear looks as good as it feels and is designed to maximize your comfort as well as performance.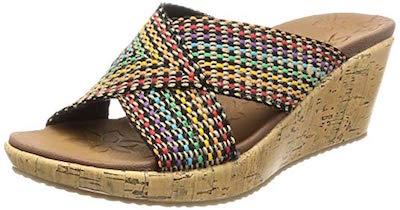 This multicolor wedge is definitely going to become one of your favorite pairs of footwear this summer. It's not only comfortable and affordable, but it also looks divine, and can be paired with any outfit you can imagine - from jeans or shorts, to summer dresses to flowy skirts, even something more formal will look great with it.
Natural Cork
Some of the most popular comfort sandals in the world are made with cork elements, so when we saw that the Beverlee Delighted features the material in the midsole, we were sold on it. This is a breathable, supportive, and incredibly durable material that'll form to your foot shape, giving you a fit you'll hardly find in any other shoe.
2 ¼ Inch Heel
This wedge gives plenty of elevation, while still remaining unter the 3 inches that are recommended for optimal foot health. You'll definitely benefit from this added layer of elegance, while remaining comfy and pain free.
Cost and Value
Another averagely priced product, the Beverlee Delighted is an affordable sandal that's perfect for those occasions when you want to look a bit more stylish. It'll definitely become a summer staple in your closet, and you won't even notice that it's got a high heel!

Subscribe to our Newsletter