Best Teva Sandals Reviewed
In a
Hurry? Editors choice: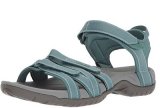 Test Winner: Tirra

The origins of Teva go back to 1984 when the original sandal was born out of necessity: the founder needed a pair of footwear to allow him to cross a river, so he made his own. From that very pair of Teva sandals, the company has been dedicated to providing customers with footwear that's functional and lightweight, but ready for numerous outdoor adventures.

Whether you're looking for hiking, beach or everyday footwear, you can count on there being a pair of Teva sandals for you. The company uses tried and tested materials, and offers features that any nature enthusiast will be happy to have. Plus, you'll find that a number of their styles are vegan, which means that they're both practical and animal friendly.

The list below looks at the ten best Teva sandals available for purchase, ranking them based on style, durability, materials used, comfort and value.
Standout Picks
Criteria Used for Evaluation
Style
Sometimes you need to step out in the summer heat in something that is breathable, but tough and can endure long walks. Plus it should also look good on your feet. This describes the entire catalog of sandals this designer makes.
Teva sandals are not like sneakers which have a lot of real estates to put all kinds of designs. Sandals are a sole with straps attached to them, used to anchor your feet to the sole. So of course, to have the best looking designs, they must have the best looking straps.
Most of these models are flat with large and thick soles. However, there are many which are designed closely to traditional shoes, with well-defined and sometimes high heels and a thin and curved sole. The styles that we decided to look at are mostly flat, but they manage to be stylish by the way individual straps are designed, the material they are made of and also the number and positioning of the straps.
Materials
Most Teva sandals are made from a strong synthetic material such as rubber. Footwear from this brand usually has soles made of rubber. This is because not only are they very comfortable, they also tend to last longer than even some natural materials. Synthetic materials will also tend to be cheaper because they can be mass produced at will, while natural materials such as leather are often limited.
Another reason why synthetic soles are so often used is for flexibility and comfort. Usually, people wear this type of shoe to go out in dry and arid conditions, meaning the ground is much harder than times when it is wet or cold. Synthetic soles absorb the shock that comes from walking on hard ground, and prevents sharp objects from injuring your feet.
Some other materials used to create Teva shoes also include leather which is durable, comfortable, and breathes well. Do keep in mind, however, that it won't do well with water.
When it comes to longevity, the rubber will have leather beat most of the times. Leather can last a very long time, but you'll need a lot of layers to do so, which means the shoes will become a bit more expensive. That problem is not seen in rubber, which is a cheap material and will also last several seasons. Synthetic soles can take a beating, and you can get pretty active in them. This is why your shoe of choice, mostly made with synthetic soles, will allow you to do whatever you want outdoors and do it in style as well.
Durability
There is a bit of a trust issue when it comes to shoes this affordable: people automatically believe that they won't last as long. Cheaper shoes tend to be largely made of synthetic material, but the miracle about these materials, such as rubber, is that they are made to last, and are made to be worn in some extreme conditions.
The Teva designs we looked at today are no exception, and they are made to last. They know that the typical consumer looks for shoes that are made to last. Most if not all of the models that are sold by this company are made from both leather and rubber. The leather and synthetic material straps that go around the arch of your feet and in between your toes are layered in such a way to prevent easy breakage. They are also stitched very well into the soles to prevent this same problem.
The soles of these products also need to be strong, and since they are usually made up of rubber, they are built to withstand great shock and prevent sharp or blunt objects on the ground from hurting your feet. They are also flexible to prevent breakage when running or doing something physically demanding with your feet.
Comfort
Because Teva sandals are mostly "open" it is easy to forget that they will still need to be comfortable. The styles made with synthetic soles do not usually cuddle your feet like leather soles do. Synthetic soles are usually comfortable at first, but as the day goes by, the flatness will get to you if you are standing for a longer period. This is why the footbeds are often padded.
Everyone's feet are different, and the arch of one person's feet may be bigger than another's. If the straps going across the arch of the foot, then it may be necessary to have them be adjustable. Most Teva sandals listed above do have adjustable straps, or buckles to ensure that they fit around your feet perfectly.
In the case of flip-flops, you'd only find a thong that goes between your toes or just one strap going across the arch of your foot. Even in these cases, the brand made sure to have straps that can stretch far enough for bigger feet without compromising on comfort.
Value
The price of a sandal can sometimes be a deal breaker. That's part of the reason why footwear manufacturers invest time and energy into creating cost-effective technologies to incorporate into their shoes to make them durable, long-lived, versatile, and inexpensive.
Durability & Longevity
Footwear, usually, lasts more than a few months, because shoes that are going to fall apart after a few months of use aren't worth the investment of more than a few dollars. Leather and synthetic overlays can be used to make the shoes more durable without sacrificing flexibility. Firm leather or synthetic uppers provide durability and support.
Versatility
Great Teva footwear can be used for more than one activity. Walking and running shoes, for example, can be used in some casual sports. Stylish athletic footwear could be used in informal work environments. Sandals can be used in casual and semi-formal settings. The more situations you can use the shoe in, the more value it offers for the price.
Maintenance
Good footwear is easy to maintain and clean. Teva shoes don't require a lot of expensive shoe treatments or time-consuming upkeep. Shoes that need a lot of effort, time and money to maintain, don't sell as well as shoes which are easier and cost less to keep.
Cost
A hefty price tag can be a deal-breaker for people on a budget. That's why many Teva sandals can be found in the low-to-middle price range. They're affordable, and if they are priced a little higher than others, then they offer many features to make the footwear worth the extra investment.
10 Best Teva Sandals Reviewed
We mentioned that Teva specializes in making styles for the outdoors, and no other sandal epitomizes this fact than the Tirra. These sandals are eye-catching, coming in 24 different color styles. The soles are made from synthetic material that is very comfortable, and the insoles have their signature zinc-based anti-microbial technology that prevents stink from happening. These are the best buy for a person constantly on the move.
Teva went all out in making the soles for the Tirra. Most other manufacturers would make designs that do have comfortable soles, but what happens is that your feet sweat and are absorbed by the cushioning material on the insole, which stays and often causes a stink that is hard to get out. This is not the case with the Tirra, however, which has a zinc-based anti-microbial technology in the sole that prevents the accumulation of odor-causing bacteria. They also infused the heels of the insole with nylon which protects from shock. The rest of the insole is made from compression-molded EVA for max comfort.
These sandals also have multiple straps to anchor your feet to make sure your feet aren't slipping out of them on your walks. No part is made of leather, so they are 100% vegan. The textile that makes the straps are not coarse, and they also latch onto each other easily for easy slipping on and off.
The cost of the Tirra mostly depends on the color and type that you choose, but they are a bit more pricey than similar styles. The money you pay for these is worth it for how functional they are, with the zinc-based stink preventers and the way the soles are built.
The original Hurricane XLT was one of the brand's most popular sandals, and the latest update brings users some welcome design changes aimed at improving the comfort and support provided. These sandals are ideal for active wear, whether it's hiking or running errands. It is available in a huge variety of color options, so you'll easily find the version that's perfect for you.
The Teva Hurricane XLT 2s are made with recycled PET webbing which is suitable for wear around water, and which dries quickly. Contrary to what you may think, the straps are actually soft and pliable, and the heel tab features cushioning for increased comfort. The fit of this model can be adjusted in three points: at the toe, instep and at the heel, so you'll easily find the correct fit, which can then be improved quickly on the go.
The midsole on these sandals is made with EVA foam, and it uses a deep heel cup and a little bit of arch support to provide support, and ensure proper alignment while walking. Aided by a nylon shank, the midsole is sturdy, and can be relied on even in more challenging terrains.
As for the outsole, it's made using Rugged Durabrasion rubber with a zig-zag traction pattern, and you can expect it to last for quite some time, regardless of the types of terrains you plan on tackling. These rank below average in terms of price, so if you need something made for outdoor use, this could be your winning pick.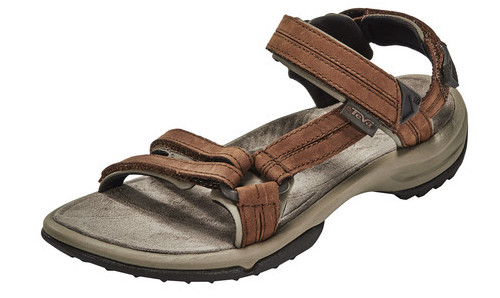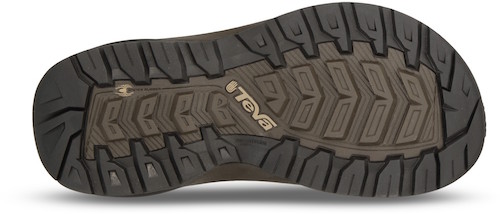 Although the Terra Fi has a newer edition than the trusted fours, this model is still very much popular due to its durable leather build. Ideal for those venturing into unknown territory, the Terra Fi 4 Leather is going to do exceptionally well on rugged terrain, all while giving you the functionality you've come to expect from Teva hiking footwear. It doesn't offer much in terms of fashionability or color options, but if this is the model that catches your eye, chances are you're going to focus on performance and not looks.
The upper of the Terra Fi 4 is made out of leather for a more durable experience. Although it won't do well with water, it's ideal for hiking and everyday wear. There are three hook and loop straps, allowing you to get the best possible fit for your foot shape. This pair of sandals is also treated with Microban zinc that helps eliminate and prevent bad odors.
You'll find that the Molded PU midsole on the Terra Fi 4 Leather works really well to support the arch, while the deeper heel cup stabilizes and properly aligns your feet with your knee and hip joints. You'll also appreciate the nylon shank located in the sole that prevents injuries often associated with rugged terrain. You'll also appreciate the cushioned Shock Pad in the heel that absorbs impact and protects you from fatigue on long days.
This pair of footwear is one of the more expensive models on our list, and that comes as no surprise considering the materials used during construction. If you're serious about hiking, it's highly recommended, though, offering great features and plenty of comfort.

One of the best things about this pair of summer footwear is that it's very versatile - you can just as easily wear the Teva Elzada on your next hiking trip, as you can on a daily basis when running errands or just hanging out with friends. It's one of the brand's most stylish models, and comes in several color options, allowing you to choose the one that'll look best with your favorite warm-weather outfits. It's also available in half sizes, allowing you to get the best possible fit.
The straps on the Teva Elzada is made with polyester webbing, which is water-friendly and encourages moisture management. The strappy style promotes airflow, keeping you dry and cool regardless of how long you've walked. It's also very durable, plus it dries very quickly. The material you'll be standing on is made out fo plush microfiber which is soft to the touch and allows wear without socks.
As with all products by the brand, the Elzada has a footbed designed for comfort and support. It's cushioned with energy-returning compounds in the midsole, and offers just a little bit of arch support, ideal for those with a neutral arch. The outsole is grippy and durable, and you'll also appreciate the hook and loop closure that allows you to adjust the fit on the go.
In terms of cost association, the Teva Elzada ranks average compared to the other models on this list. It's a great investment for those who don't need anatomical support, and who'd love a stylish sandal that'll do well on light hikes and nature excursions.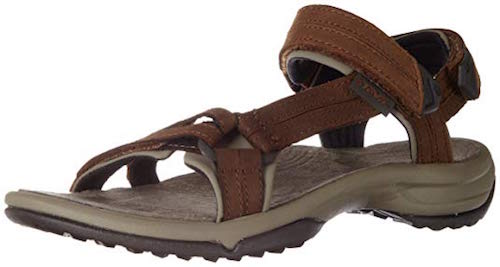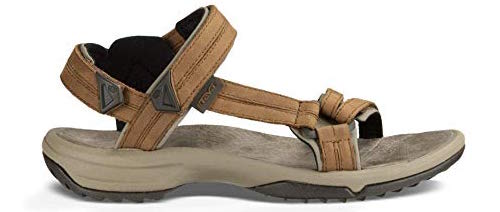 This pair of hiking sandals was developed for performance and comfort. Part of the popular Fi collection that's now well into its fifth iteration, the Lite Leather offers just what it says in the name: a lightweight outdoor pair of footwear made with quality leather materials. It is available for purchase in two color options: black and brown, and is a great choice if you're after a pair of stellar active sandals.
The upper of these sandals allows the wearer to adjust the fit as needed. Three point hook and loop closures allow adjustments in the toe, at the instep, and at the back of the heel. To make the whole sandal even more comfortable, the Fi Lite Leather features soft, moisture wicking padding that will protect the skin from rubbing and discomfort, even without wearing socks.
The midsole features a specially developed shock absorbing technology in the heel area that protects it from the force generated on impact with each step. In addition to this Shoc Pad, the sandal also uses a nylon shank to stabilize each step, as well as a Rugged Spider Original outsole that provides great traction without wearing out.
The antimicrobial treatment is another notable feature on these sandals, and it prevents the occurrence of bad odors inside the shoes. As for cost association, this model costs surprisingly low for a leather sandal, making it a great alternative to higher priced models by competing brands.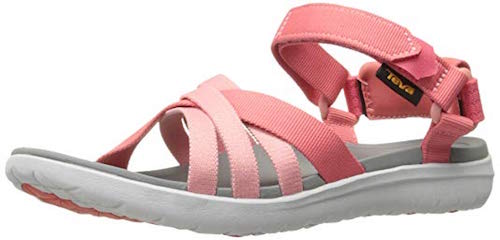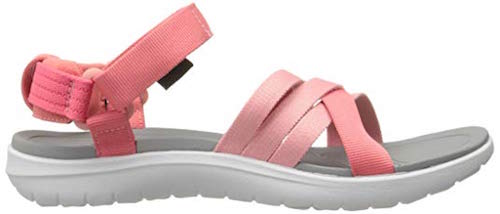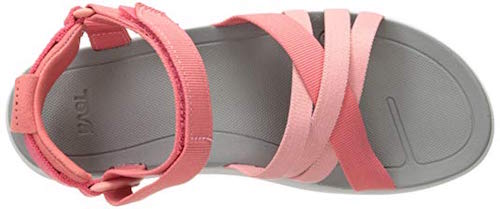 This elegant pair of Teva footwear is perfect for those who want something that will look nice, while still being ready for outdoor adventures. With an upper that features a slightly more intricate design than what we're accustomed to getting from the brand, the Sanborn will look great paired with a number of outfits on casual occasions. Additionally, it can be purchased in a variety of color options.
One of the notable features of this pair of sandals is that they're 100% vegan, meaning that no animal products were used in the construction. Additionally, the polyester webbing upper is water-ready, which means you can wear these at the beach, and it will dry quickly, minimizing the chances of developing blisters or bad odors.
The ankle strap has a hook and loop closure for easy adjustability, while the heel strap features both padding for protection, and a pull tab for easy on and off (as well as easier storage). As for the footbed, it's slightly contoured with a little bit of arch support, and it's made from EVA foam which is known for its cushioning capabilities. The outsole is made with EVA as well, which results in an overall lightweight sandal.
The price of these sandals is around average, but you may get lucky and find some of the color options on sale.

This is one of the simplest models on our list. It's the perfect choice for beachwear, or to put on around the house. You can also easily wear the Teva Olowahu on casual occasions, and it's definitely going to look great with all of your favorite summer outfits. This model comes in a huge variety of color options, which is one of the things we love most about it. Additionally, if you're not a fan of synthetics and want something a bit more durable, you can opt for the leather option, though be prepared to pay around double the price.
The upper of the Teva Olowahu comes in two versions - polyester webbing and leather. The poly webbing is our choice due to the fact that it's water-ready, dries quickly, is very pliable so it won't take too much time to break-in, and is available in a larger variety of styles.
The sole of this pair of sandals is made out of EVA foam for the outsole, giving you a lightweight, cushioned experience, and a Mush topsole that adapts to your foot shape, ensuring the highest level of comfort and shock-absorption. You'll also find that the Olowahu has more arch support than your regular pair of slides or flip-flops, so if you're in need of something suited for flat feet, it's likely to do a good job at keeping you pain-free.
In terms of cost association, this is one of the cheaper models listed, and it's a great choice for anyone looking for a simple summer sandal. It can also be easily packed into a backpack, so if you're planning on doing some traveling, it can do a great job as a camp-shoe or something lightweight and cool to wear on hot days.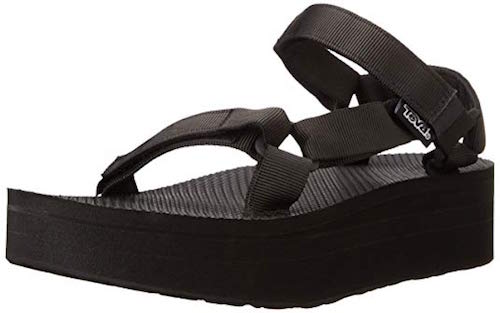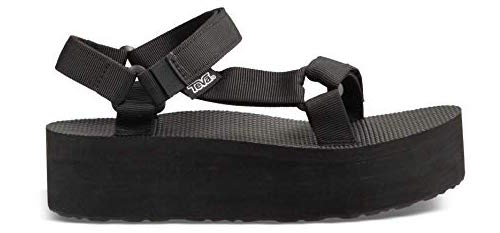 Inspired by the brand's Universal model, this pair of Teva footwear adds a high platform for an urban and slightly futuristic look. Ideal for casual wear, the Flatform is one of the rare pairs of platform sandals you can actually wear without having to worry about being weighed down. Additionally, it offers all the benefits you'd expect from a pair of Teva shoes, making it a great choice.
The Flatform comes in a limited number of colors (black, white and metallic gold), but this doesn't mean you'll have trouble pairing it with your favorite outfits. The upper is minimalistic in terms of looks, and highly functional in terms of design. Made from polyester webbing, it dries quickly, is quite durable, and features two hook and loop closures - one at the toe and one on the instep.
This pair has an EVA foam platform that's highly cushioned and lightweight, and offers you a height of 2 ¼ inches. The footbed is pebbled to prevent sliding inside the sandal, and the outsole uses Durabrasion rubber which lasts a long time, plus offers excellent traction.
The cost association of these sandals is average, and you'll find that the Flatform is an excellent pair for everyday use. Although it lacks the advanced features of some of the other models listed, it's an excellent choice for those who want a great looking shoe that is comfortable and easy to wear.

For most of this article, we have mostly looked at functionality and purpose, even though all the Teva models spoken about do look fashionable. But if you like the Teva brand and do not care about the functionality, or just want something that looks good and can be worn to a nice outing or even a party, then definitely check out the Teva Ysidro Wedge comes in. These have thinner and streamlined straps that give a more refined and sophisticated look. The wedge also gives these a sexier look.
The sole of the Ysidro Wedge is made of rubber, while the straps are made of leather. Usually, with rubber soles, there is a synthetic cushioning to ease the pressure on your feet. Not with these sandals, which have the footbed wrapped in luxury leather. The leather wraps around the insoles padded with porous foam which adds extra cushioning. This means you can walk in these sandals all day. Don't worry about the heels, as they rise at a respectable 2".
You can get these sandals in two variations of black, and taupe/brown. The colors are pretty low key, and it may disappoint people who were looking for really fashionable wedge sandals from Teva. But with the strap system and seeing how complimentary the colors are, you won't mind so much. The black is not completely black, same with the taupe and the brown.
The legend has it that the founder, who was a river guide, invented the brand by attaching some Velcro straps to a pair of old flip-flops so they wouldn't float away in the Grand Canyon River. This happed in the 80s, and since then the brand has followed the same philosophy in making footwear for the outdoors. The Original model is a classic and follows the same design as those flip-flops made by the river guide. They look like regular flip flops with the signature thong, but the difference is the ankle strap that is anchored to the sole by two straps on both sides.
These sandals are 100% made from a man-made material, with rubber soles and textile straps. The soles are not thick, just like regular flip-flops, but they don't feel flimsy. You also won't have the same problem all flip-flops have when they slip off when you walk. The ankle straps are a great addition that anchors your feet well. Because of the limited amount of straps attached to your feet, you will feel free while wearing them.
The Original comes in black, Malena Fade Taupe, and Malena Fade Dark Purple. The black is plain with no patterns on them, but the other two have a nice floral pattern on the straps. The colors of the patterns form a nice contrast with the rest of the shoe. Wear the black if you want something low-key, but check the other two if you want to have something stylish.
Subscribe to our Newsletter