Most Comfortable Flip Flops Reviewed & Rated
In a
Hurry? Editors choice: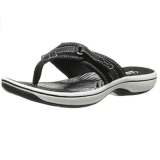 Test Winner: Clarks Breeze Sea

Flip flops
are synonymous with summer. Whether you prefer to wear them daily or only at the beach, they are one of those types of
summer footwear
that help us throw our cares away. However, not all of them are created equal. If you have ever worn a bad pair, you know that your feet can ache by the end of the day. With extended wear, you can acquire serious injuries or medical conditions; so, selecting a good pair is of the utmost importance. Water-friendly,
moisture-wicking
or breathable materials are a bonus, while the right design and color choice can make or break any outfit you may have chosen for the day.
Standout Picks
Criteria Used for Evaluation
Comfort
One of the most important aspects of any footwear design is comfort. Not only does comfortable footwear ensure a good wearing experience, but it also contributes to the overall health of the wearer. A good fit over the entire foot means no pain, proper support, good protection and ease of use. To get the most out of your next pair, make sure to look out for the following factors:
Footbed: We will expand on this more in our Support section, but if you are looking for flip-flops which don't cause any pain even if you wear them for hours on end, then you would do well to choose a pair with a contoured or molded footbed. That way, you will be able to walk for as long as you like, without experiencing foot fatigue or aches in any part of your feet, legs or even back.
Materials: When it comes to comfort, pay attention to the materials the upper is made of. This type of a sandal typically comes with a toe post, which goes between your big toe and your second toe, and that can become a real nuisance if uncomfortable. Make sure that the toe post and the straps of the design are soft and malleable, and that they don't dig into your skin or cause any blisters. They should cradle and secure your foot for lasting comfort.
Fit
The reason this type of footwear should fit perfectly is multifold.
Firstly, you don't want the design to be too big on you, as that will result in your foot sliding around in it. This increases the risk of you losing your balance, stumbling, and perhaps even falling and injuring yourself.
Secondly, if the design is too small, or the fit is too tight without any chance of it stretching out over time, you are likely to experience blisters and suffer from abrasions or lacerations on the skin.
This type of footwear usually doesn't come with adjustable straps, but if you spot a design which has a buckle closure to help you adjust the fit - don't hesitate to grab it! What is important is that you are comfortable, that your feet are not 'swimming' in your sandal, and that nothing hurts as you enjoy your new favorite flip-flops.
Materials
The type of materials a design is made of determines the majority - if not all - of its features. Materials determine how durable an option is, how comfortable, how breathable and flexible it is, if it is water resistant and much, much more. Here, we will outline the most important materials you should know about when choosing this type of footwear.
Leather: As a natural material, leather is extremely comfortable, breathable and durable. It changes shape over time, molding to the shape of your foot, and it allows the air to freely pass in and out of the design. The downside to leather, in this case, is that it is not inherently water resistant. It needs to be treated with special agents to make the flip-flop water friendly, so look out for that if you've decided on getting a leather pair.
Rubber: This is the most common option for most straps and sandal uppers. The reason for this is that rubber is extremely durable, and it is water resistant. If you have a pair of rubber sandals, you are free to traipse in and out of the water as you please, without fear of ruining your footwear. However, rubber can also cause chafing and blisters, so make sure that you are getting a design that is sufficiently comfortable for you.
EVA: This type of footwear usually has footbeds made from EVA, which is short for ethyl vinyl acetate. This is a synthetic compound that is extremely shock-absorbing. An EVA footbed will keep you cushioned and comfortable. It is also amazingly lightweight, so your sandals won't be dragging you down as you run your errands.
Cork: Finally, you may run into a design which has a cork footbed, instead of an EVA one. Cork is also shock-absorbing, but it also has moisture-wicking and antimicrobial properties, keeping your feet cool and dry even in the hottest of days. It has the ability to mold to the contours of your foot so that you can enjoy a special, personalized type of comfort.
Support
Excellent arch, heel, and joint support is key to comfortable footwear. The reason for this is that arch support reduces foot fatigue and pain if you find yourself on your feet for long periods of time, and heel support - such as a deep heel cup - provides balance and motion control.
Without ample support built into the footbed, the sandals could be made of the softest material, but would still give you great pain hours later. So look for contoured footbeds, those made from memory foam or similar firm but cushy materials, and look for arch support that fits your arch. Some designs have higher arch support and some have lower, and you should choose one that feels good for you.
Though not all of the designs on our list come equipped with specialized support systems, brands like Birkenstock and Clarks have got you covered.
It is also important to note that, if you have certain conditions like plantar fasciitis, be certain to purchase a pair designed for that condition.
Durability
Just because they are light, flexible footwear, doesn't mean they shouldn't be durable. If you're planning on walking in flip-flops for any amount of time, durability is key to a good experience. Though some are more durable than others, key aspects of durability include:
Water Resistance: Though you typically see water resistance in athletic footwear, most sandals are made with the beach in mind. Any design worth its salt should hold up well to damp weather, but brands like Teva and KEEN are especially great for water resistance.
Flexibility: Part of being durable is having a good bit of bend and give. A flip-flop needs to not only mold to your foot, but also to the terrain to which it's subjected. If it is too stiff, then major injuries could occur to the shoe or to you. When purchasing a pair, test the design out against a wall to see how far back it can comfortably bend.
The way the straps attach to the base also plays a role in the overall durability of your favorite summer footwear. A foam bottom with a thong strap shoved through it is not going to be as durable as a sandal that offers a sewn-in strap.
If you are only looking to get through summer, then picking up a pair from your local store may be fine, but you will be buying a new pair each year. This is not only a waste of time but also of money. Putting a little time into researching which ones offer great durability, as well as style, can give you a favorite pair for many fun-filled summers to come.
Subscribe to our Newsletter