Best Leather Sandals Reviewed For Sophistication & Style
In a Hurry? Editors choice: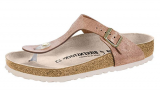 Test Winner: Birkenstock Gizeh

Are you having trouble finding a pair of
sophisticated sandals
? If so, have you considered trying a leather pair on for size? Leathers offer the perfect combination of style and comfort, providing a breathable build and soft next-to-skin feel.
When you wear a pair that's made from a quality calfskin or full-grain the material will actually draw any excess moisture away from the skin and push it towards the outer material in a process called wicking. This is just one of the many benefits there are to wearing footwear that's crafted from one of the various types of leathers.
Standout Picks
Criteria Used for Evaluation
Materials
This material is made from various hides or synthetic hides and each offers its own distinctive features. There are some variations that produce a much higher quality finished material than others which is why the pricing varies greatly between the different kinds. Let's break down the different kinds of leathers available:
Full Grain: Full grain, or top leather, is the highest quality because it produces a long-lasting finish that can be colored and protected. It consists of the upper layer of the hide and varies in thickness.
Embossed Grain: These hides have a beautiful finish that's free from scars, though there is no real or natural grain left over from the correction process used. This reduces the longevity of the hide though many are embossed with interesting prints to make up for the lack of natural grain.
Split Suede: This is made from the second layer of the hide once the full grain has been removed, it is actually suede on both sides. The benefit to this hide is that it costs much less than the first two but still offers a very nice appearance and tough durable consistency.
Nubuck: Nubuck has a supple velvet-like feel to it thanks to a special sanding process which opens up the hair cells. This process also works to correct any imperfections but it does soften the texture and makes the hide more susceptible to stains and is near impossible to clean.
Bonded: This is the lowest grade of leather and it consists of leather scraps that are ground up into pieces. These pieces are bonded together using adhesive and are covered in a synthetic grain. This type of leather is often mistaken for genuine leather when only half of it is comprised of leather.
Durability
In addition to these five variations of leather, there are lots of different options which are based on the organic material, longevity, and finish. Some of the more commonly seen variations are:
Aniline: A natural variation that is delicate and easily stained. You will have to regularly care for this type.
Semi-Aniline: This type is made-up of a lightly coated surface and a tiny amount of pigment. It's stronger than aniline but is able to keep the natural appearance.
Antique Grain: This is ragged in appearance like conventional leathers and is often referred to as distressed leather.
Chrome-Free: This variation uses aldehyde tanning, also known as vegetable tanning. It doesn't use chromium so it's often used to make children's footwear.
Chrome Tanned: Manufactured using chromium salts as opposed to vegetable tanning. It's thin and soft, while also being considered eco-friendly.
Product Purity
Nearly all of the leathers produced are sourced from cattle hides, which make up 65%. Sheep are also a source and include roughly 13% of all leathers, with goats and pigs constituting the rest. Cattle hides come from many animals including horses, buffalo, deer, lambs, and cows. Horse hides make a super-strong kind of leather, while lamb and deerskin produce a supple form. Lamb and deerskins are also much more expensive and are usually used for higher-end clothing items. The most common cattle hide used to make footwear is sourced from cows.
There is also a type of synthetic, or faux, leathers which are manmade instead of coming from animal hides. The synthetic materials are very long lasting and are commonly used in the making of furniture, apparel, and footwear because it's much cheaper and doesn't damage as easily. These synthetics also look and feel very close to the real thing. Many individuals who live a vegan lifestyle are happy with this because they are able to wear a material which is very much like leather but isn't derived from animal hides.
Breathability
This material is excellent for pulling excess sweat and moisture away from the skin! In a process called, wicking, animal hides will draw the moisture away from the skin and push towards the outer layer of the material. This prevents a build-up of sweat and odor-causing bacteria which leaves feet and footwear feeling and smelling fresh and clean.
Despite its wicking qualities, this material isn't particularly good for wearing in wet weather conditions. In fact, it should be avoided altogether. If it gets wet it can damage the material causing it to harden or crack, especially if it's exposed to direct sunlight while it's wet. Synthetics, on the other hand, are usually quite good with wet conditions and are often relatively water-resistant. It's important to research the exact type of hides or synthetic material your footwear is made from in order to be aware of the weather conditions in which your foot apparel could potentially become damaged.
Style
There are certain aspects of a footwear's design that should be taken into consideration before purchasing a pair. Aspects such as closures, straps, heel-height, arch support, and cushioning, are all important considerations. The height of the heel is very important because it will affect how easy or hard it will be to walk in them. Heels that are thin or very high aren't natural for our feet and make it difficult to stride properly. To counter this try opting for a pair of summer footwear that has a heel lower than three-inches and a wider structure. Wedge designs are much easier to walk in because they offer a wider platform to step down on and allow for a more balanced foot feel.
The type of closure system will determine how customizable your foot apparel will be and can include buckles, hook-and-loop, zippers, or laces. The most commonly found closures on summer footwear are buckles because they're the most appropriate to be attached to a strap. Hook and loop styles, such as Velcro, are also quite common and make for effortless on-off wear. Zippers are less common, though still used, and offer less adjustability than the previous types of closures. Laces are the least likely to be found on summer footwear and are much more common with sneakers and athletic types of shoes.
The kind of support a summer shoe offers is very important because many pairs lack adequate support and can lead to foot pain or fatigue. The arch of the foot is very delicate and supports all of the bodies weight while you're on your feet. That's why a supportive structure will benefit your arch and prevent collapse. In order for a piece of footwear to provide the right kind of structure, it will need to have a supple cushioning, as well as, a firm enough design. This will prevent the foot from sinking into the padding which will not provide any support. EVA is an excellent material for footwear because it offers excellent cushion, while at the same time, provides a firm build that will keep the arch in proper form.
Top 10 Picks
1

. Blowfish Malibu Granola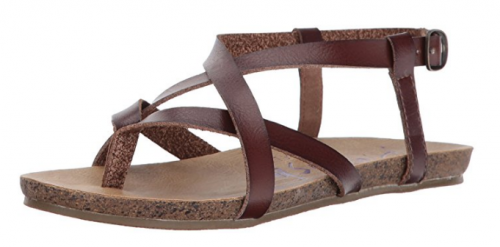 The Granola from Blowfish Malibu is made from synthetic leathers and features a faux cork outsole for a stunning design. This is a strappy number that offers a comforting contoured footbed and an easily adjustable buckle closure. Its textile lining is breathable and lightweight to keep you cool and comfortable when the weather gets warmer.
Padded Footbed
The Granola has a slightly padded footbed that's made from faux cork for a contoured and ultra comfortable wear. You can forget about foot pain and fatigue when the day is done thanks to this pair of Blowfish Malibu summer footwear.
Strappy Design
This gorgeous pair of footwear features criss-cross adjustable straps that intersect at a secure and easily adjustable buckle closure for a customized fit every time you wear them. You'll love their flat toe thong post which is comforting in between your toes and won't rub causing sensitivity or blisters.
Cost and Value
Anyone searching for a reasonably priced and attractive pair of footwear would love these Blowfish Malibus! They're made with your comfort in mind and are ultra-chic for the perfect accessory to any outfit. Easily transition from the pool to the beachside lounge thanks to the Granola's versatile design.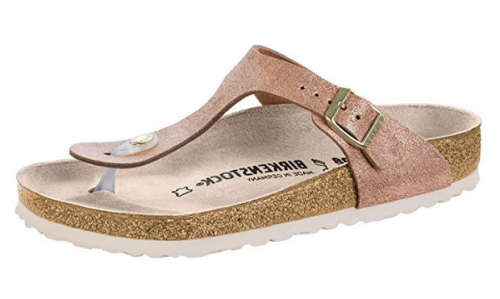 The Birkenstock Gizeh Is a simplistic style of summer footwear that offers an easy slip-on design and a comforting cork footbed. It's leather upper unit keeps feet cool and comfortable all throughout the day while its adjustable buckle allows for a customized fit that will feel perfect on your feet.
Rubber Toe Post
This pair boasts a soft rubber toe post that is gentle while it rests between your toes. You won't have to worry about rubbing or friction with this material so you can forget about painful blisters and sore spots. These Birkenstock 's are ideal for walking and casual activities, though they're suitable for hiking on the trails thanks to their comforting and sturdy structure.
Cork Footbed
These Birkenstock summer footwear offers a contoured cork footbed that is ergonomically designed to fit the structure of the foot, cradling its contours for a supportive and comforting feel. The cork material offers a unique underfoot experience that is lightweight and super comfy.
Cost and Value
While this pair might cost a little bit more than others on the list they're certainly a worthwhile investment. Birkenstock has been around for nearly 200 years and when it comes to footwear no one does it quite the same as they do. Their signature cork footbed and comforting silhouette have been a classic staple that has withstood the test of time and it is as popular today as ever.

3

. Jessica Simpson Mandalaye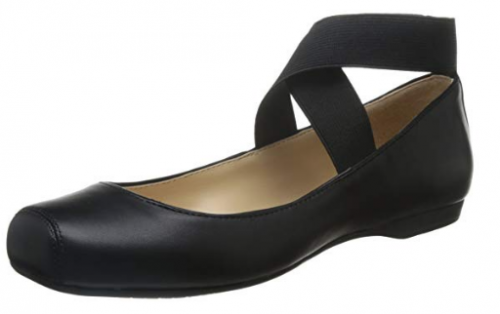 This pair of Jessica Simpson summer footwear features a ballerina silhouette that's super petite. Wraparound elastic ankle straps allow a customized fit, while a leather upper keeps your feet feeling cool and fresh. Walk or dance comfortably if you're wearing a pair of these cute shoes!
Padded Insole
The Mandalaye offers a cushioned footbed that surrounds your feet in cushioned comfort. You'll love how great this pair leaves your feet feeling at the end of the day so you won't have any worries about foot pain or fatigue.
Synthetic Sock Lining
Odors are a thing of the past thanks to the Mandalayes synthetic sock liner that helps to control sweating. Once your feet start to sweat inside of a shoe it leads to the growth of odor-causing bacteria, but this pair stops it before it even starts.
Cost and Value
This summer footwear is priced competitively especially considering the excellent features it has to offer. If you're looking for an enjoyable pair that is chic and stylish, look no further! The Mandalaye is a stunning example of the beauty that leather footwear has to offer.



The Smoothy from Reef is a gorgeous and sleek pair. It boasts a full grain strap and footbed for a smooth finish and polyester lining that's breathable and lightweight. A non-slip rubber outsole keeps you secure on any surface even wet and slippery ones. So go ahead and hit the streets in style thanks to their relaxed yet sophisticated design.
Full Grain
The Smoothy has high-quality full-grain straps that are soft against your skin and wick excess moisture away. Their full-grain footbed is excellent for preventing a build-up of sweat and odor-causing bacteria so you can forget about smelly foot apparel.
Anatomical Arch Support
This pair is made with anatomical arch support. This kind of structure is modeled after the human foot and is made to provide the perfect support in exactly the places where you need it the most. These are the ideal choice for individuals who plan on walking or participating in other outdoor activities but need a little more support from their footwear.
Cost and Value
Despite their full-grain construction, this pair is very affordable! You'll enjoy their high-quality materials and comforting foot feel without having to pay a fortune for them. These thongs are anatomically designed to provide extra support and will keep you walking comfortably for hours on end.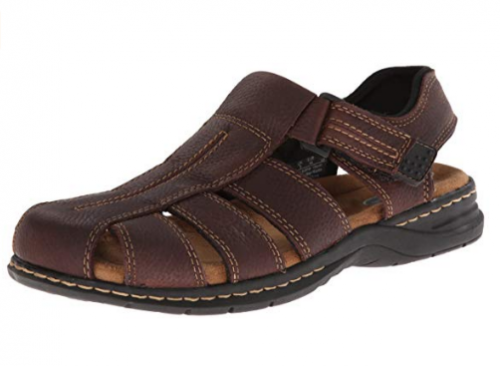 Dr. Scholl's Gaston is a fisherman-inspired pair that boasts a supple hide upper and non-slip rubber outsole. These summer shoes fit comfortably thanks to their adjustable instep strap and hook-and-loop closures. A neoprene lining wicks away moisture and keeps your feet free of excess sweat so you can feel dry and cool.
Customizable Fit
The Gaston offers an adjustable instep strap that allows for whole-foot adjustment. Its hook-and-loop closure puts you in control and lets you adjust them to fit your feet perfectly. You'll enjoy this pairs foot feel that can be as tight or loose as you like.
Design
The Gaston features a rounded to that allows for easier strides and prevents tripping. It also minimizes the appearance of the foot and gives the illusion of a smaller structure. Their non-slip outsole keeps you steady on your feet even on wet and slippery terrain so you can walk with ease.
Cost and Value
While this pair costs a bit more than others featured on the list, they're certainly worth it! The Gaston is made with precision and offers a completely custom fit. Your feet will thank you for this comforting ride!

6

. Kenneth Cole Sole My Heart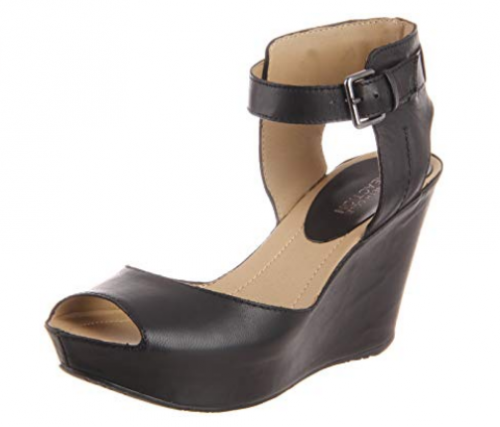 The Kenneth Cole Sole My Heart is a hot looking pair of footwear! It offers a 3.5-inch heel and 1.25-inch platform for some added lift, along with a leather upper unit. These are made for an elegant yet sultry appearance and have a covered heel with a peep toe silhouette.
Non-Marking Outsole
You won't have to worry about accidentally scuffing the floor in these Kenneth Cole's thanks to their non-marking outsole. You can literally walk on any flooring with ease because you'll never leave scuffs or scratches like with other heels.
Covered Heel
The Sole My Heart has a covered heel which provides additional ankle support. Supporting the ankle is important, especially while wearing heels because it lessens the strain placed on the delicate ankle bone with every step.
Cost and Value
These cost a bit more than most on the list but their stunning style is well worth it! Look and feel incredible while wearing these Sole My Heart's thanks to their comforting design and sexy silhouette.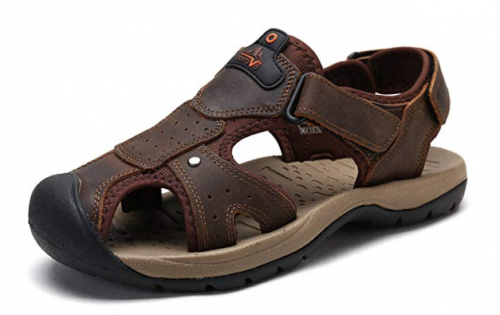 The Bankok from Bruno Marc is a versatile choice of summer footwear. It has an upper made from high-quality hide and a supple latex cushioned footbed. This pair offers a classic style that's lightweight and is ready to take on whatever path may lie ahead.
Comfort
You can walk for hours in this pair without feeling any discomfort or fatigue! They have a cushioned footbed that provides the perfect underfoot protection and keeps your feet feeling their best. The leather upper unit pulls excess moisture away from the skin keeping your feet dry and comfy all day long.
Non-Slip Outsole
These fisherman-style summer shoes offer a non-slip rubber outsole that keeps you steady on your feet. No matter if you're on a wet or slippery terrain you won't have to worry about accidental slips or falls. Go ahead and walk with peace of mind knowing that you're feet are stable beneath you.
Cost and Value
This pair is very affordable and offers great value for the money. They are made from quality materials and feature a secure non-slip outsole that's perfect for the outdoor enthusiast at heart.



Reefs' Fanning is made with a quality full-grain upper unit and rubber outsole. Its cushioned jersey liner and air-mesh lining system keep your feet feeling fresh for hours on end. So go ahead and frolic in the sunshine without having to worry about hot or sweaty foot apparel. This pair boasts an impressive array of features including a compression-molded EVA insole that provides whole-foot enjoyability. The Fanning offers anatomical arch support which is perfect for individuals who are in need of a little more structure from their summer footwear.
Compression Molded Footbed
The Fanning has a compression molded EVA footbed which provides total comfort. It's anatomically designed to mimic the shape of the human foot which provides an incredible support structure. This pair is made for walking and will keep your feet pain free no matter how far you roam.
360° Airbag
These Reef thongs have a 360° airbag in the heel which offers incredible support and cushioning. This pair is ideal for those suffering from heel pain or pain in the arch of the foot thanks to the added padding and supportive design. It's also a good choice for anyone who suffers from plantar fasciitis, a painful condition affecting the connective tissues in the foot.
Cost and Value
These are higher priced than most of the pairs on the list, but their value speaks for itself! They offer the ideal mix of comfort and support, lessening the effects of heel and arch pain. Anyone in search of a stylish pair of summer footwear, that's beneficial to your overall health, will love this plush pair!



The Nellie from Earth Origins is the perfect sandal for everyday activities! It perfect for surfside adventures and is chic enough to wear to the office on those hot summer days. You'll enjoy the versatility that this pair offers, along with its leather upper unit and soft lining.
Low Heel
The Nellie from Earth Origins boasts a low half-inch heel height that makes walking a snap! Its synthetic sole provides no-slip wear so you can feel secure while on you're on your feet and their leather lining and upper is perfect for keeping you cool. This pair is the ideal choice for those casual business days when you're needing to transition from relaxed to professional.
Ankle Strap
The Nellie features a wraparound ankle strap for a secure, stay-put wear. Its elastic goring makes for effortless on-off wearability so you can slip them on and go. Forget about loose or flopping footwear while you're wearing a pair of these Earth Origins footwear.
Cost and Value
The Nellie is an ideally affordable option! It offers excellent benefits and keeps you walking comfortably for hours on end. These are the perfect choice for those who need a quick transition from the beach to the office.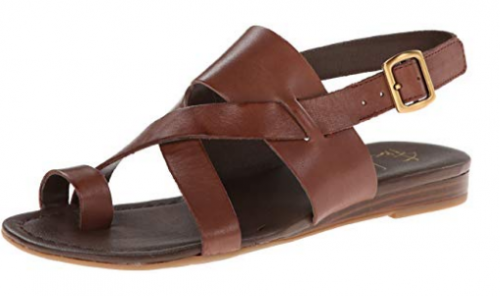 The Gia by Franco Sarto is the perfect footwear for the warmer weather! It features a leather upper unit and toe-ring design for a super-classy vibe. It's crisscross straps meet at an adjustable buckle closure for a secure fit everytime, while a lightly cushioned footbed keeps you walking comfortably. Anyone who searching for a pair of classy footwear will love these thanks to their stylish design that's both professional and versatile.
Man-Made Lining
This pair offers a manmade lining material that's soft against bare skin. It works to wick excess moisture away from the skin for a dry and comforting feel, while also preventing a build-up of odor-causing bacteria. Enjoy walking in total comfort thanks to the Gia's supple materials that feel great on your feet.
Color Variations
The Gia is available in over ten color variations so you won't have any trouble matching them with your favorite outfits! This pair is ideal for those fashion-lovers who enjoy switching up their style frequently and always aspire to look their best.
Cost and Value
This pair is very reasonably priced considering the value it has to offer. A classic style and sophisticated vibe are just the toppers to this shoes selling features! They provide an ultra-enjoyable ride and sophisticated design that wearers everywhere are raving about.

Subscribe to our Newsletter