Best Sandals with Arch Support Reviewed & Rated
In a
Hurry? Editors choice: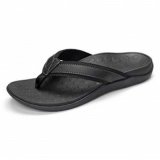 Test Winner: Vionic Tide

While not exactly a buzzword,
'arch support'
is still a term seen all over the Internet. You'll find it everywhere from foot, shoe, and health blogs to product descriptions on official brand websites. So much attention to the topic makes you wonder, what is arch support? Why do I need it? Where do I find shoes that have it? Now, if you were to type 'arch support shoes' into Google and begin to shop, you would find that the first options available are
athletic shoes
and
dress shoes
. That's great for needing arch support when exercising, or perhaps on a formal occasion; but what about just walking outside on a hot summer day? Is that not something people needing arch support do? Of course, they do! In this guide, we do the work for you and evaluate the ten best sandals for arch support.
Standout Picks
Criteria Used for Evaluation
Outsole
There are several types of sandals, all made for different uses, but overall, there are a few components of any pair of footwear you should consider before making a purchase. If you want to get a shoe that will work well and last for more than a few wears, one of the important aspects you should consider is the outsole.
On any pair of footwear, the outsole will vary depending on the type of use it was intended to serve. Formal models will often use leather in this part, while most pairs are made with rubber. Nonetheless, there is more to an outsole than just material.
For example, those who plan on going hiking, or spending a lot of time outdoors, should definitely invest in a product that has an outsole made for traction and durability. Deeper lugs and non-slip rubber compounds are highly recommended as they will ensure your safety on challenging terrain. If you spend a lot of time on concrete, go with abrasion resistant materials that won't flatten after a few weeks of use.
If, however, you are looking for something that will serve you in an urban environment, or even that you can wear on casual and formal occasions, go with a model that features a less rugged outsole. That isn't to say you should go wil hard plastic that will allow you to slip and skid on polished or wet surfaces, but, overall, you should do well enough with the basic rubber or leather. It is important to note, however, that you should only use your sandals in conditions they were made for - if they're made out of leather, you may want to stay away from water to prevent deterioration.
Materials
Shopping for a good product often requires you to know at least a little bit about the type of item you are buying. For footwear, this will often include knowledge about the various materials used in construction. Because sandals are such a versatile category of shoes, you need to ensure that they have the qualities you need to serve you well. There is a variety of options available, and these are some of the most popular ones:
Synthetic: Ideal for activities near water, synthetic footwear will usually dry quickly, and won't deteriorate when exposed to moisture. Whether they're made from nylon, recycled PET or other compounds, synthetic sandals are an overall good investment for those looking for a durable model. Their downside, however, is that these materials can often be irritating, or can trap moisture if the design doesn't take ventilation into account.
Leather: A favorite among those who want durable and stylish footwear, leather is one of the most comfortable choices you can make, especially when you go with softer types. Not only will it look great, but it is easily broken in, giving you a customized fit that will support your foot without causing irritation. It' also durable, which means it'll last you for a few seasons, but keep in mind that it's unlikely to be appropriate for use near water.
Rubber: A vast majority of the available models in the market will use rubber. It's most often utilized in the outsole portion, but can also be found in the upper if you're planning on purchasing water shoes or footwear made for use near water. It has cushioning properties, prevents slips, and is fairly easy to keep clean, but it lacks breathability which can be a problem in hot conditions.
EVA: The material of an insole is the most important indicator of how sturdy it is. Many insoles are made with EVA or ethylene-vinyl acetate. It's a common man-made material that is both rubber-like and foam-like in consistency. The density, softness, flexibility, and waterproof nature of EVA make it the perfect base for cushioning and molding to feet. EVA is also popular because it is man-made; it's a staple in vegan footwear.
Cork: Footbeds made of cork material are also popular in sandals made with arch support. Cork is natural, created from the bark of the Cork Oak tree, and vegan. A prime example is Birkenstock sandals, which feature cork footbeds exclusively. Cork is incredibly elastic and lightweight, allowing it to conform to the shape of your foot. With a custom footbed that adheres to the planes and curves of your foot, comfort is impossible to avoid.
Support
High-quality footwear is crucial in providing you with everything you need from your shoes. Not only do you want them to look good, but they also need to fit you perfectly to ensure comfort and bear throughout the day. Add breathability to your list of requirements, and you will easily come to the conclusion that you need a pair of sandals made with health benefits in mind.
Most summer footwear will have completely flat, rubber or foam soles which may cause you pain or discomfort. When shopping for footwear, you need to look for the features that will work for your feet. This depends heavily on the type of foot you have. Size is just one aspect, and it's important that you also consider the width of your forefoot, the height of your heel, the stability of your ankles, as well as your gait cycle. Even more, it's possible that you suffer from foot-related issues such as bunions, plantar fasciitis, heel spurs or that your pronation is not neutral but rather sees you bearing your weight on the inside or outside of your feet. The right type of shoes will not only feel good while wearing them, but they will also prevent the further development of such issues.
When shopping for your next pair of sandals, there are several points where you need to look for prop up features:
Heel Support when they walk, most people will land on their heel first. This means that this bone will take a lot of shock with every step, and if you do sports this amount of shock will increase considerably. If, by any chance your feet do not land in the most optimal position (if your feet tend to roll inwards or outwards), then the majority of this shock will travel up the leg to your knees, hips, and back. If you've ever experienced lower back pain after a few hours of walking, chances are that your shoes were not supportive enough in the heel. When shopping for sandals, look for a deep heel cup that will help align your body. Another thing you will need is cushioning that will absorb some of the excess shock, ensuring that your legs don't get too sore or tired after a long day.
Midfoot Support: the way to ensure the health of your feet is not just about the soles of your shoes. One of the biggest downsides of sandals and flip flops is that they often don't properly fit on the upper, making you work overtime just to keep them on. The best summer sandals will have an upper that will have several points of contact with your foot – both in the forefoot as well as in the rearfoot area. Look for straps that can be adjusted to give you a snug fit that you can comfortably walk around in. This is especially important if you plan on wearing your sandals for hiking trips.
Comfort
We all know why comfort is so important. Besides relieving you of pain, if you wear footwear that is right for your foot and that has a good amount of cushioning, you will not suffer from many common foot problems. You might even cure your lower back and knee pain, who knows! All of the options on our list are meant to bear your feet despite being a low-profile sandal. That means that every piece of footwear on here comes with added:
Comfort: High rebound foam and a breathable insole. Your every step will be cushioned, and you'll be able to take your shoes off anywhere you go, no matter how long you've worn them!
Support: Heel and foot bear, great for stability and balance! Never worry about falling somewhere or tripping over and making a fool of yourself.
Flex: Highly flexible soles lower the amount of force your feet get on impact with the ground, and also ensure your foot retains its natural shape while you walk!
Adjustability
Considering the fact that there are no two feet that are the same, it's only natural that someone else's perfect pair of shoes won't do a thing for you. While running shoes, athletic sneakers, and most other footwear will boast laces, sandals with this type of closure are extremely hard to find. You might be tempted to just buy a universal pair of flip-flops or sliders, but these are likely to make your problems worse.
Luckily, a good fit is easy to achieve if you decide to purchase the right pair of sandals. Most items on this list have straps that are completely adjustable. Whether this is through buckles, elastic closure systems or hook and loop closures, the more points of adjustability, the better.
For example, people who suffer from bunion pain will need to look for footwear that not only has a roomy toe box and wide forefoot area, but the adjustable strap that hugs their metatarsal area will be the dealbreaker. Similarly, those with weak ankles will need shoes that will be absolutely secure in this area, which will help prevent any sprains or twists that could take weeks or even months to heal completely.
When purchasing your next pair of summer footwear, think about what it is you need from the perfect model of shoes. If you intend to wear your sandals for hiking trips or the beach, you will need footwear that is completely secure and won't break or fall off in the middle of your trip. If you only need sandals for running everyday errands, you will still want as high a level of adjustability as possible, seeing that your feet might swell, especially during the hot summer months.
10 Best Sandals With Arch Support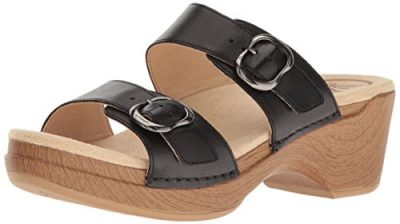 Despite being only twenty years old, Dansko is a well-known name in comfortable fashion. The Sophie sandal lives up to the hype with a classic two-strap design, a 2.5" heel, and rubber outsole. Like most Dansko shoes, the Sophie sandal provides excellent support for arches across the spectrum.
The Dansko Sophie sandal is built, first and foremost, for stability. The Sophie features a thick, beveled heel, a shock-absorbing foam midsole, and a treaded outsole. Adjustable straps help create a custom fit, so the Dansko Sophie stays snug and secure on your feet. Lastly, these sandals have a flexible and strong nylon shank to keep you steady on uneven surfaces.
Leather, foam, and Dri-Lex. These are the simple materials the Dansko Sophie sandal is made of. The upper is soft, supple full-grain leather. The lining of the upper is made of Dri-Lex, a fabric designed to wick away moisture and keep feet dry. The foam midsole also features additional cushion through a removable forepart insert. The Dansko Sophie is the most expensive shoe in this guide, edging out the KEEN Whisper by a small margin. However, Dansko is another brand known for incredibly durable, high-quality shoes. Think of it this way: the Sophie sandal is an investment in a comfy, pain-free future.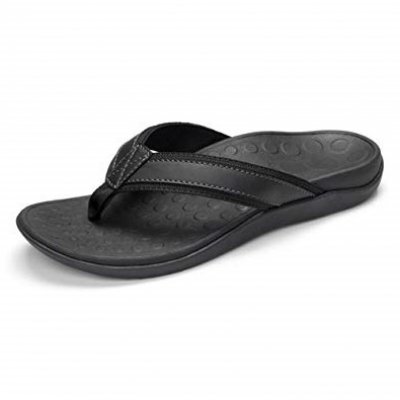 Another contender for both form and function is the Vionic Tide orthotic sandal. Available in ten colors and studded with sparkly sequins, it's hard to believe the Vionic Tide isn't just another run-of-the-mill flip-flop. For example, unlike typical sandals, wearing the Tide frequently can aid in the complete healing of Plantar Fasciitis.
Those with high arches may benefit the most from a pair of Vionic Tide sandals, but don't let that stop you if you have normal or flat feet.
The Vionic Tide sandal has the benefit of being designed by podiatrists — foot doctors — that know feet better than anyone. These sandals feature a synthetic, softly lined upper; a biomechanical orthotic footbed, and a rubber sole for multi-surface traction. For further stabilization, the Tide has raised dots along the length of the footbed. The raised dots help in keeping your feet from working too hard to grip the sandal.
An additional benefit of the Vionic Tide sandals' design is the stark, nearly instantaneous relief wearers get. Helping to align the body from the feet up, the Tide obliterates foot, ankle, knee, and lower back pain. Settling between the Crocs Sexi and the FitFlop Pietra is the Vionic Tide sandal. If you have a small budget but a little wiggle room to splurge, consider this sandal. For all its ailment-alieving ability, it would be a shame not to have a pair of these on which to rely.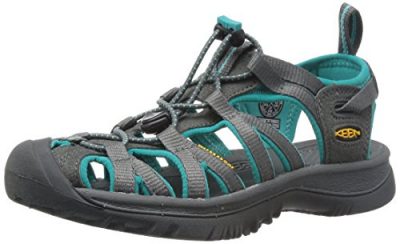 KEEN is a footwear brand founded in 2003, created to answer the question, "can a sandal protect toes?" The KEEN Whisper sandal is one of those answers. Perfect for those with high arches, the Whisper is a water sandal featuring a hydrophobic (water-resistant) mesh lining, a rubber toe bumper, and elastic cord lacing.
The KEEN Whisper is designed to support you through all kinds of outdoor activities, from a beachside stroll to river portaging.
Metatomical Footbed
The metatomical build of the footbed is the most significant draw of the KEEN Whisper sandal. Metatomical is a fusion of metatarsal and anatomical. This design focuses on the big toe and the natural contours of the foot to provide arch support. Furthermore, the footbed is made with compression-molded EVA for further comfort.
Stable
The KEEN Whisper has several features that make it ideal for foot support. First, the Whisper outsole is made of textured, multi-directional, non-scuffing rubber for improved traction. Second, the KEEN Whisper has a TPU (thermoplastic polyurethane) shank for a flexible midsole. As for the upper of the sandal, it's coated with an antimicrobial treatment known as the Aegis Microbe Shield.
Cost
The KEEN Whisper is a moderately priced sandal and may be an investment for smaller budgets. The support for high arches is unparalleled, especially if you are an active hiker needing a good grip underfoot.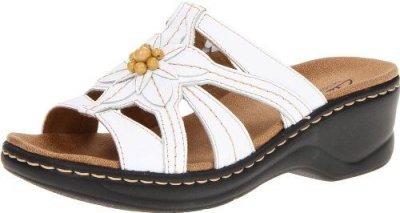 The Clarks Lexi Myrtle not only looks adorable with its slight platform and heel but the strappy cute design lets you wear this pair to evening events after the sun's gone down. A number of colorful leather strap options help make it versatile enough to wear with many different styles of clothing, and with all the Clarks support and comfort you've come to know and love from the brand.
The Lexi Myrtle sounds like it should remind you of walks on the promenade, surf side milkshakes, and arcade summer fun, and it fits right into a beachy theme of footwear. Strappy leather uppers with a decorative floral accent make it casual in terms of a shoe, but a bit sexier in terms of a sandal. Great for warmer weather outings, it's breathable and open, keeping you cool when the suns out.
Clarks consistently creates footwear with cushioning and support engrained into the design, and the Lexi Myrtle is no exception. Flexible construction utilizes an Ortholite cushioned footbed and a lightweight EVA outsole for shock absorbance. Slight heel cup and anatomical footbed design give it enough support for the arch, while still maintain comfort in your step. For a pair of Clarks brand footwear, the Lexi Myrtle is quite reasonably priced, and about average compared to those found on our top ten list. With its cute strappy design for summer and added posh accents for a little bit of flair, it's great for evenings strolling about or to dinner. Well worth consideration from Clarks brand enthusiasts, and those soon to be!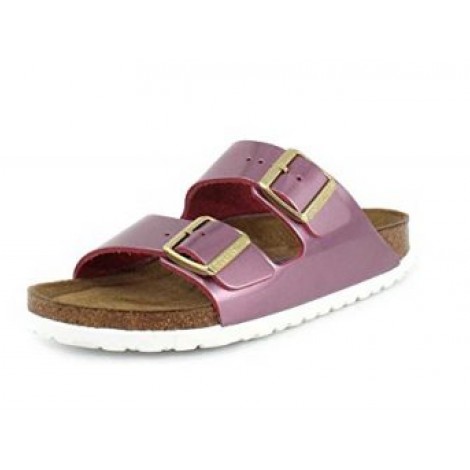 The Birkenstock Arizona is an amazingly versatile sandal. So versatile, in fact, this isn't even the first time we've recommended this shoe! Crafted in Germany, Birkenstock sandals are high-quality and comfortable. The Arizona sandal has a simple and classic two-strap design; they are effortlessly stylish and easy to adjust all at once.
The best part of the Arizona sandal is that it can accommodate a range of arches. People with high arches will find solid support in the Birkenstock Arizona, as it has a high arch in the footbed. People with flat feet, on the other hand, will find that these sandals will "create" an arch for them while retaining a flat heel.
There are two types of Birkenstock Arizona sandal: a soft footbed version and classic. This recommendation covers the soft footbed version; comfort is king!
The Birkenstock Arizona features a footbed made primarily of cork. Soft padding is fitted between the layers of cork for an exceptionally comfortable fit. The cork footbed is also contoured and, over time, will take on the shape of your foot to provide a custom fit.
In addition to the cork footbed, the Birkenstock Arizona sandal has a proprietary synthetic upper material known as Birko-Flor. It is leather-like and lined with soft suede. The outsole of the Arizona sandal is crafted from EVA, which aids in shock absorption and also provides extra cushioning. More expensive than the KEEN Whisper, the Birkenstock Arizona is an investment sandal. However, if you're still not sold on these due to price, check this: the average life expectancy of a pair of Birkenstock sandals is 4-5 years.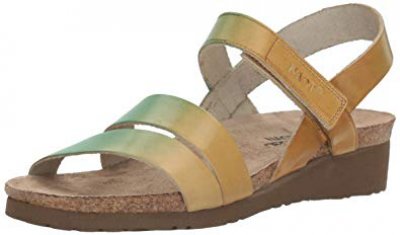 NAOT's Kayla Wedge may look similar to another top brand of sandals, but it has its cute style and support to set it apart from the rest. With a sportier look, it maintains soft leather straps with a hook and loop closure to keep a comfortable fit. Dual forefoot straps and crossed ankle straps give it that sport look, and its cork and latex-covered suede footbed will keep you supported and comfortable when on the run.
The footbed of the Kayla Wedge shoes an anatomical design, with toe ridge for grip when walking, and a deep heel cup to promote alignment and proper gait form. The footbed consists of cork and latex, a combination known for molding further to an individual's specific foot shape over wear, and soft suede for that 'feel good' sensation. It's a solid sandal for vacationing, walking about town, or wearing out a causal event.
The Naot Kayla Wedge comes in a variety of color options, from black, browns, and neutrals, to brighter fun options. The cute wedge is a moderate height, perfect to add some lift to your steps without putting undue pressure on the toes. Synthetic sole gives great grip and traction while being flexible enough to add soft cushioning to each step. And, with adjustable hook and loop closures, you'll find the perfect fit for you. One of the pricier options on our list, it's well worth a look if you are in search of a sandal similar to a Birkenstock, but with a bit more heel and flair. It keeps a sporty look, but can be dressed up for casual evenings with its colorful leather straps and clean look. Adjustable straps allow for a custom fit, and anatomical footbed will wear to your shape over time. A great pair to consider for your next pair of sandals.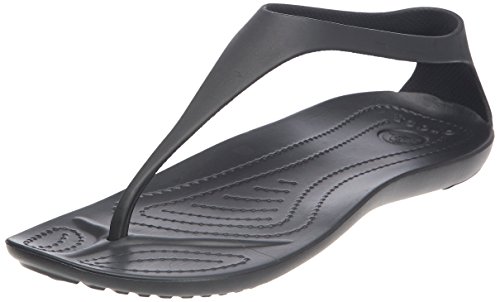 The comfort and support that a pair of Crocs offers is the least controversial thing about them. The Sexi Flip sandal from Crocs lives up to its name, featuring an alluring thong design and ankle strap. These sandals are easy to dress up or down.
The Crocs Sexi Flip features moderate arch support. This amount of arch support makes these sandals best for feet with medium, low, or no arch. Unfortunately, those with extremely high arches may find that the Sexi doesn't provide quite enough support.
Available in six lively colours, the Sexi Flip sandal is crafted using the same sturdy, lightweight Croslite material featured in other Crocs styles.
The Sexi sandal has a footbed full of raised nubs, also called "circulation nubs." The nubs are designed to massage the soles of your feet with each step and, as a bonus, provide toe traction.
Though it's entirely important, the Croslite material that the Crocs Sexi sandal is made of isn't just lightweight and comfortable. The Sexi can withstand the stresses of long walks, hiking, and even a full day at Disneyland. The Crocs Sexi Flip sandal is an incredibly affordable shoe and is cheaper than both the Birkenstock Arizona and the KEEN Whisper. If you need a new flip-flop (or three) to get you through this upcoming summer, the Sexi sandal is the perfect budget-friendly option.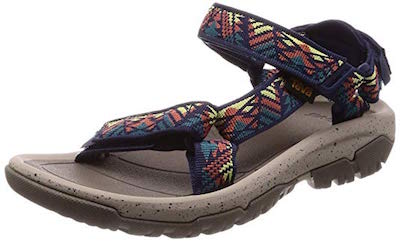 Those who lead an active lifestyle know the importance of a well designed pair of footwear. Over the years, some models have become favorites among hikers and outdoor enthusiasts, and the Hurricane XLT by Teva definitely stood out. The second edition of the Hurricane brought back all the features that made the original such a good choice, and making improvements in terms of shock absorption as well as outsole performance. Overall, the shoe boasts a completely vegan construction, and even makes use of recycled PET for an environmentally friendly product you don't have to feel guilty about buying.
In the upper of the Hurricane, you get a supportive design that utilizes woven nylon straps that are water friendly, quick to dry and shouldn't cause rubbing. Adjustable at three points: the metatarsal area, instep and the back of the heel, the Hurricane is a great choice for anyone who is looking for a product they can put on quickly, that can be adjusted on the go, and that allows them to find the perfect fit.
In terms of tech, you will benefit from a midsole made out of EVA foam, with a highly cushioned heel that helps absorb shock and protects the muscular and skeletal structure over long walks. It's lightweight and molds to the foot, while the nylon shank ensures stability over rugged terrain. The outsole uses Durabrasion Rubber that works well on rugged and versatile terrain, and that grips surfaces well thanks to the angled lugs. The model is ideal for those with a normal arch, and can be bought at an average price, making it an overall good option for most people.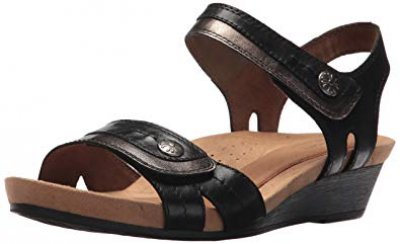 Cobb Hill line of footwear is made and designed by Rockport brand, another leader in footwear that is practical and comfortable. Their Hollywood Button sandal keeps a stunning wood look married with strappy leather uppers and button accent to keep you looking good. With anatomically molded footbed, you'll certainly receive all the support in the right areas, even in a heel.
Just looking at the Hollywood, you'll notice ample cushioning to pad and support the arch, along with perforated inner arch support. Anatomically designed and molded, the footbed is made from EVA, for structural support and cushion aspects. A pigskin and textile footbed cover keeps the footbed feeling soft to the touch, and microfiber lining helps eliminate any rubbing or irritations.
On top of a grippy ruby, sole is a handsome wooden heel, giving a grainy texture that compliments the leather straps above. Adjustable fit can be made to suit your needs around the ankle and forefoot. Button accents keep this looking cute, even when you're just running about town on errands, or headed to classes. The Hollywood comes in a number of color options, so you can find one that compliments your wardrobe. Similarly priced to many sandals on our list, the Cobb Hill Hollywood is great for those looking for a practical sandal for everyday use. Perfect for going to classes, running about town, it won't leave your feet sore after the day is over. Anatomical footbed hits all the areas where support is needed most, and cute button design keeps this sandal looking stylish!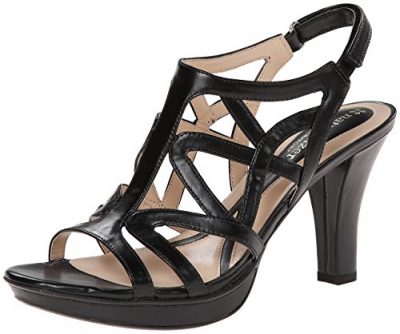 Yet another brand well-known for top-notch fusions of style and comfort, Naturalizer doesn't disappoint with the introduction of the Danya sandal. Unlike the rest of the sandals in this guide, the Naturalizer Danya is primarily a formal/semi-formal sandal. Unless dressy is your casual, the Danya won't be the sandal you reach for every day this summer season.
That being said, the Danya provides a gentle lift that is suitable for arches across the spectrum. A 3.25" heel may seem high, especially concerning comfort, but 1" platform brings these sandals below the true height of 3.25".
No matter the type of foot discomfort you have, it's likely wearing high heels will make the problem worse. However, the Naturalizer Danya features a comfort technology known as N5 Contour. The N5 Contour technology is designed to aid in balance and security, while provided superior comfort. The Danya sandal has a footbed with a molded arch and heel cup for support, dual-density cushioning, and the ability to lightly conform to the shape of your foot.
The Naturalizer Danya is a strappy, interesting sandal that shows a lot of skin. Nevertheless, with an upper of polished faux leather, it is elegant enough to transition from conferences to cocktails and back again. The Danya is also available in eight colors, ranging from simple black to brushed silver. The Naturalizer Danya is a smart choice for a mid-range budget. If the Danya ends up being just out of your budget anyway, it's worth waiting for this sandal to go on sale — few sandals can pull off being sexy and ergonomic simultaneously.

Subscribe to our Newsletter