Best Leather Sneakers Reviewed & Rated
In a
Hurry? Editors choice: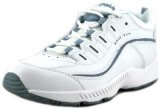 Test Winner: Easy Spirit Romy

Sneakers are one of our shoes that take the most wear and tear over their life, and leather is one of the most durable materials around, so if you want true
quality sneakers
, it can be worth splurging on that slightly higher price tag knowing that the value will hold for a long time. In addition to being extremely durable, leather is
naturally breathable
and can handle heat that is produced through rigorous activity. It is also able to shape itself to the wearer's foot more perfectly than synthetic materials, making the shoe uniquely comfortable.
Standout Picks
Criteria Used for Evaluation
Fit
Similar to all shoes, the fit of a sneaker if important, but the fit of a leather sneaker even more so. When it comes to running shoes this is the single most important thing to be aware of while shopping, and although sneakers are similar they will not and should not be worn for actual running or vigorous workouts.
Sneakers look and fit differently on everyone, and just because your friend recommends a pair that feels great for them, they will not necessarily feel great on you, rushing to buy them solely based on their opinion will 90% of the time leave you with shoes you don't enjoy.
Knowing your size is important, but you must consider that no style of shoe fits like the other, and therefore it is essential to try on different sizes to know what will feel right. Just because you are a certain size in one type of shoe, does not mean you will be in another. Another common mistake is thinking it is okay for a shoe to be slightly too tight because it will get broken in and stretch over time; this generally does not happen and you will be left feeling uncomfortable and not ever wanting to wear your new sneakers.
A good leather sneaker may have a slight break-in period, but once that is over the shoe should almost mold to your foot, and begin to fit like a glove. There is a large difference between a break-in period and a shoe that simply does not fit. Running shoes, for instance, should have zero need to be broken in and should fit perfectly immediately. Sneakers, especially ones that are leather tend to be a little stiffer and may require time to become extremely comfortable. Do not changes sizes based on that. Depending on the quality of the leather this may vary, however, if the shoe is made of bad synthetic materials it isn't worth the buy, to begin with.
Sticking with brands you know work well for you is always a good idea because you have gone through the trial and error process and know your exact fit when it comes to this brand. This takes the time-consuming process of testing sizes and styles out of the equation and makes purchasing a new pair of shoes quick and painless. That is not to say you should never branch out, but with specific styles of shoes like sneakers, the fit is important and this can help with your foot's overall health in the long run.
Lastly, always remember that your foot expands and swells throughout the day and therefore the evening is the best time to measure your foot to find the correct shoe size. It doesn't always make the largest difference in size, but for shoes that should be snug and fitted like slip-on sneakers the exact size is important for optimum comfort.
Support
Whether you are wearing your new sneakers to the mall, or on your next vacation where you will be exploring a new city, your feet need support. Walking as little as ten feet can be uncomfortable if your shoes are not properly fitted to your feet. Everyone's feet are different and will need different levels of support, so take the time to assess the type of feet you have and the type of shoe needed to prevent pain and injuries.
Your feet should not slide around in your shoe, they should be secure at all times. If they have laces they should be tied just enough so that your foot feels snug but not constricted in your shoe; laces that are tied too tight can damage the top of your foot. Slip-on sneakers are convenient but do not always provide the same support as those that have a velcro or lace closure. If you notice things like your heel rising in the back of your shoes, or your toes pushing to the front of the shoe and feeling pinched and sore these do not fit you properly.
Take a good look at the soles and determine if they will not only provide proper support but protection as well. That doesn't necessarily mean protection against things like sharp objects or anything that could pierce the sole, but more so protection against the surfaces you will be walking on. Walk around on a soft surface such as grass or carpet, and then a hard surface like concrete or wooden floors. You should not feel a difference when you walk between the two.
Your sneakers should have a sufficient amount of cushioning and be flexible yet still sturdy. All impact should be absorbed by your shoe and not leave any part of your feet feeling achy. Additionally, a padded tongue and collar will aid in comfort and help support your ankles and upper foot preventing possible injuries. Sneakers are not made to be worn during high-impact sports or activities and will have a different more flexible design in the ball of the foot to accommodate how your feet move when you walk.
If you are in need of arch support, look for shoes that are made to support your particular arch; neutral, high or low. If you have flat feet it is important to pay closer attention to the sneakers you wish to purchase because you are in need of more cushioning for shock absorption. Without proper support, you are more prone to stress on your body which can lead to pain and injury.
Use
Shoes are not made to multitask which is why there are so many different types of shoes for different possible needs in your life. Although similar in appearance, sneakers and running shoes are very different and are used for different things. A running shoe can be very multipurpose and does not need to be worn strictly for running, whereas a sneaker is multipurpose in the fashion sense but not in the way it can be used. Both offer completely different levels of support, although a sneaker can be worn as a walking shoe, it should not be used during any sport or activity that is high-impact.
The word "sneaker" is very broad and does not mean one specific type of shoe. There are many types of sneakers, and they all have a different purpose, from runners, tennis or walking shoes, consider what you will be wearing these for and purchase accordingly. If you wear your leather sneakers during a run the soles will wear out much faster than had you worn proper shoes designed for running.
It is important to keep in mind that regardless of what you use your shoes for, the general rule of thumb is to replace them after roughly 400 miles. This may differ depending on how often you wear them and again the activities; if you notice them begin to not give you the same support as before, or the soles look worn down, it is time for a new pair.
Leather sneakers have quickly become a fashion staple in many closets because of how easy they are to style and wear. Due to the sleek leather appearance, they automatically look much chicer than your average pair of canvas sneakers and can be easily dressed up to be somewhat formal. Pair them with nice trousers and a button down for a smart, business casual look or with any skinny jeans and tee shirt for a comfortable, everyday stylish look.
Ease of Use
Genuine leather can easily be mistaken for synthetic leather so it is important to know the difference between the two. Leather is very flexible and can be stretched, it is also a very breathable fabric which makes it a great choice for all-day wear. Breathable fabric is better for your foots overall health and ensuring airflow throughout the day. Keep in mind your leather sneakers need to be properly cared for and cannot and should not just be simply wiped down with a cloth.
Leather shoes need to be properly polished with special cleaners and polishes made specifically for that type of leather. To be proactive, there are many types of sprays and protectants you can use prior to wearing them to ensure they stay in good shape, and do not show wear quicker than they should. They may be extra work, but in the long run with love and care, it is worth it.
Synthetic leather or faux leather is much more popular and common as an easily accessible and convenient choice because of how much more affordable they are, and easier to maintain. Instead of having to be careful with protectant sprays and properly polishing and cleaning your shoes, synthetic leather can be easily wiped down with a damp cloth. Other less admirable things are how faux leather is not a breathable material nor is it as flexible as real leather, making it in the long less an overall less desirable material overall.
From the leather used to the insoles, soles, laces and everything in between, every single thing and every second spent making those shoes determines the quality of them. You want to invest in a pair of shoes that you know were made with quality and care and that will last you for years to come, although more expensive up front, in the long run, it is always better to do a one time purchase of quality items rather than continually having to repurchase cheap, flimsy items.
Materials
Leather is always the best option when deciding on a sneaker material, especially when being worn as a fashionable item because of how sleek they look. Not only does leather look great, but it is also breathable and feels great as well; meaning it will mold to the shape of your foot over time and begin fitting more and more like a glove after each use. Although more expensive, if you are looking to invest in your new pair of leather kicks, try to opt for genuine leather as its quality is obvious and you will have a pair of shoes that last years.
Genuine leather is classy, comfortable and extremely durable which is why it is such a popular material choice for shoes. Although generally associated with dress shoes, leather does not just need to be worn for formal, or dressy events and can easily be worn in more casual settings. It is more so the quality of the leather that determines how formal a shoe is, not necessarily simply the fact is it leather.
If you happen to come across a pair of sneakers with a leather insole they are a great investment, although it adds to the price, not only does this prolong the life of the shoe, leather is great for preventing odor and bacteria from growing.
10 Best Leather Sneakers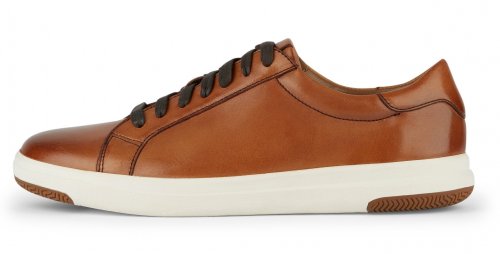 The Dockers Gilmore pulls together the brands genius styling with supple leather aesthetics, creating an eye-catching sleek sneaker. Luxurious leather uppers give your feet an upgraded look, while rubber soles help keep you grounded. The model is also available in soft suede or textile, so you'll be sure to find one you'll fall in love with!
When you look closely at the Dockers GIlmore, you'll find similarities to oxford styled shoes, which keep a closed lacing system, and clean sharp look with the uppers. Closed lacing isn't typically found in a sneaker, but the sophistication Dockers brings to this pair marries the two perfectly. Uppers have subtle stitching along each quarter to further the quality and oxford style.
Inside the Gilmore is a breathable footbed, allowing all-day wear without making your feet sweaty. Fluting details can be found on the outsole, and a lightweight EVA comprises it, helping to support you during walks or nights out and about in town. Traction can be found on its grippy sole, with rubber pods to help contribute to avoiding slips. Some options also have fully perforated uppers, which can help ventilate the foot to keep you cool.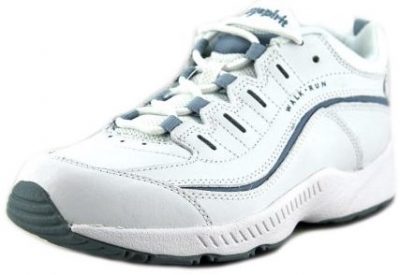 These lightweight sneakers are so versatile and will fit seamlessly into your life, whether you need them for work, working out in, or just everyday errands. The insole is removable to accommodate orthotics, and the sockliner provides not only extra cushioning but shock absorption and arch support as well. They come in a variety of sizes ensuring there is a fit for anyone regardless if your feet or wide or narrow.
The durability of an outsole can make or break a good pair of shoes, especially if they will frequently be worn outside. The Romy outsole is thick and well made to ensure that over time it doesn't lose its shape or start to fall apart. The bottoms of the shoe are also not completely white, which is great for making sure they look clean and nice as long as possible.
It can be tough finding a pair of shoes when one of the key things you are looking for is a removable insole. However needing a shoe that will fit your medical orthotics should not mean you need to compromise anything, especially style. Easy Spirit creates extremely comfortable yet stylish sneakers ensure you feel just as good as you look.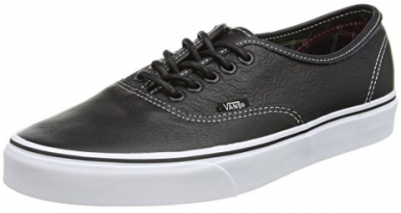 Vans are among the most versatile and popular shoes around. This leather play on their classic shoe is sleek, durable, and comfortable. White stitching and a white rubber sole pair great with the black leather of the shoe-body, making this shoe wearable with a simple, casual outfit or something a bit fancier. A plaid in-sole gives it an additional, subtle flair.
This classic Vans shoe offers a unique feature in that it is unisex. Anybody can feel confident rocking a new pair of leather Vans. This model can be worn with an extremely wide variety of outfits. Wearable with shorts, pants, skirts, and more, the Vans Authentic Sneaker is a great addition to any wardrobe.
A popular brand, Vans has kept their prices at a stable and affordable price point. With the leather exterior, this model is even more durable than its already reliable cousins.

4

. Adidas Originals Stan Smith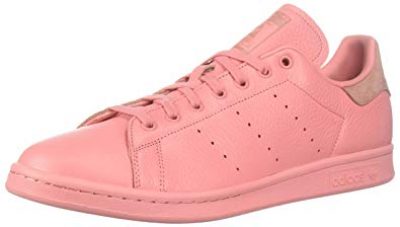 Make a statement with your next pair of leather sneakers with the Adidas Originals Stan Smith, brightly colored and only for the daring! Several versions of this shoe can be found in additional coloring options, but this pink pair of footwear will certainly get some compliments. Textured leather uppers combine with Adidas three strip branding perforations, leaving your feet feeling cool, fun, and wrapped in comfort.
Not for the timid, the Original Stan Smith comes in a pink hue, with some other versions sporting neutral colors with stripe contrast. Great to pair with jeans, slacks, black pants or casual skirts and dresses, it's versatile as well as eye-catching. Low top design gives room for ankle flexibility and movement, and a rubber cupsole keep you snug and protected.
Comprised of full grain leather uppers, and synthetic lining, you'll feel like royalty stepping out about town in this pair. Perforated three-stripe branding will help keep you cool during wear, and the rubber sole gives ample traction on any surface. Contrast heel tab adds a bit of styling, while lace-up closures keep you snuggly inside. You can always change out laces for a bit of color contrast as well!




The Keds Crashback slip-ons offer a simple, casual design that is timeless. Low-topped and narrow, a single-tone body with simple stitching makes this shoe able to pair with most outfits. Easily washable and designed for everyday wear, this shoe is a safe buy for potential shoppers.
The simple design of this model makes it appear to not have arch support, but it is actually rated as highly supportive and comfortable. A soft rubber sole provides long-term comfort.
Thin, breathable leather allows wearers to keep this shoe on all day without cooking their feet or causing bad smells – something you must be extra aware of when wearing leather shoes. The slip-on style is fashionable while still being casual and easy to wear. You can pair these shoes with almost any outfit for a comfortable yet stylish look.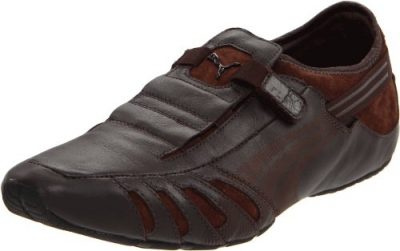 Looking for something a little different in a leather sneaker? The Puma Vedano is sure to make heads turn with it's incredible unique styling, soft leather and suede uppers, and driver styled heel and sole. Sleek, comfortable, and with a somewhat sexy appeal, it's great for fashion forward thinkers who want to mix up their style. Forget about laces on this pair, as its fastened by a hook and loop closure, making it one of the more unique options on our list!
Talk about something that's sexy and sleek! The design of this pair of sneakers embodies an aggressive racing style, yet keeps it classy in design. Uppers consist of quality leather, inspired by racecar fashion as found in the 'venting' on the side panels. An elastic strap helps to secure the heel and forefront of the shoe to your foot, along with the hook and loop closure. All keeping this sneaker looking like you're buckled in for the fashion awards.
On the outsole of the Vedano is a grippy non-slip rubber that runs from the toe through the upper end of the heel. The base of the shoe consists of a forefoot sole and heel, allowing flexibility in the forefoot similar to other driving shoes. Traction can be found with the orange heel and forefoot strips, while a textile lining keeps you cool, and lightly cushioned footbed keeps you going all day long.



New Balance is known for comfort. Every dad in the world can't be wrong, right? The New Balance MX608v4 Training Shoe is a perfect model that combines comfort, usability, and durability. A full leather upper body combined with a mesh tongue and rubber sole makes this shoe an extremely comfortable and durable option.
Thick and padded, the tongue of this shoe offers extreme comfort. However, since the material is mesh, the thick padding of the tongue does not constrict the foot and offers expanded breathability.
The double-thick collar provides added comfort around the ankle and top of the foot, making this shoe a perfect choice for long-term wear.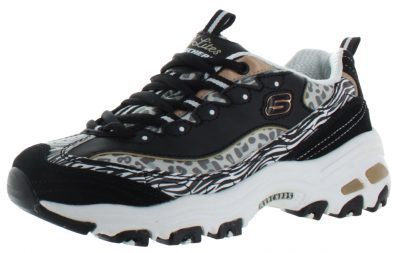 These sneakers not only come in a wide array of colors and designs ensuring you look stylish, but they have feature after feature that makes them some of the comfiest sneakers you will have ever owned. The air-cooled memory foam insole will keep your feet from feeling uncomfortable and sweaty, while the padded tongue and collar ensure there is no irritation anywhere on your foot.
Skechers has one of the most comfortable insoles around that will provide you will all day comfort. Regardless of what the day throws at you, the last thing you will have to worry about is your feet being sore, sweaty or irritated. This insole, along with the thickly cushioned midsole allows for optimum shock absorption and comfort.
The more cushioning and padding the better when it comes to sneakers you will be wearing for long hours. You don't want to invest in a pair of shoes that leave your feet with blisters or irritations and Skechers D'Lites ensure that that will never be the case. Padded all throughout the shoe, but especially around the collar, making sure that you have sufficient ankle support and feel good by the end of the day.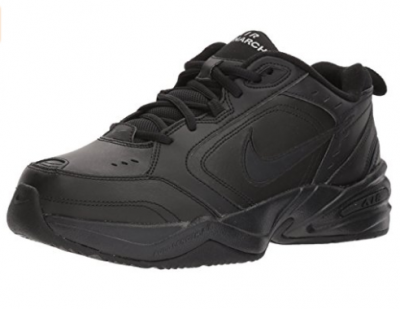 Built for comfort and long-term wear, the Nike Air Monarch IV is a favorite shoe for those who are on their feet all day. Designed to help those with wider feet, this shoe is customizable and can be fitted to almost any foot. The Nike Air Monarch combines Nike's top of the line production with extreme comfort.
This shoe has very high and supported arches that are great for running or long periods of standing. The shaft of the shoe measures 2.75" from the shaft, making it a very tall sole.
Though larger than a traditional running shoe, the Nike Air Monarch IV is perfect for runners who desire extra comfort and support. Durable, these shoes are a great addition to any runners closet.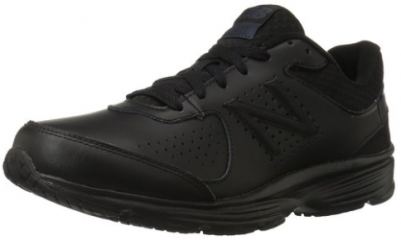 The second New Balance shoe on our list, the MW411v2 Walking Shoe is designed for regular, every day use. A leather body with perforated sides, this model is designed to be worn all-day and so is very strong and comfortable. The rubber sole is built for traction – adding to the shoes stability.
The perforated leather sides on the body of this shoe makes it extremely breathable which is crucial for leather sneakers – especially those that are meant to be worn for long periods of time.
These shoes are designed top to bottom for people who are always on their feet. Designed to remain comfortable throughout a long day, this is a perfect purchase for the active walker.

Subscribe to our Newsletter