Best Yoga Shoes Reviewed & Rated
last updated
Jul 24, 2019
Yoga is becoming more and more popular these days and the need has come for a perfect shoe for yoga.
Support and cushioning as well as flexibility is key to a good design. For those who are seasoned pros or those just getting started with the sport, we've brought together ten of the best yoga designs to keep you centered.
With all the different brands, quality and price ranges, choosing a pair that's perfect not only in terms of comfort but the quality and overall value can be a bit daunting. We understand. This carefully selected list, however, will ensure that you make the smartest choice with all factors considered.
In a Hurry? The test winner after 7 hrs of research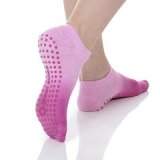 Great Soles Ombre
Why is it better?
Machine Washable
Non-Slip Heel
One Year Guarantee
Lovely Ombre Color
In a
Hurry? Editors choice: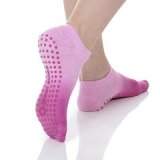 Test Winner: Great Soles Ombre

7
Researched Sources
1378
Reviews Considered
7
Hours Researching
10
Products Evaluated
Comfort
Traction
Breathability
Flexibility
Weight
By Default
Our Favorites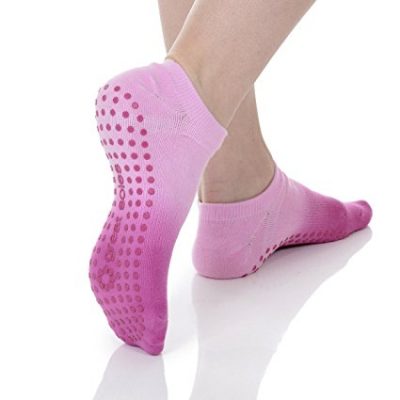 Machine Washable
Non-Slip Heel
One Year Guarantee
Lovely Ombre Color
If you're a fan of grippy socks as opposed to footwear, then Great Soles Ombre is a perfect match for you! With their colorful styling and eye-catching appeal, they can bring some style to your practice, as well as grip. Not all socks are created equal, and the Ombre hits near the top of our list for its styling, function, and price combined.
Perhaps you've already tried and tested out a pair of grippy socks, and now you're in search of your next pair. The Ombre comes in a variety of color options, with a great ombre color fade to give more style to your practice. From darker hues to blues and pinks, you're sure to find one you love.

The grip can be found on the textured bottom from toe to heel to help keep you in place and great form. Quality from Great Soles is foremost in their brand, and with these products quickly selling out, it's no wonder they make our list! Backed up with a satisfaction guarantee, you get an entire YEAR to return or replace these no matter why.

For the great styling and colors, plus a satisfaction guarantee of one full year, these are not only a smart buy, but you'll not be disappointed with their functional ability to keep you grounded in the studio!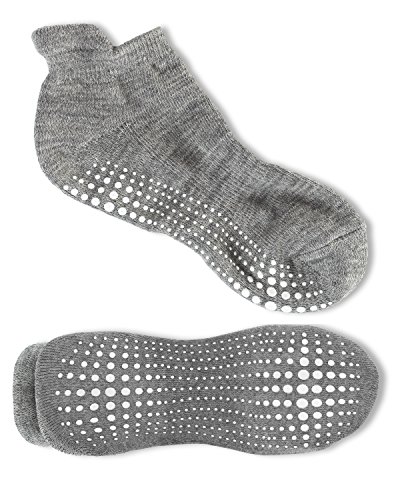 PVC Grip
Luxury Cotton
Padded Heel
Open Air Vent Top
Every purchase you make includes two pairs of these yoga and pilates socks from LA Active. Comfortable, with a great grip, and a luxurious blend of cotton, these socks are going to feel amazing on and take your practice to the next level. Don't worry about the floors or your mat, as these are very gentle and won't cause any tears, scuffs, or damage.
With extra padding featured in the heels of these socks, you should find a noticeable difference in comfort between these and other socks on the market. During practice, your heel endures a lot of pressure, so that extra touch of padding can help reduce any pain or strain you would otherwise feel. The bottom of these socks features a unique and cute pattern made of PVC. Extremely grippy, these do an amazing job at preventing you from slipping and sliding off your mat or hardwood floors.

The value of this purchase is fantastic. Inexpensive, durable, and great for doing poses, these socks are easily rolled up and thrown into your gym bag so that you always have them on hand for your next class.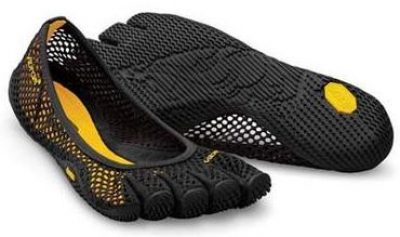 Durable Rubber Sole
Breathable Mesh Upper
XS Trek Sole
FiveFinger Design
Good Support
While being ahead of the game, the Vibram VI-B can provide the open look that you need. Vibram stands by their craft and never misses to provide long-lasting quality material that lasts years, regardless of hard use and abuse. These are another of Vibram's signature FiveFingers models that fit your feet like a glove. This fit will have you feeling as if you're barefoot. It's easy to enjoy the comfort and breathability that comes from the VI-B.
Vibram's footwear provides great support, even for the toughest of poses. They're also extremely comfortable and do not pinch while bending the foot. With these, you can enjoy every minute of your sessions, even on hard floors, without worrying about discomfort. Having ventilated footwear is a must when performing stretches and other similar exercises. Being able to reduce the amount of sweat build-up inside your footwear will substantially increase comfort and the quality of your sessions. Having an effectively breathable design will reduce rubbing and chafing as well.

Vibram provides a high-quality design that will keep you comfortable, supported, and able to move your foot in whichever way you want! What more could we possibly want?
4

. New Balance Studio Skin




Stretchy, Accommodating Fit
Open Heel
Cushioned Areas
Odor Resistant Technology
Silicon Traction
Technically created for dance, the Studio Skin is also appropriate for yoga, pilates, dance-fitness, barre classes and more. It is not a shoe, but rather a slip-on type of protection, which delivers maximum breathability as well as the traction that you need to stretch without a care in the world. It also helps fight bad odors and is a great in-studio design.
The Studio Skin has extra cushioning in the ball of the foot, as well as the arch to keep you comfortable while you take on the most difficult poses. It provides an accommodating fit thanks to its stretch material, and the inside is treated with NB Fresh technology to reduce the risk of developing bad odors during practice. Finally, the Studio Skin has an open heel silhouette to keep you grounded at all times and prevent you from losing your balance when you need it the most.

We honestly didn't expect any less from a leading sportswear brand such as New Balance. The Studio Skin is lightweight, easy to wear and easy to practice in, and it delivers just the right amount of pressure relief in all the key areas. If you're not going to be practicing outdoors any time soon, definitely consider investing in this slip-on design!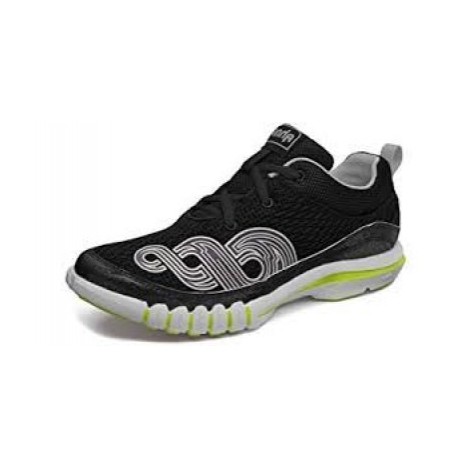 Adjustable Lace-Up Closure
EVA Rubber Outsole
Dual Density Foam Footbed
For Outdoor Practice
For Other Sports Too
Another great up and coming design on our list is from Ahnu. The Flex comes padded with loads of technology for cushioning, breathability, support, and flexibility. The last thing you want from any option is for it to restrict any sort of movement required by the toes, ankles, and heel. Ahnu creates a well designed, comfortable model to help you move to the next stage of your practice and flexibility.
Ahnu has combined their love of outdoor fitness with the love of yoga when they designed the Flex. It's designed for those who are looking for versatility in and out of the studio. With great arch support and cushioning, these will keep you walking for hours on hikes, and with their grippy sole, and breathable mesh upper, they are perfect for in-studio use as well.

The Flex is a show stopper for sure! With a plethora of bright, vibrant color choices, you can wear these for a statement-making outfit during your workout. They are perfect for classes which combine other sport or fitness activities such as Pilates or HIIT. The lace-up design keeps you snugly in and planted with minimal slippage.

The Ahnu Flex is a solid investment if you're looking for a design that you can take outside the studio. Breathable and lightweight, it is also great for gentle hiking or activities where more support may be needed from your footwear.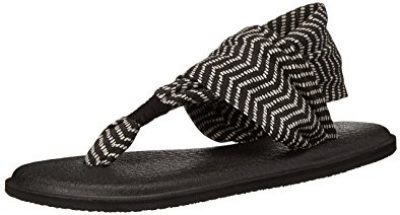 Machine Washable
Yoga Mat Footbed
Happy U Rubber Sole
Stretch Fabric Wrap
For Outdoor Practice
If you love waking up early and doing your morning Sun Salutation on the beach, or outdoors in general, then the Sling 2 from Sanuk is going to be just what you want. Not only is it a gorgeous sandal in general, but Sanuk has taken the time to really craft it in a way that makes it ideal for your practice. Comfortable and eco-friendly, this is a choice that will make you feel good both on and off the mat.
No need to lug your mat outside for your practice, as these sandals have the mat built right into the footbed. The thick padding is insanely comfortable, and you can wear these for entire days without having any discomfort, fatigue, or aches. The footbed is also very durable, so you don't need to worry about these wearing down any time soon.

There is no chance of your feet getting sweaty in the Sling 2, as it is completely open and only has a soft fabric wrap to adhere it to your feet. Stretchy and secure, the fabric will keep the sandal on during your most active poses, while the fresh air will hit your feet and toes, keeping them cool and comfortable.

The Sanuk Sling 2 is great for a variety of activities, and it is durable enough for heavy, everyday use. Perfect for stretching, days at the beach or even vacations - these are great for everyone!



Soft Lining
Contours to the Foot
Durable Polyester
Non-Slip Sole
If you are looking for stylish and comfortable footwear, these will appeal to you most certainly. The L-Run unisex Barefoot provides everything you will need for extended sessions. As their barefoot tag suggests, these leave little to no feeling that you have anything on your feet. Additionally, the breathable fabric will provide adequate temperature regulation so that your feet do not overheat or get blisters with extended use.
For a lasting comfortable feel, the breathable soft lining keeps the feet fresh and padded. Even through prolonged usage, the Barefoot will provide the ventilation necessary to keep your feet dry, cool and blister-free. The Barefoot fits easily and comfortably over your feet, contouring effectively, even for those extremely tricky motions that tend to cause a toll on the foot's flexion. With the flexibility that they provide, each motion can be made in harmony with them without feeling the discomfort that footwear usually causes.

For an affordable price and an adequately performing product, the L-Run Barefoot does the trick. It is certainly worth the purchase if you don't need anything special, and don't want to pay extra.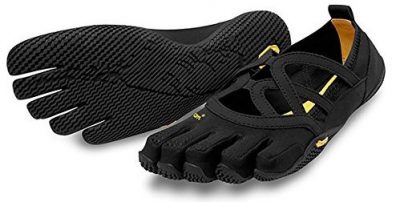 XS Trek Outsole
Zero Drop Offset
For All Poses
Machine Washable
Stretch Polyamide
The Vibram Alitza Loop is a highly comfortable, flexible design for performing in different types of sessions, from advanced to basic. Whether on a mat, grass or on harder surfaces, it provides ample grip to prevent slipping. The design fits nicely on all of the toes like a glove, while also providing a small amount of arch support for your feet. With a zero drop heel to toe offset, you're able to feel natural, almost barefoot with these while getting all the benefits they provide with grip and protection.
Having a lightweight, flexible design requires a minimal heel to toe drop. The Vibram Alitza Loop has a zero drop offset for a natural feeling experience. Its minimal build allows the flexibility and a feel that's perfect for every-day sessions. With a glove-like fit, you will feel like you're wearing virtually nothing on your feet. The Alitza Loop is made of an extremely breathable fabric that stretches naturally with the foot. With this, poses are easy to execute without limitations. Additionally, the comfort level is up there with the best.

The Vibram Alitza Loop provides great value at an affordable price. Along with the zero drop for a natural feel and flexibility, it also provides support with the necessary grip for all types of poses.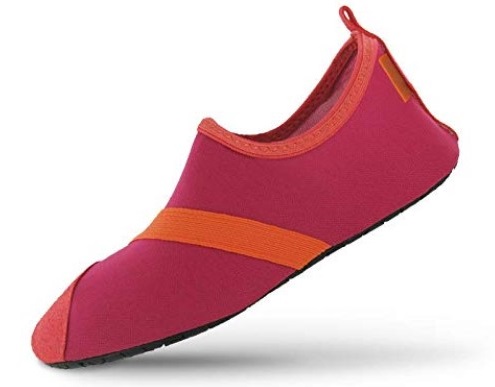 Synthetic Sole
Non-Slip Rubber Tread
Breathable
FlexForm Material
FitKicks provides an extremely comfortable and soft option with their Active design. These allow the foot to breathe with ample airflow and ventilation. You're able to move the foot with natural motions as required when doing difficult stretches. When attempting advanced poses, the foot needs to be as articulate as possible, and able to grip effectively. These provide that ability, with a thin, skin-like fabric that stretches and maintains support from top to bottom. You can easily slip the Active on for use in all types of sessions.
This super soft design will comfortably conform to your foot and have you feeling barefoot while giving all-around support. It provides the perfect wrap-around support that enables a pleasant experience for your feet. The extra cushioning and padding will ensure that poses on hard floors are not a problem at all.

The flexibility that these provide makes them grab and conform to the feet for a perfect fit. When they're slipped on, you can enjoy all that comes with each and every pose, no matter how much you need to bend and flex.

The cost of the FitKicks Active varies depending on the size and style that you prefer. They provide the highest quality for those that prefer comfort over everything else.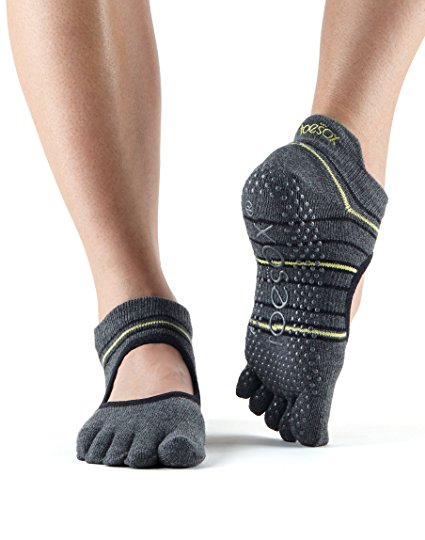 Non-Slip Sole
Organic Cotton
Five Toe Design
Easy Sock Fit
Protected Achilles
These Bellarina socks from ToeSox offer up a lot of stability, grip, and balance thanks to the fact that your toes have the ability to move separately and really hold on to the mat. ToeSox is a well-known brand, and their products are always of the highest quality, so you should enjoy the breathable, open nature that these socks provide.
The additional heel tab on these socks is designed to give your Achilles the extra protection and security it needs, ensuring you don't have any injuries that could ruin your practice. There is also an arch band which gives your foot that bit of lift and support to make your class more comfortable and easier on your feet.

Using their own patented grip design, these socks do an amazing job of securing themselves to the floor beneath them. They are anti-slip, and regardless of the flooring, you should notice that your foot feels secure and balanced. The extra toe spacing also helps with grip, so you can bend and balance peacefully.

Given the name brand and the fact that they have such great grip, the price of the Bellarinas is reasonable, especially when compared to similar sock styles and brands. If you are looking for an option that isn't technically a shoe, this one's for you!
Criteria Used for Evaluation


Comfort
The stretches in yoga can put a lot of weight on the feet that can be unequally distributed on one part of the foot over the other. Because of this, it is critical you're wearing footwear that will give you maximum foot support. Failure to have adequate support to ease the stress you put on the foot doing the poses can risk injury.
One feature great to look for in a design for this sport isa zero drop construction. It's when the heel of the shoe is the same height as the front, much like your feet naturally are when you're standing on a flat surface barefoot. This natural feel and fit will give adequate support to your feet during all your poses.
Benefits to Zero Drop Footwear:
Most Natural Foot Position
Significantly More Stability
Reduces the Likelihood of Suffering From an Injury
Can Be Beneficial for Those Who Have Pain in Their Back, Hips, Knees, or Feet
Minimizes Strain and Pressure on the Knees
A shock absorption polyurethane cushion sole can also be a helpful feature to look out for. It'll reduce the impact of the weight from each step you take to start your positioning and give you a comfortable feeling when you plant your feet down. This is great if you ever plan on taking your yoga outside of class and doing poses on outdoor surfaces without a mat.
You might also want to consider footwear with thick foam arch support inserts to better protect your feet if you happen to step on any rocks outside.


Traction
It's important that your footwear gets a good grip on the ground while you're doing your poses. A design that doesn't get the best grip can end up causing you to have an awkward fall that could injure you badly.
One of the things that will be your best friend in helping prevent this is rubber. Pay attention if the particular design you're considering has rubber soles. This feature will give you maximum traction for all of your stretches and keep you safely on your feet during your session.
Another feature you might keep your eye out for is if you see a design that has an XS trek outsole. XS trek is specifically designed to give traction on anything, even if it's a really wet surface. Also, XS trek soles give your footwear durability that will keep it lasting for many sessions where you make full use of their slip-resistant powers.
Ensure that whatever sole you choose is non-skid and non-marking. If you are practicing yoga without a mat, you do not want your sole to cause damage to the flooring or the ground that you are on. Even with a mat, you don't want the sole to wear out the material, so opting for a sole that is less coarse and more smooth should give you grip while also reducing tears or wear through.


Breathability
Whether you're doing regular or hot yoga, your feet can build up a lot of sweat quickly during your poses. It's best to prevent that so you're not adding weight to your shoe which might make your stretches more difficult to do.
Probably one of the best defenses you can find to combat this is a design that has a polyester mesh upper, or a design that is made with polyamide. Polyester and polyamide are both very water resistant. They help to transport the moisture from your sweating away from your body.
Mesh, of course, is a porous material, like a net. So the combination of polyester and mesh will give you all the airflow that your feet need for keeping them cool and dry throughout the majority of your session. Fortunately, a lot of footwear tend to be made similar to water shoes and have a dual purpose. They also tend to have a wide open upper, like flats. With those similarities, you won't have a hard time getting the necessary breathability in your choice of footwear.
Most Breathable Types of Fabric:
Knit Uppers: Knit is great because the knit design leaves holes throughout the top of the upper, allowing air to get in and heat to escape. More and more footwear is leaning towards knit nowadays because of its comfort as well as its breathability.
Mesh Upper: Mesh uppers are similar to knit, in that they have many holes to allow for air to flow in and hot air to escape. Breathable, lightweight, and generally less expensive, mesh is a great choice for indoor exercising. Outdoors, mesh will allow sand, dirt, and other debris to enter the shoe, so it may not be the ultimate choice.
Canvas Upper: While most people would not think of canvas, there is a reason that summer footwear is usually made from this material. Canvas is actually very breathable, and its porous nature means you will have cool and sweat-free feet.


Flexibility
Your feet bend and twist and turn in all types of directions whenever you're doing most stretches. When your feet are constricted in your footwear, it can cause foot pain doing your poses.
Your footwear should be flexible so your feet can feel comfortable stretching out in it. The best way to get that flexibility is to look for a specific type of material. You should find footwear that features a fabric like polyamide. Polyamide is a very stretchy fabric that will allow your feet to move in all sorts of ways without feeling much resistance.
It can also be a good sign of flexibility if the design is described as having a sock-like fit. If you can move your feet in the footwear with not much restriction, stretching out your toes like in socks, you've got a good option.
Pay attention particularly to whether the uppers are described as having stretch fabric, and if the soles happen to be XS trek, which is designed to be very flexible.


Weight
There are a good number of stretches that require a person to lift their feet in the air in some fashion. Examples of these include the crow pose, the half-moon pose, the boat pose, shoulder stand pose, and many others. In looking at images of these stretches, you can see that they're difficult enough just to even attempt to do. The last thing you want is to make them even more difficult by having footwear that adds weight on your feet.
It's very helpful to have a design that is lightweight so it won't weigh your feet down when you're doing those specific types of poses.
One of the ways you can find a lightweight option is if any of the designs you're looking over are stated to have a soft and elastic sole. Try to avoid footwear that appears to have a really thick sole.
In general, most options that you look at will highlight if they're lightweight. It's also a good sign that they're lightweight if the gram weight of the footwear is highlighted and it is described as being easy to slip on.
Expert Interviews & Opinions
Most Important Criteria
(According to our experts opinion)
Experts Opinion
Editors Opinion
Users Opinion
By Default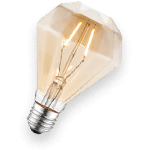 Beginner Tips
Yoga practice can address several aspects of health and fitness. From strength, flexibility, breathing and mindset, it has benefits across the spectrum for its followers.
It's important when you're just starting out, that you take your practice home as well. Breathing and mindset can be practiced just about anywhere!
For physical attributes, make sure you have the correct form for each pose, and only do what you can in terms of flexibility. Flexibility will come in time!
Types Of Yoga
There are a number of different styles of yoga, each with individual flairs for aspects of the practice. Some will focus on breathe and meditation, while others consist more of a flow. Even more rigorous styles incorporate heat, or require holding challenging positions for increased muscle benefit.
Other Factors to Consider


Bottom Line
Yoga footwear comes in many shapes, sizes, and colors and each one is different than the last in one way or another. Every enthusiast will need to choose carefully depending on their specific preferences.
Personal preferences are an important factor to consider but also look at the features, pros and cons of each design. These aspects will make each option really stand out from the others and determine if or which is right for you.
What type of yoga will you be participating in? Are you doing advanced stretching, or casual? Are you going to be doing it indoors or outdoors? All of the items listed provide numerous benefits for particular instances.
However, which one is best for your purpose is entirely up to how you will be using it, and the level of exercising you will be participating in. Each one varies in price, as well. Compare the features of these highly rated options, choose which one fits you, and you will be performing on the mat to the best of your ability!
Frequently Asked Questions
q:

Is it okay to wear footwear in a yoga class?

a:

While there are some teachers who prefer their students to be barefoot during their classes, there are many who are perfectly fine with you wearing footwear during their classes. The best thing you can do is to contact the teacher or organization you're looking to do classes with and ask if it's okay for you to wear footwear during the class. In general, all instructors just want you to be as comfortable as possible in whatever you choose to have on.
q:

Can these designs be worn in the water?

a:

Yes, in general, most items on our list can cross over well being used in water activities, such as swimming or surfing, given their similarity to water footwear. A good number of designs are made of polyester, polyamide, or other materials that reduce moisture in footwear. Many of them slip on nice and tight so they won't fall off in the water. Additionally, some footwear features mesh and other perforation-like designs where the water will flow out of them easily, and then after you get out of the water, air can flow inside to get your feet dry again.
q:

How do you wash this type of footwear?

a:

You can very simply toss your footwear in the washing machine and wash it with cold water. After washing, you can just let them out to dry. If the design happens to be made from leather, you're going to need to use a special leather cleaner so you don't damage it in any way.
q:

Can these designs be worn casually?

a:

You'll have to see how they feel for you. Some find these comfortable to wear all the time given the amount of flexibility your feet have in them and also the softness of the material on your feet. Others prefer more arch support to walk around in, which most of these options don't have. You can decide for yourself by wearing them for a day and seeing how your feet are doing by the end.
q:

Is it hard to find the right size?

a:

Most of these designs are true to size. You'll have some that'll sell in small, medium, and large with a number range of what size feet would be best. It's suggested that this type of footwear should fit somewhat tight on you, initially. Gradually over time, it should mold to the shape of your foot from all the stretching out you do walking or doing your poses.
q:

Can I go running in these?

a:

In general, most of these options have a thin sole that is designed to give you a lightweight feel and flexibility in your feet. Now, some are described as being good enough to protect your feet from stepping on things such as rocks and other hard surfaces.

However, this type of footwear does not feature as much cushioning as running footwear has, and some doesn't have as much traction either. For running, it might be better if you had footwear with thicker soles that can give you more shock absorption in your running steps, which won't wear out as quickly through consistent running, and also which has increased cushioning to ensure adequate comfort.
q:

Are these shoes heat resistant?

a:

Some people have worn these on the beach and not felt much heat from the sand. Certain designs do state they have enough layering to protect from hot sand, sharp rocks, and other potentially painful situations. You would have to carefully test the design for yourself and see if it gives enough protection for you. Otherwise, it may be best to opt for a more protective option for when you're walking outside on hot days.