Best Yoga Shoes Reviewed & Rated
In a Hurry? Editors choice:

Test Winner: Vibram VI-B

While yoga is a type of exercise traditionally done barefoot, there are people who simply feel more comfortable wearing a pair of yoga shoes. Whether you need the extra protection because you don't want to stand on cold studio floors, are worried about splinters, need the extra traction, or simply have previous injuries that require you to wear footwear, this list has got 10 of the best products for you.

You can take a look at the variety of yoga shoes listed below, and opt for the ones you know will work best. From full-on sneakers to ballet flats, to wraps and even FiveFinger shoes, the list below offers a huge variety of yoga footwear so that anyone can find the perfect fit.
Standout Picks
Top 10 Yoga Shoes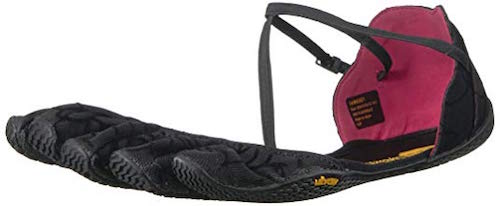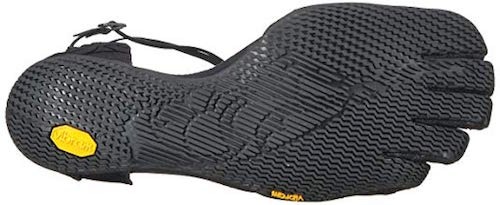 This pair of studio shoes are perfect for anyone who needs footwear that can be worn to yoga, barre class, or even pilates. The VI-S is a great choice because it takes into consideration that these fitness activities require you to actively grip the floor and to have unrestricted movement which is best achieved by going barefoot. Nonetheless, if you're worried about cold floors, splinters, or even hygiene, the Vibram VI-S is an excellent investment.
This pair of shoes can be purchased in four color options, allowing you to match it with your favorite workout outfits. The design is minimal. For one, the top of the foot is barely covered, with only two thin straps that are placed there in order to keep the footwear on. Like all FiveFingers shoes, these have a separate pouch for each of your toes, which means that you get a wider range of motion than in regular cross-training sneakers.
The upper is made of printed mesh that serves a dual purpose - for one, it's very flattering, all while keeping you well-ventilated, no matter how difficult your workout is. Additionally, you can expect it to dry quickly, to feel lightweight, and to adapt to your foot without any issues. The sole is the same that's featured on the KSO-EVO, which is a non-marking rubber compound with small traction nubs that will help you grip any studio floor.
As for price, this model by Vibram is slightly more expensive than most other yoga footwear products listed, nonetheless, if you're after a pair of shoes that'll last, you should definitely check it out.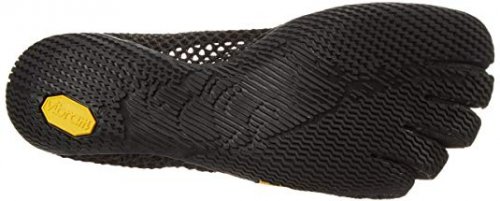 While being ahead of the game, the Vibram VI-B can provide the open look that you need. Vibram stands by their craft and never misses to provide long-lasting quality material that lasts years, regardless of hard use and abuse. These are another of Vibram's signature FiveFingers models that fit your feet like a glove. This fit will have you feeling as if you're barefoot. It's easy to enjoy the comfort and breathability that comes from the VI-B.
Vibram's footwear provides great support, even for the toughest of poses. They're also extremely comfortable and do not pinch while bending the foot. With these, you can enjoy every minute of your sessions, even on hard floors, without worrying about discomfort. Having ventilated yoga shoes is a must when performing stretches and other similar exercises. Being able to reduce the amount of sweat build-up inside your footwear will substantially increase comfort and the quality of your sessions. Having an effectively breathable design will reduce rubbing and chafing as well.

Vibram provides a high-quality design that will keep you comfortable, supported, and able to move your foot in whichever way you want! What more could we possibly want?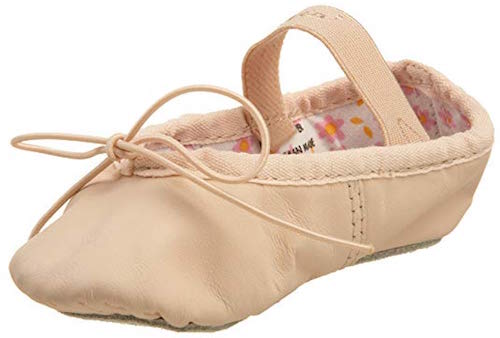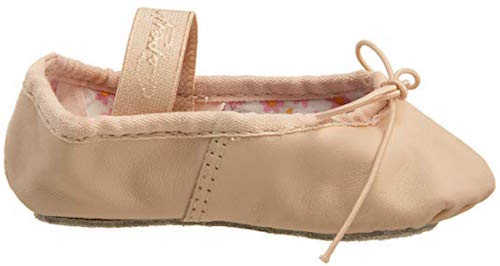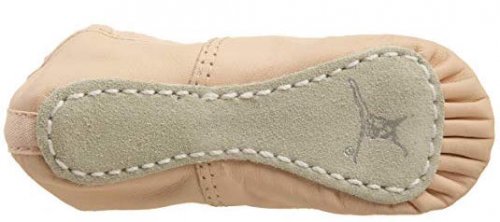 The Daisy by Capezio is a standard ballet slipper made primarily for ballet dancers. It's a great alternative both to shoes and socks, seeing that it offers the best of two worlds - the upper is made out of supple leather for a barely-there fit and feel, while the sole features a leather layer that will keep you securely on your feet, offering a little bit of protection.
The Capezio Daisy is flesh-colored, and it's a great choice for those looking for something with a natural look. The upper, being leather, will break in very easily - after all, this is a shoe that is meant to allow for the foot to fully articulate in ballet class. There's an elastic drawstring to keep it on your feet and from slipping off the heel, as well as a pre-sewn elastic across the top of the foot that ensures support and security.
The lining of the Daisy is a canvas for a breathable feel, and you can wear it with or without any socks. It also features a satin ID tag on the inside, so you can make sure these don't get lost. Additionally, it also comes in black and white, and can even be purchased in narrow and wide widths, which is ideal for those with a more specific foot shape.
As for cost association, these slippers are actually quite cheap compared to other models listed. Being made with leather, they should last you quite some time, but keep in mind that they won't do so well if you decide to wash them, which may present a problem for those who tend to sweat a bit more.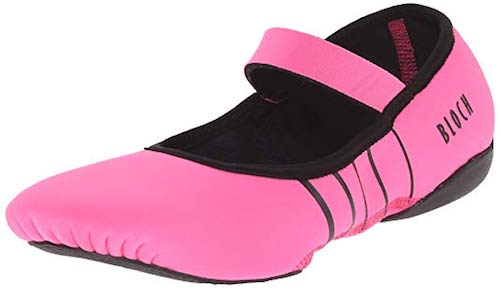 Somewhere between a pair of sneakers and a simple ballet slipper, the Bloch Contour is a model by the famous Australian dancewear brand that was designed with barre workouts in mind. It looks like a really soft pair of ballet flats and feels somewhat like a sock, all while offering wearers a high level of protection and comfort. It can be purchased in several color options, so you can choose the one that matches your favorite tights and tops best.
The upper of the Bloch Contour is made with neoprene. While this material isn't widely used by footwear manufacturers, it's actually a great choice for indoor workouts. Firstly it offers a soft feel and can be worn without any hosiery. Secondly, you won't have to worry about sweat, seeing that it won't become damaged by it - it dries quickly allowing you to keep comfortable for your whole session. Most importantly though, it's slightly stretchy, so you won't have to designate a break-in period that is often necessary with regular leather or canvas sneakers.
The Contour has an attached strap over the top of the foot that ensures that the shoe stays on, as well as a gripping lining that won't let it slip off your feet mid-pose. The outsole is thin and made with rubber, with a gap beneath the arch, so you won't have to worry about flexibility, but will still reap the benefits of improved grip.
As for cost, it ranks average, but you may be able to find it on sale, making it a great option if you're on a limited budget.

5

. New Balance Studio Skin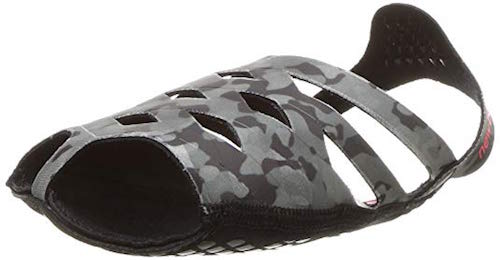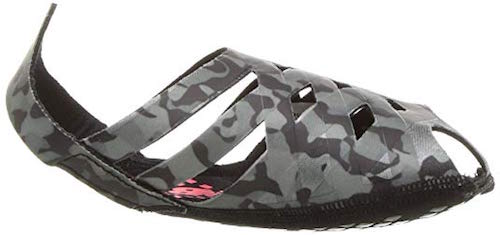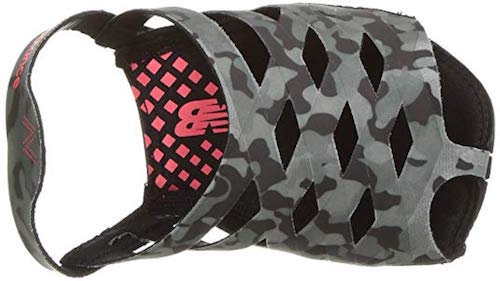 Technically created for dance, the Studio Skin is also appropriate for yoga, pilates, dance-fitness, barre classes and more. It is not a shoe, but rather a slip-on type of protection, which delivers maximum breathability as well as the traction that you need to stretch without a care in the world. It also helps fight bad odors and is a great in-studio design.
The Studio Skin has extra cushioning in the ball of the foot, as well as the arch to keep you comfortable while you take on the most difficult poses. It provides an accommodating fit thanks to its stretch material, and the inside is treated with NB Fresh technology to reduce the risk of developing bad odors during practice. Finally, the Studio Skin has an open heel silhouette to keep you grounded at all times and prevent you from losing your balance when you need it the most.

We honestly didn't expect any less from a leading sportswear brand such as New Balance. The Studio Skin is lightweight, easy to wear and easy to practice in, and it delivers just the right amount of pressure relief in all the key areas. If you're not going to be practicing outdoors any time soon, definitely consider investing in this slip-on design!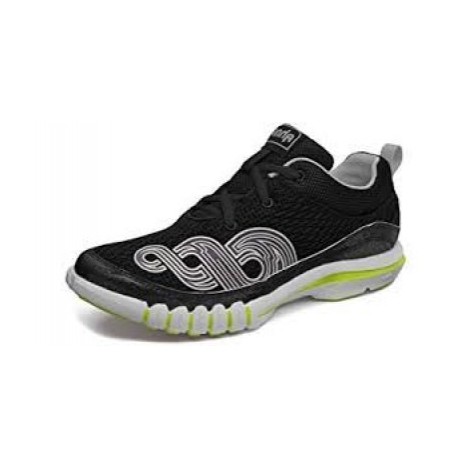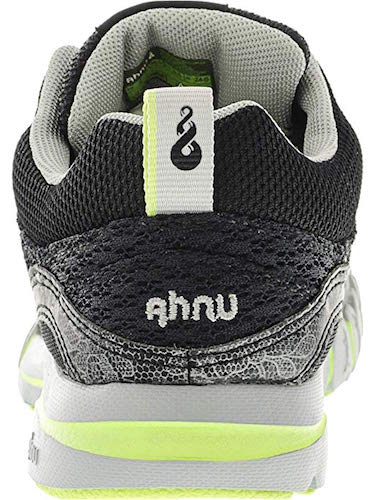 Another great up and coming design on our list is from Ahnu. The Flex comes padded with loads of technology for cushioning, breathability, support, and flexibility. The last thing you want from any option is for it to restrict any sort of movement required by the toes, ankles, and heel. Ahnu creates a well designed, comfortable model to help you move to the next stage of your practice and flexibility.
Ahnu has combined their love of outdoor fitness with the love of yoga when they designed the Flex. It's designed for those who are looking for versatility in and out of the studio. With great arch support and cushioning, these will keep you walking for hours on hikes, and with their grippy sole, and breathable mesh upper, they are perfect for in-studio use as well.

The Flex yoga sneakers are a show stopper for sure! With a plethora of bright, vibrant color choices, you can wear these for a statement-making outfit during your workout. They are perfect for classes which combine other sport or fitness activities such as Pilates or HIIT. The lace-up design keeps you snugly in and planted with minimal slippage.

The Ahnu Flex is a solid investment if you're looking for a design that you can take outside the studio. Breathable and lightweight, it is also great for gentle hiking or activities where more support may be needed from your footwear.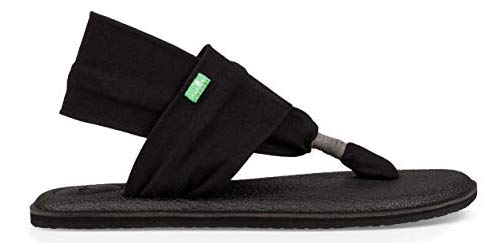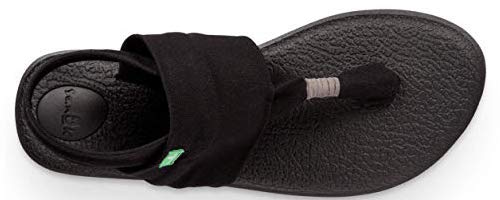 If you love waking up early and doing your morning Sun Salutation on the beach, or outdoors in general, then the Sling 2 from Sanuk is going to be just what you want. Not only is it a gorgeous sandal in general, but Sanuk has taken the time to really craft it in a way that makes it ideal for your practice. Comfortable and eco-friendly, this is a choice that will make you feel good both on and off the mat.
No need to lug your mat outside for your practice, as these sandals have the mat built right into the footbed. The thick padding is insanely comfortable, and you can wear these for entire days without having any discomfort, fatigue, or aches. The footbed is also very durable, so you don't need to worry about these wearing down any time soon.

There is no chance of your feet getting sweaty in the Sling 2, as it is completely open and only has a soft fabric wrap to adhere it to your feet. Stretchy and secure, the fabric will keep the sandal on during your most active poses, while the fresh air will hit your feet and toes, keeping them cool and comfortable.

The Sanuk Sling 2 yoga shoes for women are great for a variety of activities, and it is durable enough for heavy, everyday use. Perfect for stretching, days at the beach or even vacations - these are great for everyone!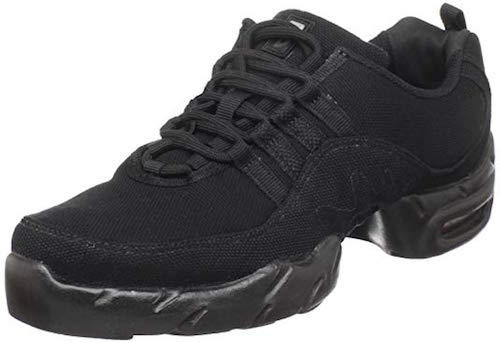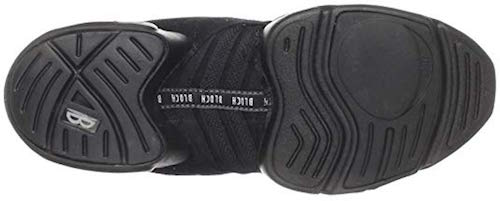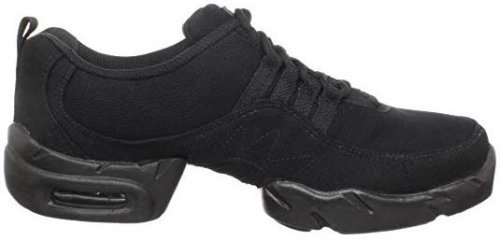 These dance sneakers are another good option for those who want something a bit sturdier. Originally made for jazz and fitness classes, the Bloch Canvas Boost actually fits right in at the yoga studio as well. Thanks to the split sole, it will work much better than traditional sneaker styles, seeing that your foot won't be hindered, but you'll still get a great deal of support, as well as protection.
The Canvas Boost is made with a simple black canvas upper. It is breathable and flexible where needed, and has a lacing system that pulls the sole up from the arch, allowing for a supportive fit. The tongue and collar are lightly padded for maximum comfort, while the inside of the shoe has a mesh lining that encourages airflow and moisture management. Another notable feature is the antimicrobial treatment that prevents the appearance of mildew of odors, as well as the suede heel grip that prevents in-shoe slippage.
The insole in these mens yoga shoes is made with EVA foam for a lightly shock-absorbing feel, that'll come in especially handy if you're using these to walk to the studio. The midsole utilizes an air unit in the heel area that makes these sneakers great for aerobics, and the outsole is non-marking with a traction pattern that will work well on any surface.
The price of the Canvas Boost is slightly more expensive than most of the other items listed, but that's to be expected considering that it's a multi-purpose sneaker you can wear for almost any of your workouts. These are also great as yoga shoes for flat feet, so if you have issues to wear yoga footwear that are lightweight and almost barefoot these yoga sneakers are your perfect choice.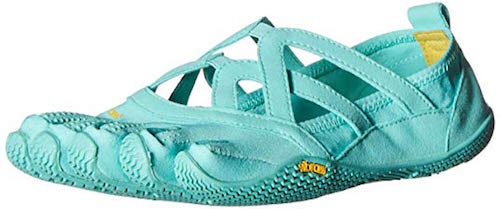 The Vibram Alitza Loop is a highly comfortable, flexible design for performing in different types of sessions, from advanced to basic. Whether on a mat, grass or on harder surfaces, it provides ample grip to prevent slipping. The design fits nicely on all of the toes like a glove, while also providing a small amount of arch support for your feet. With a zero drop heel to toe offset, you're able to feel natural, almost barefoot with these yoga shoes with arch support while getting all the benefits they provide with grip and protection.
Having a lightweight, flexible design requires a minimal heel to toe drop. The Vibram Alitza Loop has a zero drop offset for a natural feeling experience. Its minimal build allows the flexibility and a feel that's perfect for every-day sessions. With a glove-like fit, you will feel like you're wearing virtually nothing on your feet. The Alitza Loop is made of an extremely breathable fabric that stretches naturally with the foot. With this, poses are easy to execute without limitations. Additionally, the comfort level is up there with the best.

The Vibram Alitza Loop provides great value at an affordable price. Along with the zero drop for a natural feel and flexibility, it also provides support with the necessary grip for all types of poses.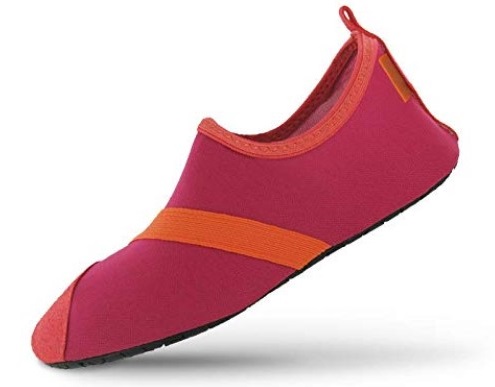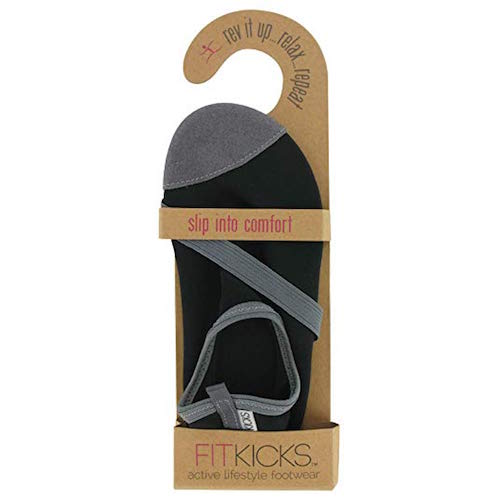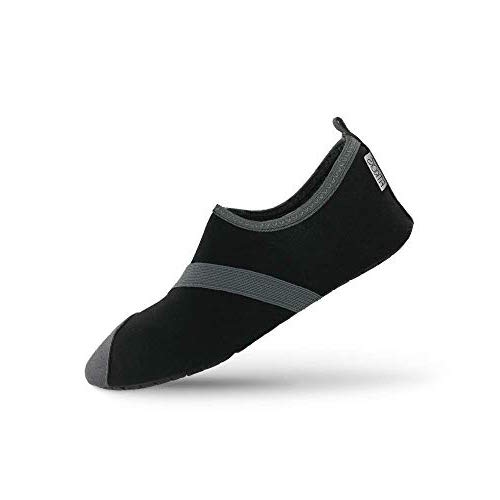 FitKicks provides an extremely comfortable and soft option with their Active design. These allow the foot to breathe with ample airflow and ventilation. You're able to move the foot with natural motions as required when doing difficult stretches. When attempting advanced poses, the foot needs to be as articulate as possible, and able to grip effectively. These provide that ability, with a thin, skin-like fabric that stretches and maintains support from top to bottom. You can easily slip the Active on for use in all types of sessions.
This super soft design will comfortably conform to your foot and have you feeling barefoot while giving all-around support. It provides the perfect wrap-around support that enables a pleasant experience for your feet. The extra cushioning and padding will ensure that poses on hard floors are not a problem at all.

The flexibility that these provide makes them grab and conform to the feet for a perfect fit. When they're slipped on, you can enjoy all that comes with each and every pose, no matter how much you need to bend and flex.

The cost of the FitKicks Active varies depending on the size and style that you prefer. They provide the highest quality for those that prefer comfort over everything else.

Subscribe to our Newsletter