Best Derby Shoes Reviewed & Rated
In a Hurry? Editors choice: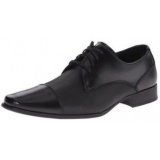 Test Winner: Calvin Klein Bram Diamond

The derby shoe is a very versatile style and can be casual/business
casual
, business, semi-formal or formal depending on its features. Start with the classic open lacing system of a traditional derby and add a durable sole and some color, and you have a great casual shoe paired with jeans or khakis for around town or business casual. Change it up a little with some additional stitching, perhaps a cap toe and some smooth leather and your derby will take you to the office or formal occasion when paired with slacks or a suit.
Standout Picks
Criteria Used for Evaluation
Style
Since most people try on a shoe based on its visual appearance and then determine whether it is comfortable or not, first we looked at the overall aesthetics and type of material for our top picks. When you choose your derby, think about where you will wear them most often. Casual outings with family and friends, to the office where the dress code is a little more formal, or even to a semi-formal affair are all things to consider when finding a derby shoe. Many of those on our list can suit more than one occasion.
Leather or a quality, flexible synthetic is typically the choice for a dress shoe. Synthetics tend to be lighter and breathe better than leather, and with the right construction can hold up just as well as leather to wet conditions. Suede has a more casual look and with weatherproofing, can stand a bit of moisture. All look nice and have a place in your wardrobe.
Colors and styles were also considered as most people have some variety in their wardrobe. Many of our choices are in basic black or brown/dark tan, but there a few with more pizazz and contrast. All of our derby shoe top picks have a heel that adds a bit of formality to your look.
Style was considered because a little stitching, texture, and contrast make your shoes more interesting without being over-stated. The cap toe shoe adds some formality to your foot-ware, while a shoe textured uppers add depth, and a shoe with brougeing (perforations) adds interest and makes your shoe slightly less formal regardless of the toe style. Wingtips also give a unique flair to your style, creating a festive quality to your footwear.
Comfort
Many people are on their feet all day or possibly are not used to wearing a more dressy shoe. So, the next criteria for picking the top 10 was the comfort. The various ways our picks provide comfort are equally important as the appearance of the shoe. There are several ways our top picks met the comfort criteria.
First, we looked for a cushioned or specialized insole/footbed to absorb shock and provide a better fit for your shoes. A little cushioning and moisture wicking properties to keep your feet dry goes a long way to keeping your feet comfortable.
We also looked at the outsole of the shoe for stability and traction control. Almost all of the shoes on the list have some level of tread on the sole of the shoe to avoid slipping and sliding. And many of the shoes have at least a partial rubber sole, and some also have a rubber heel for additional stability.
Other comfort items you will find in our top picks are the break-in period for the various derbys. It's important to know that for the shoes that have a longer break-in period, take your time and wear them gradually until they are broken in and formed to your foot. After that break-in period, you derbys will be ready to keep your feet comfortable.
Model
Both the derby and the oxford are a dressier shoe. However, the Oxford is typically considered more dressy and formal than the derby. The derby can be identified by three main qualities.
Open Lacing System: This is where you can see the tongue underneath the laces, where the Oxford is a closed lacing system where you can't see the tongue. Usually, the eyelet facings are sewn atop the vamp instead of underneath as found in an oxford. While the level of detail on the shoe can make it more or less formal, the oxford with the closed lace system is considered a more elegant, formal shoe.
Quarters and Vamp Stitching: Oxford shoes will have the vamp of the shoe stitched on top of the quarter, creating a snug, cleaner look. A derby style shoe is just the opposite, where the quarters are stitched on top of the vamp.
Open Ankle: Most oxford and derby style shoes will have an open ankle. A boot or shoe which covers the ankle is not considered a 'derby' or 'oxford' style shoe.
Materials
Most shoes have lining to cover the seams for a comfortable experience and to extend the life of your shoes. Leather lining is soft, lets your foot breathe and absorbs moisture well. But, it adds extra weight to the shoe. Fabric is more commonly used for lining due to its lower cost. But be aware that while some fabrics breath and absorb moisture better than others, they don't breathe or absorb moisture as well as leather.
To care for your shoe lining and extend the life of your shoe, give your shoes time to air out before wearing them again as the moisture from your foot is absorbed into the lining and other materials in your shoes. For best results, store your shoes on a shoe tree to maintain their shape, prevent odors, and aid in drying your shoes.
Versatility
Shoes, like your feet, come in many different depths and widths. Make sure that you get a shoe that is the correct depth and width of your foot.
If you have a shallow foot or have a pair that is too deep for your feet, you may want to use inserts such as tongue pads or heel inserts to get a better fit. However, the best approach is to get a shoe that works for your foot shape.
If your shoes are too tight, you may choose to stretch them to make them more comfortable. But be careful not to stretch them too much. An overly loose shoe is almost as uncomfortable as a too tight shoe. Trying on shoes in the afternoon or evening when your feet may have become a little swollen during the day may help you get a better fit that will last all day. And make sure you have enough room in your shoe. Try to keep a thumbs width of distance from your longest toe to the end of your shoe. This gives your foot enough room to move when you walk. If your shoes do need to be stretched or maintain a certain shape, a shoe tree can help to do this.
10 Best Derby Shoes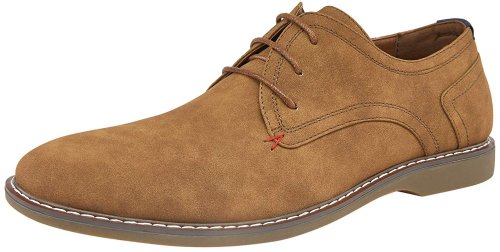 Forget stiff dress shoes that are somehow still uncomfortable even after extensive breaking-in; what you need is a pair of JOUSEN Suede Oxfords. With a stunning manmade design that's custom tailored for exceptional fit and a breathable insole, these shoes are made to impress.
Oxford shoes originated in Scotland and Ireland and made their way across the pond to the US in the 1800s. Their sleek look and durable design have made them a fashion staple for centuries. Derby shoes build upon this foundation and add an open-lacing system for comfort, and a design that allows for easier breaking-in. While oxfords have been the go-to for men's professional wear, some are looking to derbies for a style that stands out while staying in the good graces of the higher-ups. With sneaker-like comfort and traction, these derbies will go wherever you do.
Where leather stands out in durability and water resistance, it lacks in breathability. JOUSEN Suede saw this and developed their derbies with a lightweight and breathable insole. This keeps your feet sweat-free and cool, while the marbleized rubber outsole provides the stability you need to be able to stay on your feet all day.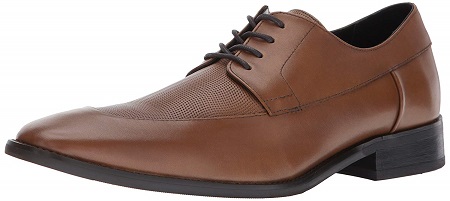 Making another appearance on our list, Calvin Klein is known the world over for their sleek and high-quality apparel, as well as footwear. The Rambert derbies offer a sophisticated style that's
good for both work and play, with a modern look and reasonable price
Calf leather is made from the skin of younger cows, hence the name. This makes it more lightweight, but also thinner than cowhide leather. It is sometimes considered stronger than cowhide ounce for ounce due to the fibers being closer together, though in practicality it offers similar durability to standard cowhide. Using half leather for these derbies makes them lightweight, and the thinner overall material reduces break-in time.
While these are lacking in arch support, the Rambert derbies have a cushioned insole that's both soft and supportive, while being durable enough for long-term use. This, along with the lightweight calf leather, provides the comfort you need for all-day wear, no matter where you're going. Priced similarly to most of the products on our list, Calvin Klein's Rambert derbies offer a lightweight calf leather exterior and a durable synthetic outsole, with the same quality and modern design you've come to expect from a designer brand, at an accessible price.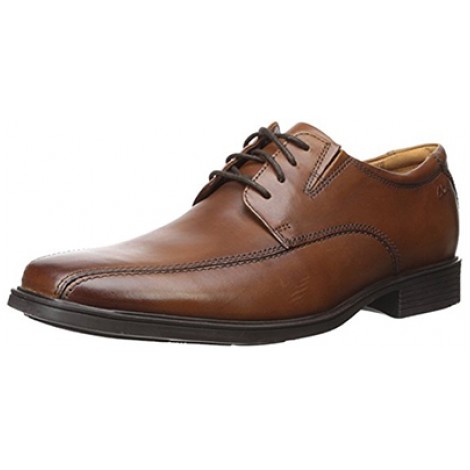 The Tilden has a polished, sophisticated look without being too formal, perfect for the office, business casual, or when you want to be a little less casual. Its stretch panel and open lacing system provide maximum adjustability. The Tilden's cushioned insoles provide extra comfort and wicks away moisture to keep feet dry and comfortable.
While the Tilden looks stylish and is great for the office, it has the expected Clark's comfort features the company is known for. The cushioned insole reduces the impact of being on your feet, and the elastic panel in the upper stretches for those small adjustments you need during the day. An elastic side gore allows for a more comfortable fit when lacing up, unlike a closed laced Oxford shoe.
This shoe looks right at home in the office or at a semi-formal event. The Tilden goes with suits, dress pants and even a dressy pair of jeans. The cap toe and double stitching give the shoe a little detail without being overdone. It's a clean, classic look perfect for any occasion and comes in a few color varieties to suit your unique tastes. The Tilden gives you great value at a good price. Getting this comfortable business and casual business shoe in a basic color is money well spent. Slightly more than the Viotti, the extra comfort Clarks are known for is reflected in the price, so if comfort is of utmost importance, this is a great selection for your derby shoe.

4

. Calvin Klein Bram Diamond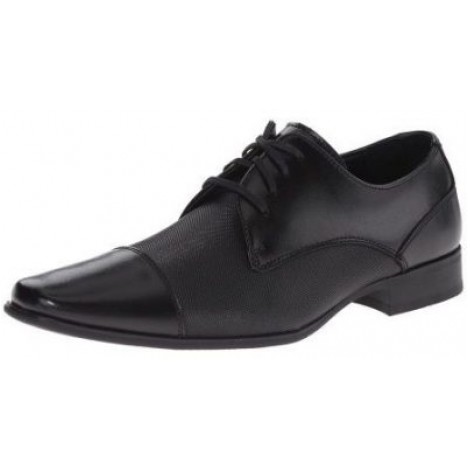 The Bram Diamond is a sophisticated derby shoe that takes you through business and semi-formal events alike. This shoe appeals to those who want something a little out of the ordinary with its textured stylings. Comfort details make this a great choice when you're required to be on your feet longer than usual.
With smooth leather on the cap toe and quarters and diamond textured leather on the vamp, the Bram Diamond adds a noticeable flair to your ensemble. It gives classic formal shoe styling an upgrade in sophistication. The stacked heel and finished laces complete the look of prestige and sophistication.
The Bram Diamond has an open lacing system for getting the correct adjustment for your foot. It's padded footbed, and rubber sole absorbs shock and keeps your feet comfortable, and the partial leather lining protects against unwanted chafing as you walk. The rubber sole allows for durability and stability, creating a non-slip grip to any surface you tread upon. This dressy shoe is a little pricier but is still a good value for your money. For a designer name shoe, however, it's a solid purchase. The Bram Diamond adds flair to your wardrobe and keeps your feet comfy when you're required to be on your feet, and give that added sophistication to classic styling.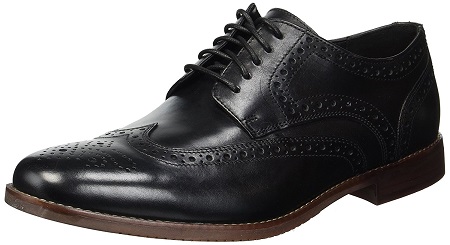 When you spend a good amount of money on a pair of shoes, you expect high-quality materials and durability. With the durable leather outer you've come to expect from derby shoes, as well as a cemented rubber outsole, Rockport's Room Wingtip shoes are made to last a long time.
While leather is one of the most durable materials available for footwear, rubber outsoles can wear over time, and in extreme cases may even begin to separate from the rest of the shoe. To combat this, Rockport used a durable cemented construction. This allows for a stronger adhesion of the outsole to the rest of the shoe, making them far less likely to wear and separate over time.
Ortholite insoles are made of an advanced polyurethane material and recycled rubber and are a popular choice for many brands today. Unlike traditional insoles, the compression rate of Ortholite insoles is about 5%, meaning a longer life from the insoles and having to change them less frequently. The open-cell foam is made to be breathable and allows air to circulate in and around the insole, keeping your feet cool all day long. This also allows them to manage sweat and moisture with ease, which will prevent odor build-up and reduce the chance of blistering. Another mid-range option, Rockport's Room Wingtip derbies are made with an EVA heel up and ortholite insole for the comfort and support you need, and all of the quality and durability you'd expect from the brand.



With a sturdier look and a deeper footwell, this shoe goes well with business casual and casual weekend looks. This stylish shoe is great for custom orthotics or use the Ashton's insole to keep your feet comfy. And the luxurious look and quality of this shoe will make you feel pampered all day long.
The Ashton is stylish without being overly formal. Seen in the quality with the raised stitching and leather upper is a shoe well constructed to last even the roughest of days. And let's not forget the burnished leather look that can appeal to many seeking comfort hidden in sophistication. Doctors or nurses that spend all day on their feet will appreciate the Ashton for its durable comfort, while still maintaining an office style aesthetic.
When you find that favorite shoe, it feels like we found a new friend. And with a removable footbed and depth to accommodate a custom orthotic, you want to keep it as long as possible. The welt on this shoe allows it to be resoled so you can extend the life of the Ashton. One of the most expensive on the list, but very well made, it's an excellent investment for those looking to buy a pair of shoes that will stand wear and tear of everyday use. It gives the extra room needed for custom orthotics, or just need more space in your shoe. With the option to be resoled, this pair of derby shoes will long outlast the price paid upfront!

7

. Doc Martens Original 8053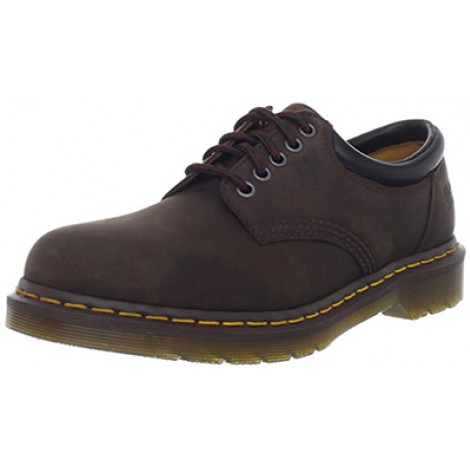 This shoe has more of a casual, classic look for around town activities. With a thicker, rubber sole and low heel, the Original 8053 is a go-to shoe for those dress down days when you are on your feet. The cushioned footbed, padded collar, and traditional open lacing keep your feet comfortable for hours. The Original 8053 also has a non-slip sole in those slippery situations or surfaces.
Dr. Martens are built to last, and these are no exception. The premium leather upper holds up to your day-to-day activities, and the thick sole is attached to the upper with the Goodyear welt for long-lasting flexibility. The 8053 is easy to clean should you get them dirty during wear as well. Simply wipe with a damp cloth and allow to dry! After that initial breaking in period, the Original 8053 is known for comfort. The traditional lacing lets you tighten and loosen the fit as needed, and the cushioned footbed absorbs impact as you walk. Add to this a padded collar, and walking around a conference or event won't leave you with blistered heels or irritated ankles.
Dr. Martens are a great bargain when you look at the longevity and durability of this shoe. They look great and are built to last. Compared to others on our list, they run a tad on the expensive side, but if you're looking to buy a long-term pair for everyday wear, it's a solid investment!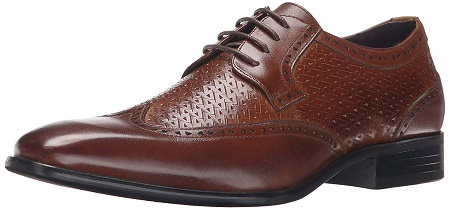 Stacy Adams has been making high-quality footwear since 1875. They've kept at it through all of the trends since then: from the roaring 20's to the post-war boom, and even today. With a beautiful modern design and comfortable memory foam insole, Stacy Adams' Melville shoes will be a perfect addition to your wardrobe.
Who says a good looking pair of dress shoes have to be stiff and uncomfortable? The Melville are outfitted with a full memory foam insole that forms to the unique shape of your foot, for the exact amount of cushioning you need. This allows you to stay comfortable all day, no matter how long you plan on being on your feet.
The Stacy Adams Melvilles are made to turn heads. Four pairs of eyelets allow for a secure and comfortable fit, while the glossy leather and triangular perforations give them a look that's daring enough for your personality while being professional enough to wear to work meets and
casual events.
We would say these are priced about average for derby shoes. The triangle perforations and glossy leather give these a modern and stylish look, while the memory foam insole makes them comfortable enough for all-day wear. These shoes are a worthy investment and will look good both at work and out on the town.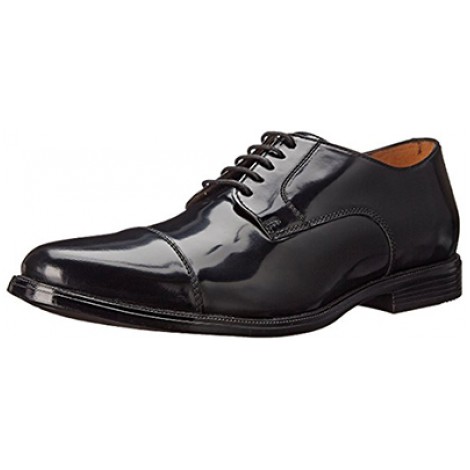 The Bostonian Kinnon derby shoe is a well-made classic dress shoe. Its professional-looking shine takes you to the office and business events later in the day. The subtle appearance will complement your professional look. Its durable features combined with a padded footbed are designed to keep your feet cool and comfortable all day. Whether you're stepping out in uniform, business casual, or dress attire, this derby is an all-around classic.
This shoe has the classic derby silhouette with a cap toe to add visual appeal. A one-inch stacked heel adds to the clean look, along with a rounded toe to make this shoe a good choice for your business wear. Also, to those looking for a uniform shoe or formal occasion shoe, the Bostonian Kinnon pairs great with a uniform dress, or tuxedo wear. The Bostonian Kinnon is lightweight and gives you all-day comfort with a specially designed footbed to cushion and breath. The rubber sole gives you extra support when you are on your feet, and gives added traction to slippery surfaces. Open style lacing gives you the ability to tighten the shoe as needed.
This shoe is a great general dress or uniform shoe for those occasional semi-formal events, but also as an everyday shoe worn to the office. Some colors and sizes vary in price, but it is a great investment for whatever your attire may be. Dress up jeans or slacks, or pair with more formal tuxedo or uniform dress, coming in at an average price on our list for derby shoes; it's well worth the money spent.

10

. Cole Haan LunarGrand Wingtip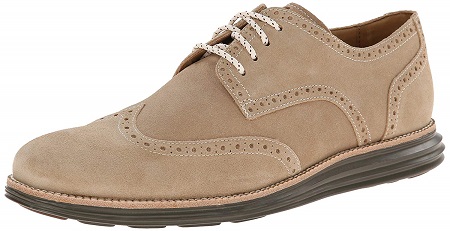 While not as ubiquitous of a brand as Calvin Klein or Doc Marten, Cole Haan has been making quality footwear since 1928. Founded with the values of artisan quality and sophistication in mind, these values are exemplified in every product they make. The LunarGrand Wingtip offers the classic derby style, with classic brogue seaming and a durable synthetic sole.
Cole Haan teamed up with Nike and used their signature Lunarlon technology for their LunarGrand Wingtip derbies. Lunarlon is an innovative cushioning system that, according to Nike, will "have you feeling like you're walking on the moon," and was inspired by astronauts bouncing on the surface of the moon. It's made of a soft and responsive foam that reduces shock and provides both stability and comfort. While it's unlikely that any of us will ever get to walk on the moon, at least you can feel like it with these shoes.
Derbies have become popular as a more casual alternative to the classic oxford. The brogue seaming and wingtip detailing give these derbies their iconic style that will fit in well both at work and on the town. While these are a slightly more expensive option than some other shoes on this list, the Cole Haan LunarGrand Wingtip derbies offer exceptional comfort and style, making them a worthy investment.

Subscribe to our Newsletter