Best Men's Casual Shoes for Comfort Reviewed & Rated
last updated:
Mar 19, 2021
Whether it's wearing professional shoes all week or constantly wearing dress shoes for your evening affairs, it's nice to give your feet a break once in a while. Relaxed shoes are just the option that can provide relief and relaxation for your feet that you desire from time to time. One of the main benefits you get from these casual shoes is comfort. You'll find features in this footwear such as AirCushion heels, padded collars, and foam midsoles.
If you're on the market for this type of shoes, then the top list of the best casual shoes for men is what you need right now. Check it out below and find the best pair for your needs.
In a Hurry? The test winner after 105 hrs of research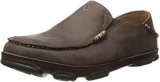 Olukai Moloa
Why is it better?
Moisture-Wicking Microfiber
Anatomical Footbed
Non-Marking Rubber Outsole
Elastic Gore Panels
In a
Hurry? Editors choice: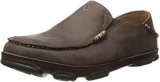 Test Winner: Olukai Moloa

25
Researched Sources
11,100
Reviews Considered
105
Hours Researching
20
Products Evaluated
Comfort
Midsole
Support
Stability
Breathability
By Default
Find Nice Casual Shoes for Men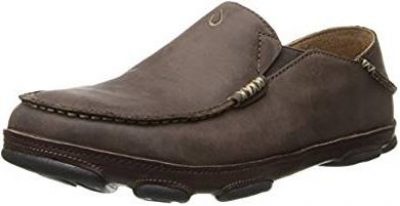 Moisture-Wicking Microfiber
Anatomical Footbed
Non-Marking Rubber Outsole
Elastic Gore Panels
Limited Long-Term Durability
The stitching of the Olukai Moloa is one of the first things that may catch your attention; hand-sewn moccasin stitching. These casual shoes for men are made from an antiqued waxed nubuck and feature a moisture-wicking microfiber lining, a PU footbed, and a non-marking rubber outsole with full-grain leather upper. These also feature elastic gore panels.
The Moisture-wicking microfiber lining feature helps to keep your feet dry and cool. This means it draws sweat away from your skin and on the outside of the fabric.
The anatomical footbed is an excellent feature in this shoe because it molds to the shape of your foot; giving you a comfortable feel on your feet. Also, it is great for those with heavier weight, as it is dual-density. The Olukai Moloa is at the upper end of cost association. The design (combined with its other features) make these a great option to purchase, as it is equipped with high-quality materials.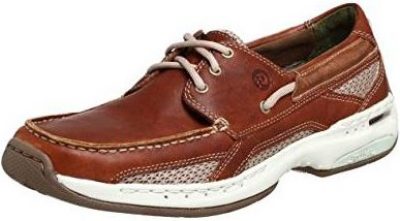 Siped Rubber Outsole
EVA Midsole
Memory Foam Footbed
Extended Size/Width Range
The Dunham Captain is another product on this list that features a smooth, leather look to it on the outside. It also has a nice stitch lining and an attractive design overall. The Dunham Captain features a non-marking siped rubber outsole and a lightweight EVA midsole. Also, these casual shoes for men also have a memory foam footbed and come in extended sizes and widths.
A siped rubber outsole is a unique feature in that it has thin cuts on the outsole. This helps your shoe to retain its traction on wet and even minimal icy surfaces.
The EVA midsole accomplishes a few things in these casual shoes; it's extra protection stepping on any potentially sharp objects, helps to provide more comfortable cushioning on the feet, and it gives added shock absorption. The Dunham Captain are midrange in cost association. Its emphasis on foot comfort with its features makes this a good bargain to have, as a part of your closet.
3

. Birkenstock Boston Soft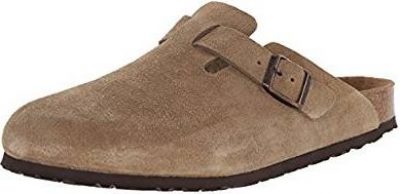 Roomy Toe Box
Raised Toe Bar
Deep Heel Cup
Synthetic Outsole
The Birkenstock Boston Soft is a unique option in that it comes in a variety of materials that really fits the soft part of its name. You can get them in suede, Amalfi leather, or oiled leather. These casual shoes for men feature a roomy toe box and a raised toe bar. The Birkenstock Boston Soft also features a deep heel cup.
The roomy toe box feature in these casual shoes does more than comfortably give your toes room to stretch and wiggle. It, also, helps to enhance your balance and correct your alignment.
The Birkenstock Boston Soft's raised toe bar feature assists with promoting the gripping motion of your feet. You'll be able to more naturally get a firm step into the ground when you're walking. While the Boston Soft comes at the upper end of midrange in pricing among these footwear options, there's no arguing the quality of this shoe. If you desire to indulge in having a more fancy look, then this is a shoe worthy of your purchase; not to mention, it is made with high-quality materials.
4

. Skechers Diameter Vassell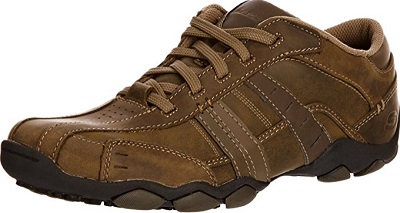 Leather Upper
Rubber Outsole
Memory Foam Insole
Mesh Lining
An ideal choice for relaxed wear during those cooler days, these casual shoes for men are made with a leather upper and have contrast bicycle-toe stitching. Lace-up, they are ready for a short journey in a leisurely fashion. The memory foam insole helps to provide comfort while the mesh lining helps to promote breathability. Moreover, these shoes are great for a full day of leisure (i.e., jeans, tee-shirt, etc.).
This is footwear made to last. Furthermore, you can use this leisure wear during colder days, as the leather upper will help to retain heat. When leather is at the helm, you are certain to have a pair of casual shoes which can last.
When a shoe is made of leather, a mesh lining is a must-have to allow some airflow to your feet. These shoes have it, but more importantly, this mesh lining helps to promote better overall foot health, as a result. Made with good-quality materials, this pair of men's casual shoes is worth the purchase price. Falling into the midrange of cost association when compared to other shoes on this list, this is a pair of footwear which can be of added benefit to a rotation with other shoes.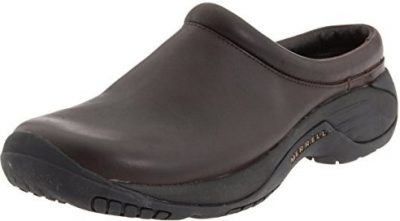 Full-Grain Leather Upper
2-inch Heel Height
M-Select GRIP Outsole
Ortholite Footbed
Compression-Molded EVA Footframe
The first thing you'll probably notice about the Merrell Encore Gust is that it has a smooth look to it being made with leather. You can, easily, slip this footwear on within seconds and be on the go. The Encore Gust features an M-Select GRIP outsole and an Ortholite footbed. The casual shoes for men also feature an AirCushion heel and a padded collar.
The M-Select GRIP outsole is made up of sticky lugs on the bottom of the shoe. They help to keep any dirt or rocks from attaching to the outsole. The angling of the lugs, also, help to give your shoes good grip on dry or wet surfaces.
The AirCushion heel feature, first of all, gives you a comforting feeling in the heel area but it, also, helps to increase blood flow in the area for better recovery from a foot injury. These are a bit expensive compared to the other options. In spite of that, there are enough good features (along with the nice leather look) that make these casual shoes worth considering for purchase.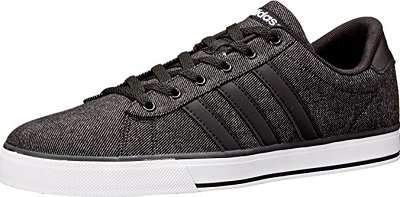 Denim Upper
Lace-Up CLosure
Cloudfoam Sockliner
Vulcanized Rubber Outsole
A denim upper flows throughout this pair. Having 3-strip leather overlays, you gain the right amount of support while, simultaneously, holding onto the flexibility needed for a good pair of nice casual shoes for men. These are lace-up; so, you will be able to take short strolls in these.
These casual shoes have decent grip and a pivot point. In essence, they are created with skateboarding in mind but, also, fit the bill as relaxed footwear, as well. This means you can walk short distances while being both fashionable and comfortable.
The denim upper shouts of leisurely pleasure. Made to be both flexible and stable, this upper grants the kind of comfortability that only denim can offer. Found within the midrange of cost association, these shoes are perfect for leisure time. Although made for skateboarding in mind, these shoes have a relaxed structuring and, therefore, make a great pair of leisure shoes. With the price and build of this pair of men's casual shoes, they are a great buy and an ideal addition to any athleisure wear collection.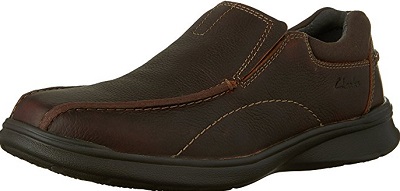 Slip-On Design
Ortholite Memory Foam Insole
Leather Upper
Non-Marking Outsole
Made for laid-back days, this is a pair of shoes which you will learn to cherish. Made with comfort in mind, these shoes deliver well. They have a 1.5-inch heel height, are made with a leather upper, and contain Ortholite memory foam. These casual shoes for men are not shoes to be worn throughout every day but, instead, are made for leisure days and every day after work leisure time. When worn in this fashion, these shoes should last.
Made to bring and extend the comfortability factor of this shoe, Ortholite memory foam will have you smiling after you put them on. After all, relaxed wear is about comfortable wear.
Perfect for walking around the house and not having to worry about scuffing up floors, this is leisure wear ready for the day. Wear them to the club or a short visit to the office; these casual shoes will not leave their presence behind, in terms of floor scarring. Midrange in cost association when compared to other men's casual shoes on this list, these are a great buy, in terms of both pricing and comfort. Furthermore, they will look good with nearly any outfit and are slip-on; making this a pair worthy of your investment.
8

. Polo Ralph Lauren Faxon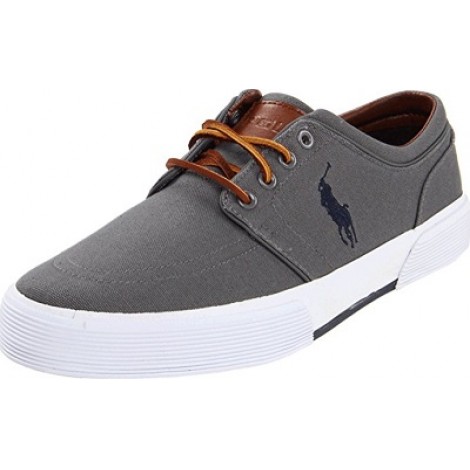 Canvas Upper
Padded Collar
Padded Insole
Light Tread Rubber Outsole
With Polo Ralph Lauren, we already know we are in for a treat. Within this regard, these nice casual shoes for men do not disappoint. Great for leisurely strolls, this pair can help to remind you that comfort matters. With a canvas upper, padded collar and insole, and a light-tread rubber outsole, these shoes are certain to hit the mark.
The upper is made to breathe and, also, bring you a day in comfort. With the signature 'pony' on the side of the upper, everyone will know you are all about fashion. Moreover, they will understand your day is about comfort.
With this outsole, you are not going to be traversing questionable terrain types, as this rubber outsole will not do the job. This light-tread rubber outsole is for lounging around the club or the house; maybe, even for a gentle stroll down the avenue. In essence, the outsole is a reflection of a day of leisure. Priced to be budget-friendly, these casual shoes are a great choice for anyone who takes leisure time seriously. After all, we all need comfort after that hard day at work, and these perform well, in that regard. This is a nice pair of shoes to treat your feet to.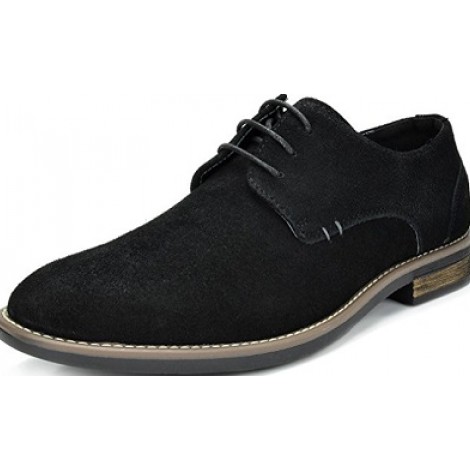 Suede Leather Upper
Lace-up Front Closure
1-Inch Heel Height
0.5-Inch Platform Height
Man-Made Outsole
This is a pair of shoes which has high-comfortability, can be worn to events and/or around the house, and is an overall delight, in terms of both structuring and aesthetic appeal. There are many colors to choose from; so, you can pick according to a specific wardrobe choice, or go with neutral for multiple wardrobe matches. They have a 1-inch heel height, 0.5-inch platform height, are made with suede leather uppers, and have a lace-up front closure.
The upper is made to last, as it contains suede leather. Moreover, this type of material naturally breathes. As such, it is a great choice for both cooler days or days which are not extremely hot.
This is a heel height which allows you to wear light or business; depending on the environment, you are heading to. The height is great for adding a certain amount of sleekness in conjunction with professionalism. These men's casual shoes are budget-friendly. Moreover, there are a wide plethora of colors to choose from, and the material makeup is high; meaning, you are getting more than your money's worth with this pair of shoes.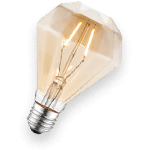 Styling
While leisure shoes most likely turn into your favorite pair of shoes for relaxing or hanging around the house, that doesn't mean they don't have a flair or style about them that you fell in love with. From red canvas, to even printed patterns, they keep you comfortable while looking good for daily activities and running about town.
Take Care
While your shoes may not be as fancy as some other formal or decorative kinds you have in your collection, it's still important to care for them to help extend the lifespan.
Make sure to clean them now and again according to the manufacturer's instructions, and store them away from direct heat sources or sunlight to maintain the integrity and color of the shoe.
Frequently Asked Questions
q:

What are men's casual shoes?

a:

These are shoes that you wear when you're dressing less formal and want to have something comfortable on your feet. Most of them are, typically, easy to slip into and can often not have any laces, though you can find some that do (if you prefer to have that). They can, also, tend to be made with nice, soft material and intricate designs to look more fashionable.
q:

How do I choose the perfect pair of men's casual shoes?

a:

You want to first make sure the shoe you're considering is one that's going to make your feet feel comfortable by reviewing its features. Your shoes shouldn't be as uncomfortable as formal shoes can be at times. After all, you're looking to relax your feet. Secondly, it can be important to consider whether the type of shoe goes well with your clothes. For example, brown shoes tend to go well with khakis. So, picture the footwear you're considering with the appearance you have, in order to make a conclusion for yourself.
q:

How long will my pair last?

a:

They are, generally, designed for comfort and appearance; more so, than long-term durability. The materials of these shoes are often soft materials that can be, potentially, damaged easily. However, some are equipped with really good traction features that measure up to the level of running shoes. It would probably be best for you not to wear your leisure shoes every day. You, also, might want to be cognizant of what activities you're doing. For example, if you're going for a run, then you should put on running shoes. Casual footwear is made, mostly, for walking around and not doing any activities that require a lot of intense physical movements.
q:

How do I clean my casual shoes?

a:

Cleaning your footwear depends on the type of material your shoe is made with. Since a lot of them are made of leather, here are some steps for cleaning leather shoes:

First, determine if your shoe is unfinished or finished leather, based on what it says on the shoe tag or shoe box. Unfinished requires a more specific cleanser but with finished you can just use water.

You want to brush off the shoes lightly to get debris off of them and loosen the leather. You can, also, rub it a little with a dry cloth.

After you do those things, dampen your cloth and wipe your shoe. Make sure you do it with the grain of the leather.

Once you've done those things, let the shoe dry completely in the open air in a cool place inside the house. Any other form of drying such as heating or sunlight can cause damage, such as cracking.

Lastly, you can apply leather polish that's the same color as your shoe with a gentle cloth, give them a few minutes to sit, and then buff it to get that shine you want.
Subscribe to our Newsletter