Best Wingtip Shoes Reviewed
last updated:
Jan 27, 2020
Few shoes are as iconic in America as the classic oxford wingtip is. Wingtips can be dressed up or down as the wearer needs, their design placing them in both the semi-casual and the semi-formal categories. The length of the wings may vary and they may or may not be patterned with the familiar circular punches of the brogue style, but they look dapper with everything from jeans to suits, in the office and at the bar. Many of the shoes on this list are full brogue, lending them the leisurely "day about town" air that many associates with vintage styles. Check out the best wingtip shoes, reviewed!
This is the best product on our list that is currently in stock: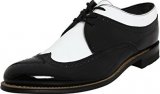 Stacy Adams Dayton
Why is it better?
Stylish
Unexpected Design
For All Formal Occasions
Suave and Elegant
Reliable Designer
In a
Hurry? Editors choice: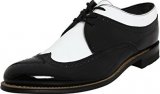 Test Winner: Stacy Adams Dayton

4
Researched Sources
1376
Reviews Considered
6
Hours Researching
10
Products Evaluated
Materials
Style
Durability
Support
Value
By Default
Top 10 Wingtip Shoes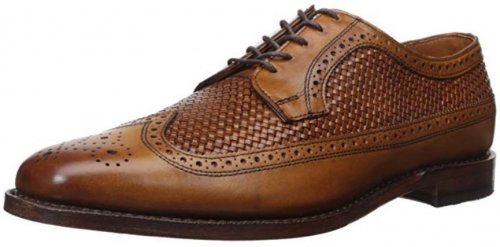 Premium Calfskin Leather
Interesting Woven Details
Brogue Perforations
Moldable Cork Insole
Highly Durable
Allen Edmonds is a luxury brand founded in 1922, with decades of creating trend-defying, custom-made casual and dress footwear. All of their items are made from premium leather and handcrafted using a 212-step process, and the Leiden blucher is no different. Step into the world of effortless class and vintage elegance in this perforated brogue design coupled with woven details.
The Leiden is made from premium calfskin leather, built on a welted 1943 Last. This makes it extremely durable, and you know you can expect to get years, if not decades, out of this option. In terms of performance, there is a 360 Bench Welt system that adds even more durability and stability as you walk, and we can't overlook the CustomCork insole. Cork is a material that naturally molds to the shape of your foot and provides you with personalized comfort over time. It is incredibly moisture-wicking as well.

Everything about the Allen Edmonds Leiden puts it on the frontlines of dress footwear, from its impeccable construction to its outstanding materials, to the easy comfort that you don't often find in this type of footwear. If you don't mind spending a little more for a design of this caliber, we guarantee that it will be worth every penny.


Sturdy Construction
Decent Price
Interesting Detailing
Flexible & Comfortable
Our Bruno Marc entrance is a good design for people new to wearing wingtips. Florence is the next step up from that, moving up the price point a little and narrowing down the options to a few tried-and-true colors with lacing and contrasting stitching to make these oxfords stand out a little bit more.
Lined with premium leather and with a latex cushioned footbed, these oxfords will serve you all day long. The soles are non-slip and they won't clack as you walk across the floor. Featuring full brogue decorative punches around the wings and on the toe, as well as a patterned material between the brogue detailing and contrasting stitching around the entirety of the design, these provide an extra boost of detail to any ensemble.

Though not the least expensive option on our list, Florence still falls towards the bottom of the price curve, making it an affordable design that will last.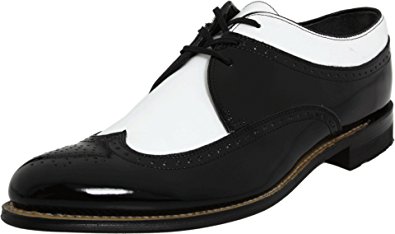 Stylish
Unexpected Design
For All Formal Occasions
Suave and Elegant
Reliable Designer
For those in search of a design that more closely resembles the dance footwear of Hollywood's Golden Age, there is the Stacy Adams Dayton. They are offered in either a sleek two-tone black and white combination or a skin-printed black-on-black option. They're too casual a design for the office but would look dapper with jeans or casual dress pants.
The most common comment about these is that they reel in the compliments. Whether at church, the bar, or at a wedding, it seems these classically styled oxfords are guaranteed eye-catchers. The leather sole on these allows them to move scuff-free on most surfaces while allowing a little bit of glide that works well when you wear them out for a night of dancing.

The Dayton comes with a fairly high price tag that doesn't quite match their lack of versatility. Stacy Adams is a great footwear company, and the styling is eye-catching, to say the least, but some may find their price point a little too high.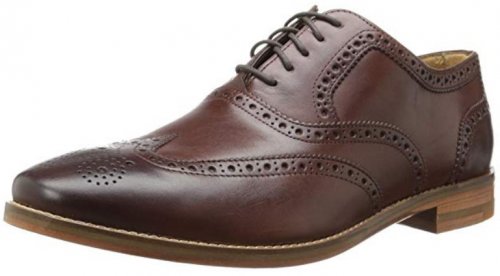 Soft Leather Upper
Breathable Leather Lining
Rubber Forepart in the Sole
Grand.OS Technology
Simple, Elegant Design
Laces Break Easily
Not for All-Day Wear
Cole Haan is a brand with over 90 years of experience in crafting only the finest, classiest of dress designs. Of course, they have since branched out into other types of footwear as well, but their expertise in the world of dress shoes, oxfords and brogues are undeniable. Hence we introduce Cambridge, an oxford that is a perfect blend of elegance and polish, as well as superior comfort, thanks to Cole Haan's signature Grand.OS Technology.
The Cambridge is made from soft leather that is breathable and that provides you with a tailored fit over time. It is also lined in leather for a healthy foot climate inside, and there is a full leather outsole on the bottom, with a rubber part in the front to prevent slipping. When it comes to comfort, the Cambridge stands out due to the Grand.OS system, which includes ample cushioning, lightweight materials in the sole, as well as flexibility that is hard to find in these designs.

Overall, Cole Haan Cambridge is a design to appreciate. It has a classic, smooth silhouette that we all know and love, and thanks to its comfort technologies, it is top of the line when it comes to enjoying your time in dress footwear. If you're looking for both style and comfort, then look no further than the Cambridge!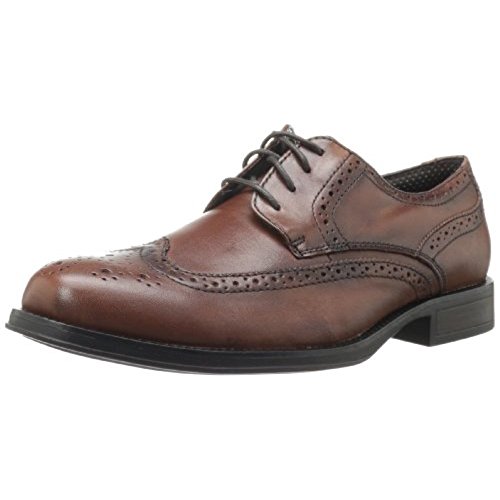 True to Size
Easy to Style
Leather & Rubber
Solid Construction
Compliments Most Outfits
Dockers are a mainstay in many a wardrobe and their oxfords make another great potential addition. Made of leather with a rubber sole, they're going to be durable and reliable long after less well-crafted footwear would have fallen apart. Offered in standard brown and black, they are well-suited to nicer nights out and casual days at work, if not exactly meant for the boardroom.
Dockers is a quality brand, and the Moritz is no exception. The leather might take a few years to soften, but the oxfords are comfortable and lightweight, making them great for daily and office wear. A leather upper and rubber sole make these a great option for wet and dry climates alike. They should resist most light water contact to keep your feet dry even in wetter conditions.

Dockers are often a solid investment for their money. The Moritz is a good mid-grade design at a slightly higher than expected price point but not unreasonably so.
6

. Oliver Sweeney Aldeburgh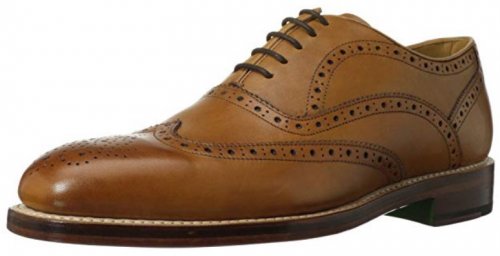 Calf Leather Upper and Lining
Brogue Detailing
Leather Outsole
Goodyear Welt Construction
Classic Oxford Brogue
Not for All-Day Wear
Stiff Upper
Oliver Sweeney is a business with a simple philosophy: to produce timeless pieces with a modern twist. They create footwear made by the finest shoemakers in the world (Italian), and only from the highest quality materials. The Aldeburgh is a classic from this brand, a bestseller year after year, and with good reason: it is made from the softest of leathers, with detailed broguing and hand-stitched finishing accents. A study in simple luxury.
The Aldeburgh has an upper and a lining made from calf leather. It sports a classic oxford brogue silhouette, but it was crafted using the Goodyear welt construction method. This method means that the design will last decades, as it can easily be resoled whenever the sole happens to wear out. The Aldeburgh comes in several different color options, from this rich tan in our picture to black, light brown, and even navy. You are sure to find a hue that suits you the best!

The Oliver Sweeney Aldeburgh is not an option that boasts any special technologies or materials. Rather, it is a straightforward choice, and what you see is what you get - a perfectly crafted shoe with precise attention to detailing that will elevate all of your semi-formal and formal looks for many years to come. What more could we possibly want?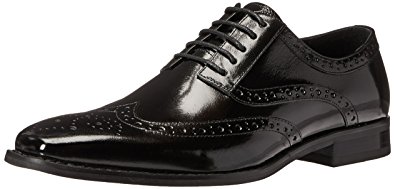 Memory Foam
Made in USA
True to Size
Cushioned Insole
Buffalo Leather Upper
Stacy Adams' second appearance on this list is for a design that has the class necessary for the office as well as the quality necessary to be a daily-wear shoe. The Tinsley is another full brogue lace-up oxford, mainly offered in two-tone options, though the specific colors are all fairly subdued. They would look good in a casual meeting at work or paired with fitted jeans for a night out.
Buffalo leather has a finer grain than cow leather, giving these oxfords a smoother finish. This finish really shines when treated well and gives center stage to the brogue detailing and rich colors. It is hard to imagine a more comfortable insole than a cushioned footrest with the additional support of memory foam. This truly is a pair of that can be worn all day, from the early morning to a late-night get together.

These can run a little higher than most pairs on this list, but they are worth it. Designed and produced in the United States with buffalo leather uppers and a durable synthetic sole, the Tinsley will last well after most cheaper pairs have been worn to shreds.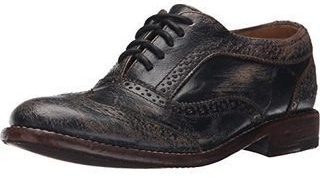 Durable Leather Materials
Distressed Leather Look
Stylish Design Options
Good Investment Piece
Bed Stu's oxfords are unique in that they are produced to look "distressed" fresh from the box. Offered in solid shades as well as two-tone combinations, they lack the shine and polish of a semi-formal wingtip. They are more casual than many of the other designs listed here despite their higher price point. They're a good option for someone who wants a durable, well-made daily choice.
With a leather sole and leather uppers, these oxfords will last long after footwear made of other materials falls apart. And given the pre-distressed treatment, they will hide minor scuffs and dirt well. The Lita can be purchased in several classic colors including two different variations on the classic black oxford and a two-tone brown offering.

Lita's base price point is higher than most of the items on this list, but its comfort and durability makes it a case of getting what you pay for. A higher price tag translates into a longer-lasting, stylish, and comfortable design.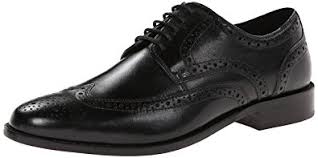 Leather Upper
Great Cost Value
Non-Marking Outsole
Classic Brogue Style
Versatile Natural Colors
If you're new to wingtips or not quite sure how to style them with your current wardrobe, then this reasonably priced design is the one for you! A traditional lace-up full-brogue oxford like this is the basis of a solid daily style that translates well from semi-formal to semi-casual.
The Nelson comes in several single-tone color options, all of them neutral. That makes it easy to style with any outfit you wear. The Nelson is made of genuine leather and a lightweight non-marking sole with a comfort gel footbed. Whether it's a full day at the office or a full day on the town, these oxfords are up to the challenge.

Most long-lasting options run towards the high end of people's price ranges. The Nunn Bush Nelson starts at the lower end in spite of its solid craftsmanship, making it a great value.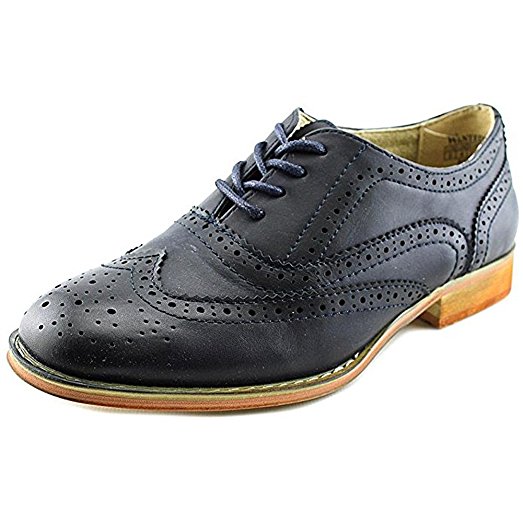 Various Colors
Low Starting Cost
Synthetic Vegan Materials
Wanted's Babe oxford boasts the widest the color range of any brand on this list. They are all lace-up full brogues with 4 lacing points and a one-inch stacked heel. The price starts low on the price scale, though size and color options can drive it up. Reasonably priced options, however, allow for a lot of fun to be had playing with the traditional idea of a wingtip and give lots of chances for people comfortable with the style to play with its presentation.
Wanted offers the largest range of colors and color combinations of every company on this list. The uppers, soles, and instep of the Babe are all man-made materials, making these an excellent option for anyone opposed to animal products in their clothing.

Most of the Wanted Babe options are reasonably priced, starting at the low end of the price curve. Some of the options, however, go to the extreme high end of the price range. So long as the pair you want is at the lower end of the spectrum, these seem like a good value for their dollar.
Criteria Used for Evaluation

Materials
The quality of a shoe's component materials is just as important as the way it fits the wearer's foot. A shoe made of decent or high-quality is far and away from a better investment than a cheaper shoe made from inferior materials. And while it is not always possible to buy the longer-lasting shoe, wingtips are one place that quality quickly shows. Because of the brogue detailing and the multiple layers of the upper material, the substance of the shoe must be able to keep its shape through heavy use, remain cohesive, and keep pace with the wear and resiliency of the other layers. The better the quality of the material, the better than shoe will look later in its life.
Comfort is also key, particularly when it comes to shoes that are meant to look good with dress pants and then transition into an outfit for going out in the evening. When ranking the shoes, the material and comfort of the insole was a strong factor so that buyers could have confidence that their "office to evening" shoes will let their feet make it from office to evening.
As is usually the case, however, there is no one perfect answer. While leather is the breakaway favorite of most wingtip manufacturers, some people prefer synthetic materials for reasons either personal or financial. When weighing the value of the construction materials for the shoes listed above, the overall lasting power of the materials was considered over simply whether or not the shoe in question was made of leather.
The materials quality is important in addition to the fit and you're better off spending your money on higher-end shoes that have greater quality. Wingtip shoes show their quality the quickest due to the intense detailing and layers of the upper material. Therefore, the shape must be maintained, cohesiveness stable, and wear plus resiliency must be long-lasting.
As with other shoes, comfort is important. For the wingtip, however, the insole is paramount. Wingtips are made to be worn from day to night so the insole must be able to provide long-lasting comfort.
When it comes to construction in wingtip shoes, both leather and synthetic materials hold up well. Which material is used is based on personal and financial reasons.

Style
Wingtip Oxfords started in the fashion world as a casual shoe. Modern style rules are a little easier going than they used to be and, as a result, a shoe that can serve as both a work shoe and a dress shoe for social events is a key investment piece in many wardrobes. Achieving that kind of versatility requires a color scheme that can work with multiple outfits, materials that mesh well with other common clothing materials, and a fit that looks clean and put-together when paired with dress pants without being too stuffy for a more casual outing.
These shoes are great in style as they can go from workwear to dress wear. They also come in various colors, designs, styles, and fits that can work with all kinds of fashions. You can't go wrong with wingtips.

Durability
You want and need a shoe that won't fall apart right away and wingtips are no different. A shoe that wears down too quickly cannot protect your feet from injury and cannot properly absorb shock. Every region of the shoe needs to be durable from the upper to the outsole.
Fortunately, manufacturers have come up with ways to increase the longevity and durability of their shoes by creating high abrasion compounds and interlocking units in the outsole. They have also come up with special foam and other cushioning compounds that last longer than many early foams used in shoes.
Always check the reviews and the technologies used in the shoe you are looking to buy to confirm that the shoe is durable and won't fall apart in a week or two.

Support
There is no better way to judge a design than by the support it provides. Most shoemakers know that if they don't give your feet something easy to wear on the streets, you're going to go ahead and pass on them entirely. That's just talking about feet which don't have any specific ailments, however. You already know that "normal" feet can handle a wide variety of different climates in the way of footwear. Although it isn't comfortable, you can get away with a pointed-toe d'Orsay flat, and a staggering stiletto is difficult to manage, but not impossible,
So, what about people who have problems with their feet? That's when support comes into play in an even more crucial way. Wingtips may traditionally be a men's style, but there are quite a few women who rock these. After all, fashion has no rules and no gender. You can rock whatever you feel like, and for the ladies out there a good, flat pair of wingtips may be the best thing for foot problems. Men, also, take note of this. It isn't just about high heels versus flat heels- even a raised platform, no matter how small, can add to an already painful problem.
We made sure to include a wide range of platforms with varying boosts of height. We also made sure there were nice, spacious toe boxes so that your feet can spread out comfortably even in styles that fall on the narrow spectrum. A dressy oxford-style design has no place in your closet if it can't support your feet the way they need to be supported. You'll find that every single choice we've laid out today is an excellent show of savvy fashion and health-conscious consumerism.

Value
Ultimately, the value of the shoe depends on many factors. You want and need a shoe that is durable and won't fall apart right away. You need shoes that will last for a while. No one wants to buy a new pair of shoes every couple of months and some shoes for back pain can be expensive. Even the affordable shoes would rack up a healthy bill for you over time if you have to buy new shoes every couple of months. So look for shoes with features that are more durable.
Consider the outsole material. Rubber or synthetic materials are the most durable without sacrificing flexibility or comfort. Next, consider the upper design: what is the upper made of? If it's made with a mesh or fabric material, then it's less durable than a solid leather or synthetic upper.
.
You also need a shoe that won't have an inconvenient and time-consuming maintenance routine. We live busy lives and we often barely have time for everyday activities, let alone have the time to treat and re-treat and clean, polish, and dry shoes every time you wear them somewhere. So, look for shoes that are easier to maintain and clean. Shoes that are easier to maintain and clean are also less expensive over time, as they don't require a lot of materials to maintain them.
The actual price of a shoe matters too. Most of them can be found for a very reasonable price, so always shop around if it looks like the shoe you have decided on is going to cost you an unreasonable amount.
Expert Interviews & Opinions
Most Important Criteria
(According to our experts opinion)
Experts Opinion
Editors Opinion
Users Opinion
By Default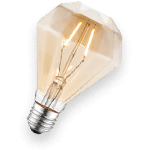 Where To Wear Wingtips
It really depends on your sense of style as to how you wear your new wingtips, but, being a slightly more formal decorative pair of footwear, they are best suited for business or formal wear.
Pair your wingtips with dressier slacks or tuxedo pants for a proper evening out, or if you do choose to dress them down a bit, casual jeans are a great choice as well.
Perforations Of The Wingtip
There are a few different terms to describe the type of wingtip your shoe has.
While the wingtip outline on your shoe is similar, the style of the toecap and perforations have different terms. A shoe with a plain toe and perforations in the wingtip are called a "blind brogue", while toecaps with no perforations are referred to as an "austerity brogue".
Other Factors to Consider

Bottom Line
Whether you are looking for the perfect pair to jazz up your daily wardrobe or searching for a unique twist on the usual workplace oxford, the wingtip is the style for you. Synthetic or leather laced up or monk strap, traditional tones or novel colors, there is a design out there for everyone.

They may have started out as a leisure option, but the wingtip has evolved into a semi-formal icon of fashionable footwear. Its versatility makes it a great first step into more formal footwear as well as a staple piece that can be fitted to almost any look.
Frequently Asked Questions
q:

What does "Brogue detailing" or "Brogueing" mean?

a:

Brogue detailing or Brogueing refers to the design of punches that decorate most wingtip shoes. They hark back to ancient Scottish shoes that were punched through with holes so that water could leave the shoes more easily when traveling over marshy, damp ground. The brogue detailing in modern wingtips does not go all the way through the leather but they do provide an opportunity for decoration much as the jagged detail on the edging of the uppers calling "pinked edges."
q:

Why are some shoes marked as appropriate for vegans?

a:

Many wingtips are made, at least in part, with leather. Shoes that are made of good-quality synthetic alternatives are marked as vegan-friendly so that people who are opposed to animal products in their clothing can find the options that will work with their personal beliefs.
q:

What color scheme would be best?

a:

The ideal color of a wingtip, as well as whether to buy a single color or a multi-tone shoe, depends on the rest of the wardrobe it is being added to. When buying an investment piece like a wingtip Oxford, it is important to make sure that they do not clash with the base wardrobe. Most professional outfits are based on either black or grey and so black wingtips would be ideal, but in the case of brown or green tones, brown wingtips would be best.
q:

Why is leather a good material for wingtips?

a:

Leather is a long-lasting material that, when prepared correctly, can lead to a nearly tailored fit. It also holds up well to long hours of use and has a mild water-proof quality that can help keep feet dry so long as the shoes aren't submerged.
q:

Can I wear these with casual clothes?

a:

It all depends on your style and where you're going, but we don't see why not! Throw on a pair of fitted jeans and a blazer over your t-shirt, and a nice pair of oxfords will make you stand out in a fancy yet casual setting in a blink of an eye!
Subscribe to our Newsletter