Best Dress Socks Reviewed & Rated
last updated:
May 26, 2020
Whether in the boardroom or on the dance floor, the best formal shoes need the best dress socks. When you want to stand out with wild and crazy patterns or a more subdued style, choosing the perfect sock comes down to the event. We've compiled the ten best pairs perfect for dancing the night away or just another day in the office. All models have been carefully chosen to ensure the best possible performance and comfort, as well as durability.
In a Hurry? The test winner after 10 hrs of research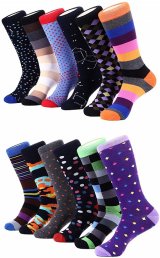 Marino Colorful
Why is it better?
Machine Washable
Cotton Blend
Breathable
In a
Hurry? Editors choice: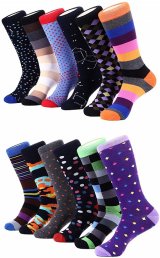 Test Winner: Marino Colorful

12
Researched Sources
1430
Reviews Considered
10
Hours Researching
15
Products Evaluated
Materials
Comfort
Breathability
Compression
Style
By Default
Top 10 Dress Socks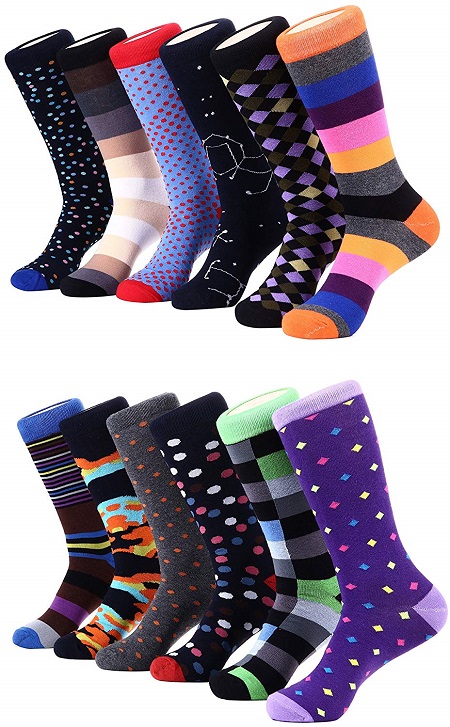 Machine Washable
Cotton Blend
Breathable
Packaged in a set of 6, and with many collections to choose from, you're not only getting quality but quantity as well. Known for their colorful and unique patterns, you'll be sure to stand out in any office. With a ribbed cuff, Marino ensures a durable, sag-free fit. They are beautiful themselves but they also come in a stylish, durable box, great for storing them.
The perfect blend of cotton makes them not only comfortable to wear all day long but also allows for your feet to breathe. Each pair is designed with sweat-proof modal cotton, to keep moisture and odor out. Marino's design is fashionable and funky while still being casual. Coming in a variety of colors to match with all of your favorite clothes, while still adding an extra something to every outfit.
Fun, stylish, well-made and coming in a 6 pack, they're tough to beat. Not only are their designs great, but their quality is too. It's no wonder these are the top rated ones on the list.
2

. Boldfoot Cotton Patterned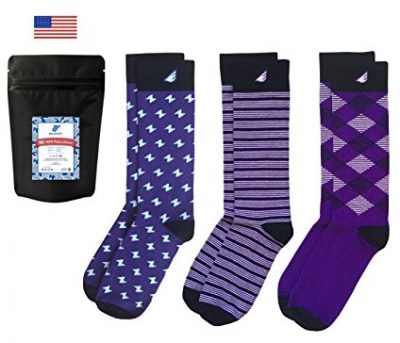 Supima Cotton
Nylon
Spandex
Made in the US
If you love the breathability of a cotton sock, and fun colors and patterns, Boldfoot's 3 pack will certainly catch your eye. With their variety of fun colors and styles, you can slip a pair of these on to add a pop of color or flash of style. Made in the US and grown from Supima Cotton, their mix of comfort and style is a sure win!
Made to draw some attention, these come in a plethora of snappy colors and hues, mixed in with argyle, stripped, and shapes to complement the designs. Great fun style if you're wanting extra color in your attire, or just want to have a little fun around the office! Made from 75% cotton with a bit of stretch these are sure to leave your feet comfy throughout the day.
The Supima Cotton they are made from is grown in the US, and they themselves are manufactured right in North Carolina. And, each purchase helps to benefit US veterans with 5% of the profit going to organizations that support US vet health, housing, and employment. With a full replacement guarantee within 3 months of purchasing, should your Boldfoots tear or rip you get a full replacement! Around average priced on our list, you can have the added bonus of knowing that your purchase of Boldfoots Cottons will help US military veterans. With a 90-day replacement guarantee, the only question you should ask is why wouldn't you buy them?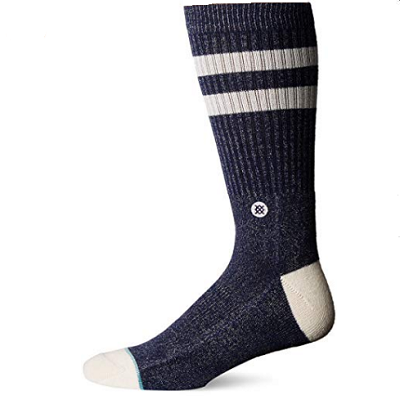 Polyester
Elastic Arch Support
Nylon
Machine Washable
This classic crew sock is the perfect option for those looking for a little extra arch support. Stances feature a seamless toe, and deep heel pocket to ensure your foot is secure and comfortable all day long. Available in the stylish tribal pattern with many colorful options, these will be sure to stand out in your sock drawer.
The thickness is in between that of an athletic and dressy sock, making them ideal for anyone looking for that extra bit of cushion. No one wants to have foot fatigue by the end of the day, and the extra cushioning can help prevent that. As they usually tend to be on the thinner side, having an option that is a bit thick should appeal to some people.
Unlike others listed above, Stance offers elastic arch support, great for those who are on their feet all day. This crew sock is made with your foot in mind, featuring an anatomically correct fit, to ensure optimum comfort. Generally, you have to rely on insoles or other inserts to get added support, so having that built into your sock is a massive bonus. They will keep your feet supported and comfortable all day long, and at a great value. Not necessarily the most affordable option, as you are only receiving one pair, however, that pair should last a long time.
4

. Easton Marlowe Patterned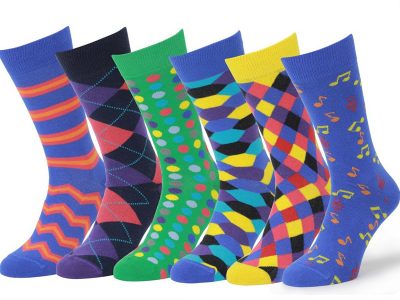 Cotton
Silk-Like Fabric
Nylon Blend
Made in Portugal
Be prepared to step-up your game with these extremely colorful and stylish patterns. These are fashionable and easily compare to those at a much higher price. Combining style, comfort, and quality you'll be sure to find a pair for any occasion. Using combed cotton and the finest European craftsmanship; Easton Marlowe continues to pride themselves on being one of the best in the market.
Made in Portugal with European yarns and the finest craftsmanship, each pair is prewashed to prevent shrinkage and ensure you are receiving premium quality. Look no further than Easton Marlowe for a pair that will make you feel like a million bucks. Unlike any other brand listed, Easton Marlowe goes a step above the rest using some of the best materials. Combed cotton is used to make stronger and softer ones. Taking the extra steps to comb out shorter fibers, leaving only long luscious strands of cotton goes a long way to make them just that extra bit more worth it.
An excellent price point for quality that would generally cost double the price. With multiple options to choose from, Easton Marlowe is a tough competitor in the colorful sock industry.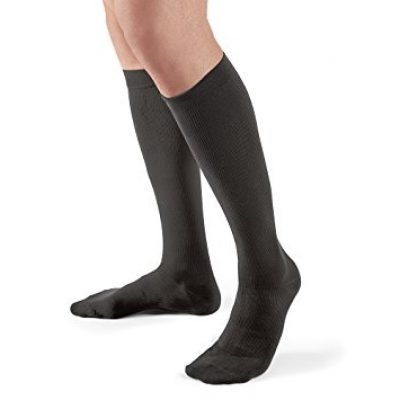 Graduated Compression
Calf Height
Ribbed
Nylon
Spandex
Usually, when we think of formal clothes, we may not think about any sort of revitalizing technology or support we should expect from them. We focus more on the color and style instead. However, Futuro has long been making ones that help you feel more energized based on compression technology to alleviate pain and massage your leg to promote blood flow. It's a great option for those who suffer from varicose veins or have poor leg circulation, or those who want compression to keep them feeling energetic all day long.
Futuros Compression socks have long been made with individuals in mind who are on their feet all day, have poor circulation, or other medical conditions that can benefit from increased blood flow or support. Their unique level of compression comes in three varieties from mild support to firm, depending on how severe your particular symptoms may be. Those with varicose veins, leg pain, thrombophlebitis, or edema can greatly benefit from them and be stylish at the same time.
Futuro designed their compression sock knowing a classy opaque sock would suit most individuals best. It's ribbed to help promote massaging when moving around, and the compression starts at the ankles and gradually lightens toward the calf to help circulation. Made from 85% Nylon to help with their elastic and supportive properties, you can select the size best suited to your needs.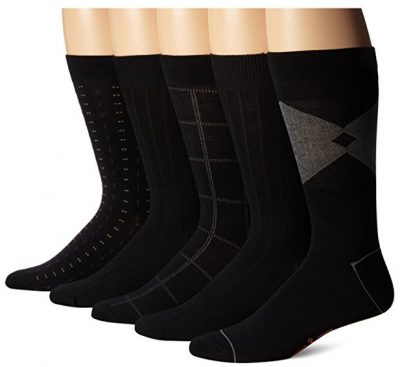 Polyester/Cotton Blend
Spandex
Machine Washable
Breathable
Continuing to be a go-to brand, Dockers consistently creates your classic, uncomplicated masculine sock that every man should have in their wardrobe. They're not fancy compared to some of the other brands on this list, but they aren't meant to be. The patterns are nice, and straightforward and perfect for everyday life.
Made with the professional in mind, Dockers time and time again creates the ideal everyday sock. With your basic colors, and even more classic designs, these won't be going out of style anytime soon. You can always count on Dockers to take the time and effort to ensure that everything they produce is of high quality and durability. When you wear socks to work, you need to know they will stand up to the friction caused by your foot, and with these ones, you can be confident that they aren't full of holes in a few days.
Creating quality products for decades, Dockers is a leading brand in business casual clothes for a reason. People continue to trust them for producing durable, easy going products that live up to a premium standard. With a long legacy behind them, it's easy to see why they have continued as one of the top brands on the market even to this day. Their quality speaks for itself, and they are sure to exceed your expectations.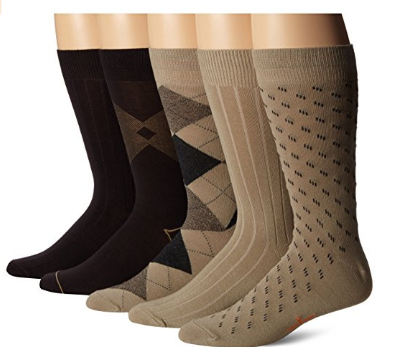 Machine Washable
Polyester/Cotton Blend
Breathable
Non-binding
These are made from a breathable polyester and cotton blend. They feature a non-binding stay-up top which makes for a secure, no-slip fit. Available in a wide variety of colors and patterns, Argyles are the perfect addition to a professional footwear for work. They are designed for a confident wear and never go out of style.
They are non-binding, which means they promote circulation and prevent blood from pooling in feet and ankles because they are made without an elastic band at the top. Instead, their cotton, nylon, and spandex materials evenly distribute tightness around the entire area they cover. This prevents the "rubber-band effect" as well as, protects the foot from blistering caused by loose material rubbing.
Argyles are available in a variety of colors ensuring that there is something which will suit every style. A professional wardrobe isn't complete without a pair of Argyles. Dockers' Argyles are surprisingly low cost considering the superior comfort and fit they offer. Made from a polyester, cotton blend, they are comfortable and airy, a perfect fit for any professionals shoe.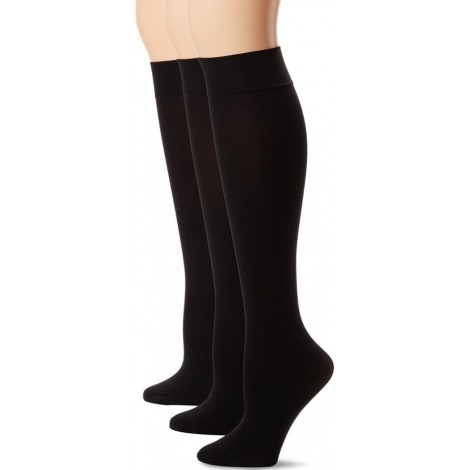 Knee High
Nylon
Machine Washable
Spandex
Look no further for the perfect knee high sock. Made to stay up, these are the perfect option for someone who is always on the go. The thin cotton and nylon blend makes them extremely versatile and great to wear with any shoe. Although one of the more expensive options, you are getting long-lasting quality over quantity, and will not have to continually repurchase.
They are bought time and time again for a reason - their stay-up fit is like no other on the market. Combining all the right fabrics to create a sturdy yet comfortable band, that ensures there is no slipping throughout the day. Fussing with a sock that keeps slipping down your ankle is tedious and downright uncomfortable, so go for an option that takes away that stress and worry.
From school or work, to playing sports; these are a go-to for everyday life. Thin enough to wear with work shoes or high heels, yet warm enough to wear under boots and ensure your feet aren't cold. They can be paired with almost any shape or style of shoes, meaning you will get a lot of use from these day to day. Having a pair that just sits in a drawer for special occasions isn't always ideal, so these let you grab and go in the morning without any extra thought.
9

. Gold Toe Over The Calf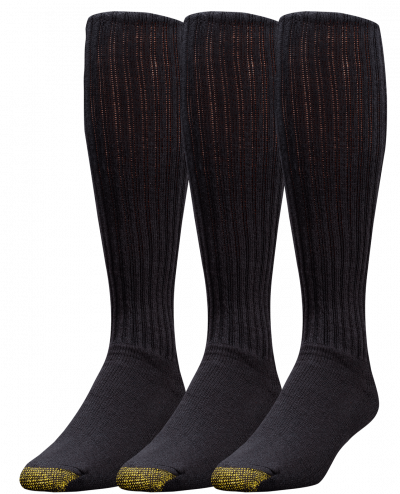 AquaFX Moisture Control
Spandex
Reinforced Heel
Mercerized Cotton
In a package of 3, 6 or 12 these incredibly soft nylon ones are a must-have for anyone looking for comfort as well as long lasting durability. Offering three classic shades, every choice comes with the distinctive reinforced gold toe. Made with 2% spandex to ensure they are just stretchy enough to fit, and Aqua FX moisture control to your feet dry all day long, it's no wonder they are among some of the top rated.
Everyone loves a bright, colorful dress sock but on those days when you want to keep things classically stylish and comfortable Gold Toe has your back. With this sock coming in 3 classic must-have colors of brown, navy and black you'll be sure to find the perfect pair for you.
Operating since 1934 means Gold Toe must be doing something right. With their trademark gold toe, reinforced for your comfort and durability, they continue to produce classic, quality products at fantastic prices. This can give you peace of mind, as you don't have to wonder if what you get will be as good as advertised. For the price and quality, Gold Toe is a tough brand to beat. Consistently delivering on classic unisex styles, and well-made too, they are a company that is here to stay. You can feel comfortable knowing that the money you spend is going towards a reputable and highly respected company that ensures they will always meet your expectations.
10

. James Fiallo Patterned


Polyester/Cotton Blend
Spandex
Bold Patterns
Acrylic
Breathable
With 12 styles available to choose from, there's something for everyone. Made from a polyester, cotton blend, they're soft, comfortable, and airy. This Mid-calf sock is fun and colorful, perfect for letting your personality shine. An elastic top cuff helps them stay up without bunching and falling down throughout the day.
Available in 12 colorful and expressive pattern options, they are a great way to let your creative personality come alive. Made of 85% cotton and 10% polyester, they are super soft and ultra comfortable for long days spent in the office.
These James Fiallo's are a complete steal! A fun, and colorful patterned pair at a budget-friendly price, they're a great addition to a professional wardrobe.
Criteria Used for Evaluation

Materials
The materials which a sock is made with have a huge impact on its overall performance. The materials influence all sorts of things, like; odor, dryness, skin irritation, and the overall fit of the sock. Different materials will be better suited to certain individuals rather than others based on their foot type.
For example, If you have sweaty feet, it is best to avoid cotton ones because, in spite of cotton's absorbent qualities, it does not wick moisture away from the foot, or allow for quick evaporation.
Whereas cashmere, wool, and polyester will all wick the moisture away from the foot, ensuring you stay cool and dry. The only downside to cashmere ones is that they do not hold their shape for more than a few washes, in order to be in good shape for a while cashmere must be blended with other fibers.
Natural fibers are of far higher quality than artificial, and they have much better moisture absorbing qualities. The best quality fibers are the longest and finest ones. Another important part is the top cuff; this is what will hold the sock in place and prevent it from continually sliding down. The cuff must be made of elastic, such as Spandex, or other elastic materials.

Comfort
The wrong sock can be a disaster! They will either slip down your calf or fit so tightly that they end up leaving painful indentations on your skin. The following is a list of comfort improving qualities a sock can have;
Sock Padding: They should cushion the foot from impact and prevent rubbing against the shoe which can cause painful blistering
Snug Fitting: If your sock is loose fitting it can easily bunch up which is not just unsightly, but also causes the foot to rub, thus forming blisters.
Slim Fit: Formal shoes usually fit quite tight which means a bulky sock is going to be very uncomfortable. They should ideally be quite thin so that they fit properly into your shoe. This will prevent discomfort and rubbing of the heel in the back of the shoe.

Breathability
Let's face it, long hours spent inside of an office wearing a pair of formal shoes is going to cause a person's feet to sweat. Once the foot begins to sweat it's only a matter of time before unpleasant odors begin to form. Specific ones which absorb moisture and wick it away will prevent odors from occurring by helping to keep feet dry all day long.
Materials that absorb moisture the best and keep feet odor free are:
Wool
Polyester
Olefin Fibers
Materials to avoid if you have sweaty feet are:
Cotton
Nylon
Synthetic Fabrics

Compression
One of the possible benefits of wearing the right hosiery can be the alleviation of pain, reduced swelling, as well as improved blood circulation. Especially important for those who spend their days standing for prolonged periods of time, or walking a lot, compression socks can be a great investment.
A number of models of dress socks can include some level of compression. While most won't offer enough to address health issues such as blood clot prevention, they can offer some much-needed relief.
Most compression stockings can be purchased with compression levels ranging from light to strong. The effect that you will feel will greatly depend on your personal preferences, as well as the size (if your stockings are too large, you won't receive the benefits).
They can even be purchased in differing lengths, but know that with dress socks, your best bet is to get ones that are knee high. Anything lower than that won't achieve much, while you will have a rather difficult time finding a pair that's thigh-high.
To ensure the best results, it is recommended that you put these on first thing in the morning, as well as that you wear them for as long as necessary. For some, this may mean all-day wear. Also crucial is to wash the stockings after every use, and to replace them every 3-6 months in order to ensure the proper support.

Style
Nowadays, you can purchase a pair of dress socks in any style variation you can imagine. From the classic dark colored garments that you'd wear with a suit and a pair of dress shoes, to novelty models that feature all types of patterns and colors, you can truly take your pick.
What you go with will greatly depend on the rest of your wardrobe, as well as your personal style. While some prefer to stick to the rule that your socks should always match your suit (and we highly recommend this in professional and formal settings), there's nothing wrong with kicking things up a notch, especially on casual occasions.
If you happen to be wearing a very light suit, however, you can also match your socks to your shoes.
Make sure, however, that you're never wearing clashing colors, and that your choice of hosiery is appropriate - that it doesn't take away from your overall look, or is offensive.
Men's dress socks most often come in three lengths:
Ankle height
Mid calf (most common)
Over the calf
For women, dress socks are a bit more complicated. While wearing the same as men's styles is always an option (a good pair of solids is always a great thing to have in your closet), there's the added complication of skirts and dresses that may make choosing the perfect hosiery a bit more difficult (at least in professional and formal settings).
For those occasions, the best thing to do would be to go with a pair of sheer or black stockings or pantyhose which look classy and don't interrupt the line of the leg. Those who are more fashion forward, however, can follow the latest trends and express their unique style by matching a brightly colored pair of socks with their favorite heeled sandals.
Expert Interviews & Opinions
Most Important Criteria
(According to our experts opinion)
Experts Opinion
Editors Opinion
Users Opinion
By Default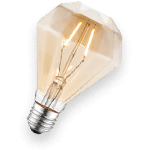 Add Some Fun To Work Attire
Adding a pair of colorful or patterned dress socks to your work attire can give it a little bit of a fun flair. Easily hidden under slacks or longer skirts and dresses, fun colorful socks, or even those with character prints, can make a dull work day feel a bit more lively!
Sock Thickness
Dress socks generally speaking are made from a bit thinner of a material than winter socks, made from wools or other thick material to help insulate your feet in colder weather. However, if you don't necessarily require a thin material, and prefer thicker, warmer sock to pair with your dress shoes, it's quite acceptable to wear them as you see fit!
If your dress shoes tend to run tight, it's better to opt for a sock made from thinner materials to keep the fit just right.
Other Factors to Consider

Bottom Line
When shopping for socks to wear on a daily basis (dress socks are not recommended for activities such as running, hiking and working out), it is best to follow some of the simple rules that make a good purchase:
Invest in models made with quality materials that have a higher level of durability
Look for breathable materials to prevent overheating, odors and fungal infections
Go with the right height and style for the occasion
Choose the correct amount of compression
Take good care of your hosiery, washing it regularly and replacing it when needed
To prolong the life of your newly purchased socks, make sure to always wash and dry them according to the manufacturer's instructions. Models which are made with sensitive materials such as wool or nylon will need a bit more care, as they won't react as well to high temperatures.
Frequently Asked Questions
q:

What are the softest materials for them to be made from?

a:

Some of the softest materials a sock can be made from are silk, linen, and cashmere. Cashmere, however, does not hold its shape very well which is why it is recommended that cashmere is mixed with other fibers in order to add longevity.
q:

What colors do they come in?

a:

They come in a variety of colors and patterns, but can usually be found in grey, blue, brown, and black. Checkered patterns are also used frequently.
q:

Why do they keep falling down?

a:

They will tend to slip down the calf if they do not contain a proper elastic at the upper cuff. Spandex and other elastic materials at the cuff will work to keep a snug grip so that your sock stays in place.
q:

Are they just for men or can women wear them too?

a:

There are unisex styles available, however, it is recommended that gender-specific ones are purchased due to the sizing variation between men and women's feet. A sock should fit snugly so that it will fit properly inside of the shoe, giving you a secure and snug fit.
q:

How to take care of them?

a:

The best way to care for your hosiery is to wash it after every use to prevent the overgrowth of bacteria and fungus that can lead to bad odors or even infections. Most models are machine washable, but it's best to check before chucking them in the washer.

The durability of some models may be reduce with machine washing and drying, so if you want to ensure a long lifespan, you may want to decide to wash them by hand.
Subscribe to our Newsletter