Best Running Shoes for High Arches Reviewed & Tested
In a
Hurry? Editors choice: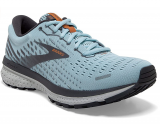 Test Winner: Brooks Ghost 13

Investing in a good pair of running shoes for high arches is key to relieving annoying foot pain. Normal arches are built to absorb the impact and stabilize your gait, but if your arches are higher than most it leads to an uneven gait that sends pain all throughout your feet.

This means that you need to invest in a sneaker that provides a good deal of cushioning that works to absorb the impact. We selected designs with features such as guide rails to even out your gait, and a ton of smart EVA cushioning to absorb the impact of running on unforgiving surfaces.

In this guide, we have selected the best running shoes for high arches that are built to keep your feet incredibly happy and pain-free!
Standout Picks
Criteria Used for Evaluation
Comfort
"High arches" are so-called because the foot curves upward from the toes to the heel of your feet.
So, the position of the cushioning within the inner soles of the shoes is highly important. The purpose of any shoe, especially running shoes, that deal with this physical disorder is to cut down the pain as much as possible. High arches demand great cushioning and arch support. Look for runners that either has high arch support build in or are well cushioned with a removable insole so that you can use your own custom insert or orthotic.
Don't overlook the front of the foot. The toebox of the best high arch running shoes must have enough room for the toes to move around a bit. This will help remove some of the pain from the area along with the toes, especially for those with bunions, or hammer or claw-like toes.
Whether you have high arches, average arches or flat feet, heat must be able to get out of the shoes so the feet can cool off. Otherwise, the heat will cause moisture to build up and add more problems and complications to the feet that are already hurting from their high arched disorder.
Fit
Finding a perfectly-fitting pair of shoes can be like finding the holy grail.
Fear not, as we've ranked each product on our list for their fit and trueness-to-size to help guide you in finding the perfect match for you.
To come up with a score for the fit of a shoe, we considered several factors to help boil down everything into one simple score. For example, Nike tends to make shoes that are true-to-size, meaning that you can buy a pair of 11s one year, and another pair of 11s next year in a different model and they will usually still fit (unless your feet have grown or shrunk). A brand like Nike will most likely have a high score when it comes to fit, but the other variables in play, such as make, model, and purpose, will also affect the overall score.
Consider that a running shoe, with its thicker midsole and a synthetic sole, might fit differently than a flat shoe, with its thinner midsole and hypothetical leather sole.
You must also consider the purpose and type of shoe it is. Knowing what kind of shoe you are buying, and for what purpose, will help you make a better decision. A running shoe might run smaller than a flat because it has thicker materials, so read customer reviews as well to arrive at the best decision for fit, in addition to just our overall score.
At the end of the day, however, a higher score for the "fit" criterion will tend to mean that the shoe experiences a better trueness-to-size than a competing product; just don't forget all the underlying factors that are baked into arriving at that single score! Finally, if you are looking for tips on how to identify your shoe size, check out this guide for help.
Outsole
Regardless of your arches or pronation, the outsole used on your running shoes will have a big impact on your overall experience.
When shopping, this is an important aspect to take into consideration, as it will tell you whether a particular model will be suitable for use on certain types of terrains, or if it will perform well in bad weather conditions such as rain, snow or even ice.
Manufacturers will all use their own types of rubber to make the outsole, and you'll find yourself with choices such as Blown Rubber, Continental Rubber, Carbon Rubber, and many more. All of these have their benefits such as added shock-absorption, higher abrasion resistance or better grip. These benefits will be listed in the description of each product, and you can even check user reviews to see how a model fares in certain weather conditions.
But, there's another aspect of the outsole to consider. Most traditional running footwear is made for road conditions. This means asphalt in urban environments, with rare dirt or ground contact. On the whole, you will find that this type of footwear won't do well in muddy, wet conditions such as those found on trails or even your local park. If you want to run in nature, you will need to invest in a pair of trail running shoes.
The list above features a few models that are rated highly for people with high arches. When shopping for these models, you will want to look for more aggressive lugs that will bite into the dirt, and which won't become clogged up with sticky mud.
Stability
While high arches demand a lot of cushion and flexibility, that does not mean that stability and security should be compromised.
You do not want a sole that is overly stiff or an upper that will push down on and restrict your foot but you do want a stable and secure fit. High arches or not, slipping in the shoe, wobbly gaits and a lack of support can cause other conditions and risks serious injury.
Look for shoes that have the following characteristics:
Stabilizing Heel
The heel counter in the shoe should hold your heel securely in the shoe, preventing it from slipping out or moving from side to side. If you have a prior ankle injury or 'weak' ankles, look for shoes with higher cuts to provide extra support.
Flexible, but Firm Sole
Your sole needs to flex but the shoe also has to be stable enough to guide your foot strikes from heel to toe. Look for a shoe that bends easily at the midfoot but cannot be folded down the center line of the shoe.
Snug, but not Tight Upper
If you have high arches you need a stretchable, flexible upper that will hug your foot without constricting it. Look for shoes that are not too binding around the midfoot and are constructed of a stretchable mesh that can move with you. The closures should not put pressure over the top of your feet, which will cause pain, but should hold on to the foot instead.
Support
The outsole, midsole, insole define how much support your shoe will offer.
Outsole
The outsole, or more simply, the sole of the shoe, makes direct contact with the ground and therefore supports the entire foot and body when in motion. Needless to say, a poorly-constructed outsole will lead to discomfort, slipping, and foot or other bodily injuries.
For this reason, many manufacturers use materials that are water-, weather-, heat-, and impact-resistant. Depending on the type of footwear, one will often see outsoles made from natural or synthetic materials, such as PVC, EVA, rubber, and leather.
Each of these has its advantages, depending on the shoe's purpose; however, as a general rule, they each are resistant to the aforementioned factors.
Midsole
The midsole is designed to provide cushioning and shock absorption to the shoe, nestling the foot in comfort. Whereas running shoes tend to have thick midsoles, flats and thinner shoes not designed for high-impact activities often have thinner midsoles.
The reason for this is simple: you need more shock absorption and vibration dampening during high-intensity movements or activities to maintain comfort and prevent foot injury than you otherwise would with a regular shoe, flat or sandal. Midsoles are often made from EVA (ethyl vinyl acetate), a synthetic plastic also used to make insertable orthotics.
A firmer type of EVA for the midsole will make the shoe heavier, but more durable; whereas a softer type of EVA, like those found in running shoes, improves shock absorption, but wear much quicker. Podiatrists tend to prefer firmer midsoles for those suffering from orthopedic conditions, such as plantar fasciitis.
Insole
The insole is the proverbial foundation of the entire shoe. The sock liner lays on top of the insole, which is then fused to the midsole, and finally the outsole. A firm insole will give good structure to a shoe and increase its stability and durability, but it will also increase the weight of the overall product and be less comfortable.
A softer insole might be more comfortable, but that comes at the expense of stability and durability. We tried to balance these weights when evaluating our products, but each reader and wearer are different, so be aware of this trade-off.
10 Best Running Shoes for High Arches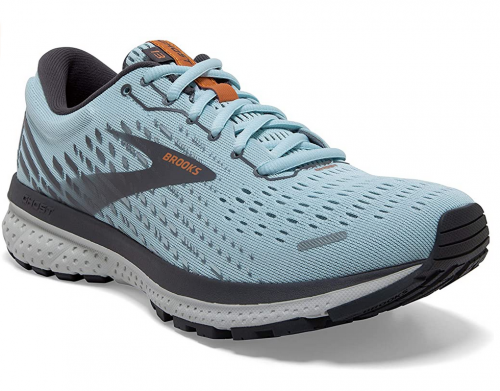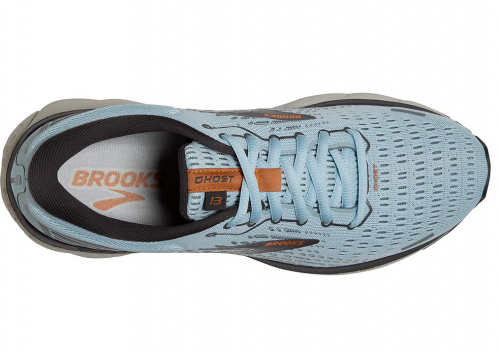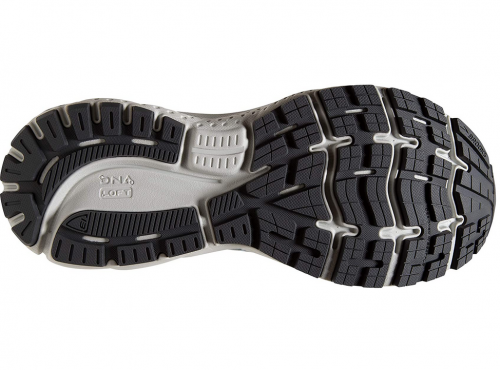 The Brooks Ghost 13 provides runners with many of the same supportive features as the Glycerine 19, but it is slightly more structured and stiff to provide even more support and cushioning. It's important to note that the key difference in this design is that it is stiffer than the Glycerine, so it doesn't provide users with the same range of motion for workouts such as CrossFit. However, if you need ultimate support in your daily runs, you can't go wrong with Ghost 13.
The very first thing that we noticed about this design is that it has a midsole that is built with BioMoGo DNA Cushioning in addition to Brook's patented DNA Loft for energy feedback that you can really feel. The structure of this responsive midsole helps to cradle your foot and hold it securely in place as you run, which helps take the pressure off of your arches when training on unforgiving surfaces.
What makes this design stand out from the Glycerine is that it boasts a supportive and stiff upper that locks your foot in place, and limits your full range of motion. It boasts a 12 mm drop, which provides extra cushioning in the heel and takes the strain off of your arches. The structured upper is composed of mesh and synthetic overlays that work to promote excellent lockdown.
If you are in the market for something that provides unmatched structure and support, the Ghost 13 is a great choice. It's a bit stiffer than some of the other designs in the Brooks lineup, and it is ideal for long-distance runners that need a high level of stability and a higher drop to keep their feet cushioned and supported.

2

. Nike Air Zoom Pegasus 37
Traditional stability trainers often get a reputation for being big and blocky. However, the Nike Air Zoom Pegasus offers runners with excellent support for runners that need a little something extra (especially in the arches), and it comes in a slick and stylish package. If the style is something that is important to you, this design from Nike is worth checking out.
What makes this design ideal for arch support is the excellent foam cushioning the runs from the toe box all the way to the heel. Users found that the Air Zoom Pegasus provides a Hoka One One level of cushioning that is not often found in Nike trainers. It also boasts a tight fid in the midfoot, which really helps to cradle and support your arches.
As far as the upper is concerned, this is one of the more lightweight uppers found in most stability shoes that are designed to give extra support, especially to your midfoot. It has a simple mesh upper that is really made to move, and it is incredibly breathable. It also omits the padding in the heel collar that is found in most stability shoes, which provides users with a more natural range of motion when training on hard surfaces or engaging in CrossFit.
If you want that perfect marriage of Nike style with advanced cushioning, the Nike Air Zoom Pegasus is an excellent option. Runners found that the cushioned midsole provides excellent energy feedback that you can feel in all stages of your gait. Plus, it is a little slimmer and more lightweight than other designs on our list, making it a truly unique and supportive design in the Nike lineup of trainers.
3

. Hoka One One Clifton 7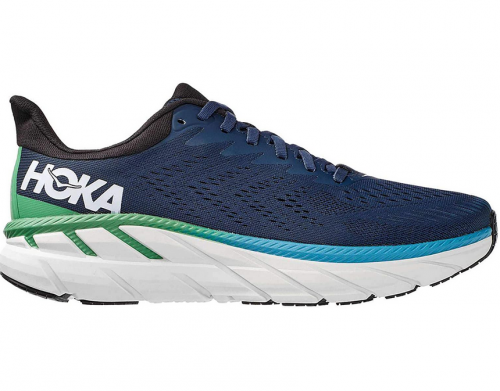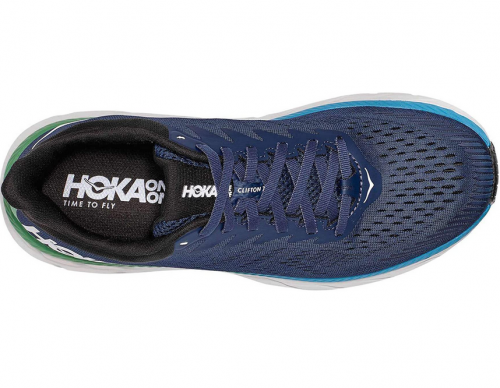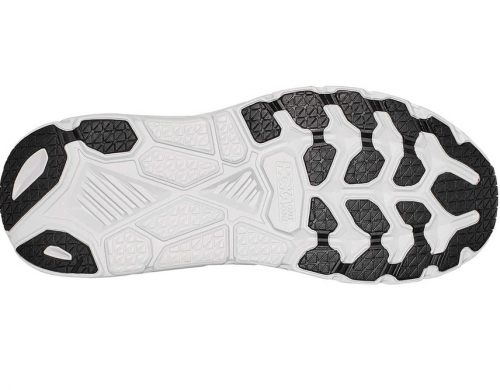 Not one quite knows stability and support better than Hoka One One. Their lineup of sneakers is made to make runners feel like they are running on a springy cloud and offer unmatched support and energy feedback. The Clifton 7 is a little on the blocky side, but one trip around the block will have you loving the unconventional styling of this sneaker. It costs a little bit more than some of the others that we have seen, but the added durability and advanced cushioning system make it worth every penny.
The very first thing that we noticed about this design is that it has an advanced cushion-to-weight ratio. This means that if you are carrying a bit of extra weight or you are simply a heavy striker, the cushioning system in the midsole is built to adapt to your heavy stride. It also boasts a Meta-Rocker that helps guide your foot to an even gait, which eliminates high-impact pressure zones that can lead to aching feet.
There have been some pretty big improvements made to the upper of the Clifton 7. It omits heavy and structured overlays on the mesh upper and replaced with elastic bands that provide an easier range of motion. Runners love that the breathable mesh upper works to keep their feet cool and dry, and fits evenley on their foot like a glove.
If you feel like there is no such thing as too much cushioning, the Clifton 7 is a great choice. It is packed with features such as Meta-Rocker technology to help even your gait and an EVA foam midsole that provides excellent support and energy feedback for running on hard and unforgiving surfaces.

The Saucony Ride ISO 2 is a great choice for users whose arches are between medium and high. This neutral running shoe is made for road conditions. It can be purchased in regular and wide widths and it is offered in several color options for those who want attractive design. Like all Saucony models, it boasts a low weight, as well as a technologically advanced responsive midsole for maximum performance.
The upper of these running shoes for high arches is made with a jacquard mesh which has a number of benefits. First and foremost, it's breathable and moisture-wicking, but it also ensures great fit and adaptability during your movements. It is flexible, which means that the foot won't be constrained while running, and it will be more comfortable thanks to the fact that it'll adapt to each individual's foot. Both the tongue and collar include generous padding, which protects sensitive foot areas from irritation or injury.
The midsole of the Ride ISO 2 features an 8mm offset which is slightly lower than most models listed. It utilizes two types of foam, the first one being PWRFOAM which is a full-length cushioning system with a lot of thickness to it in order to ensure maximum shock-absorption. It's topped with EVERRUN technology for added durability and a removable insole that allows the addition of custom orthotics.
As for the outsole, it's quite flexible thanks to the zig-zag grooves that allow the foot to move in a natural way. Made from a special rubber compound it provides users with a combination of softness and traction required for running on asphalt. As for price, this shoe ranks average, which may be a bit too much for beginners, but on the whole, it makes for a good investment.
5

. Mizuno Wave Creation 20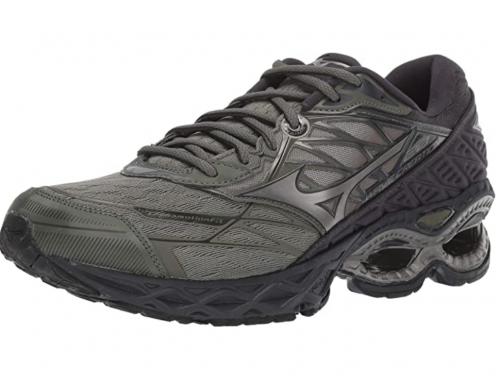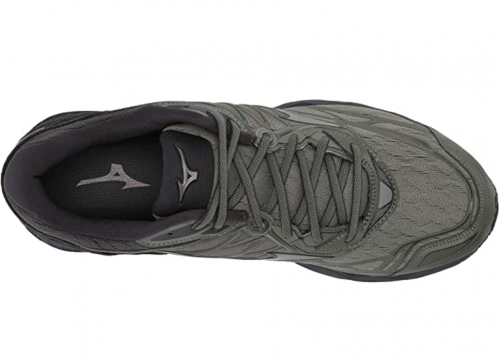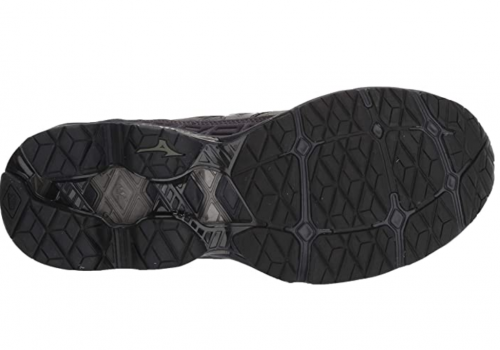 Runners that need a little extra arch support can depend on just about any design from the Mizuno lineup. The reason that we selected the Wave Creation is that it has advanced features that not only lend a little extra support in your midfoot, but it also hosts additional supportive features that runners have come to really appreciate. It may cost a little bit more than some of the others, but we feel that it is worth every penny.
The very first thing that we noticed about this design is that it boasts a heel that has a striking wave pattern in the rubber outsole. This wave design helps to absorb the impact of heel strikers when running on hard and unforgiving surfaces. The addition of the Wave Plate is also beneficial to runners that overpronate as well.
For the midfoot, this design provides users with a double-layer TPU midsole that cradles your foot in place and provides a little extra cushion and support that is incredibly beneficial when running on hard surfaces. The upper is slightly stiff, which hinders breathability but maximizes lockdown.
If you are in the market for a trainer that hugs your foot and holds it securely in place for excellent stability, the Wave Creation 21 is one of your best options. Advanced features not only lend additional support to your midfoot, but the wave design in the heel offers excellent energy feedback and shock absorption for a smooth and comfortable ride.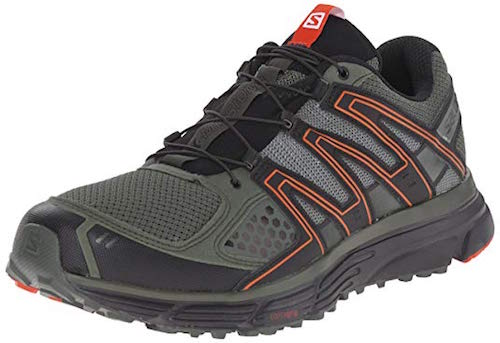 These trail runners are perfect for those who want to invest in high-quality running footwear made by a brand that understands trail running and hiking. Neutral in terms of support, with a standard 10mm heel to toe drop, these are ideal for varying surfaces, including both dry, wet and muddy terrain. There's not much variety in terms of color options, or even widths, but considering the fact that this is a specialized type of shoe, that's quite understandable.
The upper of the X-Mission 3 houses quite a bit of tech. Made with a 3D mesh material with Sensifit stretch overlays, you can expect this model to wrap around the foot providing it with high levels of breathability and moisture management. The Quicklace system utilizes Kevlar cords that are easy to adjust on the go, and require no tying. The toe area features a protective overlay to keep users safe from accidental bumps. These are our top choice when it comes to best running shoes for wide feet and high arches.
The sole unit of the X-Mission 3 is impressive in two ways. Firstly, it uses an EnergyCell midsole that is made with EVA foam and is quite successful at absorbing shock. Geared towards users who tend to land with their heel, this system protects the joints and muscles, allowing you to run for longer. The second layer of cushioning comes from the Ortholite insole which has antimicrobial and moisture-wicking properties, ensuring a dry and healthy foot environment.
The best part of the X-Mission 3, however, has to be the Contagrip MD outsole with aggressive, multidirectional lugs that are sure to provide the required level of traction. It's resistant to abrasion for greater durability and should clog up, even if you tend to run in muddy terrain. Do keep in mind, though, that this model is not waterproof. As for price point, you'll find that the X-Mission 3 ranks average compared to the other good running shoes for high arches listed.
The ASICS GEL-Kinsei og uses all of the ASICS athletic gear building experience to create a comfortable, stable, personalized feel for runners with high arches. The external heel counter will provide excellent support at the heel and the shoe has won the APMA (American Podiatric Medical Association) Seal of Acceptance.
The upper of the Kinsei is made of a multi-directional stretch mesh that is supportive and adapts to your feet. The personalized feel will leave you comfortable and secure while you run your body through its paces.
Finding a great pair of shoes only to discover that one of the seams inside rubs against your skin, causing friction, sores and blisters is aggravating. Shoes with seamless construction, like this ASICS, avoid the problem of hot spots from seam friction within the shoe, leaving you that much more comfortable during your run. If you are looking for running shoes for high arch support this model is a perfect choice.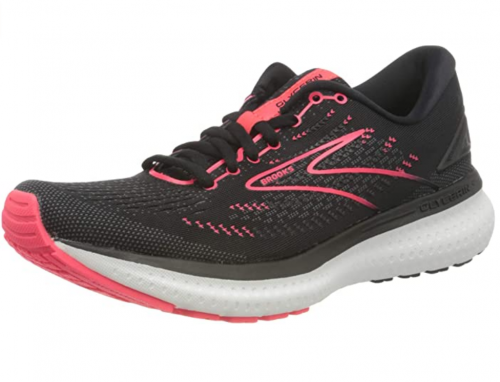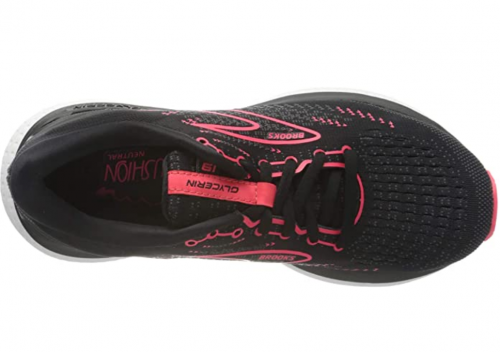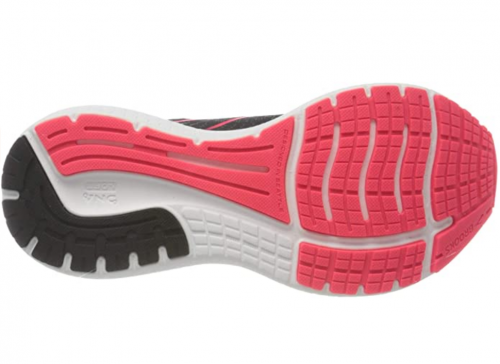 Brooks is another brand that is known for its lineup of excellent stability shoes. The reason that we selected Glycerine 19 for your aching arches is that it boasts a series of support features from the toe box to the heel to help keep your foot supported through all stages of your gait. It comes in a ton of fun colors and styles and has a stretch mesh upper that contours to the shape of your foot.
Heavy strikers often suffer from foot pain, which is why the Glycerine 19 is a great option to keep your foot comforted and protected. It boasts a double-shot of Brooks' patented DNA Loft in the midsole to add an extra spring in your step. Running on hard surfaces is suddenly less taxing on your feet with this incredibly springy midsole.
While the outsole and midsole are a bit on the bulky side, the upper is made to be lightweight, breathable, and flexible. It boasts an internal sock liner that contours to the shape of your foot and moves as you move. The design of this easy upper is not only ideal for running on hard surfaces such as sidewalks and treadmills, but also for workouts such as HIIT or CrossFit as well.
When looking for a design that offers excellent support to your feet, you can't go wrong with any of the designs in the Brooks lineup. However, for runners with higher arches, the Glycerine 19 is designed to provide extra support and protection where you need it most. It may cost a little bit extra, but the added durability of this design makes it an excellent value.

Another pair of trail runners to be featured on this list, the ASICS GEL-Venture 7 is a highly-anticipated continuation in a successful series of running footwear. Made for daily use, this model makes use of traditional and modern materials, providing athletes with an affordable option for training on moderate trail surfaces. The color options are slightly limited but in terms of sizing, the GEL-Venture 7 comes in several versions, from narrow to extra-wide.
The upper of this Asics for high arches model is made with synthetic leather over a mesh material, which is a combination that's been used for decades. It provides wearers with a great combination of durability, support, and breathability, and is relatively easy to keep clean. Generous padding is included in the tongue and collar portions, and you'll even find a heel pull tab at the back of the shoe for easy on and handy carrying options.
The sole unit of this model makes use of two materials developed by the brand. First and foremost, there's the Rearfoot GEL cushioning which aims to absorb shock that is generated upon impact. This cushion is housed inside a foam unit that is lightweight, responsive and provides a smooth transition from heel to midfoot. You'll also find an Ortholite insole in the GEL-Venture 7 for added shock-absorption and in-shoe comfort.
As for the outsole, it utilizes ASICS' High Abrasion Rubber compound that's very durable on a variety of surfaces. The traction lugs are placed in a reverse manner, increasing grip during uphill and downhill runs. The best feature of these running shoes with high arch support, however, has to be the price that is affordable for this type of quality, and it is largely what makes it so popular among runners of all experience levels.
10

. New Balance Fresh Foam Hierro V5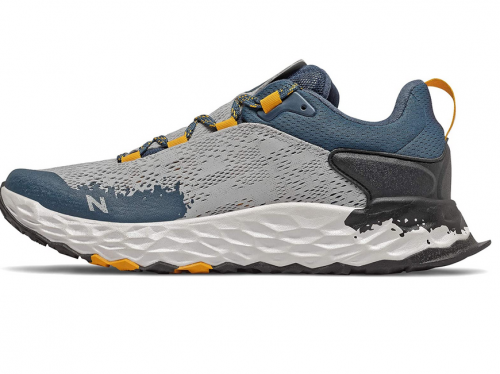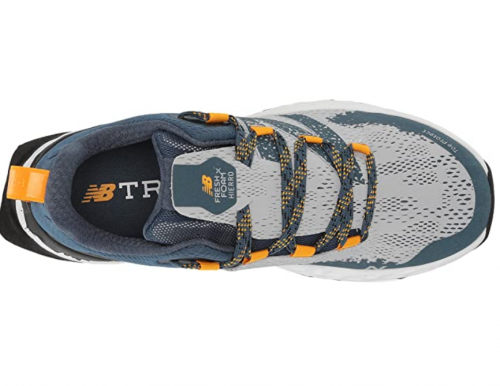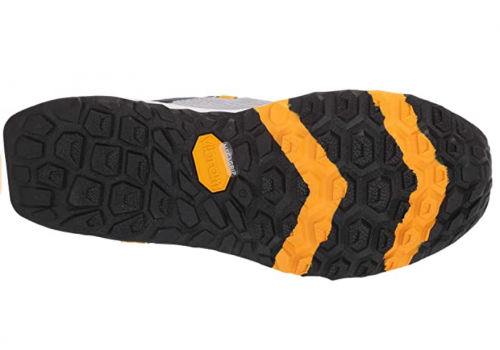 Looking for something that you can take along with you on trail runs? This sleek design from New Balance provides users with extra cushioning and support in the midsole and offers a gripper rubber outsole that is perfect for trails and as well as running on slick surfaces. Plus, it boasts a lightweight and breathable upper to keep your feet cool and dry on those hot days.
What we loved most about this design is the additional cushioning and support in the midsole that works to prevent foot pain and fatigue. Compared to other designs in the New Balance lineup, the Hierro V5 is one of the most cushioned designs that they offer. The Fresh Foam midsole provides excellent energy feedback with each and every step.
It's important to note that this design weighs in at just over 12 ounces, making it one of the heavier designs making our list. Much of the weight is derived from the durable rubber outsole with deeper lugs (which is why it is made for trails), and10 mm drop that provides users extra cushioning in the heel.
If you are in the market for something that is built tough for trails while stiff offering excellent support and cushioning, this design from New Balance is an excellent choice. Users love that it comes in a wide variety of unique color options, and the Vibram outsole is great for trails or wet sidewalks.

Subscribe to our Newsletter