Best Running Shoes for High Arches Reviewed & Rated
last updated
Jul 24, 2019
While high arches are pretty common, running with the wrong shoe can lead to long term consequences and effectively end your running career. Those runners with high arches need to make sure the weight of their body is spread evenly throughout the foot, not over-taxing the arches. Runners with high arches can tend to underpronate (not rotating the foot sufficiently to avoid putting too much weight into the ball of the foot), so it's important for those with high arches to look for a shoe with neutral-cushioning, flexibility, and that are lightweight.
In a Hurry? The test winner after 17 hrs of research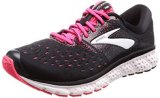 Brooks Glycerin 17
Why is it better?
Synthetic Shoe
Rubber Sole
Asymmetrical Tread
Mesh Shoe
In a
Hurry? Editors choice: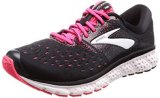 Test Winner: Brooks Glycerin 17

18
Researched Sources
1378
Reviews Considered
17
Hours Researching
20
Products Evaluated
Comfort
Fit
Durability
Stability
Support
By Default
10 Best Running Shoes for High Arches
Synthetic Shoe
Rubber Sole
Asymmetrical Tread
Mesh Shoe
The Brooks Glycerin 17 is marketed specifically for those with a tendency to underpronate (a common side effect of those runners with high arches), seeking a neutral shoe. Segmented cushioning (or "crash pads") make for a uniform, yet flexible buffer that adapts to your running style; while "pressure zones" on the outsole fight against shin splints by evenly distribute pressure throughout the foot. The shoe also combines mesh and synthetics to create an upper that is flexible and breathable, while being more durable than some on this list.
Read more
An update of the Glycerin 16s, and rivaling the Nike Air Zoom Pegasus+ 33 for weight, the Brooks Glycerin 17's still managed to maintain an ideal amount of cushion by segmenting it. Keep in mind, with high arches you're going to want to look for a shoe with a decent amount of cushioning, while still being a neutral midsole throughout.
Too narrow of a shoe and you end up exasperating the rigidity of feet with high arches, restricting rotation and making an already bad underpronation worse. Owners comment time and time again that the Brooks Glycerin 17 manages to stay streamlined and light, while still being comfortable and flexible enough for quality runs and mobility.
Cushioned Insole
Breathable Mesh Shoe
Synthetic Sole
Plush Collar
High arches demand a lot of cushion, comfort, and flexibility, unlike flat feet which need more stability and support in the sole. The Ghost 11 is a shoe that stretches to accommodate your feet while providing cushioning where you need it most. The insole provides great arch support but is also removable in the event you choose to use your own custom insole or orthotic.
Read more
There is plush padding in the tongue and collar of this sneaker, a removable supportive foam insole, and a BioMoGo midsole that is environmentally friendly, responsive and cushioning. The forefoot is made of a soft blown rubber material which supplies even more cushion along with grip for toe-off. You can run for days in this shoe without worrying about painful feet.
There is a full-length segmented crash pad in the sole of this sneaker that accommodates the way your foot lands and helps to set your foot up for a smooth transition from heel strike to toe-off. With a more natural gate and smooth transitions, your run will be that much more enjoyable.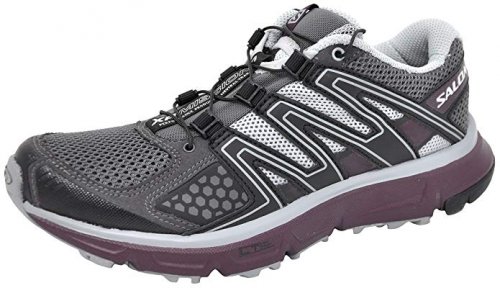 QUICKLACE System
EVA Molded Foam Midsole
Contagrip Outsole
Mesh Upper Shoe
Whether you're pounding the pavement, hitting the treadmill, or pitting yourself against nature on the trail, the Salomon XR Missions should easily be the first shoe you consider. This versatile shoe features quick-dry technology, a no-nonsense design that helps you maintain a balanced stride. Buy a size down and let them adapt to your feet, while the Contragrip Outsole give your great traction and the Quicklace system gets you up and running smoothly and quickly.
Read more
The breathable upper mesh provides the necessary ventilation and moisture control to keep your feet dry and cool, while the Contragrip Outsole allows for optimal traction both indoors and outdoors. So whether you're an avid trail runner, hitting the pavement, or cruising on the treadmill, the Salomon XR Mission adapts to you.
With a minimalistic Quicklace system, cushioning foam to reduce friction, and EVA in the heel for heel striking, the Salomon XR Mission conforms to your feet and provides the necessary cushioning in the heels and toe to provide optimal support for high arches.
Rearfoot GEL Cushioning
Rubber Sole
Removable Sockliner
ASICS High Abrasion Rubber Outsole
With thousands (literally, THOUSANDS) of positive 4.5/5 star reviews the internet over, this is the only iteration of the ASICS Gel series to prove its worth time and time again. Loyal fans of the Gel Venture 6 laud its overall comfort and arch support in the heel and toe, as well as overall comfort and bang for your buck. While more variations have come out since customers return again and again to the Gel Venture 6 series.
Read more
With extra cushioning in the heel and a neutral midsole, the ASICS Gel Venture 6 is an ideal running shoe for those who are already feeling the impacts of high arches, like plantar fasciitis. The gel cushioning is great for lessening the impact of your feet.
Just starting out and don't know what's best for you? Enjoy an easy morning jog or just run on the weekends? This is a great, low-investment shoe for those who are just starting out or who expect to run under 40-50 miles a week. Not so cheap that you don't feel confident in your purchase, and not so expensive that it's over-kill.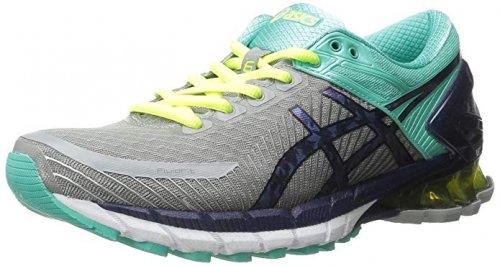 Impact Guidance System
Rubber Sole
Fluidride Midsole
Gel Insole
Propulsion Technology
The ASICS Gel Kinsei 6 uses all of ASICS athletic gear building experience to create a comfortable, stable, personalized feel for runners with high arches. The external heel counter will provide excellent support at the heel and the shoe has won the APMA (American Podiatric Medical Association) Seal of Acceptance.
Read more
The upper of the Kinsei is made of a multi-directional stretch mesh that is supportive and adapts to your feet. The personalized feel will leave you comfortable and secure while you run your body through its paces.
Finding a great pair of shoes only to discover that one of the seams inside rubs against your skin, causing friction, sores and blisters is aggravating. Shoes with seamless construction, like this ASICS, avoid the problem of hot spots from seam friction within the shoe, leaving you that much more comfortable during your run.
6

. Mizuno Wave Creation 19
Synthetic
Rubber Sole
Removable Insole
High-Mileage Design
Dynamotion Fit
This Mizuno runner is made to be durable and comfortable for many, many miles of wear. Designed specifically for long runs, the shoe will be supportive, smooth and breathable at the beginning of your marathon until long after you've crossed the finish line. It is also a vegan-friendly shoe for those that are looking for a shoe made without any animal product.
Read more
This new update to the Wave Creation line is a reasonably lightweight shoe that has X10 carbonized rubber at the heel and toe, where you strike and take off, for enhanced traction without excessive weight. This is also usually the wear point on long runners so the carbonized rubber will improve the durability of the shoe.
This shoe features a Dynamotion fit build which adds support without adding significant weight. The shoe will adapt to your foot and move with you as you run – from heel strike to take off – the shoe stays in place on your foot without restricting your movement.
7

. Hoka One One Clifton 5
Breathable Mesh Upper
SpeedFrame Construction
Rubber Sole
Breathable Fabric Insole
Hoka One One makes running shoes for a variety of athletic needs, including the Clifton 5 which is a good runner for high arched feet. It features great cushioning, a solid rubber sole and a rounded toe box for comfort and confident traction. The shoe will take the beating you give it on the road, on a treadmill or on light trails.
Read more
For those with both high arches and a wider forefoot, this is a comfortable running shoe. Well cushioned as well, your toes will not be cramped in the front of the shoe, leaving you pain-free and ready for your run.
The shoe looks substantial and is a secure sneaker for sure but it is also very lightweight. With a breathable mesh upper, and a very lightweight frame your feet will not fatigue from weight in this shoe, giving you the most of your exercise.
8

. Nike Air Zoom Pegasus 35
Cushioned Midsole
Rubber Sole
Zoom Air Units
Recommended by experts and customers alike, you'll see this shoe brought up time and time again for runners with high arches. It ticks all the boxes: Mesh upper (a.k.a. Flexible AND breathable??), check; Heel and forefoot Zoom Air units (ball and heel cushioning for maximum arch support), check; Flexible rubber outsole, check; fancy extras and a cool design, bonus check. You can't boast about this shoe enough. The mesh upper and cloth tongue gives the shoe a sock-like fit with very little room for irritation while being durable enough to hold up for even the most avid runner. The sole is responsive enough to bring the foot as close to the ground as possible while rebounding quickly enough to prepare for the next step. Basically, it's all the necessities with thoughtful bonuses made for running enthusiasts.
Read more
Shoes with mesh uppers and ultra flexible soles of any kind tend to sacrifice durability for breathability, temperature control, and flexibility. However, the signature design of the Nike Air Zoom Pegasus+ 35 and the quality inherent in higher end Nike products means that this shoe offers the flexibility necessary for high arches without ended up with a shoe that falls apart quickly.
Ideal for those who underpronate because of high arches, the Air Zoom Pegasus+ 35 is marketed as the minimalist, lightweight, neutral running shoe of the Nike family. One of the lightest shoes on the list at around 10.8 oz (varies by size of course), this shoe still packs in heel and forefoot Zoom Air units as well as Zoom cushioning in the midsole for a uniform feel throughout.
AT Tread Outsole
Rubber Sole
FreshFoam Midsole
Ortholite Insert
When you're looking to do some off-road trail running there is no better shoe than the Hierro V3 Trail Shoe. Complete with AT Tread Outsole for ultimate traction. The Ortholite insert provides the perfect arch support for mile after glorious mile.
Read more
As an update to the Hierro line, they are designed to support the highest arches, the Ortholite Insert is removable to customize the feel. The high arch support that these shoes provide comes directly from these comfortable inserts.
For many runners with higher arches, it is scientifically proven that your foot is going to have a heavier heel strike than those without high arches. New Balance designed this Fresh Foam with the proper density to provide perfect support.
10

. Adidas Supernova Glide 8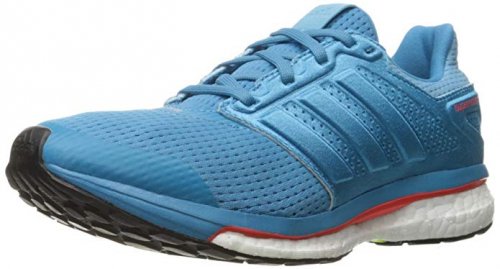 Rubber Sole
Synthetic Sole
Breathable Mesh Upper
Molded Midsole
Torsion system
Asymmetric Tread
This is a great runner for those with high arches – reasonably lightweight, cushioned, breathable yet still stable and supportive for your run. It features great traction in any weather conditions a low-top cut for ankle flexibility and a durable construction. Addidas has been dedicated to athletic gear for more than a century and you will appreciate their experience in building this shoe.
Read more
It is hard to find comfortable shoes for high arches, to be frank. So when you find one with the right amount of cushion and flexibility, you don't want to comfortable a cool, breathable fit. The engineered mesh in the upper of the Supernova Glide will allow your feet to breath well, staying cool and dry throughout your run.
The synthetic molded overlays at the heel and midfoot provide stability and support for your run. Whether your pounding out the miles on a treadmill or hitting marathon length runs, your feet will not fatigue in these shoes but will stay stable, pushing your forward with every strike.
Criteria Used for Evaluation


Comfort
Many factors contribute to the overall comfort of a running shoe. For high arched feet, those factors can be very specific.
"High arches" are so called because the foot curves upward from the toes to the heel of your feet. So, the position of the cushioning within the inner soles of the shoes is highly important. The purpose of any shoe, especially running shoes, that deal with this physical disorder is to cut down the pain as much as possible. High arches demand great cushioning and arch support. Look for runners that either have high arch support build in or are well cushioned with a removable insole so that you can use your own custom insert or orthotic.
Don't overlook the front of the foot. The toebox of the shoes for high arches must have enough room for the toes to move around a bit. This with help remove some of the pain from the area along the toes, especially for those with bunions, or hammer or claw-like toes.
Whether you have high arches, average arches or flat feet, heat must be able to get out of the shoes so the feet can cool off. Otherwise, the heat will cause moisture to build up and add more problems and complications to the feet that are already hurting from their high arched disorder.


Fit
Finding a perfectly-fitting pair of shoes can be like finding the holy grail; there are so many brands, styles, models and makes of shoes that it seems like it's next to impossible, especially when you are shopping online! Fear not, as we've ranked each product on our list for their fit and trueness-to-size to help guide you in finding the perfect match for you.
To come up with a score for the fit of a shoe, we considered several factors, like the ones mentioned above, in addition to real customer reviews, to help boil down everything into one simple score. For example, Nike tends to make shoes that are true-to-size, meaning that you can buy a pair of 11s one year, and another pair of 11s next year in a different model and they will usually still fit (unless your feet have grown or shrunk). A brand like Nike will most likely have a high score when it comes to fit, but the other variables in play, such as make, model, and purpose, will also affect the overall score.
Consider that a running shoe, with its thicker midsole and synthetic sole, might fit differently than a flat shoe, with its thinner midsole and hypothetical leather sole. Each of these shoes, even if they are both from Nike, may have similar scores for trueness-to-size, but a size 11 in one might not be the same as an 11 in the other. What's a reader to do in this case? You must also consider the purpose and type of shoe it is. Knowing what kind of shoe you are buying, and for what purpose, will help you make a better decision. A running shoe might run smaller than a flat because it has thicker materials, so read customer reviews as well to arrive at the best decision for fit, in addition to just our overall score.
At the end of the day, however, a higher score for the "fit" criterion will tend to mean that the shoe experiences a better trueness-to-size than a competing product; just don't forget all the underlying factors that are baked into arriving at that single score! Finally, if you are looking for tips on how to identify your shoe size, check out this guide by the American Orthopedic Foot and Ankle Society.


Durability
Running shoes take a beating, whether you're a sprinter, a short distance runner or a marathoner, the shoes need to hold up. This is especially so when your runner represents an investment of money. It will not matter how cushioned a shoe might be if it lasts a few days or weeks before wearing out.
Look for shoes with the following characteristics:
Rubber Soles
Rubber soles provide solid traction on numerous surfaces but rubber also makes for a very durable sole. Hardened or carbonized rubbers are abrasion resistant and more durable than softer, sticky rubber soles.
Synthetic Upper
Synthetic uppers tend to last longer than thin canvases while maintaining a breathable shoe for running. Look along the lines of the shoe to be sure there are no loose spots where the shoe can separate. Reading reviews can be very helpful in determining where any weak points in the upper may be hiding.
Compressible, but Strong Midsole
The midsole provides a lot of the cushion that is important for high arches. It should be spongy and compressible but not so soft that it won't bounce back or will collapse. Again, this is another area where reading reviews of the shoes will assist.
Weak Points
Look for lace-ups with strong eyelets and quality laces that will not break readily. Other weak points to look at are the rubber covering over the toe, pods on the outsole that may be glued down loosely, the sewing around the tongue and collar and the lining. Reviewers will gladly tell you where weak points are.


Stability
While high arches demand a lot of cushion and flexibility, that does not mean that stability and security should be compromised. You do not want a sole that is overly stiff or an upper that will push down on and restrict your foot but you do want a stable and secure fit. High arches or not, slipping in the shoe, wobbly gaits and a lack of support can cause other conditions and risks serious injury.
Look for shoes that have the following characteristics:
Stabilizing Heel
The heel counter in the shoe should hold your heel securely in the shoe, preventing it from slipping out or moving from side to side. If you have a prior ankle injury or 'weak' ankles, look for shoes with higher cuts to provide extra support.
Flexible, but Firm Sole
Your sole needs to flex but the shoe also has to be stable enough to guide your foot strikes from heel to toe. Look for a shoe that bends easily at the midfoot but cannot be folded down the center line of the shoe.
Snug, but not Tight Upper
If you have high arches you need a stretchable, flexible upper that will hug your foot without constricting it. Look for shoes that are not too binding around the midfoot and are constructed of a stretchable mesh that can move with you. The closures should not put pressure over the top of your feet, which will cause pain, but should hold on to the foot instead.


Support
Outsole
The outsole, or more simply, the sole of the shoe, makes direct contact with the ground and therefore supports the entire foot and body when in motion. Needless to say, a poorly-constructed outsole will lead to discomfort, slipping, and foot or other bodily injuries. For this reason, many manufacturers use materials that are water-, weather-, heat-, and impact-resistant. Depending on the type of footwear, one will often see outsoles made from natural or synthetic materials, such as PVC, EVA, rubber, and leather. Each of these has their advantages, depending on the shoe's purpose; however, as a general rule, they each are resistant to the aforementioned factors. They are also flexible enough to support a proper foot cycle when in motion, but they are not so flexible that they feel like a pair of socks. A sole made of the materials above tends to score higher on our product evaluations, as they are not only comfortable but also support other criteria, such as "support" and "durability".
Midsole
The midsole is designed to provide cushioning and shock absorption to the shoe, nestling the foot in comfort. Whereas running shoes tend to have thick midsoles, flats and thinner shoes not designed for high-impact activities often have thinner midsoles. The reason for this is simple: you need more shock absorption and vibration dampening during high-intensity movements or activities to maintain comfort and prevent foot injury then you otherwise would with a regular shoe, flat or sandal. Midsoles are often made from EVA (ethyl vinyl acetate), a synthetic plastic also used to make insertable orthotics. A firmer type of EVA for the midsole will make the shoe heavier, but more durable; whereas a softer type of EVA, like those found in running shoes, improve shock absorption, but wear much quicker. Podiatrists tend to prefer firmer midsoles for those suffering from orthopedic conditions, such as plantar fasciitis.
Insole
The insole is the proverbial foundation of the entire shoe. The sock liner lays on top of the insole, which is then fused to the midsole, and finally the outsole. A firm insole will give good structure to a shoe and increase its stability and durability, but it will also increase the weight of the overall product and be less comfortable. A softer insole might be more comfortable, but that comes at the expense of stability and durability. We tried to balance these weights when evaluating our products, but each reader and wearer is different, so be aware of this trade-off.
Expert Interviews & Opinions
Most Important Criteria
(According to our experts opinion)
Experts Opinion
Editors Opinion
Users Opinion
By Default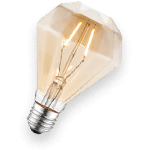 Cushion Is Key
For those with higher arches, cushion as well as support, is a key component when selecting running shoes. The impact from running puts stress on the arch of the foot, and high arches tend to act less flexible to help absorb it.
Finding a pair of sneakers with a padded heel cup, proper arch support, and a well cushioned forefoot and midsole will help reduce foot fatigue, as well as pain that results from impact absorption across the arch and foot.
Heel Cup Support
Sneakers that have deeper heel pockets or cups, will also help those with high arches, as this allows the heel to nestle into a supportive structure. This in turn helps support the arch with each foot strike on the road or trail, and will lead to an overall comfortable run.
While having higher arches can make feet sore and more quickly tired, if you find the right pair of well constructed sneakers to support your foot's shape, you won't have to fight your body's build to perform the best you can!
Other Factors to Consider


Bottom Line
Because high-arched feet tend to be more rigid, you're also going to want to look for a shoe that's more flexible to compensate. Look for shoes with an extremely flexible upper (everything north of the sole, basically) like mesh, and even a sole that bends easily in your hands. As a bonus, look for a shoe that's lightweight. Remember, you're looking to even out the impact in your stride which will naturally be rigid and uneven because of high arches.
So now that you know a little more, to get you started, check out our selection of the Top 10 Best Running Shoes for High Arches and skim through them again if needed — because the discomfort you feel should be a result of pushing your limits, not because you're wearing the wrong type of shoe. Below you will find the criteria needed in order to evaluate them yourself from now on.
Please check out our best running sneakers review too!
Frequently Asked Questions
q:

What are "high arches?"

a:

Also known as "cavus foot." (Pes Cavus is Latin for "hollow foot.") It's a condition in one or both of the feet that causes an upward curve shape between the toe bones and the ankle bone. The weight and pressure are placed on the heel and balls of the foot; causing pain when standing and/or walking. Cavus foot is indiscriminate; it will affect anybody at any age. It's painful you literally won't be able to stand.
q:

So what's the cause of cavus foot?

a:

It may just be something a person inherits; like arms that can't bend all the way or thumbs with tiny nails. Or it could be a neurological disorder. People who had suffered from a stroke, polio, cerebral palsy, muscular dystrophy, and spina bifida suffer from cavus foot. People with Charcot-Marie-Tooth disorder, one of the more common neurological disorders, can also cause cavus foot. If you have cavus foot, you should get a diagnosis just to be sure.
q:

What are the symptoms?

a:

Hammertoes (toes bent upwards), claw toes (toes clenched like a fist), inward-tilting heel (which can sprain your ankle), and the loss of muscle use within the ankle and foot (aka "foot drop"). Pain is also a nice, unwanted addition to the body.
q:

Can it be treated surgically?

a:

Let's hold off on that and call it the "last line of defense," shall we?

One way to solve this problem is to fit an orthotic device in your shoe; adding cushioning and stability to your high arched foot. Another way is to buy shoes for high arched feet. The final way is for the surgeon to add a brace to your foot. (This way can also deal with the foot drop issue.)

If you do choose surgery, you might need surgery again in the future if the problem is worse than just some "bent-outta-shape foot."
q:

So what about Plantar Fasciitis?

a:

That's tissue inflammation at the bottom of the feet near the heel. Although it's not usually found among those who suffer from cavus foot, it's not impossible. As said before, ask your doctor about it and get a diagnosis.
q:

I keep hearing about "pronation." What is it?

a:

It's how the foot rolls inward when you run. When you're running, the way your foot lands will cause a shock to the rest of your leg. Some of the impact caused to your legs when you run is not good. Hence, the importance of shock absorbing in your running shoes.

Underpronation can give your lower leg too much shock. That can cause plantar fasciitis. And/or that can be the result of high arches in your foot. So more cushioning should be placed in your running shoes.

Overpronation is when you land on your heels too much when you run. So the weight is not distributed evenly; causing heel spurs and bunions. A more constructive support and cushioning for your running shoes should be sought after.
q:

What are some other ways to deal with high arches outside of surgery?

a:

You can massage your feet. You can work on strengthening and stretching the muscles in your feet and legs that are tight and weakened. You can also remove some of the weight and pressure placed on your high-arched feet. Try some other strenuous exercise that doesn't require running.

All-in-all: You should get a better answer to this question from someone who's in the profession of caring for the feet and legs; like a podiatrist.