Best Designer Shoes Reviewed & Rated
In a Hurry? Editors choice: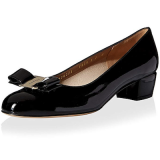 Test Winner: Salvatore Ferragamo Vara

When you hear the names Jimmy Choo, Badgley Mischka, and Manolo Blahnik, you see red carpets, runways, stunning fashion, and the very best in footwear. With a new demand to be the best-dressed, many are turning to designer shoes to make them stand out.

Whether it's with your power suit for work, that Armani dress you've been eyeing, or with a pair of jeans and a shirt, wearing designer shoes makes you look great and feel great. Despite what people may think, designer fashion is not outside of our reach, and many affordable designs can be found to complete our wardrobe collections.

We've compiled a list of the top 10 designer shoes sure to turn heads, and we hope you'll find just the pair you're looking for!
Standout Picks
Criteria Used for Evaluation
Comfort
For maximum comfort, make sure that the fit is right, that there are no pressure points, and invest in some gel insoles if needed.
Designer shoes are rarely designed for comfort, though some designers ensure there are good quality comfort elements in their footwear. These models are designed to be fashionable, unique and high-quality, and comfort is lower on the list of priorities.
Still, they are some fine designs that are worth every penny of the investment you put into them. Time to fill you in on a secret that people who walk the runways and red carpets know. Here are some of our best tips for making your new high-end footwear more comfortable:
Fit
No shoe will be comfortable unless it fits properly. Be careful to read reviews to see whether the shoe fits a little larger or smaller, wider or more narrow but more importantly than this, have a podiatrist or another expert measure your feet. The more accurate the measurements, the better the fit you will find. Often designer shoes are built in Europe, where the sizes are slightly different than American sizes, so make sure to check out sizing charts as well.
Insoles and footpads
There are insoles and footpads made for every design and every occasion, even for those super strappy stilettos! Gel insoles and pads are the least conspicuous, and thicker insoles can be useful in boots, loafers and other closed footwear.
Pressure Points
Pressure points can cause discomfort and sharp, agonizing pain. If your incredibly beautiful high-end shoe has a pressure point that is making you uncomfortable, you can try adding moleskin over the point to reduce the pressure and make your foot more comfortable.
Foot Fitness
Keep your feet in their best shape possible, ensuring that you treat any concerns early and regularly. Dry, cracked heels will feel and perform much better - even in a 4" stiletto - if they are moisturized and without callouses. The healthier the foot, the more comfortable you will be. Enjoy a foot soak or massage when your feet are tired to get the best out of them and your footwear.
Be Selective
Not every foot is meant for every style of shoe. If straps cut into your ankle or toe, look for a design that has different straps in more appropriate locations for your foot, or choose a pump instead. Pay as much attention to detail as the top designers do and you will get so much more pleasure out of your purchase.
Materials
Highest quality footwear is crafted using premium materials and careful, detail-oriented construction.
The most well-known footwear designers make it to the top of the fashion world for two reasons. First, they have amazing creativity when it comes to designing footwear that is eye-catching and stylish. Second, they understand that looks are not enough. Quality materials and build are also important. This is why people keep coming back to the biggest names over and over again.
There are some common features to a high-quality design, and the first is the engineering.
These shoes will not fall apart easily; seams are well incorporated, where appropriate, the insides are lined with quality material like leather, and heels are well designed to both fit into the lines of the shoe and stay stable.
The shoes are well-balanced, and the fit is as perfect as it can be. Stitching will be even and not abrasive.
Second, are the materials.
Leather comes in varying degrees of quality and a good designer leather shoe will use only the highest quality leather. This applies to other materials as well.
Rubber will be of high quality and thickened for durability and traction.
Satins will be well-woven and attached perfectly to the underside. There will be no dye marks and colors will last.
The investment you are making in a designer shoe demands quality and all the designers on our list produce quality. It's a terrific match!
Midsole
Choose a cushioned, supportive midsole so you can easily spend all day on your feet, if you so desire.
The midsole of a shoe is designed to provide cushioning and shock absorption, nestling the foot in comfort.
Whereas running shoes tend to have thick midsoles, flats and thinner footwear not designed for high-impact activities often have thinner midsoles. The reason for this is simple: you need more shock absorption and vibration dampening during high-intensity movements or activities than you otherwise would with a regular shoe, flat or sandal.
Midsoles are often made from EVA (ethyl vinyl acetate), a synthetic plastic also used to make insertable orthotics. A firmer type of EVA for the midsole will make the shoe heavier, but more durable; whereas a softer type of EVA, like those found in running shoes, improve shock absorption, but wear more quickly. Podiatrists tend to prefer firmer midsoles for those suffering from orthopedic conditions, such as plantar fasciitis.
Given that designer pumps or heels, or even other footwear for that matter, are not always the most comfortable, we paid special attention to the midsole of each of the products on our list. We only included pairs with midsoles that provide proper support and comfort for the wearer because, at the end of the day, you should be stylish, but also comfortable and supported.
Style
Choose a style that suits your personal taste and the event you'll be wearing your footwear in.
For the money that you spend on a designer model, you should get style. Nothing boxy or gaudy, nothing that appears poorly made or made with little thought to how it will look on your foot. You've carefully selected the other pieces of your wardrobe, and you want a shoe that will complete or even make the look.
Style is partly subjective (what you like) and partly objective (what scientists will tell you are natural inclinations toward certain aesthetics). An appealing look will be symmetrical and if off-symmetry, it will have a pattern that is pleasing to the eye.
Subjective style can change with the times and the age group. Big, bold colors and beautiful rhinestone detailing are appealing to some, while classic but muted color and fine, subtle details are appealing to others.
Subjective style is harder to pin down because everyone has different tastes and preferences. Whatever your style though – bright and bold and energetic or muted and classic, there is a top designer out there for you! All you need to do is a little digging and browsing through their collections, and you'll find what you want in no time.
Versatility
Opt for designs that can be worn to multiple occasions and with multiple outfit styles.
We recognize that many people will buy a high-end design with a specific purpose or an event in mind, while others may purchase it for no specific function.
Whether you're purchasing a shoe for a gala or a sneaker for school, we recommend that you consider the purpose of the footwear before you buy. If you're attending a formal function, for example, are you going to be able to wear the design for other functions as well? Can it be dressed down or dressed up a little? If you're purchasing a white shoe for your wedding, can it be dyed later to suit other occasions?
The more versatility you can get out of your footwear, the more value for the investment you will get.
Consider the season as well. Will the design be appropriate only in winter or only in summer? Or is it great for all seasons? Is it water-resistant to light rain and showers? Is it protective enough for winter? Breathable enough for summer?
Does the design require special care to make it last? Can the suede or leather be treated and conditioned with standard shoe sprays? Will the colors run or spot when wet?
The more you consider the details, the happier you will end up! When you're shopping for footwear in these relatively high price rangers, it is best to consider whether or not you will be able to get more than just one wear out of them.
Our Favorites
1

. Salvatore Ferragamo Vara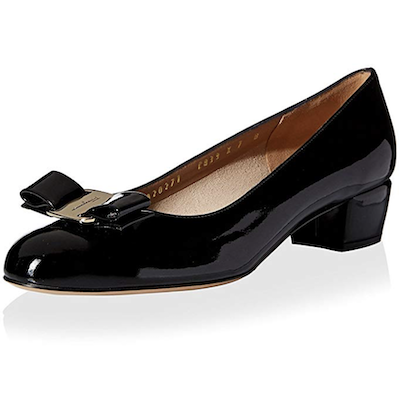 Salvatore Ferragamo was known for his creative, handmade, high-quality footwear. His daughter, Fiamma, continued his legacy with the Vara pump 40 years ago. Topped with Ferragamo's signature leather bow, there is a very good reason these classic pumps have become a signature for the family-run design house.
The leather (grosgrain on the original) bow and emblem on the vamp of this design immediately identify it as a Ferragamo, with all of the luxury material and high-quality construction that comes with the name. The upper in this classic pump is patent leather with even more leather in the insole and the sole. The wrapped 1.25-inch heel is another signature mark of the Ferragamo name.
The beauty of the Vara is that you can dress it up or dress it down however you like. It will go great with a pencil skirt for a busy day at work, or even with a pair of boyfriend jeans and a loose blouse for a casual evening out. The versatility of the Vara is endless, which is one of the reasons it is high on the top of this list.





Adding to the ballet flat arsenal in this guide is the Rosalyn flat from Taryn Rose. Given the name of both the model and the designer, it is no surprise that we find a rose accent at the front of these classic square-toe flats. They are fun and feminine, and they come in many color options out of which you will certainly find at least one that you love.
The Rosalyn is made from genuine suede for that plush, luxurious finish. It has a leather lining which maintains a healthy climate inside, and the sides are elastic for easy adaptability to your foot shape. In terms of comfort, the Rosalyn comes with an Ortholite footbed for cushioning and moisture-wicking, as well as Poron inserts for energy return. Foot fatigue is a thing of the past in these darling flats.
The rubber outsole on the Rose won't let you slip no matter what surface you find yourself on. With these romantic shoes, you can go out in a pair of shorts or jeans or a skirt or a dress and be adorably sweet in all. If you're looking for that one flat to complement all of your looks, you've finally found it.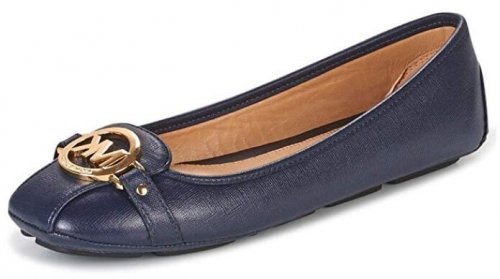 You can't miss these Michael Kors flats with the metallic MK logo on the vamp. The Fulton can easily be dressed up or dressed down, and is made from water-resistant soft leather that will hug your feet for comfort. Designer style in an ultra-comfortable shoe.
Designer shoes are not always built for comfort but this Michael Kors flat certainly is. The leather upper is soft and will gently hug the sides and top of your feet. These are an upgrade to the classic ballet flat style that can easily be dressed down for your favorite casual outfits or dressed up for special occasions, work or fun.
The Michel Kors is that staple flat that we all need in our wardrobe. It goes well in both casual and more formal occasions, and you will love showing it off to all of your friends. Its high-quality materials ensure its long lifespan, and the square toe adds a touch of interest to a classic look. An interesting take on a classic!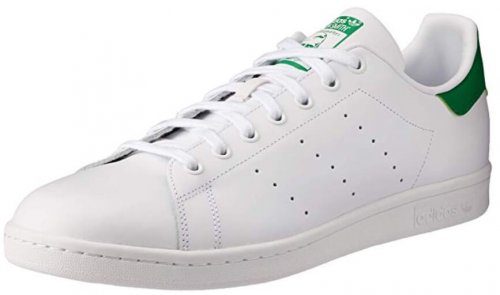 Adidas Originals Stan Smith sneaker is a reintroduction of the classic '70s sneaker. It maintains its traditional tennis style and has a clean, simple look with a low profile. Three perforated stripes line the sides for ventilation. They are made with rich, full-grain leather. This retro throwback sneaker is comfortable and great for exploring the city.
These sneakers feature the Stan Smith logo on the tongue and heel. Stan Smith is a famous tennis player that became the world champion in 1972. Adidas then partnered with Stan to be the face of this iconic sneaker.
The rubber pimple grip sole of the Stan Smith provides supreme grip, so even if your plans include wet weather you can be sure you'll have good footing on any surface. With a comfortable fit, their simple look and clean design, these sneakers will go with any outfit you choose to travel in.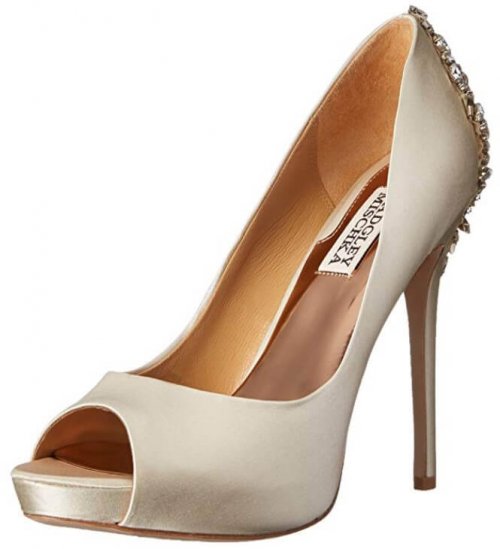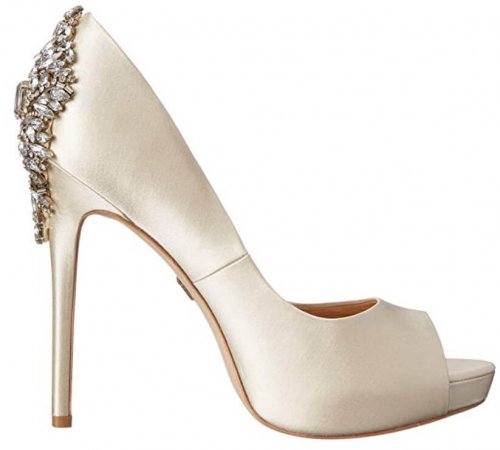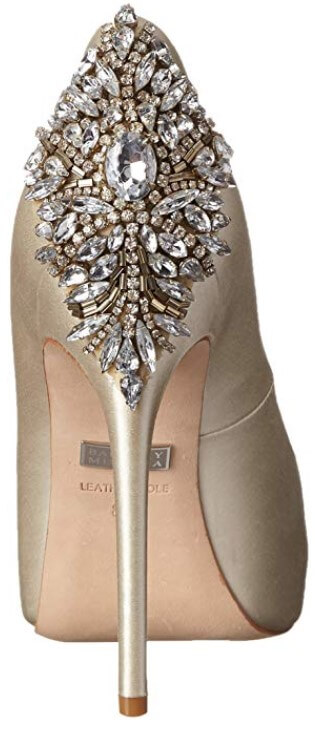 The Badgley Mischka Kiara rhinestone embellished stilettos are a beautiful addition to any wardrobe and explain why this duo of fashion designers quickly rose to the top of the fashion world when they teamed up in 1988. These are perfect for the young fashion-minded wearer who can't get enough of these classic Hollywood styles.
What says youthful, fun, fashionable and elegant all the same time if it's not well designed, well-placed bling on a long stiletto heel? These are attention-grabbing and perfect for any semi-formal or formal occasion. However, slipping them on while wearing your favorite well-worn jeans works so well too.
Stilettos are great for giving height and a long, sleek look but they can be a little unsteady and hard on your forefoot. Enter the platform which better distributes the pressure on your forefoot, making the Kiara more stable and easier to walk in. Plus, have you noticed that cute little peep-toe? We did, and we love it!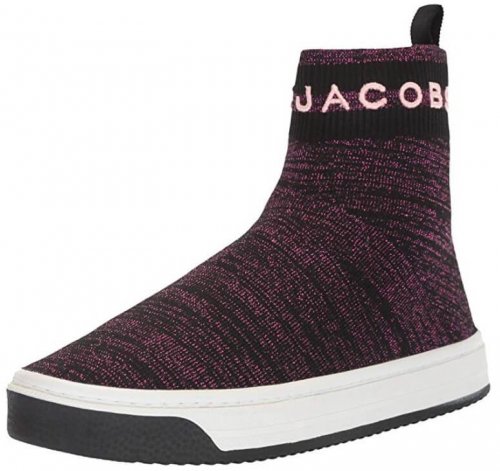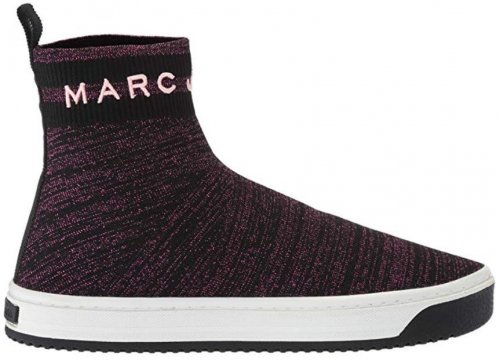 Don't get fooled by the name - this design isn't a sock, although it very well fits like one. The Dart Sock is the latest must-have casual option from Marc Jacobs, a bootie-like sneaker made from lightweight materials to match all of your urban outfits. It is flat-soled and comfortable, and truly the ultimate companion in all fashion-forward settings.
The Dart Sock is made from knit cotton that adapts to the shape of your foot and keeps you comfortable and abrasion-free. The height of the design is that of a classic high-top sneaker, and there is a pull-tab in the back so you can easily slip into these babies. The outsole of the Dart Sock is made from rubber to keep you steady on your feet but is also flexible, not restricting your movements in any way.
The innovative, sleek look of the Marc Jacobs Dart Sock is all the rage this season. Chunky dad sneakers are slowly fading out and these futuristic, street-inspired kicks are coming out at the top. Get yourself a pair today and enjoy taking them out on the town!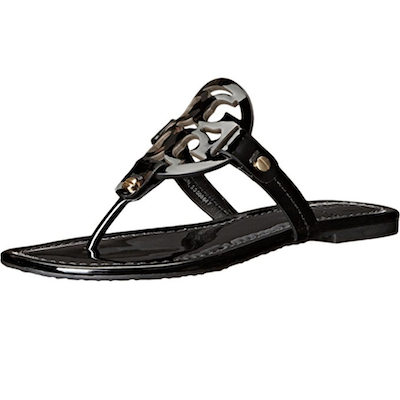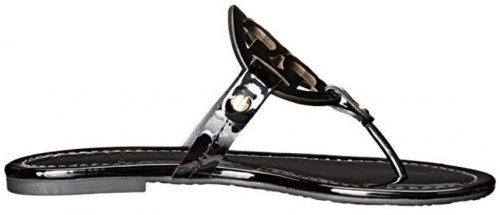 Tory Burch's signature Miller sandal was designed for the on-the-go woman that needs comfort and versatility but demands style and craftsmanship. Featuring rich leather with a graphic laser-cut double-T logo, this versatile summer option goes with everything in your wardrobe.
Designed with genuine leather and a plastic sole, these sandals are comfortable to wear and easy to maintain. Pair them with jeans, shorts or anything in between, and they are sure to impress with the Tory Burch logo woven into the straps. Lots of colors to choose from means you might have to pick up a couple of pairs!
If you're looking for that high-end design to wear in the hottest of weathers, you have definitely found it. With its comfy flat sole and flexible leather straps, the Miller from Tory Burch is perfect to wear both on the beach and to a cute summer date night out!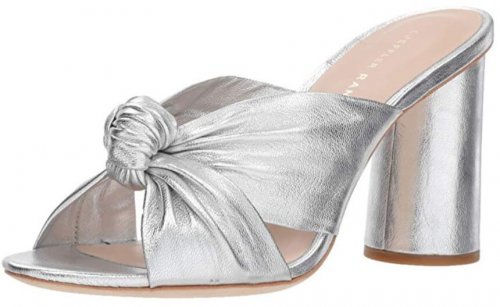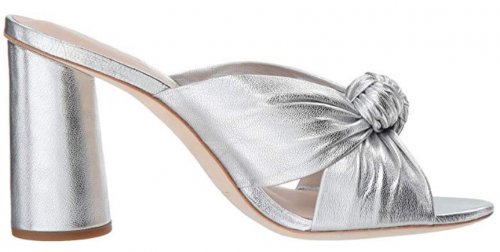 Heading out and wanting to look drop-dead gorgeous but it's hotter than on the surface of the sun? Well, we've got just the pair for you - meet the Loeffler Randall Coco, a mule that is sensual, eye-catching and completely devastating in its beauty. With that metallic sheen and a delicate knot on the front, you are sure to turn heads and be the best-dressed person at the event you're attending.
The Coco is made from goatskin leather. This is a sensitive material, prone to scuffing, but it is also incredibly soft on the skin and requires virtually no break-in time. The design of the Coco is open so you can easily show off your pedicure, and the heel is circular in shape. It is only 3.5 inches high, meaning you won't find it difficult to walk in these for hours on end.
The Coco is an amazing option because you can wear it to a lunch with friends or a garden wedding or anywhere in between and look equally stylish. Its fit is a bit narrow, however, so be advised that the brand encourages you to order a size up.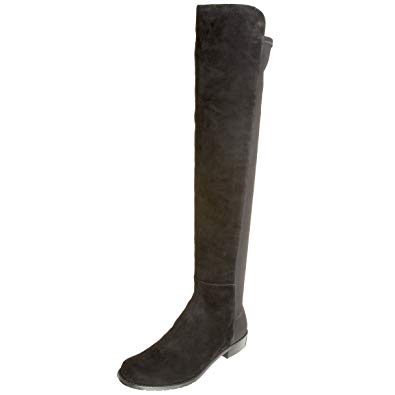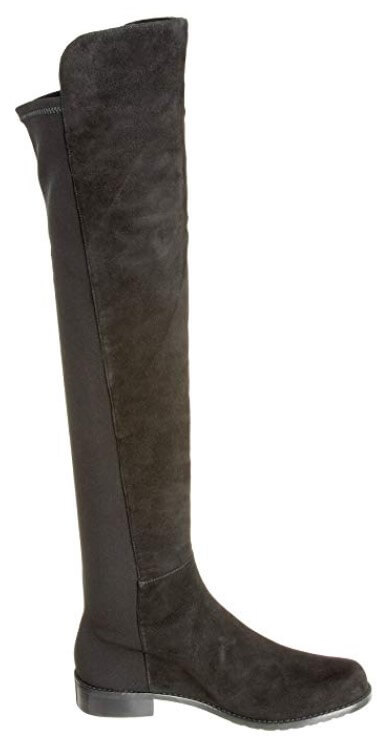 These gorgeous boots by Stuart Weitzman feature an over-the-knee height that is classy yet surprising. They have two panels - front and back - and a low, casual heel, meaning that you can wear them pretty much anywhere and be amazingly comfortable. You can pair these boots with any outfit for a sophisticated look.
The 5050 boots have an almost riding boot look, but that's not to say they look farm-ish. Made from 100% leather, they are versatile and you could wear them to a variety of events in different settings. They look great with dresses at a fancy event or with jeans on a casual night out.
The short 1-inch heel gives you the right amount of height without being tall enough to cause any annoyance while walking all day. The rubber sole will keep your feet from slipping underneath you while out and about.

10

. Kate Spade New York Glenn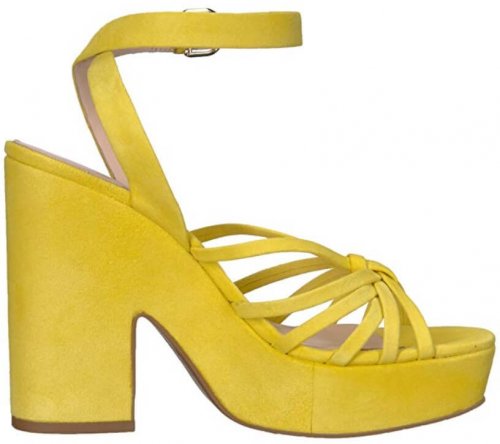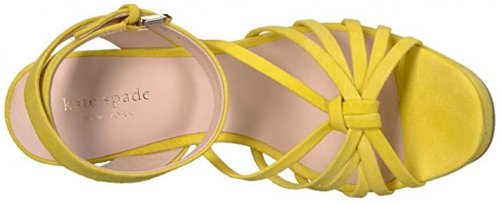 If you're the type of person who loves to show off their more playful style, who is into bold colors and even bolder shapes, then make sure you don't skip the Glenn sandal from Kate Spade. Shown here in vibrant canary yellow, this is a warm-weather option that draws the eye and definitely makes a statement.
The Glenn is made from goat suede for a gentle feel on your skin, and the lining is sheep leather so that you are 100% comfortable while wearing these. Points of interest are definitely the delicate criss-cross straps over the vamp, and the ankle strap which is adjustable thanks to a buckle closure. The retro vibe of these sandals is enhanced thanks to the chunky heel, almost 5 inches high with a 1.4-inch platform in the front.
We admit that the Kate Spade Glenn isn't for everyone. You can't take these to work, and they may be a bit too loud for some formal events. However, if you feel like they speak to you and match your personal aesthetic, don't let anything get in your way! Rock these '70s sandals like there's no tomorrow!

Subscribe to our Newsletter