Best Strappy Heels Reviewed & Rated
In a Hurry? Editors choice: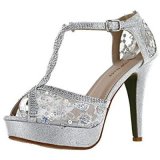 Test Winner: Top Moda Hy-5

Have you ever found the
perfect pair
of heels online? The ones that can match with all your outfits has excellent reviews, and has just the style and design you're looking for? Then you might also know the disappointment that often hits you when they arrive in the mail and end up to be the wrong size. Not enough to make you return them right away, of course, but just enough to
irritate your feet
, to dig into your heels or to let your toes slide out too much from the open toe every dozen steps. By the time you realize the sizing's wrong, it's already too late. Thankfully, strappy heels are coming back into style.
Standout Picks
Criteria Used for Evaluation
Comfort
Although comfort is key to all footwear, they are especially vital when it comes to high heels. We all know that feeling of slipping off your heels after a long night and feeling as though your feet will need two weeks of bed rest to recover from all the cramping and toe-pinching. However, it doesn't need to be that way. Comfortable high heels are hard to find, but they're definitely out there if you search for them and keep an eye out for some key features. Of course, they can't be compared to your cushioned running shoes, but for a full-day event, they will suffice. There are some particular features of a high heel to look out when seeking a comfortable pair.
Insole
The insole is the proverbial foundation of the entire shoe. The sock liner lays on top of the insole, which is then fused to the midsole, and finally the outsole. A firm insole will give good structure to a shoe and increase its stability and durability, but it will also increase the weight of the overall product and be less comfortable.
A softer insole might be more comfortable, but that comes at the expense of stability and durability. We tried to balance these weights when evaluating our products, but each reader and wearer are different, so be aware of this trade-off.
Outsole
The outsole, or more simply, the sole of the shoe, makes direct contact with the ground and therefore supports the entire foot and body when in motion. Needless to say, a poorly-constructed outsole will lead to discomfort, slipping, and foot or another bodily injury. For this reason, many manufacturers use materials that are water-, weather-, heat-, and impact-resistant.
Depending on the type of footwear, one will often see outsoles made from natural or synthetic materials, such as PVC, EVA, rubber, and leather. Each of these has their advantages, depending on the shoe's purpose; however, as a general rule, they each are resistant to the factors mentioned above. They are also flexible enough to support a proper foot cycle when in motion, but they are not so flexible that they feel like a pair of socks.
Heel
If you know you're going to be standing or walking a lot, it's best to keep the heel of your shoes low. Especially if you're on the shorter side, you may be tempted to reach for the sky-high platform heels that, although able to elongate the legs and give your height a boost, can be a nightmare for walking. The ideal heel height is from one to three inches, where maximum comfort and ease is provided for walking and standing. Less stress is put on the ankles, knees, and lower back, which prevents fatigue and will keep you feeling energized and comfortable for much longer.
However, they just don't have the same look, and may not be suitable for the event you're planning on attending. Although heels that are around four inches put stress on the joints, they are okay if you're not going to be on your feet for too long. So long as you have the proper size, they should be alright for a wedding or a night out with friends.
When it comes to five- or six-inch heels, however, it's a different story. These are very difficult to walk in and can often cause foot fatigue and strain, even putting strain on your lower back in the long term. They should not be worn for walking or standing and should be limited to only a few hours of wear.
Style
No matter how stylish, how unique, or how eye-catching a pair of heels is, you won't be able to wear them with confidence if they aren't of the right size. Even though strappy heels are adjustable, you should still take care to find the perfect size so that you can get maximum comfort and ease when walking.
The most important step is, of course, to measure your foot and to determine your shoe size. There are plenty of charts online that tell you your shoe size, but if you're in a shoe store, the store may the tools you'll need to measure your foot. Then, pick the shoe size that corresponds to your foot size.
However, some manufacturers make shoes that are sized up or down, meaning they may be half a size or so larger or smaller than the typical shoe of that size. If you're buying online and can't see their sizing for yourself, we recommend you take a look at customer reviews. Customers will often state whether the shoe was true to size, and you can take their advice to choose your pair.
Once you have your high heels or are trying them out in a store, you can determine whether the size is correct. When you wear them when standing, the heel of the shoe should fit snuggly against the heel of your foot. If there is space, it should not be more than around three-quarters of a centimeter. A bit of room can be good because your foot is likely to swell a little if you'll be walking or standing them for a long time, and extra room will be able to accommodate that swelling.
Upper
If you wear heels on a regular basis, chances are you've already formed a preference for either closed- or open- toe heels. However, if you're getting bored of your style and are looking to change it up a bit, or if you'd like to expand your shoe variety, consider getting the type that you don't normally reach for. As always, there are pros and cons to both that you should take into consideration.
Open-toe heels have a fun and playful look that is great for less formal occasions such as parties. The most obvious advantage of there is that you get to show off your pedicure, which may not get a chance to see the light o day otherwise. Open-toe heels are most suitable for warmer weather such as in spring or summer. They are great when paired with skirts and dresses to top off an adorable outfit. However, one potential downside is that if your shoes are slightly big, your toes may feel as though they are sliding out from the open toe when walking too much. This happens most often with sky-high heels and stilettos because the elevated heel prompts your entire foot to slide forward when walking or standing for long periods of time.
Closed-toe heels, on the other hand, are more modest and professional. They can really add to a look of maturity that you would want to have when in an office environment or at a formal occasion such as a wedding. However, depending on the style and color, some could also be dressed down if need be. Although they won't allow you to show off your new pedicure, the advantage is that your toes won't slide forward as much. However, this means they are prone to toe-pinching, which is not a problem with open-toe heels. This is because your toe would slide forward nonetheless when walking and would drive into the narrow toe of the shoe, causing discomfort. This is especially true for heels with a pointy toe design.
A third design is the peep toe, which has only recently become popular. This design is exactly as the name states: it shows only a peep of the toes and are somewhere between closed- and open-toe. They can be dressed up or down, but are more suitable for casual occasions. Again, you may feel as though the toes are thrusting out from the opening if your shoes are a bit large, but you will not get that toe-pinching feeling as with closed-toe heels.
In general, open-toe heels are fun, informal, but should not be too roomy. Closed toe heels can be formal or versatile, but are less suitable for walking or standing for too long. If you really want the best of both worlds, consider peep-toe heels. With this in mind, you can choose the design that will best suit your conditions.
Durability
To assess each of the products on our list for durability, we not only read through thousands of customer reviews on our recommended products, but we also looked for some of the hallmarks of quality construction. From brand name reputation to their initial smell out of the box, there are a few ways of identifying a well-built, made-to-last product.
The Details
A zipper that doesn't zip or snaps? Poor threading technique? A smelly, chemical residue on the shoe when you open the box? All these details were looked for an evaluated when assigning a score for durability.
Materials
Certain materials last longer than others, even if that comes at the expense of a higher score in the "comfort" criterion. Materials that are synthetic, thicker and firmer tend to score higher on durability.
Product Purpose
A shoe made for running and high-impact sports will not likely last as long as a good pair of general activity shoes, and that's okay. Being aware of the shoe's purpose is critical for you as a reader and for us as a reviewer. Although shoes that will last longer score higher on this criterion, you might also see high scores to shoes with a more limited durability, if that product was specifically designed for certain purposes that involve high-impact and high-stress motions. We take into account the type of shoes you are trying to purchase when assigning scores to shoes in this criterion.
Brand Name
A product is a promise made, but a brand is a promise kept. A brand name is often a signal of quality and consistency in construction and durability from product to product. Although there are always exceptions to this rule, quite often brands that perform continue to perform. Brand names on our list tend to score higher in the durability score.
Top 10 Picks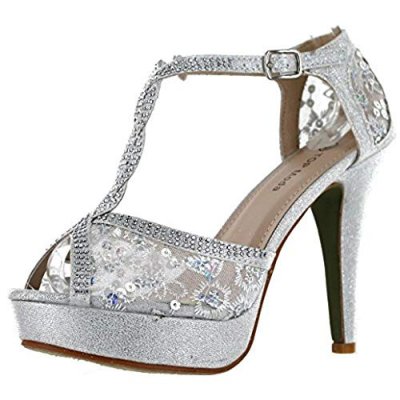 Making waves this year is the Top Moda Hy-5 Crochet. Its simple T-strap design paired with lacey crochet heel and peep toe make it worthy of fancier affairs, but also to dress up those jeans for date night. Great to act as a wedding shoe, or black-tie event, it brings some sparkle and sophistication to a sexy pair of strappy heels. If you're in search of a new pair, be sure to check this one out!
The Top Moda Hy-5 has an open peep toe design, with crochet lace accent on the heel and toe box. Straps run from the toes, into a t-strap atop the foot, and around the ankle to a buckle closure, all of which sparkle and shine with rhinestone accessories. Adjustable fit can be found with the buckle closure, so you can fit as you like. Available in black, neutral, and shades of silver and white, it's best suited for weddings or fancy affairs.
The platform design of the Top Moda Hy-5 is close to one inch but allows for an easier toe-off motion when walking. The heel is about 4.5 inches, with a stiletto to keep the design sexy and appealing. Made from all synthetic materials, it's considered vegan-friendly as well. Padded footbed gives a bit of extra cushioning during wear, and the crochet is an elegant floral design.

2

. Guilty Shoes Gladiator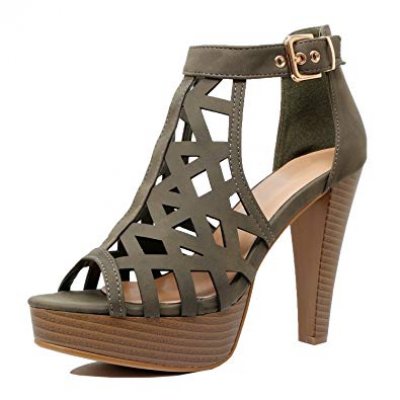 Gladiator shoes are a type of shoe style with straps running across the front of the foot, just as in the sandals worn by ancient Greeks and Romans. They may look complicated, but their straps are often easy to adjust, and they are great for when you get bored of regular plain heels or sandals. With a 4.5 inch heel, these particular heels do wonders to elongate the legs and give your height a boost. Though their platforms are thick, they retain their lightweight so that walking is made easy. Along with their comfortable fit and low maintenance, you're sure to find a color and style you love.
To remove any dirt, simply use a damp cloth and a bit of mild soap to wipe it off. You can also use a rubber eraser to remove smudges. As they are synthetic, they are not as high-maintenance as shoes made of leather and the like. Don't let their 4.5-inch heel scare you away. These heels actually have a cushioned insole and an ankle strap that hugs the ankles, providing a snug fit that contours the foot.
These heels are affordable. They are great for a casual spring or fall outfit but can be worn all year round as well.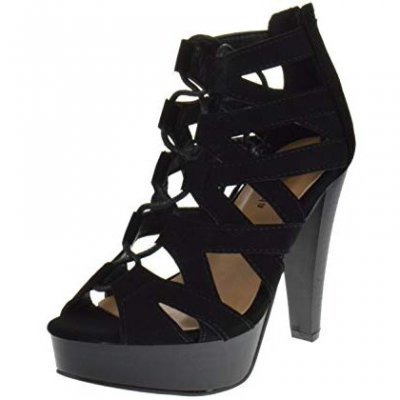 This sexy heel has all the straps, all the colors, and the height to leave you looking unforgettable. The Top Moda Table 8 keeps a svelte cross strap design, with center lace up to keep you secure and in place. A platform design makes walking easier than other heels, and with all the great color options, you'll find one you'll fall in love with for certain!
The Top Moda Table 8 wraps your foot into a strappy cage of interwoven criss-cross design, giving it a royal appearance covered in sexy aesthetic. Synthetic straps make the Table 8 durable, and heel zipper makes them a cinch to get on and off, as well as give them more appeal. The lace-up strap connects the interwoven uppers, so you can get the best fit and feel for your foot.
On top of the sexy style the Table 8 keeps, it's also available in several hues, and even a denim option. Not only will you find one that will be a classic black staple to your footwear collection, but you may also find a color that is your new go-to as an accent style of footwear! Heel raise meets about 4.5 inches and keeps a stiletto profile with a tapered look.

4

. Getmorebeauty Peep Toes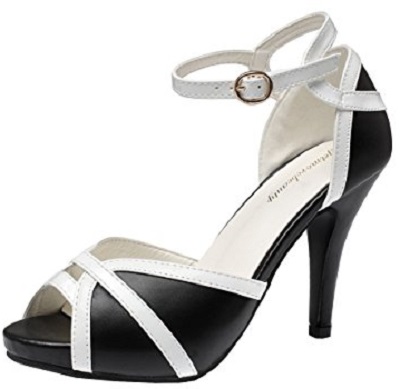 Not fond of open-toed heels but wishing you could still show off your pedicure somehow? These peep toe heeled sandals can take care of it all. Made out of synthetic materials and boasting a simple yet eye-catching design, they are great for a night out with friends or with a date. Despite having a thin four-inch heel, they are easy to walk and stand in. The strap on the ankle means you can adjust the shoe to your ankle size to prevent pinching or to stabilize the shoe. However, keep in mind that some reviewers have claimed the straps to be hard to adjust, but once they are set in place they won't come loose.
Made out of synthetic materials, they are entirely man-made and vegan-friendly. They are flexible and will not cause foot discomfort. With straps that are of a different color than the rest of the shoe, it really brings out the unique peep-toe design. They are eye-catching and are sure to earn you many compliments!
Sitting at around the middle of our price range, these heeled sandals are a great deal. With their unique look, they can be worn both for casual and formal occasions, meaning you can make the best out of the money you spent on them.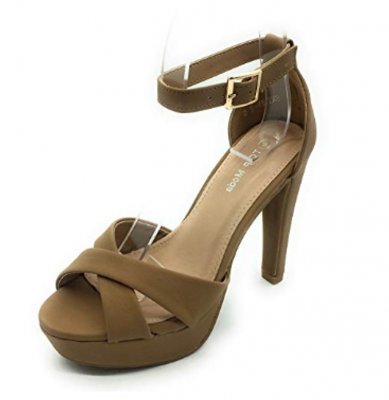 Who doesn't love a sexy ankle strap? It accentuates the ankle and calf and pairs great with short skirts and dresses for a bit of structure. The Top Moda Table 1 comes in a few ankle strap styles, one of which is a T-strap closure, the other simply the ankle buckle and strap. Available in wide variety of colors and sparkles, it will make a hit during your next formal event.
The Top Moda Table 1 mixes together a strappy cross found at the toe, consisting of thicker straps to hold your foot in place. A closed heel without zipper hugs the heel, and ankle strap buckles you in securely. This model comes in both open or T-strap design, as well as various colors. Material is from softer Nubuck leather, and a peep toe allows for showing off fresh new paint on the toes.
A four-inch heel makes these great for going out, and a chunkier heel instead of a stiletto allows for a longer duration of wear. Platform allows for better balance and toe off stride when walking. With the variety of strappy options to select, you are certain to find one that stands out to you, whether it glitters or lights up the evening with highlight pink!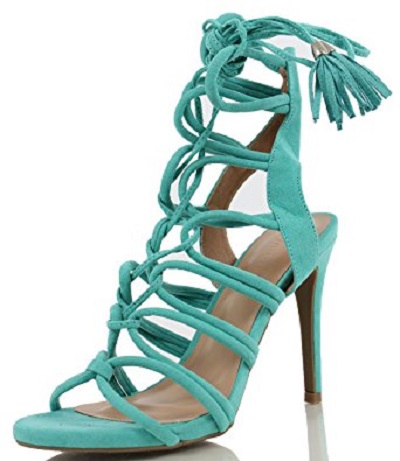 This another great pair of gladiator heels that are great for informal occasions. They have a complex lace-up design but are still easy to adjust and put on. Made out of synthetic material, they are soft, comfortable, and made to prevent foot discomfort. Their vibrant colors also add a nice touch, though they are also offered in more neutral tones such as black and taupe. Overall, they are great for a night out with friends and can definitely spice up any plain outfit. Just make sure to order around half a size large, as reviewers have claimed that the model's sizing runs small.
The lace-up that runs along the shoe and up the ankle is a unique design that is hard to find anywhere else. They are very stylish and come in vivid colors such as coral and jade. Despite there being a lot of laces on this shoe, they are comfortable and will not dig into your foot if you find the correct size. The material is soft, and the overall fit minimizes the likelihood of foot fatigue and discomfort.
These shoes are very low priced, but don't let that fool you into thinking they are cheap and of poor quality. They still look amazing, and the material has an authentic feel.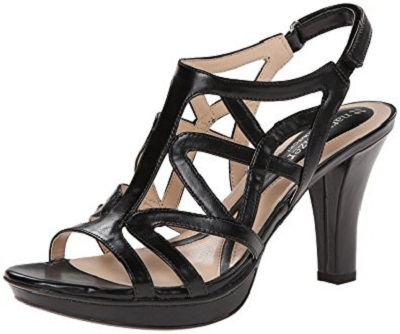 To start off our list is a pair of dress sandals that are simple, comfortable, and versatile. These have an open toe and an intricate, yet neat, strappy design that makes them stand out from all the others on the shelf. They provide comfort and can be dressed both up and down depending on the situation. Their synthetic outsole prevents slipping, and their three-inch heel ensures you don't lose your stability while retaining their great look. In addition, they are offered in a variety of colors so that you can find the perfect match for your outfit.
The dress sandal style means it's designed to provide more ease of walking than most heels. You have an option between faux leather or fabric upper, both of which are comfortable against the foot and will not cause uncomfortable friction. With a 3.25 inch heel, these aren't too tall but can still be dressed up for any big event. They're great for those who are naturally tall but would still like a pair of heels that will add a finishing touch to an outfit.
With so many great features, these heels are bound to be a bit pricey. However, they are still affordable, and their versatility renders them a great investment.

8

. Getmorebeauty Snake Stripe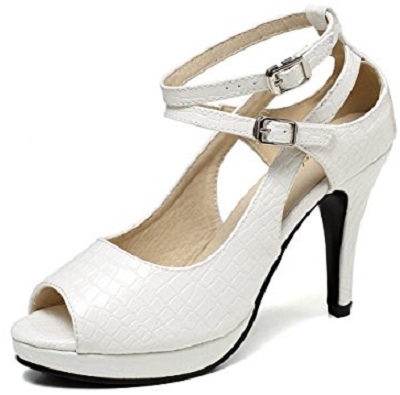 These snake stripe dress heeled sandals have a simple yet adorable design. The peep toe design minimizes the potential discomfort and toe-pinching that may come from a closed toe. Straps are both around the ankles and run along the front of the foot, providing stability to the ankle. The heel is sturdy and the heel back curved to provide maximum ease when walking, along with their low heel height. In addition, their snake stripe design adds a touch of personality to the typical uniform color and renders them great for pairing with outfits in uniform colors. The only major downside is that the strap is quite thin and can be difficult to adjust, but when put into place they are not a problem.
Although these shoes are all snake stripe, they are available in many different colors such as beige, white and red. They are also offered in black with red and white straps, which have an adorable and eye-catching look. They are all made of patent leather except the uniform black, which is on the velvety side.
If you're not fond of high heels but still need a pair for a job interview or any other formal occasion, these heels are the perfect height. At around 3.15 inches, they can keep you comfortable without sacrificing style. This pair is a bit pricier than most of the others on our list, but not by much. They are definitely worth the money for their snake stripe pattern that can add a last-minute twist to an otherwise plain outfit.

9

. Kaitlyn Pan Pointed Toe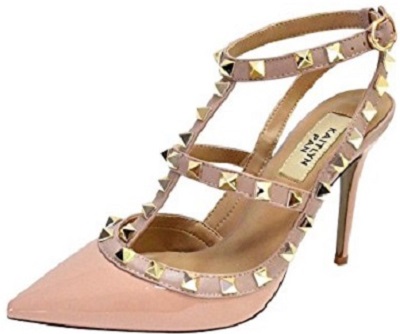 For a more fierce look, consider these studded pointed toe heels by Kaitlyn Pan. This line of shoes replicates some of the most stylish shoes worn by celebrities, but their great appearance and amazing quality set them apart as unique. The studded straps give these heels a unique look that is bound to spice up any outfit. Made of genuine leather and hand-crafted for maximum quality, they are comfortable and durable. Their straps are convenient without sacrificing style. With over a dozen colors to choose from, they can be dressed down, such as with ripped jeans, or with a dress for a semi-formal occasion.
Though the straps are studded and may seem stiff, they will not dig into your skin and cause discomfort at all. They are designed to naturally caress the shape of your foot, keeping your foot in place and comfortable rather than causing unnecessary friction.
Kaitlyn Pan is a company based in China that, according to their Etsy description, actually handmades all of their shoes. Each shoe is carefully crafted with high-quality materials to ensure all your needs are met. These shoes are more expensive than the others on our list. However, it's important to take into perspective that they are made of leather and handcrafted. Plus, they are still far more affordable than the shoes they replicate while retaining the same great quality.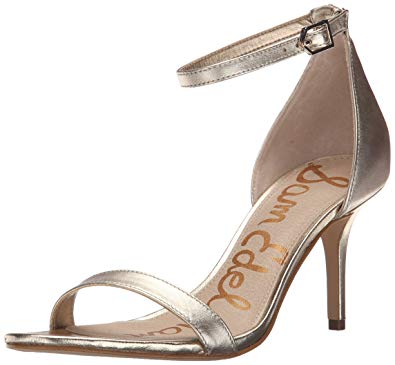 These sky-high heels by Sam Edelman redefine the concept of minimalism with their clean yet elegant design. It features an open toe and an ankle strap. It's simple! In addition, the shoe is offered in a wide range of colors such as neon yellow, light orange, and pale blue. They are also offered in 100% suede leather. Their 3.25-inch heel does wonders to elongate the legs and boost your height. However, they might not be the best for walking or standing because of this.
The strap at the ankle isn't simply there to look nice. It has multiple holes in it so that adjusting it to a snug fit is made easy. The clasp and hook closure renders them more convenient than typical buckle enclosures. The 100% leather upper is comfortable and flexible, minimizing foot fatigue when walking or standing for long periods of time.
Though on the pricier side compared to some of the other shoes on our list, they are still a great bargain. The durability and versatility of these shoes render them a worthy investment and ensures that not a penny goes to waste.

Subscribe to our Newsletter