Best Insoles & Orthotics for Flat Feet Reviewed
In a Hurry? Editors choice: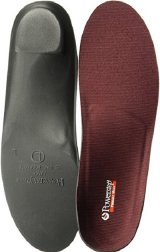 Test Winner: Powerstep Pinnacle Maxx

Do you have
flat feet
? You're not alone. In just the United States, 1 in 4 people do — that's approximately 78.5 million people! Just because it is common, however, does not mean it isn't an uncomfortable and even painful situation. If you're looking for pain relief or prevention, then a good
pair of insoles
can do a lot to help with your condition. Insoles and orthotics, used interchangeably from here on out, are shoe inserts made to remedy the discomfort of various foot ailments. Insoles specifically for flat feet are
widely available
, and can even be purchased at relatively low prices, giving you the chance to try them out and opt for the ones that work the best in providing you with
much needed relief
.
Standout Picks
Criteria Used for Evaluation
Support
The amount of support you get is directly related to the rigidity of the arch in the insole that you choose. Rigid and semi-rigid are the two types of arch support orthotics available. Semi-rigid insoles, such as the NAZAROO orthotic, feature a somewhat flexible build. If you have tried orthotics and found them to be "too stiff," look for the semi-rigid.
Rigid orthotics, like the Spenco Rx, are nearly completely stiff. These are often the most supportive insoles available and have the longest break-in time. If you are looking for aggressive arch support, reach for rigid inserts.
The rigidity factor will always be in relation to how firm you need your arch support but, also, the more rigid the insole, the more motion control is occurring. Motion control helps determine the amount of your foot rolling or not rolling, so to speak.
Providing you are flat-footed, as you walk, your natural gait has an overpronation to it. This simply means there is little to no motion control and your foot is rolling inward way too much. With rigid insoles, typically speaking, there is more motion control; thereby, lessening the amount of inward roll. Using a more rigid insole as a severe pronator, you may or may not correct the underlining issue, but you will surely reduce the amount of daily pain you have been experiencing. Because of this, we recommend a more rigid insole for severe pronators.
Shock Absorption
One of the first things you'll notice when you put on a pair of footwear is how cushioned it is. More cushioning (and thus shock absorption) often means less fatigue, softer steps, and an overall improved level of comfort.
Furthermore, problem feet often require extra cushioning to ward off heel spurs, metatarsal pain, and to enhance or even replace the natural padding of the foot. The cushioning an insole has, therefore, is essential in choosing the right one for yourself.
Insoles and orthotics come in a range of materials, mainly dependent on its intended function. Orthotics that focus on relieving the pain of flat feet are often made of gel or foam. EVA foam, found on insoles like the Powerstep Pinnacle, is a popular choice because of its flexibility and supportive cushioning ability. EVA foam is lightweight even when it is thick, making it an excellent choice for the construction of an orthotic. Gel, on the other hand, provides superior shock absorption. Orthotics often mix gel and foam for this reason.
The perfect insole should be soft and comfortable, but not so soft that there is no shape to guide and correct your feet. A level of firmness is especially important for those individuals who have flat feet, as the lack of height difference in the arch area could lead to unnecessary foot issues that can be easily prevented.
Style
Before you can choose the best-fitting orthotic, the type of shoe you plan to wear needs to be considered. For example, full-length orthotics take up the entire footbed of a shoe, making them an unwise choice for a pair of flip-flops or strappy sandals. The flipside is that too short of an insole will slip around uncomfortably inside of your shoes. (This can also happen if you trim them too much)
The thickness of an insole also needs to be reviewed relative to your shoe. It's all well and good to grab the cushiest orthotic available, but if the insole forces the tops of your feet to rub against your shoe, or takes up all of the room in your toe box, it's useless.
Nowadays, almost any type of shoe can be fitted with an orthotic. Not just made for hiking boots and lats, you can purchase them for high heels, open-toed footwear, even for summer styles that are often revealing and unforgiving of any inserts. Some manufacturers even take performance into consideration, making special products for athletes, runners, and even for recovery periods.
Comfort
Last but not least, the insoles you use in your footwear may greatly contribute to the level of shock absorption you get from your footwear. Whenever you take a step (especially when running), you will land on your foot with a force that can be up to several times greater than your body weight. Most people land with their heel, which is naturally not too padded, and this can often cause the arch to work overtime to try and absorb the shock.
The best way to keep your feet safe is to choose footwear with at least some level of cushioning, most often found in the midsole material. However, you will find that most formal shoes do not offer this type of protection, and are often made with hard soles that are unforgiving, especially if you spend a lot of time on your feet. With this type of shoes, a good insole can do wonders.
Not only can a cushioned insole help alleviate pain, but it can also even prevent any type of deterioration of foot health, eliminating long recovery times that are associated with severe plantar fasciitis. Several of the models listed above have great cushioning properties, comforting the heel and forefoot upon impact, and some are even appropriate for athletic use, allowing you to swap out the original inserts with these more supportive ones.
Value
Inserts are an easy way to improve not just the fit of your shoes, but your quality of life overall. They're often available at affordable prices that make just a fraction of the cost of the footwear you're going to use them for, and are easy to keep clean and fresh, which is a huge plus for those with sweaty feet.
Nonetheless, you'll notice that they come at greatly varying price points - from those found at the supermarket, to those which are custom made by a trained specialist that'll set you back as much (or even more) than a pair of quality footwear. When making a purchase, you should consider whether the product in question has value to you in terms of versatility, use, and durability.
For your first purchase, you'll probably want to buy one pair of inserts, until you're certain that it's the right type of you. Giving it a test will determine whether it provides the right amount of support for your feet, how it alters the fit of your footwear, and whether it feels good enough in contact with your skin in terms of breathability. If it proves to be a good product, you can choose to purchase as many pairs as you have shoes or go with one pair that you'll move from shoe to shoe as per your needs.
Another thing to consider is the durability of the product. Most podiatrists will recommend that your insoles be changed every three months or so, to ensure that you get all the necessary support (foam orthotics will often flatten and lose their supportiveness), as well as that they're adequately clean, dry and aren't a breeding ground for bacteria and fungi.
You should also make sure that you clean your insoles regularly (especially if you wear shoes without socks) by following the manufacturer's instructions and drying them thoroughly between uses, which will deter the development of bad odors.
Top 10 Insoles for Flat Feet
1

. Powerstep Pinnacle Maxx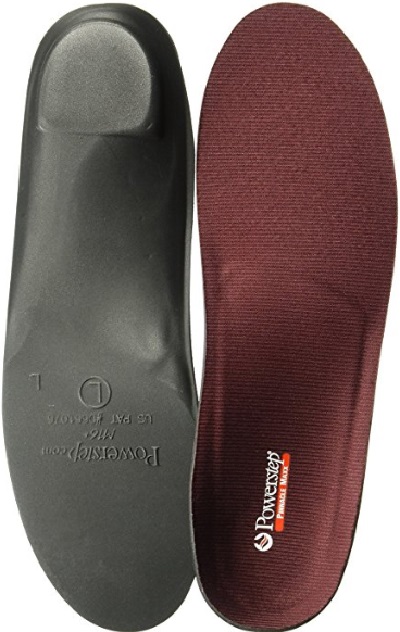 This is the Powerstep Pinnacle to the max, so to speak. They have a firmer arch support system than the Pinnacle. Furthermore, these are full-length, have a slightly angled exterior heel platform, and utilize variable cushioning technology. They are perfect for severe pronators and have greater motion control, as a result. An anti-microbial top fabric helps to fight odor-causing bacteria and is made of a 100% anti-microbial polyester.
These are great for severe pronators in need of firmer arch support and need more in the way of heavier motion control. They fit most footwear and can be trimmed down as needed.
This pair has great technologies, such as an anti-microbial top layer, firmer arch support, and better motion control. They can be interchanged with other footwear and are not a one-pair-only solution.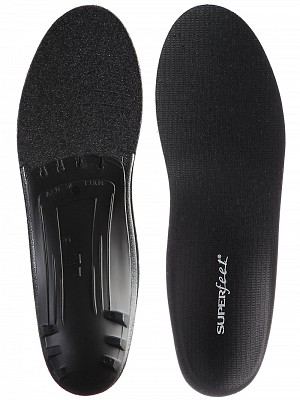 These inserts were designed to be used on a daily basis, regardless of how much time you spend standing or walking. Suitable for use with sneakers, everyday footwear, work boots and even hiking boots, they're a great buy if your new pair of footwear does not provide the level of arch support you require. It even comes in three color variations, allowing you to go with the one which will stand out in your footwear the least.
The Superfeet Black features a deep heel cup which is crucial for those who tend to over or under pronate. It cradles the back part of your foot, positioning it in the correct manner that takes pressure off the big toe joint, ankle and knees. If you tend to suffer from an achy back after a couple of hours of standing or walking, this will definitely help prevent that pain.
The Stabilizer Cap is a reinforced rearfoot to provide structure and support for the most flexible and low-volume insole. And made from a high-density foam your feet will be cushioned and long-lasting.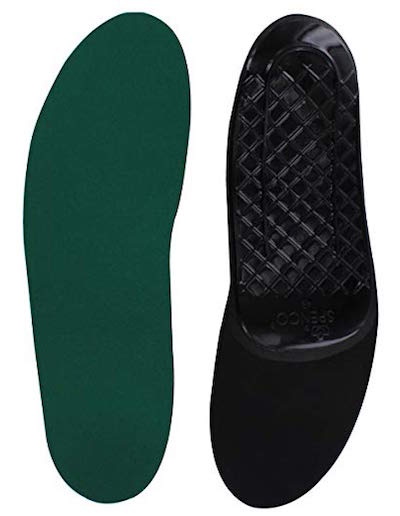 One of the rare items of this sort that are recommended by the American Podiatric Medical Association, the Spenco RX Orthotic is a unique pair of inserts great for addressing all types of arch pain. It's best used in casual and athletic footwear and can fit both flat feet as well as those with high arches, seeing that it's completely moldable to the shape you desire.
The next best thing to getting custom orthotics done, the Spenco RX can easily be adjusted to fit your feet perfectly. All you have to do is put it in boiling water for 2 minutes and adjust the bend in the midfoot area, shaping it to your foot. Once it's completely cooled off, you can slip it into your favorite shoes, and you're good to go.
The Spenco RX features several solutions made to help with your daily life. First and foremost, the entire insert features a SpenCore layer of shock absorbing material to help with prolonged standing and walking. In contact with your feet, you get a 4-way stretch antimicrobial fabric that won't only prevent odors but will also help the prevention of blistering.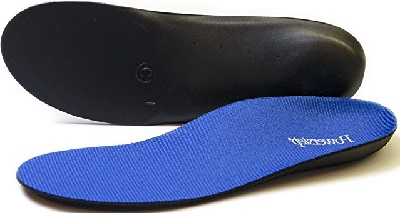 With these, there is no trimming. This means you can move them to various footwear, as you change shoes. Furthermore, they are ultra-thin and will fit most footwear, too. They utilize VCT (variable cushioning technology) which is deployed with a dual-layer system. This is an ideal system for athletic use or simple daily walking. They, also, are made with an EVA foam base, as well.
These insoles are made to be handled with athletic footwear or even casual and dress shoes. They are very versatile and because of the lack of trimming needed, they can be transferred to other shoes, too.
This pair is full-length and contains an EVA foam base. They have an ultra-thin profile which will work for dress footwear, athletic sneakers, and just about anything you can imagine.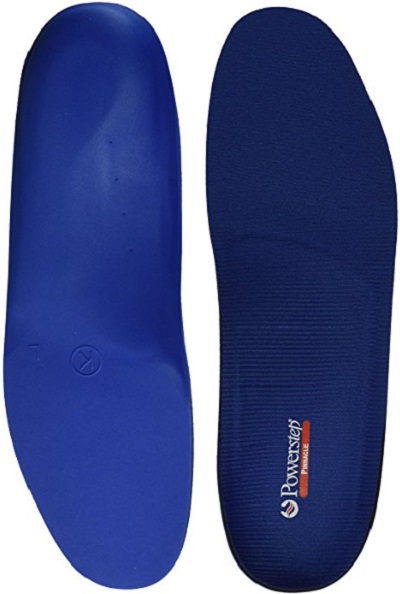 As a brand, Powerstep immediately invites trust; it was founded by a podiatrist, who was also a runner and a foot surgeon. The Powerstep Pinnacle is a professional-grade orthotic; it's guaranteed to reduce the soreness related to flat feet. Most prominently, these insoles have a deep heel cup for stability, cushion, and motion control. The Powerstep Pinnacle is flexible enough to fit in any shoe, whether it's casual, dressy, or somewhere between.
The Powerstep Pinnacle orthotic features firm and flexible semi-rigid arch support. The arch in Pinnacle insoles is meant to complement arches of all kinds. Nevertheless, they are often prescribed by podiatrists as a remedy for ailments specific to flat feet such as plantar fasciitis and bunions.
The top fabric of the Powerstep Pinnacle insole is antimicrobial, allowing it to reduce the heat and friction of your feet as you move. The antimicrobial top fabric also keeps feet free of odor and dry — a key point of blister prevention.

6

. Sof Sole Airr Orthotic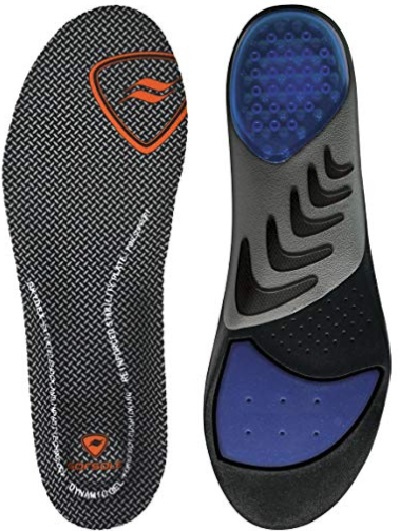 For active users, this is a great pair to have. they are classed as athletic orthotics and contain moisture-wicking properties. Furthermore, they utilize SKYDEX air bubble technology for maximum cushioning. This, in turn, will help to reduce load-rate and make those joints in your ankles, hips, and knees feel a bit better throughout the day. These, also, help to fight odor-causing bacteria.
These are the better fit for athletic wear but can be used in most sneakers. They do run a bit small and narrow, so it is advisable to size up when purchasing.
This pair does a decent job at absorbing shock and supporting your feet. They contain SKYDEX air bubble technology to help soften the blows from daily walking.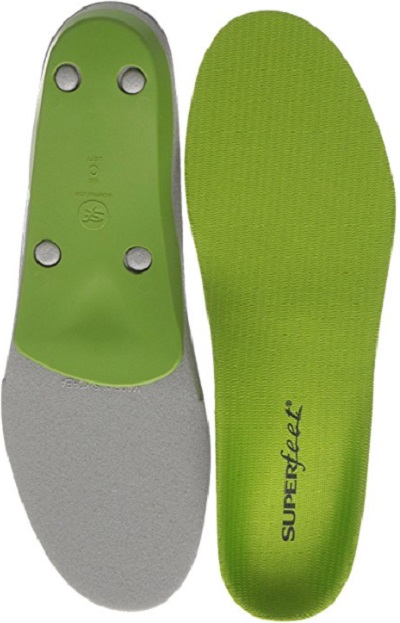 Superfeet, founded in 1977, is another brand that creates medical grade insoles. Part of their Heritage line, the Superfeet GREEN orthotic is perfect for providing the cushioning and arch support that flat feet need. Available up to a Men's size 17, the Superfeet GREEN is built for flat feet of all sizes. It is also important to note: the GREEN is a full-length insert that may require trimming.
This is the Superfeet GREEN insole blend: polyester fabric atop a soft polyethylene foam. fused with an EVA-based adhesive. This insole has the maximum thickness available from the Superfeet brand, making it a top choice for relieving foot pain. Furthermore, the GREEN is coated with an all-natural substance to discourage the growth of odor-causing bacteria.
Another facet of the Superfeet GREEN orthotic is the science behind its shape. Taking into account biomechanical studies, the GREEN is built with a focus on supporting the rearfoot (heel). This insole works to support the foot joints that control propulsion, stability, and shock absorption through a deep heel cup and stabilizer cap. (The stabilizer cap provides structure to the foam layer above it.)

8

. Prothotic Motion Control Sport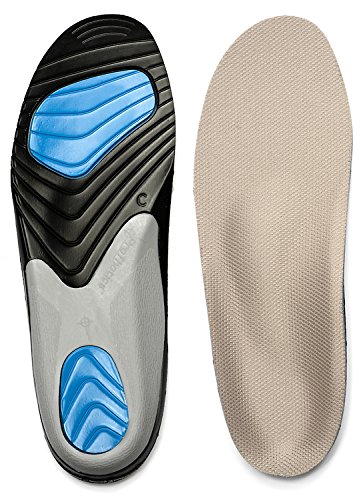 Biomechanically engineered to provide the best possible level of support for those with arch issues, the Prothotic Motion Control Sport is a pair of inserts that'll be most enjoyed by individuals who are looking for a good pair of insoles for their neutral running shoes. Made with high quality materials, it'll retain its features for longer than simple foam products, all while providing numerous benefits in terms of moisture control, slip and odor resistance.
This insert is made with polyurethane instead of EVA or memory foam, which means that it's more durable, less likely to flatten, and thus more beneficial in treating and preventing issues such as Plantar Fasciitis. It will contour your foot, while gel inserts take care of shock absorption, preventing fatigue and pain.
The top layer of the Prothotic Motion Control is a moisture-wicking fabric that's made to move sweat away from your feet, thus preventing bad odors, bacterial and fungal overgrowth, as well as the chance of blistering or rubbing that often happens when the feet aren't completely dry.
The price tag associated with this product is slightly lower than average, making it a great investment for anyone who wants to try this type of insert out. Best used in athletic and work footwear, you'll find that these will allow you to run and walk longer distances without suffering from arch pain.

9

. Samurai Instant-Relief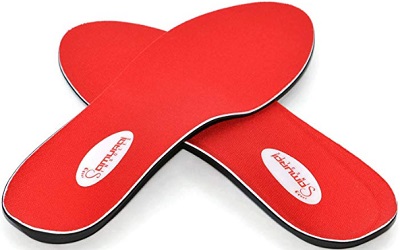 Samurai Insoles have a lofty claim to fame: they provide the only over-the-counter orthotic created specifically with flat feet in mind. The Samurai Instant-Relief orthotic is also designed by a podiatrist and their team of biomechanical engineers. Made of neither hard plastic nor flimsy foam, the best part of this design is the barely-there, lightweight fit inside of your favourite shoe.
In what is likely an attempt to avoid the overly rigid feel of other insoles, the Samurai Instant-Relief buries its orthotic shell in the middle of the insole. The signature red top fabric reduces friction, wicks away moisture, and covers the first layer of padding. Beneath that is the actual orthotic, designed for springy rebound, joint alignment, and shock absorption. Another layer of padding finishes off the insole.
The low-profile nature of the Samurai Instant-Relief orthotic allows it to fit well inside of any shoe. Since the sizing of this insole is based on whole shoe sizes, rather than a range, any shoe of the right size can be worn. One caveat with the versatility of the Samurai insole: there isn't pronounced heel cushioning.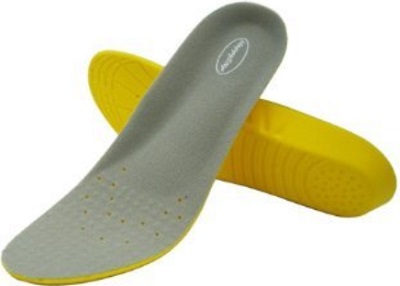 At first blush, the Canadian-made HappyStep orthotic looks just like any other insole on the market. Once you look closer, the deep, balancing heel cup and arch support becomes evident. The HappyStep insole is full length and requires trimming for most shoes. The length also means that there will be a bit less room in the toe box of your shoe. It's best to wear these in roomy shoes and without the default factory insole.
The HappyStep orthotic features a thick, high-density memory foam that's integral to its design. The primary function of the memory foam is to promote energy rebound. Energy rebound, in short, is when a shoe returns some of the energy that is expelled by your feet when you take a step. The memory foam construction for the HappyStep orthotic not only improves that return of energy but also provides cushioning.
The HappyStep insole provides support across the entirety of your arch. The full arch shell boosts motion control, relieves pain, and increases side-to-side stability. The arch shell within the HappyStep orthotic is also ideal for discomforts associated with plantar fasciitis; the lift provided by the arch shell is gentle.

Subscribe to our Newsletter