Best Heel Spur Shoes Reviewed & Rated
In a Hurry? Editors choice: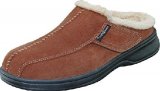 Test Winner: Orthofeet Asheville

Calcaneal or heel spurs occur as a consequence of stress on the rear part of the foot. In this case, a calcium deposit build-up forms on the bottom of the heel bone, creating a protrusion that can be felt through the skin; or alternatively, be detected on an x-ray. There are inferior heel spurs and posterior heel spurs, the former often being the result of plantar fasciitis while the latter will appear at the back of the foot at the insertion of the Achilles tendon, and may require surgical removal. With heel spurs, the only treatment is lifestyle modification, which includes regular exercise to strengthen the calf muscles, correcting foot alignment, and the choice of correct shoes for heel spurs.

Standout Picks
Criteria Used for Evaluation
Support
The most important thing to look for, if you suffer from heel spurs (or want to prevent them), is the level of support this footwear offers for your specific foot type. With the correct support, you can make sure that your feet are in the right position throughout the day, and that no unnecessary stress is put on one part of the foot. The most important support you want to have in your next pair of shoes is arch support. Footwear that hugs your arches in the correct way can make a difference between footwear you can walk miles in, and a pair that will start hurting your feet just minutes into wearing them.
The arch of your foot is the curved lower part of your foot that starts at the ball of the foot and extends to the heel on the inner side of the foot. As everyone's feet are different, there is a distinction between low, normal, and high arches. Different types of arches will require various levels of support, in order to make walking as comfortable as possible; but, also, to ensure proper alignment and no unnecessary shock on the joints in your body, including the ankles, knees, hips, and back.
The insoles and midsoles are in charge of hugging and supporting your feet in the right way. The midsole is the portion which needs to provide a stable but flexible surface that absorbs shock as you walk, while the insole gives additional cushioning. When purchasing shoes when you suffer from heel spur related pain, you need to get a pair of shoes that will give you enough support so that your fascia is not under pressure, which will stop your body from producing additional calcium buildup to protect the arch. Always check the kinds of arches a particular shoe was made for (running shoes are excellent because they will always state the type of foot they are most suitable for), or try to get shoes with a high level of arch support, or ones that have removable insoles and can fit your own custom orthotics.
In addition to this, you will want to have ample heel support in your next pair. This will ensure that your heels are closely hugged, without any unnecessary pressure on the bottom or at the back of the heel, and will help in the proper placement of your feet when walking, standing, and running.
Stability
A good option to have in your next pair of shoes is gait cycle control. It is probable that your heel spurs could be a result of incorrect foot placement when walking, and the correction of your gait could not only get rid of your heel spurs, but it can have a positive effect on your overall health.
You will want to get footwear that promotes a natural gait cycle. This includes the elimination of overpronation and underpronation, which can bring your ankles out of alignment, putting unnecessary stress on the inner or outer part of your feet, toes, and affect your whole body. Most shoes, made for low arches, will be a good option if you tend to overpronate (walk putting too much pressure on the inside of your feet), while shoes for underpronation will have reinforced portions on the outside section of each shoe.
A slightly elevated rounded heel is, also, an excellent idea, as this can help with the distribution of stress on the whole foot, instead of allowing it to affect just one part of the foot, such as with high heels or completely flat shoes. Look for shoes that have a heel-to-toe drop of approximately 10-30 millimeters, as this is the best heel height for optimum comfort.
Flexibility
This is a factor that is closely connected to the support you get from your shoes. Sometimes, heel spurs can occur from wearing shoes which are too flexible, which means that, with your next pair of footwear, you need to go in a different direction. What you want is more support, which will result in a more rigid sole that won't let your feet move as much. This means that you need your soles to be of a certain shape so that walking and running are even possible. That's why the ideal pair of shoes for heel spurs will have a rocker toe. This means that when looking at the footwear sideways, it will have a raised toe that does not touch the surface below.
Once pushed down, the whole shoe will shift forwards. How this translates to your walking and running is that your feet will be fully supported and in the correct position when wearing this type of footwear, but you will still be able to naturally walk and run, thanks to the curve in the sole.
Shock Absorption
The ideal pair does well at absorbing shock from walking or running, regardless of your weight, pronation, or type of gait cycle. The shock-absorbing properties of any shoe are located in the midsole; and are, most usually, there; thanks to the materials used, such as ethyl vinyl acetate (EVA) which comes in various densities, thus levels of firmness. The softer the midsole, the more shock absorption it will provide; however, it will wear down faster.
That's why, with conditions such as heel spurs, plantar fasciitis, Achilles tendonitis, and hallux rigidus, a firmer midsole is preferred, as it will provide more stability and support. Firmer shoes will, also, be heavier than those with a lower density midsole, which can, also, be an important factor for some users who are prone to experiencing energy loss with prolonged walking or standing.
Comfort
In order to make up for the more firm midsoles and more rigid soles of the shoe, your next pair of footwear that you purchase for wearing with heel spurs will have to provide you with ample cushioning inside the shoe. The best materials to look for are, of course, gel, silicone, and memory foam; all of which will provide plenty of softness you will appreciate when walking long distances, or on hard surfaces. Some make use of softer lining materials, such as leather or suede, while others will have high-tech cushioning solutions, such as air cushioning. It is important that the pair of shoes you choose are the right ones for you. What you can do to ensure you get the right kind of cushioning is to take a look at your most comfortable footwear, and look at where they provide you with softness and where they could do with more.
All products on this list include some level of cushioning, either on the full length of the foot or in the forefoot and/or rearfoot area. With the wide choice of shoes on the market, you can make sure you get a pair that will serve you just the way you need it to.
Materials
In order for a pair of shoes to be comfortable enough for all-day wear, you need to make sure the upper fits you, just as well as the bottom. Otherwise, an ill-fitting upper can, actually, make you alter your style of walking, which may put too much pressure on certain parts of your feet. Choose a pair of shoes that will fit you well in width, especially across the toe box. If your toes are able to spread out comfortably inside the shoes, this will ensure that you can use this part of your foot completely, relieving some of the pressure you would, otherwise, put on your heels. It is, also, a good idea to get a pair of shoes with a flexible upper, made of mesh, leather, or suede.
A customized fit can be of great benefit in ensuring that your shoes are secure across the whole of your feet while having padding can be crucial, especially if you suffer from posterior heel spurs. You can look for shoes with a padded collar, as these are less likely to cut into your Achilles tendon, putting pressure on the sensitive back area of your heel.
Fit
If there is, simply, one piece of criteria that need to be met when choosing your next pair of footwear, it would have to be a good fit. Never, ever, wear shoes that do not fit you correctly. Look closely at sizing charts before you order online, and take the time to read the reviews on how a pair of shoes will, actually, fit (some will run large, while others will prove to be smaller than other shoes labeled to be the same size). If you can, visit a brick and mortar store and be fitted for a shoe before ordering online. If this is not an option, you can order two or three sizes; then, return the ones that don't fit well. It is, also, a good idea to wear your shoes around the house for a bit before taking them outside. This way, you can make sure that there aren't any fit issues that are, otherwise, not only noticeable with wear but they will still be undamaged; thus, still eligible for a return.
Also, choose your fit according to you; that is, listen to your feet. They will, gladly, let you know if something is quite not right, or if the fit happens to be just perfect. Some uppers will stretch more than others (e.g. leather versus knit), and this is something to consider, as well. It can become frustrating to find the 'perfect' fit, as it were, only to lose the glorious fitting via a stretched-out upper. So, pay attention to the material of the upper when mulling over the concepts of the fit, as this will give you a clearer idea of what to expect in the long-term.
Durability
Finally, our last criterion is that of durability. For the footwear which you purchase when you want to address your heel spurs or plantar fasciitis, it is important to get a pair that will serve you well for a longer period. All footwear will lose shape and become less supportive with wear, so it is crucial to make sure you have the right amount of arch support and cushioning, as long as you wear your chosen footwear.
If possible, opt for the most durable pair on the market. Although these may be more expensive when you buy them, they are, more likely, to serve you for a long time; eliminating the need to buy a new pair of footwear every few months. You can, also, prolong the lifespan of your shoes by using them in appropriate conditions, taking the time to care for them in the correct way, as well as, performing regular maintenance, such as replacing worn-out insoles every once in a while (podiatrists suggest you replace your insoles once every three months).
Our Favorites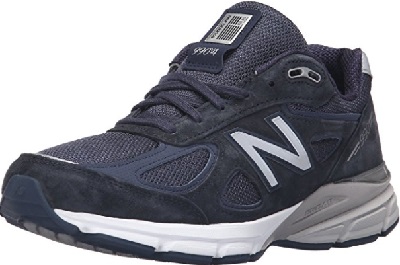 New Balance is proudly made in the U.S.A. and provides you with a high-quality product you will surely love and use for a long time. With a sole that is made for superior shock absorption and cushioning, the newest edition of the New Balance 990 will have you feeling like you are walking on clouds. They are so comfortable that some users call them a 'Cadillac for your feet'.
What makes these shoes for heel spurs so comfortable for running, for walking or plain everyday use is the midsole which features the latest technologies to provide you with comfort and stability. The fact that there is not too much flexibility is great if you suffer from heel spurs, while the ENCAP midsole technology uses ACTEVA LITE foam which provides plenty of cushioning and shock absorption. The polyurethane rim offers better durability, while the blown rubber is excellent for road conditions, as it provides a combination of cushioning, traction, and duration.

The collar of these sneakers is padded with dual-density foam which will be appreciated by users with posterior heel pain. In addition, the upper is made out of pigskin and mesh for achieving breathability and comfort, while you can rest assured that your footwear will be kept securely on your feet with the lace keeper addition. This prevents the tongue from moving and the laces from becoming loose.

You will definitely appreciate these, as they look good enough to be worn for most casual occasions, and more importantly, offer great cushioning, stability, and durability.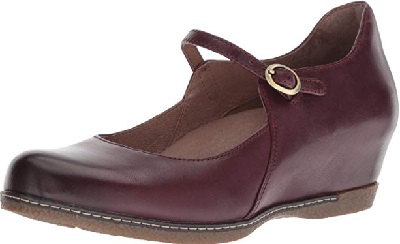 This Mary Jane style by Dansko is an excellent choice if you want quality heel spur shoes that you can dress up or down as needed while ensuring a comfortable fit. They feature a hidden heel in the wedge, meaning that they provide 2-inch elevation, which will remove the stress from your heels but will still provide plenty of support and cushion. The Loralie model features a removable insole which you can substitute with your custom orthotics.
These wedges have a removable footbed that is contoured to provide plenty of arch support, as well as memory foam cushioning which will keep you comfortable throughout the day. In addition, the molded PU wedge will offer support and stability in the back area. This design is an excellent choice if you suffer from posterior spurs, as the back features a padded section that sits where your Achilles meets your heel bone. In addition, the whole interior of the design is lined with a soft textile for all-day comfort.

The removable footbed and the fact that the Loralie will fit your custom orthotics is a big plus, as is their design that can be worn both on formal and more casual occasions.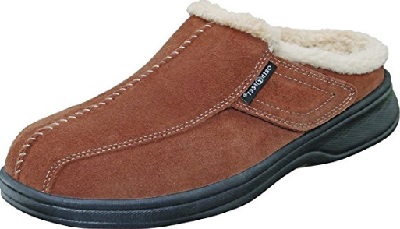 Designed by Orthofeet, these slippers are excellent for anyone suffering from diabetes, arthritis, and neuropathy, but also from any type of pain in the heel, arch, ball of the foot, knees, or metatarsal area. They feature a wide and comfy design that allows for plenty of room for movement and an adjustable hook-and-loop closure so that you can customize the fit as needed.
These slippers are an excellent choice if you have inferior or posterior spurs, as they offer good orthotic support through the contoured midsole with anatomical arch support and a cushioned back that will ensure that you do not suffer any unnecessary stress while walking. The Asheville features Orthofeet's Ortho-Cushion™ System which is a lightweight sole with plenty of shock-absorption that will take the stress off all the joints in your feet, as well as your knees and hips. They help adjust your gait cycle, so that your feet are in the correct position with each step, and offer propelling energy that will help you walk even when you are tired.

You will, simply put, love wearing these slippers around the house, and will probably even be tempted to wear them outside. They are also an excellent choice if you tend to overpronate or suffer from arthritis and other foot-related ailments.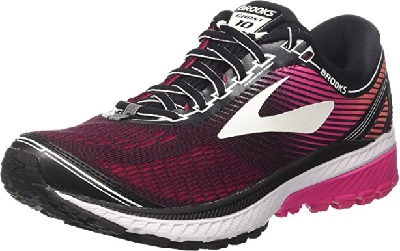 The Brooks Ghost 10 heel spur shoes provide excellent cushioning and softness and is ideal for people with medium-to-high arches. Also, these are designed with 3D-printed overlays on the mesh which are flexible and will adapt to your feet perfectly. But these trainers are not only a good choice if you are an avid runner, that is if you suffer from plantar fasciitis, but you can also choose these sneakers and wear them on an everyday basis for that 'walking on clouds' feel.
The midsole of these sneakers features Brooks' BioMoGo DNA technology which combines earth-friendly materials with Brooks DNA and provides you with a highly-responsive midsole which will cushion your every step. The soles feature a Stability Crash Pad which is designed to adapt to your gait with each step you take, no matter how your foot lands. In addition, they were made for road conditions, which means that you will get plenty of wear out of them, as they can last a long time.

The investment in the Ghost 10 is well worth it if you want maximum comfort and don't need a smart design to wear to an office. With the cushioning and shock absorption, as well as the stability these offer you will, definitely, see a decline in pain.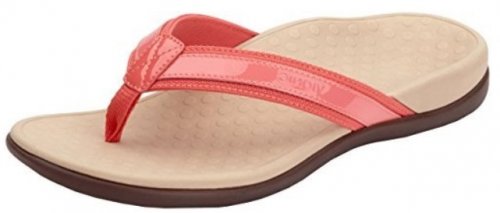 Vionic is a brand that is world famous for its supportive and innovative footwear. The Tide II is one of their bestsellers, and for good reason; this standard flip-flop silhouette comes with anything but a standard set-up, and you will not believe the relief it provides in hot summer days. It helps the feet breathe and the toes wiggle happily, and it also has its own built-in orthotic to make sure you walk around pain-free.
The Tide II has a strap that is lined with foam and a soft woven toe post which ensure that nothing cuts into your skin or causes blisters. It is outfitted with the Orthaheel Technology, meaning that the footbed is biomechanically engineered to provide the best arch support and to gently cradle your feet. There is a medium-density EVA midsole which absorbs shock, and a TPR outsole that delivers good traction.

The Vionic Tide II received the APMA Seal of Acceptance and is one of the only designs that is scientifically proven to alleviate heel pain. It is easy to slip on and even easier to wear, and it will prove to be a real lifesaver, no matter where you decide to go.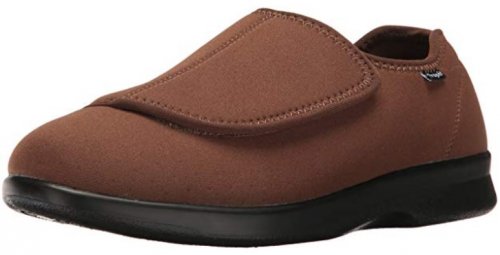 We understand that this is not the most fashionable of choices. However, sometimes we have to sacrifice style in order to enjoy the pain relief that we deserve, and the Propet Cush N Foot is just the design for that. This is a Medicare-approved option that is great as a house slipper, a post-op shoe, or even as a cozy way to stroll around the neighborhood or run to the grocery store in. It is accommodating and cushioned, and it will definitely aid you in your quest for comfortable footwear.
The Cush N Foot heel spur shoes have an upper made from neoprene, which is every bit as durable as it is stretchy. There is an extra-large opening to help you slip into the design more easily, as well as a large hook-and-loop closure that ensures you are secure in it. The insole of the Cush N Foot is made from terry cloth for coziness, and is both cushioned and removable, should you require more space in your footwear. Finally, the PU outsole is durable and provides good traction for both indoor and outdoor wear.

The Cush N Foot is not a choice that you can wear absolutely everywhere - unless you are mostly spending your days at home - but it is one that provides instant pain relief. When you're tired, when your feet are aching and all you want to do is relax, slip these on and you can forget about all the stress of your day.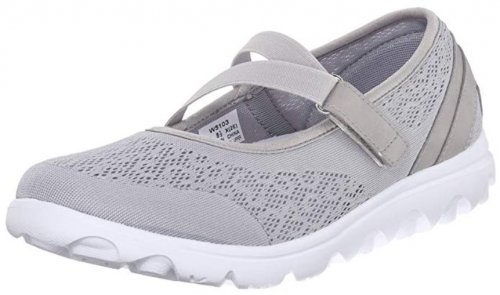 From a company which specializes in supportive footwear geared towards those with ailments such as plantar fasciitis and diabetes comes the Travelactiv Mary Jane. We are in love with these shoes for heel spurs, as they not only provide relief and flexibility when you need it, but it is also incredibly cute to wear at the same time! You can pair it with all of your favorite outfits and be as stylish as you are comfortable!
The Travelactiv has a mesh upper with a mesh lining, meaning that it is constructed to provide maximum breathability. Air freely flows through this design, keeping your feet dry and cool even in the hottest of summers. As most Mary Jane designs, the Travelactiv also has a hook-and-loop strap that is easy to adjust to the right tightness, and an EVA insole that provides cushioning and shock absorption. The outsole is also made from EVA and features TravelTek technology for maximum flexibility.

The Propet Travelactiv is that perfect choice if you're always on the go. It is cute, it is cushioned and supportive, and it will keep up with your active lifestyle without any problems. You won't feel even a twinge of pain in these, and you will be glad you treated your feet with such a good design!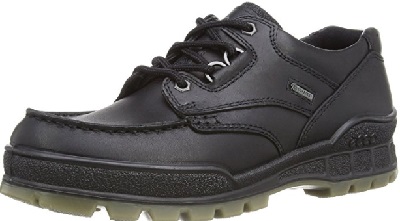 ECCO is a shoe-making company that has been dedicated to high performance and comfort since 1963. This Oxford-style is the perfect choice for you if you suffer from need good support, cushioning, and all-weather wear. Although they are a bit pricey, you are sure to be getting a pair of footwear that will last you quite some time.
ECCO footwear is made to take the pressure off your forefoot, providing for a wider toe, and snug fits over the heel and instep. This means that they will provide you with plenty of stability while avoiding the ball of foot pain. In addition, the removable insole is made to cushion your feet with each step, allowing for plenty of air circulation. Additionally, it is lined with antibacterial and odor-resistant materials. The soles on these are made so as to last 2-3 times longer than traditional ones. They provide plenty of shock absorption, are flexible, and won't need long to be broken in. The material is known to retain its shape longer than others, meaning that you get the same support even after wearing these for a long time, as on the first day you tried them on.

Those who decide to purchase ECCO footwear know that they are investing in a pair of high-quality shoes that will last two to three times longer than any other. The leather used on these is made in the company's own tanneries, while this footwear is appropriate for all weather conditions, due to the GORE-TEX membrane that is used in the production process.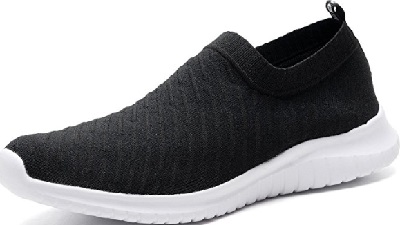 Lightweight and comfortable, this pair is great for reducing pressure associated with the heel. Furthermore, these have a latex arch insert, are slip-on, and breathable. This pair begs to bring you into the lap of relaxation, as they are perfect footwear for leisure or light walking. Moreover, there is a rainbow assortment of colors and you are certain to find some that will match nearly any outfit.
LIghtweight, the Tiosebon Athletics are great at reducing the pressure associated with lifting a heavier shoe. Furthermore, lighter steps may mean lighter impact, as a result. Breathable as well, this design keeps your health in mind; that is, the breathable environment promotes better foot health overall. Stay cooler during those warmer days in the Athletic slip-on!

These are a great choice for overall comfort. Lightweight and made with good-quality materials, the Tiosebon Athletic is worth adding to your footwear collection.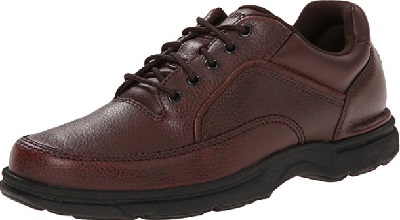 This pair of walking shoes by Rockport combines comfort and stability with design, so you can wear them on almost any occasion. You will love the wide base that is stable in all circumstances as well as the fashionable leather upper, the breathable lining, and the quality rubber outsoles that provide great durability on all surfaces.
The latex foam footbed on these provides plenty of cushioning, while shock absorption is provided by the EVA foam midsole, which is not only lightweight but, also, flexible enough to keep you walking for prolonged periods of time. The outsole features a San Crispino base which is extra wide to keep you stable and supported throughout the day. This is another design that is good both for inferior, as well as for posterior heel spurs. The padded comfort collar will keep you irritation and blister free, while the lace-up design allows you to adjust the fit as needed. You will also love the breathable lining with moisture-wicking properties.

You will find that these are well worth the investment. They will serve you well on almost all occasions while providing you with a good fit that will take the pressure of your heels and provide you with plenty of cushioning under the feet, as well as in the ankle area.

Subscribe to our Newsletter