Best Neuropathy Shoes & Footwear for Nerve Pain in the Feet
In a
Hurry? Editors choice: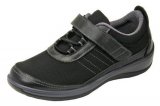 Test Winner: Orthofeet Breeze Walking Shoes

Repetitive stress on the feet is a top cause or aggravator of peripheral neuropathy. Our list is conclusive of the best shoes for neuropathy you can wear in order to lessen the symptoms you suffer from. While no study has ever found neuropathy to be reversible, it can be managed to make your quality of life better. Our shoe recommendations are a start for treatment options. We advise you to consult with a podiatrist regarding other measures you can take in conjunction with proper footwear. Pairing these shoes
with custom inserts
, per say could alleviate potentially most of the pain you feel from foot neuropathy.
Scroll down to find our top ten list and detailed reviews for the
highest rated neuropathic shoes on the market today!
Standout Picks
Criteria Used for Evaluation
Materials
Individuals that suffer from neuropathy pain in their feet will need a certain type of material in their shoes to make them the most comfortable.
Look For:
Soft Leather
Canvas
Fabric
Mesh
These types of materials allow for the most breathability and comfort while wearing. In addition, these materials are known to be flexible while still being supportive. That key characteristic alone is like finding a needle in a haystack. Sufferers need a shoe that will keep their foot in proper position and soothe pressure points; however, at the same time, the shoe needs to be flexible enough to adjust for expansion and wiggle room for the foot.
Conversely, there are also certain materials so absolutely stay away from when searching. In contrast, shoes that are stiff or rigid leather should be avoided. The rigid leather is going to put pressure on the feet; it is not going to be breathable; it will suffocate the foot with pain and pressure. This is especially true if you are like most people that have feet that swell as the day goes on. To elaborate, a shoe that might fit okay in the morning could possibly be unbearable in the afternoon due to fluid retention and swelling.
Neuropathy sufferers need material that will not irritate their feet. The best materials are canvas, fabric, mesh, and soft leather.
The materials previously listed will give better comfort, breathability, flexibility, and support.
Stay away from shoes that are rigid or stiff and inflexible as it will make your conditions worst and take in consideration if your feet swell easily.
Fit
The toe box of a shoe is the portion of the shoe where the toes fit into it. It is generally accommodating to a wide variety of feet. However, persons that deal with neuropathy need to search shoes that have a wider toe box than accustomed to. The spacious room lets the toes have room to spread. This is not just for comfort but for practicality as well. A wider toe box relieves pressure from toes being crammed into a shoe. Most shoe manufacturers have the dimensions of the shoes available for consumers. We advise you to measure across your toes to see how much room you need. When picking a pair online, if no dimensions are specified, go the extra distance and look online or contact the company for the exact specifications.
Not only does it let the toes have more space but the extra room gets rid of some to all nerve pinching in the toes. The pinched nerves after many years can cause permanent damage and suffering. The repetitive stress that is placed on the toes can be avoided by having a wide enough shoe for your toes to easily and comfortably fit into. There will also be less friction between toes being rubbed against each other. This can create blisters and other skin irritations with the constant contact. Give your toes space to sprawl out and you might alleviate pains in other portions of the foot as well.
The toe box is the space your toes fit and sit-in. Traditional shoes have toe boxes that accommodate most feet but people with neuropathy require toe boxes that are wider.
Wide toe boxes are needed to provide space to help reduce constriction and binding that can cause irritation, pain, swelling or any other foot problems.
A wider toe box also helps to reduce any nerve pinching or issues with bunions or hammer toes.
To know what size you need, measure across your toes and compared that measurement to the toe box dimensions listed for the product.
Breathability
A burning sensation is usually a common association with neuropathy. To add, it is actually one of the most frequent complaints from affected individuals. In that respect, we searched for shoes that alleviate heat being trapped inside. Whether this meant with perforations, a lighter material, an open shoe, etc. Shoe designers that are seeking buyers of shoes tailored to neuropathy go above and beyond to make the shoe as breathable as possible. Not many things seem worse than having hot feet being stuck inside shoes.
Some companies not only have breathable materials but some are seeking to use cooling gel inserts and hidden perforations to encourage as much airflow as possible. In addition, the shoes are being designed as moisture-wicking too. What this does is to quickly pull the heat and moisture that is trapped inside the shoe away from the foot. That prevents a buildup of moisture which can result in blisters along with being just uncomfortable.
Neuropathy sufferers usually deal with burning sensations. So, a shoe needs to be able to reduce any heat generation.
Footwear that has perforations or is open-toed or has light material are usually the best options for breathability to allow for heat ventilation.
Some brands have inserts that incorporate cooling gels and some are using moisture-wicking materials or hidden perforations.
Comfort
The insole is one of the biggest factors in the comfort of a shoe.
The insole is the portion of the shoe that is against your foot bottom. Insoles can be thick or thin and removable or not. Interestingly enough, the degree of thickness of insole does not equate to thicker is better. Perhaps, some people that have flatter feet, do not need such a thick insole. If your feet tend to be towards a higher arch you will need a thicker insole. Not properly supporting your foot and the arch area can result over time to collapsed arches.
The goal of an insole for a person suffering from neuropathy is to disperse the impact the foot takes with each step. A good insole will prevent most, if not all of the impact on the foot by absorbing the energy as it hits the shoe. For the insole to reach this goal, it must be highly rated for shock absorption. Additionally, it could be made from memory foam or air pockets embedded into the insole.
One such way to achieve this is placing air pockets inside the sole, especially in the heel portion. Air pockets give the sensations of walking on air. It cushions the foot in ways that everyone can benefit from. Moreover, especially by someone plagued with foot pain.
No one wants to purchase shoes not made to last and durable. Some people cannot afford much, to begin with, so they desperately seek to make their money last the longest. We vigorously examined these shoes before placing them on the list to make sure the quality was high and durable. We looked for shoes that can be worn in many weather elements, differing terrains, and on slick floors. Our goal was to find the perfect everyday shoe so buyers can get as much use as possible from the shoes. The shoes cannot provide relief from neuropathy if they sit in a closet when it rains.
Insoles determine the comfort of footwear. There thick and thin insoles but thicker doesn't always mean better. Thicker insoles are best for high arches and thinner insoles are best for flat feet. They can also be removable.
A neuropathy insole is made to disperse impact and be shock absorption. Some will provide a great energy return. They can be constructed with memory foam or have air-pockets.
Air-pocket insoles are sometimes the best option as they can give a feeling of walking on air.
Value
So, what makes the footwear on this list so very popular? There are some areas that shoes can excel in which makes people get excited about them. There are features such as cushioning, support, stability, traction, and flexibility which make many on this list super popular.
There are other features which factor into making a shoe a best seller, as well. Comfort features which are commonly found in top-rated footwear include features that provide added benefits to boost the wearer's comfort, such as temperature management, customizability, and convenience.
Most of the shoes on this list boast temperature-managing features! The most popular are, also, cost-effective, meaning they are durable and provide enough features to offset their cost. Finally, the ones which sell the best are stylish and fashionable.
10 Best Shoes for Neuropathy & Nerve Pain
1

. Orthofeet Breeze Walking Shoes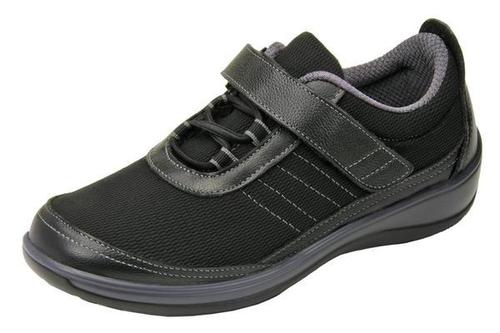 Walking with diabetes doesn't have to cause you pain anymore. All kinds of pain are greatly reduced in the arches, feet, heels, knees, and lower back with the biomechanical construction of these neuropathy shoes. Your feet will be relaxed with the non-binding upper and the wide, deep toe box to help accommodate any swelling you might have. Pressure points are hugged with the comfort of the anatomical design throughout these walking shoes. One velcro strap and elastic laces make putting on and wearing these very easy for you.
The footwear is constructed for all kinds of foot issues you might be having. From support for the arches, to support for arthritis, you have multiple purposes in one shoe. If you have wide feet, feet that swell or just desire an easy-to-wear comfort shoe, these are the ones for you.
No more cheaply made shoes for your special feet issues. These are biomechanically and anatomically engineered for you to reduce or even eliminate different pains you might be suffering from right now. Also, if you have problems with corns, bunions, pronation, or hammer toes, the Breeze will help to support those too. The current pricing is in the higher-price range. As with other models of the same brand, you have specialized shoe tech to help with any foot problems you might have. These are a great pair to wear for every day, especially on those busy days you have to run errands or chase after the grandkids.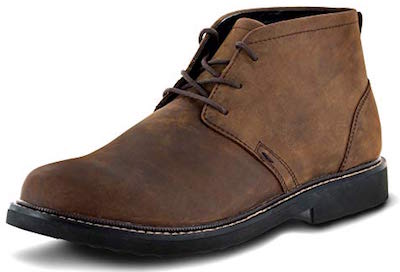 If you're someone who cares about presentation, then wearing a pair of slippers to outings, work or formal occasions simply does not present itself as an option. This is where the Hudson chukka boot by Hudson comes in. These neuropathic shoes are the perfect choice for spring and fall, this casual low boot looks amazing with a number of outfits, all while providing you with the necessary comfort features that will keep you going without having to suffer pain.
The upper of this model is made with premium oiled leather that looks great and is durable enough to get you through several seasons. Available in medium, wide and extra wide widths, the shoe also allows you to use custom orthotics, while still being comfortable enough without adding them. In terms of lining, you will get a breathable open-air polyester mesh that's moisture wicking and allows your feet to be cool in most conditions.
As for the feeling underfoot, you'll benefit from a specially designed, therapeutic EVA foam cushioning system, as well as a polyurethane sole that's cushioned, stable and allows excellent traction. The price of the Apex Hudson is slightly above average compared to the other models listed here, but if you're after a pair of footwear that really stands out, then it's definitely recommended.

3

. Orthofeet Chelsea Slip-On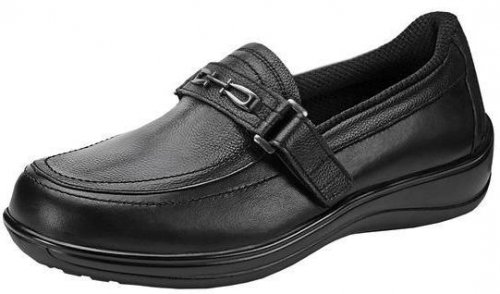 These easy-to-wear shoes for neuropathy will reduce any pain and give your feet the freedom to move. Pressure point protection is provided by the anatomical support of the arches and the relaxed fit free of any binding. The insole is orthotic and the sole is ergonomic with cushioning. Steps are softened, stability is enhanced, and the natural motion of the foot is improved. With a toe box that is wide and deep, your feet will be relaxed and have spread out comfort.
The built-in system of Ortho-Cushion is a lightweight sole. It has air cushioning to make your steps softer and your steps spring-like. It's engineered biomechanically for stress reduction on the joints, enhance stabilization, and better guide your foot motion. You'll have a walk that is free of pain and is very comfortable.
The upper is soft and non-binding to comfort your feet. The design is extra depth and the toe box is wide to provide pressure elimination, especially for wearers that have hammer toes or bunions. A padded, seam-free lining gives extra pressure elimination while providing even more comfort in addition to protection. The current pricing is in the higher ed of our price range. Easy to slip on and off, these are great for wearers who have a hard time with putting on traditional shoes. Being very stylish, the Chelsea can be worn with a variety of outfits at a variety of places. Construction is leather so you'll have long-lasting durability.

4

. Gravity Defyer G-Defy Walk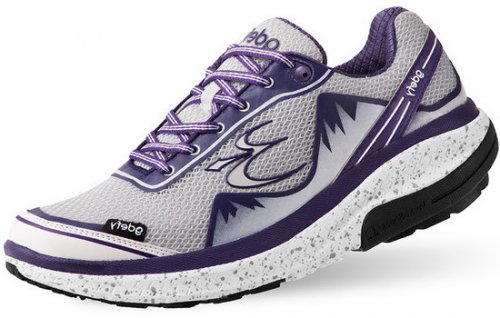 Very sleek but so subtle in its power that you might foolishly dismiss these shoes. Breathable and lightweight, you'll have a fit that is secure and a lined interior that is soft. The design is low-profile but still gives one heck of a punch in pain relief. More than comfortable, the toe box has extra room, the midfoot is supported, and the insoles are removable for your own orthotic preference. With an interior that is seamless, you'll be free of any irritation.
The patented VersoShock technology helps to reduce multiple-pains by as much as 90%. Shock is absorbed from the ground up and is recycled for a positive energy return. Arthritis impact is absorbed, plantar fasciitis is reduced, and your feet are protected from diabetic issues. You'll be able to withstand all-day movement on your feet.
These shoes are easy to slip on and to slip-off. You'll have a gentle and secure fit and the laceless design adapts into a custom fit that eliminates foot pressure. The tie-less laces are constructed with non-toxic silicone and are flexible, easy-to-clean, waterproof, and hypoallergenic. There's a lacing for athletics and a lacing for dress wear.
The current pricing is at the higher end range. These are made for the very athletic or wearers who have to make high-impact moves all day. If you're not athletic but work in a fast-paced, always moving work environment, you'll have the same support and protection as those who walk for exercise every day.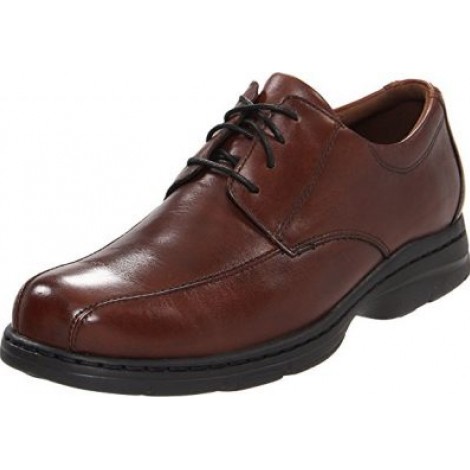 Dunham brings a styling and comfortable shoe to the scene with this casual but dressy loafer. The shoe is designed to be like an athletic shoe with its comfort factor but like a supportive orthotic shoe with its cradling footbed and structure. An Ortholite foam technology insole is removable from this shoe. That gives buyers a customizable factor to the shoe. Further, you can take the insert out completely or you can have tailored ones made for your specific foot. The shoe is very stylish and can be worn every day.
Durable layers create this sole. The most important element is the EVA foam midsole. This type of sole creates flexibility and structure that someone with neuropathy needs. The midsole will cushion the foot and move with the foot. It is able to give the shoe a socklike feel.
Having the ability to remove the footbed of the shoe allows buyers to either go with the footbed in the shoe or remove it. If it is removed, you can then have tailored made inserts designed specifically for you. Some people require higher arches than what is provided in shoes or less arch and a removable footbed is a perfect option.
These shoes are going to be at a higher price point than some of the other shoes in the category. The shoes are casual enough to wear with jeans or with a suit for a day at the office. Buyers will get plenty of wear from the shoes. They are constructed of a high-quality leather and are made to last for many years of wear.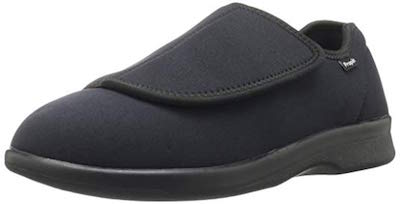 Propét is a company that specializes in creating comfortable and functional footwear for anyone who suffers from the various conditions that make shoe shopping a pain in the neck. The Cush'N Foot was originally developed as a nighttime slipper for post operative patients, but has quickly become the go-to option of around the house footwear for those with different types of pain.
Medicare-approved, these shoes for neuropathy are made with a soft, stretchable, cushioning upper that won't put pressure on any part of your foot, making it a great option if you find that your feet have become overly sensitive to most constrictive footwear. The hook and loop closure makes it easy to find the perfect fit, so you can be supported, but can still easily loosen the shoe if you find yourself in pain. Additionally, it's a great choice for those with mobility issues, who may find laces challenging.
The polyurethane outsole on this model allows a good amount of traction both indoors and outdoors, while the insole that's made with plush terry cloth is removable, so you can even replace it with a custom orthotic, if you find that you need a higher level of support. The price of the Cush'N Foot is relatively low compared to some of the other models listed here, which makes it a great investment, even if you only decide to wear it around the house.

7

. Drew Shoe Rose Mary Jane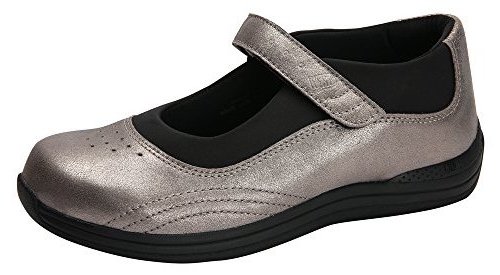 Own the most comfortable shoe everybody loves. With comfort and ease in mind, the lining is clean and the velcro straps are simple to use. The insoles give double the depth but are removable for your own customizable orthotics. A durable upper constructed with leather and a slip-resistant, molded outsole make these great to wear to work. With materials that are lightweight and a padded foam collar, your feet will be protected and pampered.
A foot shaped-resemble plastic model called the last, that is 3 dimensional is used to attach the outsole to the shoe. With this brand, you have a uniquely created last to accommodate all kinds of foot conditions and shapes. There is also a variety of sizes and widths. No matter what model you buy, you'll always have a shoe that fits you perfectly.
The Plus Fitting System is a system unique to Drew Shoe. This ensures you have a proper fit that is not only secure but comfortable. Your feet will be kept locked in place without restriction but everything will be free for movement without looseness.
The current pricing is in the higher end of the pricing spectrum. These are a more stylish shoe so you might want to wear these for the office if you work in such an environment or for a more casual wear such as a light walk in the park. There are multiple colors to choose from and are very easy to put on with the one velcro strap.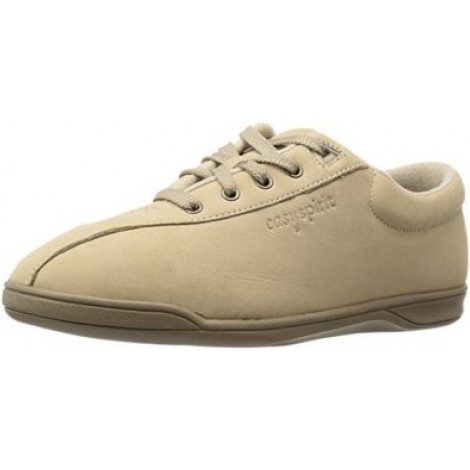 Easy Spirit is a trusted brand that brings quality shoes to their customers. These AP1 Sport shoes are a great shoe for people with neuropathy. They are a nice leather design with a removable insole. That is a great feature because it allows you to customize the insert or go without an insert all together. The upper is attached to a high-quality rubber sole with good traction. You can feel confident while wearing these shoes and walking on many different surfaces. The shoes come with laces for adjustability and a padded collar that provide comfort against the skin.
These shoes will resist stains nicely. However, should you get something on the shoes, the leather will come clean of most stains. Simply clean with soap and warm water. The leather also allows you to wear the shoe in many weather conditions. The liner of the shoes feels like a sock for its hug and comfort level. It absorbs most shock and impact from your steps so you can remove pressure from the feet. It keeps the negative energy from impact affecting your feet.
Easy Spirit shoes have been a trusted brand for many years. Thus, their shoes can be at a higher price tag. However, their shoes are long-lasting and you can be assured in your purchase. You will get many years of wear out of them. They can become a daily wearing shoe; therefore giving you more usage out of them for their price.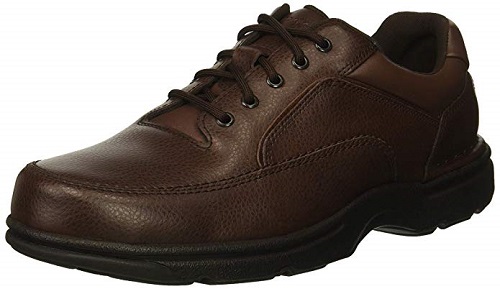 The Eureka makes a great everyday shoe. It is casual enough to wear with jeans but looks suitable enough to wear for a day at the office. The shoe is also a nice quality material that is excellent for wearing in numerous weather conditions, including rain and snow. The tread pattern on the sole is nice and rigid, which gives a sharp look but provides excellent underfoot stability. You can feel confident walking on many surfaces in these shoes. Lastly, the heavily padded tongue and collar support the ankle while taking comfort to a whole new level.
Rockport shoes are great for support and stability. The base of this shoe is constructed to be just wide enough to not look bulky all while providing a high amount of support. The support is crucial for a person with neuropathy.
You won't need to worry about purchasing a shoe that is leather. The shoe is very breathable thanks to a mesh lining and its ability to wick moisture away from the skin or sock. Not only will this make your feet more comfortable because of heat reduction, but you will have less irritation from your skin being in a wet environment. Furthermore, your chance of the shoe growing a gross bacteria is lessened as they need moisture to grow in. Rockport shoes are known for being durable and lasting a long time. Not only that but they are very comfortable. Thus, they can easily become an everyday shoe. This means you will get a lot of use from the shoes. You should feel happy about your purchase as Rockport in a quality trusted company.

10

. Orthofeet Ventura Athletic Shoes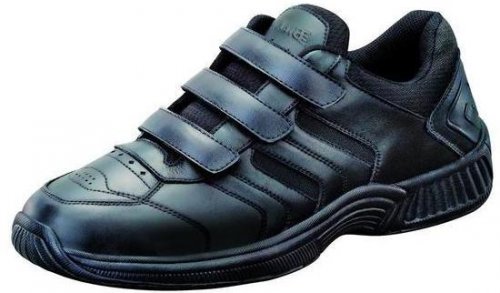 Be free of pain while exercising in the Ventura. You have arch support, a non-binding fit, and 100% pressure point protection. The cushioned sole is ergonomic to help soften your steps and keep your stability in place. Your foot motion is improved and the orthotic insole gives extra support. With engineered pain reduction and a roomy toe box, your feet will be relaxed and happy.
The shoe comes included with an orthotic insole. The insole has the support of the arch that is anatomical and the heel area is a cushioned pad to help contour to your feet. Your comfort is enhanced and your foot pain is alleviated helping to reduce any pain pressure on your joints, hips, and back.
Constructed with leather, you'll have a fit this snug and correct. Leather lasts a long time and can withstand virtually kinds of environments. It's also easier to clean and care for. The outsole is rubber, giving you an extra support and bounce.
The current pricing is slightly more expensive than some on our list. They are made for athletics, so if you are an avid walker, these could be the best for you to purchase. There is no lacing system, just velcro straps so you'll have an easy time wearing these. You can wear them virtually anywhere you choose.

Subscribe to our Newsletter