Best Moisture Wicking Socks To Keep You Dry Reviewed
In a Hurry? Editors choice: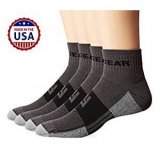 Test Winner: MudGear Trail

The most common problem you can get when your feet are not completely dry is blisters. Additionally, if your feet stay moist (or wet) for a prolonged period of time, besides smelling bad, they will develop fungal infections, and those are very hard to fight off.

Having dry feet at any given moment can mean a world of difference. If you are unsure where to begin, have a look at our list of moisture wicking socks! We have summarized some of the best choices you can find today, with various lengths, thicknesses, padding and so on! Read through to find just the right moisture wicking socks you need.
Standout Picks
Criteria Used for Evaluation
Materials
Not many materials have a moisture wicking ability, but those that do are held in high regard. For your convenience, we will list some of the best moisture wicking fabrics you can find today. Here are the most common ones:

Polyester - You may have already guessed it based on the previous part of this article, but polyester is a champion of moisture wicking. This is a synthetic, man-made material that is one of the most common today. Basically, polyester is plastic cloth. It is popular because it is very durable, lightweight, and it draws away moisture.

Polypropylene - This one is less expensive than other materials, which makes it one of the popular choices. When it gets wet, besides wicking moisture, polypropylene dries super quickly. The outside layer might remain wet, but the one touching your skin will be completely dry. Polyester may be the champ, but polypropylene is next in line!

Wool - We all know where this natural material comes from - our lovely farm animals, sheep. But, wool can also come from goats, rabbits, and muskoxen. Wool is used in thin, thin layers because no one can really run in a thick wool sweater or jacket - and it does a great job at keeping you dry while being lightweight and durable!

These are just some of the moisture wicking materials you can come across today, but there are plenty more you can find. Nevertheless, it is something any kind of active person should invest in!
Style
Moisture wicking socks are the most beneficial when they're used in a high impact activity. Whether you're running, hiking, cycling, or even walking long-distance - keeping your feet cool and dry and staving off that icky, damp feeling in your shoes is a must.
That being said, if you're looking for performance and protection from moisture, then the style - the pattern and the design - of the sock is probably of not much interest to you. Nevertheless! Here we will just briefly mention the various lengths of socks you can find in our list so that you know what to look for to suit your particular needs.
No Show: No show socks are those that barely wrap around your feet and don't even reach your ankles. Their name comes from the fact that, well, they can't be seen peeking out from above your footwear. These are great if you're wearing shorts and low-tops and would prefer not to have your moisture wicking socks ruin your look.
Mini Crew: The mini crew length comes up above your ankle, but doesn't reach the calf yet. This is a great compromise between a no-show and regular crew length, as it doesn't cover much of your skin but still offers protection from potential shoe rubbing.
Crew: In terms of sporty socks, the crew length is probably the most common one. This is especially true if you are engaging in hiking or rucking or similar activities, and you need socks to prevent blistering from boot-like footwear. Crew moisture wicking socks reach up to your calf and are great for more gritty outdoor activities.
Which style you will choose depends entirely on why you're looking for moisture wicking socks. If you're a runner, perhaps a shorter length would suit you better. If you're pounding the trail - however tame or untame it may be - then perhaps a longer style would be better, for more protection.
Color
We have all probably worn super colorful socks as children, as those are generally the only item of clothing where you can generously mix colors without worrying. But some people like to wear socks pulled all the way up, or they even like to push their jeans or pants into their socks, making the thread completely visible; the color of the design, thus, is very important to them!

As we can see, there are moisture wicking socks with various different colors included in our list.
Neutral colors are the most common, like white or black. These go along with just about anything, but they will not add or detract from your outfit at all. These are a safe choice, and one that you should go for if you don't want to draw too much attention to yourself.
However, if you want a hint of bright colors, look at the Under Armour model for an example, their bright blue socks will catch anyone's attention! If you're choosing these for sports, you can try to match the color of the moisture wicking socks with the color of your t-shirt or shorts for maximum outfit coordination when you're training!

Admittedly, the color of the socks might not be as important as their materials are, but it should still be considered when you go out to buy some.
Fit
The fit of the moisture wicking socks can depend on many things, and it's usually the way socks are woven. The thread pattern and the tightness of it can affect the way it hugs your legs.
Depending on your preferences and the type of sock you need, you will either look for super loose socks, or for very constricting ones, usually made for athletes.

Constricting moisture wicking socks have a thicker pattern around the arches, ankles or, if they are high enough, around the calves. This helps lower the chances of you swelling up, and messing up your performance. In other words, the fit of the sock is important for your performance!
Looser socks are good for casual events, and for sitting around at home - no one needs to feel like they are caged in when sitting down reading a book!
When it comes to fit, you need to strike a good balance - find a fit that forms to your foot and leg, doesn't slide down or bunch up, and yet one which isn't too restrictive. Make sure that your moisture wicking socks aren't cutting off your circulation, as that can lead to a world of problems later on.
Comfort
The comfort of the moisture wicking socks is equally important as the comfort of a shoe is. It can't cause health problems, but it can affect our state of mind because socks without proper padding will end up causing us pain and discomfort.

One way the comfort of the moisture wicking socks can be increased is through padding. Padding can be added around ankles, on the soles, or throughout the whole sock. If the heels and the ball of the foot are padded, this usually means the sock is built for special kinds of activities, like running or hiking.
The extra pads help against pain and cushion your feet along with your shoes, so you will truly feel like you are walking on clouds! Padding around ankles can help secure them to your legs, keep dirt out and prevent infections and blisters from appearing!
10 Best Moisture Wicking Socks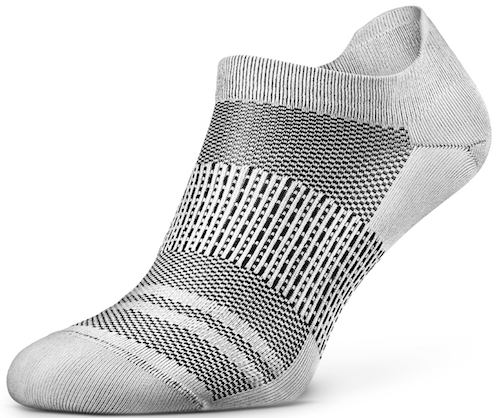 Whether you're looking for high levels of moisture management because you have naturally sweaty feet, because you're training hard at the gym and need something that will allow you to remain dry, or because the weather's just too hot and you want something that'll keep you cool, the Rockay Agile is an excellent option. This is a minimalistic pair of socks originally designed for runners, but it turns out that anyone else can benefit from its amazing performance features.
There are several factors that contribute to the high level of moisture management provided by the Rockay Agile. First and foremost, this pair of socks has no padding, no unnecessary seams, and is a no-show option that allows the calf to cool down naturally. Secondly, the materials used in the construction are all synthetic and water-resistant, which means that they will draw sweat away from the foot. To top it all off, the Agile features strategically placed mesh that speeds up the drying process, making it one of the most effective products of this type.
If you're worried about synthetic socks, it's important to keep in mind that Rockay uses sustainable and recycled fibers in all their products, and the Agile is made with plastic waste that is repurposed. Additionally, it's coated with a Polygene fiber coating that prevents odors and bacterial growth, so you'll be spending a lot less energy and water on keeping this model clean.
In terms of cost, the price is somewhat below average compared to other socks of this type, mainly because of the eliminated need for merino wool. Furthermore, the item comes with a lifetime durability guarantee, plus, it doesn't require a special washing routine that is going to waste your time and energy.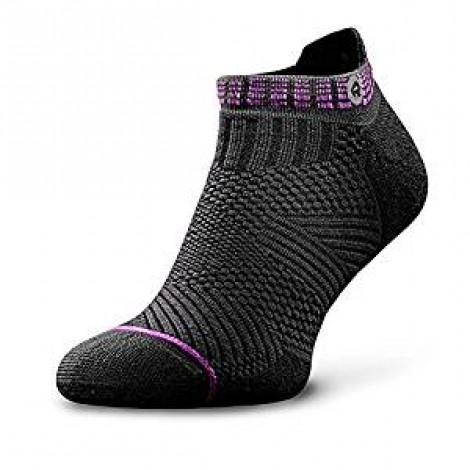 These European running socks are made out of authentic merino wool from South America. They are anti-blister, so if you have sensitive feet prone to blisters, do not worry, you're saved! Rockay offers a guarantee for life because every inch of this sock was made to stand the test of time. The toes and heels are padded, increasing their anti-blister properties and making your daily activities a breeze. Keep your feet bone dry with these moisture wicking socks and their ventilation zones!
The elastic at the top of the Accelerate keeps all of that pesky dirt and grit away from your delicate skin and keeps it safe from all kinds of abrasions and wounds. Besides keeping you infection free, the elastic also provides a snug fit, so you won't lose your socks somewhere in your shoes!
Regular socks usually have that annoying seam near the toes that creates unnecessary pressure on the ball of your feet, causes discomfort and increases the chance of blisters developing. So the seamless construction seen here is ideal for anyone who is serious about running (or just being on their feet for a long time). Be a confident runner with the Accelerate moisture wicking socks boosting your steps!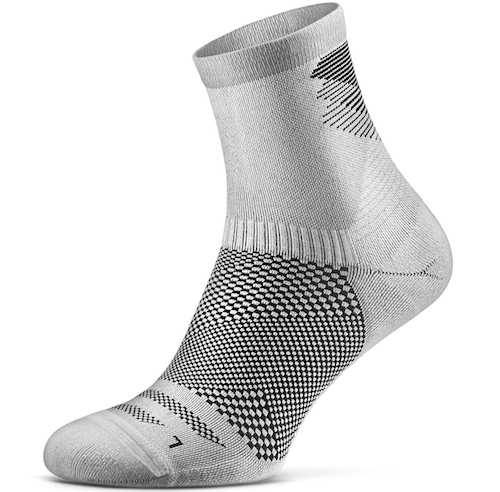 The Razer Trail by Rockay is our absolute favorite for wearing with winter boots, work footwear, or, simply, hitting the trail. The crew-length allows just the right amount of protection against chafing, rubbing and blistering, while still being made with quick-drying materials that won't become soggy once you've worked up a sweat. The Rockay Razer Trail is perfect for hiking and camping as well, thanks to its special hygienic features. It comes in a wide range of sizes for men, women and even teens, so the whole family can get a pair that will fit just perfectly.
The materials used to make the Rockay Razer have either been regenerated from ocean plastic waste or recycled. This means that with each purchase, you are contributing to lowering the levels of pollution, all the while enjoying a high-quality product that looks, feels and performs like premium athletic gear. You'll find that all Rockay products have a simple design that doesn't clash with your favorite outfits.
In addition to using hydrophobic recycled materials, the Razer also includes some great design aspects such as cushioning in the ball of the foot and heel areas, compressive arch support for a better fit and lower likelihood of fatigue, as well as a seamless toe design that is especially important if you plan on wearing this pair of socks with boots.
The Razer Trail has mesh zones strategically placed over areas of the foot that are most likely to heat up when walking or running, yet the entire sock is not too thin so as to be unsuitable for autumn or winter wear. As for cost, it ranks average in terms of price and definitely makes for a great investment for anyone searching for a great pair of moisture-wicking footgear.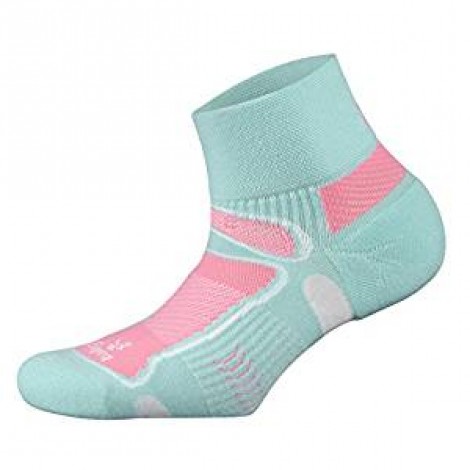 Balega is one of those companies that poured their whole being into creating the ideal running sock, and the Ultralight is just that. These are fitted with DryNamix - a moisture management technology that keeps feet cool and dry! The Ultralight is made out of a combination of polyester, nylon, and elastane, which makes them super light and the right choice for runners. The toes are hand linked - meaning there are no seams there to make it uncomfortable and create blisters. These moisture wicking socks are left and right fit, for a perfect fit every time!
The heel pockets on the Ultralight are extra deep, so they will not slip down into your sneakers while you run. The heels and toes are cushioned for a comfortable ride, and broad elastic arch support in the ankle and arch keeps the sock in place. A high needle counting knitting machine threads the yarns together, which creates a very light and sheer sock, while providing the same amount of protection regular ones do.
If you are a regular runner, or just like to walk anywhere and everywhere, you know that after a certain amount of time, the balls of your feet, your toes and heels start to burn and ache, making the activity much less fun. If you want to avoid all of that, a padded sock is just what you need! The soft pads on these moisture wicking socks are enough to soften the blow on your feet while you walk.



These salt and pepper colored moisture wicking socks are a perfect combination of acrylic, cotton, and nylon, made for long walks and challenging hunts! They have plenty of cushioning across the whole bottom of the sock. The top construction features materials that prevent them from sliding down and creating discomfort. Wonder-wick helps fight moisture and bad odors. The toes are seamless, so no irritation or blisters!
One of the most annoying things that can happen when you wear boots is the feeling that you get when your socks start to slip down and create all those uncomfortable bumps and creases! So the Stay Put construction was brought to the table to prevent just that and to help you have an enjoyable ride.
The blend of black and white is the optimal combination of colors that match any kind of background they get put against. If you want to look fashionable from head to toe, then these moisture wicking socks make one of the best choices!



The MudGear Trail is almost completely made out of polyester, only 5% of it is spandex - just enough to create a tight fit, but not enough to stop circulation! Their strong construction makes them a great partner for extreme sports, like the Spartan race, but these moisture wicking socks will do just fine with everyday wear and regular running as well.
The ankles of the Trail have medium compression, keeping dirt out and preventing it from sliding down into your sneakers. The top is vented mesh, ensuring your feet get proper airflow. Also, a proper amount of padding makes sure you never get blisters again!
If you work while standing on your feet the whole day, these MudGear moisture wicking socks will make sure that at least your feet don't feel tired and sore! The vented mesh reduces the amount of heat that gets trapped into our socks while we do strenuous activities and ensures we get the proper ventilation. Mesh is not so tightly threaded like other materials, so it's the optimal gateway to staying fresh and not cooking in your own heat!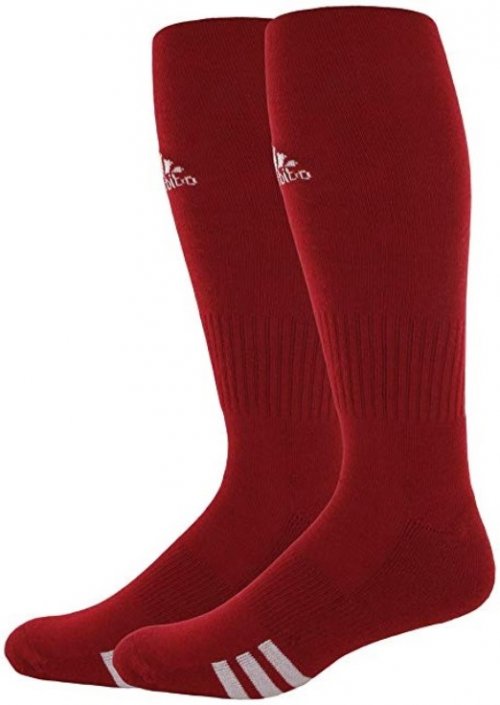 How can we make a list of moisture wicking socks without including ones for basketball? The Adidas Rivalry is almost completely made out of polyester, with the exception of a small percentage reserved for spandex and nylon. Climate moisture wicking yarns keep your feet as dry as the desert and odor-free. Arch and ankle compressions add more stability, which basketball players really need. And, they are a two pack, so you always have a backup ready!
Cushions on the bottom of the Rivalry protect your joints from the impact with the ground, and also make it easier to jump and run around. These moisture wicking socks are longer than usual, so they will offer some warmth and protection to your skin, and the green and red colors add life to the court. The little logo on the front is enough for you to make a statement, but not enough to be kitsch.
This type of material will last much longer than your typical cotton socks if you take proper care of them. It keeps its color better than any other material, so you will always have vibrant patterns. And, polyester has great moisture wicking properties! The ankle compressions are a great way to keep the swelling at bay while also stabilizing your joints and keeping your ankles safe from rolling.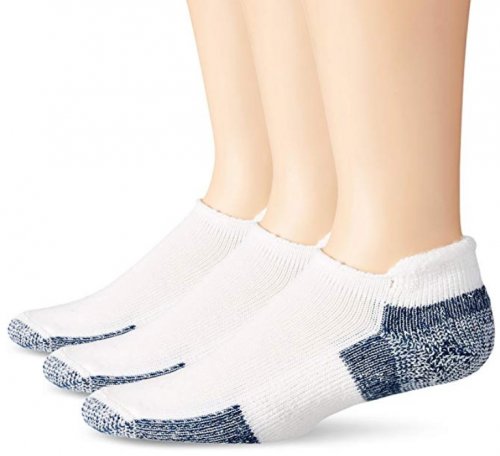 These American-made socks feature exclusive Thor-Lon acrylic, which are thorlon fibers designed to give softness, resilience, durability and which have moisture-wicking properties for dry, happy and odor-free feet. These fabrics can be machine washed, but you do need to turn them inside out first! The arches on these moisture wicking socks are cushioned, ensuring a better fit and providing support where you need it.
There is moderate cushioning and padding for a soft cozy feel and pain-free walks. Also, the J Rolltop provides impact protection and reduces the risk of developing blisters! There is a toe seam, but it is low profile, so it won't be such a nuisance like normal toe seams.
To show how serious they are about sock making, Thorlos offers a no-risk trial guarantee. It lasts for 30 days, and you can try the moisture wicking socks out as much as you like; if the comfort or the fit of the sock is not to your liking, you can return them worry-free.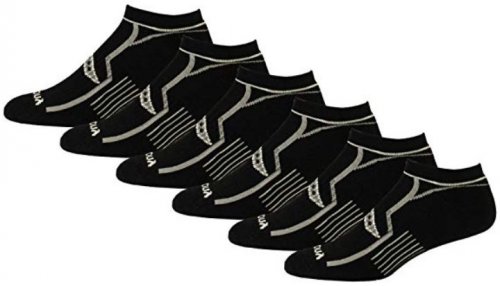 Saucony is a brand known for its top-of-the-line sports gear. Their designs range from athletic apparel to high-performance footwear, and even to socks that you can wear on your next run. The Saucony Performance is outfitted with the Run Dry technology for moisture management, air mesh venting, arch compression in specific areas, as well as light cushioning in the sole. These moisture wicking socks did not come here to play, and you can be sure they will improve your performance in the blink of an eye!
The Performance is made from 95% polyester for durability and colorfastness, 4% rubber and 1% spandex for elasticity. Its Run Dry technology includes fibers that are super moisture wicking and that move moisture away from your feet. The mesh areas on the sock ensure maximum airflow and breathability, while thanks to the compression in the arch you have all the support you need. This arch support also prevents the Performance from bunching up or slipping inside your footwear.

The Saucony Performance also has light cushioning in the sole to increase impact absorption and prevent your feet and joints from feeling any pain as you engage in high impact activities. If you're looking for moisture wicking socks that will keep you comfy, protected, dry and cool during your toughest workouts - you have come to the right place.

10

. Under Armour Phenom 2.0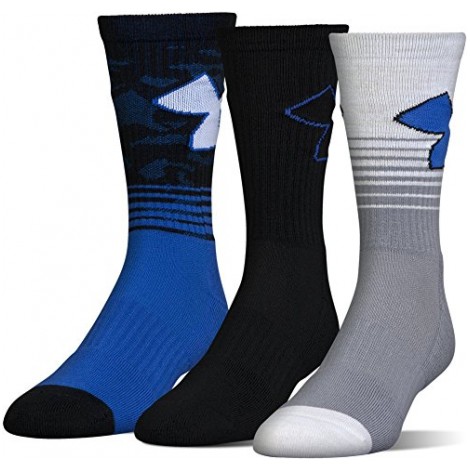 Under Armour is one of those brands that have made a name of themselves by helping anyone who wants to be in shape and take care of their body. The Phenom 2.0 is a sock that can help you reach your goal faster! It is 74% polyester, while the rest is cotton and spandex, a great combination that provides support for an active lifestyle. The ergonomic contour makes sure that you have a proper left and right foot fit every time you squeeze your feet in them. The toes are seamless, which helps fight against irritation and rubbing.
HeatGear fabric wicks away moisture and keeps you dry and light, while the ArmourBlock technology is a marvel which makes bacteria cower in fear, thus making you completely odor-free! ArmorDry is an addition to the fight against moisture and wet feet, so you have double protection against humidity and soaked socks.

Subscribe to our Newsletter