Best Basketball Socks Reviewed For Comfort And Performance
In a Hurry? Editors choice: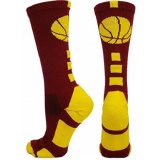 Test Winner: MadSportsStuff Logo Crew

Whether it's on the
court
or in the field, it's all about skill and determination. Winning a game is more than just something to brag about. Rather, it's an indicator of all the hard work you've put into the sport, which includes long training sessions, lots of practice, and perseverance.
Basketball socks are designed especially for this type of physical activity. The key is to have
sufficient cushioning
at the heel and ball of the foot so that high impact is absorbed.
Arch support
is also important in preventing aches and in keeping the foot in its natural alignment. A snug fit, a stretchy material, and good ventilation are also crucial.
We've compiled a list of ten of the best basketball socks, helping you find the best pair for you.
Standout Picks
Criteria Used for Evaluation
Shock Absorption
Cushioning is one of the most important features in footwear intended for sports. Running, jumping, and other dynamic movements can cause a lot of stress on the feet and joints unless there is proper protection. Cushioning allows the shock impact to be absorbed and evenly distributed underfoot, reducing the stress put on the knee and ankles. In the short term, this means reduced fatigue and feeling more energized in the game. In the long term, it can prevent severe joint issues and ensure you stay healthy.
In basketball shoes, cushioning means a good rubber sole and perhaps a rebounding midsole. But because there are no soles when it comes to socks, the cushioning is often provided in the form of padding underneath the heel and the ball of the foot - two key zones that require the most protection from impact. These will provide a cushioning effect underfoot at every step and provide the protection you need.
The padding can also vary in thickness, in which case making the best choice will depend on your personal preference. If you think you can adapt to having a thicker cushioning and that it will benefit your performance, then go for the thicker one. Thinner cushioning can also be enough and are suitable for those who aren't used to having padding in the socks.
Support
The arches of the feet are the part of the foot that needs the most support. With every step, it handles the majority of the pressure exerted - to put it into perspective, they handle between 200 000 and 300 000 pounds of stress with every mile you walk, and the number only increases when you're running. That's a huge amount!
Because of this, it's important to take care of them well. Providing proper support prevents pain and discomfort after a long game. It also reduces the risk for pain in the lower back, hips, knees, and even the shoulders as you age.
Compression socks are ideal for this purpose. Having arch compressions means there is a tighter fit around the arches, and as a result, the contour of the foot is strengthened and protected. They are especially good for people with collapsed arches or who suffer from arch pain after long periods of walking, running, or playing sports; when worn with shoes that also have arch support, you get double the support.
Size
Just like how having the right size is important for clothes and shoes, the same goes for socks. Although they are much more flexible when it comes to sizing, you still have to make an effort in finding the one that's suitable for you.
Scrolling through our list, you've probably found that many are "one size fits all." This simply means that they only come in one size, which the manufacturer hopes will fit people with shoe size 6 just as well as it fits people with shoe size 13. Obviously, it's not very realistic. If your feet are somewhere in the middle and is not considered too small or big, they may fit you quite well. But if you're on the outermost side of the spectrum, it can be a problem. We recommend you scroll through some reviews from previous customers, as it can give you an idea of how the sock will really fit.
However, sizing, in general, is not as much of a hassle as with shoes. After all, they are made of cotton and synthetics, so they can stretch quite a bit to accommodate different foot sizes. It's also a good idea to make sure you've got a snug fit; if they only fit loosely, they will likely slip out of place during an intense game. Then, you'll have to deal with the awkwardness and discomfort of having the heel of the sock on the side of your foot for the rest of the game, not to mention the detriment of not having the proper protection from impact with the cushioning in the wrong place. With that said, they also can't be too tight. Then, they might cut off circulation, which you definitely don't want.
At the end of the day, it's best to just take a peek at the reviews, purchase a pair if they seem to be of a suitable size, then try them on for yourself. Wear them around the house, and your feet will let you know if they're good. Unfortunately, there's not much else you can do - no one knows your feet better than you do, after all.
Materials
The material from which the sock is made can determine its elasticity and breathability. Different materials are suitable for socks of different purpose - for instance, merino wool is often used in thick winter ones, and cotton makes up most of our everyday ones. When it comes to those intended for sports, synthetic and cotton can both be found.
Synthetic: Synthetic materials are fibers that are entirely man-made. Some types include spandex, nylon, polyester, and acrylic. Often, socks will be made from a combination of many different types for maximum benefit. The pros of this material are that it is super thin and lightweight, even after getting wet. As a result, they won't add additional bulk or weight to the feet. They are also breathable and moisture-wicking, allowing the feet to stay fresh and dry by wicking away perspiration to the surface of the fabric, where it can evaporate. Not only does this prevent smell, it also reduces the growth of bacteria that cause these smells and prevents blisters from forming on the foot.The con is that they do not provide warmth. When wet, their insulation is reduced, and they cannot provide adequate protection against the cold. However, this would not often be a problem - you're wearing them on the court, after all, not out hiking in the middle of the winter!
Cotton: Cotton can sometimes be found alongside synthetic materials. 100% cotton materials are not good for physical activity because they don't offer the necessary features to ensure comfort, but when it is used with synthetics, its benefits can shine through. Cotton is a natural fiber - and is one of the most widely produced of their kind, too. It comes from cotton plants and is used in a variety of different products like clothing, curtains, and bedsheets. Most everyday socks are made of the material. The benefit of this material is that it has a soft feel and is elastic. They feel comfortable on the feet and provide adequate warmth for everyday life during spring and autumn. It is also fairly inexpensive. When combined with other fibers, the socks are made stretchy and comfortable.The downside, however, is that it absorbs moisture rather than wicks it away. When doing sports and perspiring, materials with a high cotton content will hold in the moisture and dry very slowly. The result? The perfect conditions for blisters to form, not to mention the discomfort of having sweaty feet throughout the game. In short, we recommend you look for a pair with mostly synthetics and not as much cotton. This way, you can benefit from both types of fibers and get the best of both worlds without much of the downsides.
Durability
One of the most frustrating thing about shopping for socks is knowing that you're investing a lot of money in them (especially for athletic models), but you know they'll eventually have to be replaced. Unfortunately, this happens more often than we like to admit, yet have to keep going back to those hi-tech models that are made with specific performance features.
In order to make a purchase you'll be happy with for some time, you'll want to look for pairs with the best reputation. Make sure you're investing in something that uses quality materials, but also that you're shopping from a reputable brand. This doesn't have to mean a big manufacturer - just someone who's dedicated to providing their customers with value and good product control.
Another thing to consider is how you care for your garments. First and foremost, to keep them clean, you need to read the manufacturer's instructions. You may be tempted to throw them in the washer and dryer along with your whites, but this is likely to cause fibre deterioration, thus pilling and eventually holes.
Instead, you can prolong their lifespan by washing them on a more gentle cycle (or by hand if necessary) after every use. This will prevent bacterial build-up and bad odors. Secondly, it's good to avoid the dryer altogether, and line dry your socks away from a direct source of heat.
Finally, you may find that well fitted shoe can make them last longer. If your kicks are a number too large, you may experience slippage inside the shoe, thus putting your socks through additional friction, that will cause them to break sooner than later.
Top 10 Basketball Socks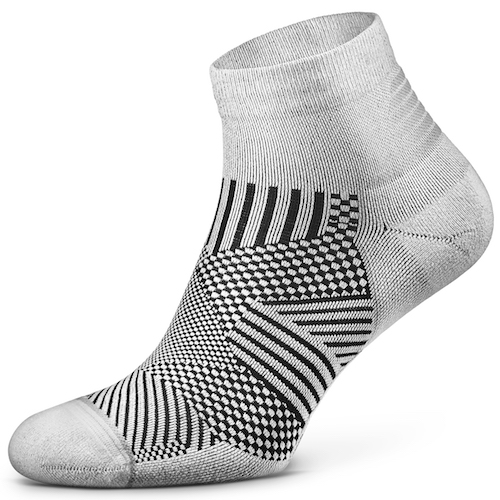 While basketball players tend to go for crew length socks, you may find that a slightly shorter model works better for your personal needs. The Rockay Quarter Flare offers the ideal amount of leg coverage for those who like to wear basketball shoes such as the Adidas Harden Vol.3 or the Nike Kyrie Low 2 that allow maximum freedom of movement. This pair of socks was made for the best athletes who are ready to put in the work necessary for achieving top results.
Time spent on the court can be quite taxing on your feet for several reasons. First and foremost, basketball is a sport that puts a lot of pressure on the foot, both when landing and taking off for jumps, which is why the performance cushioning in the Rockay Flare works so well. It protects both the heel and ball of the foot, without creating bulk that would alter the fit of your sneakers.
This pair of socks also does a great job of keeping you cool, even when playing fast-paced games. This is greatly thanks to the moisture-wicking materials that prevent sweat and heat from being trapped near the foot, allowing for faster evaporation offering a slightly cooling effect. You'll find that the mesh panels on the top of the foot ensure that you remain completely dry, while the specially developed fibers resist odor-causing bacteria, which is great news for those with sweaty feet.
The cost of a pair of Rockay Quarter Flare socks is average and is a bargain compared to specialized models from leading brands. On the other hand, you can expect gear from this company to last much longer than competing brands, as well as to offer a higher level of wearing comfort.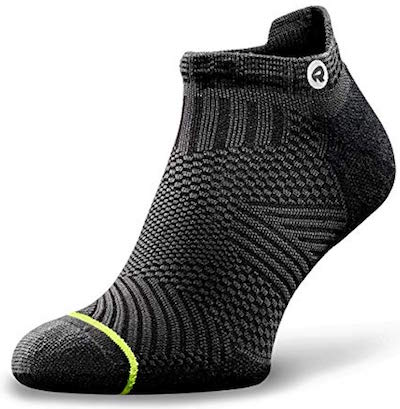 Although originally made for running enthusiasts, there's no reason why you shouldn't wear these socks to your next basketball practice. They were made with athletic use in mind, and have some of the best features currently available. To top it all off, they're made in Europe with attention to quality control, meaning you'll definitely benefit from a stellar purchase.
The Rockay Accelerate is made with a combination of organic Merino Wool, Polyamide and Elastane, which is a blend that ensures great breathability and moisture wicking. This means you're less likely to have a blister in these, as your foot will be dry and cool throughout your training session.
With a snug fit and added arch support, these will help your foot through the demanding motions of basketball, even if your shoe insoles aren't exactly ideal. A tab at the back of the heel protects the sensitive area from chafing.
Though it is one of the more expensive items on this list, this one is definitely worth the investment. Not only is it quickly becoming one of the most popular sports socks out there, but it also comes with a lifetime guarantee. That's awesome, no?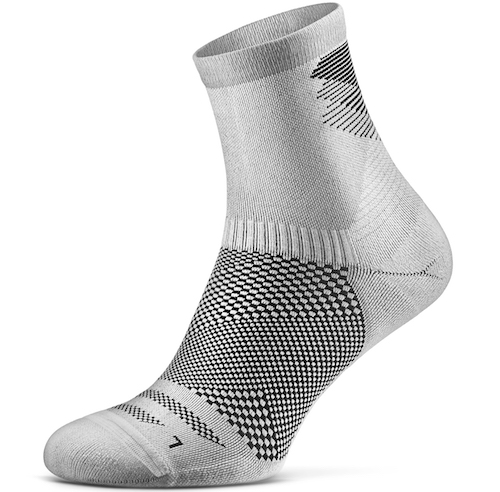 One thing we're sure of - you probably never thought you'd be looking at trail running socks for basketball. But the great thing about the Rockay Razer Trail is that it is such a versatile model, you'll want to wear it all the time, even when you're not training. This model will look like any other regular pair of basketball socks, but you'll find that it will outperform most competing models. It boasts a great number of special features and is made by a company that's eco-conscious, which is always an added bonus.
The Rockay Razer Trail is made with sustainable materials that are not only good for the environment, but also of premium quality, high-performing, and genuinely superior to traditional cotton and synthetic blends. They are extremely durable, so much so that the company offers a lifetime guarantee on all their socks in case of tears of functionality issues.
Another thing you'll find is that the Razer works great for those who tend to get blisters. Because they're made with moisture-resistant, non-irritating materials, and a seamless toe, there will be no friction inside your basketball shoes (which tend to fit snugly for most players). The strategically placed cushioning pads, as well as the performance-enhancing compression fit, all work together to get you to achieve your best, without having to beat up your body in the process.
As for value, these will cost you an average price when purchasing, but you'll soon find that they're worth much more. Machine washable, easy to maintain, sweat and odor-resistant, the Rockay Razer Trail is sure to serve you for years to come.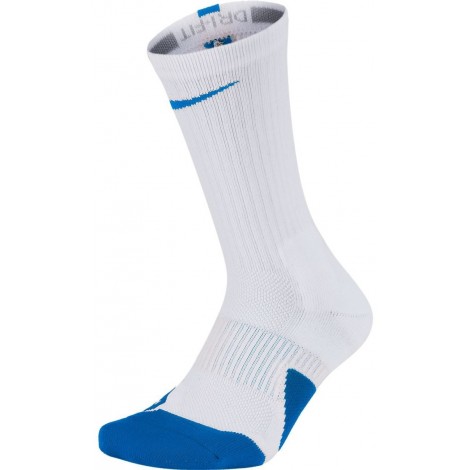 Of course, we can't end off the list without a pair from Nike, which is arguably the best and most well-known activewear brand on the globe. This particular pair is specially designed for basketball, making them suitable for elite and advanced players. Made from just 17% cotton and 82% synthetic materials, the softness and comfort provided by the former is offered to the wearer without the downsides. They've also got a Y-heel stitching design that provides a secure fit and prevent the sock from slipping around on the foot, and moisture-wicking technology to ensure fresh feet. Technicalities aside, they come in a few different neutral colors like black/white, white/blue, red/black.
All your shoes have to be left/right specific in order to provide adequate arch support and comfort - who said socks were any different? Though some support can be provided without, these have a left/right specific fit that is anatomical and suitable for elite players and beginners alike.
As you can guess from the name, the Nike Dri-Fit technology is used in their construction. This is a high-performance polyester fabric that wicks away sweat from the skin and to the fabric's surface to evaporate. It is used in a variety of clothing items, but here it keeps the feet fresh and dry.
These are one of the more expensive items on the list - but it's justifiable. Nike is renown for a reason, and high quality can't come at a low cost!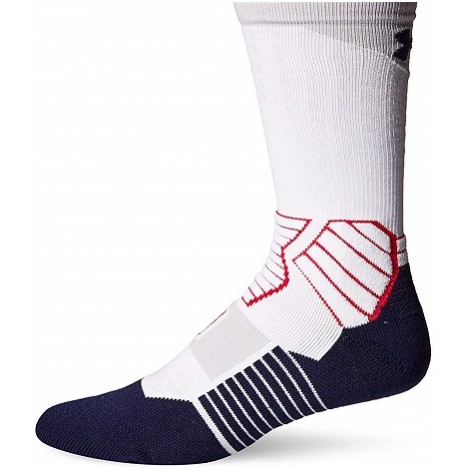 This next pair is of a brand easily recognizable from their logo, which has spread year by year and become popular worldwide. The Under Armour Drive basketball socks are an excellent pick for men who prioritize simplicity and convenience. Their design comes in different colors, most of which are quite neutral and not too eye-catching. The cushioning is strategically designed to reduce bulk while also providing the right feel, resulting in a lightweight and comfortable sock. With their cotton and synthetic construction, the benefits of both materials are also provided. Structural support is also provided thanks to its intricate, anatomical design.
As an ArmourFit sock, key areas such as the arches and the ankles have a tighter fit to ensure more structural support. As well, a strategic cushion protects areas of the feet that are high-impact. They even have a left/right technology - the design is different depending on the foot, providing the ultimate anatomical fit.
The material can wick away moisture and prevent the accumulation of perspiration. Not only does this keep the feet dry and fresh, it reduces odor along with the microbes that cause it. Harmful bacteria will be prevented from growing and spreading.
We won't lie, these are quite expensive for a single pair. But also keep in mind that they are specially engineered to provide an anatomical fit that's suitable for basketball. The clever technologies and features found in the sock don't come without a cost!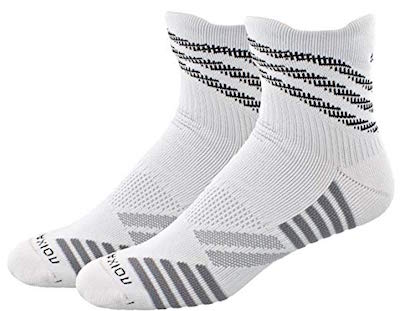 Perfect for teams, as well as those looking for a great product that isn't too flashy, the adidas Speed Mesh is a great sock suitable not just for basketball, but also football players, as well as for regular gym training sessions. Made by a recognizable brand, you can rest assured that you'll be getting excellent quality, along with some great features that'll help maximize your performance.
Featuring extra support in the arch, as well as compression in the ankle area, this product will help eliminate fatigue, and make recovery days easier. You'll also appreciate the breathable moisture wicking material.
With a designated right and left sock, you'll get extra traction in the heel and ankle area that'll prevent your shoes from slipping off, and may come in handy if you decide to wear these around the house.
Not exactly cheap, these may cost a bit more per pair than you're ready to pay, but if you're after something that looks amazing, works specifically for basketball, plus is breathable and won't cause odors, then investing in the Speed Mesh may be a good idea.

7

. MadSportsStuff Logo Crew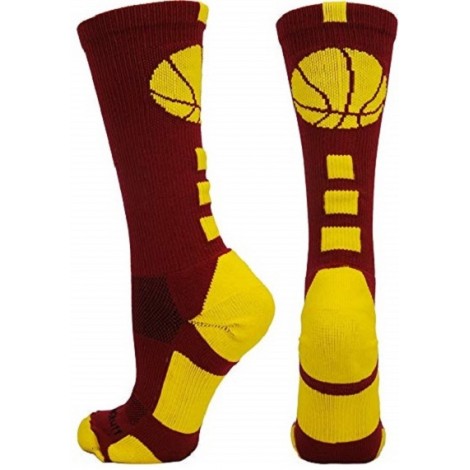 First and foremost we've got a pair of high-performance basketball socks suitable for men, women, boys, and girls alike. They come in sizes suitable for all, ensuring that everybody can have the same good, supportive fit. It is crew-length, meaning it comes to mid-calf, and as a result offers the necessary protection to the ankles when out on the court. They are designed to be durable and lightweight, and they include arch and ankle compression to provide structural support and reduce fatigue. On top of that, they come in a variety of bright, eye-catching colors like black/neon pink, cardinal red/gold, and blue/white. Combined with their basketball design at the back of the calf, they'll make sure both your skills and your looks are unforgettable on the court!
A clever combination of different synthetic materials is used. Its fiber contents include Polypropylene, Nylon, Elastic, and Lycra Spandex, resulting in a lightweight and breathable sock.
Being all-synthetic allows the socks to be light-weight and breathable, providing ultimate comfort. The material is moisture-wicking, meaning sweat will not accumulate, and an Infused Alphasan Antimicrobials system keeps odor and bacteria in check.
Being our best pick, they are not the cheapest. However, they guarantee high quality and are super durable. One pair is sure to serve you well on the court!

8

. ChalkTalkSPORTS Athletic Mid-Calf Woven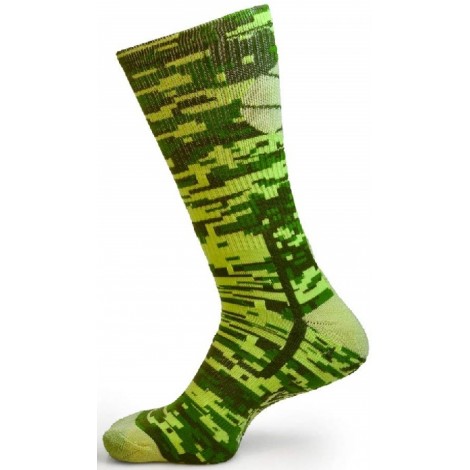 This next pick is made especially for basketball. Like one of our previous picks, they've got an eye-catching logo on the back that is simple yet symbolic. Their construction consists of Acrylic, Nylon, and Spandex, resulting in a super breathable and durable sock. A cushioning effect is also provided so that your every step is comfortable. Though they are one size fits most and are best for men's shoe size 5-11 and women's 6-12, they are stretchy and can accommodate slightly larger sizes as well. Girls and boys will also find them suitable and comfortable.
We know playing basketball is about skill, not about looks... but it'd be nice to have both, right? With neutral options such as black/white, as well as bolder colors like neon yellow/navy, pink/blue, and camo green, you can choose your look.
They offer sizes suitable for every athlete. Girls, boys, women, and men can all benefit from this pair. No matter what stage you're at with life you will find amble support, and comfort, with ChalkTalkSPORTS!
Sold in single pairs, these are moderately-priced. Because they are durable and resistant against long-term wear, one pair will stay good for a long time, so they are of great value.

9

. TCK Sports Elite Performance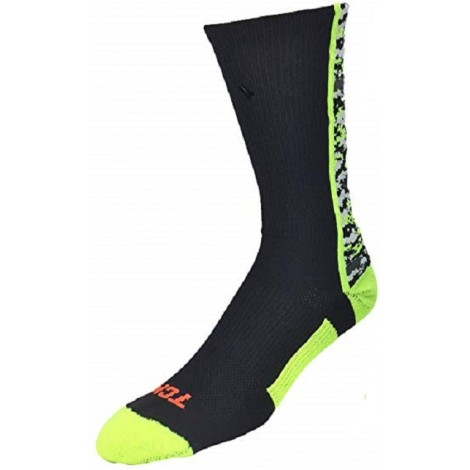 With a large variety of color options and a fun design, you can be sure the audience doesn't miss you on the court. They've got a camo pattern in a strip at the back, adding a unique touch to the look, and they come in a variety of colors like neon yellow, navy, and maroon. Furthermore, they are super comfortable thanks to their ergonomic cushioning and blister control features. Made of all-synthetic materials, they also have moisture-wicking properties. Other features include a heel & toe construction as well as a double welt top.
The fit is snug and supportive where it is needed. Those with shin splints and ankle issues will find it suitable and comfortable, which in turn enhances performance.
Though great for the court, they can also be worn in other sports like soccer or wrestling. The support they offer ensures overall comfort, so they are quite versatile.
Budget-friendly and reasonably priced, they are a super economical choice. Their versatility just adds to their great value, as one pair can be used for all kinds of different sports. But do remember to wash them - they've got odor control, of course, but they can only do so much!

10

. ChalkTalkSPORTS Custom Team Number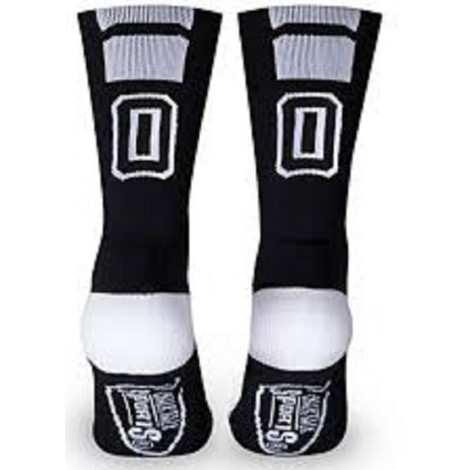 If you need something more customized, and perhaps even for the whole team, this next pair is what you need. Choose your team number and receive a pair with the numbers printed on the back, making them perfect for showing team spirit and pride at games and big events. Their synthetic material renders them super breathable and will keep you feeling good when the pace picks up in the game. They also have a snug, comfortable fit. To finish it off, they are of a simple black and white design that renders them low-key and not eye-catching.
Like all high-quality sports socks, a moisture-wicking technology is featured. The combination of materials used (Polyester, Nylon, Spandex) provides air-circulation, allowing perspiration to dry off faster than from cotton. No matter how hard you're working, you'll be kept comfortable and dry.
Cushioning is important when it comes to shoes, but also with athletic socks. The snug and secure fit provide a cushioning effect underfoot. It also protects the ankles and ensures agility with a lower risk of injury.
These are reasonably priced. Of course, it goes without saying that they cost more than typical everyday ones, but playing basketball requires a good pair for high performance, and this is a pair you won't have to break the bank for.

Subscribe to our Newsletter