Best Shoes for High Arches Reviewed
In a Hurry? Editors choice: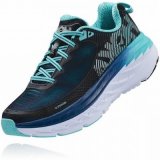 Test Winner: Hoka One One Bondi

Shopping for shoes can be an overwhelming experience. We're bombarded every day by different brands and styles with different colors, features and prices. To make this worse, one in five Americans has an orthopedic condition affecting the feet called pes cavus, or in simple terms, "high arches". Adding an
orthopedic
condition to your shoe-shopping experience complicates an already difficult process, which is why we created this guide to help you cut through the fog and find a pair of shoes as unique as you. Here are our top shoes for those individuals with
pes cavus
.
As you start browsing our Top 10, be mindful of one more thing: while some shoes are general purpose, others are designed for a specific activity,
sport
or setting.  We constructed our list to not only help fix your arches, but also help you improve that running time or swim that extra mile as well!
Did we miss the perfect pair of shoes for those with "high arches"? Let us know so we can evaluate them. We are always on the hunt for the best things to bring to our readers because we believe that an orthopedic condition or an uncommon foot type doesn't mean you should live with shoes that are uncomfortable, too expensive or downright unstylish!
Standout Picks
Criteria Used for Evaluation
Use
When selecting shoes for this list, we paid special attention to the arch support and general comfort provided by these shoes. Because this list is meant to act as a guide for people with high arches, we felt their comfort level in the shoes was of the utmost importance. Along with comforts specially made for pes cavus, we also took shoes with versatile features into consideration. If a shoe could be more than just a walking or running shoe, then we felt it had greater value to our readers. And, finally, because pes cavusis a medical condition, we wanted Podiatrist-designed or approved shoes on this list. This not only ensured the validity of the shoes but also confirmed the health benefits of wearing proper footwear. Below is a breakdown of each point of criteria and more information regarding the selection process.
Biology of the Foot
People can have one of three types of an arch in their foot.  Normal arches have a slight curve, while fallen arches (flat feet), do not. Those with high arches have a more pronounced curve to the foot. Interestingly, those with high-arching feet tend to not pronate as much as those with normal or fallen arches.  Pronation is the movement of the foot inward, which occurs naturally when we walk and our feet touch the ground. This is the foot's way of absorbing the weight of our body while in motion. Under-/Over-pronation of the foot can cause medical issues and pain when it is excessive.
In addition, those with pes cavus are more prone to these structural or biological attributes:
Imbalanced muscle groups of the foot and ankle
Inwardly curved heel bone
Ligament stretching or tears along the base of the arch
Pes Cavus can result in foot, ankle, or knee issues, including:
Achilles tendon pain
Hammertoe or claw toes
Calluses
Pain when walking or simply standing
Instability
Ankle Sprains
A weakening of the musculature in the foot and ankle
Knee pain and injuries
For those with high arches, pronation may not be the biggest worry, but finding shoes with added arch support features can remove excess strain placed on the heel and toes of the foot, helping to distribute weight more evenlyacross the foot.
Top 8 Picks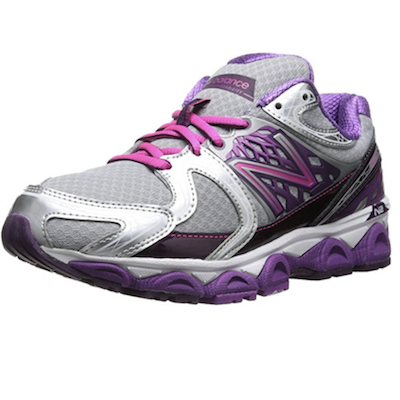 Motion Control Technology
Padded Tongue and Collar
Mesh Upper
Color Accents
New Balance high arch shoes has created a wonderful and innovative shoe that we just couldn't leave off this list. It's special motion controlling technology make it stable, durable, and perfect for those suffering from high arches. And while it's a little heavier than other shoes, it's also one of the plushest and most comfortable shoes on this list. All that weight goes somewhere, right? But even with all the layers of comfort and plushness, this shoe is also very breathable and provides ample air circulation for comfortable days of training.
Motion Control
What do we mean by 'motion control'? Well, we mean that this shoe does a spectacular job of keeping your ankle, arch, and heel aligned and healthy. By keeping your foot aligned, this shoe reduces your chances of sprains, rolling, and slipping.
Plush Inner Lining
We all love a plush shoe, but the Optimum Control Running shoe takes luxury and comfort to a whole new level! From the padded toe box to the padded tongue, every single portion of this shoe will leave your feet in a plush paradise no matter what you're doing!
Cost and Value
Now, this shoe is one of the most expensive on our list. This might deter many from purchasing such a fantastic shoe, but, let me tell you, that price point is worth it! This shoe not only keeps your ankles and heels safe from the stress of everyday activity, but it's super cozy and breathable also. If you're willing to spend a little extra on such a great investment. Not only will your health benefit, but so will your future endeavors in foot care!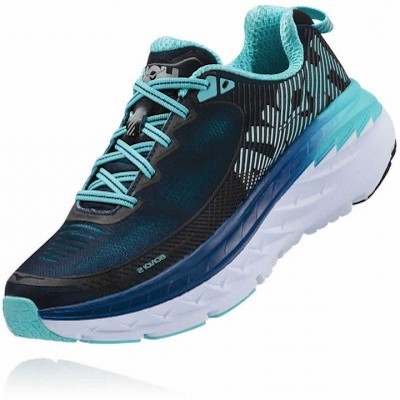 Biomechanically Engineered
Zonal Rubber Outsole for Durability
Lightweight
Ortholite Insole for Comfort
Hoka One One (pronounced 'Hoka ohnay ohnay') is one of Deckers Brands, started by Jean-Lu Ciard and Nicolas Mermoud, both avid trail runners. After many a prototype, they came up with the unique 'Rocker' design of the Hoa One One, inspired by bike tire design. It allows the wearer to maintain momentum on any surface, and with added support and cushioning, it's no wonder those with high arches love this shoe.
Unique Designing
With 'Rocker' biomechanical technology to support this shoe's midsole structuring, the Hoka One One Bondi 5 allows you to roll smoothly through the foot's natural style of gait during a walk or run. The midsole and insole design of the footbed act like bucket seats of a race car, supporting and holding the foot comfortably without constriction.
Cushioning
Ever evolving, the Bondi 5 shoe is designed with a lightweight cushioned sole, and Zonal Rubber Outsole keeps durability in mind so you won't run down the sole after a few months. Add the Ortholite molded insole to help add arch support and more structure to the shoe, and you'll feel like you're walking or running on air!
Cost and Value
Typically priced for a quality pair of running shoes, it's a bit more expensive than some others on our list but comparable to the Altra, Asics, or Brooks listed here. With a number of colors to choose from, Rocker technology added cushioning and support, it's well worth the investment for those who go the extra mile in their active lives! Runners, walkers, even those who tend to be on their feet all day like nurses or doctors, may find this shoe suitable for their special footwear needs if dealing with high arches!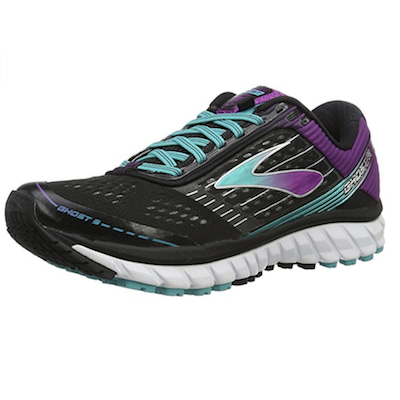 Eco-Friendly Construction
Omega Flex Grooves for Support
High-energy Cushioning
Crash Pad to Dampen Impact
Lightweight
The Brooks Ghost 9, successor to the Ghost 8, is the perfect athletic shoe for those wanting live a more earth-friendly life. Made with the special BioMoGo material, this shoe has been engineered to produce little impact on the planet. Not only is this shoe great for the environment, but it's also specially designed for those with high arches. Features like the Omega Flex Grooves keep you upright, balanced, and pain-free with it's enhanced sensitivity to arch pain.
BioMoGo Fabric
This earth-friendly fabric isn't only great for the planet, but it's also great for your soles! The special blend of BioMoGo, a biodegradable compound infused into Brook's midsole, increases the rate of biodegradation by 50%. This move for sustainability not only created an environmentally conscious shoe but a better, more luxurious midsole for customers thanks to the natural softness of BioMoGo.
Omega Flex Grooves
The Omega Flex Grooves are an all in one support, traction, and anti-slippage machine. Contoured patterns of grooves carve out the shoe's outsole for all-day activity without the threat of falling or slipping. Due to the Omega Flex Grooves angle and placement, this shoe maximizes your traction with the ground. This makes it great for people will high arches because the grooves correct your balance and mitigate the pressure from your aches to the rest of your foot.
Cost and Value
Another excellent sports shoe, the Ghost 9 is for those who aren't afraid to spend a little extra on their footwear. This shoe is on the higher end of our price range, but don't let that high price scare you away from such an amazing, and functional shoe. That price point comes with guaranteed flexibility, comfort, and control specially designed for high arched individuals.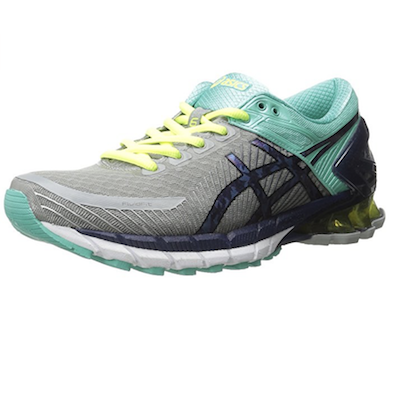 FluideRide Dual-Layer Midsole for Extra Comfort
Lightweight
Rubber Sole for Grip
Shock-absorbing Technology
Another great brand name shoe, ASICS has long been around creating functional and supportive footwear and is well known with runners, walkers, and fitness enthusiasts. The Gel-Kinsei 6 combines ASICS FluideRide technology with a stylish sneaker, and a GEL cushioning at the forefoot. The shoe comes in a number of vibrant colors and color designs, adding style to your workouts!
FluideRide
ASICS is continually developing new footwear technology to improve upon previous models and create shoes made for support, especially those with high arches.
Their FluideRide technology uses a dual layer midsole, with a lightweight spongy material and high-bounce EVA material. Combine these together for extremely cushioned foot strikes, and foot support when running or walking for a winning combination.
Features
Made from a breathable mesh outsole, your feet will be dry after more strenuous activities. ASICS brands the Gel-Kinsei 6 with their Impact Guidance System badge of approval, which is one of their highest standard for biomechanical design. This design ensures the shoe was constructed with interlinked components to allow the shoe to work with the foot, creating dynamic stability to address forces placed on your feet when running or walking.
Cost and Value
Compared to other running shoe models on our list such as the Altra or Hoka One One, the ASICS Gel-Kinsei 6 is similarly priced.
Having been in the business of making quality running shoes for over a decade, ASICS is one brand you can trust to have a technically designed supportive shoe, with breathability and cushioning for high impact activities or your daily errand runs.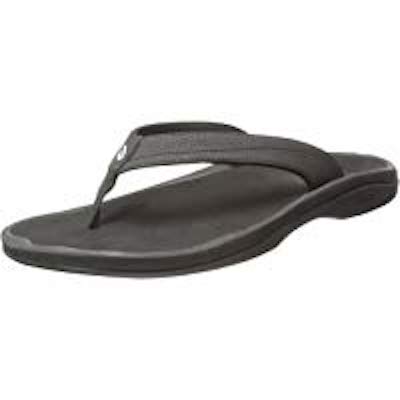 EVA Midsole
Vegan
Deep Heel
ICEVA Footbed
Lightweight
Summer months have us looking forward to warm weather, beach vacations, and shaking off the cold from the winter months. The OluKai brand was inspired by Hawaiian culture, and they've created shoes and sandals for sea goers and land goers alike. The Ohana sandal gives a personalized shape and fit with the EVA midsole and ICEVA drop-in designed footbed. Unusual to find firmer midsole support in sandals, you may not want to take these off even when you aren't at the beach.
EVA Midsole
EVA material is generally used orthotic top covers, but for those with high arches looking for support, a shoe with and EVA midsole is a great find. More firm than regular insoles or cushioned footbeds, the Ohana sandal will keep you supported in the area needed most! The deep heel drop in allows the foot to nestle down into the shoe, allowing the arch to relax while being supported by the midsole design.
Design Elements
OluKai creates the option of having fully synthetically, or vegan, made shoes, as well as other shoes in leather. The Ohana is a full synthetic, but boasts of soft supple material to its make, keeping it water resistant, lightweight, and able to dry quickly. The footbed is anatomically compression-molded, and each individual foot get's personalized fit with the ICEVA drop in.
Cost and Value
Not being an average pair of cheap flip-flops one may buy at the local dollar store, the Ohana's quality construction and support come slightly with a price. Compared to other similar models of the sandal with leather construction, it's similar in pricing. However, what exactly is your comfort worth when dealing with high arches? These will last you throughout the seasons, and even have a warranty should something break within the first year of purchase.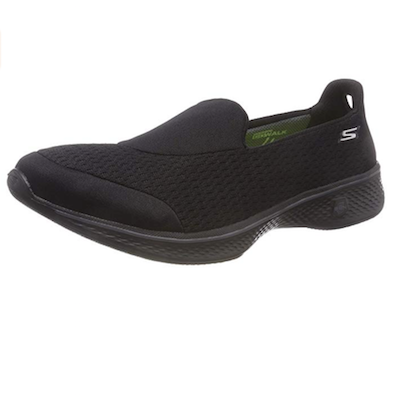 Lightweight
Stabilizing Heel
Antibacterial Bamboo Lining
This low-intensity training shoe goes the distance with the innovative response and rebound technology. Not only does this shoe disburse and weaken the force of the ground on your feet, but it also energizes your strides for all day walking and running power. For an even more comfortable experience, the perforated outer lining creates superb breathability, while the lightweight design leaves your feet feeling swiftly protected without weighing them down.
Goga Max High Rebound Insole
This marvel of orthopedic science not only cushions your feet but disperses the shock and traumas of everyday activity. By contouring to your foot's natural shape, the Goga Max High Rebound insole gives great support and deflects the stress of running.
5Gen Midsole
Ever think a shoe could make running or walking feel incredible? Well, with the innovate 5Gen Midsole, you might not even call walking exercise anymore! Thanks to the specialized 5Gen Midsole, all your steps and strides will feel effortless and amazing with every step you take.
Cost and Value:
The Skechers Performance Men's Go Walk 4 Incredible Walking Shoe is right in the middle of our price range. Not too little, not much, but just right for most footwear budgets. This moderate price is enough to ensure quality features like breathability, durability, and balance, but not so overpriced that most can afford it. This shoe is the perfect compromise between price, features, and customer satisfaction.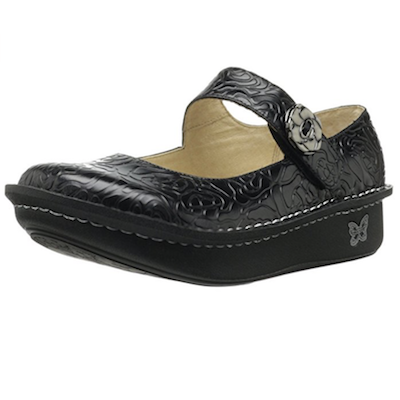 Button Detailing
Flat, Stable Outer
Removable Footbed
By now, we should all know that Alegria makes incredibly comfortable and durable shoes. Not only are these shoes top rated by nurses and hospital workers, but their also APMA approved for their health benefits. The biggest health benefit comes from Alegria's pioneering in gait altering technology to improve the orthopedic and spinal health of their customers.
Rocking Outsole
The wedge design along with the lifted toe box creates a Rocking outsole that rolls pressure right off the front metatarsals. This action also relieves pressure from high arches while providing ample support for hours and hours. Coupled with the Anatomically Correct footbed, the Rocking outsole also improves and corrects the wearer's gait with each step.
Anatomically Correct Footbed
The Anatomically Correct Footbed follows the natural contours of your feet and supports every inch of your foot. By molding to your foot, your heels and arches experience constant support for long wear. The Anatomically Correct Footbed also improves your gait by redistributing your weight more evenly all over the bottom of your foot.
Cost and Value
This flat, though a rather spectacular shoe, is on the high side of our price range. While it can vary from medium to high price based on style and size, it averages on the higher side of the spectrum. Though this shoe is more expensive both the Vionic Classic and the Skechers Go Walk 2, Alegria is revered for its comfort and commitment to the average worker. This shoe isn't only designed for those who desperately crave extra support, but also those who need that constant support while working long hours. So, if you're willing to spend a little extra for an amazingly comfortable and supportive shoe, look no further than this Paloma Flat.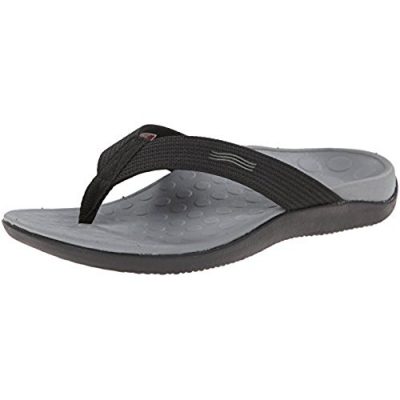 Neoprene Mesh
Rubber Sole
EVA Midsole Absorbs Shock
EVA Insole with Grooves for Comfort
It's so difficult to find sandals for high arches, but Vionic has you covered! The Vionic Unisex Sandal is a sandal for everyone to enjoy. The neoprene mesh and liner makes this the perfect aquatic for beach getaways or lakeside hikes. Along with the comfortable neoprene fabric, the Vionic Wave Sandal includes a super soft and gentle toe post for stability and comfort for all-day activity.
Nondiscriminatory Style
Don't be weighed down with the typical lady's shoe V.S. men's shoe debate! Relax and marvel in the comfort meant for all in this unisex sandal. Though girls will have to convert their size to men's sizing, the style and ease offered by these sandals are unparalleled on this list.
Neoprene Mesh and Liner
If you've never heard of neoprene, just know it's the material most commonly found in swimsuits and other swim-related attire. Because of its moisture resistant qualities, the neoprene fabric added to the toe post and upper makes this sandal aquatic friendly. So take a walk along the beach, hike through a river, or go kayaking in this all-terrain sandals.
Cost and Value
Depending on the style and size you select, this shoe ranges from low to medium priced in comparison with the rest of the list. Though it's not the cheapest shoe on the list, it's definitely not the most expensive either. If you're in the market for a good water shoe that can go pretty much anywhere than the Vionic Unisex Wave Toe Post Sandal is a pretty great investment. And you don't have to fret over your sizing! Just convert your current size to a U.S. Men's size and your ready for those lakefront hikes and river escapades.

Subscribe to our Newsletter