Best Sweaty Feet Socks Reviewed & Rated
In a Hurry? Editors choice: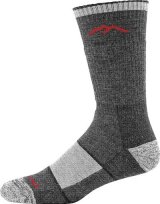 Test Winner: Darn Tough Hiker

Sweaty feet can be a huge annoyance. Whether you work hard or play hard, dry feet can feel like an unattainable dream. If you've tried everything from sprays to powders, to changing your shoes or even wearing several pairs of socks, but with no results, it may be time to rethink your choice of hosiery. Fixing this problem can be quite easy if you have the right pair of socks for sweaty feet.

Hosiery that will help with this problem will be made with natural or synthetic materials that allow moisture to escape and fresh air to enter the foot chamber, thus keeping you dry throughout the day. The list below looks at the highest-rated socks for sweaty feet for all types of activities, including walking, working, hiking, cold weather use, as well as regular everyday wear.
Standout Picks
Criteria Used for Evaluation
Breathability
When choosing socks to help prevent your feet from sweating, the most important aspect is, of course, going to be wetness control. The sock's ability to 'wick' away sweat is vital for keeping your feet cool, dry and healthy. Socks that stay wet and enclosed in shoes for too long can create bacteria and fungal growth. Irritation, blisters and athlete's foot are just a variety of health concerns that can be caused by sweaty feet.
Sweat isn't something we should be embarrassed about; it's the body's natural way of maintaining proper temperature and keeping cool. Now that we have all expressed our body's concerns, companies have been working on creating solutions like the sweat-wicking sock.
Wetness control can be found in a variety of areas in a good quality sock. The most common aspect of controlling liquids is found in the material the socks are made out of. Breathable materials that absorb sweat away from the foot without making the socks wet are key for success in keeping your feet dry. Custom made materials or synthetic fiber blends are great choices for wicking away sweat. Each sock is created with different materials that aid in its ability to stay dry, so we've made sure to include a variety of fabrics to choose from.
Along with the overall sock, the material comes breathable woven inserts like mesh fabrics and ventilation panels. The arch of the sock and the top where the shoe comes in contact with the sock is typically where sweat forms the most in socks, and this is where features like mesh inserts can come in handy. Typically found only in these areas of the sock, the ventilation panels or mesh provides flexibility and the proper air circulation needed to keep your feet cool and dry. These inserts are a great choice for allowing your feet to breathe.
Some brands create special custom made fibers or features to enhance the socks breathability. Some of these features include ThorWick fibers, Coolmax Polyester, and iWick technology. You'll see many other custom materials and features in the socks on our best list. Each company creates their own unique features, so we made sure to go in-depth with information about each one in the item reviews.
Materials
We briefly mentioned some materials above that help to wick away liquids and keep your feet dry, but with so many materials and custom blends to choose from, how do you know which is best? We've gone ahead and done thorough, in-depth research to provide you with only the most relevant information on quality made socks. The material is one of the first, most important choices to make when it comes to keeping your feet dry and comfortable so we'll break it down some more.
There are good materials, and there are some not so good materials to have in the making of your socks. If the ultimate goal is to keep the sweat from building up in the socks and keep your feet dry, you'll want to make sure the materials are designed for the same goal. While cotton is the most widely known material for being comfortable and soft, it will leave your feet feeling wet and swampy. Cotton doesn't provide any ability to wick away sweat. Instead, sweat builds up inside the socks and can cause many problems.
To avoid sweaty socks, you'll want to use materials with a purpose. If you like to stick to more natural materials, Merino wool is the best choice and all around is a top leading material used for fluid-wicking socks. The comfortable cushioning of the wool and the ability to keep sweat away from the foot makes it one of the best materials on the market.
Synthetic materials and custom blends are also a good choice because they're specifically designed to provide a functional purpose, like keeping your feet dry. Many companies have heard the complaints and needs of their users, so to create the ultimate solution they create their own custom-made materials. Most of these materials like CoolMax, DriTech and polyester, are made to wick away sweat from the socks.
Along with the type of material comes the thickness of the socks. This tends to be more of a preference but also provides separate benefits, so we made sure to include both thin-thick socks to choose from. Thick socks are good for providing cushion and comfort but may not always be suited for keeping your feet dry. Unless the thickness of the sock is created with a sweat controlling fabric like Merino wool, you may want to choose thinner materials. Thin materials are good for providing more breathability and room in your shoes but make sure you stay away from materials like cotton, or you'll sweat right through your socks.
Overall, the material choices are extremely important for keeping your feet dry, and we made sure to only include the best materials when choosing socks for our best list.
Size
The length of your socks tends to be more of a personal style choice, but each style features different benefits and features that make for a good quality sock. From no-show to crew-length socks, we're here to tell you why each one is important and beneficial.
While you may think of a crew sock as too constricting or enclosed, we've made sure to provide styles that are comfortable and breathable. Crew length socks are a great choice for pairing with boots or wearing during athletic activities like running or hiking. The longer length helps to protect your legs better. Most crew cut socks come with built-in with ribbed ventilation to not only help keep the socks from falling down but also to provide proper air circulation.
If the crew length is too high for you, you can step down to the mid-length, over the ankle style. This length is still good for protecting your ankles from rubbing against your shoes, without the excess fabric around the shins. These socks tend to focus more on comfortable cushioning and air circulation to the main points of the socks.
Along with no-show socks, mid-length socks usually come equipped with ventilation or mesh inserts on the top of the foot area or around the arch. The use of multiple fabrics in the creation of these socks helps to provide comfort and extra breathability.
There are also sock liners that are made with thin fabrics to help provide breathability in between other thicker socks. We've provided a crew length style in our best list which is great for layering and providing lightweight protection and comfort around the foot.
No matter what length you choose from, you'll want to make sure the features in the sock provide you with proper air circulation and wetness control. The length shouldn't change the functional features, but just so you don't have to do the extra searching, you can be assured that all the sock lengths provide the same amount of functionality as the rest.
Comfort
Everyone wants to be comfortable when wearing a pair of socks. You shouldn't ever have to sacrifice comfort for special features or style. Sweaty feet are uncomfortable enough as it is so when you're looking for a sock that provides wetness control, you're also looking for a sock that provides you comfort.
There's nothing comfortable about bacterial growth and soggy wet feet that can lead to blisters. The materials used to create liquid control in your socks should also be created to provide a form fit and comfortable feel. We've talked a lot about how important the material choice is for providing liquid wicking abilities and comfort.
The fit of the sock is also a highly important aspect and what makes the sock comfortable enough for daily use. A sock that fits the foot just right and provides breathability makes it versatile for its use. To help prevent sweat from building up, it's important to make sure that the socks form around the shape of your foot and the material doesn't provide any loose areas.
Socks that are too loose tend to pile and create extra areas where sweat can form and build up. Arch compression or ribbing in the material is a perfect choice for providing a comfortable, form fit around any foot shape. The flexibility in this area also helps to provide comfort during all types of movements.
There are many other features from padding around the ball, heel and ankle collar of the socks to a seamless toe area. Padding is a very common aspect featured in quality made socks. Socks without cushioning can create hot spots in the main impact areas of the foot, like the ball and heel area which can lead to extra sweat and discomfort. This is why padding is so important to have in the material.
The length, as well as the thickness of the sock materials, also helps to create an overall comfortable feel. When choosing a pair of socks for sweat control, you want to look for features in comfort as well as breathability. The structure and features of the sock are what makes the value higher and the use more functional.
Durability
It's no hidden surprise that good quality, wetness controlling socks are going to be a little costly. Most socks start at $10 a pair which can add up quickly when looking to purchase multiple pairs at a time. Sacrificing quality for a lower cost isn't a good option either because the low-quality materials can lead to potential health concerns and don't do much in the way of wicking away sweat.
Since each pair is going to be a little costly, you want to make sure you're the money you're spending is worth the overall value. Durability and reliability are aspects that people most commonly look for to fulfill their satisfaction and complete their initial purchase. Spending hard earned money and getting good quality items to go hand in hand which is why we've made sure to include socks with features that extend the overall lifespan.
There are some key features to look for to help increase the durability and value of the socks. One important feature is the reinforced material in the high wear areas of the sock. Areas like the front toes, ball, and heel, are most commonly worn down first, and that's how holes get created. When these areas are reinforced, the overall lifespan lasts much longer and therefore increases the value of the sock.
Value is found everywhere in a good quality sock. From the material to the structure and even down to the stitching, every detail counts. The brands we included in our best list are known for their high-quality features and styles. Some brands have created their functional features that you can only find from them. The customized feel not only extends the value but also adds to the overall comfort.
Durability and value are important in these higher priced socks, and while most are going to be priced at a higher cost, we've also made sure to include some quality made socks with basic features for a more affordable price. It's truly important to protect our bodies from damage even down to socks. When preventing your feet from sweat, you'll want all the quality features you can find.
10 Best Socks For Sweaty Feet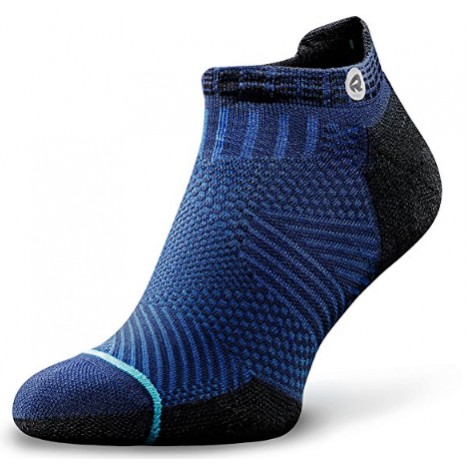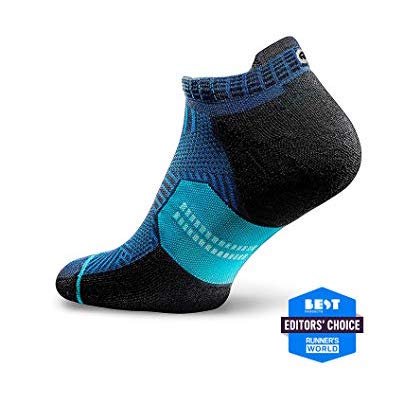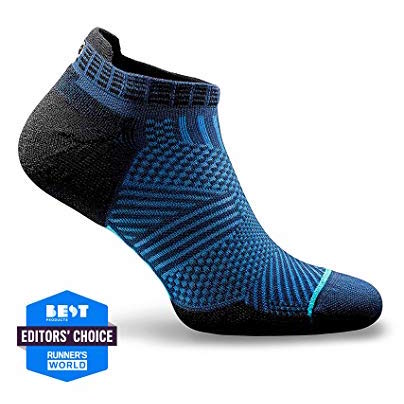 Quickly becoming one of our favorite pairs of socks for sweaty feet out there, the Rockay Accelerates have all the features a runner would want in a pair of socks. From the secure fit top, the heel tab, the compression band, and the high-quality materials used, these socks are at the top of the pack. And with a lifetime guarantee, it's hard to pass up on a pair of these!
Impact absorption at its finest is what is given with these socks. The complete cushioning around the entire sock is heavy duty and provides long-lasting comfort. No matter the activity you are involved in the less impact, the better. These sweaty feet socks will allow you to play hard no matter the conditions.
The Merino wool and synthetic blend provide exceptional sweat-wicking ability. Keeping your feet dry in all weather conditions is very important, and these socks will provide the optimal dryness you have been looking for. Especially in cold areas or during winter, the ability to keep your feet warm and dry is a must for health and comfort.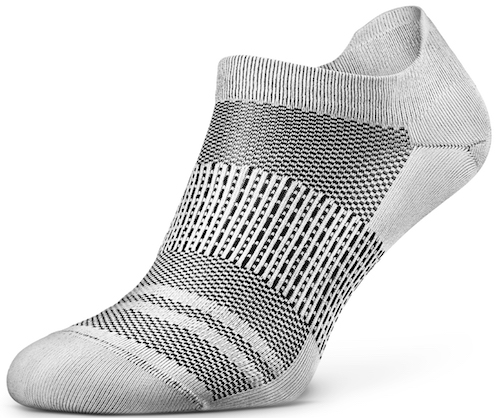 People whose feet tend to sweat a lot, regardless of weather conditions or the type of footwear they choose need to make sure that absolutely every garment that comes in touch with their skin has quick-drying, moisture-resistant properties. Although experts often suggest purchasing socks made with merino wool, these are difficult to keep clean and come with a hefty price tag. This is why the Rockay Agile is such a great solution to those who want to stay dry during their day.
This pair of no show socks was designed for runners who wanted minimalistic hosiery that wouldn't create bulk or cause overheating. What this means is that this particular model has all the performance benefits of the best running socks you can imagine, but will keep you completely cool, even in hot and humid climates. The number one reason for this is the company's choice of materials - water-resistant fabrics coated with a special Polygene technology that ensures moisture-wicking performance and odor-resistance.
You'll be especially satisfied with the mesh panels over the top of the foot that let cool air in, as well as with the toe area that was made to minimize rubbing and blistering. Seeing that skin becomes softer when trapped in a moist environment, thus resulting in higher sensitivity, you can rest assured that wearing these socks for your day-to-day activities will eliminate this problem effectively, without much hassle.
The color options for the Rockay Agile are limited so far, but you'll find that the white design goes well with most footwear choices, especially sneakers. You'll also love the fact that this model uses recycled materials, keeping the Earth clean and helping minimize pollution. As for price, they have a cost that's average for this type of product, and the lifetime guarantee adds great value as well.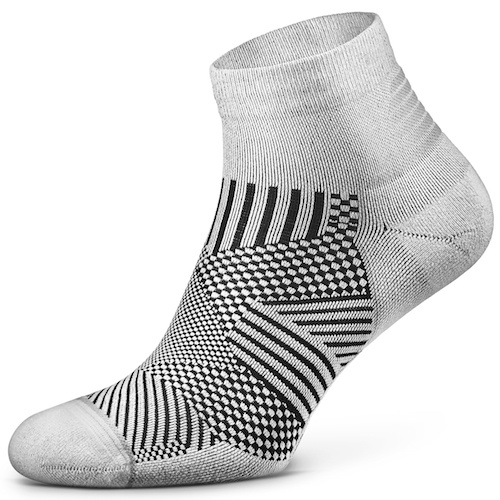 While wearing a minimum amount of clothing in hot weather seems like the perfect idea, it's not something that everyone can do. If you are required to look put together at your place of work, or simply don't like the way that no show socks always seem to slide off your foot, your next best choice is to invest in a high-quality pair of quarter crew socks such as the Rockay Flare.
This is a model that was developed with runners in mind, which is exactly why it's on our list of best socks for those who sweat a lot. The Flare is made with 50% Econyl Regenerated Nylon that uses plastic polluting the oceans and repurposes it into garment materials, 47% Recycled Polyamide, and 4% Recycled Elastane. What this means is that you receive a pair of hosiery that's not only great at wicking moisture away from the foot, but that's also made with materials that are sustainable and environmentally friendly.
The Flare also utilizes a tech material coating that makes maintenance easier. The Polygene coating makes the fibers used in this pair of socks more resistant to dirt and sweat, thus allowing you to wear this garment more often, without the need to wash it every time. When it does become dirty, all you have to do is put it in the washer on a gentle cycle and it'll be as fresh as when you first bought it.
The cuff and toe area of this model are non-irritating, so you won't have to worry about them cutting into your skin, and you'll also find that the cushioning in the heel and ball of the foot contribute to an overall comfortable wearing experience. As for price, it's slightly more expensive than regular fashion models, but it still won't cost nearly as much as what you'd pay for a pair of merino wool socks.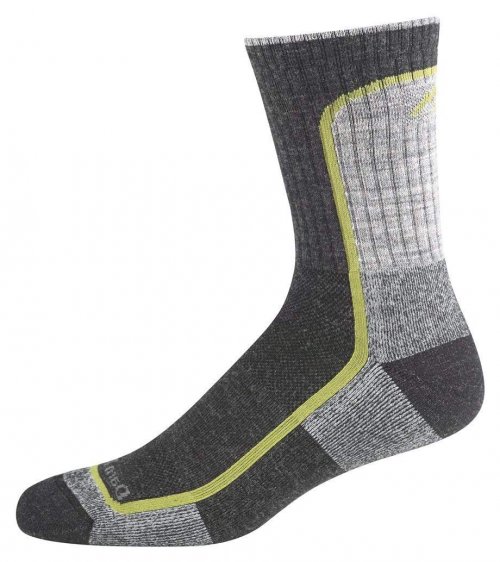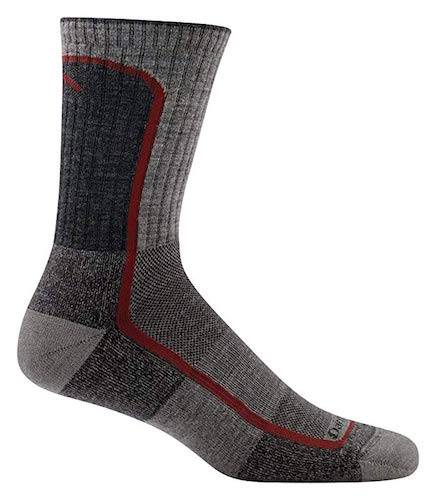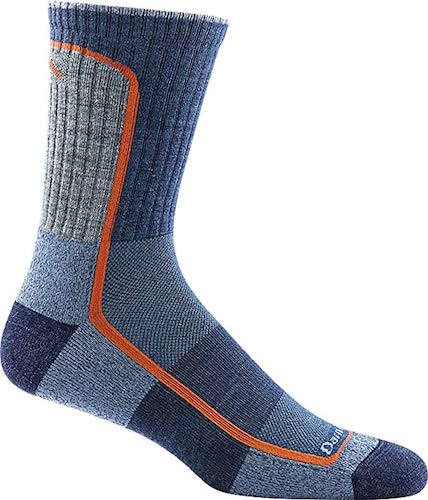 Darn Tough is know for quality, durable sweaty feet socks with fresh, innovative features and designs. The midweight cushioning in these socks provide proper comfort without ever sacrificing breathability. The custom blend of materials and mesh top combine to provide the proper amount of air circulation and flexibility. Cushioned at the bottom of the foot and equipped with arch support, these socks were made to provide security and comfort at the same time.
For those of you who are looking for cushion in between thin and thick styles, this midweight cushioning is a perfect choice. Not being too think but also providing cushion in the main areas of impact, these socks help to protect your feet and keep them comfortable during movements.
Darn Tough combines mesh and ribbed materials to create the ultimate form-fitting feel. Created to be flexible and breathable, the cushion in these socks are high quality and made to last. While the rest of the socks for sweaty feet are created with a blend of synthetic materials, you can be ensured that these socks will keep your feet cool and dry.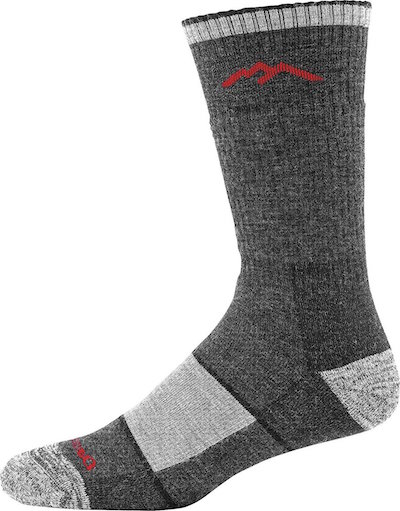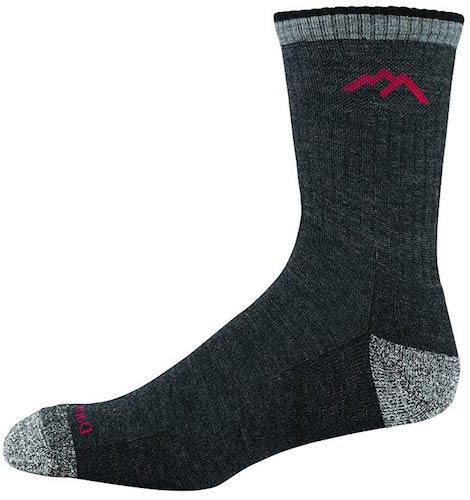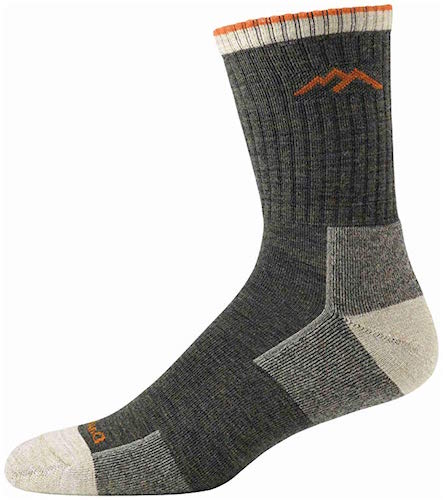 Made in Vermont, these socks are tested by go-getters like you. If you like skiing, hiking, running, or just find the amount of moving you do at work leaves you with sweaty socks and feet then these are the socks for you. Made with high-quality Merino Wool blend you will find the ultimate comfort and support for your feet. These socks for sweaty feet are in it for the long haul by offering great durability and smooth seamless construction.
Keep your feet nice and dry with fast action wicking. These socks not only dry quickly but keep sweat away from the skin which, indeed is our first goal! This feature is great for preventing blisters and bacterial growth.
These socks come with a lifetime guarantee for anything that may happen. Rip your sock because you decided to run through a forest without shoes? Just send them back and you'll receive brand new socks! The confidence of the brand ensures the reliability and quality of the construction.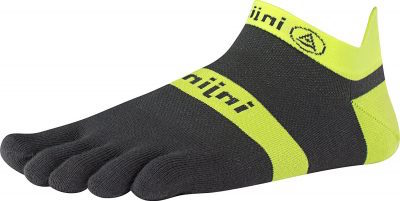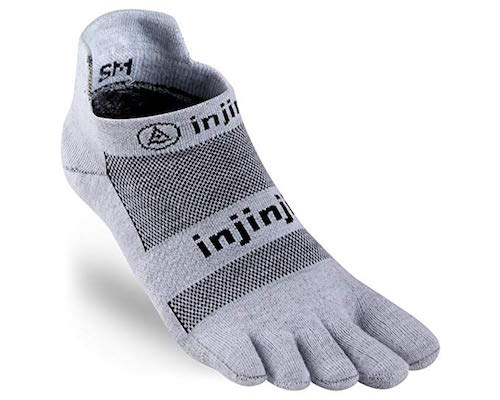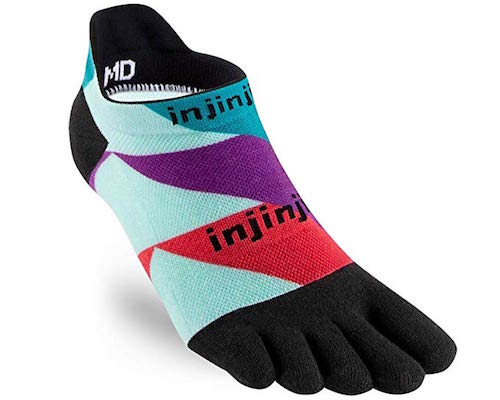 Based in California, Injinji is a highly known brand for creating comfortable toe socks. This design may seem funny at first, but the form-fitting comfort these socks provide will help you to rethink style. This innovative design helps keep the sock in place during movements and gives your toes their natural ability to move. The thin material is created with synthetic materials and Coolmax fibers to wick away sweat and provide proper air circulation. The mesh top also enhances ventilation, creating the ultimate lightweight and breathable feel.
This style seems silly, but it serves an important purpose. Toe sweaty feet socks fit around the toes, not only providing a form fit but also allows the toes to move flexibly and freely. This style is highly versatile and works well as an everyday sock, during athletic activities or underneath casual shoes. Eliminating the space between the toes also eliminates extra areas where sweat can form.
The synthetic and Coolmax Xtralife fibers used in the socks were designed to wick away sweat, the main feature needed to keep feet from getting sweaty and smelly. The durable, lightweight construction and mesh top helps to provide extra ventilation and air circulation to keep your feet dry no matter what you're doing.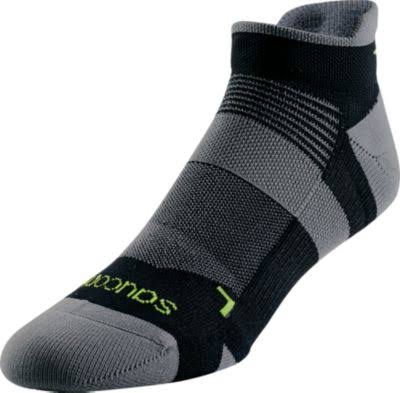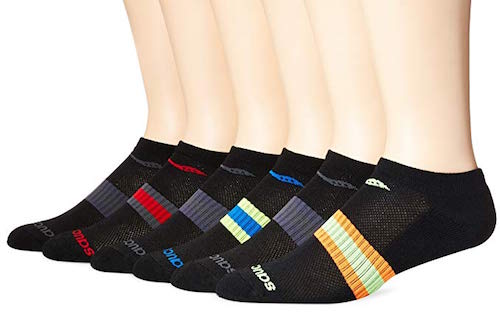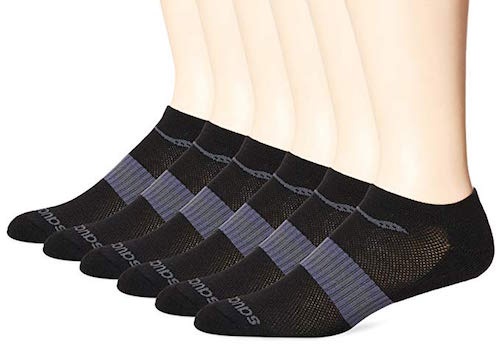 Saucony was founded in 1898 and has been a leader in the sock industry since then. Their goal is apparent, to make the best running socks, shoes, and apparel in the world. With high-quality material and expansive knowledge in their field, Saucony socks are bound to exceed your expectations. Targeted arch compression and light cushioning provide complete comfort and a secure, protective fit. Using Airmesh venting and RunDry material, your feet will stay fresh all day.
The amount of compression a sock provides can make or break the lifetime wearers opinion of a sock. These socks provide enough compression to support the arch and give security to the wearer. The compression of this sock also helps prevent bunching, which in turn helps keep the sock in its place.
When you pair ultra soft material with great ventilation that give you maximum airflow what you get is one dry foot! Say goodbye to your sweaty feet. This quick sweat control system helps to provide long-lasting comfort with a cool, dry feel.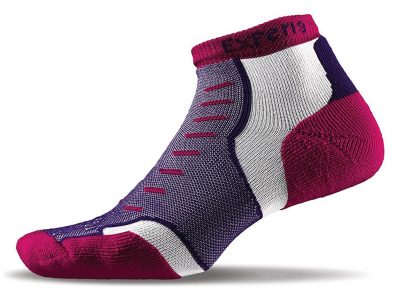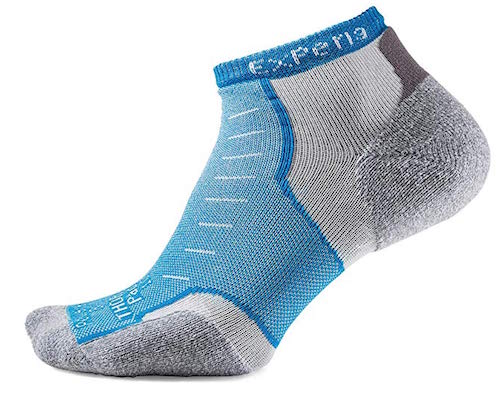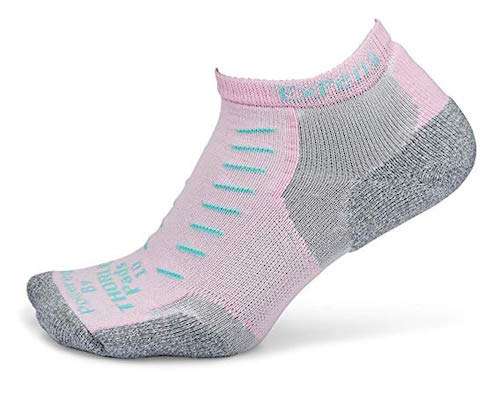 Exclusively made in the United States, Thorlos has been dedicated to making quality padded sweaty feet socks for almost 40 years. This thin padded ankle sock provides a lightweight feel with a durable structure and form fit. Designed to provide protection against friction and prevent blisters, the padding in the ball and heel area of the foot will keep your feet comfortable during any type of movement. The custom blend of materials is designed to be flexible and provide proper air circulation to help keep your keep dry and cool.
Thorlos is known for creating their socks with the perfect amount of padding to protect your feet from damage while providing comfort at the same time. Located in the Achilles-tendon, ball, heel areas of the sock, the special Thorlos padding provides cushion against impact and friction. Lightweight and durable, this sock is perfect for those who are actively on their feet.
The socks frame is lightweight and created with mesh material to enhance proper airflow and breathability. Created with 65% ThorWick Cool fibers, these socks for sweaty feet were created to wick away sweat and provide a cool, comfortable feel. The soft yet stretchy material creates a form fit around the foot that doesn't sacrifice breathability.

9

. Carhartt Cold Weather Boot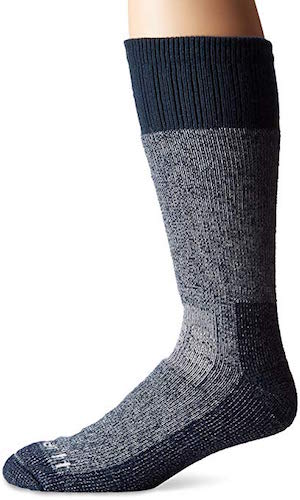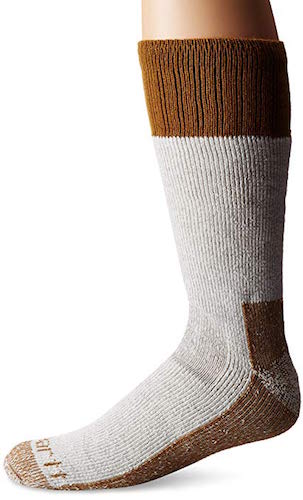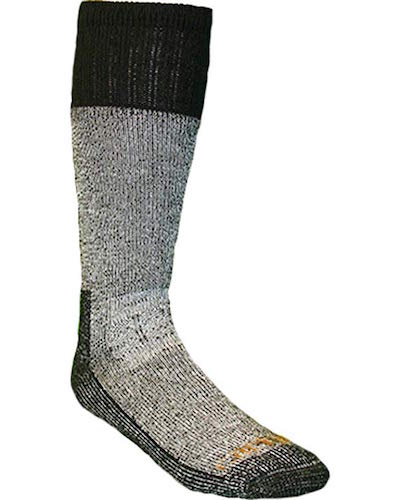 You probably already know how difficult it can be to find socks that are both warm and moisture-wicking. If you're in need of a pair of great cold-weather boot socks, you should definitely check out this model by Carhartt. It can easily be worn under your rubber farm boots, with a pair of hiking shoes, or even regular footwear for everyday use. This model is available in three sizes that should fit feet from sizes 5 to 15. They also come in several color versions.
The exact blend of materials used to make the Cold Weather Boot Socks varies based on color. Roughly, you can expect approximately 67% acrylic, 16% wool, 10% polyester, 6% nylon and 1% spandex. This blend is great for two reasons. For one, it will help retain heat in extremely low temperatures, all while ensuring fast drying, which will prevent you from developing foot odor, or suffering from the negative effects of wearing wet clothing in cold weather.
Another notable feature of the Carhartt are the Cordura yarns used in the toe and heel area which are abrasion resistant and ensure a higher level of durability. You'll also find that to improve fit, the ankle area is made of a lighter knit which prevents bunching and allows for maximum freedom of movement. The socks are fully cushioned, which allows for some shock-absorption to comfort the feet even while standing or walking all day.
These socks fit true to size and are one of the most durable models on our list. You'll find that this company stands behind their products, so you get an extended warranty against any premature deterioration. As for cost association, they're more expensive than regular hosiery, but still won't break the bank, especially if you only need a couple of pairs.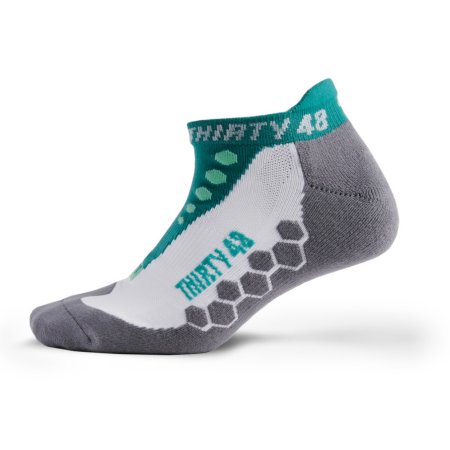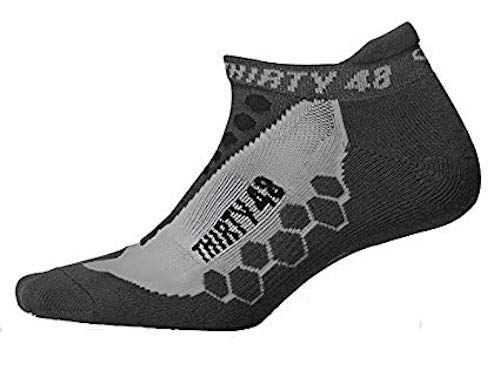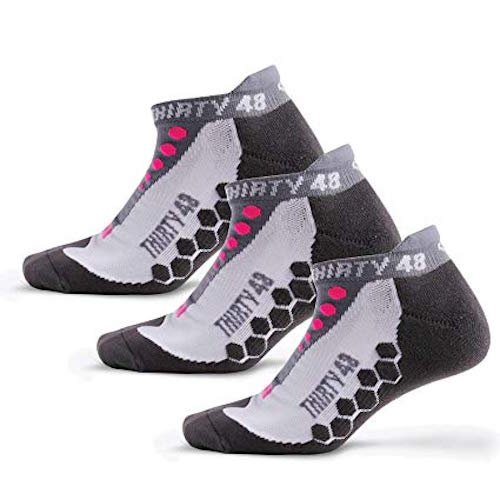 Self-proclaimed "sock geeks" combine knowledge and technology to support your feet in all activities. With Thirty48, they do the thinking so you can do what you want and know you will have comfortable feet. Taking into account information from many runners to target specific problems that are commonly faced when talking socks, they believe a great foundation works to a great sock. These socks provide CoolMax technology to keep your feet comfortable and dry throughout the day.
By adding extra cushion to the toe and heel of this sock you get padding where you need it the most. They have also added extra cushion to the instep of the sock to help protect the metatarsal bone from friction which can lead to painful bruising.
Coolmax is excellent at quickly removing sweat from your feet. It does this by channeling it away from the sock. They have a mesh upper for breathability. The dream of dry feet has come true with these socks for sweaty feet.

Subscribe to our Newsletter