Best Athletic Socks Reviewed & Rated
last updated
Apr 19, 2019
One of the most inaccurate statements ever overheard at your local sports store, or read on athletic blogs all over the web, is "What do you mean socks? Socks are just socks!". If you wore a baseball cap to powder ski in British Columbia in -40° weather, is a hat just a hat? Socks are the unsung hero in many of our athletic pursuits. Fast or slow, long or short, the right sock can make ALL the difference. This list will focus on the 10 best athletic socks you can find. Be it ankle high or no-show, full toe or individual toe socks, if you can't find it on this list, it should not be covering your feet.
In a Hurry? The test winner after 18 hrs of research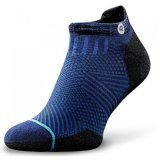 Rockay Accelerate
Why is it better?
Comfortable Merino Wool
Arch Compression
Good Value
Sweat-Wicking
Anti-Odor
In a
Hurry? Editors choice: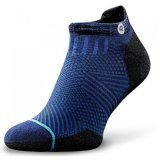 Test Winner: Rockay Accelerate

15
Researched Sources
1300
Reviews Considered
18
Hours Researching
20
Products Evaluated
Effectiveness
Fit
Comfort
Durability
Value
By Default
10 Best Athletic Socks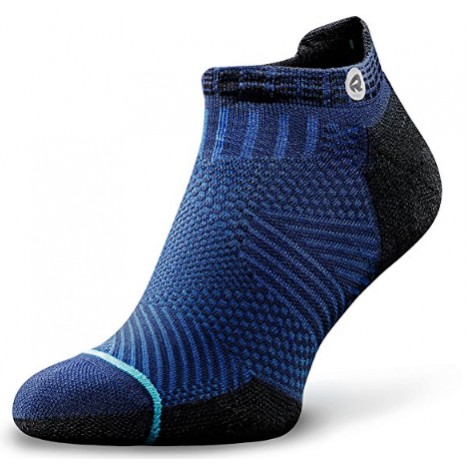 Comfortable Merino Wool
Arch Compression
Good Value
Sweat-Wicking
Anti-Odor
Rockay is a newer company to the athletic sock game, but they have come out the gate strong with the Accelerates. These socks feature merino wool helping to wick away moisture and keep your feet dry all day long. There is also a compression band on the arch of the sock, as well as an elastic top to ensure a snug, slip-free feel. The makers believe in their socks so much, that they offer a lifetime guarantee on any pair purchased.
Read more
As simple as that! This wool's anti wicking properties are unrivaled. From the fine gauge knitting that provides wicking and anti-odor highlights, it also warms in the winter and cools in the summer.
With a strong arch compression band, these socks will give you that extra support you need for a comfortable run or during your athletic pursuits. The compression band is nice and snug, so the fit is great and the socks do not slip around.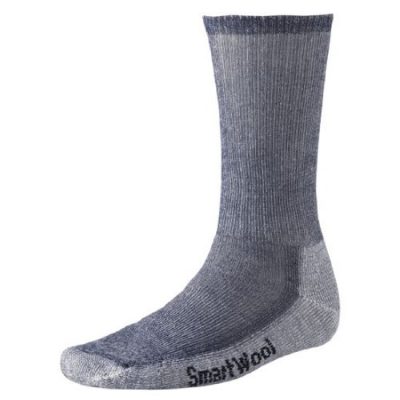 Excellent Sweat Wicking Capability
Year round Wear
Braced Arch Support
Make Great Giftys
Made in the U.S.A.
Cushioned for Good Impact Absorption
What started in the Colorado Mountains is now one of the most well known athletic sock and apparel companies in the U.S. SmartWool set out to make socks that were great for cold weather and skiing, what they have accomplished is providing the world with a Merino Wool sock that can meet many of our athletic sock needs. SmartWool isn't your typical wool manufacturer, they have introduced technology, top-quality construction, and a variety of fabrics to their wool, making it perform better than most can imagine.
Read more
We tend to find ourselves drawn to anything that can guarantee satisfaction, however, not every 100% satisfaction guarantee, is created equal. Everyone likes the peace of mind that comes with knowing your hard earned money is coming back if a product doesn't meet your standards for any reason. With some products that is 90 days, which seems to be the norm, but others it can be as short as two weeks! Smartwool has given us two years to return their product if, for any reason, we decided we are unsatisfied. This is an exceptional amount of time and part of the reason people are choosing the SmartWool Hike athletic socks for many of life's adventures.
No matter the adventure you find yourself in, needing an excellent pair of athletic socks that don't have that annoying and painful toe seam cutting into your skin is essential. With Smartwool's Flat Knit Toe Seams, your feet will stay comfortable and your toes will be thanking you. The pressure a rounded seam can have will not only cause pressure but can also cause blistering. Battling blisters can keep you out of the game for quite some time or away from your favorite trail on a beautiful spring day. The flat toe seam won't rub or cause unnecessary pressure, making every day the perfect day for a new excursion.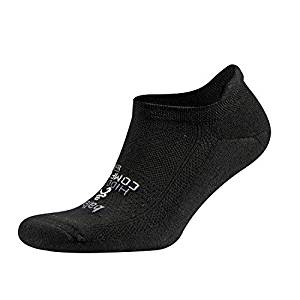 Seamless Toe
Heel Tab
Thicker Undersole
Stronger Elastane
A recurring theme with many of the socks on this list will be moisture control. Balega's will exude their prowess in the moisture control arena with their own Drynamix moisture management fibers.
The Hidden Comfort sounds like it was named after an Inn waiting for you with a cozy fireplace, and that's actually a pretty close match to how this sock would feel.
Read more
Balega's entry into the plethora of moisture-wicking tech is relatively in its infancy when compared to some of the bigger sock companies. Despite its lack of tenure, it seems to be well designed and implemented. Super soft moisture management fiber (exclusively designed for Balega) keeps your feet cool and moisture free from morning to night.
One of the many things Balega has done right is the Deep Heel Pocket design. If socks slinking down your heel during a run is a thing for you, here is your magic pill. With 30% more stitches in the heel and adding even more heel branches, you will feel the depth of the heel pocket and its insistence to keep everything in place.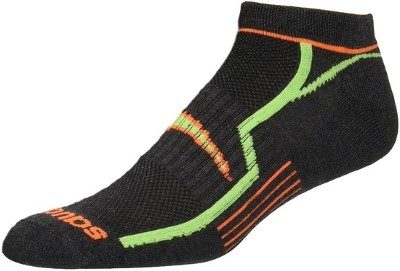 Well constructed
Ergonomic Fit
Breathability
Dark Color
No Seam Issues
Sizing Is Inconsistent
Wear Issues Reported
Cool and dry are the pillars of the sock world; most socks do their best to meet those standards but fail to a lot of the time. The Saucony Performance Sock hits the mark with several pieces of superb technology that makes this one of the top three on this list. Given they make running shoes, this showing up at the top of our list is not surprising!
Read more
It's all in the name. Athletes don't just want this; they need this. Wet feet can be the single most irritating and run-ending thing we can control. RunDry Moisture Management provides an unbelievably arid feel with their moisture wicking fibers. Add to that a mesh ventilation construction that creates maximum airflow ensuring a cool, dry run.
To be clear, this is not a compression sock. However, Saucony has woven a precise amount of compression to ensure your arch stays where it needs to. Less movement in the shoe always makes for a better run. There is the perfect amount of cushioning without greatly bulking up the sock.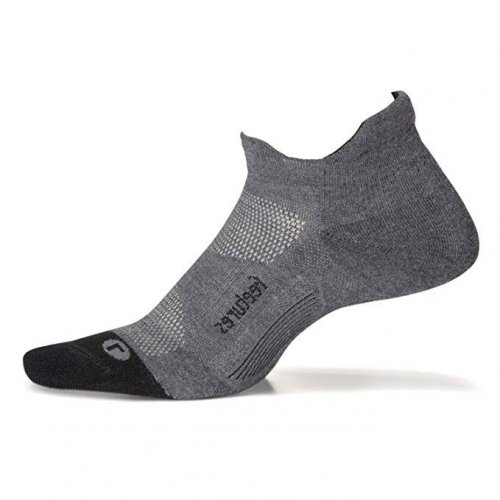 iWick Polyester adds cushioning
Blister protection technology
Zone-Targeted Compression
Lifetime Guarantee
The Elite Max athletic sock by Feetures! is the dream for any athlete (or workout enthusiast) that needs a sock offering targeted foot compression, moisture-wicking technology and a soft luxurious feel, all while preventing corns and blisters. If this sounds like you, Feetures! has what you are looking for. Add in the fact that the company is so confident you'll love their product, they back them up with a lifetime guarantee.
Read more
The proprietary blend of iWick polyester found in the Elite Max offers an insane amount of comfort and cushioning, unrivaled by almost any of the best athletic-wear manufacturers. The company combines its knowledge of fabrics and technology with the science of motion to create a sock that lets you go the extra mile and feel good doing it. Added support at the heel and toe-cap also mean that you won't easily wear these socks out while operating at peak performance.
Finally, the targeted compression offered by the Elite Max augments the performance of the wearer, by providing support when your muscles and joints need them most. When the arch of your foot presses down, without the right support, it can lead to stress fractures and pain—no what you want to experience if you are training for a big game or marathon. Further, the moisture-wicking technology in the Elite Max will also keep your feet dry and cool. Say goodbye calluses and hello to a great workout.
6

. Injinji Run 2.0 Toe Socks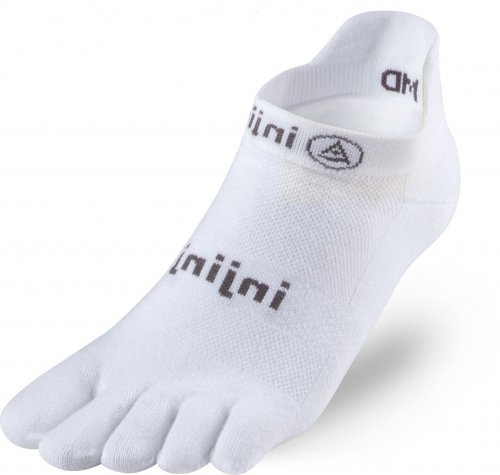 Coolmax Xtralife
Mesh Top
Ultra Thin
Seperate Toe Spaces
Very low cut and can slide down
This deviates a tad from the normal sock; these are toe socks, not traditional fitting socks. Love 'em or hate 'em, toe socks have become the polarizing design in the running sock world. If you are a lover, then these are the pinnacle of the toe sock lines. Individually wrapped toes work from many. If you are a hater, then you have permission to head down and check out the 4th place sock.
Read more
These are individual toe sleeves that are designed to keep your toes in alignment while running thus avoiding inner-toe blistering. They claim that it promotes good posture as well.
Not only do Injinji focus on moisture control, but they also concentrated on many other highlights. 200 needle count for an ultra-thin fit, arch support for a secure fit made easy by an anatomical fit and lastly an enhanced cuff to keep your feet in place at all times.
7

. Balega Blister Resist No Show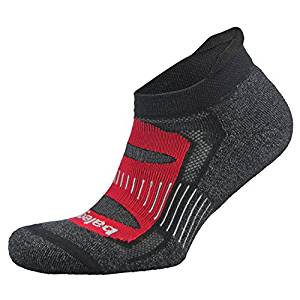 Mohair & Drynamix
Moisture Wicking
High Heel Tab
Seamless Toe
Balega's second entry in this Top 10 list. Balega puts forth quite an effort in putting to market some great socks with several different key attributes for each model. This one says it all in the name. The "Blister Resist" technology is paramount with this sock. Don't be fooled by the name though. Lots more to like about this sock.
Read more
A specific combination of Drynamix and Mohair keeps your feet cool and dry. The Mohair keeps heat in during those cold runs while the Drynamax pushes moisture away from the skin. This combination sets the ideal environment for your feet in your shoes.
The extra high heel tab safeguards your sock from wiggling its way down your heel and deep into your shoe. Add to that the tailored extra deep heel pocket that locks in the runner's heel and you are loaded and ready to get moving, issue free.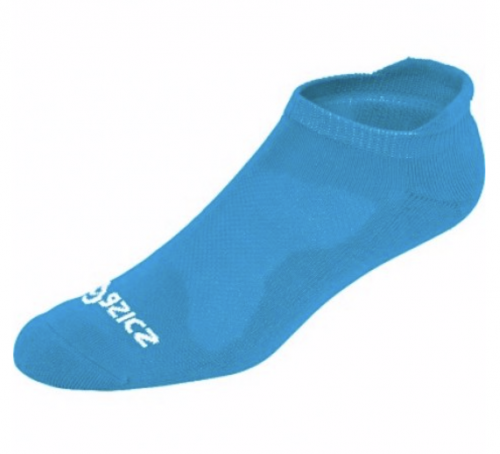 Polyster & Spandex
Knit Mesh
Highly Breathable
Seamless Toe
I suppose it was inevitable that we would have more than one big shoe company sock on this list. I love the relationship between a shoe division and a sock division of a large company. A win-win for sure. This sock has a good number of features that make it stand out.
Read more
No enough to make it bulky, but enough to just absorb a bit more of that pounding we take on those longer runs. The toe cushioning blends in well with the construction eliminating that awkward toe seam.
Much like their shoes, Asics has devoted a good bit of technology in its wicking and breathable fabrics. It consists of a knit-in mesh for ventability and breathability. Truly acknowledging efforts toward a top-notch moisture management system.
9

. Nike Performance Cushion Low Rise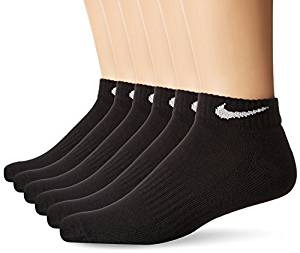 80% Cotton/18% Polyester/2% Spandex
Reinforced heel and toe
Rib cuffs
Arch support
Some May Find they Need a Different Size
A brand built for athletes, Nike's tagline is "Just Do It", and these high-performance athletic socks will help you do just that. Giving quality athletic socks that let you perform at your best, Nike athletic socks will keep your feet dry and comfortable.
Read more
We've all been there: you've just played one of the best games of your life and you come off the court and take your shoes and socks off and, yikes, smelly and wet feet. While not only unpleasant, it can be detrimental to your overall foot health. Wet and warm is synonymous with fungus and blisters and you don't want to have your game thrown off by a tiny, little dermophyte. The Nike Performance Cushion Low Rise are the perfect solution for preventing this exact situation. Made of a 80% Cotton/18% Polyester/2% Spandex-blend, they wick away moisture and allow heat to flow away from the foot. These athletic socks dry much quicker than your cotton socks and will keep you in the game, even if you find yourself in overtime.
What's even better about these Nike socks is that they are reinforced at the heel and toe areas, as those tend to wear quickly, especially by athletes that perform quick and sudden foot shifts. They are easy to wash and keep clean and can easily be popped in the laundry machine. Available in white and black, coming with 6 pair per pack, it's a great value for the money.
10

. Thirty 48 Running Socks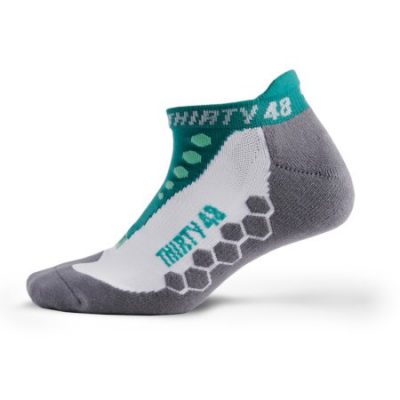 Very Comfortable
Almost Compression Fit
Wicking Technology
Padded Upper
Multipurpose
Sizing Issues
Short Track Record
One of the lesser known brands on this list, Thirty48 are relatively new to the start line in the running world. This does not mean they don't know what they are doing! This multi-sport socks looks great with a very sporty design with built-in purpose for this new aged look. Not just a running sock, Thirty48 touts this sock as a leader for many sports.
Read more
Innovation is the key here. They have engineered extra padding to this sock on the metatarsal which provides some extra comfort and protection from lacing issues which we have all experienced.
As many other socks, ventilation is paramount and part of Thirty48's construction. They use a patented design called CatalystAF™ which creates channels within the fabric that induce airflow around the foot. They have also utilized their CoolPlus™ technology to complement the airflow.
Criteria Used for Evaluation


Effectiveness
Keeping your feet dry during any activity is of the utmost importance. Wet feet can lead to painful blisters, hot spots, fungal or bacterial growth, as well as terrible odor. We have all been in these types of situations. Finding out what material is the best for keeping your feet cool and dry leads our list of the criteria used to evaluate the best athletic socks.
Wicking is the ability to move moisture away from the skin and out towards your shoe. This will stop your feet from getting soggy and soft, which can lead to skin breakdown and other uncomfortable foot situations. So, what is the best material for sweat wicking and what is the worst?
Best Wicking Material
Merino Wool
Polypropylene
CoolMax
Polyester
Moderate WIcking Material
Acrylic
Cotton Polyester Blend
Nylon
Worst Wicking Material
Cotton
Spandex
Heavy Synthetics
Finding that perfect sock for your busy life can be difficult, especially when it comes to making sure your feet stay dry and smelling good. Our guide offers a variety of excellent sweat-wicking athletic socks, surely you will find one that will work with you throughout all of your activities.


Fit
This may seem like an odd requirement when thinking about the best athletic socks. We chose it as a top rated need for several reasons. Sliding feet can lead to accidents, slips, falls, and injury. Making sure your sock isn't slipping around on your foot or inside your shoe is not only an issue of keeping you comfortable but it also keeps you safe.
Compression around the arch not only supports your foot, preventing pressure and potential stress fractures. This band also helps hold your sock in place so you are not sliding around in your shoes.
Cushioning also helps keep your foot in place and reduce shock to the parts of your feet that take the most pounding. Correct cushioning with a supportive band around the arch and ankle will keep your feet in place and keep you moving for all the future fun.
Sliding in your shoes can be dangerous. When your foot slips either inside your sock or inside your shoe, you may lose your balance or roll your ankles due to the sudden shift in positioning. Solid placement in your shoes, knowing your feet will stay where you put them because of great fitting, high performance, athletic socks, will give you peace of mind during the next big adventure.


Comfort
Maybe these should have been two different categories, however, we believe they go hand in hand. We know how important comfort is. Especially during those long games or hikes through the woods. The right cushion and support will guarantee your feet stay comfortable, even during the most arduous activities. Of equal importance is the durability of your athletic socks. You need a sock that is going to hold up through life's journeys.
Padding in the front and at the heel of the sock will provide padding to the places that take the most pounding. Correct cushioning will promote comfort with shock absorption. Less impact on your feet keeps them feeling great and allows you to participate every day!


Durability
Finding the seam of your sock ripping out in the middle of a game or workout session can be devastating to the integrity of your feet. This can cause pressure areas and skin break down which, if not handled correctly can lead to infection.
Making sure you are wearing a high-quality pair of athletic socks, that are built to last with you is crucial to keeping you in the game.


Value
So, what makes the socks on this list so popular? There are some areas that socks can excel in which makes people get excited about them. There are features such as cushioning, support, stability, flexibility which make many on this list super popular. There are other features which factor into making a sock a best seller, as well.
The most popular are, also, cost-effective, meaning they are durable and provide enough features to offset their cost. Finally, the ones which sell the best are stylish and fashionable. We've kept value in mind when ranking the socks on our list. We would never want to recommend a sock that was either too expensive for the average person to buy, or would only last a couple of wears before becoming ruined.
Expert Interviews & Opinions
Most Important Criteria
(According to our experts opinion)
Experts Opinion
Editors Opinion
Users Opinion
By Default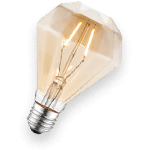 Athletics Redefined
Whereas decades ago, the term athletics referred only to a specific subset of activities, nowadays, athletics really can include any sort of physical activity, organized play, or something that gets your heart rate going.
When it comes to socks, the best kinds of socks for athletics really are those with moisture wicking capabilities, soft, flexible materials that maintain durability, and something that has a great on foot feel.
If you're running a marathon, all that time on your feet could be helped by a sock that has extra support throughout the arch, while those who snowshoe could want to consider a sock made from merino wool. It's all up to what you get into!
Other Factors to Consider


Bottom Line
The "Best Athletic Socks" list is here to help show you what is out there and how it is performing. It is also here to give you the details you may not see written on the wrapper, as they say, that will make you feel good about your purchase. Whatever the outcome is for your choice, remember one thing: a sock has never won or lost a game for you. It can help or hinder, but at the end of the day, you are the athlete and the sock is just tagging along for the ride!
Frequently Asked Questions
q:

What's the difference in athletic socks and my everyday socks?

a:

Depending on what type of socks you wear on a daily basis there may or may not be a huge difference. If you wear dress socks to the office and try to wear them to your weekly basketball game you will find soggy, slippery, feet that are causing you pain and slippage during the game.

Athletic socks are structured to support the athlete. They are padded and designed to keep your feet dry and in place while participating in your chosen activity. Technology has played a large role in the innovation currently used in athletic socks. Performance is key and if you try a pair of athletic socks rather than your everyday socks you will see the difference immediately.
q:

What is the best athletic sock material for odor control?

a:

When it comes to odor control, what you are really looking for is moisture control. Sweaty feet equal smelly feet. As we all know, it's not just your feet that produce a foul odor, it's your socks and shoes as well.

Merino wool has an amazing sweat-wicking capability. Moving moisture away from your foot and allowing it to evaporate quickly helps reduce odor. The more moisture is moved the less smell you will find in your socks and shoes.

While Merino wool is the number one choice for odor control, other options would be a polyester blend or other synthetic blend made for moisture control. Our guide offers many options in athletic socks that have great odor control capabilities.
q:

What are athletic compression socks?

a:

Compression socks put pressure on certain points of the foot and leg to prevent swelling and increase circulation. This helps the muscles recover and perform at top levels. Exceptionally good for people on their feet all day, as they keep the blood and fluid flowing as they should.

Compression also gives great support to the wearer. For example, compression around the arch of the foot, which is commonly seen in athletic socks, gives support to the arch and helps keep you comfortable and safe from things like stress fractures.
q:

Is caring for my athletic socks any different than my regular socks?

a:

We know a lot of things we buy in life require special care to not get ruined in the washer or dryer. Like most things you definitely want to follow the manufacturer's instructions for care. Most of the socks in our guide are able to be washed just like you would your day to day socks. Be aware that shrinking can be an issue depending on what the sock is made of. If there is a lot of elastic you will want to take care when drying. A very hot setting can cause damage to elastic. All in all, you are safe to wash most socks as you normally would, always double check the materials used and what the care instructions say.
q:

What can I do about my slipping athletic socks?

a:

First you need to think about where you sock sits. A sock that sits mid-calf will always fall down. This is the widest part of your leg and it's difficult for any sock to grip it. If a taller sock is what you seek, keep it up with an over the calf sock that sits just below the knee.

Like your socks a little shorter and having problems with them sliding into your shoes? Try an ankle sock with a tab. The tab not only makes it easy to put on it also sits outside of the shoe and helps the sock stay in place. Tabs are usually thicker than the sock helping to keep them on the outside of the shoe.

With any sock, you want to make sure there is the right amount of elastic in the right place. Support around the arch and the ankle will help keep your sock in place during all of your activities. A great fit where the elastic is snug but not cutting off circulation will have your socks staying just where you need them.