Best No Show Socks Reviewed
In a Hurry? Editors choice: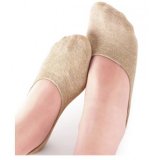 Test Winner: Vero Monte

Do you like wearing boat shoes but hate how
sweaty your feet get
when you go sockless? Do you wear flats every day but get annoyed by your feet slipping out of them? We have the solution for you: no show socks. Yes, that's right – those seemingly-thin slips of fabric you see hanging next to the
insoles
in the drugstore. Don't judge a book by its cover – these socks are surprisingly comfortable.
No show socks stay hidden inside your shoes so you never need to worry about matching your socks again – no one will ever know. No show socks provide the perfect balance between wearing full coverage socks and
going completely sockless
.
Standout Picks
Criteria Used for Evaluation
Support
One of the main complaints that people have with no show socks is that they constantly slip down as you walk. No show socks with silicone grips on the heel are a perfect solution to this – the silicone provides friction against the back of your shoe and stops the slip.
There are many different types of silicone grips:
Rectangular grip on heel
Double grip on heel
Triple silicone strips on heel
Padding underneath arch of foot
Padding under toes
All of them do their job – it's up to you to choose which one is the most comfortable!
Some no show socks come with extra elastic around the cuff to further prevent sock slippage. This can be helpful if you find that slipping socks are a real problem, but some people complain that this causes the socks to be too tight.
Water Resistance
Even when you wear socks with your shoes, your feet still get sweaty – especially if you're doing a lot of exercises. And once your feet start to sweat, they'll soon start to smell. Stop smelly feet in their tracks by choosing the right kind of socks. There are many no-show socks that have moisture wicking properties – even including silver ions in their materials to help stop perspiration and any development of bacteria from this moisture.
The best materials for moisture management are:
Bamboo
Polyester
DrySilver
Wool
These materials are just absorbent enough to remove any moisture, but they're light enough to dry quickly too.
Some of the worst materials for moisture wicking are:
Cotton
Linen
Nylon
These materials are highly absorbent, but they take a long time to dry and may foster bacteria growth.
Ease of Use
No show socks can be difficult to care for if you choose the wrong pair. Some require hand-washing only, others can be machine washed but not put in a dryer (they might shrink!). It is important to research this before you buy a pair of no-show socks, as you may be the type of person who never remembers to hand wash anything and just throws everything in the washing machine at once. You need to pick the type of no-show sock that works for your lifestyle, so carefully consider how your socks need to be washed before you buy them. Generally, the thinner the sock, the more likely it is that it will need to be hand washed.
Comfort
Of course, your socks need to be comfortable! If they're made out of an itchy material or they're too tight, you will be uncomfortable. Here are some things to think about when you're choosing your next pair of no-show socks:
Fit: are they too tight or too loose? Either will ruin your sock experience.
Padding: some socks come with padding on the heel and toes. Generally, this is a good thing but some people don't like the feeling of the extra material.
Material: cotton, polyester, and bamboo are all good choices. Cotton and bamboo will be the softest and are good for people with sensitive skin. Polyester is perfect for moisture-wicking and easy washing.
Breathability
A sock that breathes is critical to providing the wearer a comfortable and healthy experience when sporting a pair of socks. A lack of breathability will create a wet and humid foot, leading to discomfort and possible fungal or bacterial infections that are painful and difficult to cure.
How does a manufacturer ensure their product will allow maximum airflow? There are several ways to achieve this, including using special fabrics in the construction process, lining the fabric with moisture-wicking technologies and finally, the good old use of a loose weave throughout the product.
If a product scores high on this metric, the buyer can rest assured that the manufacturer has used some or all of the above techniques to ensure the wearer a comfortable and dry wearing experience.
10 Best No-Show Socks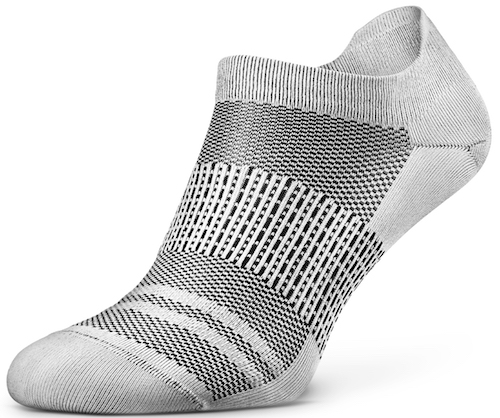 If what you're after is an item of clothing that is going to elevate your look but keep you as comfortable throughout the day as possible, you should definitely check out the Rockay Agile, a minimalistic, lightweight pair of running socks that reaches just below the ankle. Made in a simple white color, this pair of hosiery will look great with any pair of sneakers, and even some leather shoe models such as Oxfords or monk straps.
Because short socks that leave the ankle and calf are (usually) meant to be worn in summer, you are going to want to make sure that the model you decide to go with offers a high level of breathability. The Agile is made with mesh panels over the top of the foot to allow cool air to reach your feet throughout the day, while a specially blended recycled compound ensures the highest possible level of moisture-wicking and quick-drying performance.
You'll also find that the toe design of the Rockay Agile exceeds those found in other models, thanks to the no-seam construction which prevents any rubbing or blistering, even if your feet tend to swell as the day progresses. Other benefits include compressive arch support, as well as a non-slip design that prevents them from sliding off your feet as you walk or run.
Considering the fact that the Agile is made with sustainable materials, by a reputable company, as well as that it's treated with industry-leading fiber coating technologies to prevent odor developments, it's actually quite surprising that these don't cost more. Nonetheless, they will require a greater initial investment than most of the other products listed, though it's highly unlikely that those will also come with a lifetime guarantee.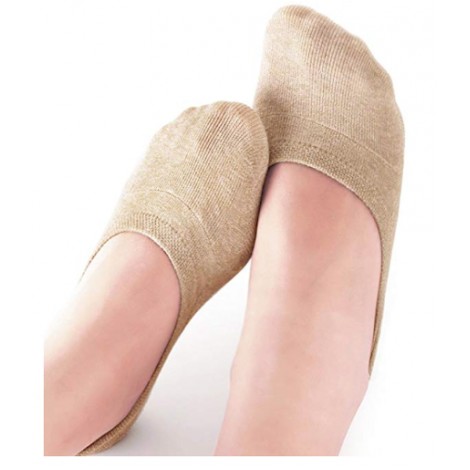 Vero Monte pride themselves on having 20 unbeatable years in the sock industry and this praise is well deserved. Vero Monte no show socks have a high proportion of cotton to spandex and polyester, meaning that these socks are sure to be very comfortable. Coming in a pack of four, these socks have a good variation of neutral colors - they can match with anything in your wardrobe!
No show socks are often prone to a certain specific problem - they are too thin. Vero Monte has taken care to create a dense cotton knit for their socks, which thickens the toe area slightly. Essentially this means that your toes won't poke holes in your socks - very important!
Vero Monte socks are known to be some of the best in stopping feet sweating. Their fabric allows breathability but also has some absorbancy to it. Think of it this way: it's a hot summer's day. You're on a nice walk throughout the local park. As you keep walking, your feet start to sweat inside your stifling shoes, making you uncomfortable. How do you avoid this? If you wear Vero Monte no show socks, you won't have that problem again.
These socks have a higher price tag than many other no show socks, but for good reason. With the higher price, you get better materials and longer-lasting socks. Vero Monte also offers a 1 year warranty in case you have issues with your socks. This is an amazing (and useful) service.

3

. Thirty48 Non-Slip Grip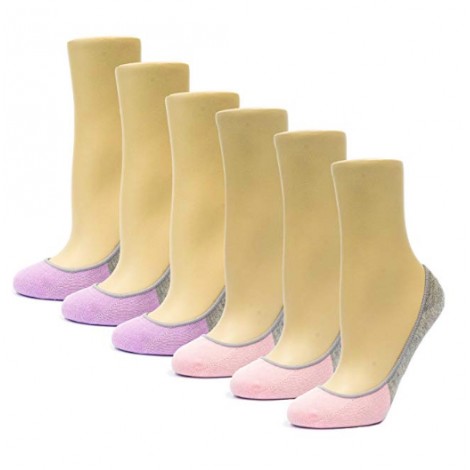 These no show socks are sourced directly from the manufacturer, meaning that there is no third party seller involved that may sell you fake or imperfect socks. Thirty48 Non-Slip Grip socks are the real deal! Designed with real customers in mind, these socks are comfortable, long-lasting and look good too.
These non-slip grip socks come in a range of colors - many more than just your standard neutral tones. Though no one else will be seeing your socks, it's still nice to have some fun colors to brighten up your day. Thirty48 has produced 6 different colors with over 10 possible color combinations. The cuff comes in a variety of contrasting colors too, so you can mix and match to your heart's content.
Thirty48 truly created these no show socks with comfort in mind. They have created a stunningly comfortable cotton-polyester blend to provide optimum cushioning and breathability for your feet. On top of all of that, these socks are long-lasting too! Thirty48 has emphasized the high quality of these socks and it definitely shows.
Quality is undoubtedly one of the most important aspects in a good socks. These socks may be slightly more expensive than other brands, but they are incredible in terms of value. Thirty48 no show socks are comfortable and durable, meaning that they will last much longer than other, cheaper socks. Basically, you can choose to buy many, many cheap socks or make just one purchase of Thirty48's Non-Slip Grip Socks. It's up to you.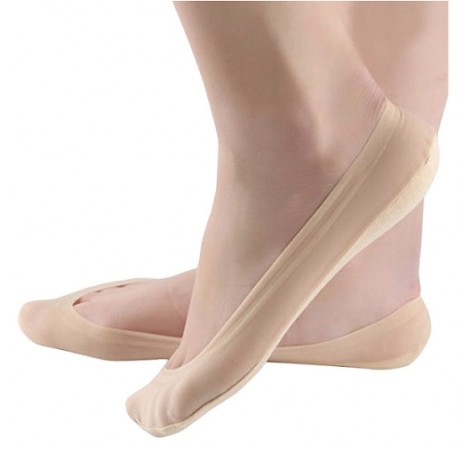 These flexible no show socks are perfect for all types of shoes - from loafers to heels. Jarseen Liners are made out of a comfortable, fast-drying material and will last for years to come. These socks will stay in place no matter what you're doing, making them perfect for everyday use.
One of the worst feelings is when your socks slip off your feet inside your shoes and cause painful blisters. While a small piece of material on the back of your heel can help, these Jarseen Liners go one step further by introducing a silicone circle on the sock's instep. This provides an added piece of security for your feet - never again will you worry about your socks falling off!
These Jarseen socks are practically guaranteed to never slip off your feet with the multiple silicone tabs attached. However, if they did happen to fail, the non-slip elastic trim on the socks would be a great backup. Unlike other socks, these Jarseen liners utilize this elastic cuff to keep your socks secure on your feet all day long.
These no show socks come in packs of 4. There are two colors to choose from - black or nude. The nylon top combined with the soft cotton bottom provide a fairly durable and comfortable sock, increasing the value of these no show socks. These Jarseen Liners are averagely priced - well worth the cost!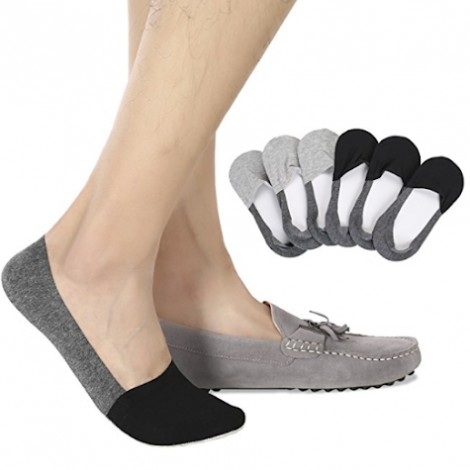 If you love wearing boat shoes, these are the socks for you. Joulli Boat Socks are designed with comfort and fit as the highest priorities, so it's no wonder that these socks are incredibly popular. Just in case you're not completely satisfied with your socks, Joulli has an excellent return policy - free product exchanges!
These Joulli Boat Socks come with an innovative silicone technology. Thin strips of silicone cover the cuff of each sock, along with a small silicone tab on each heel for protection and grip. Joulli has made these socks "double slip-proof" so your socks stay locked on to where they're supposed to be: your feet.
So many no-show socks have the same basic design - it can get a little repetitive. These Boat Socks are different. They have been carefully designed to fit the unique shape of boat shoes, loafers, and even Toms. You won't have to worry about your sock not fitting correctly with your shoe ever again.
Coming in packs of 6, these Joulli Boat Socks are surprisingly good value for such a quality sock. They are of similar cost to many other socks on this list, but these stand out to boat shoe and loafer lovers. If you are one of those, then these might be the perfect socks.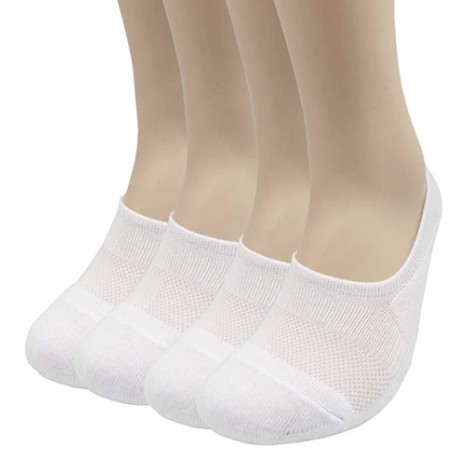 Pro Mountain has been around for over 40 years, so it's clear that they must be doing something right with their socks. Made out of natural cotton (as opposed to high percentages of polyester), these Pro Mountain socks tick all the right boxes. They're comfortable, long-lasting and definitely don't slip off your feet.
These socks are thicker than most other no show socks for good reason. They feature cotton padding or "cushions" on the ball of each foot, which provide superior comfort. These cushions are reinforced with double stitching so you know that they won't wear out with long term use.
Unlike other no show socks, these Pro Mountain socks utilize a unique mesh weave. This allows moisture to be quickly wicked away from your feet, providing excellent ventilation. The mesh allows the socks to feel lightweight while maintaining superior comfort, which is not an easy task!
These socks are of slightly lower value than some others at the same price. Why? Because you only get 4 pairs for the same price as another brand's 6 pairs. However, if you're looking to pay more for a more durable and comfortable sock, these might be right for you.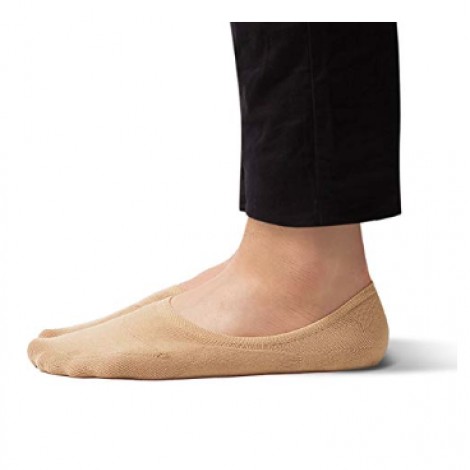 SoleHugger Active socks have been some of the most popular no show socks for many years and we can see why! They are affordable and lightweight and have a huge number of helpful features. These socks even come in a range of colors (though of course there are your standard neutrals too).
SoleHugger has introduced a new design to their Active line: the Active X. The Active X is the follow up to the successful Active 1.0 - it has all the same great features plus an extra reinforced toe and special antibacterial material. However, this isn't to say that the Active 1.0 is bad - it's far from that. It is just as affordable as ever and provides the same no show coverage.
SoleHugger has developed a unique type of material for their Active X socks called DrySilver. DrySilver has antibacterial properties, which lessens your chance of developing some nasty athlete's foot. It also helps to fight foot odor by wicking away moisture and sweat from the bottom of your feet.
These socks tend to fall on the higher end of our cost spectrum, especially when comparing the Active 1.0 and Active X socks. If you're willing to pay nearly double the price of the Active 1.0, you will get a much higher quality sock that has some very interesting fabrics. However, the Active 1.0 socks are still viable options for the budget-conscious buyer. They are more expensive than other socks, but they also have some added features that might make them worth it.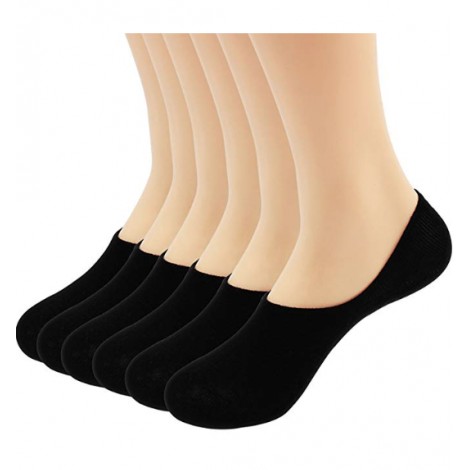 Ordenado socks come in a range of neutral colors for all of your fashion needs, so it's no wonder that the company name translates to "organized" in Spanish. You'll never have to worry about odd socks again, as you can buy a pack of all black or all white socks - whatever works for you.
It might sound a little strange to have silver ions in your socks, but they actually do some amazing things. These Ordenado Casual socks have silver ions blended into the bottom of the sock to help control any moisture that your feet create during the day. Not only that, but having the silver ions in the material can reportedly inhibit the growth of over 600 types of bacteria.
Most no show socks have a little silicone tab on the heel to stop your foot from sliding out of your shoe. Ordenado has gone one step further and has placed two silicone grips on each heel. Go ahead and run for miles or dance all night - your feet will not leave your shoes.
These socks are the best value on this list. They have the lowest price and an excellent cost per pair ratio. Don't think that a low price means terrible material - these are made of high quality cotton. Furthermore, you have many choices on the number of pairs you want to buy - you can buy as many as 9 at one time!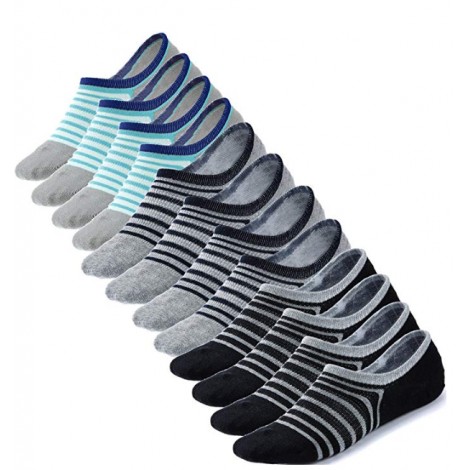 This company knows what to focus on - your toes! They have designed their socks perfectly to fit your feet. Your toes will be comfortable all day when you wear Toes Home Sport socks!
It's always annoying when you throw your hand wash only socks and undergarments into your washing machine accidentally - it's a sure fire way to ruin the material. With the Toes Home Sport socks, you don't need to worry about that. These socks can be washed in either a washing machine or by hand, which makes them fairly unique in the world of no show socks.
These Toes Home Sport socks don't stretch to fit the shape of your foot - they're already the shape of a foot! They have been designed specifically to fit on feet, not in shoes. While this may not sound like a big deal, it is when it comes to your comfort.
No show socks stay in place all day - at least, they're meant to. These Toes Home Sport socks deliver on that promise and as such, they're of fairly good value. For the average price, you will get comfortable, colorful socks that stay where they're supposed to all day long.

10

. Mottee & Zconia Cotton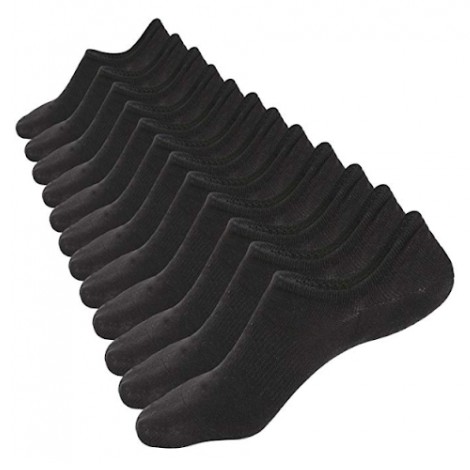 Mottee & Zconia know how to make a classic, durable sock. These no show socks may be limited in color choices, but they make up for it in comfort. If you're looking to stock up on your basic, everyday no show sock, you should certainly consider Mottee & Zconia's Cotton socks.
No show socks tend to have some kind of rubber grip on the heel to stop your foot slipping out of your shoe. Mottee & Zconia have outdone their competition by placing 3 silicone strips on each sock. This means triple the grippiness and triple the overall comfort of these socks.
These socks have an unbelievably high percentage of cotton in them, with only a small amount of polyester woven in so the socks can maintain their moisture-wicking properties. The cotton in Mottee & Zconia's socks is all natural, so if you have sensitive skin, these are the socks for you.
Mottee & Zconia Cotton socks are some of the most expensive socks on this list for good reason. For a slightly higher price, you receive cushioned, soft socks that will last you a very long time. On top of that, they're moisture wicking too! If you want to spend a little more on your essential basics, these socks are perfect.

Subscribe to our Newsletter